Fitness is becoming one of the most talked topics in our society. Everyone has goals, but did you know that using a rower is one of the single best methods for which you can reach that goal? Many people worry that having a rower in their home is too expensive for their budget. However, you probably can easily afford one of the quality rower options that we have compiled on this list.
Are there good quality home machines that you can buy for less than $500? The answer is a definite YES! Right away we can list at least thirty rowers for this price range including reputable brands, like Stamina and Sunny Health. Finding the best home air rower machines under 500 dollars requires a bit of researching, and that's what we did in this article.
Best Rowing Machines Under 500 – Our Top Picks
We'll give you the best machines under $500 in three different resistance types. This way you'll see more variety before you make a choice.
Best Rowing Machine Under 500 – Our Top 5 Picks
The Sunny Health and Fitness brand is one of the top brands when it comes to health and exercise. While this rowing machine is at the top of the price range, it is absolutely worth every penny to have to a top of the line rowing machine like the Obsidian.
Resistance
This rowing machine may be the one that provides the absolute best resistance levels as it is a machine that accurately mimics the feel of rowing in the water. This water rowing machine is one that uses hydro blade technology to ensure the most competitive levels of accurate rowing.
The hydro blade technology on this rowing machine uses fan blades moving against water to create the resistance inside this rowing machine. What this means is that just like in a real rowing situation, the user must change the pace of their rowing to increase or decrease resistance levels.
A Note on Hydro Blades: Because this rowing machine uses the hydro blades it utilizes actual water to create the right resistance for your workout. However, this also means that one must understand how to change their pace to switch levels on this rowing machine.
Monitor
The monitor on this rowing machine is less fancy than some other fitness machine in our best rowing machine under 500 list. However, it will accurately track all the metrics that you may be interested in keeping up with. No matter what your fitness goals are, you can use this water-resistance system to accurately performance monitor your workout while using the rowing machine.
Durability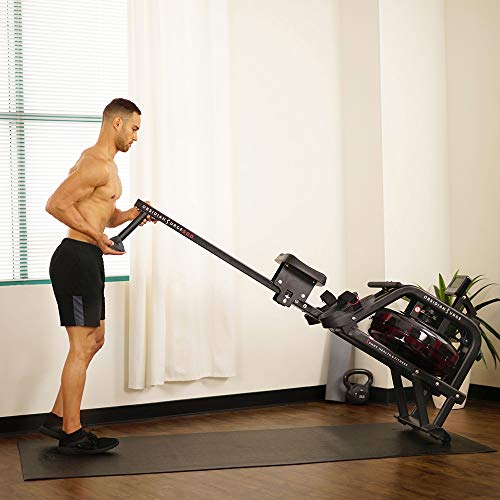 One of the great things about this rowing machine is that it has one of the higher levels of durability on the market. For this reason, it has a slightly higher weight capacity than some of the other models mentioned. This rowing machine can be easily stabilized as well as making sure that it is not damaged during use.
Capacity
This rowing machine has a weight capacity of 300 lbs. This is a great deal higher than some of the less expensive rower machines we have looked at. This makes this machine up quite a few levels as far as to rank in our book.
User Comfort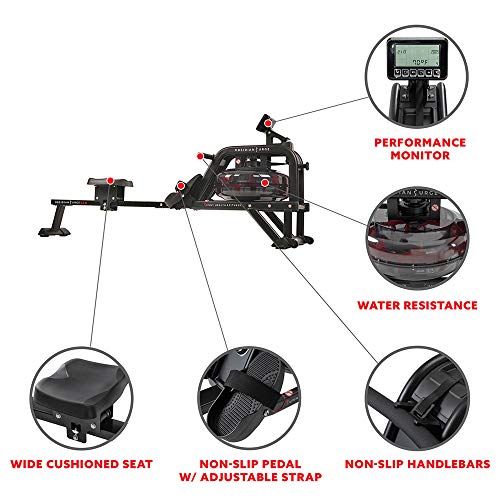 The seat on this model is actually designed to reduce back pain. The seat is also built with comfort levels in mind and the company claims they have added padding to the seat to increase levels of comfort on this rowing machine. Another great feature of this model is that the footrests are oversized to accommodate your shoe. However, these straps can be adjusted for people who have bigger or smaller feet and are using the machine at different times in your home.
Tight on Space? Check Out My Full List of Compact Rowing Machines!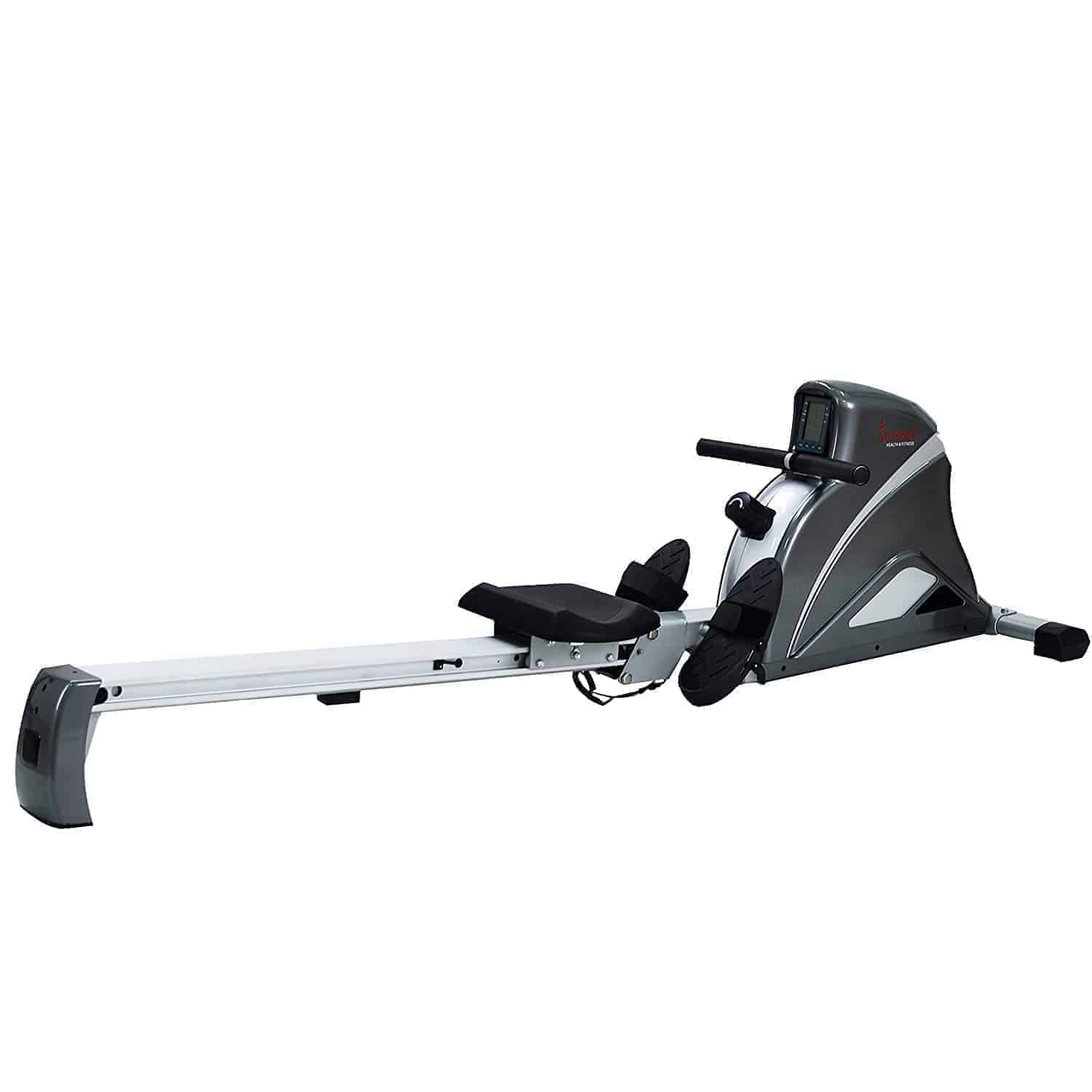 Sunny Health & Fitness's RW5508 is a competitively priced magnetic rowing machine. It offers great value in terms of quality and adjustability of resistance.
Resistance – RW5508 boasts of strong and fully adjustable magnetic resistance that works both for beginners and advanced rowers. Earlier models of magnetic rowing machines from Sunny Health & Fitness only have eight levels of resistance. The upgraded tension system of RW5508 clearly surpasses this with its 10 resistance levels.
Note about magnetic resistance: The level of difficulty is adjusted using a knob. This characteristic is that you can turn the knob to a high level and work yourself against a constant, challenging resistance. This is true even if you row slowly. You will see how this is different from an air rower, but we'll get into that in a bit.
Downside: It does not replicate true rowing resistance. You will also have to stop and adjust the resistance knob each time you need to change the intensity of your sprints.
Monitor
Instead of the rower monitor in earlier models, Sunny Health & Fitness has upgraded RW5508's LCD monitor. It is bigger and tracks all the important data, such as time, split time, strokes, SPM, distance, calories burned, heart rate, and pulse. It integrates a pulse receiver which you can use with a compatible wireless chest strap for heart rate and workout time monitoring.
Magnetic Rowing Machine Durability
Its body is made of steel and aluminum. It has a nylon pull. It displays the solid construction that is typical of Sunny Health & Fitness machines.
Its body is made of steel and aluminum. It has a nylon pull. It displays the solid construction that is typical of Sunny Health & Fitness machines. This machine is built to last.
Air Rower Capacity
The maximum user weight capacity is 300 pounds. People as tall as 6'5" can use it without issues, but the critical measurement is the user's inseam. If you have an inseam of less than 38", then there shouldn't be any problem.
User comfort & Rowing Experience
The handlebar is slightly angled downward. The grip is made of high-density rubber which is sweat resistant and we found one of the best out of all the rowing machines we tested. The LCD monitor can be tilted to an angle most comfortable to you. The padded seat is good-sized and contoured so it's easier on the butt. It does not take long for your bottom to become uncomfortable on one of these seats, but this is not an issue in this model. The foot pedals are oversized to fit large shoe sizes. There are thick straps and heel cups, too, to prevent slippage. If you want a quiet indoor rowing machine, RW5508 will be hard to beat.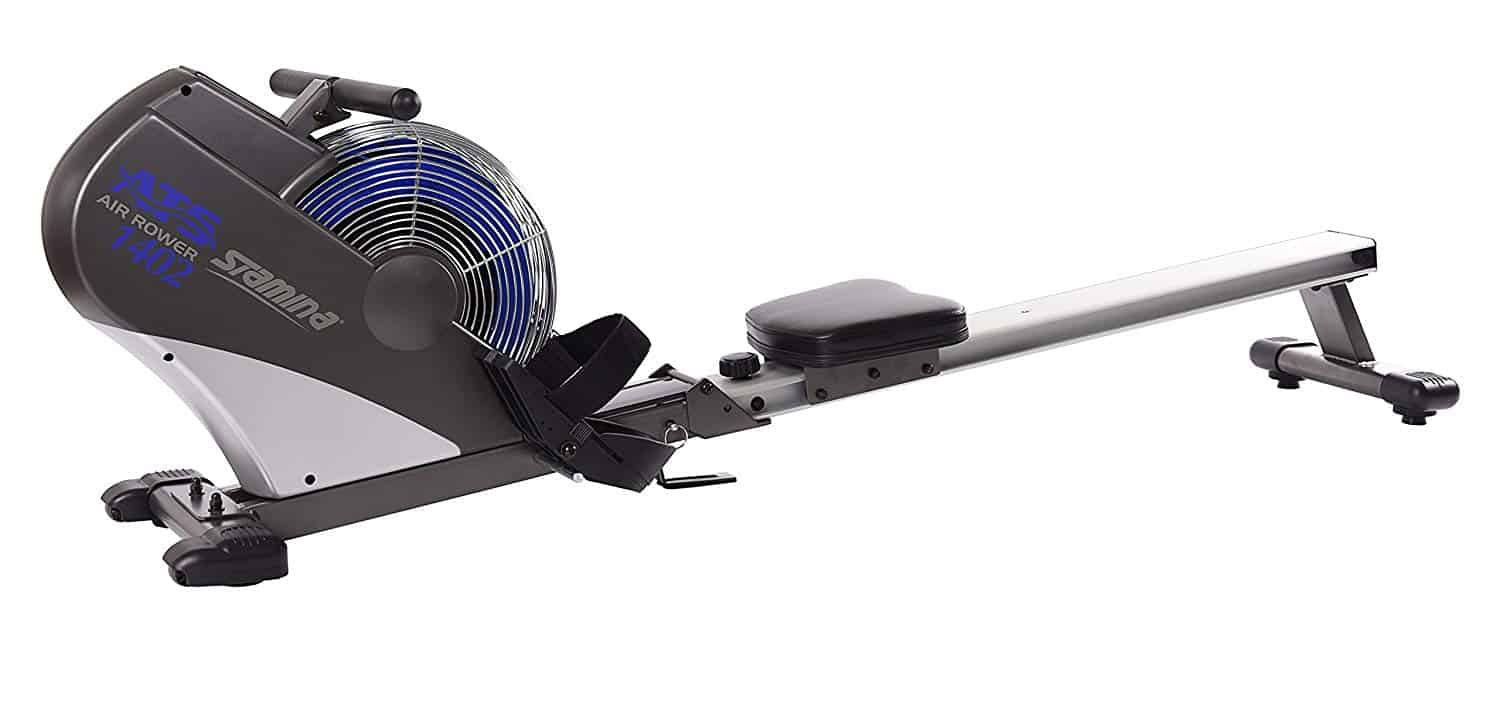 We've voted the Stamina 35-1402 ATS air rower as the best under 500 in this resistance category. It is one of the upgraded models of Stamina's ATS air rowing machines. If you've worked with 35-1399 before, you'll find 35-1402 basically the same but with some upgraded features.
Watch the Stamina ATS Air Rower in Full Action:
ATS Air Rowing Machine Resistance
Stamina's ATS series gives the best value for money for air rowers in the below-$500 range. Like all air resistance indoor rowing machines, 35-1402 depends on your rowing motion to spin the flywheel and create resistance.
Note on air rower resistance: The intensity of your strokes or the work that you exert determines the strength of the resistance that you get. Air rowers have what is called dynamically "variable" resistance system. This mimics true rowing resistance. For this reason, air rowers are ideal for full-body HIIT workouts. They allow you to alternate between easy and intense sets on the fly. There's no need to pause or reset between levels or sets.
Important to know: Don't go looking for a knob to adjust resistance with because there's none. No air rowing machine operates with a resistance adjusting knob. Many users mistake damper settings, which some high-end air rowers have, as resistance adjustment. This assumption is wrong. A damper adjusts airflow into the flywheel, which changes the feel—not the intensity—of resistance.
Monitor
The LCD monitor on the ATS air rower is has improved its version of the monitor in the 35-1399, though still pretty basic. It tracks SPM, strokes, distance, speed, time, heart rate, and calories. The display is bigger and has three windows for the stats instead of the single window in older models.
ATS Air RowerDurability
This sturdily built piece of equipment can take some punishment. It has a strong steel frame, while its slide rail is made of aluminum. The pull strap is made of high-grade nylon, which is quieter than a chain pull. Another reason why this rowing machine was chosen best rowing machine under 500 list.
Capacity
Make sure to check the compatibility of this ATS rowing machine to your weight, height, and inseam. It has a maximum user weight capacity of 250 pounds. It supports users as tall as 6'2" or with inseam measurement of up to 34". You may note that while 34" is longer than average, it's still shorter than what RW5508 has to offer.
User comfort
The padded seat is comfortable and generously sized. The pivoting foot pedals are oversized. There are wide straps to keep your feet in place to enhance your full body rowing experience. The seat rail's downward slope can be a bit too steep for some. Unless you have leg issues, this is good because it provides added work for you. Be forewarned, though, this rowing machine can be a tad noisy. You must place it where it won't be too bothersome for others.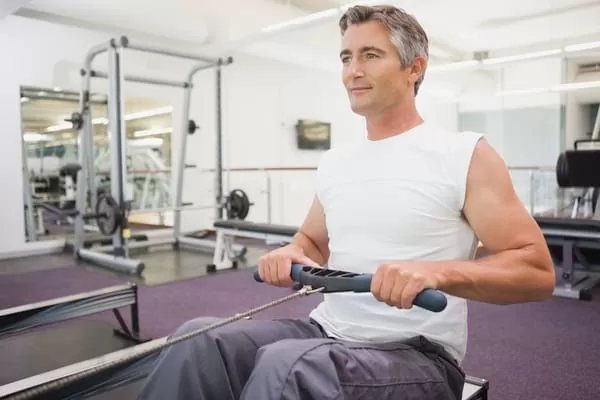 Click Here to Read My Full Review on Water Rowing Machines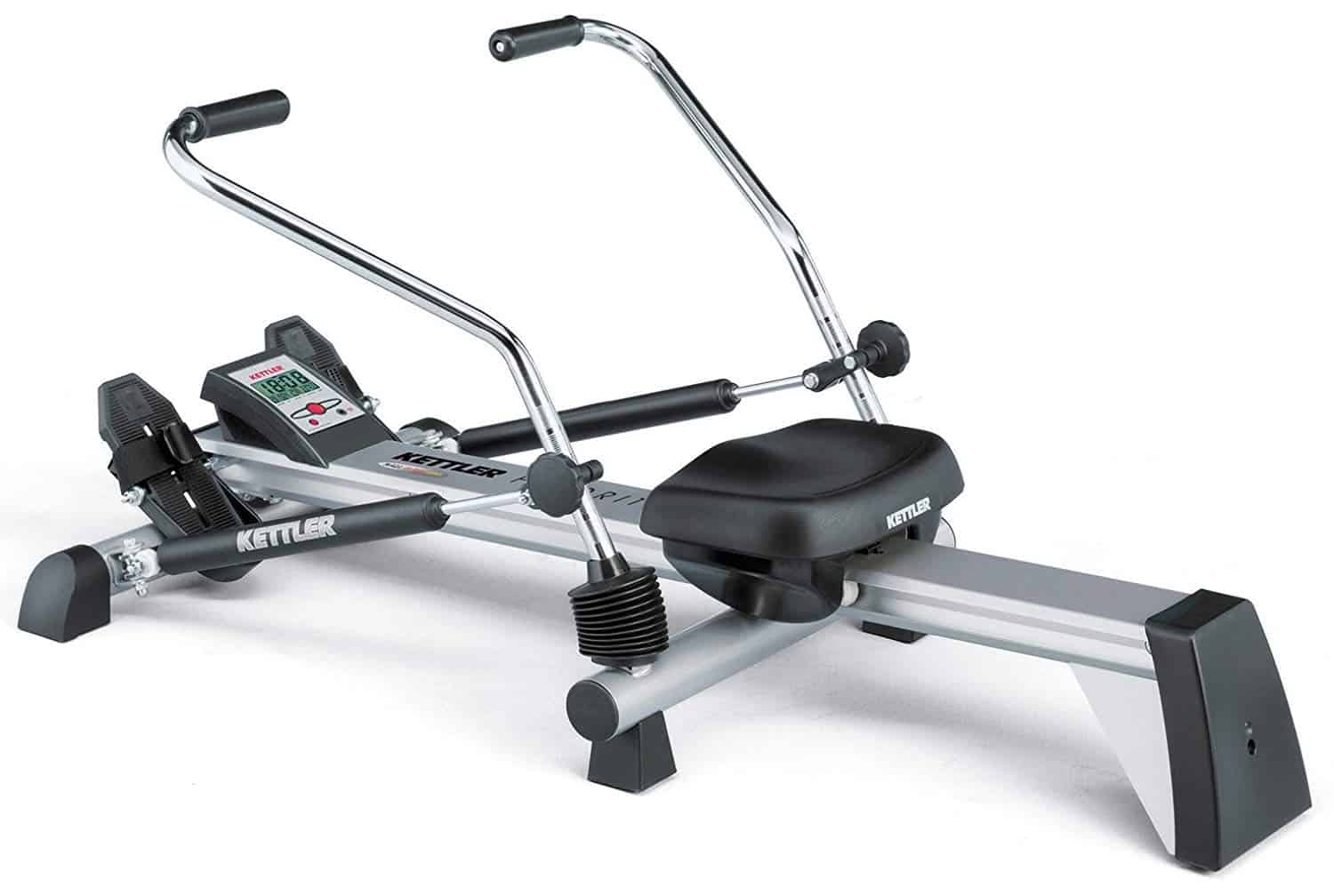 Check Amazon for the best deals on rowing machines now. Kettler Favorite is available at 80 bucks less than its original price. We rarely recommend hydraulic-piston type rowing machines because they're often built with inferior quality. Kettler rowing machines, though, are an exception. We have confidence in their quality and superior engineering.
Resistance
Unlike the two rowing machines we've featured above in our best rowing machine under 500 list, Kettler Favorite does not come with a chain pull or nylon strap. Instead, it has two rowing arms (oars) where the resistance mechanisms are attached. Without going too deep into technical details, allow us to say that each arm is connected to a resistance mechanism. Inside are pistons and hydraulic fluid, which create resistance. And that's where it gets really exciting. You can increase or decrease resistance to 50 difficulty levels to suit your preferred rowing experience!
Note on hydraulic-piston resistance: The resistance that you get on this type of indoor rowing machine does not mimic true boat rowing. Kettler compensates by providing orbital arms which allow free rowing motions. This mimics the actual rowing styles used in boat rowing. Plus, nothing can beat working out with 50 levels of challenge to enhance your full-body workout.
Downside: Its resistance is initially difficult to adjust to the desired level. It's not as easy as RW5508's knob turn or 35-1402's on-demand resistance. You'll need to figure out and learn the proper way of setting Kettler Favorite's resistance. That's only for starters, and it can take a while. Yet, that wide band of available resistance is hard to ignore. That alone should make learning definitely worthwhile.
Monitor
Set between the foot pedals, the monitor is hard to miss while you row. It keeps track and simultaneously displays time, strokes, SPM, distance in a kilometer, energy in kilojoule, and pulse rate. You can monitor your heart rate or pulse rate with the included infrared earlobe clip sensor.
Durability
As mentioned earlier, Kettler Favorite is solidly built unlike cheaper machines in this category. Its tough steel frame is made of carbon steel. There are no squeaky sounds when used. It is one of the quietest indoor rowing machines you will ever find.
Capacity
Its maximum weight capacity is 285 pounds. With a long rail, it is suitable for people with an inseam of around 40".
User comfort
The contoured padded seat is wide and thickly padded. It glides smoothly along the steel rail. The plastic handles are comfortable and don't get sweaty. As in Stamina 35-1402, the footplates of Kettler Favorite allow for natural pivoting motions for a great rowing experience.
See My Review of Top Rowing Machines That Supersede All!
This Stamina Body Trac Glider is currently available at 8% less than the everyday cost. If you are into rowing then this machine is a good choice for at-home use. If the padded seat is not enough to sell you on this rower, then you should also consider the fact that is employes top of the line hydraulics and is one of the best machines for rowing on the market.
Resistance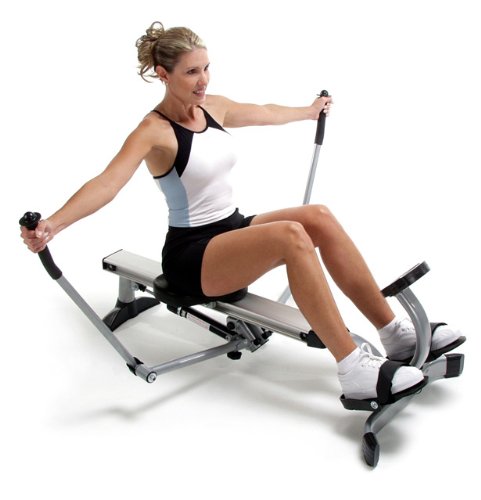 The Stamina Body Trac Glider is another machine that utilizes the arm rower to provide resistance. In doing so, the machine mimics the feeling of actually rowing on water. This allows the user to increase the number of calories burned and heart rate during their workout.
The resistance level on this rower gives you a full-body workout by focusing on all of the major muscle groups. It is also one of the many well-recognized cardio workouts built to work for everyone. This rowing machine is a program designed to provide rowing exercise to your back, legs, abs, glutes, and arms!
Downside: Because this rowing machine works on a hydraulic system, you have to stop your workout to change resistance levels which is not one of the best features. While this is not a huge inconvenience, it does cause a minor inconvenience to the user when they are trying to complete a long rowing machine workout. One would like to see levels that are a bit easier to change between on a rower.
Monitor
This rowing machine, like most of the others, has an LCD screen display monitor. It is easy to read and allows you to track your strokes per minute, workout time, and calories burned. This machine also allows you to easily adjust the resistance levels with a simple push of a button on the LCD display. The monitors on the machine provide a means for easily accessing the various levels available on the machine.
Durability
The durability of this rowing machine is actually quite impressive. It is built on a steel frame which makes it a bit easier to trust that this rowing machine will last. The thick padding on the seat allows for a comfortable rowing exercise because the rowing machine features such a comfortable seat.
Capacity
The weight capacity on the stamina rowing machine is 250 lbs which are on the lower end when compared to other machines in our research. This really is a great rower for your purchase price if you are already pretty fit.
User Comfort
The seat on this rowing machine is wide and is meant to help provide a comfortable experience for the users on this rower. However, one cannot expect a seat on a rower to be completely comfortable. Standard seats that come on a rowing machine are going to be a little bit less cushioned than a custom seat one might purchase to ensure extra comfort but still a worthy rower in making to our rowing machine under 500 list, definitely worth checking out.
FAQ's
1. Can I get fit just rowing?
Rowing is a great fat-burning exercise that gives you a full-body workout. As an added bonus, it also increases your heart rate and it is gentle on your joints. Rower strokes help you work out and you can absolutely get fit by simply using a rower for a few minutes every day.
2. Is 20 minutes of rowing enough?
Ultimately, the answer to this question is going to boil down to your experience as a rower and your current fitness level. If you are an experienced rower who is comfortable bumping up your resistance levels to increase your heart rate, then 20 minutes on the machine might be enough for you. However, if you are new to resistance machines, it might be best to do 30 minutes per day.
3. Will rowing get you ripped?
If you have ever seen drawn pictures of the men who rowed boats long before current technology was available, then you can attest that rowing will get you ripped. Working out on a rower will help you focus on more muscle groups and definitely help you develop defined muscles.
4. What are the best rowing machines for home use?
All of the rowing machines that have been reviewed above are excellent options. Think about your priorities and consider each of the different types of technology before you make your decision. You also want to consider how easy it will be to store the machine as well.
5. How long should you row for on a rowing machine?
Again, this is going to depend on your experience as an individual. Most experts would recommend a comfortable pace for around 30 minutes per day. As you build up your ability to be on the rower for longer periods, you can also increase the levels on the rower.
Conclusion
If you are among the many people who are working toward fitness goals, then this list of easy to assemble fitness equipment is a great tool to help you on your fitness journey. Workout sessions have never been more fun than through the rowing action found in this list of under 500 rowing machines. With each of these machines, user experience is top-rated, so we are confident in each of our recommendations.
We've rated these best rowing machine under 500 based on their resistance, monitor's usefulness, durability, capacity, and user comfort. Whatever rower you choose, we know that any of these rower options will help you reach your fitness goals. We're confident that these are the best machines under 500 in their respective resistance category. These rower options embody all of the technology that is available for a great rower machine to use in your home.
For more information on rowing machines: Click Here