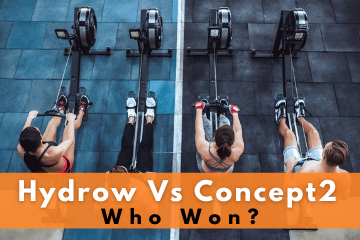 If you're seriously considering between Hydrow and Concept2, the comparison will boil down to user experience. Both rowing machines are class leaders in their own right. They are excellent indoor rowers, yet you cannot turn a blind eye to how different they are.
Their price gap is so wide that they're definitely not in the same league. Hydrow is undoubtedly an elite rowing machine, while Concept 2 Model D (Read More on Concept 2 Rower Model E vs D) has long been considered the standard equipment for the training of competitive rowers. In fact, many competitions are officially rowed on Concept2 rowers, including the CrossFit Games.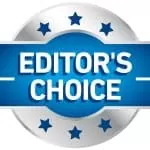 In a Hurry? Here Is A Quick Look at the Machines We Are Comparing:
*We review fitness products impartially and may earn a commission from affiliate links. For details see our disclosure page.
You can read my full breakdown and review on each rower further down in this article.
Hydrow Rower vs Concept 2 Comparisons
So why are we even comparing an uber-premium, flashy magnetic rower with a mid-priced, no-nonsense air rower?
The reason is simple. Hydrow, though relatively a newcomer, is fast becoming the popular choice. Concept2, on the other hand, has not left the contest and is still very much the respected ergometer for athletes.
Watch our Youtube video with Max Secunda (Rowing Expert) comparing the Hydrow and Concept 2 Rowers side by side:
This is what makes this decision a tough choice to make because it's not simply a matter of price comparison. Like I've said, this will all boil down to UX – user experience! And for this reason, you need to read how I compared the two and who came out the winner.
Concept 2 vs Hydrow: What's the Better Rowing Experience?
The health and fitness benefits you get will be the same across both rowers, so those are not valid points of comparison. Both will engage over 80% of your muscles, increase your heart rate, and involve long range motions in workouts that are low impact and high intensity.
In either model, you'll get the same full body workout aerobic benefits, strengthen your muscles, and build strength and stamina.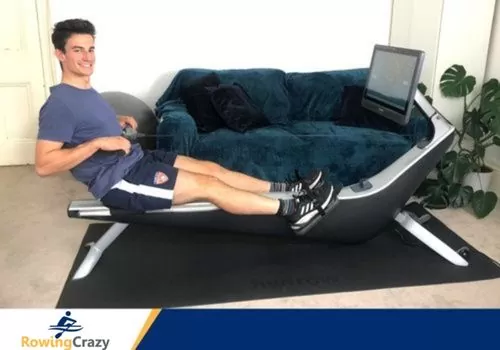 Since they're the same in those aspects, does it matter where they differ?
Of course, it matters. If you're no stranger to rowing, you will know that while you get more-or-less the same benefits from different rowing machines, your experience will not be the same. And that's where personal preference comes in.
So let's start talking about the experience that you will get using the Hydrow and the Concept2.
Resistance Type: Air vs Magnetic
First, let's take a closer look at the bestselling Concept2 models (D and E). This air resistance rower is durable, practical, and provides great value for money.
Concept 2 Air Rower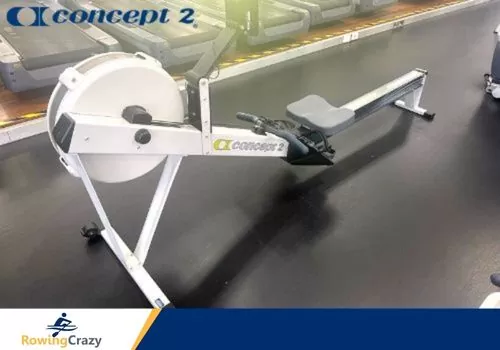 As an air resistance rower, its resistance is determined by the user's efforts. Its flywheel design controls the airflow. In other words, if you want more resistance – you only need to row more. In this sense, it offers an infinitely variable resistance. If you're a self-motivated person, this is the ultimate challenge. Personally I find this machine a bit clunky compared to the Hydrow but keep reading as I go into more detail below!
The Hydrow Magnetic Rower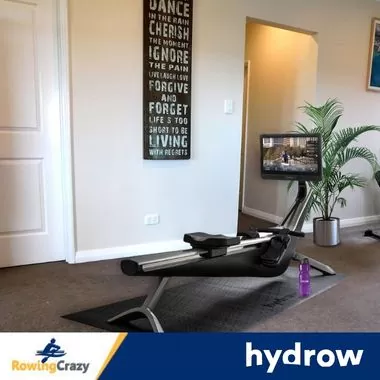 Hydrow SAVE $100!! => Use Coupon Code: ROWINGCRAZY
In comparison, this Hydrow machine provides 300 electromagnetic resistance levels on demand, which you can easily set to your desired intensity. Since this product is a magnetic resistance rower, it is much quieter than the Concept2 or any air rower, for that matter. Side Note: You may also like to read our article on the Hydrow Wave vs Concept 2 as well.
Training via PM5 vs Immersive 22″ Touchscreen
Aside from the data you get from the performance monitor of Concept2 Model E, it also provides preset workouts, team training, and rower-to-rower racing. With wifi, you can access its online leaderboard feature and get to compare your performance stats to other rowers.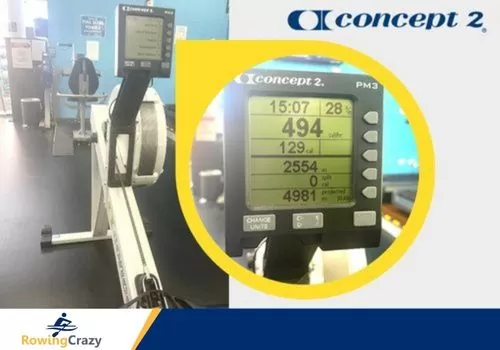 Comparing this to Hydrow's immersive experience via a 22″ HD touchscreen monitor can look like a mismatch, though. Impressive as the PM5 is, it can't quite compete with the Live Outdoor Reality experience that Hydrow's HD display provides. Its interactive training includes live and on-demand workouts and highly motivating beginner workouts.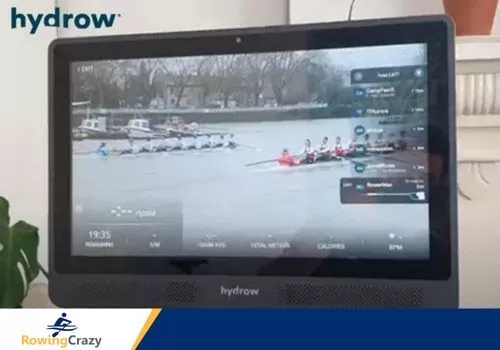 Which indoor rower do you think offers the better experience? If you can't make up your mind yet, perhaps the section below will help you.
Hydrow vs Concept2 Comparison – Which Rower Should You Buy?
The indoor rower that you buy should be one that you will most likely use. Otherwise, it will only be like that neglected piece of furniture in your house. Also, it speaks a lot of the kind of rower that you are.
If you are that self-motivated person who feels more challenged by the air resistance that an air rower provides, then by all means, let it be the Concept2 Model D. It can save you a lot too.
However, if you think that you'll need some motivating to be able to stick with rowing for a long time, then the highly interactive training and immersive experience you get from Hydrow should be your most important consideration.
Watch our Youtube video below by Rowing Instructor and Coach Max Secunda:
The 22 inch monitor on the Hydrow is well loved by all athletes who use it since you don't have to squint to see the monitor arm or monitor your heart rate or any of your health metrics. Side Note: You might also like to read my article on the Aviron vs Concept2
Side by Side Comparison Table
| | | | |
| --- | --- | --- | --- |
| Rower | Price | Resistance Method | Rating |
| Hydrow Rower | $$$ | Magnetic | 4.9/5 |
| Concept 2 Model D | $$ | Air | 4.7/5 |
| Concept 2 Model E | $$ | Air | 4.5/5 |
Main Differences between Hydrow and Concept 2 Rowing Machines
When I am comparing the two rowing machines, it's pretty clear that the Hydrow is a touch ahead due to its immersive experience and up-to-the-minute technology. Why are these things important?
I'll tell you why. We've already leveled the playing field – the Concept 2 Model D rower and the Hydrow are two of the best indoor rowing machines available to you right now. Model D costs less than half of Hydrow's price – yes like I've said, it's no contest. But since you're comparing them notwithstanding the yawning gap between their price tags, then it's safe to assume that money is not an issue to you. We're clearly looking beyond price difference, so let's leave it at that.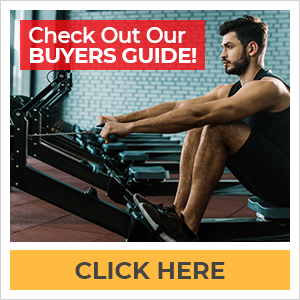 Technology – Concept Offers Less Here
One of Hydrow's highlights is the live and on demand body workout it offers, with scenic views to boot. The 22 HD touchscreen display brings you live outdoor reality at your fingertips and in your very own home gym, with real professional trainers on the other end to guide and coach your progress.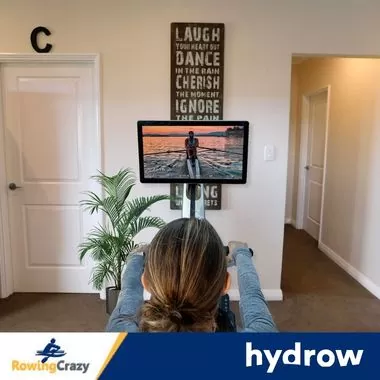 All these features come into play to make this home workout equipment easy to use and highly motivating, especially for beginners or those who may need more encouragement to stay in their regimen.
The PM5 is the industry standard, yet, it's just that – the standard. Hydrow rowing exceeds it by leaps and bounds.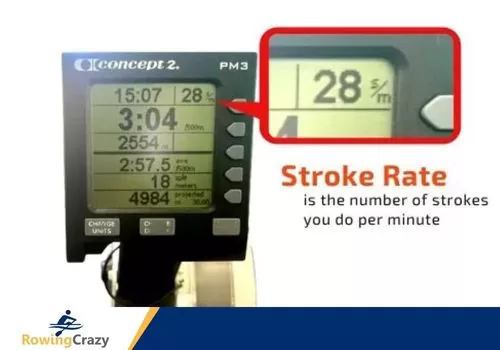 Coaching and Motivation – Hydrow Wins Hands Down
What good is an indoor rowing machine if you struggle to bring yourself to do your workout? You'd want a rowing machine that excites you whenever it's time to start your routine, and the Hydrow does that to you! It has plenty of video workout materials for all fitness levels. While the Concept 2 challenges you to generate infinite resistance by rowing more intensely, the Hydrow provides 300 levels of on-demand resistance. FYI have you heard about Concept 2 Erg Slides read more here?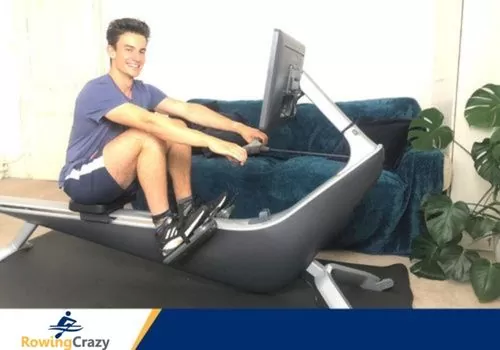 Interactive training – Depends On Your Requirements
Concept2's PM5 has preset workout programs, and its connectivity allows you to sync many apps. There are also options to connect to several Concept 2 rowers for team training. However, it's way below par in comparison to Hydrow because the live and on demand interactive rowing that it offers is the first of its kind.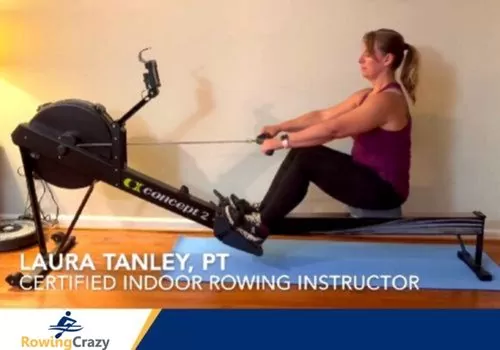 It's true that Hydrow's interactive functionality is only available for subscribed members, but only one subscription is required even if you create several user accounts for one rower. So come to think of it – if you share the rowing machine with your spouse or kids, the availability of 300 resistance levels will work to your advantage since all users can work at their own speed and intensity, with a lot of room to grow. Side Note: You might also like to read how Hydrow Vs Nordictrack compare or what other rowers are similar to Concept 2.
From this point of view, the Hydrow looks like the perfect indoor rowing machine, and sharing it with other people even offsets the subscription cost per month without compromising or diminishing the quality of user experience.
Aesthetics – Concept 2 Doesn't Compare Here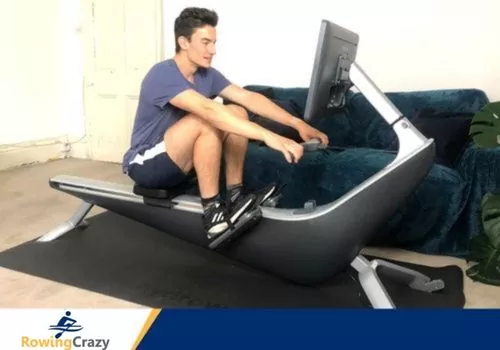 Hydrow is a sleek and stylishly modern (almost futuristic) rowing machine and is hands down the winner in the looks and eye appeal department.
It measures 25″ x 47″ x 86″ and can be stored vertically, occupying a very small footprint in your home gym. But since it's such a looker, I don't think you'd even want it stowed away. It's best to position it where you and the rest of your family can access it whenever they want to do a body workout.
The Concept 2 Model D is easier to store because it separates into two pieces. It occupies 24″ x30″ x 96″ of space, so it's a long rowing machine. It has a modern, athletic, and practical look about it. Like all air rowers, and especially with its steel chain, you can expect the Concept 2 to produce so much noise whenever you do your workout.
If noise is an issue (FYI you may like to also read our quiet rower article), say you live with a baby or an old person who needs peace and quiet, you can't go wrong with the Hydrow and its quiet, smooth-operating belt drive.
Construction & Capacity – Both Are Good Options
Both rowing machines are of commercial-grade steel construction, so you can expect them to last you a long while. The Concept2 has a weight capacity of 500 lb, while the Hydrow works for people weighing up to 375 lb (read more on Rowing Machines For Morbidly Obese). Either of these fitness devices provides adequate support unless you're super-heavy. Both are stable, quite heavy, but easy to move around on their transport wheels.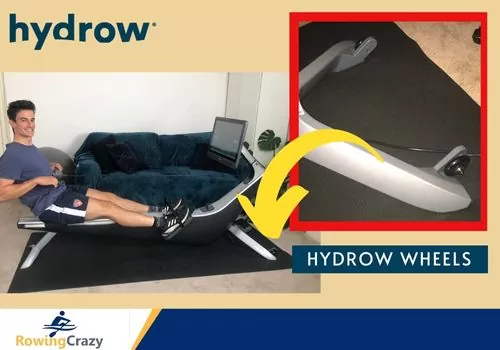 Warranty – Hydrow Offers Longer
Hydrow offers amazing warranties – 6 years on the frame, 2 years on the monitor and electronics, 2 years on wearable items like the handle, seat, and strap, and 18 months on labor. Concept2, on the other hand, offers a 5-year limited warranty on frame parts and 2 years on all parts.
So Which Rowing Machine Won? Hydrow or Concept 2
I've shown you how I've compared the two rowing machines side by side, and by now, you must already have a winner in your mind. It comes down to which machine delivers what you prefer and need. Since each of us has different fitness goals and personal situations, our preferences will differ.
I'll let you in on my choice. For me, Hydrow is clearly the winner!
Why?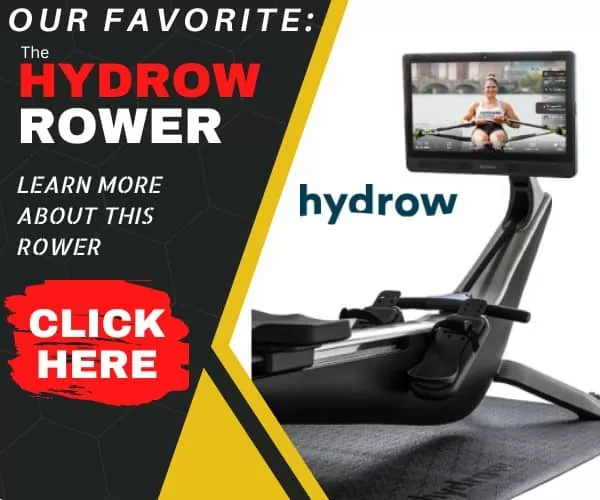 Hydrow Easier to Customize
It's all about personalization. With 300 resistance levels to play with, it's easy for me to customize settings and personalize my workout experience. What's more, the unique set of possibilities it can offer to each of the people I share the machine with, I get double or triple this benefit!
So whether your priority is losing weight, building strength, or recovering from an injury, there will always be a setting available for your workout level and fitness goals. FYI – Did you know this rower made the best of Oprah's favorite things list!
I Find The Hydrow Rower Highly Motivating
Another thing is motivation. It's not always easy to be up and about every single workout day. A rowing machine with this interactive technology is no doubt more engaging than the plain and practical Concept2 fitness equipment. While the challenge the Model D and E poses can be very motivating to competitive athletes, the adjustable and on-demand resistance offered by Hydrow works for whatever situation and type of user.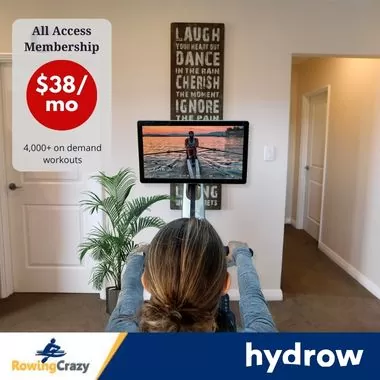 If you're not a very self-driven rower, you might soon see your results plateau or taper off if you stick with rowing workouts on the Concept2 Model D rower. With the Hydrow, you will always be motivated with the outdoor reality experience, adjustable resistance, and live and on demand interaction that it provides. And if you are worried about the space it takes to store be sure to read my article about the Hydrow upright storage kit.
Let's face it, every time you gear up for a workout, you go up against some challenges, both mental and physical. With Hydrow, which is often referred to as the Peloton of rowing machines (read more on when is Peloton rower is coming out), the programming can easily become your favorite. The technology it offers motivates you to get into a racing spirit as you follow along with their workout videos.
Is Hydrow Better than Concept2?
When making the final choice, it's easiest to go back to this question:
Which out of these two fitness equipment – Concept2 Model D Vs Hydrow – will I likely use the most in my rowing workouts?
Your answer to that question is the one that you should buy. If the rower rarely gets used and only sits in a corner, acting like a clothes hanger, then it really doesn't matter if you choose a Concept 2 or a Hydrow. Rowers are good for you only if you use them.
Whether you're into rowing so you can get into a racing form, or you just want some videos to teach you the ropes, the Hydrow is the clear winner. Buy a Hydrow rower (read more the echelon rower vs hydrow) now, and turn your goals into reality in a short time!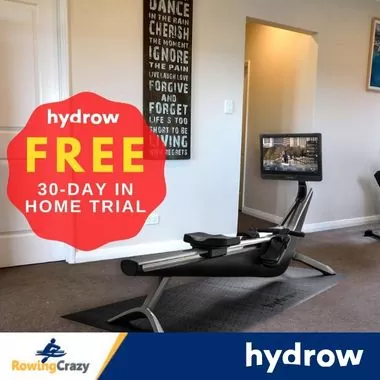 Hydrow SAVE $100!! => Use Coupon Code: ROWINGCRAZY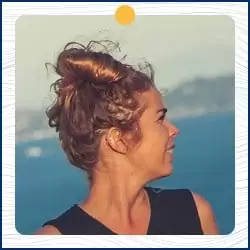 Written by Petra Amara – RowingCrazy.com
CEO & Founder of RowingCrazy, National Rower, Coxswain Womens Eight Team, Rowing Coach & Writer
Petra is a Mother of two and owner of Rowingcrazy.com. Petra lives and breathes rowing, she also has a passion for writing which lead her to start RowingCrazy.com to share her rowing experience and expertise with others.