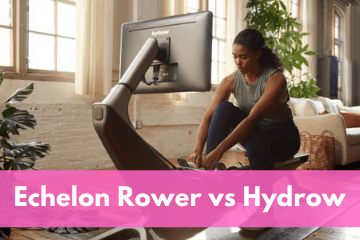 If you're interested in buying the best rowing machine ever, you're not alone. Rowing is one of the best forms of cardiovascular exercises on the planet.
Not only that but how else can you work 86 percent of all muscles in the body simply by using one piece of gym equipment?!
Knowing that you want an indoor rower isn't the problem; it's choosing the best one!
If you've been shopping around, you've probably seen lots of other brands and wondered which one was better or why some rowing machines are priced higher than others when they all do basically the same thing.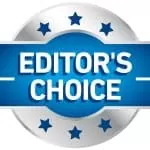 In a Hurry? Here are the Rowers We Are Comparing:
Are you short on time and want to know which rower is the best rower between Echelon Rower or Hydrow then click on the links below to get straight to our answers:
To help you make an informed decision on which rowing machine to purchase, we have conducted a thorough evaluation of each machine, which we will share in detail in the upcoming sections of this article.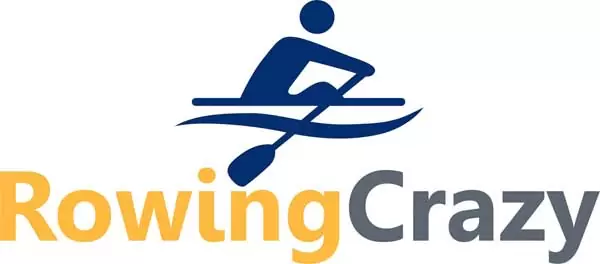 Right Let's Get Into It!
An informed shopper is a smart shopper, so today, I'm going to compare the Hydrow vs Echelon Rower (FYI: you might also like to read my article on Ergatta vs Echelon). Both are excellent rowing machines, but one really does stand head and shoulders above the other.
The Echelon Smart Rower
You may have seen Echelon air bikes at your local gymnasium. This company is known for making quality exercise equipment, and the Echelon Smart Rower is one of the newest products, with production starting in 2020.
Echelon rowing machines have several models, including those that don't come with a monitor but do offer a tablet holder.
So that we're measuring apples and apples, I'm going to look at the Echelon "S" model, known as the smart rower.
Features of the Echelon Smart Rower
There are lots of reasons why the Echelon rowing machine is already a popular choice, including:
Access to thousands of live, real-time streaming, and on-demand workouts for beginners, intermediate, and advanced users
The S model offers a 22-inch HD touchscreen that rotates 180 degrees for off-the-rower floor workouts
Uses magnetic resistance that is very quiet
The 32 resistance levels can be changed from the handle, no need to stop your workout or get off of the machine to change settings
Tech features include Bluetooth, Wi-Fi, and two audio jacks
Can be partially folded for easier storage
Adjustable foot platform
Comfortable seat
Adjustable tablet holder (for models without the touchscreen monitor)
Provides a respectable performance workout for all ages
The fitness app subscription is currently $20 a month (subject to change)
The Echelon Rower sounds like a really great, quality rower, doesn't it?
Echelon indeed has quite a bit to offer nearly everyone. Now, let's take a look at what the Hydrow rower has to offer.
The Hydrow Rower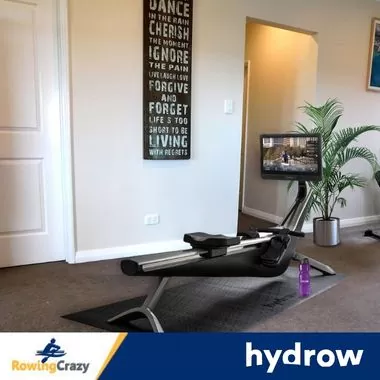 Hydrow SAVE $100 or £100!! => Use Coupon Code: ROWINGCRAZY
The Hydrow is an indoor rower that was designed and made by professional rowers. You simply can't ask for better than that! Professional rowers know what they want and need in a rower, and the Hydrow model does not disappoint.
Features of the Hydrow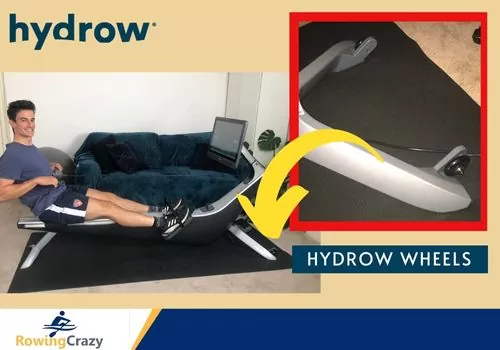 The Hydrow has so much to offer, it's hard to list it all in one article! Some of the outstanding features of the Hydrow include:
The 22-inch HD monitor is a sweat- and dust-resistant touchscreen
Hydrow offers a flat anthracite polymer body and an aluminum-and-steel frame that is super sturdy
Front-facing speakers
Bluetooth-compatible with a heart rate monitor and support for Bluetooth headphones
Has built-in Wi-Fi for easier updates
The 10-roller seat system helps to keep you in the proper position and eliminates low back pain
The ergonomically designed, low-stress handle makes rowing comfortable
More than 500 Hydrow rowing workouts in the current library, with new workouts added each week
Super quiet operation due to the electromagnetic resistance mechanism used
Rubberized feet to protect your floor
A floor mat can also be purchased
Two-megapixel camera
Built-in microphone
USB 2.0 connection
The fitness app subscription is currently $44 a month (subject to change)
Comes with a large selection of workouts, including live-rowing and rowing-on-demand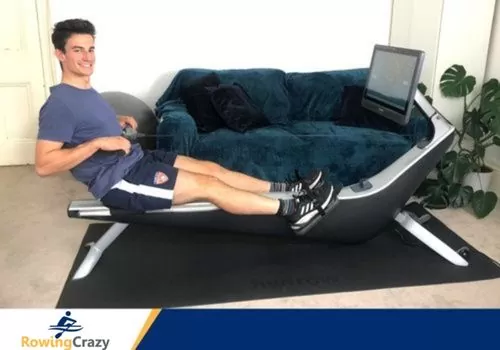 I'm sure there are more features than this, but the fitness community gets the idea, right?
Watch our Experienced Erg Rower Max Secunda with the Hydrow:
Hydrow vs Echelon Rower Comparison Table
| | | |
| --- | --- | --- |
| | Echelon | Hydrow |
| Weight of the Machine | 123 pounds (55.8 kg) | 145 pounds (65.7 kg) |
| Floor Space Required | 84″ x 21″ x 44″ | 86″ x 25″ x 48″ |
| Weight Limit | 300 pounds (136 kg) | 375 pounds (170 kg) |
| Warranty | 1-year | 1-year with an extended warranty |
| Storage Space | 39.5″ long x 20.5″ wide x 60.25″ high (foldable design) | 33″ long x 25″ wide x 86″ high (vertical upright storage) |
| Storage Kit | Not available | Yes, a vertical storage kit is readily available |
Read All About Hydrow's Storage Kit for Rowers!
This is where we get down to the nitty-gritty of comparing Hydrow vs Echelon Rower. These two incredible rowing machines do have some differences that you should be aware of.
Perhaps the one big difference between the Echelon Smart Rower "S" model and the Hydrow, and that is in their price tag. The Echelon is the less expensive option, but the Hydrow is a high-quality machine that offers an experience that nothing comes close to (except for actually rowing on the water!)
Connected Workout Experience: Is Hydrow or Echelon Better?
Rowing is all about getting the best possible workout, right? Rowing workouts are the best around, but they won't do you any good if you're bored or if you can't do the things you want to do (such as listen to your music on your Bluetooth headphones) so you don't use it.
Let's see how both machines score when it comes to connected rowing experience.
The Echelon is one of the first machines that enables connected rowing. This means that you can connect with live-streaming rowing workouts as they happen in real-time. Experienced rowers lead the workouts so you know you'll get a great training experience.
There is also a library of on-demand workouts that you can access anytime, with beautiful scenery and even short workouts of only 20-minutes, if that's all the time you have that day. There is no need to cut a longer workout short! That's Echelon, and it's one of the best, no doubt.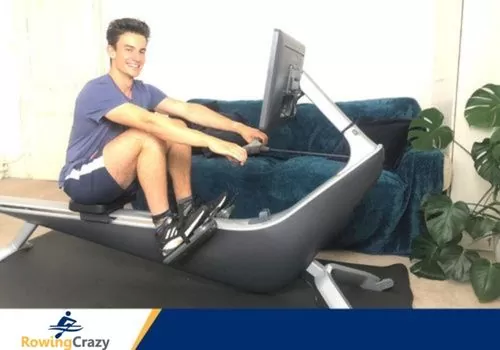 Hydrow SAVE $100 or £100!! => Use Coupon Code: ROWINGCRAZY
Yet, there's the Hydrow!
I love that the Hydrow has more than enough live and on-demand workouts handled by world-class professional athletes and recorded programs to keep me interested, as well as having features that are important, such as monitoring the heart rate and other health data, Bluetooth capabilities, and an overall incredible rowing experience.
Perhaps best of all, the Hydrow is as close as you can get to an actual on-the-water experience. The HD touchscreen monitor is so large, crisp, and clear, the only thing missing is some spray from the lake! You will swear you're actually rowing because it truly mimics the actual rowing experience.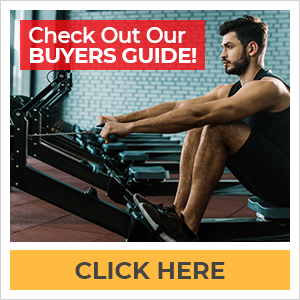 Hydrow vs. Echelon Smart Rower: Which is the Best Rowing Machine?
You're most likely already aware of the health benefits of rowing workouts. They are low-impact, high-intensity workouts that use all the major muscle groups of the body.
Choosing the right rower can be a bit tricky, however. Everyone is different and what is important to one person may not matter to another.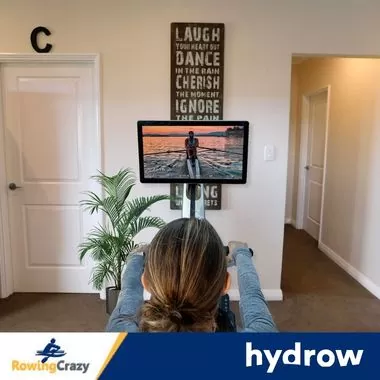 Things to Consider
If possible, you might want to try out both rowing machines at a gym or a friend's house (if they own one) before you make your final decision.
Some things you might want to consider before you make your choice:
The fitness industry, Crossfit to be exact, recommends an indoor rower over other devices.
Even if you were to use your rower every single day, this means you would only be able to watch 365 videos (if you picked a new one daily). Having thousands of titles and choices is not necessarily better since most people seem to use the same 10-15 routines or videos repeatedly (everyone has their favorites, right?)
An indoor rower is an investment for your health, so you should choose the best machine that you can afford.
If you plan on using your rower and workout programs to lose weight, consider your current weight and what the rower can easily handle.
For those who love gadgets, pick a high-tech machine that includes heart rate monitoring, a storage kit, full Bluetooth capability, and a state-of-the-art monitor.
Consider your budget and what is truly affordable to you.
The Winner Clearly Is…
I won't keep you in suspense any longer, in my opinion, and in the opinion of professional rowers and athletes around the world, the best rowing machine is the Hydrow.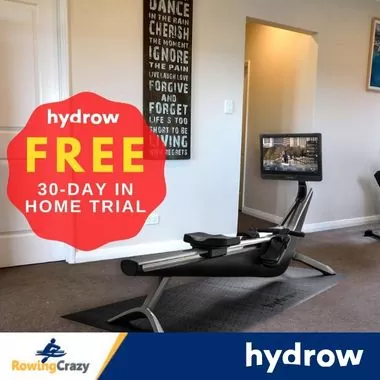 Hydrow SAVE $100 or £100!! => Use Coupon Code: ROWINGCRAZY
Also referred to as the Peloton of rowing, the Hydrow is designed and created by world-class rowers who knew exactly what rowing enthusiasts need and want in a workout. This high-quality machine is a premium indoor fitness equipment that offers an incomparable workout experience.
If you're looking for a rowing machine that has a large weight capacity, one that is made from high-quality materials, one that is so beautiful you won't mind leaving it in your living room, and you want the best workout that is as close as you can get to the real thing, then you definitely want the Hydrow Rower. Side Note: Read more about how you can get the Hydrow online with discounts & our own personal testing results by our team of rowing experts!
Final Thoughts on the Echelon Smart Rower
By choosing the Hydrow rowing machine as the winner, I don't want anyone to think that the rower Echelon is not a good device.
The Echelon rowing machine has a great many excellent qualities, including superb rowing sessions, a terrific library of programs, live classes, even the video screen itself is large and easy to see.
Not to mention, there is a large price difference between the Echelon Smart Rower vs. the Hydrow rowing machine.
I want to say that if you're looking for a fitness equipment for your home gym, and you want a rower that offers a substantial performance, is a bit compact and is an all-around great rowing machine but your wallet begs "budget-priced please", then the Echelon rower is a perfect choice.
In conclusion, no matter which rower you put in your home gym, the Hydrow or the Echelon Rower, you're going to get an outstanding full-body workout.
The Hydrow offers the best, most real-life workout, but you'll still be happy with the Echelon rowing machine. After all, no one I know has ever regretted owning an indoor rowing machine!
Other Comparison Articles You Might Find Interesting: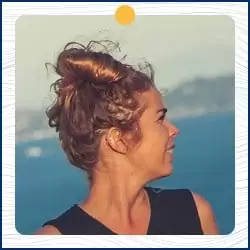 Written by Petra Amara – RowingCrazy.com
CEO & Founder of RowingCrazy, National Rower, Coxswain Womens Eight Team, Rowing Coach & Writer
Petra is a Mother of two and owner of Rowingcrazy.com. Petra lives and breathes rowing, she also has a passion for writing which lead her to start RowingCrazy.com to share her rowing experience and expertise with others.