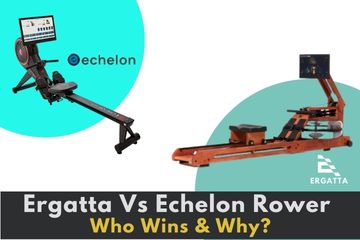 If you've been thinking about buying a new indoor rowing machine, I'm betting you are thinking about investing in a smart rowing machine.
That makes perfect sense when you consider that everything is going "smart" these days—refrigerators, thermostats, cell phones, and now, there are smart (also called connected or interactive) rowing machines.
I'm aware of the abundance of smart rowers on the market today, so it can be pretty confusing trying to decide which one would be best for you.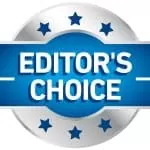 In a Hurry? Here are the Rowers We Are Comparing:
Today, I'm going to compare two machines that you might have been considering adding to your fitness routine—the Ergatta water rower and the Echelon Row.
We've got a lot of ground to cover here since both of these connected rowing machines have so much to offer.
Let's dive right in, shall we?
A Quick Overview: Ergatta Water Rower Vs Echelon Row
If you are short on time and you just want to find out the basics, this comparison chart will hopefully answer your questions.
Find The Best Rower for You!
Ergatta
Echelon

Overall Dimensions
86 inches long by 23 inches wide
84 inches long by 21 inches wide
Type of Resistance
Water
Magnetic
Maximum User Weight Capacity
500 Pounds
300 Pounds
Size of Monitor
17.3 Inches
Echelon Row-S – 21.5 Inches

(Note: the regular Echelon Row has a tablet holder but no monitor; you can add your own device)

Monthly Subscription Cost
$29 for unlimited users
$35 monthly or $33/month if billed yearly, or $29/month if billed for two years in advance
Types of Workouts
Game-based/Racing/Live Racing
Live/On-demand Studio Type Classes
Bluetooth-Enabled
Yes
Yes
Warranty
5-year frame, 3-year parts, 1-year on the monitor
1-year warranty; additional year coverage can be purchased at checkout
Both of these rowers are quite long, so you'll need some space to use them.
Which Is More Affordable – Ergatta Vs Echelon?
The Echelon rower is less expensive. You may opt to buy it with or without a monitor (that is, the regular Echelon Row with a tablet holder or the Echelon Row-S rower with a 21.5-inch HD touchscreen). Both Echelon versions are cheaper than the Ergatta rower.
If buying the regular Echelon Row, you will need to provide your own tablet or smartphone and download the Echelon app to access the workouts. The good news here is that you can have as big or small screen as you wish.
Both the Ergatta and Echelon rowers can be stored upright and offer exceptional cardio training.
Bookmark this page so you can read the entire article later.
Does Ergatta Allow Access to Other Sites, Such as Netflix or YouTube?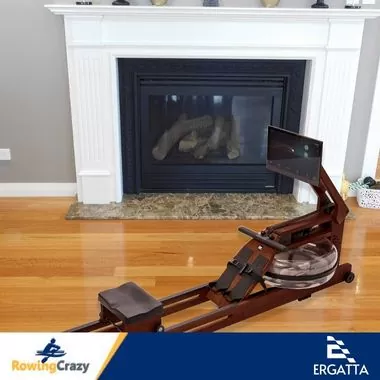 No, it doesn't. Ergatta has a built-in tablet, but it doesn't allow you to access anything other than the Ergatta workouts.
One advantage of using your own tablet (as is the case with the Echelon rowers) is that you can still choose to access Netflix, YouTube, or other websites.
Of course, Ergatta's android HD touchscreen tablet still has connections in the back, so you can charge your phone or tablet and set it up alongside your Ergatta monitor if you wish.
Some people have even connected their Ergatta to their big-screen TV and made their workouts available with a full 55 or 60-inch monitor! FYI: You might also like to read our article Aviron vs Ergatta for more detailed information.
The Ergatta Rowing Machine
There are two aspects of the Ergatta that you must know about—the programming that makes it smart and intuitive and the rowing machine itself.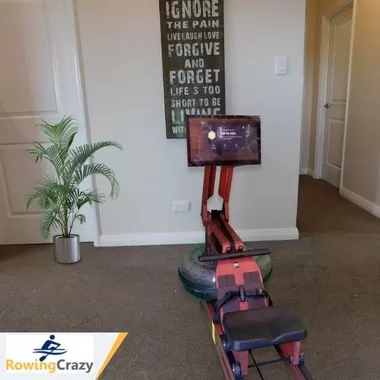 Features of the Ergatta Program
When you first sit down to row, the Ergatta software will determine your fitness level at this time. It will place you in a "class" of rowers so that you are challenged but don't get worn out!
For example, my mother-in-law tried Ergatta and was placed in Class X. She did the workouts and after 10 "qualifying" workouts, the software recalibrated her fitness level and placed her in Class IX.
Ergatta has no instructor-led workouts. If you don't like those energetic people shouting out encouragement or telling you to give it your all for the next 10 seconds, you'll be happy to note that these workouts have none of those. Instead, the workouts are designed like games and races.
There are tutorial videos for beginners and full instructions on how to understand all the numbers on the monitor!
You can choose to race against others, race against yourself, or sign up for live race workouts. The "class" that you have been placed in allows you to race against others in the same fitness or skill so that you don't become discouraged.
There are interval workouts, where you can choose between Pulse and Meteor gamified workouts. I think Meteor workouts are my favorites when I'm not racing.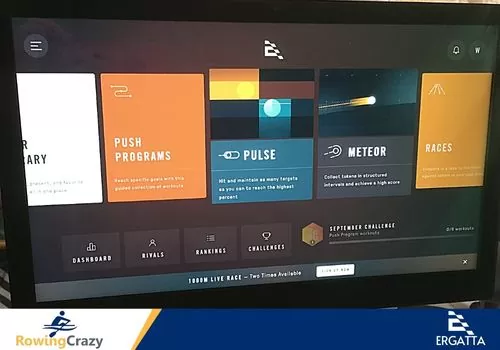 There are Push programs and HIIT (High-Intensity Interval Training) workouts, and Ergatta will keep track of your completed fitness classes and monitor your progress.
If you love racing, there are two live races each week. You can race against the time set by others or even try to beat your old time!
I love the live races, but I've been known to spend my entire workout trying to beat my own time. As they say—whatever floats your boat!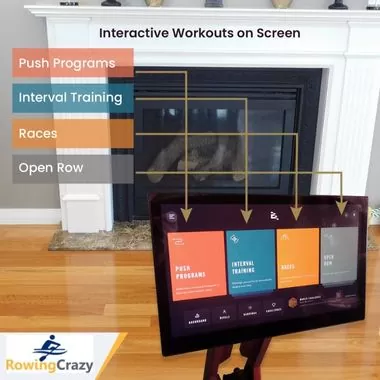 As you can see from the screenshot above, Ergatta also has monthly group challenges. They set goals for each month (whether it's completing 4 races in 30 days or working out for a minimum of 100 minutes—the challenge always changes). For every person who completes the group challenge, Ergatta donates to a charity, which also changes each month.
You can connect with other Ergatta users via Facebook. Got a question? Want to brag? Need some encouragement? The Ergatta online community is a super-friendly group where you can find support and get simple questions answered quickly.
Last, but certainly not least, if you are in the mood to exercise but don't want to focus too hard, there is Open Row.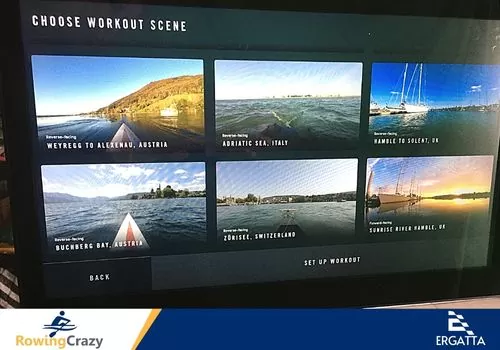 Pick a beautiful location (Spain, France, or Thailand, maybe?). Tell Ergatta how long you want to row in minutes or how many meters you want to row, and you can take leisurely rows down the world's waterways and work out at your own pace.
Features of the Ergatta Rowing Machine
I think it's the programming that makes Ergatta different from other water rowers, but that doesn't mean that the machine is any less beautiful or remarkable.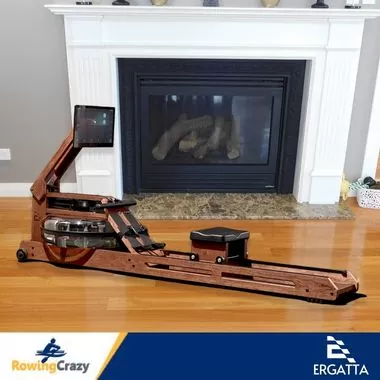 Ergatta is made from sustainable cherry wood, so it is strong and can support users up to 500 pounds!
You'll find that most rowing machines can't handle more than 300 pounds but not Ergatta! If you've got a heavyweight in the house, this is the rowing machine for you!
Not only does Ergatta fit heavy users—if you are super tall, you won't have any problems using Ergatta since it supports users up to 6'6″ tall!
One of the problems I've found with most rowing machines is that the footplates are either too small (I've got big feet, what can I say?), or they are difficult to adjust.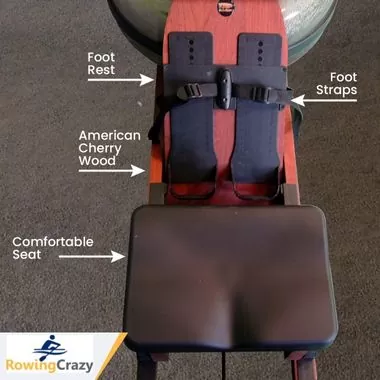 Ergatta's adjustable foot plates are plenty big for my shoes, and they adjust with the press of the center button. It doesn't get much easier than that!
The seat is comfortable and rolls along so smoothly you might wonder why all rowing machines aren't made this way!
When it comes to storing it, all you need to do is push the monitor down and stand the rower upright against a wall. No upright storage kit is required. It's quite tall, so you might want to remove any photos on the wall, but otherwise, it takes up no more space than a dining room chair.
I also love the sound of the water itself. There is nothing more hypnotic and sweeter than the sound of running water.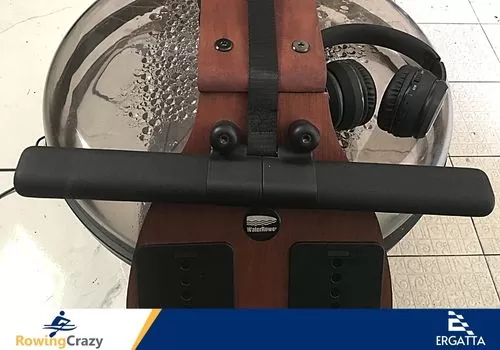 Did I mention that Ergatta is fully Bluetooth-enabled? That means you can use your own headphones, fitness watches, fitness devices, and heart rate monitors!
You are sure to reach your fitness goals and get all the incredible health benefits that a cardio workout provides when you own an Ergatta!
What about Ergatta vs Hydrow?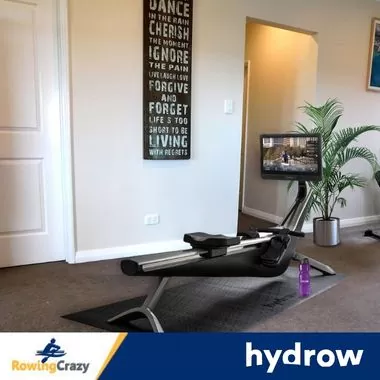 If you have read any of my previous articles, you will know that I own both a Hydrow and an Ergatta.
If you're wondering if I've done a comparison between Ergatta and Hydrow, you bet I did! Ergatta VS Hydrow! Who was the winner? You can find out who took the prize in my Hydrow Vs Ergatta comparison here.
The Echelon Row
I don't own an Echelon, but I was lucky enough to have a friend who owns one, so I got to try it.
The Echelon Row and Echelon Row-S
First off, both the regular Echelon Row and the Echelon Row-S are the same kind of rowing machine except that the Echelon Row-S comes with a built-in monitor, while the regular version comes only with a tablet holder. With the regular Echelon Row, you will need to provide your own tablet or use your smartphone to access the workouts.
Features of the Echelon Row
As mentioned, the regular Echelon Row doesn't offer a monitor, which can be good or bad, depending on how you look at it.
This is bad because if you only have a 5-inch screen on your smartphone, it makes it hard to see the workouts! Or if you don't own a tablet, this means you will need to purchase that at an extra cost.
The good news is that when you have your own tablet, maybe a big 10-inch or even 15-inch tablet, you'll have better viewing.
You might also be able to cast the workout from your smartphone to your big screen TV or set up the rower in front of your desktop computer monitor.
Not having a built-in screen does give you other options that you can't get when the screen is already installed, it all depends on how you want to look at it.
Then again, if you opt for the Echelon Row-S, you'll enjoy a 21.5-inch 90-degree rotatable HD touchscreen, which is still cheaper than the Ergatta.
The Echelon rower uses magnetic resistance and feels very different from a water rower. While water rowers have a sweet, calming sound, some people need something nearly silent. If that's you, the Echelon might be the rower you are looking for.
The Echelon rower folds in half, which means it can be stored away in a corner.
Echelon offers live classes throughout the day. If you prefer, you can access one of the thousands of on-demand classes available in their library.
I found this rowing machine to have silent, smooth resistance and, while the actual classes are very good, I missed the head-to-head races that I get with Ergatta.
I did like the off-the-rower classes that Echelon offers. Like Hydrow, the 21.5-inch monitor of the Echelon Row-S tilts so you can see the workouts from the floor.
Take a good look at the handle. Echelon says that you can change the resistance levels right from the handle so you don't have to stop. In all honesty, however, every time I tried that, I ended up dropping the handle! I might be all thumbs, but I personally didn't find it all that convenient.
The seat isn't as comfortable as the Ergatta's, but it is tilted in such a way that it promotes good posture.
Also, the footrests are a bit farther apart than in Ergatta, which some people will find more comfortable.
Overall, there are highly motivated instructors to help give you a great workout, but when you do a quality comparison, there is probably a reason that the Echelon rower has a weight limit of 300 pounds.
The affordability comparison will depend on whether you already have a tablet or smartphone that you can use to download the app. If you don't, you will need to add that to the price.
Also, if you check out the month-to-month plan, Echelon costs more than Ergatta's monthly subscription plan unless you plan on paying two years in advance.
What Do the Ergatta and Echelon Rowers Have in Common?
Both the Echelon Row and the Ergatta rower:
Offer terrific cardio workouts that use 86 percent of the body's muscles
Can give you a much better workout than you could get from an exercise bike or treadmill workouts
Are connected rowing machines that will make workouts more interesting
Offer amazing affordability, although the Echelon machine will be cheaper
Save space when stored
Offer strength training
Will work well in your home gym
Will help you reach your weight loss goals
Have terrific workouts
Have open row options for rowing in breathtaking destinations around the globe
No matter what your fitness goals are, if you put in the effort, both of these smart rowers will help you get there!
Does Ergatta Have Classes Like Echelon?
No, they don't, and that's what makes Ergatta different from the rest.
Ergatta workouts are designed to keep you engaged the way that video games do. While the touchscreen on Ergatta is smaller than those of Hydrow or Echelon Row-S, I've found the workouts to be excellent!
The immersive experience is unlike any other water rower I've ever used. Still, Ergatta classes may be something they add in the future, who knows.
If you are looking for on-the-water classes, you'll want to check out the excellent Hydrow classes. If you like studio classes, you should consider Echelon.
If you like playing video games and doing heart-pumping races while sweating it out on a rowing machine, you should go for Ergatta.
Who Should Buy Ergatta?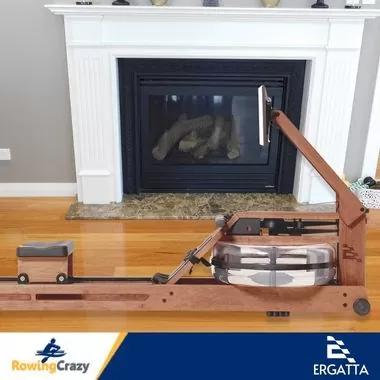 If you aren't a fan of instructors yelling out directions, you'll be happy with Ergatta.
If you love metrics and want to know every little detail, you'll love Ergatta.
If you or someone in your household is on the heavy side or is very tall, weighing close to 500 pounds, you'll definitely be happy (and safe!) with Ergatta.
If you don't want to spend extra money on a tablet or use your phone or tablet for workouts, Ergatta's 17.3-inch HD touchscreen monitor is what you want.
If you want the lowest monthly subscription possible but don't want to pay for years in advance, Ergatta is the clear choice.
If you want different programs for working out and you want maximum fat loss with strength training, you will love the Ergatta,
If you like the gentle sound of water swooshing (similar to the sound of a bathtub filling with water), then you will want a water rower like Ergatta.
Who Should Buy Echelon?
If you want on-demand workouts, as well as live Echelon classes, then the Echelon Row will make you happy.
If you want new workouts daily from a live class, then the Echelon rower is what you've been looking for.
If you want increased resistance from the touch of the handle, then Echelon is what you want.
If you want to save horizontal space, then you'll be happy with Echelon.
If you want a smart rower that works as a cardio machine and offers other off-the-rower workouts, then you should check out Echelon.
The Bottom Line – And the Winner Is…
It's really difficult to pick a winner when both machines are so different!
If I had to choose, I would go with Ergatta.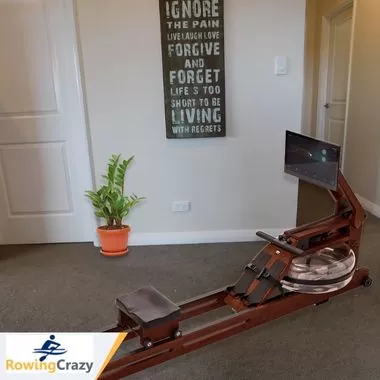 I like having a monitor that is attached to the machine so I don't have to worry about scratching it, dropping it, or finding out that I would need to use my phone as a monitor.
That means I can let my grandkids play with the tablet while I'm working out!
I am lucky that I have the advantage of using both Hydrow and Ergatta. When I want instructors, I jump on my Hydrow. When I want to race or zone out with a video game type of workout, I hit the Meteor workouts on my Ergatta.
This doesn't mean that Echelon isn't a very good rower. In fact, if you prefer magnetic resistance as opposed to water resistance, then Echelon might be just what you are looking for.
However, if you want magnetic resistance and you want the "Peloton" of rowing machines, then you should take a few minutes to check out the Hydrow machine.
I've got an exclusive discount for my readers when it comes to the best rowing machine ever made, and you will find it here.
I love the rowing experience I get from my Hydrow, but when it comes to fun and games, I actually have to fight my grandkids for the Ergatta! Imagine your kids actually enjoying exercise! They will if you get an Ergatta!
If you already have a large tablet or you plan on casting your workouts on your television, then Echelon might be the smarter choice for you.
Ergatta is the best choice for those who want to lose weight, work on strength training, don't want instructors, and want the best water rower ever made!
Stay active and healthy, friends, and enjoy rowing!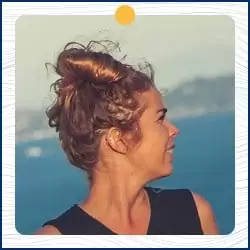 Written by Petra Amara – RowingCrazy.com
CEO & Founder of RowingCrazy, National Rower, Coxswain Womens Eight Team, Rowing Coach & Writer
Petra is a Mother of two and owner of Rowingcrazy.com. Petra lives and breathes rowing, she also has a passion for writing which lead her to start RowingCrazy.com to share her rowing experience and expertise with others.