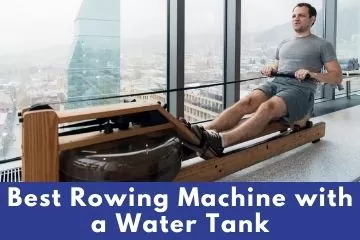 Hi friends! Petra here, and I know firsthand that finding the right piece of home gym equipment isn't as easy as it appears. Let's face it, most people have limited space (check out our portable rower here )and cash to purchase more than one large piece of equipment.
So, if you've narrowed down your choices to an indoor rowing machine with a water tank, then at least you've made progress.

In a Hurry? Here are My Top 3 Picks:
If you're pressed for time and simply want to find the best home rower with water tank system, here are my recommended choices:
Chances are that you don't want to spend hours reading review site after review site either. Wouldn't it be great to just read about the pros and cons so that when the ideal water rowing machine pops up you will recognize it right away?
In this review, I'm going to do exactly that. There are many good choices for a water rowing machine out there, and I've created a shortlist of the top 6 models that are perfect for nearly everyone.
Want to know more? Keep reading! You'll be glad you did.
The Best Water Rowing Machines
Water rowing machines are ideal for many because they use a water tank placed either in front or directly below the resistance device. This is about as close as you can get to an actual rowing experience type of feel without getting wet (Have your spouse or kids squirt you with water from time to time if you miss that kind of thing).
Magnetic rowing devices are nice because they are quiet and delivers on-demand variable resistance levels. On the other hand, air rowing machines are popular because they offer unlimited resistance, although the noise can drive some people a bit crazy.
Water rowing machines offer the best of both worlds, making them a popular option. Like air rower machines, water rowers (see more water rowers with screens ) provide unlimited resistance levels. They're not limited by adjustable resistance knobs, so if you want to increase the resistance level, you only need to row harder. Now, that's where the real challenge is!
The best thing about water resistance indoor rowers? Even as they provide unlimited resistance, they don't produce as much noise.
There are lots of great choices out there, and I'm going to show you the top 6 by price so you can pick which one works best for you.
TRENDING POST: Are Water Rowers Better than Magnetic Rowing Machines
Is a Water Rowing Machine Good?
Oh yes, water rowers are a great choice! They are so popular right now because they have a bit of everything. They make a fantastic option for anyone who wants the closest to a true-life rowing experience but doesn't have access to a boat or live near the water.
Magnetic rowers are also a popular choice, but they leave out something crucial- WATER! Water rowers have an enclosed tank that allows you to feel as if you are rowing on the water without making a huge mess!
I love the fact that nearly anyone can enjoy unlimited resistance levels with a water rower. All you have to do is paddle faster! No knobs, no levers, just sit down and go!
1. Top Pick- Ergatta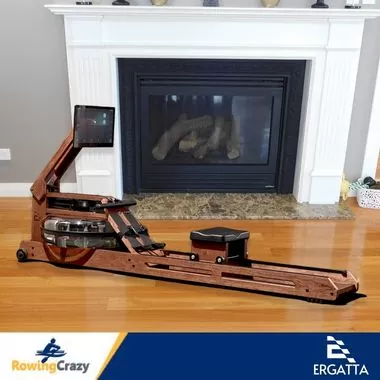 I know that, right now, you are looking at this incredible machine and thinking, "This is SO beautiful!" You are 100% right, too, because this is perhaps the most beautiful water rower on the planet.
Ergatta features custom cherry wood, hand-oiled frame that looks more like a piece of furniture than a piece of fitness equipment.
However, the beauty of this machine is more than what you can see on the outside. I own an Ergatta, and when it comes to a true rowing experience, this indoor rower has it all!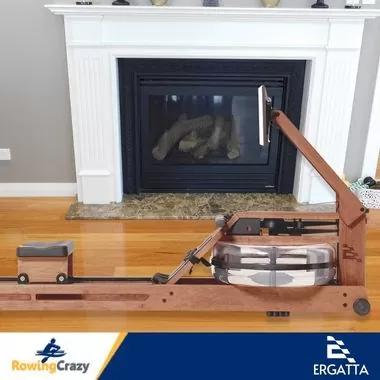 Top Features
When it comes to vigorous rowing strokes, the last thing you want is a rowing machine that jerks or bucks, wobbles or feels as if it will break apart.
You won't experience any of that with Ergatta. Check out this long list of features:
Supports a maximum user weight of 500 pounds. While many other rowers can't support more than 250-300 pounds, Ergatta is so strong it can take on the heavyweights!
You can roll the Ergatta away with the front built-in wheels, and it will stand upright in a corner! Super space-saving, something other rowing machines can't claim!
This cardio machine is great for all fitness levels, from beginners to super advanced.
Works with most fitness trackers, fitness apps, and even your Apple Watch
I love the gentle whooshing sound of water in the tank. It's not super loud, so you can use it in the same room as others and not disturb them. You can't say that about air rowers! It sounds very much like a bathtub filling with water.
If you want rowing exercises and high-intensity interval training, or programming that doesn't include chirpy, high-energy instructors, Ergatta is for you! It's the programming that really makes Ergatta stand out from the rest! You can choose rowing workouts designed for beginners, play games, or just row on the open waters and watch the scenery go by. There are no on-demand workouts, but if you want to do your own thing, don't want instructors, and love scientific evidence that you are reaching your next fitness level, then you want Ergatta!
The foot pedals keep your feet secure, even in competitive race mode!
I'm sure that there are more features I've forgotten about, but I will tell you this – you won't find a better indoor water rower than Ergatta.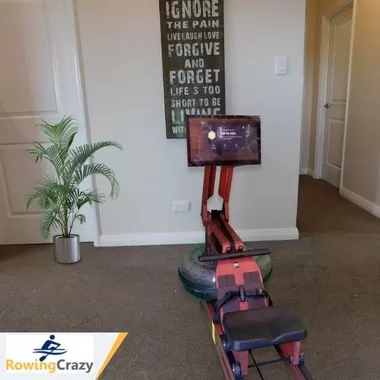 The Cons of the Ergatta Water Rower
I love my Ergatta so much it's actually hard to find things negative about this machine, but here are a few things to consider:
The foot pedals are close together. This makes it difficult for some users who have big bellies or thighs.
There is no way to pause most workouts.
There are currently only two live races each week. If the times are inconvenient for you, you can still race against others but not live.
That's about the only things I can think of that someone should know before buying. If you want to read more – Check out my full review on the Ergatta Water Rower!
2. Runner Up: LIT Strength Machine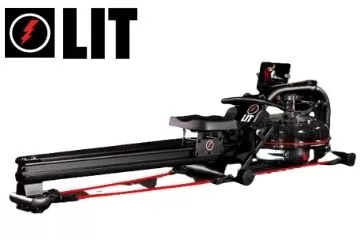 It's hard to choose the best water rowing machine when you have so many choices, but I simply had to tell you about the LIT Strength Machine.
First off, notice how the name doesn't say rowing machine. That's because this is more than just a water rower.
The LIT Strength Machine is designed for high-intensity interval training rowing workouts via anchors you can see on the frame of the machine.
These anchor points are for resistance bands. A typical workout might have you rowing for 10 minutes, then jumping off the rower and doing resistance band exercises for 5 minutes, then getting back on the rower for another 10 minutes, etc.
You may have noticed that there is no monitor with the LIT machine, but that's actually an excellent idea! Why pay for an expensive monitor when you don't need to?!
This doesn't mean boring workouts, however. You simply download the app to your phone or tablet, and you can use it right from there. Or you can always cast the app from your phone to your television! How cool is that?!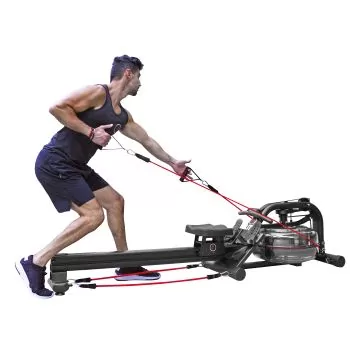 Top Features
Check out a few other features of the LIT Strength Machine:
Maximum user weight capacity is 450 pounds. That's amazing when you consider that most machines are only capable of handling 250-300 pounds.
Resistance bands and bars mean that you can enjoy cardio workouts combined with strength training. There are on-demand workouts, live workouts, and more. There are no on-the-water workouts, but if you like studio settings, you'll love the LIT Strength Machine.
Like Ergatta, this has front wheels so you can move it easily, and it stands in an upright position for out-of-the-way storage.
This rower has a unique two-tank system for extra resistance.
The molded padded seat is super comfortable.
Rowing machines work 86 percent of the body's muscle groups, but when you add the resistance band training, this machine uses 100% of your muscles!
Did I mention that this has a lifetime warranty? It's true! If anything should ever break, you can get another one even if you've had the machine for 5 years or more!
Imagine buying one machine and never, ever having to buy another one! That is what the words true value really mean!
This is a must-have water rower for the true fitness enthusiast!
If you want a water rower that offers more resistance than most, and if you want low-intensity workouts without all the fluff and games, the LIT strength Machine is the water rower that was made for you!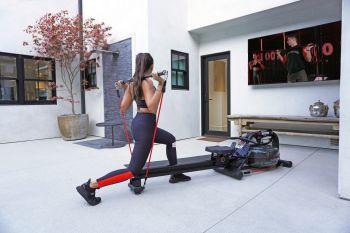 The Cons of the LIT Strength Machine
This is such a unique and awesome machine, but I do think they could improve in a few areas:
The price is quite steep for a machine without a monitor, but since it has a lifetime warranty, I think it's worth the expense.
There are no on-the-water workouts. If you love studio settings, however, this isn't a drawback for you.
Some users say that the shelf for your tablet or phone is awkward and makes it difficult to see the screen.
Also, some users say that their fitness devices don't always connect to the rower, but this observation seems to come from a few users only.
If you read reviews, you'll see that this rower gets 4.9 out of 5 stars, and that's pretty hard to beat! And if you would like read more – check out our full detailed review on the LIT Strength Rowing Machine!
3. WaterRower Club Rowing Machine in Ash Wood
If you want top-of-the-line, best-of-the-bunch, head and shoulders above the crowd, then this just might be the device you want.
This machine works as well as it looks. Made with ash wood for a true rowing experience and style, WaterRower Club knows exactly what you're looking for in a water rowing machine. Most importantly, this WaterRower in ash wood really delivers in terms of function, aesthetics, and durability.
Top Features
As you might well imagine, like all WaterRower Club water rowing machines, this model has many fun, high-tech, and functional features that you will love, including:
A water flywheel for smooth operation that feels like real rowing
Smooth, unlimited resistance
Solid ash-wood construction for durability and a true rowing experience
Its weight limit is 1,000 pounds (453 kg)
The smaller footprint was specifically designed for high-traffic areas
The device weighs 117 pounds (53 kg) when filled with water
100% warranty for 1 year, if you fill out the warranty card, then the device has a 5-year warranty on the frame and 3-years on all moving parts
Easy to assemble in about 1 hour
Can be stored upright
Heart rate monitor compatible
The large S4 monitor allows you to see all your data in a glance, no waiting for the scan to show your information. It includes other info not often found in other models, such as the 500m and 2k split times as well as speed in miles per hour and meters per second.
You get to choose from several workout programs that are aligned to your fitness goals, whether it's losing weight, strength training, or improving range of motion.
Puri-tabs, which prevent the water from growing algae, are included for the lifetime of these rowers.

The Cons of the WaterRower Club Rowing Machine with S4 Console
Nothing in life is perfect, and while the WaterRower Club comes close, there are a few improvements the company could make. Some drawbacks would be:
The price might be a bit out of reach for some.
The device has a large footprint, occupying an area with at least 84 inches long.
Does not fold
Does not come with its own heart monitor
This WaterRower water rowing machine is an excellent high-end model offering many features, including a durable, sleek, wood design that many find appealing and as close to real rowing as you can get. And seriously, nothing comes close to that 1,000-pound weight capacity!
TRENDING POST: Water vs Air Rowers
4. Merax Water Rowing Machine
For those of you who are interested in a sleeker machine that looks high-tech, the Merax is just what the doctor ordered, so to speak.
The beautiful blue-colored water holder is so pretty that you can't wait to get on and get rowing! That's not all, this beauty has lots of features that make it both fun and easy to use.
Top Features
For a quiet, smooth rowing experience, the Merax has a lot going for it, including:
The frame is made from alloy steel for extra durability.
The water holder sits at an angle to make the footprint much smaller than most water rowers.
Offers non-slip PVC levelers
A large, contoured seat that prevents movement
The handle is ergonomically designed and coated in foam rubber and is attached using a 1-inch nylon rope.
Foot pads are large, anti-slip, and they pivot for maximum ease to the joints and muscles (glutes, hamstrings, and other leg muscles) when pushing.
The water tank has 6 water levels, allowing you to increase resistance as your fitness level improves.
Offers a large, LCD console that is easy to read and displays workout data including rowing intensity in duration, strokes, calories burned, distance, and heart rate. No need to buy an additional heart monitor!
Transport wheels allow the device to be moved and stored upright, which is important if you have limited workout space.
Accommodates users up to 330 pounds (150 kg)
The Cons of the Merax Rowing Machine
The beautiful Merax could still be improved in the following areas:
While it has a smaller footprint than some rowing machines, it still needs at least 75 inches of floor space.
The seat is not padded.
The LCD display is not backlit.
Overall, this easy-to-assemble, sleek-style water rower is everything you could ask for from home rowers.
TRENDING POST: Hydrow vs WaterRower
5. Sunny Health & Fitness Obsidian Surge – Under $500 Water Rowing Machine
Everyone would love a top-of-the-line rower, but the truth is that most people find those units a bit out of the range of their pocketbooks.
That doesn't mean you can't get a good quality budget water rowing machine! I've found a very affordable model that still has all the features you want.
Check Price
Sunny Health and Fitness make unbelievably good budget-priced rowing machines, and this model is a best-seller.
If you want an excellent budget rower with strong, smooth resistance to challenge the different muscle groups in your body, the Sunny Health Fitness Obsidian Surge is a great choice for a budget water rower.
Top Features
You might think that budget-priced means either cheaply made or that it will lack cool features, but that's not the case with this water rowing machine.
Stand by to be amazed at all the features this water rowing machine has to offer, including:
Manufactured from steel, this device weighs 92 pounds
Has a weight capacity of 300 pounds ( 136 kg)
Equipped with an R2 fitness device that digitally reads total time, strokes per minute, 500-meter split time, total strokes, distance, calories burned, heart rate, and even room temperature
Offers a race feature
Leveling caps prevent sliding while in use
The seat is molded and padded for comfort.
Seat height is 17 inches from the floor, making it easier to get on and off the device.
The water tank is black and comes with chlorine tablets to prevent algae buildup and maintain the quality of water in the tank.
The handles are non-slip and sweat resistant.
The foot pedals pivot and have adjustable straps.
High-density rubber wheels make moving and storing the device easy.
Warranty is 3-years for the frame, all other parts and components are 90-days.
There is so much more to this rower than space allows!
The Cons of the Obsidian Surge Water Rowing Machine
There is room for improvement in everything, including the Obsidian water rower, such as :
The rowing machine monitor is not backlit.
The chest strap for the heart monitor is not included, although the machine works with other fitness apps.
The water resistance system requires manually adding and removing water in the tank to increase or decrease the resistance level.
The 90-day warranty seems insufficient.
If you want a low-cost water resistance rowing machine to add more challenge to your workout, the Obsidian Water Rower is one of your best options.
6. Koreyosh Water Rowing Machine – Compact Design
I wanted to mention this water rower not only because it is affordable (under $500) but also because its compact design makes it suitable for a small home or apartment.
If you need a more compact water resistance machine but don't want to give up the joys of using a wood rower, the Koreyosh water rowing machine is what you've been looking for. It provides the same infinitely available resistance that an air rower offers, has a space-saving design, and is priced right as well!
Top Features
In addition to having a smaller storage footprint, this water rowing machine has lots of features, such as:
Made from oak for a real rowing experience
Folds in half and has wheels so you can store it effortlessly
The digital display tracks time, count, calories, distance, and has a scan mode for easier workouts monitoring.
Weight capacity is 330 pounds (150 kg)
Pretty blue water tank
Ergonomic seat
Adjustable footplates
The Cons of the Koreyosh Water Rowing Machine
While folding is all well and good for storage, this unit needs to improve in the following aspects:
There's no information about the warranty.
The instructions for assembly are not very clear.
The LCD performance display has no backlight.
While it still requires more than 80 inches of floor space when in use, for those of you who need a water rower to be super storable, you will find this unit exactly what you've been looking for. It is one of the most space-saving water rowers you can find.
The Bottom Line on Water Tank Rowers
While all of the above machines are high-quality devices that will last for years and give you a terrific workout, everyone is different and what works for one person may not work for someone else.
I highly recommend both the Ergatta and the LIT Strength Machine, but if these two water rowers are out of your price range or you have other things to consider, you'll be happy with any of the other water rowers in this list.
If space is of the utmost importance, you will want to go with the Koreyosh since it folds in half for real space-saving storage.
If you're on a tight budget and prefer a light metallic frame over wood, you will want to choose the Obsidian Water Rower by Sunny Health & Fitness.
On the other hand, if you want a water rower that will give you extra durability but is still affordable, then you should go for the steel-made Merax water rower.
Those of you who are looking for a true rowing experience will want to choose one of the wooden water rowers listed above, such as the WaterRower Club and the Ergatta.
Regardless of which machine you choose, you are going to get a great workout, a real-life rowing experience, and a rowing machine you will enjoy for many years to come.
Frequently Asked Questions
1. Are water rowing machines better than magnetic rowers or air rowers?
That would depend on how you define the word better. Water rowers are quite popular because they truly mimic the feel, even the sound of a true rowing experience. Your workouts will also be quieter with water rowers than with air resistance machines.
2. Is a water rower worth it?
For those who truly want the closest experience possible to real rowing feel, yes, water resistance rowers are worth the price. Besides, there are under-$500 options, as this list shows.
3. What is the best water rowing machine?
The one that you will want to use regularly and can comfortably afford will be the best indoor rowing machine with water tank to help you attain your health goals (learn more).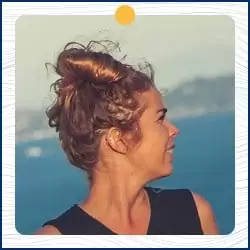 Written by Petra Amara – RowingCrazy.com
CEO & Founder of RowingCrazy, National Rower, Coxswain Womens Eight Team, Rowing Coach & Writer
Petra is a Mother of two and owner of Rowingcrazy.com. Petra lives and breathes rowing, she also has a passion for writing which lead her to start RowingCrazy.com to share her rowing experience and expertise with others.