What comes to your mind when you think of water rowers? I'm betting words like beautiful, sturdy, soothing, and smooth come to mind, but how about folding?
Probably not, right? But guess what? The words water rowing machine and folding are not incongruous! You can have your water rower and fold it too!
In a Hurry? Here are My Top 5 Picks:
In a rush and want to find the best foldable water rowers for small spaces? Check out my top picks.
To help you make an informed decision on which rowing machine to purchase, we have conducted a thorough evaluation of each machine below in this article.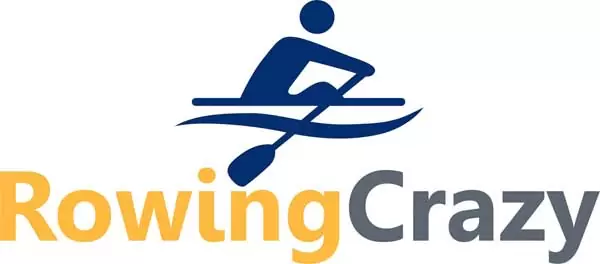 Right Lets Get Into It!
OK, so the water tank won't fold, but as long as you can fold the machine up smaller, then you're a step ahead!
If you're interested in a water rowing machine but you need a foldable rower to store it, today's list is for you!
Check out my list of the top 5 foldable water rowing machines and get ready to get a great workout!
Folding Water Rowing Machines
Everyone loves water resistance rowing machines because they not only sound like you're rowing on the water, but they feel that way, too!
As wonderful as water rowing machines are, sometimes there is just no way around it – you need space to store it!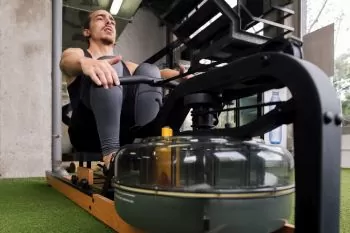 Welcome to the world of folding rowing machines! I've looked at more than two dozen water rowers to create this list of folding water resistance rowing machines just for you!
Are Foldable Water Rowing Machines Any Good?
Oh absolutely!
The only difference between a non-folding machine and one that folds is the fact that, in one way or another, you can store the rowing machine more easily.
It won't make any difference to your workout, your cardiovascular health, or your heart rate. You'll still get a full-body workout. Nothing is different other than folding rowers save space so that you can move them elsewhere.
Is it OK to Fold a Water Rowing Machine?
If the manufacturer gives you instructions on how to fold their rowing machine, then it's perfectly OK to do so.
Keep in mind that not all rowing machines, whether they use water resistance or not, are capable of folding or coming apart for storage.
Even some magnetic rowing machines don't fold, so make certain before you buy if space is at a premium at your house.
Are Water Rowers High Maintenance?
No more so than other rowing machines.
All rowing machines need at least a bit of maintenance. The only extra maintenance that a water rower would have would be that a chlorine tablet needs to be placed in the water tank every 6 months or so.
This is to keep the water clear and beautiful.
Otherwise, water rowers need no extra maintenance.
Are you ready? Let's look at my top 5 picks for folding rowing machines.
Top 5 Foldable Water Rowers
1. Ergatta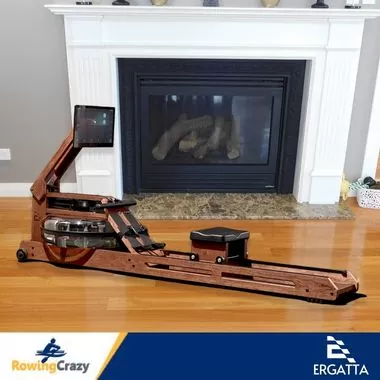 I'm assuming that you know all about water rowers, and that you're main interest here is in having a smaller footprint so you can save space after you've finished your workout.
If you need a little refresher course, you can find out more about water rowers here.
Ergatta is different from other water rowing machines. Not only is it made from beautiful custom cherry wood, but it also has a large 17.3 HD touchscreen tablet.
Yes, other rowing machines have touchscreen monitors, so what makes Ergatta so different? It's the programming or software.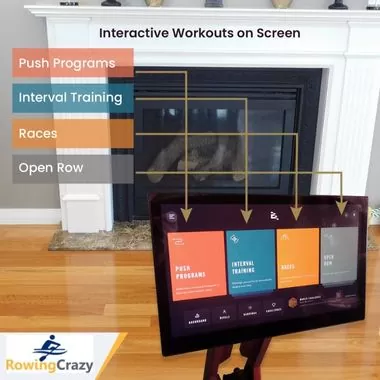 Ergatta uses a game-based type of software to keep you motivated and help you reach new fitness levels. If you aren't a fan of those classroom settings, and you get bored by upbeat instructors, Ergatta is probably the rower for you!
Ergatta will automatically calibrate your fitness level so that you always get the perfect workout. They do so not with boring instructors, but by using video games and racing competitions that make your workout effective yet fun!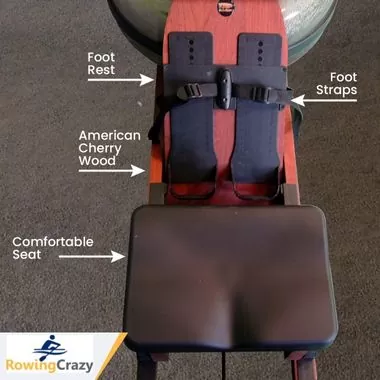 This rowing machine is the perfect foldable rower for beginners or even more advanced individuals.
If space is an issue, you should know that the screen and monitor arm folds down. There are transport wheels so you can simply roll it away and store it upright against the wall. This doesn't take up any more floor space than a dining room chair. You might need to move a picture or clock off the wall, but that would be it!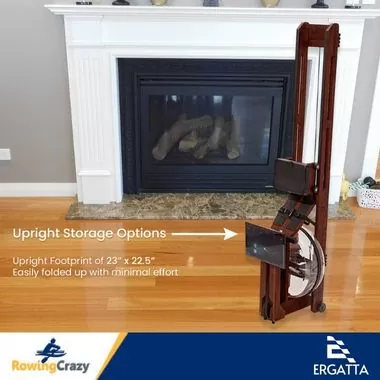 The stored dimensions for Ergatta are 23 x 22.5 x 86 inches (length x width x height).
I love the workouts on Ergatta, so I always end up working out longer than I had planned to! With a space-saving design for easy storage, a breathtakingly beautiful appearance, and fun games to play, Ergatta is everything you want and nothing that you don't.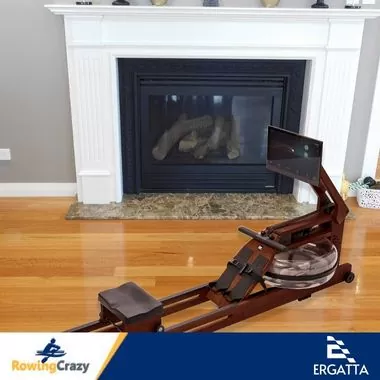 2. Sunny Health and Fitness Phantom Hydro Water Rowing Machine
Isn't this an incredible-looking machine? It's a water rower, like Ergatta, but with a completely different style to it. Very futuristic, don't you think? I would imagine Captain Kirk using this exercise machine.
Sunny Health and Fitness have made a name for themselves with their high-quality exercise machines that take a beating and keep on ticking. Kinda like those wristwatches they used to advertise, right?
The Phantom rowing machine is made from alloy steel so you know it will be very durable. There is a performance monitor conveniently mounted so that it is easy to read. This monitor comes with a swivel feature, and it will track your overall time, distance, strokes, total strokes, SPM (strokes per min), time/500m, calories, and pulse. It even has a built-in calendar, room temperature and clock!
I like that this rowing machine features a device holder that will hold your phone or tablet, so you can watch movies or listen to music or podcasts, or maybe you would rather watch workout videos.
No matter which you prefer, you can see your phone or tablet easily since the arm moves and swivels.
The Phantom rowing machine also has transport wheels so you can pick it up and move it wherever you want it. The device holder folds down and the slide rail also folds in half, making storage as easy as 1-2-3.
The stored dimensions for this rowing machine are 24″ x 36″ x 50″ in height. That makes this rowing machine perfect for closets, corners, or laundry rooms.
The warranty on this machine really shows pride in manufacturing. It has a 9-year warranty on the frame and a 6-month warranty on all other parts.
If you love the futuristic look of this rowing machine, and if you've got some closet space, the Sunny Health and Fitness Phantom rowing machine will work for you!
3. HouseFit Wooden Water Rower
Isn't this a beautiful indoor rower? HouseFit isn't a well-known name brand, even though it's been around since 1991, but I bet it soon will be with everything it has to offer.
Also, I like the name HouseFit since that's exactly what this rower can do- fit inside your house!
Made from European Beechwood, this water rower also features a Bluetooth function that allows you to download apps like FitShow and Kinomap to your cell phone and have the app work with the rower controlling the resistance for you.
Now, Kinomap requires a subscription while FitShow does not, but many people say that the Kinomap is the better app. I suggest that you try both before you pay for Kinomap.
This indoor rower also has an LCD monitor that tracks your data, as well as a device holder for your tablet or cell phone so you can see your chosen workout app easily.
The HouseFit water rower literally folds in half, so all you need to do is use the front wheels and roll it away!
The folded dimensions are 24″ x 21″ x 40″ (L x W x H). That's a whole lot of foldable rower for the price!
If you're looking for a wallet-friendly water rower that folds up neatly to fit in a corner, then you might enjoy the HouseFit Wooden Water Rower.
4. Trunk Folding Water Rower
If HouseFit means it will fit in the house, does Trunk folding rower mean that it will fit in your trunk? I guess that would depend on how big the trunk of your car is!
Made from solid oak, this rowing machine has nearly all the little features that most people want in a rowing machine, including a folding design.
I love the blue transparent water tank- it makes this rower look really chic and classic.
This water rower by Trunk has an LCD monitor to track all your basic data, but the holder for your cell phone or tablet is quite small and not easily viewed.
This rower does fold neatly in half, and the front wheels allow you to roll it away to a less conspicuous spot when you have finished. This foldable rower also features Bluetooth so you can connect your cell phone to various apps, including ZVFit (free) or the Kinomap app (monthly subscription).
Did I mention that this also comes with a dust cover? What a great idea!
This is a terrific choice for your home gym, and it takes up only 44 x 30 x 22 inches when folded. That is one compact rowing machine!
If you like the look of oak and want Bluetooth functionality, the Trunk folding oak rowing machine might be what you've been searching for.
Want a Rowing Machine on Finance? Click Here for Options
5. Vilobos Heavy Duty Water Rowing Machine
The Vilobos water rower lists itself as heavy duty, but the frame is made from pine wood, which isn't known for being all that durable.
The price is certainly right, however, especially when talking about folding rowing machines.
If you're like me, you'll love the look of the blue-transparent water tank and the fact that this rowing machine includes an LCD performance monitor that will track your fitness journey.
The foot pedals are fully adjustable and the seat is cushioned for extra comfort.
Unfortunately, for this price, this foldable rower doesn't have Bluetooth capability or a cell phone holder.
However, for anyone who is interested in a basic rower that will get the job done and makes minimal noise, the Vilobos will still give you an incredible workout.
Like most folding rowing machines, this one has front wheels that will help you roll it easily to another location. The dimensions of this rower when folded are 41 inches by 12 inches by 19 inches.
If you're looking for a basic, wallet-friendly folding rowing machine, you might find the small footprint of the Vilobos foldable rowing machine ideal.
Are Water Rowers Better Than Air Rowers?
That would depend on your definition of "better."
Air rowers also feature models that can fold, such as the Concept 2 Model D, but unlike an air rower, water rowers are very quiet. The harder or the more you use an air rower, the noisier they are.
In comparison, you'll love the gentle swooshing sound of water in the tank as you exercise. Many people find the sound soothing, like listening to a running brook.
Both rowing machines will give you an incredible full-body workout and all the benefits of exercise.
The main difference between the two? Noise. The final decision about noise levels is up to you.
The Bottom Line
When speaking about foldable rowers, it can be hard to decide which one is the better buy.
If money is tight, you might consider the Vilobos or the HouseFit folding rowing machines.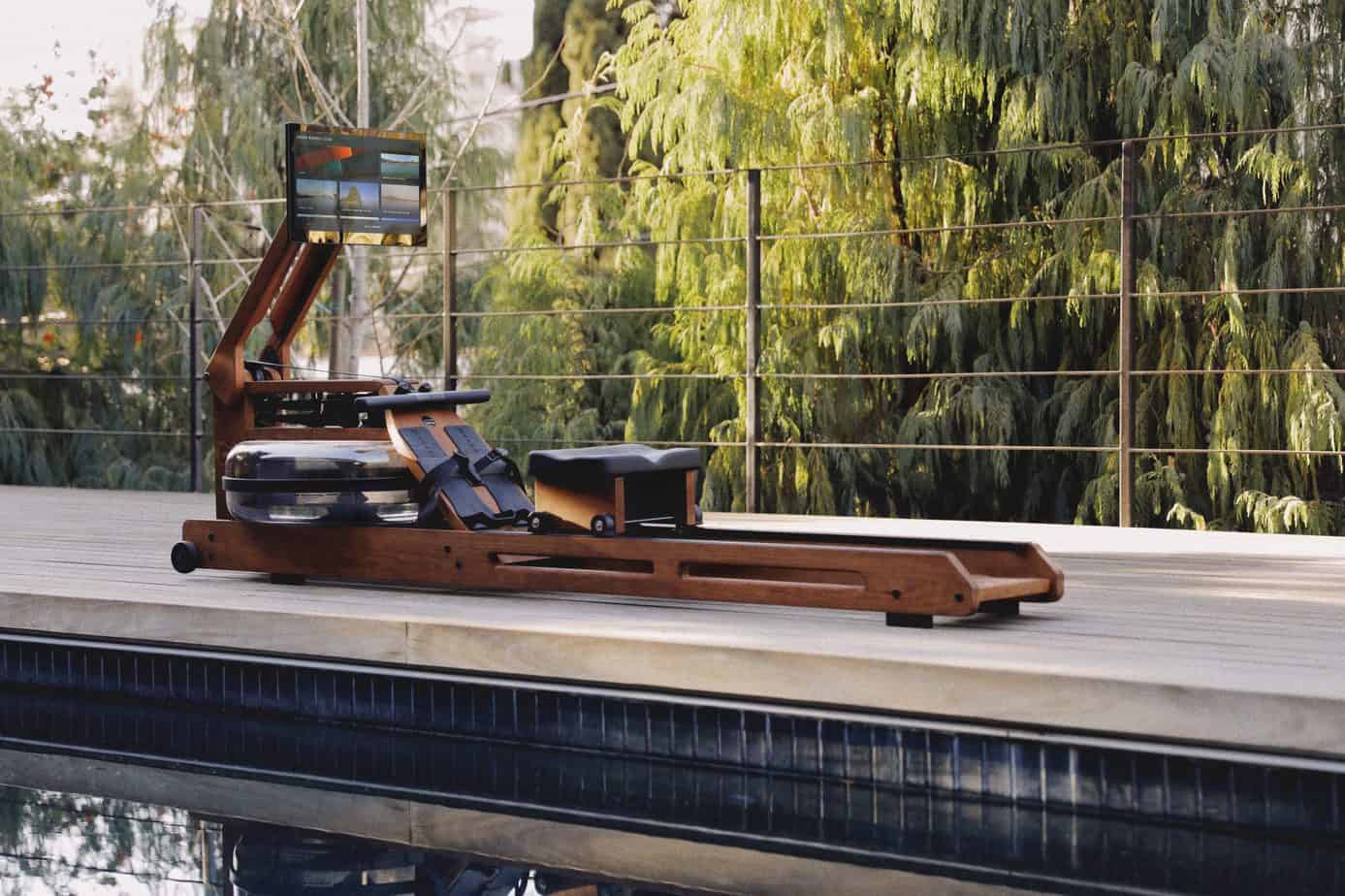 If you want the best of the best, the top of the line, the ultimate in rowing satisfaction and fun, then you should consider the Ergatta.
I know that for my fitness routine, Ergatta made my fitness journey fun and it fit perfectly in my home gym, and I have to say that, overall, Ergatta is a great machine with lots to offer!
All of the above machines fold to some extent, so no matter which one you chose, you should be able to find a small space to store it.
I hope you found this guide helpful. Feel free to pass it on.
Stay healthy and happy rowing!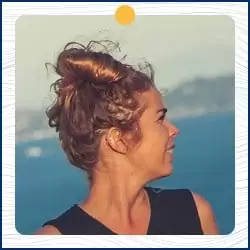 Written by Petra Amara – RowingCrazy.com
CEO & Founder of RowingCrazy, National Rower, Coxswain Womens Eight Team, Rowing Coach & Writer
Petra is a Mother of two and owner of Rowingcrazy.com. Petra lives and breathes rowing, she also has a passion for writing which lead her to start RowingCrazy.com to share her rowing experience and expertise with others.