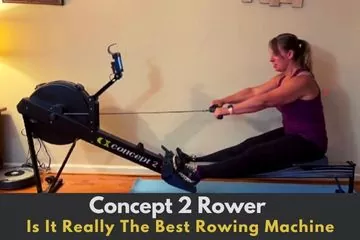 Being able to get a good product is a great thing. It's even better if this can be accompanied by a good deal of customer service. Nothing, however, comes close to a combination of top product quality and ongoing, dedicated customer service that remains helpful long after the transaction.
With that in mind, it becomes easier to understand why C2 Machines are the best rowing machines on the planet. The brand offers lasting value, outstanding customer service at every step and are keen on ensuring that the customer's needs are fully catered for.
Model D (Black) with PM5
Model E Indoor Rowing Machine with PM5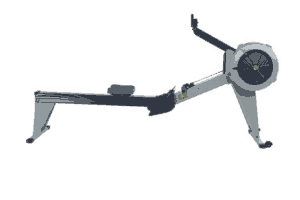 It's Not Just The Machine You'll Be Getting!
It's not just the machine you'll be getting. Rather, the support you receive from the manufacturer long after the sale is what will make your experience really complete and satisfactory. You are encouraged to create an online profile where you can log your workouts, participate in various online challenges and distance award programs that contribute to making your whole experience extremely stimulating. And where you wish to know something, you don't have to struggle on your own.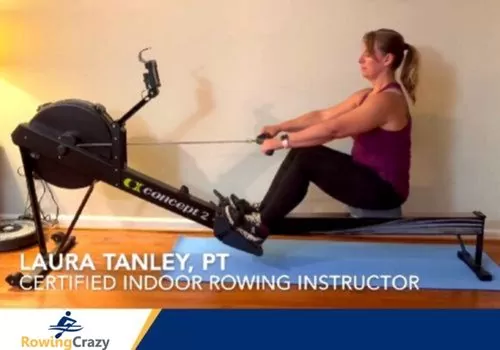 The group has a dedicated team of customer service representatives whom you can leverage their knowledge to make the most of your investment. This level of customer service and post-sale support, added to the unrivaled function, quality and durability of the indoor machines make these indoor machines the workout tools of choice for anyone who wishes to get fit without having to go to the gym.
Watch our full review video of the Concept2 Rower by Rowing Expert & YouTube Influencer Max Secunda:
powered by Advanced iFrame. Get the Pro version on CodeCanyon.
It also plays a very large part in the training for CrossFit and the machine is regularly used at the CrossFit Games. It doesn't matter how old you are, every machine is designed to satisfy the fitness needs of everyone regardless of their age. It will work your triceps, chest, back, stomach and you can even get the benefits of doing a bench press all from this one machine!
#1: Concept2 Model D with PM5
This ergo has a couple of features that make it effective as a full-body, low-impact workout tool that delivers top results as far as indoor rowing is concerned. It has the flywheel designed to minimize noise and maximize a smooth feel during rowing. One of the most serious concerns with indoor rowing is just how close the experience can be to the actual rowing in the water. And with this flywheel feature, tries to make the indoor rowing feel as natural as possible. This is intended to ensure you don't get distracted by jarring noises while you're rowing.
powered by Advanced iFrame. Get the Pro version on CodeCanyon.
The Best Selling Rowing Machine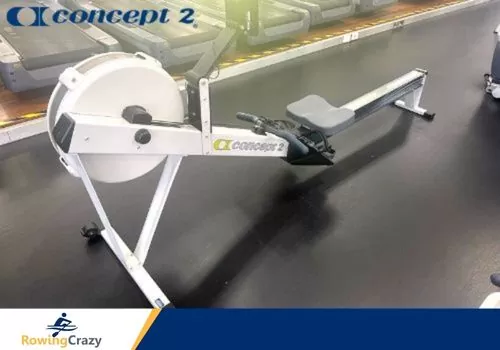 The Model D indoor machine consists of the spiral damper designed to make it easy for you to seamlessly adjust the airflow to the flywheel. This means that you can comfortably adjust the feel of every stroke to suit your workout and preference. With this spiral damper, this indoor fitness machine responds to your effort on every single stroke, meaning that you are fully in control of your resistance and exertion at all times.
Concept2 Monitors
powered by Advanced iFrame. Get the Pro version on CodeCanyon.
The performance Monitor 5 is an amazing addition to this workout tool. It does not only set the piece of equipment apart from other training devices but also ensures that the Model D is truly a state of the art machine. Each Model D includes the brand's most advanced PM5 monitor. The monitor is truly sophisticated yet very easy to use not only for experienced competition rowers but just about anyone. It provides accurate, comparable data for each row.
Backlight Monitor with USB Flash Drive
It has a backlight that helps increase visibility so you can obtain your workout feedback at any time without having to require an additional source of lighting to illuminate it for you. Also, this monitor is compatible with USB flash drives to enable you to obtain and store your workout data with so much ease.
powered by Advanced iFrame. Get the Pro version on CodeCanyon.
That is not all there is to this state of the art performance monitor. With it, you can monitor your heart rate wirelessly. It also supported by an adjustable arm that lets you position the display where it is most convenient for you and it is also compatible with Garmin and Suunto heart rate monitors.
Model D Offers Easy Storage
powered by Advanced iFrame. Get the Pro version on CodeCanyon.
Storage is a breeze with the Model D. So is mobility. The equipment features a quick-release frame lock mechanism that requires no tools to operate. This means you won't need any tools to separate the machine into two pieces for storage. Its caster wheels (available on the front foot) let you roll the fully-assembled machine into position with maximum ease.
Concept2 Dimensions:
Folded for storage the Concept Model D measures:
33″ x 54″ (63.5 cm x 83.8 cm x 137.2 cm)
Fully Assembled Concept 2 Model D:
8 ft x 2 ft (244 cm x 61 cm) when assembled. It requires approximately 9 ft x 4 ft (274 cm x 122 cm) of floor space when in use.
Adjustable Footrests for all Foot Lengths
There are the adjustable footrests on the Model D that make it appropriate for people of all foot lengths. The adjustable footrests make it easy and quick to resize the footrests to accommodate a wide range of foot sizes; or shoe sizes for that matter. Additionally, the handle is ergonomic and features a bend of up to 10 degrees to allow for a more natural rowing performance. It allows you to place both your hands and arms in a natural, less tasking position. Side Note: You might also like to read my other article Echelon Vs Concept 2
Seat Height Ideal for Tall People
The seat has a height of 14 inches, which is such a good height for tall people. Tall people tend to be disadvantaged when it comes to rowers. Because unless the height is appropriate for them, the whole rowing experience can be far less enjoyable. Rowing is low impact in nature and as such should not task your joints much. They have carefully factored this consideration in their seat height for seated rowing.
Quality Built Exercise Machines
The equipment has a sturdy nickel-plated chain that gets the job done; nickel deposits on the chain ensures the chain is resistant to both wear and corrosion. It also makes it hard, lustrous and easy to lubricate for smooth rowing. Regardless of the kind of nickel plating on your chain (see Concept 2 rowing machine maintenance tips), you can be sure of an excellent level of corrosion resistance. Also, the oar shafts are made of high modulus carbon fiber which makes it great for CRASH-B Sprints and is why it is a preferred machine by the British Indoor Rowing Championships (BIRC).
powered by Advanced iFrame. Get the Pro version on CodeCanyon.
User Manual and Instructions Included
Included in every Model D purchase is a user manual to guide you on the equipment best practices. This includes instructions on how you can make the most of the user-friendly menu for managing the wide range of features that come with it such as preset workouts, multiple languages, and games. Along with it is the do-it-yourself, or DIY assembly instructions so you can be set in a matter of minutes once you reach home with your machine. Also included are the Performance Monitor Quick Start Guide and assembly tools.
5 Year Warranty
The Model D has a limited 5-year warranty that covers its frame and a 2-year warranty for its moving parts and the Performance Monitor 5. This equipment is sizeable enough and requires a footprint of approximately 9 by 4 feet and carries up to 500 pounds of user weight or 227 kg.
Overall, the Model D has a practical design and dependable performance that many seasoned rowers around the world appreciate. Its frame is robust and is engineered to last a lifetime – that's a lifetime of value. For those who are selective when it comes to colors, the Model D indoor ergo machine is available in two different colors: black and light gray. This is good news if you have a preference between the two. You'll want to know how their function remains the same, the choice of color notwithstanding.
Click Here to see Concept 2 or Ergatta Water Rower – Who is Better?
Added Features Makes Rowing A Breeze
Also, the display is positioned strategically so you can monitor it with ease without having to bend forward or anything like that. Sit comfortably on the comfortable on the seat and read your workout data on the screen from that comfortable position. There are solid reasons why this machine is recognized by seasoned rowers as the standard for indoor exercise. It delivers an effective cardio workout that effectively increases your level of fitness. Obviously, you wouldn't mind getting your physique all toned up.
Backlit PM5 Display Screen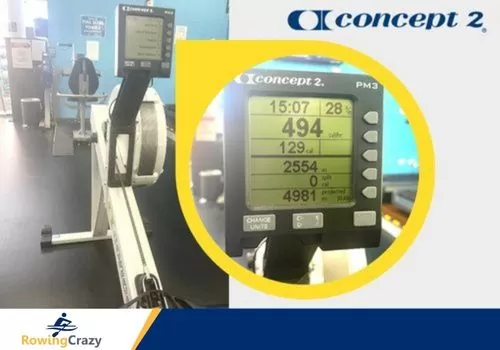 The backlight on the PM5 display screen means everything is well illuminated and you don't require any additional source of lighting even in the dark. It gives you the liberty to work out any time in any amount of ambient light. Even more interesting is the fact that you can safely work out at any time without worrying about waking kids up or getting reprimanded by irritated neighbors because the Model D is really quiet. No grating noises during rowing on this machine. Side Note: If you are looking for a super quiet machine – I mean no noise at all, be sure to read all about the Teeter Power10 Rower it seriously does not make a sound!
Equipment Includes Bluetooth Smart Connectivity
The Bluetooth Smart connectivity featured on this equipment is a definite add. For those who love to have things the easy way, the Model D is for you. You'll love the ease with which you can pair the monitor on this equipment with compatible heart rate monitors and monitor your heart rate wirelessly.
The wireless capabilities of this state of the art Performance Monitor 5 also support extra fun features like machine-to-machine racing, so you can compete with other gyms and home rowers. It also supports connectivity to your smartphone and PC or Mac. Let the low impact not fool you.
The Model D works quite a lot of muscles on your body. It will deliver better and more comprehensive workout results than most of the commercial-grade equipment you find in the gym. And with its build, you won't be worried about your back since you won't take a slouched position unless you choose to. You might be slouched and hurt your back if you have no experience rowing – which is an uncommon scenario.
Don't forget to check to see if your heart rate monitor is compatible and is Bluetooth smart
Concept ii Rower Is Easy To Assemble
It is much uncommon with the Model D because of its particularly high seat. So even a tall person will have no problem working the muscles of his or her back without putting undesirable pressure on them. For weight loss, there wouldn't be a better machine. Few workouts could beat rowing on this machine when it comes to losing weight and getting in shape.
Assembling this machine is a breeze. You barely need 10 minutes to get the whole thing set up. Not to mention that it comes with the assembly tools including the needed screwdriver. So you won't have to scavenge through the neighborhood in search of a suitable screwdriver. You don't need any tool to set up the seat; its frame simply drops into the flywheel section where you then just lock it down.
Final Thoughts on this Model D
Buying the Model D means you are buying the same machine that elite-level athletes are using to train for their sport. It lets you into the world of low impact training with pleasing results. And the fun part of it is that these results find you in the comfort of your home! The solid construction is a guarantee of value for your money. You put your money into something that will give you a lifetime of value and save you from having to pay the typically costlier gym registration fee.
A lot of seasoned athletes go for the ModelD not only because of its dependable performance but more so because of its special features. It has the Performance Monitor 5 that does not just give you detailed feedback of your workout, it also allows you to transfer these data for storage in your PC or Mac. You can track the distance you have covered, your rowing speed, calories burned, the number of watts consumed and the pace of your workout. And all this is automatic. Once you start exercising, the tracker gets into action keeping a record of every essential data.
Ratings
Concept2 Model D Indoor Rowing Machine with PM5 Performance Monitor, Black
This item benefits from an Extended 90 Day Return Window
Low impact workout that engages all major muscle groups; work legs, core and arms with a smooth, high calorie-burning motion
Track your progress with real-time reliable data; the Performance Monitor 5 (included) self-calibrates for comparable results; connect wirelessly to heart rate belts and apps (not included)
Designed to fit most users: 14-inch seat height, adjustable footrests and ergonomic handle
Separates easily into two pieces for storage; caster wheels make it mobile; easy to assemble with only eight screws. Space Recommendations- Assembled- 8 ft x 2 ft (244 cm x 61 cm). For Storage- 25 in x 33 in x 54 in (63. 5 cm x 83. 8 cm x 137. 2 cm)
Space recommended for use is 9 x 4 feet; 500-pound user capacity; 5-year frame included. Seat Height: 14 inches. Users with an inseam of 38 inches (96. 5 cm) or more may require an extra-long monorail
Included components: Concept2 Model D RowErg, Performance Monitor 5 computer (PM5), Smartphone Cradle, User Manual, PM5 Quick Start Guide, tools and illustrated assembly instructions.
#2: Concept Model E with PM5
This Model E has a lot in common with its cousin Model D featured above. They, however, have a few dissimilarities that might appear slight, but make a difference nonetheless. The air resistance indoor exercise machine (learn more water rowing machine vs Concept 2) features the same nickel-plated chain found in the Model D, but with a slightly more durable double powder coat and lustrous finish. As with any form of nickel plating, the double powder helps create a high level of lubricity for the chain and makes it extremely durable; resistant to both corrosion and wear.
powered by Advanced iFrame. Get the Pro version on CodeCanyon.
The lustrous appearance is designed to ensure smooth riding and truly enjoyable rowing. Whichever way you look at it; the nickel-plated chain is a double blessing. It requires less frequent oiling, meaning you save on that part; and it also protects the chain against scratches so it remains aesthetically appealing for long.
Built with taller persons in mind
powered by Advanced iFrame. Get the Pro version on CodeCanyon.
This high-end version of the Model D above has a robust frame with a height of 20 inches to favor taller rowers. You can say goodbye to back pain if you were experiencing some. And if you haven't experienced such problems then you can be certain they won't find you, not with the robust high frame featured on the Model E. From a practical angle, the higher frame on Model E means you can get on and off the machine with much ease compared to something smaller.
This is particularly a blessing to those who have bad knees or issues with mobility. Though your rowing exercises your entire body by nature, your knees have the biggest role to play. A sore feeling on your knees can be particularly a major concern. But with the build of the Model E, such concerns are significantly minimized.
Model E Gives You More Control Over Your Workout Data
The Model E has the same PM5 Performance Monitor found on the other model, Model D. There's however a slight structural difference between the two in that the PM5 on this Model E has a slightly longer arm that keeps it quite within easy reach. The functionality is, however, the same. It retains the same sophisticated technology that is very easy to use. It provides accurate data, comparable for every row. You can track your workout feedback for key parameters that include distance, calorie count, pace and time.
The display is backlit so you can read that feedback at any time of day and in any lighting condition, however, dim it may be. Ever thought of working out at 4 in the morning? You can do that with the Model E, even if there's a blackout. The display has very good visibility that you don't have to move your eyes closer to the display to read the data on it. It is compatible with USB flash drives so you can capture and transfer any data set to your PC for storage.
Overall, this technology gives you a lot of control over your workout information since you can do anything you want with the data. There is also the wireless and fun part of the Performance Monitor technology. It lets you monitor your heart rate wirelessly. All you have to do is pair the monitor on this equipment with any compatible heart rate monitor and you are good to go.
E Rower Offers Better workout efficiency with an ergonomic handle
powered by Advanced iFrame. Get the Pro version on CodeCanyon.
This model also has ergonomic handles just like in the Model D. they are designed to provide secure and safe handling during your exercises. Ergonomic handles ensure that your hands are protected from any harm and can deliver optimum performance. Also, such handles help improve the efficiency of your workout, reduce discomfort, fatigue and the risk of injury.
Adjustable Foot Rests to Suit All Shoe Sizes
The machine comes with adjustable foot-rests that make it appropriate for use by virtually anyone, your shoe size notwithstanding. It is simple as getting on board and finding your best foot settings. And all this is very simple. The flywheel on the Model E is another high-end area of design on the series. There is a slight adaptation from what's on the Model D, and it has been made to become more efficient.
This machine also has fully enclosed housing for the nickel-plated chain to keep it safe and clean, which is synonymous with increased durability and room for more long term saving on the side of maintenance. Ultimately, what makes this machine one of the most robust of all indoor rowers is the 54-inch aluminum rail frame that also features a stainless steel track on which the rower's seat moves while in use.
What is the Weight Limit of a Concept 2 Rower?
This is something most people don't consider and if you are of a larger build you should always ensure to check the weight limit on the rowing machine you are considering purchasing. Luckily you don't need to worry with any of the Concept rowers as all machines hold up to 500 lbs body weight or 227 kgs! That's quite impressive.
5 Year Frame Warranty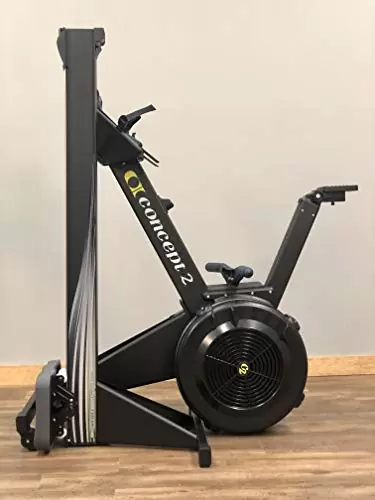 When you're done exercising and you wish to store this equipment, all you have to do is separate the whole thing into two pieces (easy process) and store it upright. Suppose you wish to store it somewhere other than your workout spot, then simply use the caster wheels on the front to drag it easily around or even from room to room.
Defective problems are rare with the Model E indoor rower because it has been designed as an upgrade from the other model, Model D. If this sounds too good to be true for you, then you have the 5-year frame warranty as your proof of longevity.
Model E – Color and Design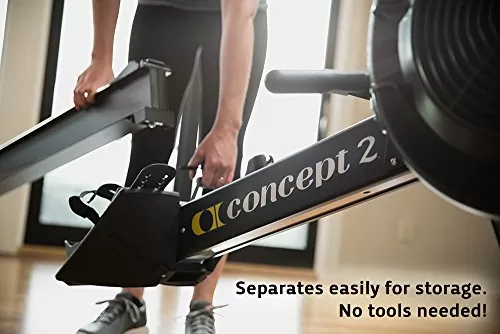 Like the previous rower model, The Model E is available in two different colors. You can choose your most preferred color between light gray and black. The color does not have anything to do with the rower performance or the overall rowing experience. It remains the same regardless of the color. So you don't have to force yourself with the color you least prefer. Whatever your standpoint is, the Model E is hands down a leading workout tool for your whole body.
Yes, you'll be paying a little more cash for this machine. But compared to the other low-cost machines designed for the same purpose, you just need to look up the reviews to see what a disappointed lot the buyers are. But it is not the same as the Model E. Users of the Model E are vastly pleased with their purchase as a worthy investment.
Since the Model E is bound to last for a lifetime, we are looking at a lifelong saving on the cost of yearly gym registration. Or, would you rather buy cheaper rowers that break down all the time and you have to buy again and again or would you rather just go for the Model E once and solve your lifetime's workout puzzle for good?
Comfortable Seat To Suit Any Rower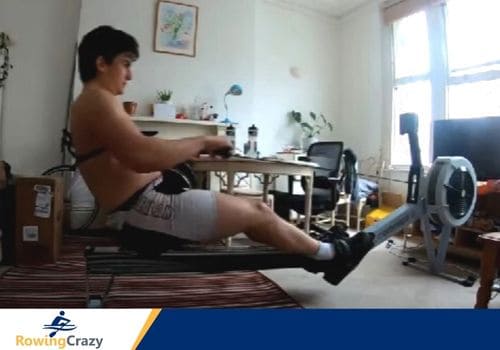 The elevated seat standing 20 inches tall is just like a regular chair; more comfortable than anything you know in the rowing industry. So if you're elderly, then the last thing you want to do is try a different rowing machine from this. Even if you are just rowing for the first time, the Model E can be a great motivator; its PM5 displays your data and you can capture and store any of the data for whatever use you have for them. But more importantly, you can use the data to compare how much progress you have made over different periods. Plotting the
Be sure to check out my other detailed article Concept 2 Model D vs E

powered by Advanced iFrame. Get the Pro version on CodeCanyon.
How To Get The Best Our of Your Model E Rowing Machine
If you are not seeing any more progress because the workout has become lighter for you, all you have to do is adjust the flywheel and move forward to the subsequent level. You can make such adjustments from time to time along your workout journey. It has a wide range of options for levels of resistance to choose from, between 1 – 10.
This means that you don't have to set a high level of resistance if it will make you too slow to get a proper workout. The effective workout is determined by your rowing pace – be sure to check out our article on the average rowing speed for a beginner. Be sure to adjust it to your best resistance level to get the best rowing pace for results.
Final Thoughts Model E Rower
The Spiral Damper on this Model E Rowing Machine has settings that are adjustable between 1 and 10. You can use these settings to control how much air enters the flywheel housing upon each stroke. Not to forget that this air-based rowing mode ensures a quiet and smooth rowing experience. When you are living with people in your neighborhood then you'll want something that won't cause so much noise that could get you into problems with neighbors. And the Model E rower has carefully taken care of that noise factor; it has used a flywheel that minimizes noise and maximizes smoothness.
Convenient Adjustable Monitor
The accurate data provided by the Performance Monitor 5 is comparable for every raw, which is a favorite feature for many workout enthusiasts. What's more, the arm supporting this Performance Monitor is not only designed to bring the display much closer to you, it also adjustable so anyone can enjoy the same experience by using the monitor arm at their most convenient distance.
Your hands won't get sore as they would if you used certain other types of workout machines. This is a durable piece of equipment. It features a robust frame and a nickel-plated chain both of which have been designed to stand the test of time and continue to deliver unstopping value for a lifetime.
Ratings
Interested in seeing other rowers that we have tested out "Click Here" to see our Ultimate Buyers Guide!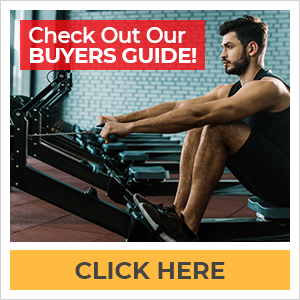 Concept is located – Vermont, USA
To read more: Click Here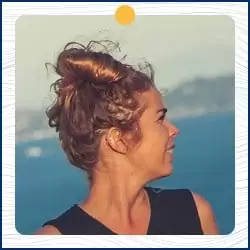 Written by Petra Amara – RowingCrazy.com
CEO & Founder of RowingCrazy, National Rower, Coxswain Womens Eight Team, Rowing Coach & Writer
Petra is a Mother of two and owner of Rowingcrazy.com. Petra lives and breathes rowing, she also has a passion for writing which lead her to start RowingCrazy.com to share her rowing experience and expertise with others.