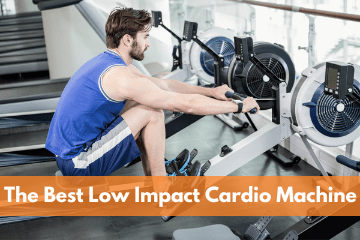 You might think that bad hips, knees, or lower back mean that you are sidelined forever. Don't let joint pain or injuries get you down, get your heart pumping again with low-impact cardio machines!
It's true! There is a wide range of cardio machines that are perfect for weight loss, getting those 6-pack abs, and work nearly every part of your body all without causing you more pain.
| Our Top Picks | Rower | Price |
| --- | --- | --- |
| Teeter Power 10 Elliptical Rower | | |
| Hydrow Rower | | |
| Bowflex Max Trainer M8 | | |
| Concept2 SkiErg with PM5 | | |
| Teeter FreeStep | | |
| Concept2 Model D | | |
| Assault AirBike Classic | | |
| Stamina Conversion II | | |
The trick to this is finding out which low-impact exercise machines are the best. You could waste hours searching online or walking through a store, but you still won't have the answers you need.
In this article, I want to talk in detail about the best cardio machines that give you an incredible workout and are well worth the investment.
I've done all the work for you, so keep reading to find the best low impact fitness equipment for you!
Here Are Our Top Pick Cardio Machines for Your Cardio Workout!
When it comes to cardio machines, there are some that are so-so and others that are outstanding. You want the best for your exercise routine, right? Take a look at some of the top-selling pieces of low-impact exercise machines, you won't believe the options available to you.
Teeter Power 10 Indoor Rower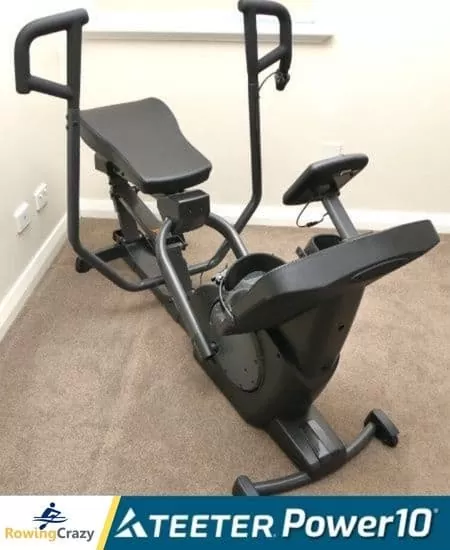 If you want a machine that makes cardio workouts seem fun and easy, a rower is the perfect choice. The Teeter Power 10 is one of the best machines for controlling your weight, working all the major muscle groups, and providing strength training all in one machine.
The Teeter Power 10 Elliptical Rower engages more of your muscles than a plain elliptical or rowing machine can provide. The handles not only make you pull as you would when rowing, but you must also push them back to the start position. This gives you a high-intensity calorie burn like you can only imagine!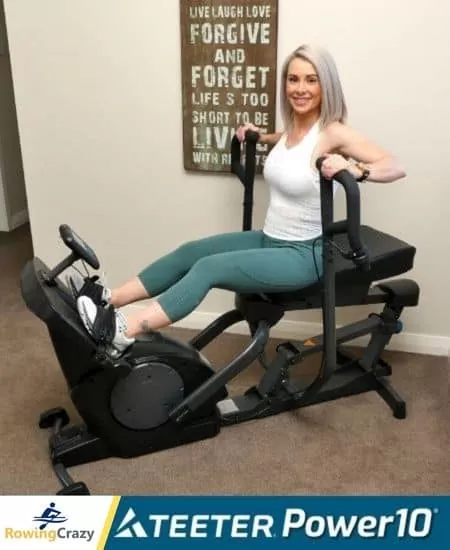 This rowing machine uses magnetic resistance, unlike assault airbikes, so it's quiet as can be. It features a large display screen that is easy to read and a built-in heart rate monitor, so you know when you're getting a good heart pumping exercise program.
The Teeter Power 10 has so much going for it that it's hard to list it all in one place!
Pros:
Features multi-grip, rubberized, sweat-resistant handles
Fully-adjustable seat
Supports users up to 300 pounds (136 kg)
Quick-release foot straps
The device partially folds and can be stored upright; wheels make it move easily
Provides a free program with workouts from top instructors
Comes with a 1-year warranty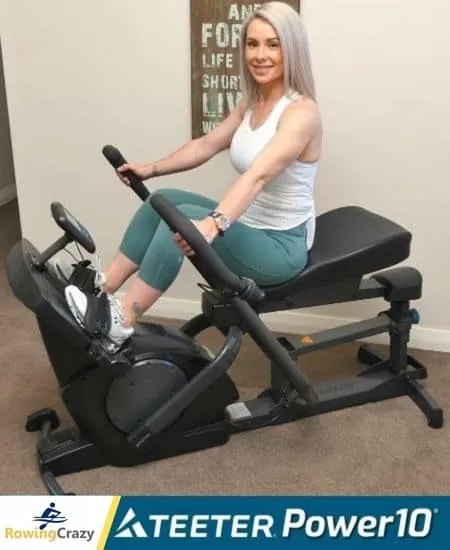 Cons:
The device weighs 180 pounds (81.6 kg) which might be too heavy for some people to move easily
Some people may find this rower difficult to assemble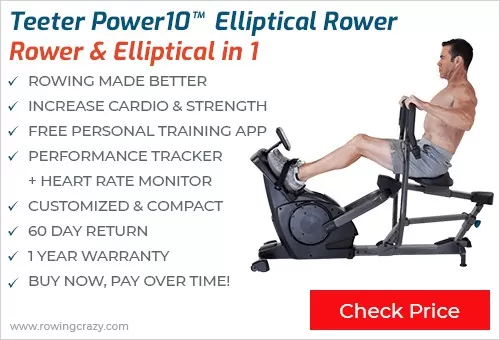 This combination of elliptical and rowing is one of the best trainers on the market. You won't find a better low-impact exercise machine for the money, to read more about this great machine, be sure to read my personal Teeter Power 10 Elliptical Rower testimonial here.
Hydrow Indoor Rower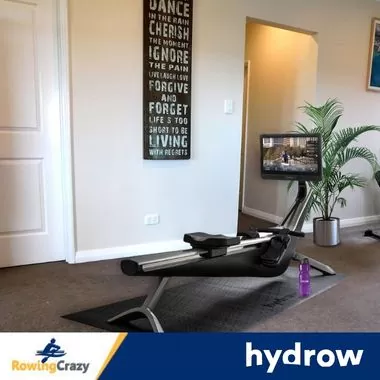 Hydrow SAVE $100 or £100!! => Use Coupon Code: ROWINGCRAZY
When it comes to low-impact exercise, there is nothing better than a rower. These devices are well known for the incredibly high calorie burn and the full-body workout that you get from them.
Watch Rowing Coach Max Secunda reviewing the Hydrow Rowing Machine:
The Hydrow is a top-of-the-line rower designed for those who want only the best. This rower features an HD 22-inch touchscreen monitor that has some of the most beautiful scenery in the world for your immersive rowing experience.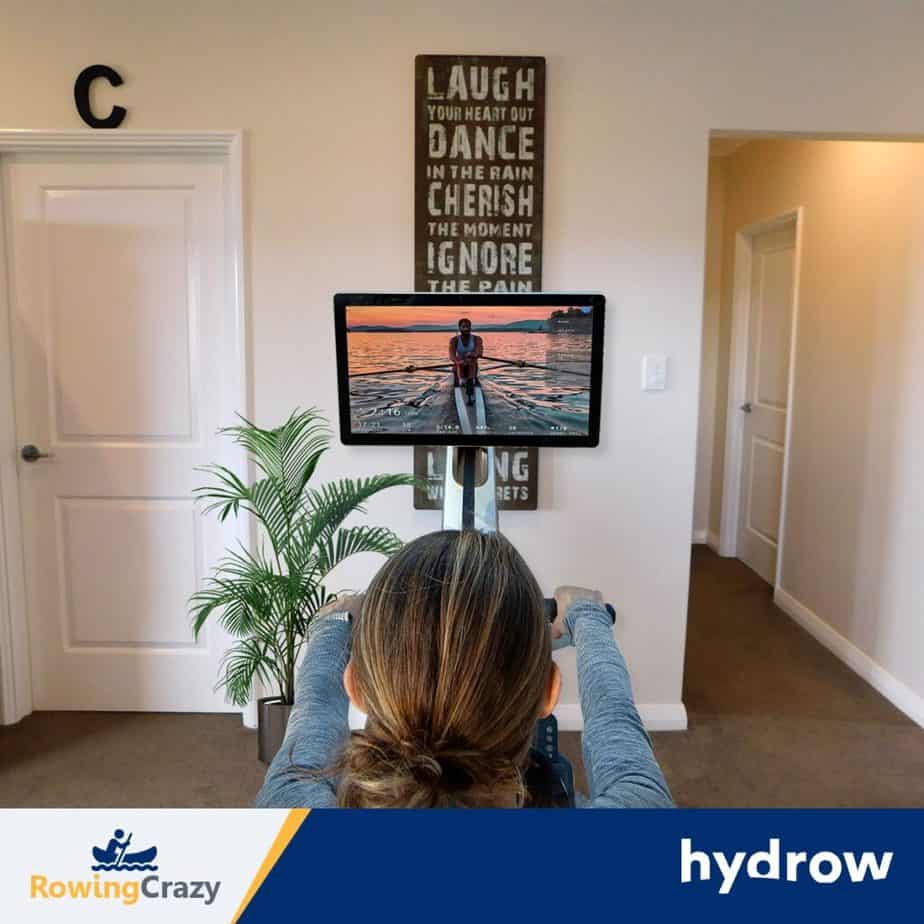 There are hundreds of workouts, including live and on-demand, as well as other workouts like yoga. All classes are taught by professional rowers.
The Hydrow is so beautiful, it looks like a piece of modern furniture. Don't let that fool you, however, this device uses magnetic resistance for the ultimate in quietness.
The monitor folds down and you can purchase a storage kit to keep Hydrow out of the way.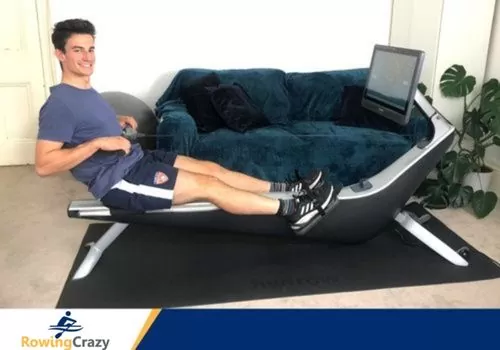 Pros:
The Hydrow is very realistic. You will actually feel like you're rowing on the water!
This is a very sturdy piece of high-tech equipment
Bluetooth functionality means your headphones will work with this
High-quality front-facing speakers
Hundreds of workouts available, with new ones added weekly
30-day risk-free trial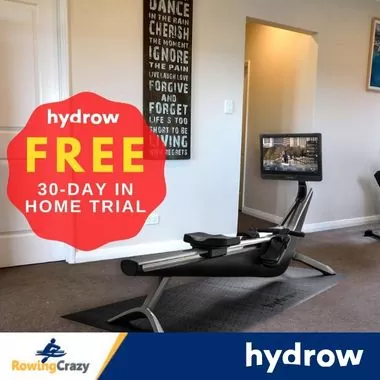 Cons:
This premium rower comes with a premium price tag and may be out of the reach of some
There is a monthly fee to use the workout classes
The unit is quite long and needs some space, which may be difficult for those with smaller living spaces
Videos cannot be paused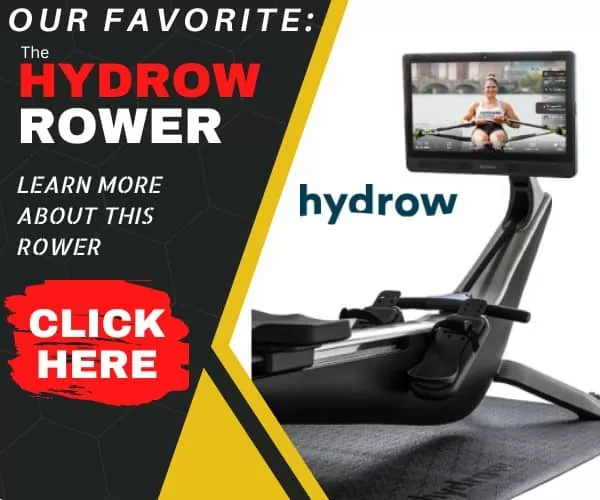 Hydrow SAVE $100 or £100!! => Use Coupon Code: ROWINGCRAZY
The Hydrow rower is second to none in quality and performance, but that does come at a premium price.
Bowflex Max Trainer M8
This is an interesting cross between a stair climber and an elliptical machine. If you want a machine that can do both, this is like getting a two-for-one deal.
The Bowflex is a popular pick due to its compact footprint and advanced digital display. The M8 model features an interactive LCD/LED display that can contain information for up to four users. With seven workout programs and a personalized coaching app called JRNY, it's similar to a coach-led gym workout.
Designed for a wide range of fitness users, JRNY caters to your fitness goals and abilities, with some workouts being only 4 minutes in length!
Pros:
20 resistance levels
Heart rate monitor and pulse rate available for an extra charge
Bluetooth-compatible for tablets or fitness apps
Small footprint
There is an optional monthly fee to unlock additional workout videos
Great full-body workout even if you only have a few minutes to spare
Cons:
The warranty is skimpy. 3-years on the frame but only 90 days on labor
No built-in cooling fan
Extra videos have a monthly fee
The device feels a bit shaky during hard exercise
It may not work for those with knee pain and other lower body issues
Overall, if you love working out on an elliptical machine and stair stepper, this is a great option for a low-impact, home gym equipment.
Concept2 SkiErg with PM5
Wouldn't you love to go cross country skiing any time of year? With Concept2 SkiErg, you can do exactly that!
This upright machine is designed to mimic the movements you make when you do downhill or cross-country skiing. You can do double-pole, such as downhill skiers use, or the alternating arm movement of cross-country skiing.
Your legs don't really move with this machine, however, you simply bend the knees. This means that while this is a low-impact machine, it does almost nothing for the lower body.
The Concept2 SkiErg is great for those who want a different type of machine or love skiing and want to stay in shape during the off-season, and for swimmers who want to give their upper body strength training.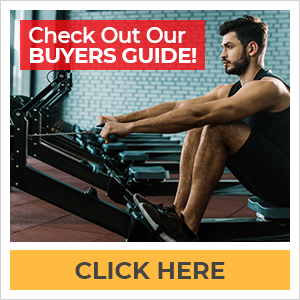 Pros:
Can be free-standing or wall-mounted
Works as both a low-intensity or high-intensity workout program
Provides a smartphone cradle
Good warranty with 2-years on moving parts and 5-years for the monitor, frame, and non-moving parts
Cons:
Does not provide a good workout for the legs or core muscles
If the user wants to use the device free-standing, a floor mount might be necessary at an additional charge
The 30-day money-back guarantee is only valid if purchased from the manufacturer directly
For individuals who are in a wheelchair, have been injured, and cannot use a treadmill or stair-stepper, or those who simply love skiing, this is a terrific low-impact machine.
Teeter FreeStep Recumbent Cross Trainer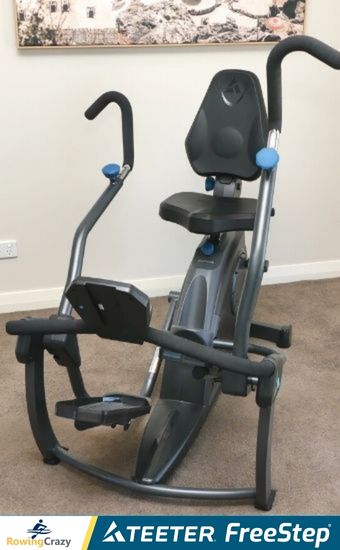 While many people love their recumbent bike, they often lament that there is little or no upper body workout. That problem is solved with the Teeter FreeStep.
This is one of the best low-impact machines available. You get two workouts in a single machine, and you can do it all while sitting down!
The Teeter FreeStep provides strength training for the upper body while allowing you to get a good workout using this recumbent exercise bike.
This piece of cardio equipment may not give you a super high-intensity workout, but it provides an excellent way to exercise for those with back pain or joint pain.
This machine has a lot going for it, so let's take a look.
Pros:
Zero impact on the joints, including the spine, making this a great exercise bike
This machine is virtually noise-free
Has a very sturdy and heavy-duty feel to it
Non-slip feet means this can be used on all floor surfaces
Provides a full-body workout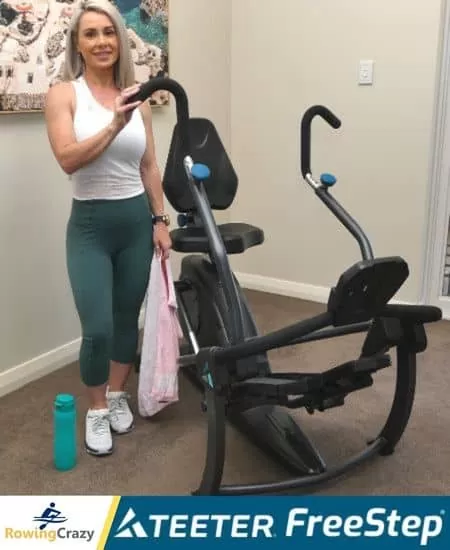 Cons:
Uses a great deal of floor space
Not designed for super high-intensity workouts
It may be priced out of the range of some people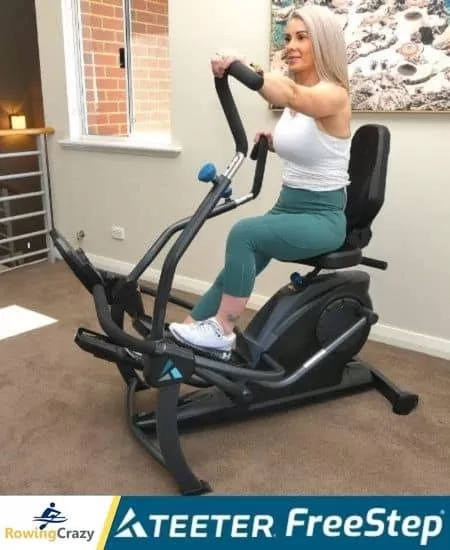 This is a great choice for those with mobility issues or those who have joint pain and/or low back pain that makes other machines uncomfortable.
Concept2 Model D Indoor Rower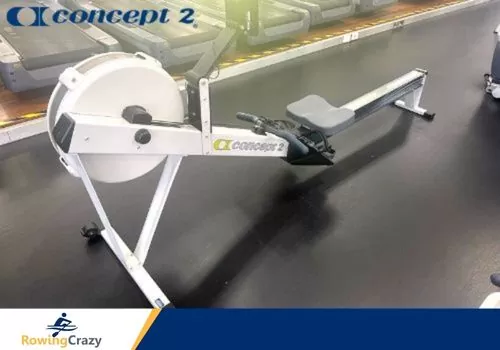 I believe I've mentioned before that when it comes to low-impact cardio workouts, nothing beats an indoor rower. The Concept2 Model D is one of the better rowing machines on the market today.
Watch our full review video of the Concept2 Rower by Rowing Expert & YouTube Influencer Max Secunda:
Rowing machines are designed to work out nearly every muscle in the body while remaining low-impact so they prevent joint pain. These machines burn a ton of calories and are great for weight loss, but they're certainly not all created equal.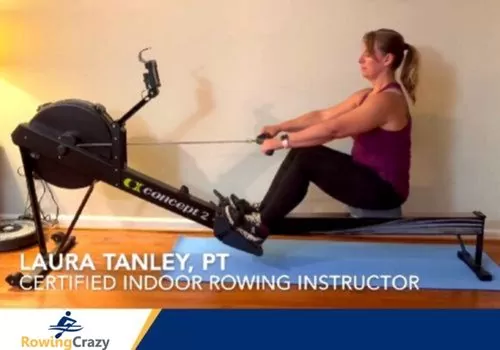 The Concept2 Model D indoor rower uses air resistance and a fan to control airflow. This commercial-grade machine has a large, comfortable seat and it folds in half for easier storage. It is made from stainless steel and aluminum, which makes it lightweight and rust-resistant and capable of supporting up to 500 pounds of user weight.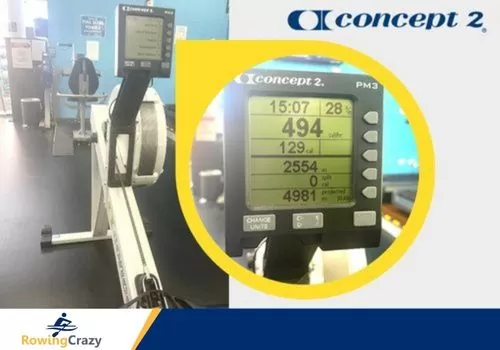 The Performance Monitor 5 tracks your data, while the wireless heart rate monitor and app are available for an extra charge.
Pros:
Smooth rowing motion
Easy to assemble
Comes apart for storage
Detailed instructions
Lightweight
Cons:
The aluminum parts can be dented or damaged
When fully assembled, the device needs a lot of floor space
Fan is noisy
Seat padding wears out quickly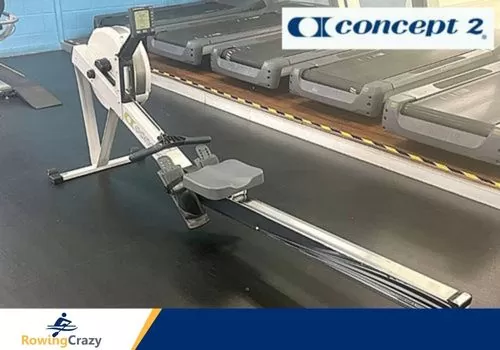 The Concept2 is a reliable rowing machine with few parts to wear out, but it's not perfect.
Assault AirBike Classic
The Assault AirBike is such a classic that every fan-operated bike is called an Assault bike! Don't confuse just any exercise bike for an Assault Airbike, however!
AirBikes are a popular low-impact exercise choice because you can get a major workout in a short amount of time. If you love to get your exercise and calories burned quickly without playing with the monitor or searching for workout routines, this is the perfect machine for you.
The Assault AirBike Classic has a sturdy steel frame, can support users up to 350 pounds, and offers an adjustable seat with 6 settings. AirBikes are easy to move and don't take up much floor space as well.
This Assault airbike offers a 5-year warranty on the frame and a 2-year warranty on everything else, which is pretty good.
Pros:
Better-than-most weight support for larger users
The adjustable seat is comfortable
The fan provides unlimited resistance, no resistance settings to change constantly
The display provides Tabata and interval training programs
Easy on the joints
Cons:
The fan is noisy, especially when working hard
The fan also tends to blow the air into your face
The bike uses a chain, which is fairly standard and does not appear to be heavy-duty
If you don't mind the wind in your face and you love a good, hard workout, this classic cardio machine may be what you're looking for. Side Note: Did you know rowers are good cyclists – click here to read more.
Stamina Conversion II Recumbent Bike/Rower
Are you having problems deciding between recumbent bikes and indoor rowers? This Stamina Conversion II combines the best of both worlds so you don't have to choose!
This device has been called a three-in-one workout machine due to the pedals that works very much like recumbent exercise bikes, the rowing handle, and if you stand up, you can use the rowing handle alone to perform arm and upper back strength training exercises.
This popular rowing machine uses magnetic resistance for quiet operation, features 8 levels of resistance, and tracks your progress with a multi-function monitor.
Pros:
The device folds in half and uses wheels for easy movement and storage
Takes just seconds to switch from rower to recumbent bike to strength training
The fitness monitor is large for easy reading
Padded, bucket-style seat makes both recumbent exercises and rowing more comfortable
Comes with an integrated heart rate monitor
Cons:
The heart rate monitor only works when using the recumbent exercise bike, not while rowing or using the handle for other exercises
The rowing footrests are not stable
The front of the machine can move if you row very hard
Only accommodates up to 250 pounds (113 kg) of user weight
Row, row, row your bike- but not too hard! This is a good choice for some smaller users who don't plan on working out too hard but may not be sturdy enough for everyone.
Which Cardio Machine Burns the Most Fat?
Rowing machines and assault bikes tend to burn the most calories and fat.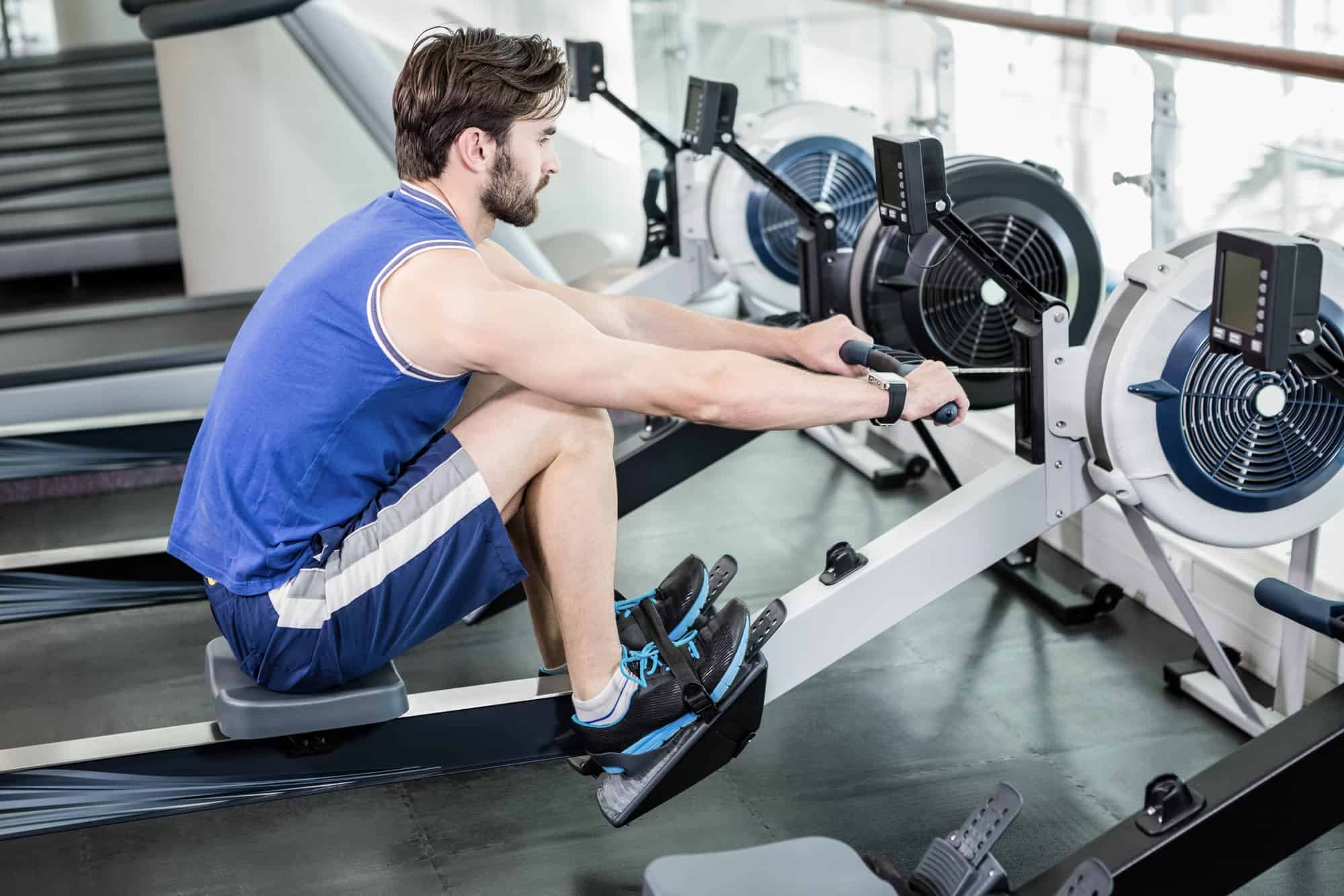 An assault airbike can burn 800 calories an hour and a rower can burn 900 calories an hour.
Of course, you can coast or not work so hard on a rowing machine, but you can't say that about an airbike. If you think you're a bit lazy when it comes to workouts, you might opt for an assault airbike, which uses wind resistance that forces you to work hard.
Rowing machines really burn the fat and calories but when you want to relax and perhaps do a long yet not so strenuous workout, they can do that as well.
What Is the Best Low Impact Exercise and Cardio Machine?
While all of the above machines are low-impact and give at least a decent cardio workout, the best overall machine is an indoor rower.
Rowing machines, like the Teeter Power 10, are not only great cardio machines, but they excel at weight loss, fat burning, and provide an all-over body workout.
For the majority of people, once you have the proper technique down, working out for 20 minutes a day is all you need to maintain a healthy weight, work your heart, quads, glutes, and lower body, and also get a full upper body and core muscle workout.
If I Had to Pick Just One
All the machines listed above will give you a good cardio exercise, help you with your weight loss goals, and provide you with the resistance you need as your fitness level improves. But if I had space and money for only a single piece of exercise equipment, it would have to be the Teeter Power 10 Elliptical Rower.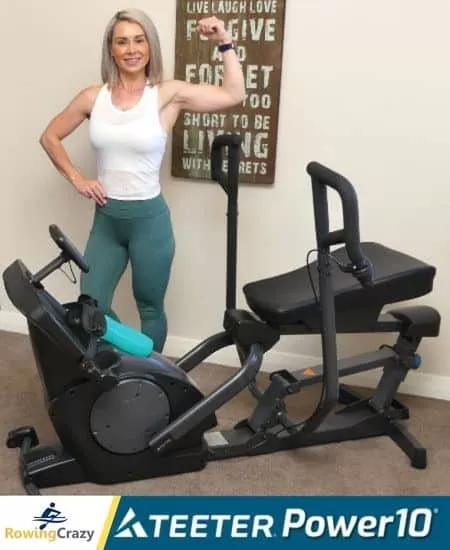 Why?
Teeter Power 10 is the Best Low Impact Cardio Machine
Everything you could ever want is in this low-impact piece of equipment. It works like an elliptical machine, strength trainers, recumbent bikes, and a spin bike all in one. You can do a long, relaxing workout, or push yourself hard for a high-intensity fitness experience.
The Teeter Power 10 provides cross training and a cardio workout like nothing else while keeping your joints safe from harm or pain. It is quiet and easy to use, and it works nearly all the muscles in your body in one workout routine.
Everyone has their favorite devices, of course, and if you prefer a cycling experience, or if you prefer spin bikes, recumbent bikes, treadmills, or stair steppers, those are all good choices as well.
For me, I'll take a rower, a Teeter Power 10 Elliptical Rower, if you don't mind. I love the way rowing makes me feel and how it makes me look. People think I spend hours at the gym when, in fact, I'm just using my rower 20-30 minutes a day.
Find out how you too can start looking and feeling great when you make the Teeter Power 10 Elliptical Rower your go-to cardio machine.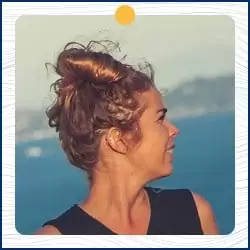 Written by Petra Amara – RowingCrazy.com
CEO & Founder of RowingCrazy, National Rower, Coxswain Womens Eight Team, Rowing Coach & Writer
Petra is a Mother of two and owner of Rowingcrazy.com. Petra lives and breathes rowing, she also has a passion for writing which lead her to start RowingCrazy.com to share her rowing experience and expertise with others.