`What Are The Best Rowing machine For Crossfit?
If you are into Crossfit, you want to consider getting a rower, which can help improve your CrossFit performance. The best CrossFit rowing machines help you get a total body workout, so on your days off from CrossFit, you can still get great full-body workouts.
Whether you use your indoor rowing machine at the same time as your Crossfit workout, or as an alternative to Crossfit, a rowing machine can help you with interval training and be a great source for full-body exercises working out all your major muscle groups.
Our Top Picks:
| Name | | Price |
| --- | --- | --- |
| Hydrow | | |
| Concept 2 Model D | | |
| Concept 2 Model E | | |
| Stamina ATS Air Rower | | |
| NordicTrack RW Rower | | |
| Sunny Health Obsidian 500 | | |
| WaterRower Club Rowing | | |
Adding a low impact cardio workout is great for your overall health and the calories burned with an indoor rower can help you lose weight and build muscle.
Take a look at the best rowers for CrossFit so you can decide how to best spend your money on a quality budget rower. Whether you choose the Concept2 Model D or something like the stamina air rower, your performance at the CrossFit games will improve if you regularly make use of a rower in your workouts in your home gym.
How to Shop for Rowing Machines
For starters, there are a few brands you will want to know about. Whether you use Concept 2, Hydrow, or a different brand, some are just better than others.
No matter what type of workout you are looking for, you need to consider the types of resistance available and how hard a workout you want. Do you want to work out all the muscles in your body or do you have some sore, injured joints that you need to protect?
Do you want air resistance, piston rowers, a water rower, or something else? Pay attention to what powers the machine, as you will get a different type of workout depending on the power source.
Are you the type who rows on the open water in addition to your Crossfit workouts? If so, a water rower is going to give you that pure water feeling. With a water rower, you don't even know you are on a machine!
Is the Concept 2 the Best Rower?
Concept 2 makes a couple of great rowing machines. Whether you choose the model E or model D rower from Concept 2, they are both good options. Take a look at two of the best Concept 2 model options that you can add to your home gym: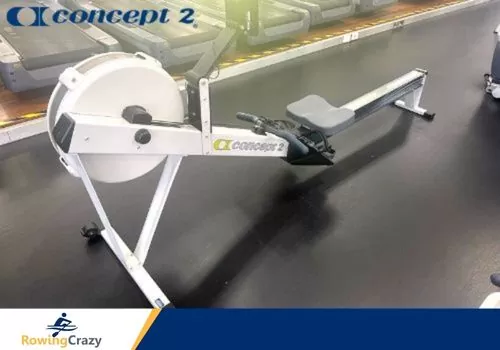 powered by Advanced iFrame. Get the Pro version on CodeCanyon.
Model D – the Concept2 Model D rower is a top Crossfit rowing machine. The Concept 2 Model D rower is a super quiet operation and the top Concept 2 model on the market. The jury is out between Concept 2 and Hydrow as to who makes the better rower ( read more on Hydrow rower cost here ), but there are a lot of reasons to like the model d from Concept 2.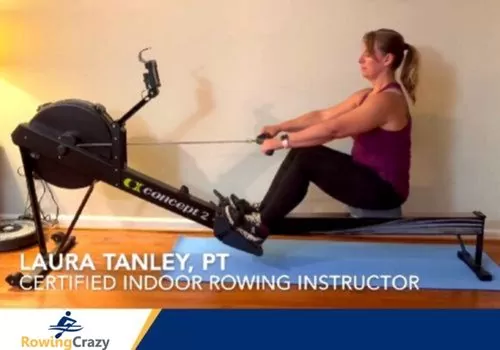 Model D Features:
The Model D is one of the best on the market, the seat height is adjustable and can be used by people of varying heights
Adjustable footrests
Ergonomically easy to use the handles
Breaks down so it is easy to store
Watch our full video of the Concept2 Rower by Rowing YouTube Influencer Max Secunda:
powered by Advanced iFrame. Get the Pro version on CodeCanyon.
Model E – another great Concept 2 rower, the model e from Concept 2 will give all crossfitters a great workout no matter their fitness level. If you are considering any of the Concept 2 rowers, you are in good shape. You really can't go wrong, as they are the leaders in this industry.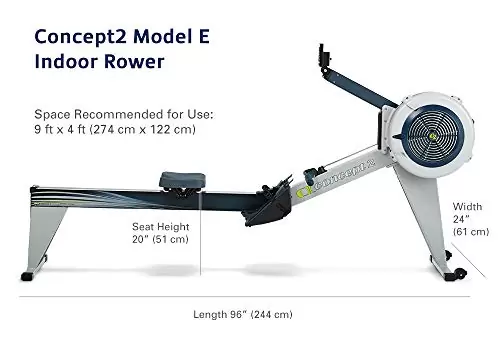 Model E Features:
Flywheel design minimizes noise levels, so you can use this if you share your home
Requires two D cell batteries, but the machine gains power from the flywheel as you ride
the model e is well-loved by most who use it, making it a top rower that you can buy with confidence
No matter which Concept 2 model you choose (for more info check out my article Concept 2 Model E vs D), you should be happy since you will get a full-body workout. Concept 2 rowers are top of the line CrossFit rowing machines. All rowing machine reviews agree that you are guaranteed to get a high-quality rower for your CrossFit gym if you choose a Concept 2 rower. Both of these are considered the best options for an air resistance rower on the market today. If you are into Crossfit – click here to learn what rowing machine does crossfit use?
Best Crossfit Rowing Machine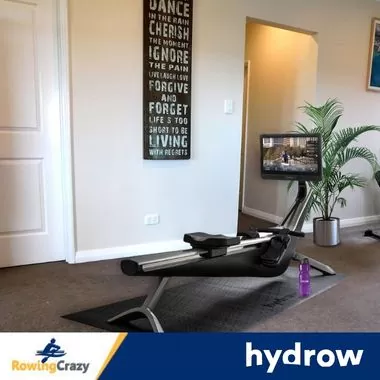 Hydrow SAVE $100 or £100!! => Use Coupon Code: ROWINGCRAZY
Watch Experienced Rower Max Secunda with the Hydrow:
powered by Advanced iFrame. Get the Pro version on CodeCanyon.
Arguably, the Hydrow rowing machine is the best for crossfitters and something worth considering adding to your collection of gym equipment. The Hydrow was designed to be at the top of the line. As such, while it is perhaps the best CrossFit rower on the market, you also need to be prepared to pay a little more money than you would for something else. Decide how much you can afford to spend on gym equipment before you make this purchase.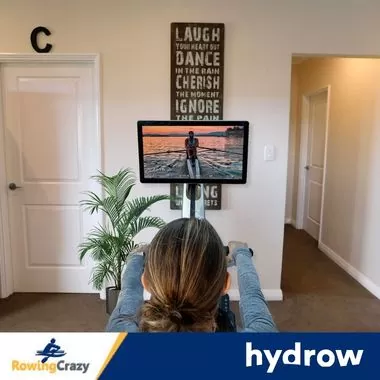 If you are looking for the best heart rate monitors you can find, check out the Hydrow, which makes use of a piston rower to give you one of the best water models available to use for a workout.
Hydrow Features:
A top choice for the best rowing machine because of the performance monitor that tracks everything from heart rate to both time and calories, you can track it all on the LCD display.
A true water rowing experience, you will use the levels of resistance to feel like this fitness equipment is the real thing rowing out on the water itself.
The smooth feel of this water rower cannot be replicated with other types of rowers, and if you have perfected your rowing motion on the water, this machine is the closest workout you can get to rowing outside.
Adjustable seat height.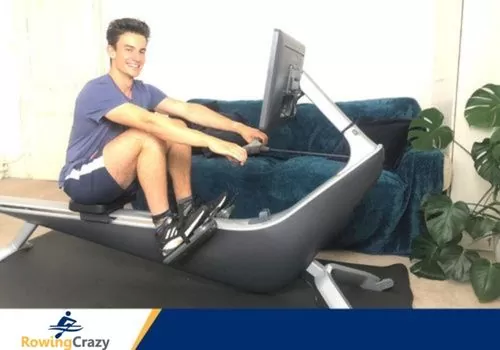 Hydrow SAVE $100 or £100!! => Use Coupon Code: ROWINGCRAZY
The Hydrow is a great rower because of how you feel when you are using it. It is similar to rowing in a boat on the water, which is the dream for many. But, if you can't quite afford that lakehouse, you can probably afford a water rower that will give you the same feeling.
Learn More & Why You Need this State of the Art Rower – Click Here!
Stamina ATS Air Rower for Crossfitters
If you are looking for a good CrossFit rowing machine or air rower, don't forget about the Stamina ATS Air Rower, another good piece of gym equipment to consider as a CrossFit rower.
powered by Advanced iFrame. Get the Pro version on CodeCanyon.
Check out these features of the Stamina ATS Air Rower:
One of the best air rowers – designed to fold up and store away easily when not in use
LCD display to track metrics
air resistance is easy on beginners just starting out
All in all, the rower from Stamina is a quality choice. Consider it the middle of the pack. While it is not the most expensive, you also do not get as many resistance level options, meaning more advanced athletes might get bored with the limitations offered by air resistance.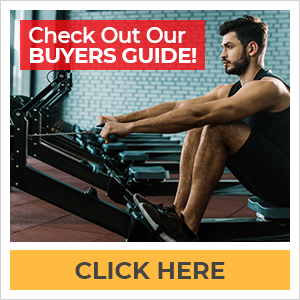 Some other Crossfit Rowing Machines
These machines might not be considered a top choice rowing machine for Crossfit, but they should not be ignored. They prove that you can get a good rowing machine for Crossfit even if you can only afford a budget rower.
While the Concept 2 models are the leader of the pack, followed by Hydrow, you can find some other brands that are quality without being as expensive, there are still some other options that are worth your consideration as a crossfitter looking for a rower in his home gym.
Take a look at these rowing machines:
NordicTrack RW900 Rower Includes 1-Year iFit Membership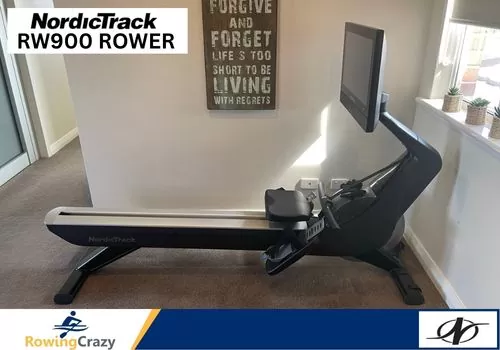 A magnetic rowing machine that has a 10-year warranty on the frame
The rowing motion on this machine is smooth and quiet, allowing you to row in the same room as people watching TV without disturbing them
Best cardio machine for an upper-body workout because of the magnetic resistance levels – these types of resistance rowers have 26 different levels you can adjust (click here to see the best low impact cardio machine)
powered by Advanced iFrame. Get the Pro version on CodeCanyon.
Nordic Track is a well-known brand. However, they are better at treadmills than rowers. As a rowing machine, they come in second to more well-known brands like Hydrow and Concept 2. That does not mean this is not a good rower to buy, it absolutely is! Just make sure to do your homework on all your options first.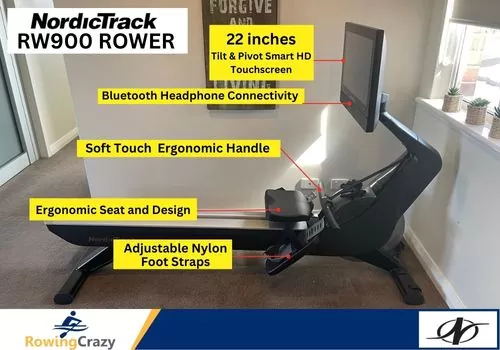 Sunny Health Obsidian 500
This rowing machine uses water resistance and is one of the best CrossFit rowing machines available
The fan rower allows you to instantly change the levels on this resistance rower
Easily use this as part of your WOD and track calories per hour and calories burned
powered by Advanced iFrame. Get the Pro version on CodeCanyon.
Sunny Health has been making quality cardio equipment for years, and they have a great customer service team standing by to help should you have any questions or problems with your equipment.
WaterRower Club Rowing
This unit is a handcrafted rower for Crossfit that uses water as the type of resistance
The flywheel helps you get a great Crossfit workout and you can adjust the level of resistance and the damper lever
Made from solid ash and designed to be used in high-traffic areas; nobody will hear you using it so you can max out on your WOD without disturbing anyone
powered by Advanced iFrame. Get the Pro version on CodeCanyon.
A lesser-known brand, that does not mean WaterRower does not produce a quality product.
Click Here: Water v's Magnetic Rowers – Which Is Better?
Why Crossfit Uses Rowing Machines?
Resistance is what it's all about in CrossFit. The more resistance, the stronger you can build your muscles and become a better athlete. Whether you use air rowers, water rowers, or even a magnetic rower, CrossFit athletes focus on building muscle, which a good rower can help you with.
Rowing machines can give you the best total body workout. If you are short on time but want both a cardio workout and a strength workout, using a Concept 2 rower, or something similar, is going to give you the best bang for your buck. You can fit in cardio and strength all while using one piece of equipment.
On a Budget? See Rowers Under $500!
Ask yourself this as an athlete, what are your goals? What do you try to achieve by participating in CrossFit? Most crossfitters have the goal of becoming the strongest, most physically fit they have ever been in their life. There is only one piece of gym equipment that you can get at home to give you a similar workout, and that is a rowing machine.
A rower is the only home gym equipment that lets you get a cardio workout as well as strength training for just about every muscle group in your body.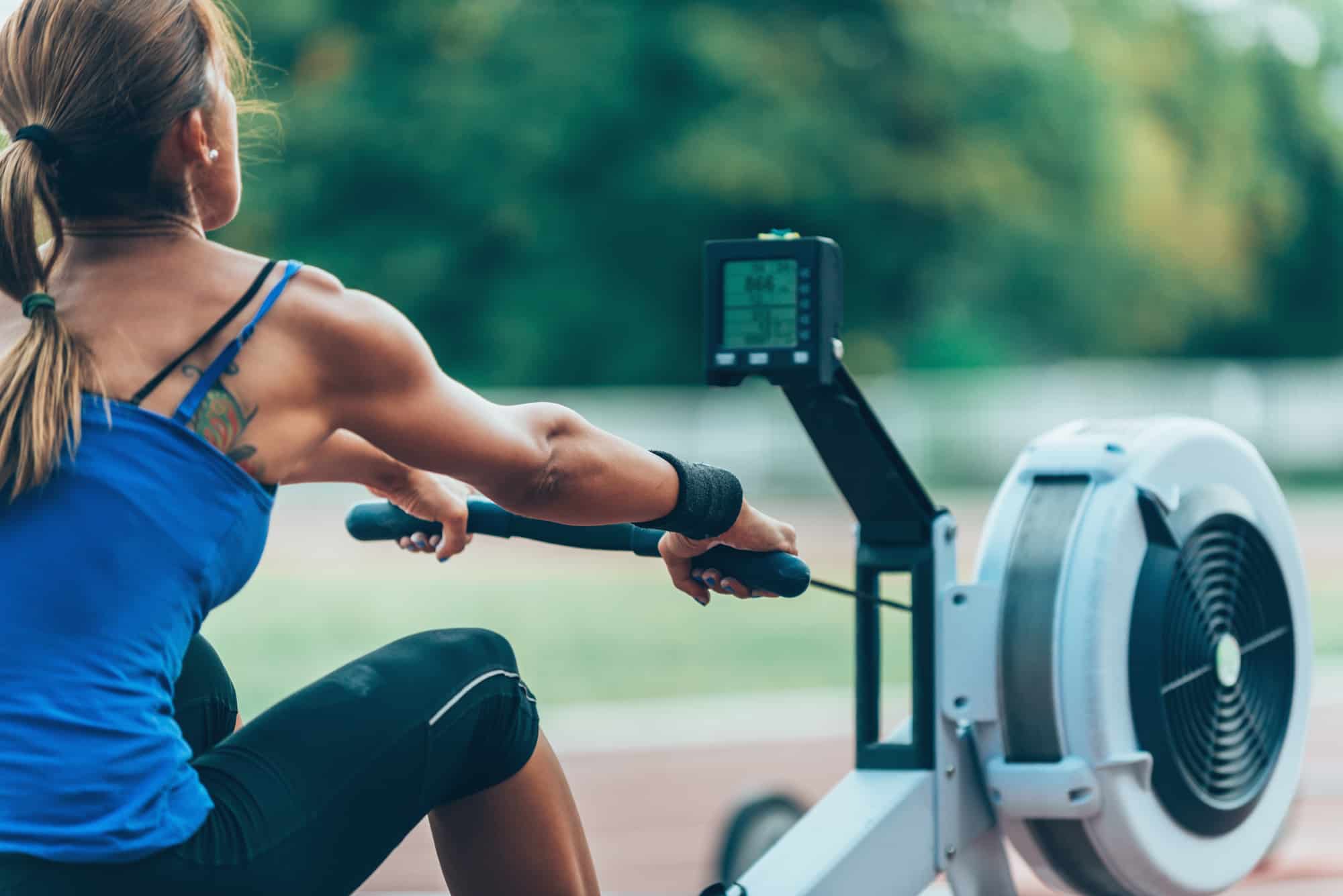 How much money and space do you have to invest in your home gym? If you can only afford one piece of equipment because of either physical space or monetary restraints, the rowing machine is also the only option you want to consider. Why buy just a set of dumbbells that will limit the muscles you can workout when you can buy a machine that will work out everything?
What Qualities Does a Crossfit Rowing Machine Need?
What exactly do you need to consider when shopping for rowing machines? Take a look at the Concept 2 rowing machines that are available. They are smooth, with varying resistance levels that should help you become a great CrossFit athlete.
Consider the goplus magnetic rowing machine, which is one of the rowing machines on the market that uses magnetic resistance to give a CrossFit workout similar to what Concept 2 rowers can provide, but at a cheaper cost.
The biggest thing your home rowing machine needs to be able to do is to give you a good workout. Can it offer the different resistance levels that you need in order to push yourself to become a better athlete?
Other Crossfit Equipment
In your home gym, you are going to want to add some other Crossfit equipment to compliment your workouts. Overall, your goal should be the get the best rowing low impact workout you can, that elevates your heart rate and works all your muscles to prepare yourself with the goal to maybe one day participate in the Crossfit games.
How much of a home gym do you want to build? Are you looking to completely replace the CrossFit gym you were working out at? Or, do you just want to supplement it with a few things you can do at home? In either case, a rower is probably something you want to consider since it is the easiest way to get in a total body workout from the comforts of your own home.
Take a look at some of the best Crossfit rowing and fitness equipment you should add to your Crossfit gym to become the best Crossfit athlete you can be.
No Space? See All Our Easy Store Machines!
SkiErg
This is another option from Concept 2. A little different than true rowing machines, this Concept 2 rower uses the term "rower" loosely. It does work your upper body and gives a cardio workout, but it's a little different.
Use the flywheel to pull and get the best rowing workout for your upper arms
Performance monitor tracks your progress
Like true Concept 2 rowers, you can expect this to give you a great CrossFit rower workout, and cross-fitters would be happy with the upper arm workout.
Think of this piece of equipment as the funky gym equipment you always wanted so you could make a statement, but that actually works out the same muscles as a traditional piece of equipment. This is perfect for someone with a little extra room in his home or a little extra money in his pocket to buy something a little funky. It might not be completely practical, but it sure is a fun way to get in a great workout!
Are You Using the Right Weight Lifting Gloves? Read More!
Assault AirBike
An old-fashioned exercise bike, this can help you set exercise goals in addition to what you could complete on your Concept 2 rower. Bikes never go out of style and are always a good piece of gym equipment to have on hand.
Unlimited resistance brings a great CrossFit style workout to both upper and lower body joints
Set exercise goals and track them with the computer display
POWER GUIDANCE Battle Rope
Not a resistance rowing machine and not a bike, but crossfitters need this piece of gym equipment. This battle rope can give you a better workout than a rower, or pair it with a Concept 2 model d rower for CrossFit goals.
Working with ropes is one of the best exercises for crossfitters as you get such a great workout.
Resistance Types
When you are comparing the best rowing machine options on the market you need to consider whether you want air resistance, water resistance, or something else. What will give you the best Crossfit rowing workout? Take a look at what to know about the different resistance level options:
Air Rower
An air rower is arguably the easiest. Air resistance basically is just as strong as you want it to be. You are rowing against air, so you can go as fast as you want. If you are looking for the best rowing machine for a beginner consider an air rower. Beginners love air resistance since it means they can start out low and slow if they want.
Water Resistance
This type of water rower is going to give you the purest feel of being out on the open water. A water rower feels like you are rowing outdoors on a river and is one of the purest forms of exercise a machine can give.
Magnetic Rower
Machines like the model e or rowers that make use of magnetic resistance are the best if you want to vary your workout. With a magnetic rower, no matter the brand rowers that you choose, resistance rowers can be the key to picking your best CrossFit rower. If resistance variation is what you want, consider a magnetic rower versus water or air.
Rail Length and Shoe Straps
Aside from resistance levels, you might want to look at things like rail length or shoe straps, depending on how tall you are and if you are sharing your rower with anyone. Some of those comforts might be important if you are taller and worried about slipping off the rowing machine.
Water Rower V's Concept 2 – Which Is Better?
Other Brands of Rowers
We covered the heavy hitters, but you can also consider a brand like Lifecore, which makes rowers you can afford. Don't feel like you are limited only to the rowers on our list. In reality, there are a variety of exercise machines that could work in your home gym.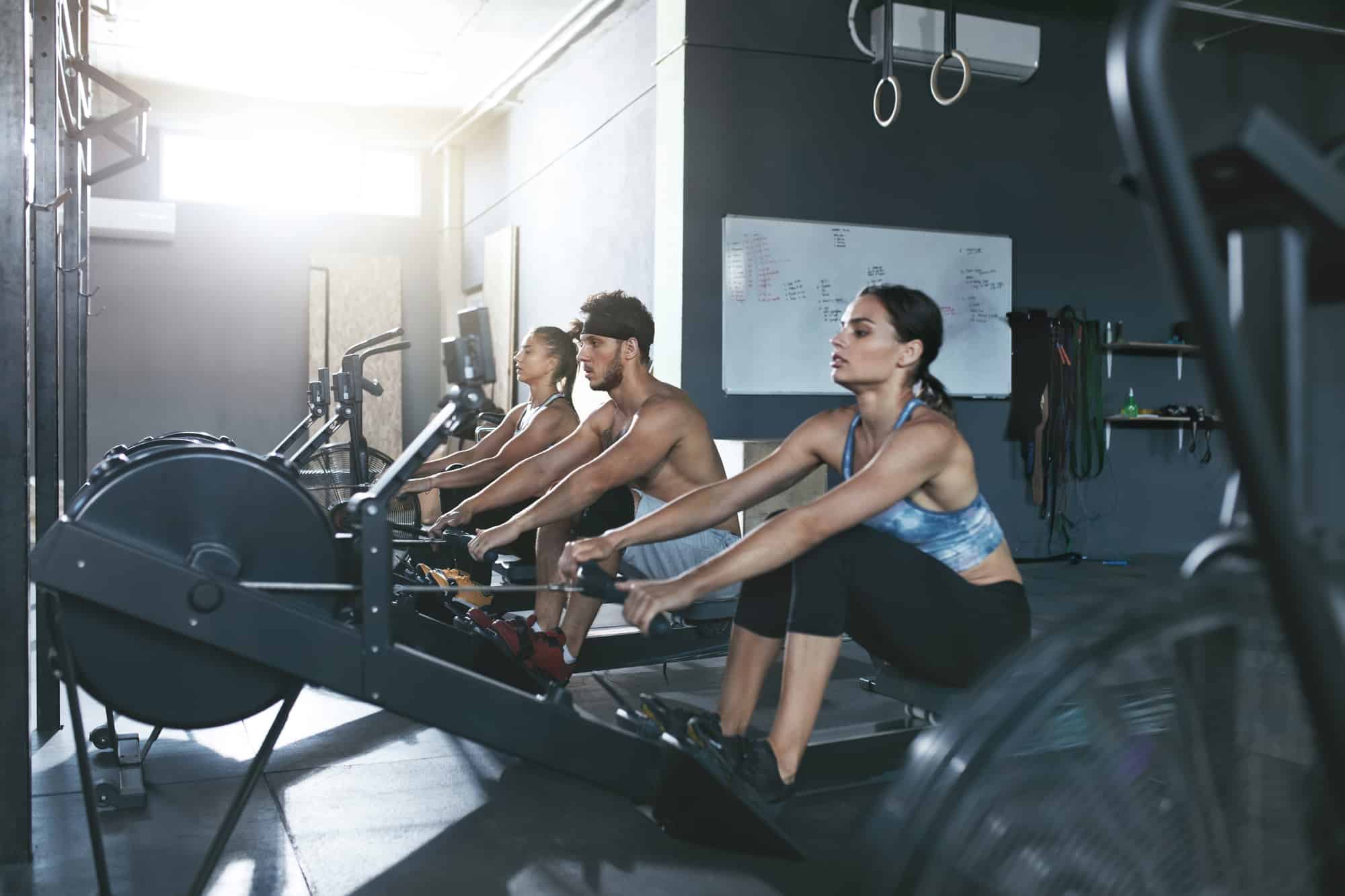 A rower from Lifecore is well-built and will give you a smooth rowing experience. While not as expensive as the model d, a Lifecore rower will give you a similar workout since you can still get quite a bit of resistance.
Crossfit and Rowing
Do you ever wonder if there is a connection between a CrossFit WOD and a rowing machine? There is indeed, actually. Crossfit and rowing are probably the two exercises that are most similar to one another in terms of getting in a full total body workout.
Believe it or not, what you can do in a CrossFit workout you can actually do most of it on a rowing machine. The goal is the same – workout as many muscles in your body as hard as you can in a short period of time.
If you could only choose one piece of home gym equipment to accomplish this it would be a rowing machine.
Other Cardio Machines
If you are into Crossfit, you probably don't want to consider the other cardio machines on the market. You could think about a treadmill or an exercise bike, but they each have their faults. While they will give your heart a good cardio burn, that's about it.
A treadmill is a high-impact exercise, meaning your joints are going to suffer with each step you take on the treadmill. Every step you take might be good for your heart, but you risk injury to your knees and joints. There is no way to safely recommend using a treadmill since the risk of injury to your lower extremities is too high.
As far as a bike goes, it's debatable. It's better than a treadmill in that you are not risking injury to your legs every time you use it. However, you are severely missing out on working out half your body. Your chest, back, and arms get no workout from an exercise bike.
Concept2 Model D Indoor Rowing Machine with PM5 Performance Monitor, Black
Designed to fit most users: 14-inch seat height, 500lb user capacity, adjustable footrests and ergonomic handle. Users with an inseam of 38 inches (96.5 cm) or more may require an extra-long monorail.
Separates easily into two pieces for storage; caster wheels make it mobile; easy to assemble with only eight screws.
Track your progress with real-time reliable data; the Performance Monitor 5 (included) self-calibrates for comparable results; connect wirelessly to heart rate belts and apps (not included).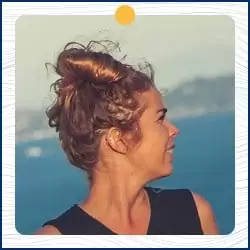 Written by Petra Amara – RowingCrazy.com
CEO & Founder of RowingCrazy, National Rower, Coxswain Womens Eight Team, Rowing Coach & Writer
Petra is a Mother of two and owner of Rowingcrazy.com. Petra lives and breathes rowing, she also has a passion for writing which lead her to start RowingCrazy.com to share her rowing experience and expertise with others.