If you're a CrossFitter who typically gets calories burned at 250-350 in 20 minutes, why would you even bother with indoor rowing? And if indeed rowing will do wonders to your training, will any rowing machine work?
There's a reason why CrossFit athletes incorporate rowing into their training, and that's why you should do too. You'll get to use 80% of your muscles through a long range of motion. And that's not all – we'll talk more about this in the sections below.
But first, what about gym equipment? Your CrossFit goals are more demanding than someone who's into rowing merely for overall fitness and low impact cardio benefits.
So how will you know which rowing machine will serve your goals best? That's what this article is all about, so let me walk you through the process of looking for the best rower for CrossFit use.
Why Does CrossFit Use Rowing Machines?
CrossFit athletes incorporate rowing into their training, as you very well know. There's got to be a good reason for that. Here's why.
If you have your eyes set on the CrossFit Games, as I think you do, you will benefit from rowing machines because you'll work out your muscles differently. In other words, it allows you to widen your range of workouts.
What's more, you'll get a good cardio workout and full body exercise aside from what you get out of your CrossFit WODs and strength training. Depending on your routine, you can burn up to 900 calories per hour with a rower!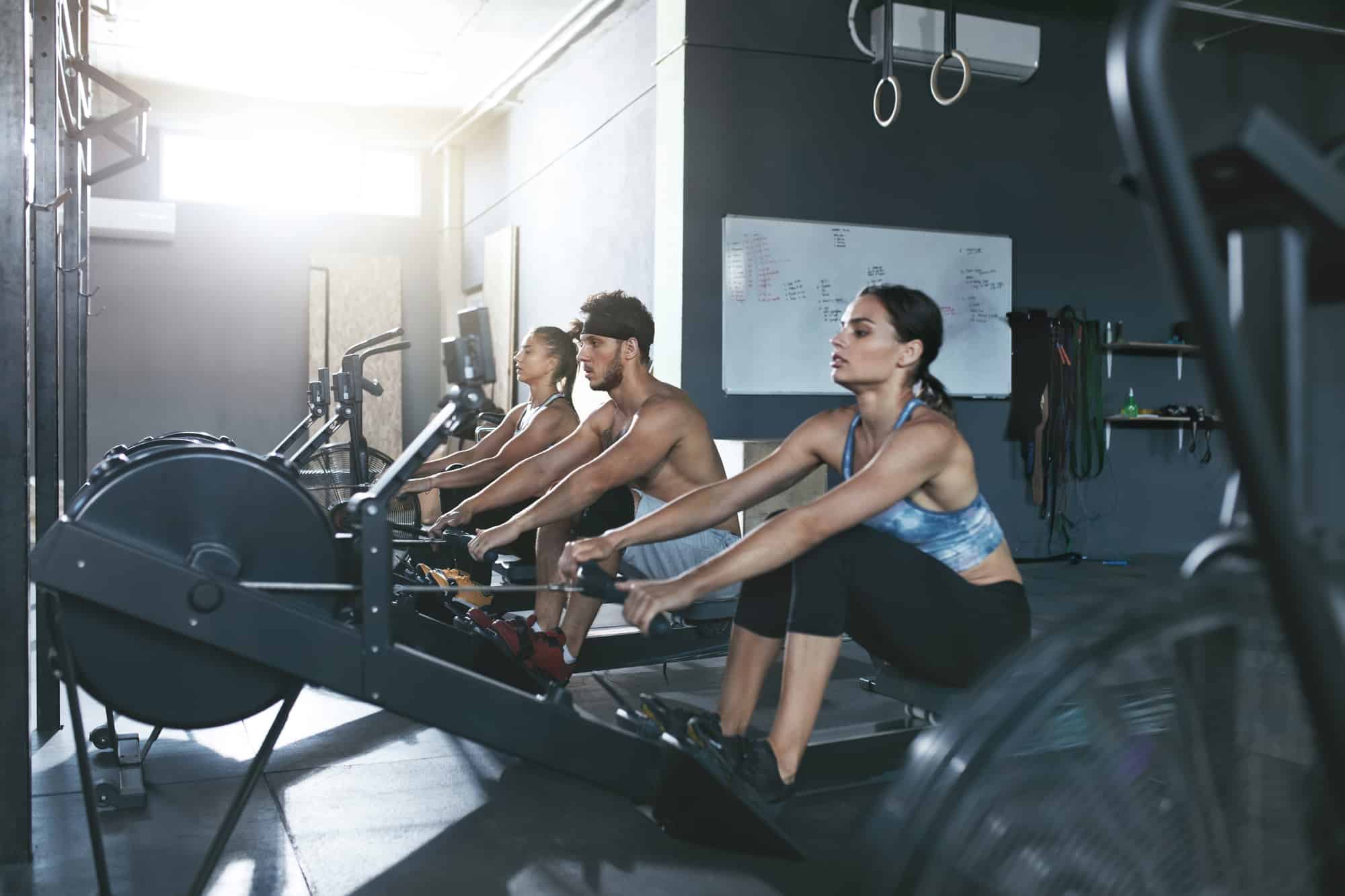 Add to that the long range of motion that we've mentioned above – CrossFit loves that!
It gets even better – because it's an indoor exercise, rowing is one of the best forms of training for any weather. Since it is low impact, it's easy on your joints and feet. You don't get this medley of benefits from running or using ellipticals and treadmills.
And the best part? This high intensity aerobic sport increases your VO2max and endurance, both important fitness indicators for a CrossFitter like you.
Need I say more? There are certainly more, but I think these reasons are compelling enough to buy one for your home gym. So let's start talking about what makes the best rowing machine for CrossFit.
What Qualities Should a CrossFit Rowing Machine Have?
CrossFit has unique, intense demands compared to other forms of sports training. Being so, you need a rowing machine that possesses these qualities –
Type and level of resistance must be compatible with your training requirements – water or air resistance provides the most challenge
Built to withstand the intensity of your workouts
Comfortable to use and matches your physical structure
Equipped to monitor your progress
Storable and portable if you have limited space
Within your price range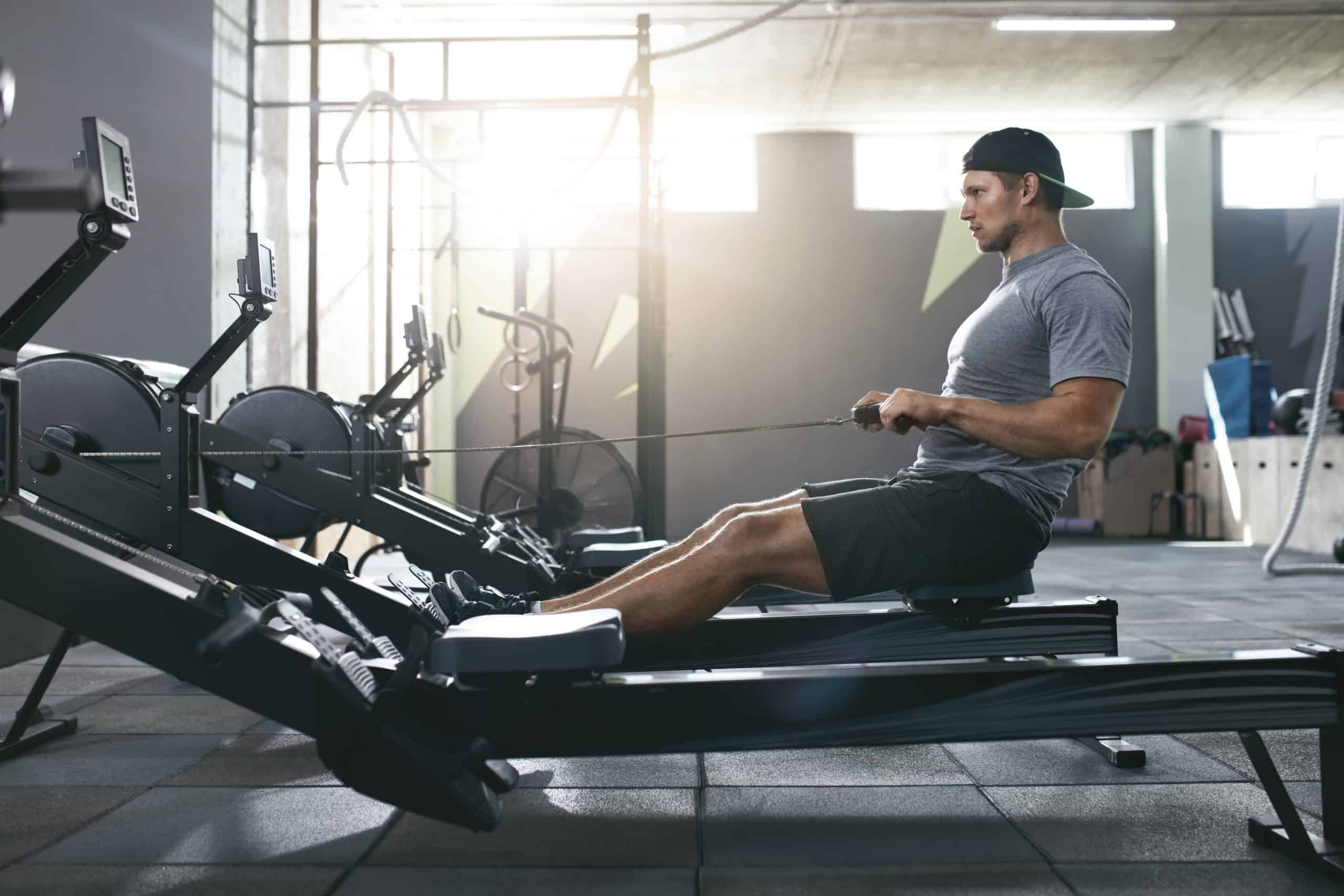 CrossFit Rowing Machines Main Features
The following features will help you narrow down your choices so that the rowing machine you buy will satisfy all (or at least most) of the qualities we've listed above.
Water or Air resistance – while you can choose from air resistance, water resistance, or magnetic resistance rowers, the intense CrossFit training requires an air or water rower. Why? These types of rowers offer on-the-fly and infinitely variable resistance. It means that if you need more resistance, you only have to work harder to generate it.
Performance monitor – serious athletes like you need to track your fitness data, so you should find out how a model provides this function. Look at all the different brands and models to see what they offer. Most rowing machines come with an LCD display that acts as a heart rate monitor and tracks stroke rate, time and calories.
Dimensions – is the seat height right for you? Are the dimensions compatible with your physical profile? What about capacity? All these measurements should be suitable to your weight, height, length of your legs, and your arms' reach.
Construction – what material is it made of? Are the seats, chain, handle, rail, and monitor positioning arm durable? Are they ergonomically positioned or adjustable? Does it have a sturdy, padded seat? All these things matter.
Adjustable rail – remember that the goal of the best rowers is to let you use a smooth rowing motion while working out all muscle groups. You won't be able to do that if the rail is too short, too long, or too high. If you share your machine with another person, consider getting one that's adjustable.
Storage options – see how it will work in your space at home. Most models are collapsible for easy storage.
Warranty – if a part gets damaged, will they be replaceable? What warranties do the sellers offer? Make sure to get answers to these questions before adding to cart.
With the above qualities and features in mind, you're now closer to finding the perfect CrossFit rower for you. Let's start with the gold standard of rowing machines – the Concept 2 rowing machines.
Concept 2 Model D Rower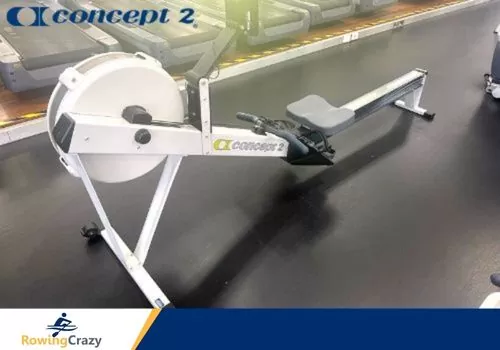 It's true that there's no shortage of options when looking for a CrossFit rowing machine, but you'll never go wrong with Concept 2 Model D Rower. Using our features checklist, this indoor rower makes the grade with flying colors. First, it's an air rower made for competitive training. Second, nothing compares to its advanced PM5 LCD.
Pros:
PM5 is self-calibrating; it tracks heart rate, calories burned, and other metrics
Well-built machine
Easy to use
Damper has 10 levels to adjust the airflow
Has a capacity of up to 500 lb
Aluminum front leg; steel rear legs; nickel-plated steel chain
Fits most users
Easy storage
Has 2-year limited warranty
Cons:
Connects easily to heart rate apps but does not include any apps
More expensive than most models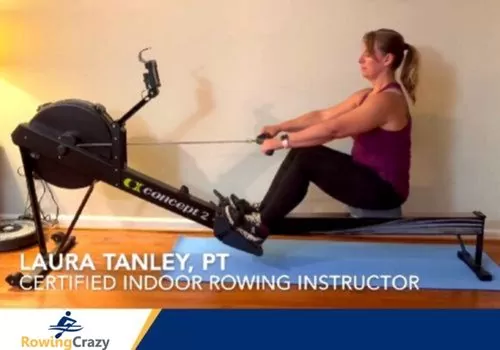 Concept2 is a commercial-grade rower that deserves to be your top pick. You can sync this CrossFit equipment with your apps and have all your info available to you with a few clicks on your mobile device. It does not only track your performance and heath data but also allows you to enter your time to officially count as CrossFit points.
See Our Results on a Water Rower V's Concept 2 – Who Won?
Concept 2 Model E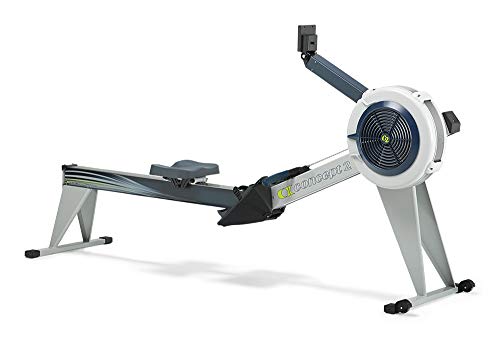 Concept 2 Model E is a higher-end Model D and has all the features of its sibling, plus a few more that give it a bit of an edge. Let's see its pros and cons.
Pros:
Higher seat than Model D; perfect for tall people
6 inches higher off the ground; easier for people get in and out
Easy-to-adjust spiral damper
Ruggedly constructed and made of welded steel
Cons:
Model E is a tad more expensive than Model D
Height is more difficult to adjust for shorter people
PM5 arm's position is fixed, unlike Model D's adjustable arm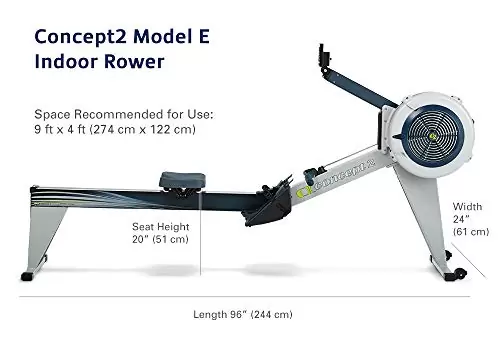 Is the Concept 2 Rower Worth It?
There's no doubt that Concept2 makes some of the best CrossFit rowing machines there is. Both models are top-of-the-line choices that every commercial gym should have and the best you can buy for your home gym.
Learn More – Watch our Youtube video below by Rowing Instructor & Coach Max Secunda:
Are they worth it? Most definitely!
Concept2 model D is one of the few rowing machines trusted by Olympic rowing athletes for their indoor training. The PM5 is one of the best and most advanced of its kind, allowing you to compare your performance with other athletes through an online ranking system. You can't get this even from some of the more expensive models.
Plus, you will use the Concept2 for a long time because it's a mean machine. So I shoot the question back to you – is the Concept 2 rower worth it? Would you rather pay extra now to buy a higher quality rower for CrossFit like one from Concept 2 that probably won't cost you much in repairs down the road? There are much more expensive rowers than Concept 2 models, and they're not necessarily better.
Then again, if money is the issue, rest assured that there are plenty of other great CrossFit machines you can buy to supplement your gym workouts. Don't let a tight budget hinder your fitness and performance goals.
As you go through this list, you'll see that I've picked different types of rowing machine for CrossFit from various brands and models, including a budget rower. To see our full list be sure to check out my article on what is the best rower for CrossFit.
NordicTrack RW Rower
\
From the much higher end of the price spectrum comes another excellent choice for your CrossFit gym, the NordicTrack RW Rower. It's a combination water and magnetic resistance rower. How does it compare with other brands? See for yourself.
Pros:
Provides interactive personal training
Offers two forms of resistance – water and magnetic – giving you total control over your workout
Smart, on-demand interactive monitor with 22" touchscreen display
iFit Trainor auto adjusts to 26 levels of resistance
Folds in half for compact storage
Warranty: 10 years on frame, 2 years on parts, and 1 year on labor
Cons:
Much more expensive than Concept 2
Can only handle up to 250 pounds of weight
Nylon pulling strap, unlike Concept2's steel chain
A water rower can make you feel like you're rowing out on open water instead of sweating it out in your basement. The NordicTrack water and magnetic rower, however, has taken this a notch higher.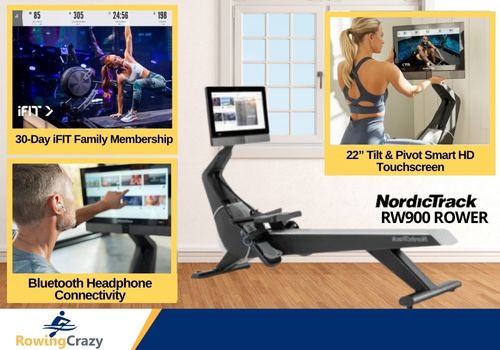 It combines the quiet operation of a magnetic rower and the authentic water rowing experience that water resistance rowers offer. That's not all! Its interactive features provide a totally different experience to users. You've got an undoubtedly smart piece of gym equipment here!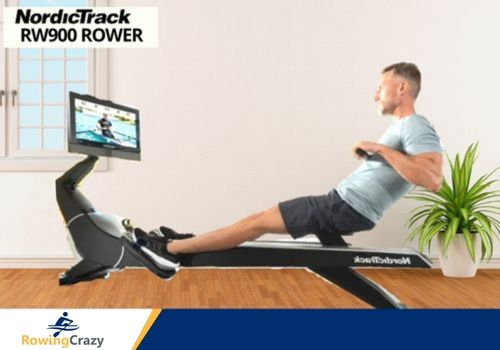 While these are awesome features, you may not necessarily need all these state-of-the-art techs to enjoy the benefits of a full body exercise, build your stamina, and attain your CrossFit targets. Still, if you have the money, why not?
Check Out All Our Top Crossfit Rowing Gloves!
WaterRower Club
Another great addition to any CrossFit gym is the handcrafted WaterRower Club S4 indoor rower. It falls in the same price range as the Concept 2 Model E (click here to read how Concept 2 Model D vs Model E rowers compare). If you want a quieter machine than Concept 2, this water rower is one of the best rowing machine alternatives. Its type of resistance is equivalent to what an air rower offers but not as noisy. However, it can't beat a magnetic resistance rower when it comes to quietness and smoothness of operation.
Pros:
Handcrafted; replicates rowing on water
Classic look; made of solid ash wood
Smooth and quiet resistance
S4 tracks workout intensity, heart and stroke rates, among other metrics
Wood construction absorbs noise; ideal for high-traffic spaces
Small footprint when stored upright
Can handle up to 1000 lb of weight
Warranty: 1 year on frame and parts
Cons:
This water rower may not be as durable as other CrossFit rowers in its range due to its wood construction.
Water resistance is one of the two preferred forms of resistance in CrossFit rowers, and this rowing machine represents that category best. Its weight capacity is one of the highest I've seen, but do you really need a rower that handles 1000 lb? If you do, this rower's got it!
Stamina ATS Rower
If you want the most affordable CrossFit rower, then you need to look beyond Concept 2 rowers and those mentioned above. Right now, I'm inspecting the Stamina ATS Rower. It is powered by air resistance, and features the following –
Pros:
Extended 1 year warranty; covers repair of parts damaged during workout
Padded and ergonomic seat
Smooth-sliding adjustable rail; works for short or tall people
This air rower is cheaper than most models.
Cons:
Not as durable as others in this list
On a Budget? See All Our Top Rowers Under $500!
Other Rowing Machine Alternatives for CrossFit
Another great way to prepare for the CrossFit Games is to vary your workout. So aside from the rowing machines, here are great additions to your home gym.
Concept2 SkiERG with PM5
The Concept2 SkiERG with PM5 is one machine you can use to complement a rower. Here's what it does.
Pros:
Similar to a ski workout; engages different muscles from those involved in mainstream rowing
Well-built
Popular among athletes regardless of their CrossFit power rank
Cons:
Not a true rowing machine
Won't work out your legs as much as the real thing
Assault AirBike
Anything powered by air resistance is going to be easier to use than other resistance types, and such is the Assault AirBike. It is perfect for beginners to improve their speed and a great alternative or addition to a CrossFit rowing machine.
Assault Bike vs Rower – Which Is Better?
Pros:
Shares similarities with an air rower
Provides a good warm-up
Effective in pumping up your heart rate and blood flow
Cons:
Not the best CrossFit rower alternative
Final Thoughts: Up Your Game with a CrossFit Rowing Machine!
Choosing a rower for general fitness reasons is one thing; finding one to prepare for a CrossFit competition is a totally different ball game.
Your search should involve more than just resistance – don't get me wrong; resistance is a crucial factor. I've stressed this enough, and you should get one with the perfect balance of all the qualities mentioned above. So let's go over what I think has got that balance right!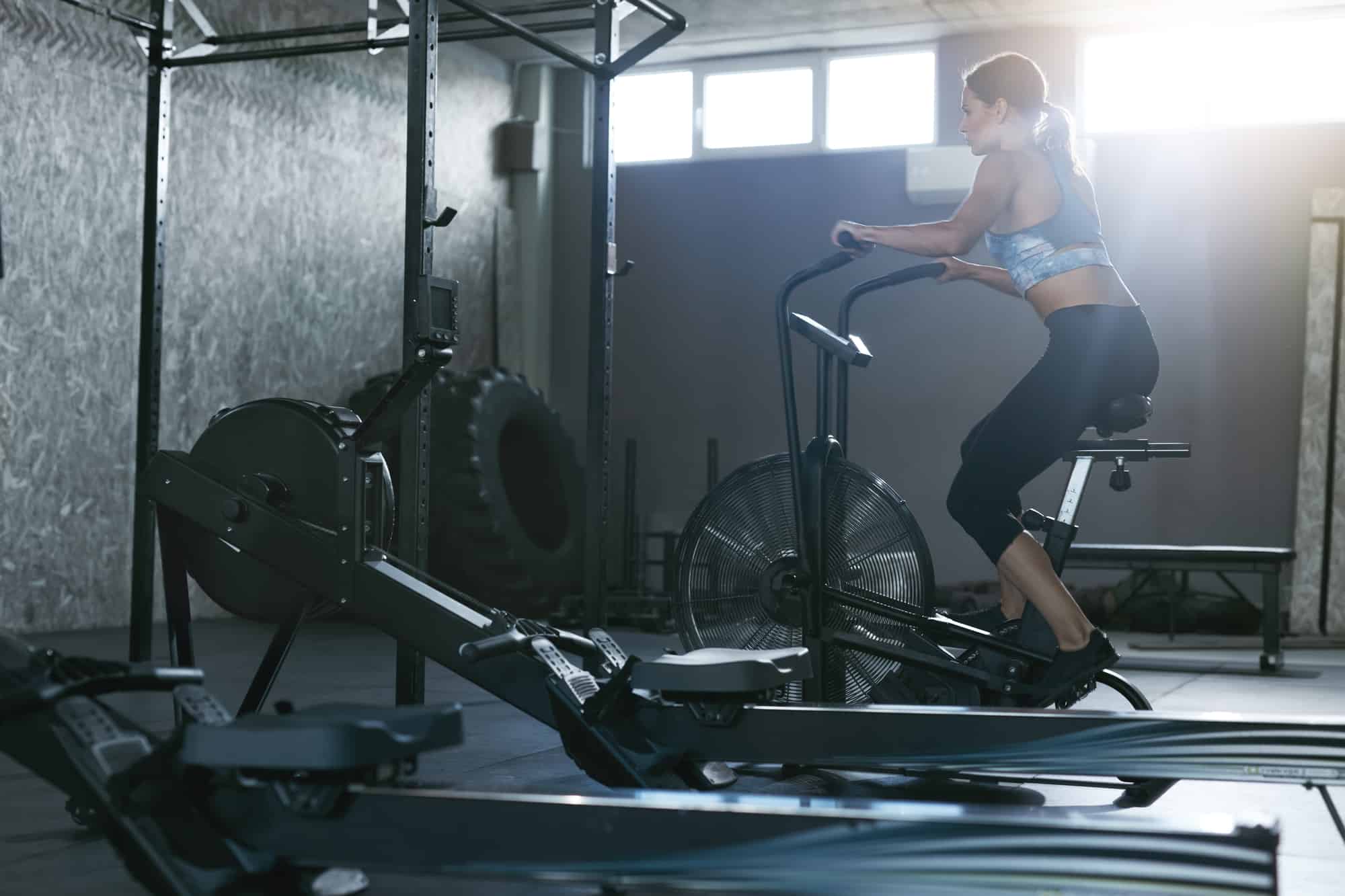 I've seen how Concept 2 is often called pricey, but here's the truth. The quality you get for a Concept 2 air rower is totally worth what you pay for. The PM5 alone already gets you the most bang for your buck. With it, you can enter your rowing workout times as official times to see how you compare with other CrossFit rowing competitors. I must say that hits your target bulls eye!
You've seen that other more expensive rowing machines have their own set of advantages. For instance, the bells and whistles of the WaterRower Club and state-of-the-art technology of the NordicTrack are all heart-pumping features – both in the impressive and expensive kind of way!
Yet again, it's a good time to stop and think. Are you on this page for the interactive fun you get from the elite NordicTrack and the water-authentic experience that the classy WaterRower Club offers?
I don't think so. Both machines give you the same workout that the Concept 2 rowers do, except that they're wrapped more expensively. That's debatable, of course, and you may not even mind the price tags, so I leave that to you.
On the other hand, when situations dictate that you spend less, the Stamina ATS Air Rower will fit the bill beautifully. It's the best you can get on a restricted budget and still get to row, improve your rowing technique, and prepare for the competition!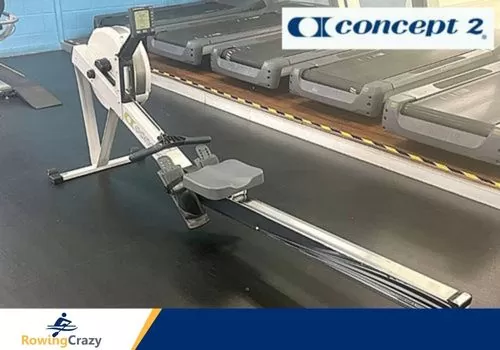 So after carefully balancing cost vs benefit, I pick Concept2 Model D. I think I've given that away pretty early in this article, haven't I? Of course, Model E is close on its heels for the same laundry list of advantages plus its usefulness to tall athletes. And if you can already guess how much beating a rowing machine is going to suffer from you, nothing wins over Model E's rugged build!
So there you go, I hope I've made it easier for you to decide which rowing machine to buy for CrossFit rowing. Feel free to browse other articles about CrossFit indoor rowers and comparisons among various models in this website!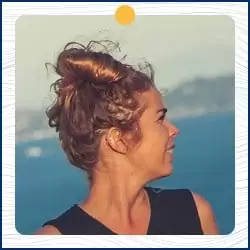 Written by Petra Amara – RowingCrazy.com
CEO & Founder of RowingCrazy, National Rower, Coxswain Womens Eight Team, Rowing Coach & Writer
Petra is a Mother of two and owner of Rowingcrazy.com. Petra lives and breathes rowing, she also has a passion for writing which lead her to start RowingCrazy.com to share her rowing experience and expertise with others.