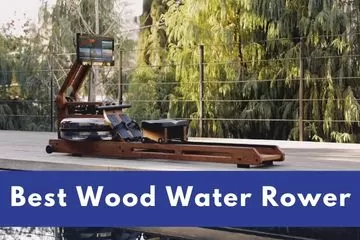 Did you know that water rowers are some of the top-selling rowing machines anywhere? There is a good reason for this.
This is Petra, and today, I want to talk about water resistance rowing machines and how you can pick the perfect one for your home gym.
Rowing really is the perfect workout, and for a smooth rowing experience, you simply can't beat a water rower.
In a Hurry? Here are My Top 3 Picks:
Don't have time to read the whole article? Here are my top picks for the best wooden water rowing machine:
*We review fitness products impartially and may earn a commission from affiliate links. For details see our disclosure page.
To help you make an informed decision on which rowing machine to purchase, we have conducted a thorough evaluation of each machine below in this article.
Lets Get Into It!
You don't want just any water rower, though, you want to get the best bang for your buck, right? I mean, doesn't everyone?
If you've looked online, however, you will find that there are literally at least 100 different water rowers. How can you pick the best one for you?
I'm going to sort through all the mish-mash of information and cut to the chase so you can make a more informed buying decision.
Let's talk water rowers!
Are Wood Rowing Machines Better?
In many ways, yes, wood rowing machines are better than other versions (learn more) , but this will depend on your idea of what "better" is.
Nearly all wooden rowing machines are made from various hardwoods, such as oak, ash, or cherry wood. Wood absorbs sound better than metal, so they're quieter.
Not only that, wood rowers are sturdy machines, capable of taking more weight than aluminum or steel machines can. So if you're on the heavier side, a wood rowing machine is going to suit you best!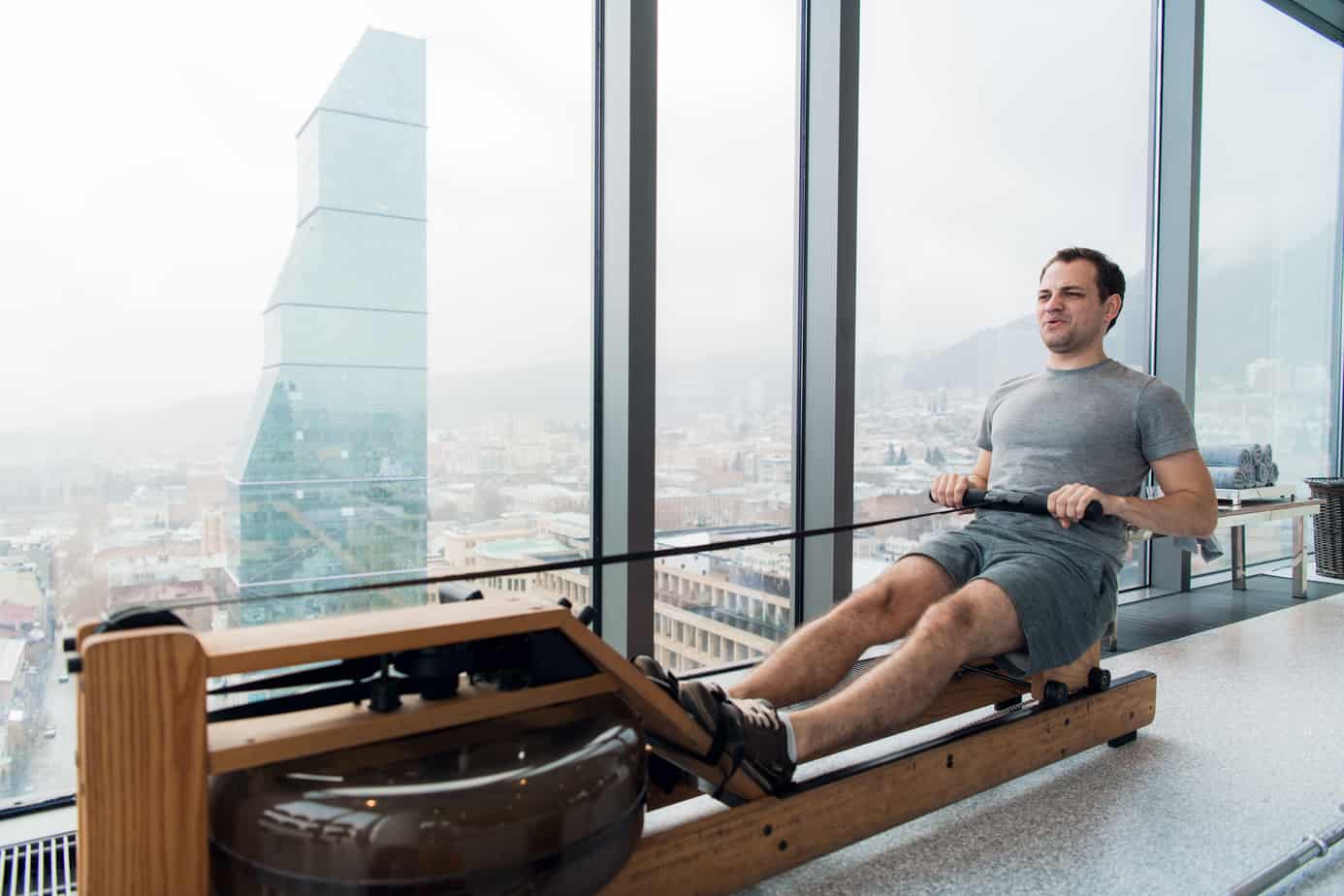 Wood rowing machines give you the feeling of sitting in a boat, which lends to an authentic rowing experience, and since many wood machines are water rowing machines, that swooshing sound of water is the perfect accompaniment to get that realistic water rowing experience.
Lastly, in addition to the sturdy frame, wooden rowing machines are really beautiful. You might be tempted to put it right in your living room, dining room, or bedroom because it will not look out of place!
If you want to feel as though you're rowing on the open water, you will really love the feel of a wood rowing machine that uses water resistance.
Ergatta Water Rowing Machine in Cherry Wood
When you want the best water rowing machine on the planet, then you want the Ergatta (read my full Ergatta waterrower review).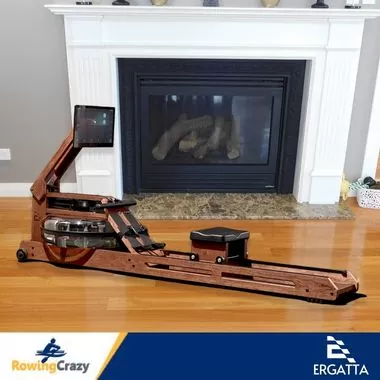 With its 17.3-inch HD touchscreen for easy viewing and lots of workout options, Ergatta is a world-class water rowing machine that you can set up right in your own home.
Pros
Offers an interesting and addictive selection of workouts that are game-based
You can race against others by Ergatta's automatic matching or by issuing private challenges to friends/rivals
The beautiful custom cherry wood finish looks more like furniture than a piece of gym equipment
User weight capacity of 500 lbs
Easy storage using transport wheels that allow the machine to sit upright
Adaptive workout programs
Cons:
A premium price for a premium machine
The water in the tank may become cloudy if chlorine tablets are not added regularly (learn more)
You won't find a better water rower anywhere, and I'm not just saying that. This rower is simply amazing in every aspect.
First, the cherry wood frame is so gorgeous I can guarantee that you won't want to hide it away in your home gym. The machine itself is made in the USA by the water rowing machines pioneer WaterRower so you get a high-quality, top-class equipment.
What makes this water rowing machine different (read more)? It's the software that makes Ergatta so special. Designed by a video game company, the software is very easy to use even for non-tech people, and the games are so much fun you might end up working out harder or longer just so you can win!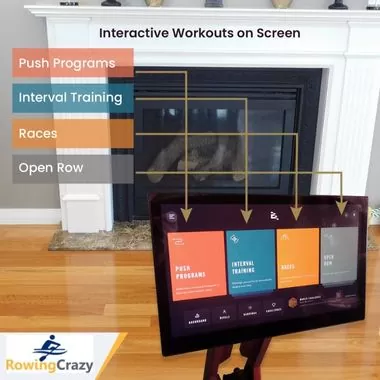 I know that because when I did some racing, I didn't want to quit until I had beaten a few people! It was downright addictive.
Perhaps the best thing about the Ergatta software is that it is self-adjusting. You will do a 1000-meter row when you first sign up and create your profile. From this workout, Ergatta will discover your current fitness level and adjust the resistance and workouts to match. This means that whether you are a beginner or an advanced rower, Ergatta will meet your needs!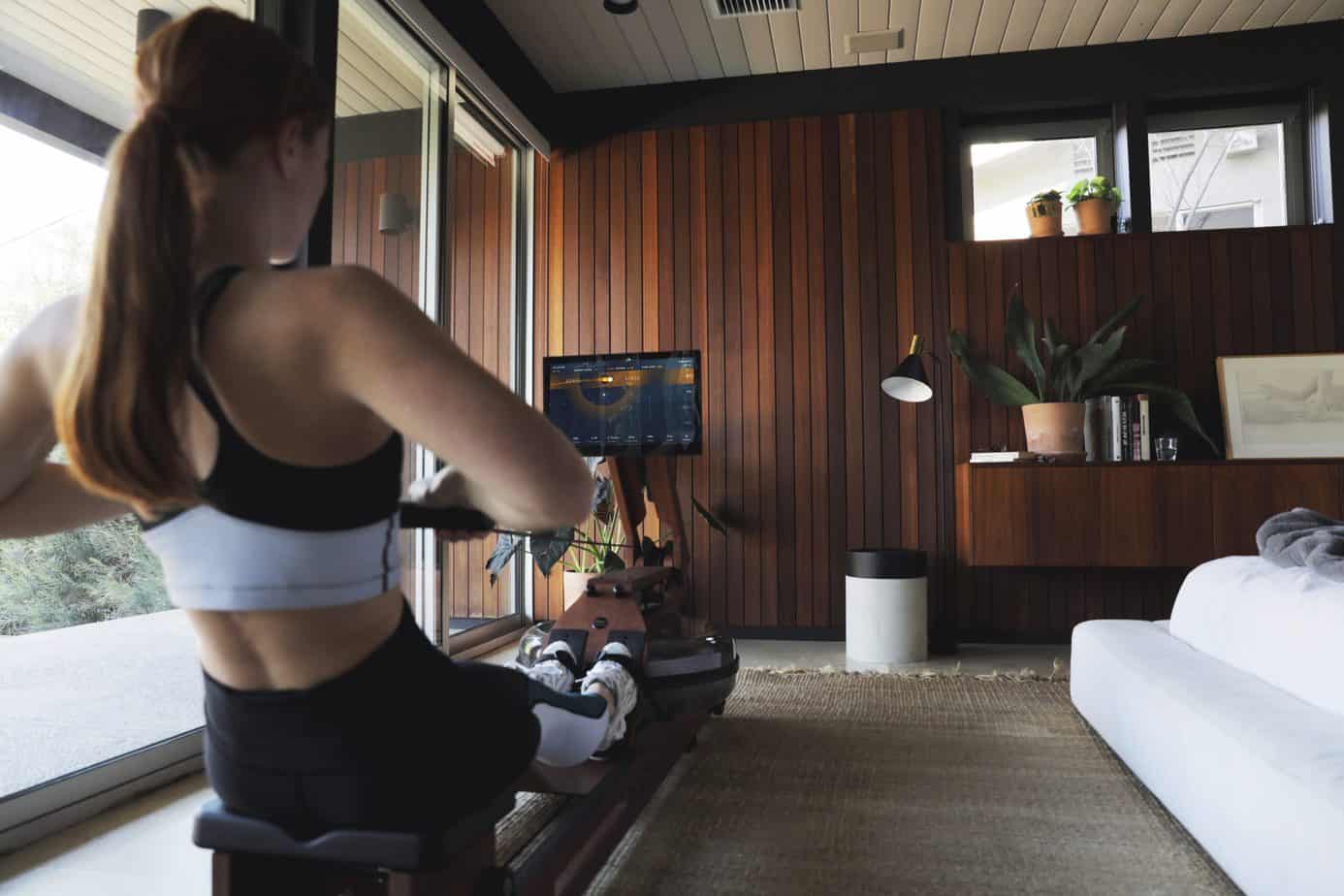 Every 10-or-so rows, the rowing machine will recalibrate, and if you've made improvement (which you surely will have!), it adjusts the workouts to match your new fitness level.
Ergatta isn't just one of the best water rowing machines ever designed, but it's the best piece of home gym equipment, period! Bluetooth-enabled, this machine will let you hook up speakers (although it has its own front-facing speakers), headphones, watches, and other fitness devices for fun and convenience.
There are no live or on-demand workouts with instructors, so if you aren't a fan of instructors or classroom-type settings, this is the machine you want.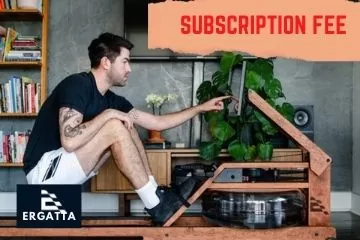 There is a $29 monthly ($348 yearly) subscription fee, but you can create an unlimited number of profiles for that fee so maybe someone else in your household can help share the expense. With games, metric-tracking software, pre-made workout plans, and much more, you get a whole lot for that one low price.
There are premium tutorials for beginners so you won't feel left out. There is also a large Ergatta online community for those of you who like the camaraderie of the gym.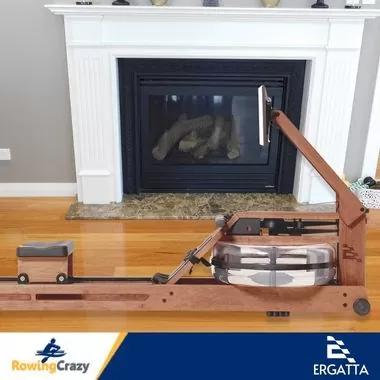 The bottom line here is that Ergatta is by far the top wood water rower you will find anywhere at any price.
WaterRower Classic in Vintage Oak Wood Rowing Machine
WaterRower Club brand is the original creator of water rowers. This is one of their bestsellers, probably because oak is beautiful and matches almost all home decor types.
Pros:
User weight capacity of up to 700 pounds (that's a third of a ton!) and maximum user height of up to 37″ inseam
Weighs only 103.5 pounds with water so it can be moved and stored fairly easily
Made in the USA from sustainable wood
No electricity required
Cons:
The S4 monitor is fairly basic
You may need to add or remove water to suit beginners or more advanced users
The water tank can grow algae if chlorine tablets are not used regularly
The monitor is near the footplate, which is not easily viewed by some people
WaterRower makes water rowing machines from different types of wood, but oak seems to be one of the most popular, probably due to its beautiful honey color.
This water rowing machine absorbs sound and vibration, which makes it very quiet. The only real noise you will hear is the swooshing sound of water, which many people find soothing.
The S4 monitor is located right next to the right footplate, which for some people isn't as easy to read as monitors sitting at eye level. It's not like the big screens that you see on new smart rowers, and it offers fairly basic info such as speed (in m/s or mi/hr), split time (minutes per 500m), 2km row time (minutes per 2km), and calories burned (kcal per hour).
The monitor also displays your stroke rate (spm), heart rate (bpm) if you buy the optional heart rate monitor, distance covered, and the total time that you have been rowing.
That's a whole lot of info, but this little monitor does the job!
The warranty on this water rower is for a full 5 years on frame and 3 years on parts, which is a decent warranty for a water rower. Also, in the first year, WaterRower will replace or repair any defect in material or workmanship.
WaterRower Classic is made for your home gym and I love the deep beautiful color of the wood, as well as the smooth rowing action this machine is known for.
Must Read Article: Best Rowing Machines for CrossFit
Mr Captain Water Rowing Machine in Red Walnut
Don't let the name fool you, this isn't a cheesy knock-off water rower but a more budget-friendly rower that has many of the same features as higher-priced water rowers have.
The red walnut frame is a beauty; however, it can't hold up to heavier weights as the Ergatta and WaterRower brands can. The maximum weight capacity on this rowing machine is 320 pounds.
Pros
Reasonably priced
The 3D ergonomic seat is very comfortable
Free workout app called FitShow
The LCD monitor is Bluetooth-enabled for third-party heart rate monitors
Cons
Made in China
The monitor is limited in scope
The foot straps tend to come loose while in use
No shelf or holder for your tablet or cell phone
One of the features I do like about the Mr. Captain wood rowing machine is that it offers a smooth rowing experience and you get a free workout app. You can download the FitShow app to your tablet or cell phone, but there is no stand or arm to hold your cell phone or tablet in place.
I suppose you could rest it on top of the footplates or cast the app from your phone to your TV, but the entire setup is kind of awkward.
This water rowing machine only has a 1-year warranty, which is OK considering the price.
Overall, Mr. Captain is a great choice for those who don't want to spend a fortune on a connected water rower or for those who don't care about high-tech monitors.
The Bottom Line
At the end of the day, it's you and your wallet.
Well, there are a few other things to consider besides price. If you need a rowing machine that can handle more weight, you will want to go with the Ergatta or the WaterRower Classic.
If you don't want to pay monthly fees, you can go with either WaterRower or Mr. Captain.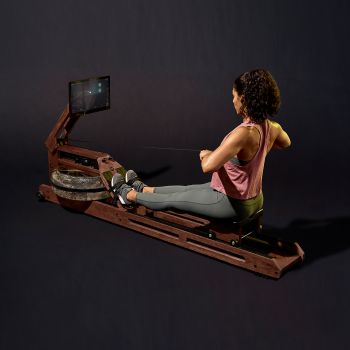 Personally, I would choose the Ergatta. I've used plenty of different water rowing machines over the years, and I was impressed not only by the high-quality feel of Ergatta's rowing action, but also by its software. The racing and games are so exciting that it becomes easier to stay in your intensity zones for longer.
If you have kids that will sit and play video games all day long but don't want to walk a block to the store, the Ergatta can be a good way to get them to play games and get in some exercise at the same time.
While all three of these machines are good, the Ergatta is downright spectacular (Learn More).
Stay healthy and happy rowing!
FAQs
1. Are wooden water rowers hard to maintain?
No, they aren't. You can wipe them down with a damp cloth or use furniture polish on the wood. Keep the machine as dust-free as possible and it should last for many years.
2. How do you change the water in a wooden rowing machine?
In most instances, the water only needs a purification tablet added to the tank every 6 months or so. If the water should become cloudy, you can remove the tank, and using the supplied water pump, you can suction out the old water and add fresh tap water, along with a new purification tablet.
3. What maintenance does a rowing machine need?
Rowing machines are easy for nearly everyone to maintain. Every 6 months or so, check all the screws and bolts to ensure that they are tight. Dust off with cloth or a vacuum cleaner around all exposed parts every month and wipe off any sweat after every workout. If you have a wood rower, you might want to use some furniture polish on the wood frame. If the rower has a chain, lubricate the chain according to the manufacturer's instructions.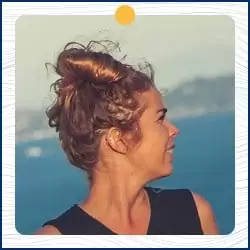 Written by Petra Amara – RowingCrazy.com
CEO & Founder of RowingCrazy, National Rower, Coxswain Womens Eight Team, Rowing Coach & Writer
Petra is a Mother of two and owner of Rowingcrazy.com. Petra lives and breathes rowing, she also has a passion for writing which lead her to start RowingCrazy.com to share her rowing experience and expertise with others.