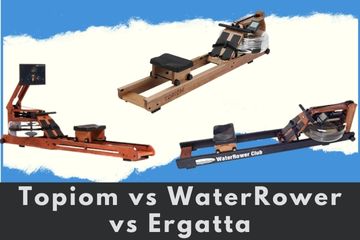 Hi friends, it's Petra, and in this article, I want to talk about water rowing machines.
I'm fortunate enough that I've had access to just about every type of indoor rowing machine one way or another, but if you haven't had that option, how are you supposed to choose the correct one?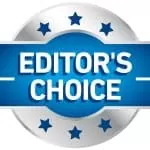 In a Hurry? Here are the Rowers We Are Comparing:
Want to know which rower is the best between Topion, WaterRower or Ergatta but don't have time to read the whole article? Click on the links below to get our answers:
This article will provide a comprehensive review of these rowing machines, examining each one closely and sharing our discoveries for each machine.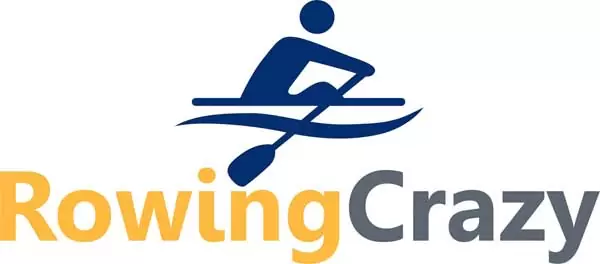 Right Let's Get Into It!
There are SO many brands available right now, and the price ranges make it even more difficult. Is more expensive better?
My parents always taught me that you get what you pay for, but what if you can't afford the best? Does that mean that you are stuck with a lemon of a water rower?
I thought that I would take on three brands of water rowers and give you the rundown on the pros and cons of each so you can make a more informed buying decision.
If you are in the market for a water resistance rowing machine, this is a must-read article.
1. The Topiom Rowing Machine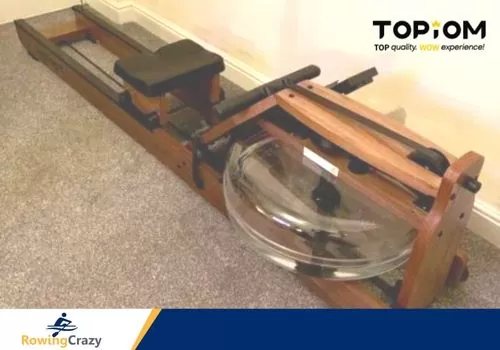 My neighbor had purchased one of these water rowers and asked for my help not only in assembling it but also to give her pointers on how to row.
This was my first experience with this machine, and I have to say that I was pretty impressed.
At first, I thought this was a WaterRower brand since it looked almost identical, but the name on the box said otherwise.
Topiom is a Canadian company that imports these rowers from China.
Before you turn up your nose at the China country of origin, I want to tell you that this machine is anything but cheap plastic or pressed particle board.
This rowing machine is made from walnut wood, not plywood. That means it's sturdy as all heck. It can hold users up to 400 pounds! Try doing that with particle board!
I can attest that assembling this rower was pretty easy for two women, and we had it finished in less than an hour.
The only trick to assembly is that the monitor and the electric water pump are rechargeable (yea!), but you need about one hour to charge them before you can start rowing.
So, take my advice and find that monitor and electric pump and start them charging while you assemble the rower.
Features of the Topium Water Rowing Machine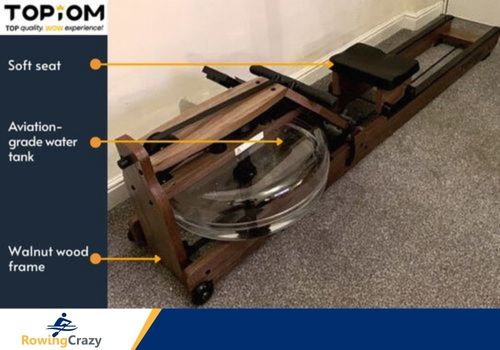 Some of the best features of the Topiom water rower include:
Rechargeable electric water pump. No more wasting money on batteries or running to the store because your batteries are dead. You will most likely only fill the tank a few times for as long as you own it, but hey, who said you couldn't use this pump for something else?
Rechargeable performance monitor. I don't know why other companies don't follow the lead of Topiom. This is a terrific feature in my book!
Basic performance monitor. The performance monitor is very, very basic, which isn't all that great. If you are looking for a low-tech device that provides you your fitness data and nothing more, this is right up your alley.
Bluetooth enabled. It's low-tech, but not no-tech, OK? The Topiom water rowing machine is completely Bluetooth enabled so you can connect your tablet or smartphone and use any fitness apps or heart rate monitors that you have. Don't forget to hook up your Bluetooth headphones and jam to some tunes if you like.
Lightweight & easy to move around. The Topiom rowing machine weighs 66 pounds without water and about 78 pounds with water. That makes this rowing machine easy to maneuver.
Overall size is 82.6″ x 22″ x 20″
Decent warranty. It has a limited 5-year frame warranty and a 3-year warranty on everything else
Ergonomic seat. The seat is softer than most water rowers. This means it's easy on your butt but might not hold up to everyday or heavy use.
Adjustable foot straps. You can adjust the foot straps to accommodate any shoe size, which is great if there's more than one user.
Long rail guide. The Topiom water rower also has extra-long rails so people as tall as 6 foot 5 inches can use it!
Portable. The front transport wheels mean that you can pick up the back end and simply roll this home rowing machine anywhere you want it.
I was impressed with the quality of this water rowing machine, and for the price, it can't be beat!
Pros of Topiom Rowing Machine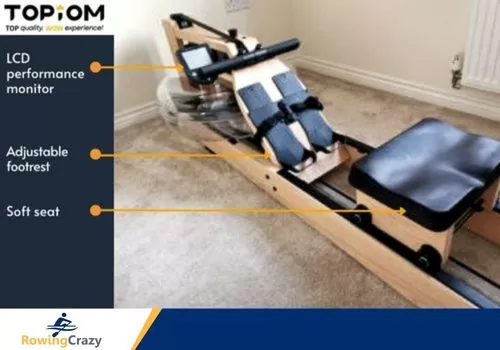 There are lots of things to love about this wooden rowing machine, including:
The super-smooth action feels as if you are rowing on actual water.
The LCD display is basic but easy to use and read.
The water tank is made from aviation-grade materials that protect it from shocks or bumps.
The warranty is decent for the price.
The 400-pound user capacity is excellent and attests to how sturdy this water rower is.
It can accommodate users who are taller and/or heavier than most people.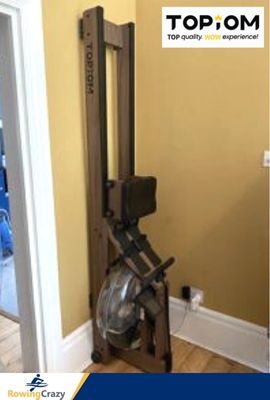 If you are looking for a piece of fitness equipment that will help you reach a new fitness level and not break the bank, this is what you're looking for.
Cons of the Topiom Rowing Machine
Nothing is perfect in this world, and that includes this water rower. If you're considering buying a Topiom water rower, be aware that:
The warranty is good, but it has tons of exclusions. Read the full warranty before you buy.
The company offers a 21-day free trial, but it starts on the day you buy it, not the day you receive it. This means up to 2 weeks of that time could be wasted waiting for it to be delivered and not using it for the trial period.
The LCD display does record your data (such as calories burned), but it's very basic.
You can get bored with it, although some people (who are highly self-motivated) may not have an issue with that.
The softer seat may feel good in the beginning, but I suspect that it might not hold up to heavy use.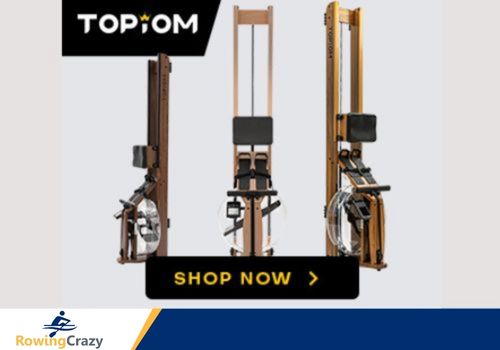 Those were the only drawbacks that I could find with this water rower. Overall, I think the Topiom rower offers a great rowing experience and a very good rowing machine for the price.
2. The WaterRower Rowing Machine
When it comes to rowing machines, most people are fans of water resistance rowers or air rowers like Concept2.
Concept 2 may be the rower of choice for gyms, but for many people, the noise is unbearable, especially in apartments or shared living spaces.
The WaterRower brand has been around almost as long as Concept 2. This rower is made in the USA, so you know that you are paying for a quality name and a reputation that is second to none.
If you are looking at photos of WaterRower and think that it looks almost identical to the Topiom water rowing machine, you are correct.
Differences Between Topiom and WaterRower Rowing Machines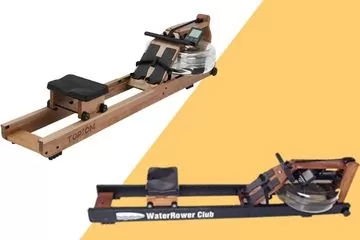 There are some differences between these two rowing workout machines, such as:
The overall size of the WaterRower is 84 x 21 x 22 inches, and its S4 performance monitor is a bit more sophisticated and larger than Topiom.
This wooden rowing machine is made from ash wood, which is incredibly hard. It's stained to a beautiful honey wood color. Ash is also known for absorbing sound and vibrations.
There are transport wheels on all four corners, not just the front, which makes this even more portable
This water resistance rowing machine weighs a bit more also, coming in at 117 pounds.
It can handle more weight. The maximum user weight for WaterRower is a whopping 700 pounds!
The S4 performance monitor is Bluetooth enabled.
This water rowing machine can be stored vertically against a wall.
Like the Topiom, it comes with a 5-year frame warranty and a 3-year warranty on everything else. Unlike Topiom, it has fewer exclusions.
You can feel the quality of this machine with every rowing stroke! I've used air rowers and water rowers, and I will take the peaceful sound of a water rowing machine any time.
Pros of WaterRower Rowing Machines
There's a reason why this rowing machine has been around for decades.
Some of the top things to know about WaterRower include:
The S4 monitor offers many data features that people want and enjoy.
The seat, while it is a bit harder than that of the Topiom rowing machine, somehow feels "sturdier" to my behind.
The wheels make this rowing machine very easy to move around, even though it weighs almost double what the Topiom rowing machine does.
The warranty may look the same as Topiom, but there are very few exclusions, something Topiom can't say.
Made in the USA.
You can add the Ergatta upgrade anytime you wish if you should decide to.
I love the rowing feeling on the WaterRower brand. It's got such a smooth stroke. If I close my eyes, it feels almost like rowing on water.
The Cons of the WaterRower Rowing Machine
It's hard to find something negative to say about this rowing machine, but I did manage to find a few points.
The performance monitor could be in a better location. I think shorter people might find it easy to read, but for most people, you'll need to look down or at an angle to read it.
The footrests are close together, which can make it a bit awkward for heavier people or people with heavy thighs.
I've heard that some very tall people find the footrests uncomfortable. They are very adjustable so I'm not sure what the problem is. However, so many users have mentioned this that I think you must also consider this aspect.
You can't beat the build quality of this water rowing machine, and even with the few problems I've mentioned above, this is a terrific water rowing machine overall.
3. The Ergatta Water Rowing Machine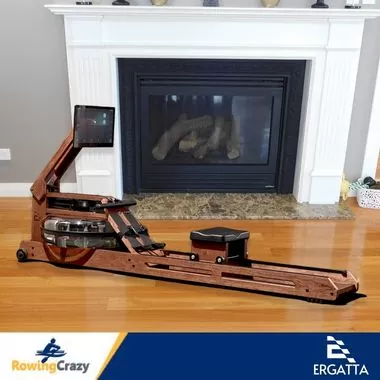 While the price of the Ergatta may make you stop and go "whoa", trust me when I tell you that it is worth every penny.
I own both a Hydrow and an Ergatta water rowing machine. I love them both for different reasons.
If you're like me, you tend to get bored while rowing. Actually, I get bored with just about any cardio, including running and ellipticals.
This is why I love Ergatta.
Features of the Ergatta Water Rower
This rowing machine offers a 17-inch tablet that has Ergatta's special game-based programs so you can never, ever get bored.
It's the Ergatta programming that makes this water rower one of the best rowing machines ever made.
There is a complete beginner's program that teaches you how to do the rowing stroke properly. It gets you conditioned as well so that you can build up your endurance and increase your fitness level.
There are live races twice a week, HIIT and strength-building workouts, more data measurements than you ever thought possible to record, and a very active Facebook group that keeps you updated and connected to other Ergatta users.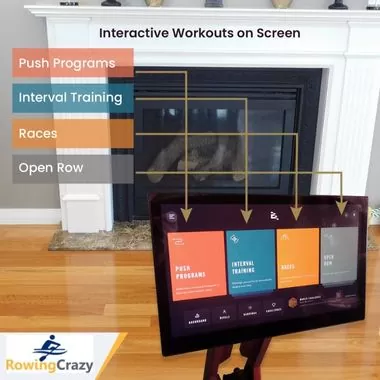 Even if you have never set foot on a rowing boat, you'll think you're sitting in one when you sit on an Ergatta.
Other features include:
Ergatta is made by WaterRower, which means it is made in the USA.
This rower is a beautiful cherry wood that looks more like furniture than exercise equipment.
It's so easy to use and assemble that you will be working out on it in less than an hour.
I love the smooth rowing feeling of this machine, and the water in the tank sounds like a running river.
Ergatta is also fully Bluetooth enabled, so you can use your own Bluetooth headphones, most fitness devices, and heart rate monitors.
You need an internet connection, an electrical outlet, and a monthly subscription fee to use Ergatta.
There are front transport wheels for easy transportation anywhere you want to move it.
Overall dimensions are 86″ x 23″ x 40″.
The tablet is an HD touchscreen device that has rear speakers.
When it comes to an exercise machine, the last thing you want to do is become so bored with it that it turns into a giant clothes rack.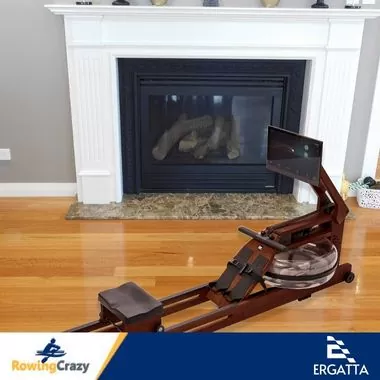 The best thing about Ergatta is that it's not easy to get bored with it. There are new races and workouts added every week, live racing events, and a feature called Open Row, which allows you to view scenic waterways from around the world.
Pros of the Ergatta Rowing Machine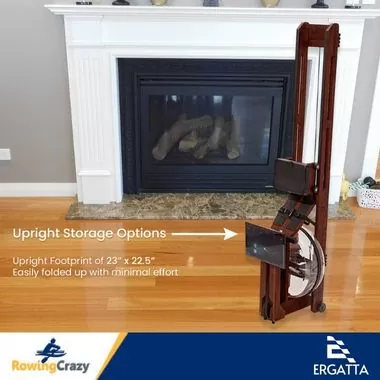 I can't say enough good things about this amazing water rower, but there are a few more things you should know about it:
The interactive HD screen catches your attention and engages you every time you work out.
There are so many program options, I bet you never use them all!
There are lots of programs for beginners and intermediate users.
If you want, you can ask for a professional installer to deliver and set up the machine at your home, office, or wherever you like.
This water rowing machine offers more than just a great workout; it offers as close to a real-life on-the-water rowing experience as you can get.
Yes, as you can tell, I love my Ergatta. I bet, you'll love yours, too!
The Cons of the Ergatta Water Rowing Machine
As perfect as Ergatta might sound, there are a few things to note:
The foot straps can come loose during long or very hard workouts.
This is a premium rowing machine so it comes at a premium price.
You do need to pay a monthly subscription fee. It's totally worth it, but for some people on a tight budget, this might be a problem.
Those are about the only drawbacks that I'm aware of. I've had excellent customer service when I've called, and I love all the advanced features that the tablet offers.
The Bottom Line
I've probably given away the winner here, but I can't help it.
I think that my Topiom rowing machine review was more than fair. The Topiom water rowing machine is a terrific choice for anyone who wants a water rower but is on a tight budget.
WaterRower brand is also an excellent choice if you want a 'Made in the USA' product that offers a few extra features.
If you want the best, most exciting water rowing machine on the market today, you should check out Ergatta.
With it's game-based programming and super fun workouts, you will never be bored with a workout again.
Ergatta offers a 30-day money-back in-home trial. I've never known anyone to return an Ergatta, but try it out in your own home gym.
If you don't think you've had the best full-body workout ever, you can return it, no questions asked.
Have fun rowing at home, it's the happiest way to become fit!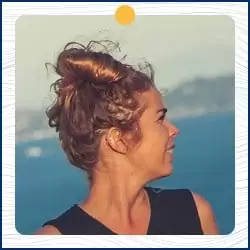 Written by Petra Amara – RowingCrazy.com
CEO & Founder of RowingCrazy, National Rower, Coxswain Womens Eight Team, Rowing Coach & Writer
Petra is a Mother of two and owner of Rowingcrazy.com. Petra lives and breathes rowing, she also has a passion for writing which lead her to start RowingCrazy.com to share her rowing experience and expertise with others.