For anyone who is considering buying a rowing machine for their home gym in the not-too-distant future—super congrats!
Let's face it, though, picking out an indoor rowing machine is no easy task nowadays! There are so many options and brands to choose from—how can you know before buying that you'll love the indoor rower you've picked?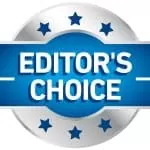 In a Hurry? Here are the Rowers We Are Comparing:
Don't have time to read the whole article? Click on the links below to find out which rower is the best between Hydrow, NordicTrack, Concept 2 or Topiom :
*We review fitness products impartially and may earn a commission from affiliate links. For details see our disclosure page.
To help you make an informed decision on which rowing machine to purchase, we have conducted a thorough evaluation of each machine, which we will share in detail in the upcoming sections of this article.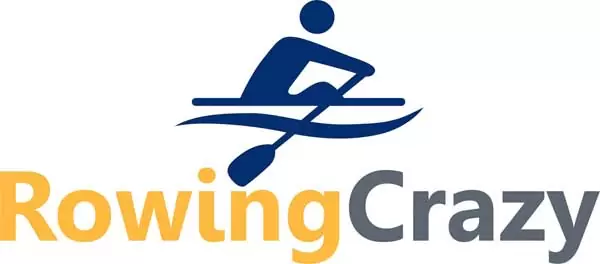 Without Further Delay, Let's Begin!
Hi, my name is Petra, and I don't just write reviews, I actually row!
Today, I want to tell you about four top-selling rowing machines so that you can make a more informed buying decision.
Let's get right down to business because we've got a lot of ground to cover.
Comparing Topiom Vs Hydrow Vs NordicTrack Vs Concept 2
First, let me explain that in this comparison, I'm going to use the RW900 model of NordicTrack and Model D of Concept 2 because they are most similar to Hydrow and Topiom.
For those of you who don't have a lot of time or just want to know the basics, this quick comparison chart might help you make up your mind right now.
Easy Comparison Chart: Concept2 Model D Vs Hydrow Vs NordicTrack RW900 Vs Topiom
Concept 2 Model D
Hydrow
NordicTrack RW900
Topiom
Resistance Type
Air
Magnetic
Magnetic
Water
Monthly Membership Fee
None
$44 for unlimited profiles
Uses iFit- prices vary- Individual monthly fee $15
None
Overall Dimensions (L x W x H)
96" x 24" x 14"


(note: 14″ refers to seat height)

86" x 25" x 47″
82" x 22" x 54"
83" x 22" x 20"
Stored Dimensions
Comes apart in 2 pieces, each piece measures 25" x 33" x 53"H
Stores vertically
86"H x 25"W
Stores vertically
82"H x 22"W
Stores vertically
83"H x 22"W
Machine Weight
57 pounds
145 pounds
163 pounds
66 pounds
Maximum User Weight
500 Pounds
375 pounds
250 pounds
397 pounds
Warranty
5 years frame
2 years on all other parts
5 years frame
2 years parts
1 year labor
10 years frame
2 years parts
1 year labor
5 years frame
3 years parts
Noise Level
Noisy
Nearly Silent
Nearly Silent
Very low, only the sound of swooshing water
Monitor Size
No touchscreen; uses PM5 performance monitor with backlit display
22-inch movable HD touchscreen
22-inch rotating screen
No touchscreen; uses TM-3 performance monitor
Live Workouts
No
Yes
No
No
Personal Trainers
No
Yes
No
No
As you can see, these machines will all give you a full-body workout, but they are very different.
Let me go into more detail for those of you who have just started your search for the perfect rowing experience.
Are Rowing Machines Really Worth It?
In a word, absolutely!
No other piece of exercise equipment can give you the full-body workout that a rowing machine can.
Imagine no more "leg day" or "cardio day". All you need to do is row 30 minutes a day, and you're done!
There are tons of ways to stay motivated, including data tracking and personalized workouts, depending on which rowing machine you choose.
I love being able to exercise right at home any time I want, that why I'm all for having my own rowing machine at home! No more worries about where to park, dirty locker rooms, sweaty equipment, or waiting in line for your turn only to find out that you are limited to X number of minutes!
Got just 10 minutes to exercise today? When you have your own rowing machine, you can jump on for 10 minutes—no waiting!
Can you only row at night? Pick a quiet rowing machine, and you can row any time in the day or night!
Regardless of your budget, you can find a rowing machine that is perfect for your home gym, even if that "gym" is your bedroom corner!
1. The Hydrow Rower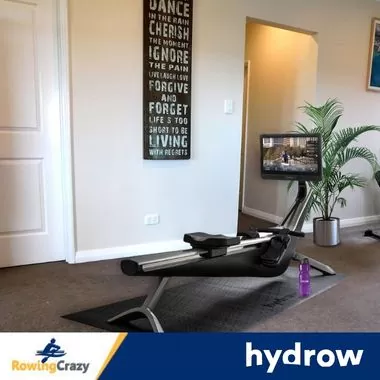 Hydrow SAVE $100 => Use Coupon Code: ROWINGCRAZY
Hydrow has been called the Peloton of rowing machines and for good reason.
In my opinion, it is the best indoor rower if budget is not an issue for you.
If you have ample room in your budget, and if you want the best indoor rowing machine with workouts led by instructors who are actually rowing on the water, then you'll definitely want to check out Hydrow.
Features of the Hydrow Rower
Hydrow uses computer-controlled magnetic resistance, which means it is whisper-quiet. I've used my Hydrow in the same room as someone who was watching television, and they didn't need to turn up the volume at all—it is that quiet!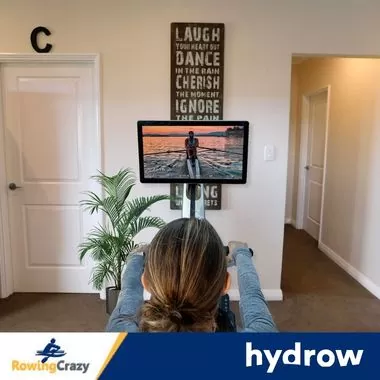 One of the reasons I love Hydrow is that they have a fantastic online rowing community that can offer you tons of support. Want to find a rowing buddy? I guarantee you can find one with the Hydrow community. Not only that, the on-the-water rowing experience you get makes this machine unique.
If you prefer studio-type classes, similar to the Peloton spin classes, then Hydrow may not be the best choice for you.
However, if you want personal trainers, live and on-demand classes, and if you want to experience what a professional rower sees and feels, then you will love Hydrow's rowing sessions.
These rowing workouts are like nothing else! You will row the waterways of the world in spectacular settings. All the instructors are rowing professionals, some are even former Olympic champions!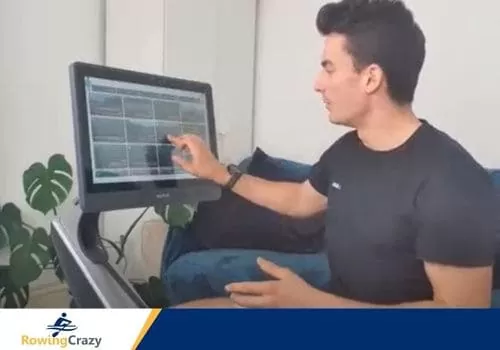 You'll find beginners' classes and on-demand classes, and if those were not enough, you can also access off-the-rower classes, such as yoga, Pilates, and strength training!
One problem nearly everyone has with exercise or gym equipment is boredom. The last thing you want to do is invest in a rowing machine, only to have it become a giant paperweight or clothes rack!
That cannot happen with Hydrow. This rowing machine puts all other rowers, including smart rowers, to shame.
With a library of thousands of workout classes, live classes, off-the-rower classes, and new workouts being added every week, there is no way you could ever get bored!
The icing on the cake here is the 22-inch HD touchscreen that is sweatproof and dust-resistant. I have no doubt that you'll lose yourself in the indoor rowing experience that this giant monitor offers. The sound, feel, and scenery are so realistic, the only thing missing is spray from the oars! Have a friend spritz you with water if you like, and you'll swear you're in a rowboat on the water.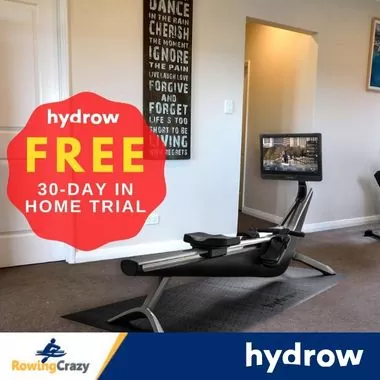 If you're the kind of person who wants a top-of-the-line rowing machine with world-class, instructor-led workouts, one who wants the best smart rower there is, then Hydrow should be the obvious choice for you!
2. NordicTrack RW900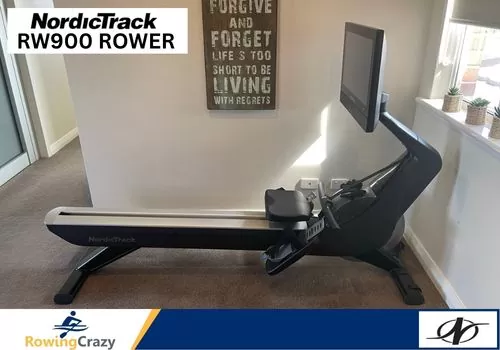 Chances are that you've heard of the NordicTrack name, but you didn't know that they also make rowing machines.
This review is for the RW900, which I honestly think is the best high-tech rower you can buy for less than what you'll spend on a Hydrow.
Witness Olympic Rower Rachael Taylor in Action on the NordicTrack RW900 Rower:
Features of the NordicTrack RW900
Like Hydrow, NordicTrack RW900 has a 22-inch HD touchscreen so you can easily see the workouts and enjoy the scenic views.
NordicTrack uses the iFit training app. The great thing about iFit is that you can also access other types of workouts in addition to rowing ( learn more on the best iFit rowing workouts for beginners ), including jogging, walking, spin classes, weight lifting, and more.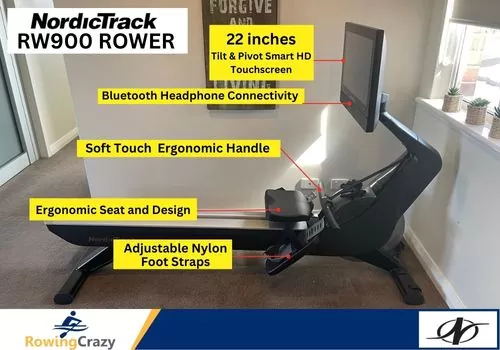 Perhaps the only drawback to iFit is that even with the Family Plan (which is $39 a month), you can only have five users total.
For $44 dollars a month with Hydrow, you can create an unlimited number of profiles, so if you have a larger family and want a smart rower, then Hydrow is the obvious choice.
Like Hydrow, the Nordictrack also uses computer-controlled magnetic resistance, meaning that this indoor rowing machine is super-quiet.
It's also Bluetooth-enabled, like Hydrow, so you can use your third-party fitness devices, such as heart rate monitors, headphones, and fitness watches.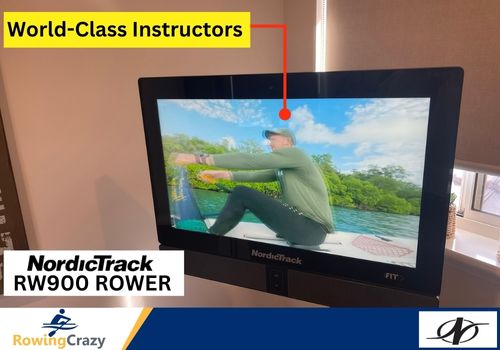 The instructors on iFit are usually certified personal trainers, and you can choose from either studio type, classroom workouts, or on-the -water workouts.
The NordicTrack has a very good warranty, and it costs a few hundred dollars less than Hydrow, but do consider how many users your device will have. Hydrow might be less expensive in the long run. FYI – You might also like to read our other article Aviron vs Nordictrack for more details
3. Concept 2 Model D (also called RowErg)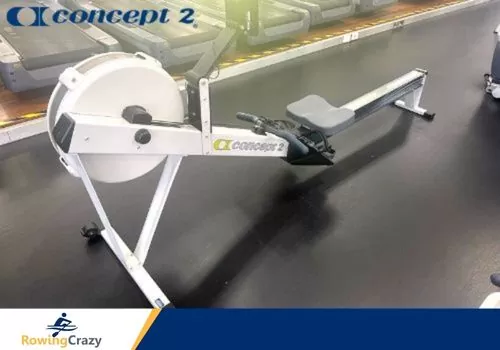 If you've used a rowing machine at an OrangeTheory workout, a national gym chain, or at a hotel, chances are that you used the Concept 2 Model D (now called RowErg).
This durable and no-frills best selling rowing machine has been around since the early 1980s, and it hasn't changed much over the years.
Watch our full video of Concept2 Rower by Rowing Coach Max Secunda:
Concept 2 is one of the biggest selling rowing machines despite the fact that it has no touchscreen monitor and is not a smart rower.
Why does this air rower remain so popular? Simple—it's reasonably priced, super-sturdy, and it works.
Features of the Concept2 Model D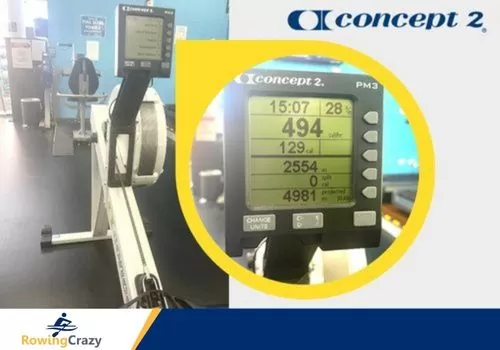 This indoor rower uses a fan blade inside a cage to create resistance. While it does have a PM5 (Performance Monitor), there are no fancy electronics, no HD touchscreen monitors, nothing fancy to break or distract you.
Air rowers are known to be very noisy, but if you've got your own home gym or garage, or if noise is not a problem for you, then Concept 2 might be what you're looking for.
Beginners can check out its website for training tips and first workouts.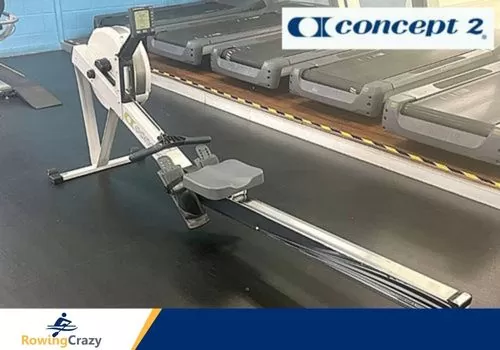 Seniors should note that the position of this rowing machine puts more strain on your knees than other rowers such as the Hydrow or NordicTrack, but you can choose from two seat heights to find what's more comfortable for you.
If you want a basic rowing machine with no bells or whistles but will give you a tremendous cardio and full-body workout, and if you don't want to pay monthly subscription costs, then the Concept 2 Model D is what you should consider buying.
4. Topiom Rowing Machine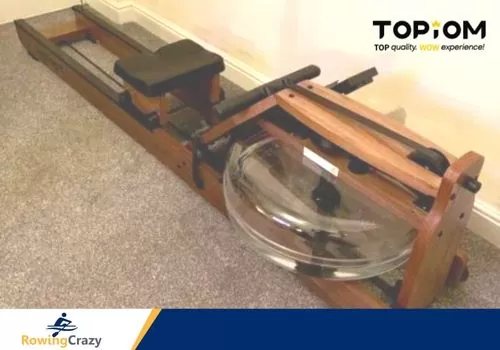 One look at the Topiom rowing machine and you know it's different from the machines I've discussed above. For one, it is a water rower rather than magnetic or air-resistance rowing machine. Two, like expensive water rowers with wooden frames, it has that quiet elegance about it.
Except that it's not expensive. In fact, if you're looking for the best budget rower, you don't need to look far because Topiom offers the best value for money.
Topiom is a water rower, which means that it has a fan blade inside a beautiful, see-through water tank for resistance.
Most people, including myself, enjoy the sound water rowers make because, let's face it, moving water has a relaxing, hypnotic effect.
Features of the Topiom Water Rower
The Topiom water rower is beautiful to look at. It is made from Oakwood with several color options of veneer so you can pick your favorite.
Read that again. This isn't some cheap, particle board with plastic wood-look veneer! This is a well-built, sturdy, solid wood indoor rower that will give you a serious full-body workout!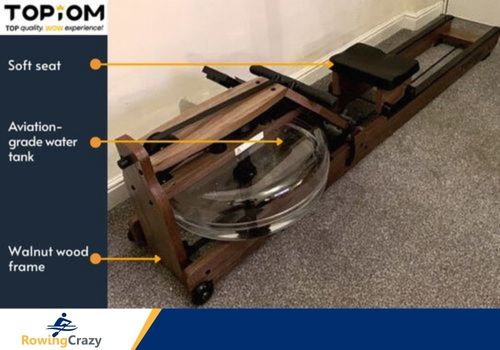 Like Concept 2, this indoor rowing machine has no monitor and no fancy electronic gadgets. It does have a performance monitor that will track your workout data, along with Bluetooth functions so you can use your own headphones and heart rate monitors if you like.
Sitting on a wood frame while listening to the sound of water swooshing in the tank is a relaxing rowing workout that will make you feel like you are really inside a rowboat.
Water resistance is quiet and makes no more sound than what you hear when filling up a bathtub. You can't say that about air resistance rowers.
Unlike Concept 2, Topiom does not come apart, but you can store it vertically. It won't take up any more room than your average chair, but it will be rather tall. You might have to relocate a piece of wall art, but otherwise, you can store it anywhere you have a bit of wall space.
There are no monthly fees and no HD touchscreen monitors, but you still get all the benefits that indoor rowing machines have to offer.
I like that Topiom offers replacement parts in addition to their very good warranty. I've never known a water rower to break, but if it should, every single part can be ordered through the website and delivered to you.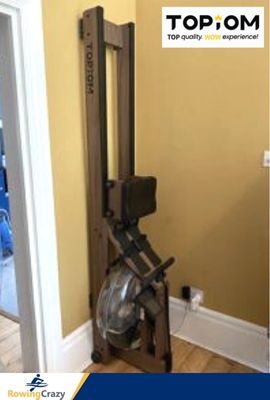 For anyone who is interested in a good quality rowing machine with a high user-weight capacity, looks really nice, has no monthly fee, and is more budget-priced than some other rowers, the Topiom might be the rower you are looking for.
Which Type of Resistance Is Best?
I understand that it can be confusing to pick between air, water, and magnetic resistance levels.
Each one is different and has its advantages and disadvantages.
Air Rowers— The truth is that air never runs out or wears out. That makes air rowers lightweight, cheap, and easy to use. The problem with an air rower is the noise! If you have any concerns about your neighbors, roommates, infants, or day sleepers, or if you just don't like noise yourself, think twice or maybe even three times before you get an air rower.
Magnetic Rowers— These are virtually silent since magnets make no noise and have no real moving parts other than the metal flywheel as it turns. However, you may find that one day you are no longer challenged by the resistance levels provided by your machine, especially on cheap models. Of course, this depends on the strength of the magnets that are used and the distance that the rower allows the magnets to come into contact with the flywheel. If you choose a magnetic rower, be sure it's a high-quality one like the Hydrow.
Water Rowers— If you love the sound of gently swooshing water and want a realistic rowing experience, you'll love a water rower. Perhaps the only drawback to a water rower is that you need to use purification tablets to keep the water clean and clear. Failure to do so can mean a big cleaning job since you'll need to pull the tank and wash it out.
Which type of resistance you choose is really a matter of personal preference and what you can afford, as well as how much noise you are willing to take.
The Bottom Line—The Winner Is…
If you want to start rowing and have little or no experience, I recommend the Hydrow for many reasons.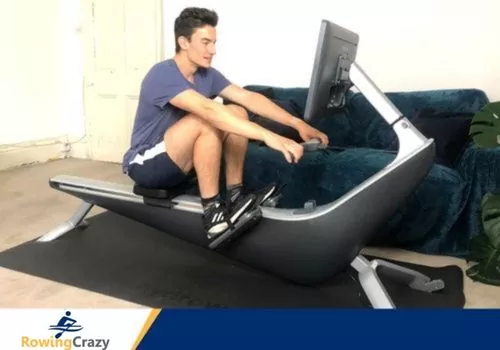 Hydrow SAVE $100 => Use Coupon Code: ROWINGCRAZY
Hydrow has a beginners' program that will teach you the proper form so you don't injure your lower back. It is easier on the knees than Concept 2, and the outstanding HD touchscreen and programming will keep you motivated and interested for years to come.
I understand that for some, Hydrow's price tag is a bit out of reach, or you may want a Hydrow but it's a bit too large for your space.
Check out the Hydrow Wave. This is a Hydrow light version of the original. It's smaller, lighter, and has a smaller monitor but has all the terrific workout programs and on-demand programming that you want for a smaller price tag.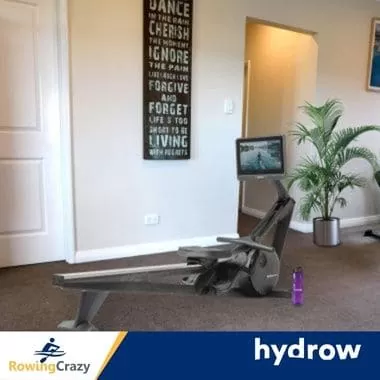 Not that there is anything wrong with the NordicTrack rower, Topiom water rower, or the ever-popular Concept 2 Model D rowing machine. These are all fine rowing machines offering all the health benefits of rowing, but in my book, they all lack something.
If you want a rowing machine that is high quality, a smart rower that offers an immersive experience via a big HD touchscreen with top-notch instructors and all the workouts you could ever want—then Hydrow is the answer to your search.
Stay active and healthy, friends, and most of all, enjoy rowing!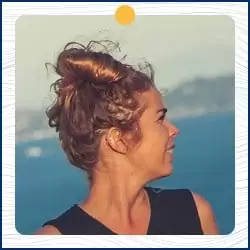 Written by Petra Amara – RowingCrazy.com
CEO & Founder of RowingCrazy, National Rower, Coxswain Womens Eight Team, Rowing Coach & Writer
Petra is a Mother of two and owner of Rowingcrazy.com. Petra lives and breathes rowing, she also has a passion for writing which lead her to start RowingCrazy.com to share her rowing experience and expertise with others.