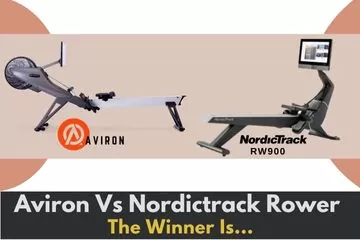 Hi friends! It's Petra again with another comparison that you don't want to miss.
Whether you are new to erging (which is the technical term for using a rowing machine), or you're simply looking to replace your old indoor rowing machine, you may be trying to make up your mind between one of the Aviron Series models and the NordicTrack RW900.
The truth is that a high-quality rowing machine is a big investment, so you want to choose wisely.
Before you hit that "Buy Now" button, be sure to read my review on which of these machines I think is the better buy.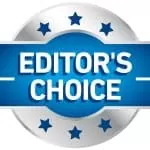 In a Hurry? Here are the Rowers We Are Comparing:
If you're in a hurry and need to know which rower is better between NordicTrack or Aviron, click on the links below for our answers.
To help you make an informed decision on which rowing machine to purchase, we have conducted a thorough evaluation of each machine, which we will share in detail in the upcoming sections of this article.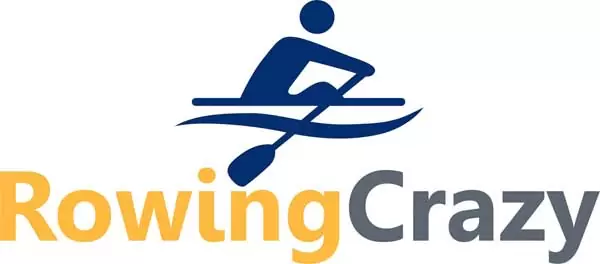 I've used just about every erg on the market today, so I've got quite a bit of experience under my belt.
If you want to make the smartest move possible, read this Aviron vs NordicTrack rower comparison to the bottom!
In a rush to compare these two rowing machines? Here's a quick comparison chart for you!
Comparison Chart – Aviron Rowers Vs NordicTrack RW900
Aviron Impact Series
Aviron Strong Series
NordicTrack RW900
Overall Dimensions
97" x 21" x 43" (LWH)
84" x 27" x 48" (LWH)
82" x 22" x 54" (LWH)
Folds for Storage
Yes
No, but it stores Upright, No kit needed
Yes
Type of Resistance
Dual Magnetic and Air Resistance
Dual Magnetic and Air Resistance
Magnetic Resistance
Size of Monitor
22-Inch HD Touchscreen
22-Inch HD Touchscreen
22-Inch HD Touchscreen
Maximum User Weight
397 Pounds
507 Pounds
250 Pounds
Weight of Machine
93 Pounds
114 Pounds
163 Pounds
Warranty
10-year frame
1-year all other parts
10-year frame
1-year all other parts
10-year frame
2-years on all other parts
1-year labor
Monthly Subscription Cost
$24/month if billed annually; $29/month if billed monthly
(Subject to change)
$24/month if billed annually; $29/month if billed monthly (Subject to change)
$39 – 5 users max $15 – single user
(Subject to change)
Current Price of Machine (Subject to Change)
$2,199
$2,499
$1,799
These three top contenders have a lot in common, don't they? Screen size, resistance type, but note the differences that may make a difference in you life.
For example, if someone in your household weighs 300 pounds, you should consider one of the Aviron rowers since NordicTrack is only rated for 250 pounds. If every inch of space matters or budget is tight, then RW900 should be right up your alley.
1. The Aviron Impact Series Rower
First off, you should know that Aviron makes two different rowing machines—the Impact Series, and the new Strong Series rower.
With that out of the way, let's see what the Aviron Impact series rower has to offer!
Key Features of the Aviron Impact Series Rower
Dual resistance levels– For the most part, the Aviron rower will use the silent magnetic resistance that is so popular on most home rowing machines. Once you reach more advanced fitness levels, the machine will also add air resistance. Since air is unlimited, this means that the Aviron rowing machine will always provide the challenge you need!
22-inch HD touchscreen display– Whether you are using the gaming option or rowing on "open waters", Aviron's incredible monitor will make you feel as though you're part of the action!
Space-saving and easy to move– If you need to store your rower, you'll love how the Impact Series uses front transport wheels for ease and portability, and then you simply fold it down. This is a practical feature especially if you have limited space at home!
Higher seat– If you have mobility problems, or your knees just aren't what they used to be (I think that applies to just about everyone over the age of 40), then you will appreciate the seat of the Aviron Impact Series, which is a full 20 inches off the ground!
Nearly silent operation– The magnetic resistance means you won't hear much of anything. While the seat does make a bit of noise as you slide back and forth, it won't cause anyone to have to turn up the volume on the TV.
Unlimited user profiles– The $29 monthly membership fee includes an unlimited number of profiles so everyone in your household can use this machine for one low price!
Superb workout platform- Perhaps where Aviron really shines is its workout platform, which offers 8 interactive ways to work out on your rowing machine. Yes, it will give you all the workout stats and information you could ever want, but the fact is that you can't possibly get bored with an Aviron workout. You can choose between doing gamified rowing workouts, competing against rowing pros, and rowing by yourself on virtual scenic waterways. Some workouts are strictly data-driven (e.g., how far can you row in 20 minutes), while some have professional athletes and rowing instructors who will guide you through a workout.
Access to Netflix, YouTube, etc – You can watch other programming if you like, such as Netflix or Youtube while doing your workout.
Competitions– Last, and perhaps my favorite, are the competitions. You can choose to race against the Joes (regular people like yourself) or the Pros (pro rowers and Olympic athletes). I'm a very competitive person so this part of the programming immensely appeals to me!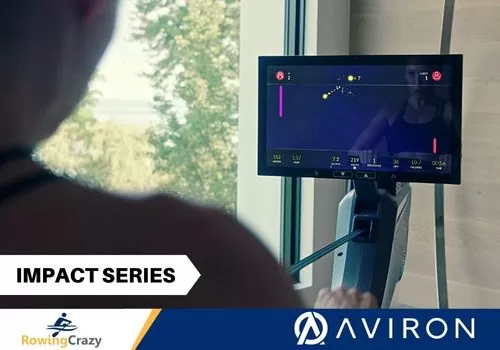 This piece of exercise equipment is like nothing you've ever tried before! Whether you like to do intense workouts disguised as video games or prefer guided programs, you are sure to enjoy every minute you spend on the Aviron rower.
When you enjoy what you are doing, you'll likely do more of it, which means you are sure to reach your fitness goals more quickly.
What Is the Warranty on the Aviron Impact Series Rower?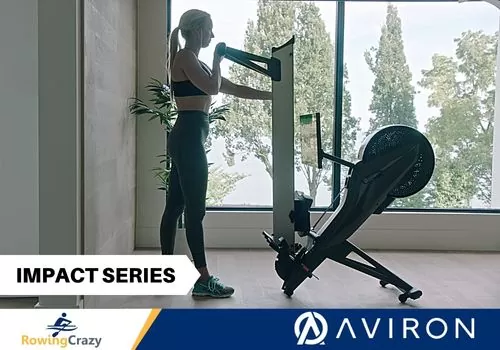 With a maximum weight capacity just shy of 400 pounds, you know that this indoor rowing machine is tough as nails.
The warranty shows the confidence that Aviron has in their product. The Impact Series rower has a 10-year frame warranty and a 1-year warranty on everything else, including the monitor.
That's pretty impressive for any rowing machine!
2. The Aviron Strong Series Rower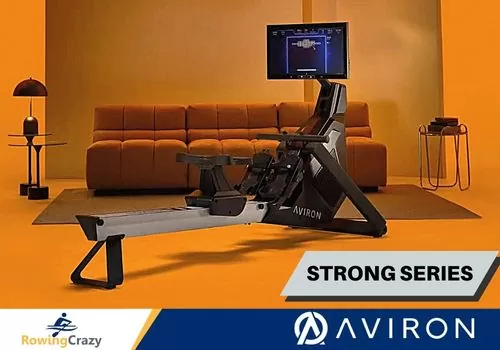 Aviron came out with a new model in 2022 called the Strong Series, and it shows how they listen to customer feedback!
Key Features of the Aviron Strong Series Rower
The new model has all the features that everyone asked for with the Impact Series.
What are the features that differentiate it from the Impact Series? You can check out the comparison chart above for specifics, but the major differences are:
The monitor is the same size, but the Impact rower only tilts up and down. The Strong Series monitor tilts from side to side as well, which makes it easier to view off-the-rower workouts.
The Strong rower also has a fan vent that allows the user to direct air towards their face or body for a little cooling power. This is a nice change from those USB fans most people hook up to their rowing machines!
The Strong rower has the most adjustable foot plates in the industry! More than just height, you can also adjust the width!
While this rowing machine doesn't fold, it will stand upright without any other equipment required so you can roll it away and store in a corner, in your closet, or anywhere you find convenient.
There is a built-in phone or tablet holder for extra convenience.
It has a longer handlebar that rotates so you can avoid wrist or elbow injuries.
This rower is also much more compact than the Impact Series.
The Strong Series rower can support a whopping 507 pounds, which speaks of the rowing machine's strength and durability!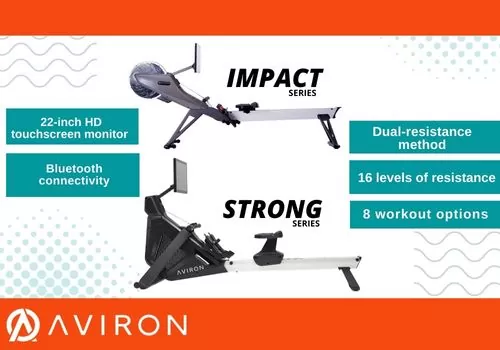 Both the Impact Series and Strong Series rowers carry the same warranty.
3. The NordicTrack RW900 Rower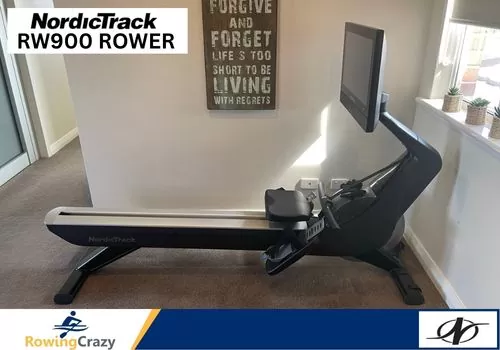 You probably know the NordicTrack name since they've been making exercise equipment for about 35 years!
What you may not know is that they also make rowing machines. NordicTrack makes several models of indoor rowers, including RW600 and RW700, which are budget-friendly models.
What's good to know is that most of the features and specs of these rowing machines are identical to the more expensive RW900. They do differ in the size of their monitors, their dimensions, and technology.
Get Inspired by Olympic Rower Rachael Taylor on the NordicTrack RW900 Rower:
Both RW600 and RW700 have a 10-inch HD touchscreen; however, RW700's monitor tilts and pivots, a feature that RW900's 22-inch monitor has but RW600 doesn't.
We've done a detailed comparison of these three NordicTrack rowers in this article on the NordicTrack vs Echelon Rowers.
For today's review, I'm going to focus on NordicTrack's top-of-the-line rower, the RW900. FYI: You might also like to read my NordicTrack vs Concept 2 rowers article here.
Key Features of the NordicTrack RW900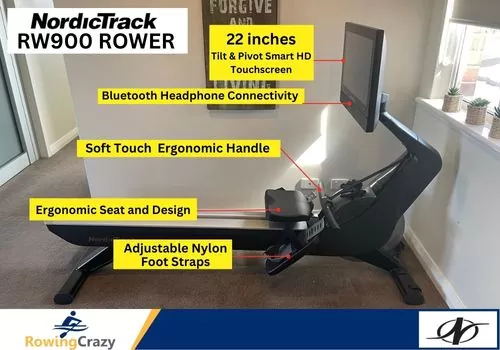 The main features that you'll want to know about when it comes to this indoor rowing machine include:
A 22-inch HD tilt-and-pivot touchscreen display that also has an HDMI port, so you can add your tablet or another device if you like
Fully Bluetooth-compatible, so you can use your third-party headphones, heart rate monitors, fitness watches, and more
Like what the Aviron offers, this rower also features both digital magnetic resistance and air resistance
Can handle a maximum user weight of 250 pounds
Can be folded vertically to save space. It has transport wheels, so you can roll it to another room with ease, fold up, and tuck into a corner.
The adjustable foot pedals are easy to use, which means that setting up this machine is fast, even if you're switching users frequently.
NordicTrack uses the iFit workout program, which opens to you unlimited workout opportunities- not only on your rowing machine but also with or without other pieces of fitness equipment.
FYI: You might like to read my full Nordictrack review here on all their rowers.
What Is iFit and How Does It Work with NordicTrack?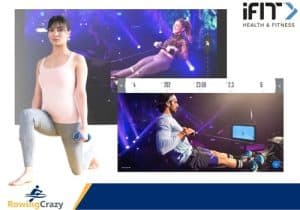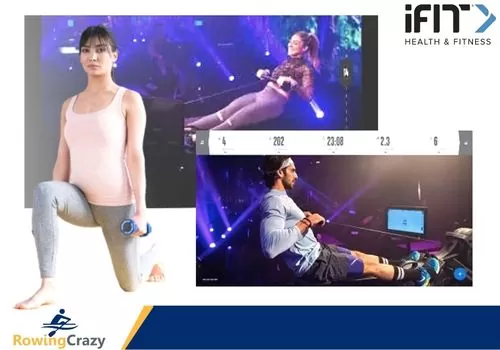 Let me tell you a bit about iFit if you are unfamiliar with it.
It is a workout program that automatically controls the resistance levels for you based on the program you have chosen. Still, you have the option to override the app and manually adjust the resistance levels.
iFit works with all types of machines, even if the piece of exercise equipment you have chosen isn't designed for iFit. In fact, you can use the app even if you're working out without a machine! Confused? I'll explain!
This means that you can use that same app (iFit) for your indoor or outdoor bicycle workout, running, jogging, strength training, yoga, stair stepper, mountain climbing, walking, you name it!
The app provides you an opportunity to get fit under the guidance of world-class instructors, while saving all your workout stats and data so you can easily track your fitness level.
So for one low monthly price (more on that in a minute), you can use it on your NordicTrack RW900 rower today, do a treadmill workout tomorrow, lift weights the next day, and then use it to go walking with your friends the day after that.
This incredible workout program may not have games or competitions, but it does have one of the most varied libraries of workouts ever assembled.
The monthly costs for iFit will vary depending on how many users there will be and how you want to pay.
| | |
| --- | --- |
| iFit Plan | Monthly Cost |
| Individual Monthly | $15 a month (you can use ALL the workout programs, but you can only have one user profile) |
| Individual Yearly | $180 a year |
| Family Monthly | $39 a month (you can register up to 5 user profiles) |
| Family Yearly | $396 a year (save $72!) |
If you purchase an iFit-enabled machine, such as the NordicTrack RW900, you'll get 30 days of free access.
What Is the Warranty on the NordicTrack RW900?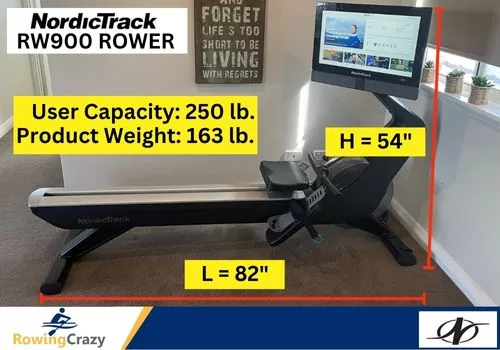 If you were impressed with the Aviron warranty, check this out:
NordicTrack offers a 10-year frame warranty, a 2-year warranty on everything else, including the monitor, and 1-year on labor!
That's what I call incredible!
Aviron Vs Nordictrack Rower: The Main Differences
You may want to take another good look at the comparison chart above to help you decide which machine might work better for you.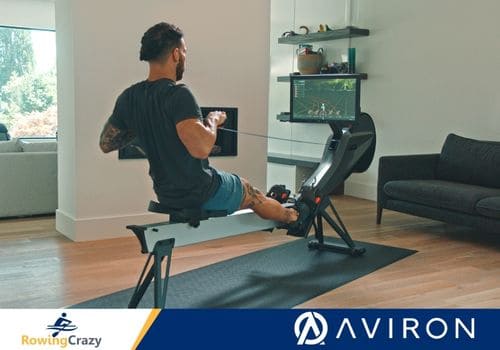 The Aviron offers 8 interactive ways to motivate you and get you nearer to your goals faster. It has a much higher weight limit and allows unlimited user profiles for a single subscription, among many of its features. The Impact Series is much longer than both the Strong Series and RW900, so keep that in mind if you are short on space.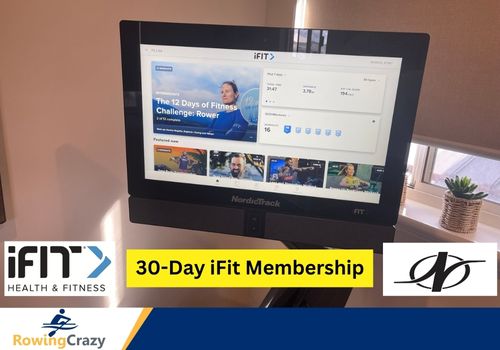 The NordicTrack iFit program works not only for rowing but also for other workouts (learn more on the best iFit rowing workouts for beginners) that don't use fitness machines. If you live alone and don't intend to share your machine or iFit app, the individual membership option is a practical choice. Take note that the family subscription option costs more than the Aviron monthly membership fee, so make sure to factor that detail into the equation.
Who Should Buy the Aviron Impact or Strong Series Rowing Machine?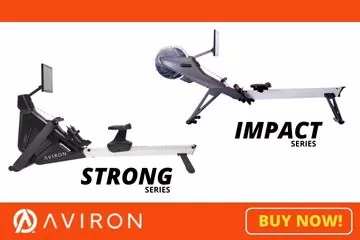 The Aviron rowing machines may not be for everyone.
You'll be happy with the Aviron Impact or Strong Series rowing machine if:
You find most rowing machine workouts boring. With 8 different programs and thousands of workouts within each program, you cannot possibly get bored with this rowing machine. If lack of motivation frequently turns your exercise equipment into a clothes hanger, you will absolutely want to buy the Aviron.
You like variety. You can customize many workout programs to suit your style. If you dislike cookie-cutter workouts, then the Aviron is what you have been looking for.
You love competition. I'm a big racing fan and with Aviron's community challenges, Regular Joe races, and Professional athlete races, you'll always find someone who is up for the challenge!
You want fast and short but effective workouts. Each workout programmed into Aviron is designed to be as short as possible but still give you the maximum benefits. This means that you can get fit in less time!
You want a high user-weight capacity machine. Let's face it, some guys and gals are not 100-pound weaklings! If you need a sturdy equipment underneath you, one that can handle 400-500 pounds of weight, then you want the Aviron!
You prefer to work out on your own. If you love playing video games and aren't a fan of instructors but could spend hours killing zombies, then Aviron is the perfect rower for you!
I realize that both Aviron rowing machines have a premium price tag, but think of this as an investment in your health.
You can get a great deal on an Aviron Rowing machine by clicking here.
Who Should Buy the NordicTrack RW900 Rower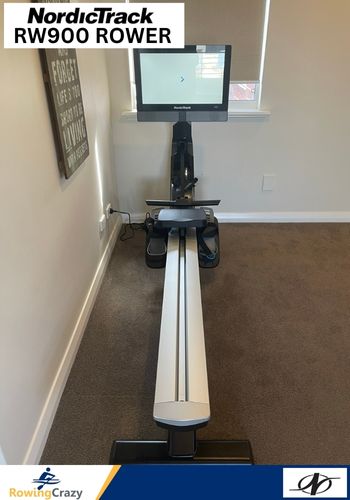 Not everyone is the same, which is why there is such a variety of equipment on the market! I have to be honest I really love these machines they are so much fun to work out on, but here's the feed back from my team as well:
Buy a NordicTrack rower if:
You want something a bit more budget-friendly. The NordicTrack rower costs less than Aviron, but it does offer a terrific warranty and a user-friendly experience that people rave about.
You have other iFit equipment. This will save you money since you are already paying for the iFit app.
You prefer workouts with instructors. If you like a more studio-like or gym-like experience, iFit uses instructors who will shout out encouragement and push you to do your best!
You want a wide range of workouts. With the iFit app, you can enjoy just about any exercise routine or machine so you aren't stuck just doing rowing exercises. You can still get all the benefits of guided workouts in any setting using any machine you like. Yes, you can use iFit at the gym or outdoors without any fitness equipment!
You don't need the extra weight capacity. If you and other family members/users weigh 250 pounds or less, a NordicTrack will work perfectly for you.
You need the space-saving design that the NordicTrack rower offers. The Aviron Impact rower is longer and bigger, so keep your available space in mind before you buy!
NordicTrack has been making high-quality pieces of exercise equipment for decades, so you know this is a brand you can trust.
Interested in a Water Rower?
Everyone loves the way a water rower looks and even more people love the way they sound! That gentle swishing of water in the tank reminds you of being on the water, rowing in a boat, and having the time of your life!
If you've been considering a water rower, I completely understand. Check out this article for more information about Ergatta, WaterRower, Mr. Captain, or other brands of water rowing machines.
The Winner Is: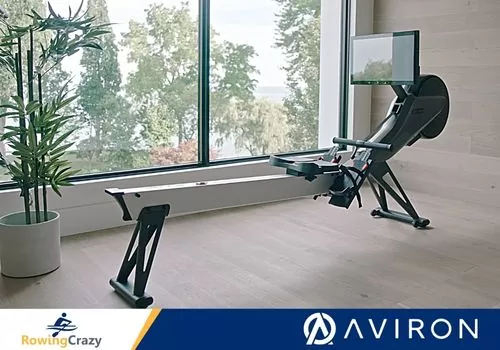 I'm not sure that I can pick a winner since these rowing machines are so different!
I would say that, overall, the Aviron has better key features and appears to be sturdier than the NordicTrack, but the iFit membership that you get with NordicTrack is really cool!
If someone forced me to pick one or the other, I would have to go with the Aviron Strong Series because of its racing and competitive programs, not to mention that my kids loved the video games. They didn't even realize that they were technically working out!
However, you will find that the NordicTrack is still an awesome rower despite not having a larger weight capacity or competitive programs.
Let's not forget that Aviron has a much lower monthly subscription fee- which is $29 for an unlimited number of profiles. The iFit app only allows 5 profiles max for $39 a month. Unless, of course, you're a single user, in which case iFit will be so much cheaper at $15/month.
I hope this review has helped you make a more informed buying decision.
If you are still on the fence as to which rowing machine to purchase, check out some of the other terrific rowing machines that offer everything you are looking for at a price that you can afford.
No matter which indoor rowing machine you choose, there's every reason to enjoy rowing and have a healthy life!
Stay active and healthy, friends, and happy rowing!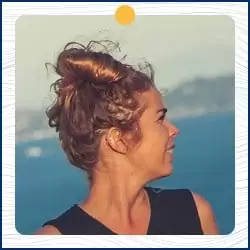 Written by Petra Amara – RowingCrazy.com
CEO & Founder of RowingCrazy, National Rower, Coxswain Womens Eight Team, Rowing Coach & Writer
Petra is a Mother of two and owner of Rowingcrazy.com. Petra lives and breathes rowing, she also has a passion for writing which lead her to start RowingCrazy.com to share her rowing experience and expertise with others.