Hi everyone! This is Petra, and today, we are going to talk about iFit, beginner workouts, and my personal favorite iFit rowing workout.
If you've been thinking of buying an indoor rowing machine, like the NordicTrack RW900, you may have noticed that a great many companies use an app called iFit.
Have you checked out the iFit app yet? If not, you will be happily surprised at what I'm about to tell you.
Even if you have tried the app, I'm going to tell you how you can make the most of it and which rowing machine workouts are best for beginners.
If You're Short on Time
Let me tell you some of the key points for those of you who are short on time:
The iFit app has workouts for every sport imaginable, including yoga, running, walking, ellipticals, stair climbers, and yes, rowing.
It has a vast library of workouts, as well as live coaching with personal trainers.
You can get a 30-day trial to see if you like it before subscribing to a paid iFit membership (read more on the iFit free trial ).
There is a tiered pricing structure.
It works with any type of equipment, even if it's not an iFit-ready piece of equipment.
Let's get into more detail, shall we?
What Is iFit?
The iFit app is an interactive workout program that you can use with any piece of fitness equipment. You can even use it without any equipment at all!
If you have an iFit-ready rowing machine, for example, after you choose a workout, the program will automatically adjust the resistance levels as you work out. You don't have to stop and adjust anything, you don't even have to think about it. You only need to focus on your workout.
You can still use iFit even if you already own a piece of equipment that isn't iFit-ready. You can watch the app from your tablet or smartphone! Of course, you will need to manually change the resistance level, but the workout will still be exceptional!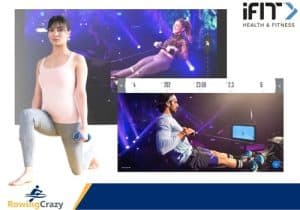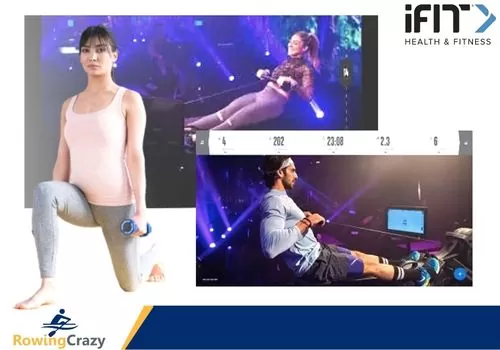 I really love the variety of workouts available on the app. You don't even need equipment to use iFit!
The app uses Google maps, so you can go for a walk, run, hike, or jog and have your workout mapped and recorded.
You can do yoga, calisthenics, bodyweight workouts, Tai Chi, ride your bike, row, and more!
Whether you are running on a treadmill or running around the neighborhood, you can use iFit!
It's like having a workout buddy or personal trainer in your pocket! Side Note: Check out our list of ifit compatible home rowing machines
iFit Rowing Classes for Beginners
Beginners might feel a bit intimidated by the huge variety of classes, but don't worry, after a few workouts, you are going to feel like a seasoned pro!
First, decide if you want scenic classes, like rowing in Zambia or English waterways, or if you would prefer a studio where you learn from an instructor in a classroom type of setting.
Don't worry, you can always change your mind later on.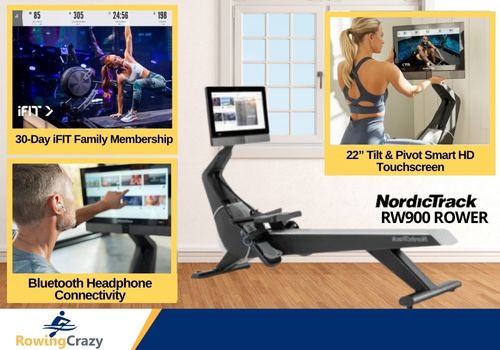 The iFit app has beginner workouts for just about everyone! You can learn to row in the iFit studio or train from world-class trainers!
iFit workouts were designed with the understanding that beginners need time to learn to row, build endurance, and understand the feel of the machine.
After you've done some classes and workouts, you will probably start picking your favorite instructors or joining the monthly challenges. I bet you'll start checking out the other workouts available on the app in no time.
My Favorite iFit Rowing Videos
My local gym has NordicTrack rowing machines so I'm well acquainted with iFit and I suppose that is what really prompted me to write this ifit rowing review, plus I have received a lot of email enquires from our readers asking me about iFit as well.
I love 20 Minutes to Toned with Alex Gregory. This set of workouts is either in Portugal or Slovenia, and not only is the scenery breathtaking, but Alex also makes things fun.
Like many of you, I have a very busy schedule, and it's hard to squeeze in all the time needed for exercise. That's what makes this program so terrific. You'll really feel the burn, but you'll get in all the exercise you need in each 20-minute rowing session.
My second choice is the Zambia endurance series with Micheen Thornycroft and Desmond Nanchengwa, which are challenging workouts focusing on rowing technique. Even if you're not rowing on water, you will still be enthralled by the instructors' enthusiasm and the occasional wildlife that comes to the lake to drink!
Is iFit Good for Beginners?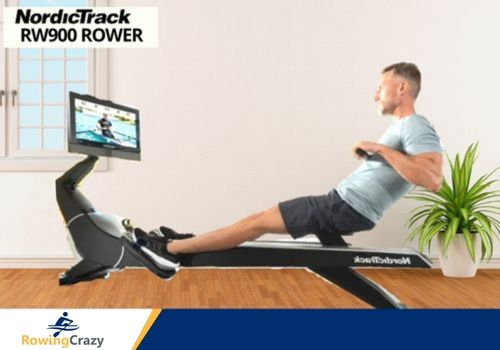 You bet, iFit is good for beginners!
I recommend that true beginners do Christian Mazzilli's Getting Started with Rowing classes. These are two classes a month, and you will complete the series in 4 weeks. By that time, you will have learned how to do the rowing strokes properly and built up a bit of endurance.
From there, you can take other beginner classes, including the Zambia beginner class or the Glacier beginner class.
Taking the beginner series of classes on iFit is one of the best ways to easily learn the strokes and get yourself up to speed so the other classes don't feel so taxing or overwhelming.
By the way, don't forget that iFit offers some free bling to those who complete beginners series workouts. Click on the "Challenge" tab, then click on iFit reward track.
After you complete 100 workouts, you get a free iFit T-shirt, while 200 completed workouts gets you a free month of iFit.
There are more rewards, so be sure to check them out!
Does iFit Have Live Rowing Classes?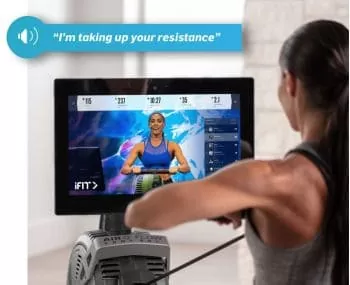 No, they don't, but they do have personal trainers if you feel that you have questions about your rowing form or if you want that little extra edge to help get you over an extremely difficult workout or goal.
I'm not sure if iFit members will ever enjoy live classes, but perhaps if enough people ask for that type of program, they will provide it one day.
How Do I Use the iFit app?
It's actually quite easy to use.
Sign in on the app and scroll to rowing machine workouts.
Decide if you want a classroom or studio workout or if you prefer an on-location workout.
When you click on a workout, such as the Glacier Beginners Rowing Series, you'll see that you are offered a wide range of classes.
Choose one of the workouts by clicking "Join".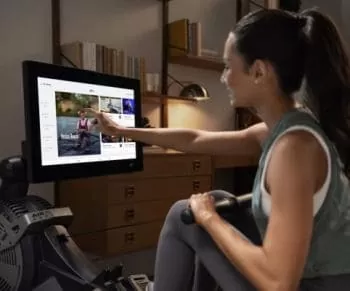 Now select the exact rowing workout that you want to do, such as the Endurance Little Bitterroot Lake workout. Look at the upper right-hand corner and you should see a tab that says "Add to Calendar".
Click on the calendar and schedule the workout for whenever you like. It really couldn't be easier.
If you have an iFit-ready rower, you might have a monitor, or you may need to use your own tablet.
Depending on which applies to you, follow the manufacturer's instructions for setting up iFit for your machine.
Can I Use iFit with Any Rower?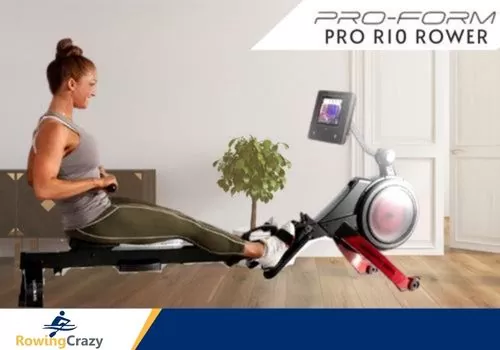 Yes, you can use iFit with any rower.
Even if you already own a rowing machine (see our list of iFit Rowing Machines ) and it isn't set up for the iFit app, you can still use iFit.
This is true with any piece of equipment that you may own, including treadmills, free weights, resistance bands, ellipticals, or what have you.
Of course, the machine will not automatically adjust resistance or incline as an iFit-enabled machine would, but you can do so manually if you like.
I guarantee that once you start using iFit, you'll wonder why you paid so much at the gym for the "privilege" of exercise!
How Much Is iFit?
This will depend on the number of people in your family, how many want to use the app, and your preferred method of payment.
After you download the app and make a profile, you will be offered several subscription options:
Individual monthly membership fee – a single user pays $15 a month
Individual annual membership fee – a single user can pay one year in advance at $180 per year
Family monthly membership fee – a family plan (which includes up to 5 users) is $39 per month
Family annual membership fee – a family plan paid one year in advance is $396 per year
The annual family plan is the money-saver here. If you pay for a family plan per month, it's $468 for 12 months if paid monthly. The annual family plan allows you to save $72 if you purchase it in advance.
Of course, if you're single, that won't work for you.
I know that iFit occasionally offers deals on their subscription prices, and I promise to be the first to inform you when/if that happens!
Is There a Free Version for the iFit Program?
No, there isn't, but you can try out the app for 30 days at no charge to see how you like it.
The iFit app costs less than your gym membership, I'm sure. Imagine no more hunting for a parking space, no worries about your items in your locker, no one staring at you, and best of all, no waiting for a machine to be free!
Use your iFit app with any piece of exercise equipment you already own, or take it with you when you go hiking, walking, jogging, or whatever!
I've often seen ProForm offer a free rowing machine (read that again, folks, a FREE rowing machine) when you purchase a 3-year iFit family plan.
How can you beat that kind of deal?? Who does that??
I'll tell you who- iFit! Or NordicTrack!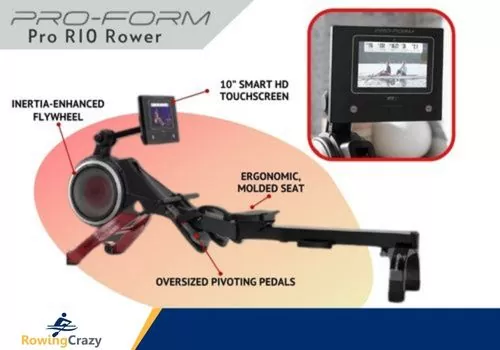 Did you know that NordicTrack also makes ProForm rowing machines? And what an outstanding bargain!
Whether you choose one of the NordicTrack rowers or go with ProForm, you will get rowing sessions that will give you a full-body workout and teach you how to row!
Can I Use My NordicTrack Rowing Machine Without a Subscription?
Yes, you can use your NordicTrack without an iFit subscription, but why would you do that?
I mean, in all honesty, if you want to just row and aren't interested in high-energy instructors to keep you motivated, if you already know how to row and don't care about beautiful scenery as you work out, if you don't need any additional motivation, you can buy any rowing machine.
Your ProForm or NordicTrack rowing machine will still give you rowing workouts. You will even have some data to read, but you'll miss your progress reports, the details about your stroke rate, and your rowing workout will be limited to your imagination.
The good news is that if you can't pay for the iFit subscription, your NordicTrack or ProForm rower won't become a giant paperweight. Trust me, you're going to want to enjoy everything that the iFit workouts have to offer.
The Bottom Line
Rowing is a total-body workout that have you using multiple muscle groups so that you can get the most out of your exercise routine every time you use it.
When you have the iFit workouts to help guide you, you'll be taking advantage of exercise classes with some of the top fitness instructors on the planet.
Beginners can learn how to row, build endurance, and push themselves to the next fitness level by increasing their heart rate and learning how to pace themselves at the same time.
Don't settle for less! You deserve all the benefits of exercise as you enjoy your workouts in the privacy of your own home gym!
Stay fit with iFit and have fun rowing, everyone!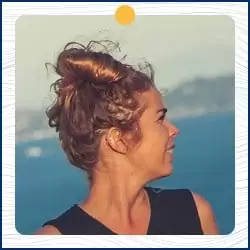 Written by Petra Amara – RowingCrazy.com
CEO & Founder of RowingCrazy, National Rower, Coxswain Womens Eight Team, Rowing Coach & Writer
Petra is a Mother of two and owner of Rowingcrazy.com. Petra lives and breathes rowing, she also has a passion for writing which lead her to start RowingCrazy.com to share her rowing experience and expertise with others.