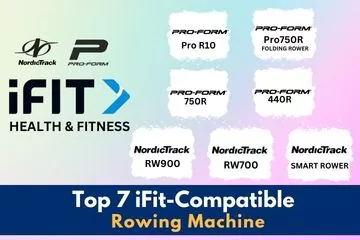 If you already own an iFit subscription, then you know how valuable this workout tool is.
I've used iFit for years, and what I love most is the diversity of this program. It seems like no matter what type of exercise you have in mind, you will find a workout program on iFit. They even have cooking classes to help you with your diet!
For those who have an iFit-enabled treadmill or stationary bike, you might be thinking about adding something new to your home gym.
Or maybe you're trying that free iFit 30-day subscription, and you like it so much you want to add a piece of exercise equipment to get started on your fitness journey.
No matter what your reason is for reading this article, let me introduce myself. My name is Petra, founder and CEO of RowingCrazy, and today, I want to talk about iFit-enabled indoor rowers.
I truly have a passion for rowing, and I've used many of the iFit rowing workouts over the years. The world-class trainers on iFit make workouts fun and exciting, which really helps to fight the boredom factor!
Looking for an iFit-enabled rowing machine? Keep reading! You'll have a lot to choose from!
My List of Top iFit-Compatible Rowers
Did you know that NordicTrack, one of the top-selling brands of fitness equipment, owns iFit?
This means that you can get a high-quality name-brand rower and enjoy all the benefits of iFit in every piece of NordicTrack equipment!
Let's start off this list with the NordicTrack rowers that are well worth the investment:
NordicTrack RW900 Indoor Rower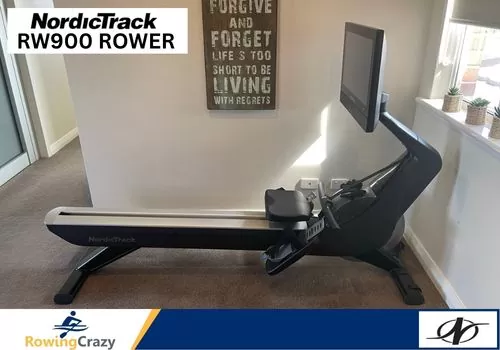 This very solid and sturdy rower is the perfect answer if you are looking for silent magnetic resistance, combined with world-class personal trainers.
Take one look at the incredible NordicTrack RW900 machine, and you may think that you're looking at a Hydrow at first glance. They are similar, even the 22-inch HD touchscreen monitor looks the same.
The RW900, however, uses iFit to get you that full-body workout you are looking for.
You will need some space for this rower since it doesn't fold, but if you've got your own home gym or plenty of space in a spare room, then consider buying this beauty.
I love how the monitor tilts and swivels. This means that if you decide to do a yoga class or some strength training on iFit, you can move the monitor so you can see it from the floor.
If you haven't used iFit for rowing, let me tell you, it's simply the bomb! The rowing workouts will automatically increase your resistance levels so you don't have to stop, lean forward, and manually adjust them. You can choose classroom or studio-type settings or row and enjoy the gorgeous lakes and rivers from around the world.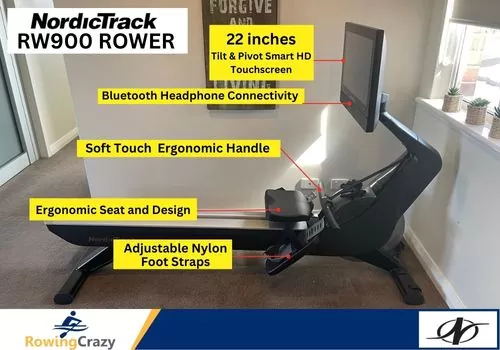 The seat on this machine is quite large and very comfortable. This rower has a very smooth feel to it, and because it's iFit enabled, you don't have to do anything but focus on your form while rowing.
If you're looking for a high-tech rowers without the high price tag or you want on-demand workouts and rowing sessions that really up your cardio endurance levels, the NordicTrack RW900 rowing machine is your best choice.
NordicTrack offers rowers in all sizes and price ranges, which is a terrific feature for anyone with a tight budget or tight spaces, such as the next rower.
NordicTrack RW700 Rower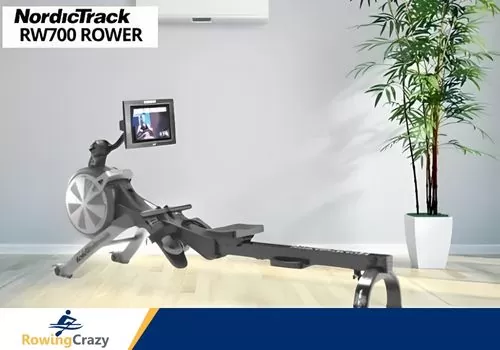 The RW700 rower is a mid-range machine that offers nearly all the same features as the RW900 but with a smaller screen and slightly smaller dimensions.
The NordicTrack RW700 has a 10-inch touchscreen monitor. Chances are that you've been using a similar tablet at home for other features, so you'll feel right at home doing a rowing workout with the iFit trainer.
This rower is smaller but it doesn't fold. (Keep reading for folding rowers that are iFit enabled) You will still get a total body workout, enjoy 26 digital resistance levels, and you can enjoy the iFit workouts, all for less money than the RW900.
If you love the RW900 but would be just as happy with a 10-inch monitor and smaller footprint, then the NordicTrack RW700 is the iFit-enabled rower that you will use again and again for building strength and doing those HIIT training workouts!
NordicTrack Smart Rower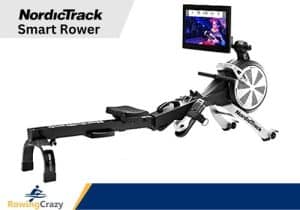 NordicTrack probably should have called this the "folding rower" but you get the idea.
This is very similar to the RW700 listed above, but the NordicTrack Smart rower folds for easy storage.
You'll still get the 10-inch HD touchscreen tablet to enjoy watching your rowing classes and iFit trainers on. You'll still get those 26 digital resistance levels and the best workout ever, but when you're done, you can fold this rower in half and wheel it away for storage.
This is a vital feature for anyone who struggles with limited space. You may have thought that you could never enjoy an indoor rowing machine because of your space limitations, but the NordicTrack Smart Rower will not only give you world-class rowing classes but also save space.
ProForm Pro750R Rowing Machine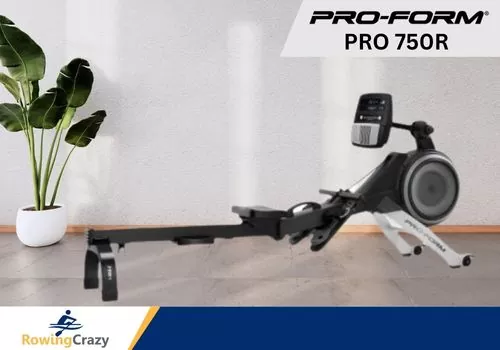 In addition to iFit and NordicTrack exercise equipment, NordicTrack also makes budget-priced exercise equipment under the ProForm name.
These rowers are also iFit-enabled, and you get the same full-body workout but for a more wallet-friendly price tag.
A folding smart rowing machine for less than $1,000?! You might think this is too good to be true, but it isn't!
The Proform Pro750R combines everything you want for a reduced price. How can they do that? Here's the key- you'll need to provide your own tablet or smartphone.
For the majority of people, that isn't difficult. I bet you have more than one extra tablet lying around the house that is rarely used.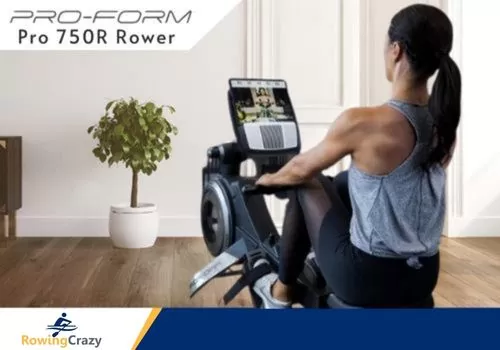 Grab that tablet and download the iFit app. That's all you need to do. The ProForm Pro750R has a generous tablet shelf so you can see your workout data and follow the elite athletes on the interactive workouts.
You also have the option of downloading the app to your smartphone and then casting it to your television.
This indoor rowing machine will hold tablets up to 7.5 inches, but I've seen plenty of people put a 10-inch tablet on the holder, and it works just fine.
For anyone looking for the best smart rowing machine for the money, you really couldn't ask for more than the ProForm Pro750R.
ProForm Pro R10 Rowing Machine
Here's a winning combination that everyone is sure to like. Check out the Proform Pro R10 rowing machine. It's foldable, silent, iFit-enabled, and comes with its own 10″ touchscreen tablet.
Sounds like ProForm listened to its customers and gave them everything they asked for in the ProForm R10 rowing machine.
Yes, this costs a bit more than the Pro750R above, but that's because it comes with its own tablet. If you don't want to risk using the same tablet that you use for work, then the Pro R10 is the rower you should consider.
The steel frame makes this an incredibly super sturdy machine, and by using a nylon belt rather than a chain, this rower is literally whisper-quiet.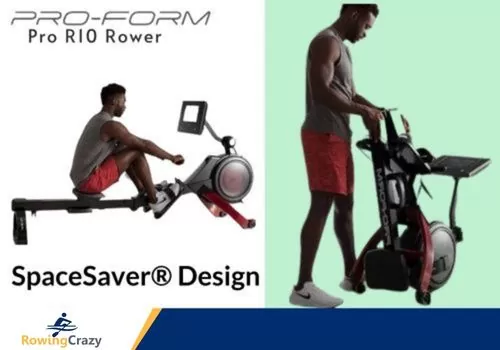 This rower also folds, which is quite the feat for something with a tablet attached. If you plan on storing your rowing machine when not in use, you'll find this feature to be invaluable.
If you've been using iFit, did you know that if you purchase a 3-year family plan membership, ProForm will send you the Pro R10 rowing machine for free?
Read that again – FREE! A FREE rowing machine for purchasing something you would use anyway!
An iFit subscription is the perfect answer for cross-training, and for beginners, you will feel really comfortable on the machine as a trainer guides you through the steps to get you in the best shape of your life!
Get a FREE ProForm Pro R10 rowing machine when you purchase a 3-year iFit family membership, or buy the rower outright.
ProForm Folding Rowing Machine
It seems as though all of the ProForm rowing machines fold, but this one has a lot more going for it than simply folding to save space.
Like the 750R, you use your own tablet or smartphone to watch the iFit trainers as they guide you through the workouts, or you can cast the app to your television.
Unlike the rowers mentioned above, the Folding Rower has 24 levels of digital resistance, not 26 or 28, but unless you are super fit, you probably won't notice.
You still get all the access to the iFit workouts, and in fact, you get your first month of iFit absolutely free.
This rower features a PM or performance monitor that is similar to Concept 2, except it's in color. You can check out your rowing data, including time spent, SPM, distance rowed, and more by glancing at the 5-inch color performance monitor.
For those of you who don't want to pay for a monthly membership, this just might be the rower you've been looking for.
Enjoy your own music using your Bluetooth headphones, connect your fitness device or smartwatch, and use the PM monitor to track your progress, or use your iFit membership and challenge yourself to reach new heights.
All of that for a price that's almost unbelievable. Try out the ProForm Folding Rower for yourself and see if you agree with me that this indoor rower has everything you could ask for.
Proform 440R Budget Indoor Rower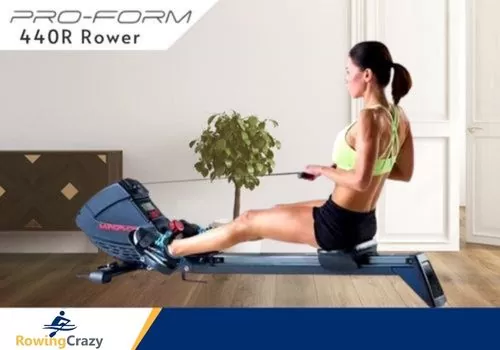 OK, I can hear some of you saying, "What's the rock-bottom, cheapest rowers from ProForm?"
That would be the iFit-enabled Proform 440R.
Don't let words like "budget priced" fool you. This isn't some piece of junk that will fall apart after a few months. Remember that ProForm is owned by NordicTrack, and they have a solid reputation for standing behind their products!
This is a sturdy rower that can handle up to 250 pounds of user weight, just like the other NordicTrack and ProForm rowers.
The ProForm 440R has no tablet, but it does have a handy media shelf so you can prop up your phone or tablet and watch the iFit trainers as they motivate you to do more!
You don't need any electricity for this machine either, which makes it perfect for garages, poolside use, or any space that doesn't have electrical outlets.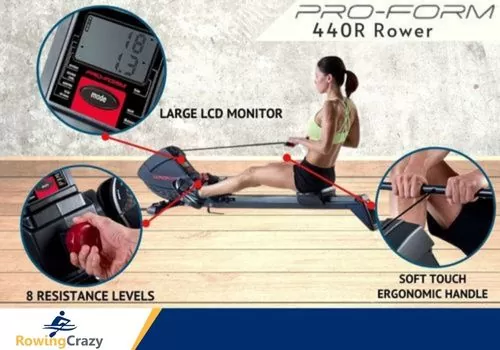 This has 8 magnetic resistance levels, so if you're an experienced rower, you might not find this machine challenging enough. If you're a beginner or an average rower, I bet you'll be working your body's muscles like crazy with this machine.
The LCD monitor tracks all your data including strokes per minute, total strokes, distance, time, and calories burned.
The 440R also folds, but it does not fold as flat as some other models.
For a bargain-priced rowing machine that is iFit-enabled and will give you the full-body workout you've been looking for, check out the ProForm 440R.
The Bottom Line
If you haven't used iFit, I highly recommend that you take advantage of the free 30-day trial that the company offers new users.
You will be shocked at the variety and number of workouts and just how big this app really is! The global workouts are incredibly beautiful. It's almost like going on a mini-vacation. I've seen so many beautiful places that I've added a number of them to my bucket list!
No matter which machine you decide to purchase, you will be incredibly happy that you invested in your health, I can promise you that!
Stay fit, everyone, and happy rowing with iFit!
FAQs
1. Can I use iFit with my Concept 2 rower?
Technically, yes, you can! While the iFit program won't be able to control the resistance level, you can simply increase your pace as you follow the program.
2. Can I use iFit with my Ergatta rower?
Yes, you can use iFit with your Ergatta. While the program won't be able to control the resistance, you can still enjoy watching the workouts while rowing.
3. Does Aviron use iFit?
No, it doesn't. Like Hydrow and Ergatta, Aviron uses its own software that provides you with workout programs, but you can still watch the iFit workouts as you row if you wish.
4. Is iFit compatible with Echelon rowers?
Not really, no. Like the Hydrow and Ergatta, Echelon rowers have their own proprietary workout software programs, but you can prop up your tablet on your Echelon rower and watch the iFit workouts as you row.
5. Can I use iFit with my Peloton rower?
Yes and No. While you can't download the iFit app to your Peloton Row, you can download the app to your tablet or phone and watch that while you use your Peloton.
6. Can I use iFit with ANY rowing machine?
Yes, you can! While the iFit program may not be able to adjust the resistance on your non-iFit-compatible rower, there is nothing stopping you from watching the iFit workout and enjoying the outstanding trainers, rivers, and lake settings, and increasing your endurance while you row on your indoor rower.
7. Does the Hydrow rower use iFit?
No, it doesn't. Hydrow uses its own Olympic champions, National Rowing champions, and professional coaches to create its own unique programming that you can't find anywhere else. You can still use your iFit membership, follow the instructors on the rowing workout, and adjust the resistance manually, but there's no need to do bother with all that if you have a Hydrow membership.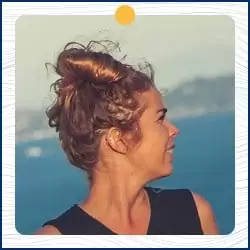 Written by Petra Amara – RowingCrazy.com
CEO & Founder of RowingCrazy, National Rower, Coxswain Womens Eight Team, Rowing Coach & Writer
Petra is a Mother of two and owner of Rowingcrazy.com. Petra lives and breathes rowing, she also has a passion for writing which lead her to start RowingCrazy.com to share her rowing experience and expertise with others.