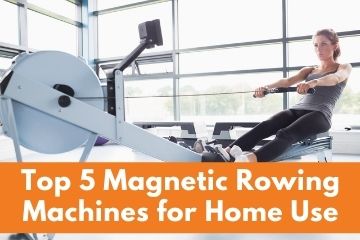 One of the best pieces of home gym equipment is a magnetic rowing machine. Why not water or air rowers, you might ask. We'll talk about that here. And if you're wondering which magnetic rowing machines are best and why people choose magnetic over a water rower or air rowing machine, then this article is speaking directly to you.
Are Magnetic Rowers Any Good?
They certainly are. Magnetic rowers are the most popular types of rowers sold. Why? There are several reasons for this, including:
Quiet operation. This is probably the number one reason people choose magnetic rowing machines over air resistance rowing machines
Magnetic rowing machines are reasonably priced
They provide a smooth and strong rowing workout
Most offer lots of training sessions and workout programs
Which Is the Best Rowing Machine for Home Use?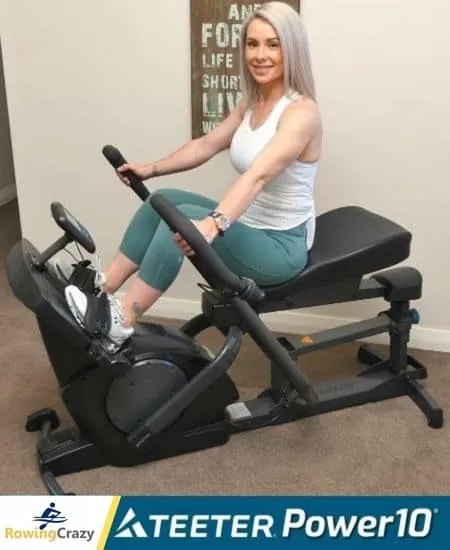 Glad you asked!
There are many different styles and types of rowing machines you can buy. Their most distinguishing character is the type of resistance mechanism used in their operation, and these are air, magnetic, water, and hydraulic. The most popular are magnetic resistance rowing machines due to their wide price range, incredible durability, and nearly silent operation.
In this article, I'm going to show you what I believe are the Top 5 magnetic rowing machines you can buy that are perfect for home use.
Top 5 Magnetic Rowing Machines
Sit back and get ready to find the perfect magnetic resistance rower for your home gym!
NordicTrack RW Rower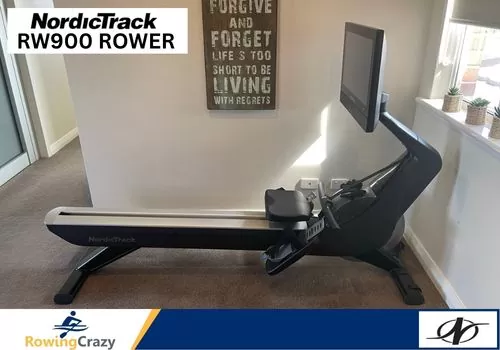 Looking for one of the best cardio machines on the market? A magnetic rower is exactly what you want and the NordicTrack name says quality is a top priority.
You know that NordicTrack isn't going to leave anything out of this rower. If you love a rower with all the bells and whistles possible and without sacrificing quality, this is the rower for you.
powered by Advanced iFrame. Get the Pro version on CodeCanyon.
This rowing machine has so much going for it, some are calling it the Peloton of rowers!
Let me show you all the terrific features this indoor rower has to offer.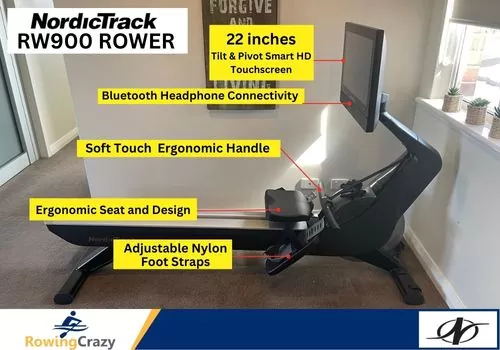 Features of the NordicTrack RW Rower
This is a top-of-the-line, world-class rower, so get ready for a long list of features:
A dual-resistance mechanism means you can use magnetic resistance and additional air resistance for virtually unlimited resistance levels
Both resistance mechanisms are completely adjustable
The 22-inch smart HD touchscreen television screen rotates so you can view it at any angle
Oversized pivoting foot pedals have a quick-release option and adjustable straps
The iFit has hundreds of workout programs available with a 1-year family membership included in the price
The monitor also has an HDMI port so you can connect a tablet or another screen if you wish
There are workout programs, relaxation programs, and even strength training programs available
Easy assembly but you will need two persons to mount the monitor
The monitor tracks your progress, as well as distance, time, strokes per minute, 500m split time, heart rate (heart rate monitor is not included), calories burned, and more
The steel frame means that this rower is tough as nails!
The soft-touch handle is super comfortable
The device folds and has transport wheels for easy storage
User capacity is 250 pounds
This machine has a 10-year frame warranty, 2-year parts warranty, and 1-year labor warranty. That's pretty impressive!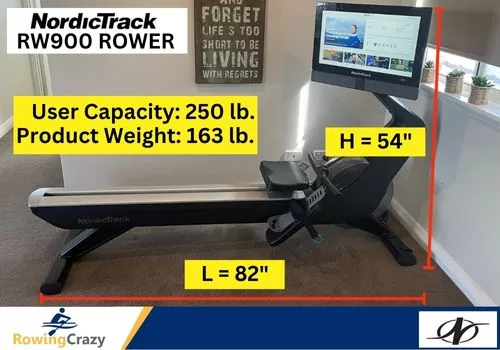 There is so much more to this air magnetic rower than meets the eye!
The Downside to the NordicTrack RW900 Rower
While this is a first-class, super deluxe indoor rowing machine, I do think there are a few improvements that could be made, such as:
This is a premium rowing machine so it comes at a premium price
No heart rate monitor included, but you can use your own Bluetooth monitor
The monitor cannot be used for other functions, such as YouTube, but you can plug in a second monitor
However, these are minor issues in my opinion.
The Verdict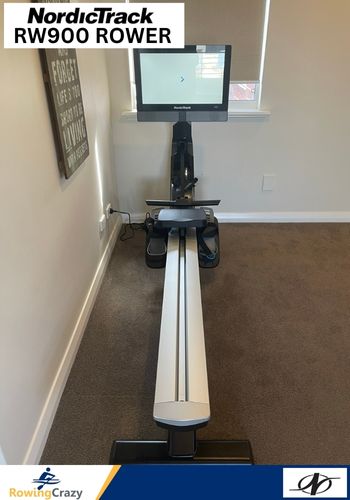 This is one of the best indoor rowers on the market today and if you can afford it, you are going to be incredibly happy with NordicTrack for many years to come.
Xterra Fitness ERG220 Magnetic Rowing Machine
You might not know the Xterra name (other than the Nissan Xterra SUV, of course) but Xterra is an up-and-coming fitness company that manufactures amazing products for a reasonable price.
powered by Advanced iFrame. Get the Pro version on CodeCanyon.
This indoor rowing machine is no exception. It may not have a large HD monitor like the NordicTrack, but it's got what it takes to keep you fit, without sacrificing comfort. It also has an awesome, Star Trek kind of look to it, so your friends will definitely be a bit jealous when they see it at your home.
Let's look at what the Xterra Fitness magnetic rowing machine can offer you.
The Features of the Xterra Fitness Erg 220
At this price, you know what you expect, but this isn't some stripped-down, bare-bones rowing machine. Take a look at these features:
The dual aluminum rails mean this is sturdy, quiet, and won't rust or corrode like steel can
The flywheel has magnetic resistance with 8 resistance levels
The molded, cushioned seat is a comfortable 9.5 inches off the ground so all users can get on and off the machine comfortably
The device folds and has transport wheels for easy storage and moving
Both the padded handles and pivoting footplates are an Xterra-patented design for incredible comfort
LCD console tracks all the measurements and progress you need to know, such as time, stroke count per minute, distance, total stroke count, calories, pulse rate (chest strap costs extra)
The warranty is 1-year for parts, frame, and labor
That is a very impressive lineup of features for a magnetic rower in this price range. Xterra Fitness could make some improvements, however.
The Downsides to the Xterra Fitness Magnetic Rower
Xterra could change a few things to make this excellent machine even better, such as :
The monitor is below the rowing strap, making it awkward to read while rowing
Chest strap costs extra
Rowing machine reviews show that some users experienced issues with the strap after some months, but this was rare and would be covered under warranty
The Verdict
This Xterra Fitness Erg 220 is a terrific magnetic rower for your home gym that will give you and your family super quiet cardio workouts that everyone will enjoy. For more information read my full review on Xterra Rowing Machines
Sunny Health & Fitness SF Magnetic Rower
Sunny Health & Fitness is another up-and-coming company that produces fitness equipment, such as rowers of various resistance types, offering amazing durability and great value for money.
powered by Advanced iFrame. Get the Pro version on CodeCanyon.
I have nothing but good things to say about all of the company's rowing machines, and this rower is one of the best magnetic rowing machines you will find for a budget price.
This might be a budget rower, but it isn't short on features.
Features of the SF-RW5515 Magnetic Rower
Get ready to be amazed by what the Sunny Health and Fitness Magnetic Rower has to offer:
Uses a magnetic flywheel design for incredibly quiet operation
4 easy steps is all that is required for assembly
There are 8 resistance levels for everyone from beginners to more advanced
Large, easy-to-read LCD display monitor tracks time, calories, strokes (count), and total strokes (total count). It also has a scan mode and is battery-operated, so you can use this in rooms without electrical outlets
Supports users up to 250 pounds
Extra-long side rail means even those over 6 feet 6 inches tall can use this rower
Large, anti-slip foot pedals fit nearly everyone
The seat is large and cushioned for comfortable rowing
Anti-slip, cushioned handlebars mean no blisters
Rubber feet stabilizers keep the rower from moving while in use
Folds for easy storage
Has transport wheels so you can move the rower easily
90-day manufacturer warranty

The Downsides to the Sunny Health Fitness Magnetic Rowing Machine
I believe that the Sunny Health Fitness SF RW5515 Rowing Machine could be one of the best magnetic rowers ever if they made just a few adjustments, such as:
The warranty is very short. You can buy an added one from Amazon, but a 1-year warranty would be a big improvement
You must pause rowing to adjust the tension
There is no tablet or smartphone holder
No water bottle holder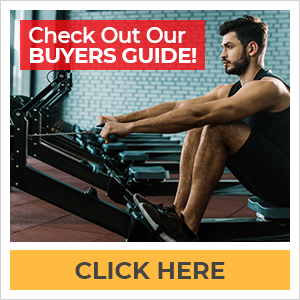 The Verdict
Even with the few downsides, I have found that this is an incredibly sturdy rower that seems to hold up to some serious workouts.
Teeter Power10 Elliptical Rowing Machine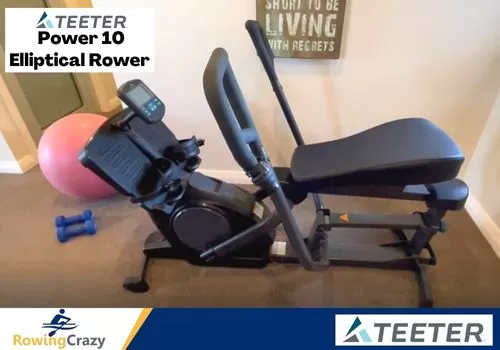 If you want cardio workouts and strength training in a single machine, you want the Teeter Power10.
it beats everything else in your local gym! None of the machines can compare to how the Teeter Power10 works your body; not exercise bikes, not treadmills, not stair-steppers!
Learn more with our full video by Olympic Rower Rachael Taylor:
powered by Advanced iFrame. Get the Pro version on CodeCanyon.
You both push and pull with this rower, and the multi-grip handles work more muscles than any other device. And what intensity!
This is an outstanding rower that will work your muscle groups like nothing else ever has! Check out all the features this device is packed with!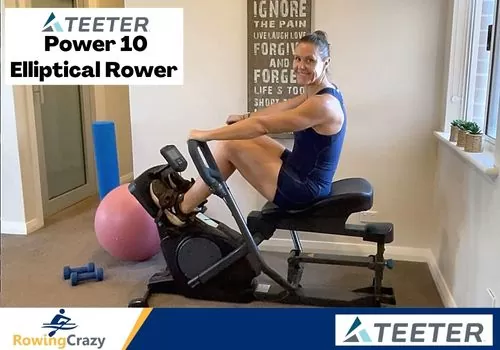 The Features of the Teeter Power10 Home Rowing Machine
A deluxe machine like this must have tons of fun and functional features, and the Power10 really delivers.
The Power10 has a bi-directional path that allows you to work more muscles and burn more calories than any other machine
The magnetic flywheel offers quiet operation and 7 levels of magnetic resistance
The multi-grip, non-slip rowing handle allows you to target specific muscles or muscle groups
The Teeter Training App is free- you got that right- free workout programs
There is a smartphone shelf so you can listen to music or use the Teeter App
This rower is completely adjustable, including the seat and stroke length
Accommodates users up to 300 pounds and 7 feet tall!
Stores in an upright position for a smaller footprint
Comes with transportation wheels so you can move it easily
The LCD monitor tracks time, calories, distance, and strokes per minute
Comes with a Bluetooth-enabled chest strap to monitor your heart rate
A 3D installation video guides you through the process of setup and assembly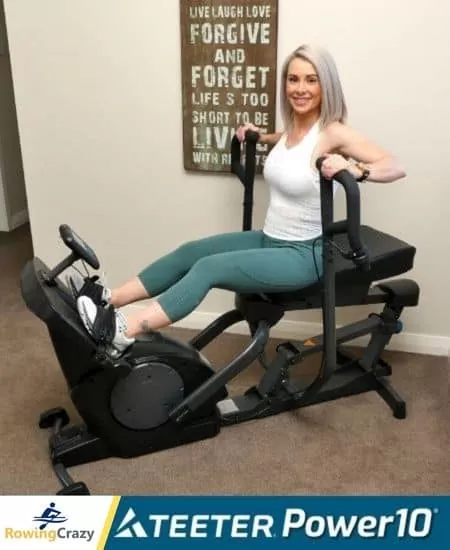 Wow! There's so much to list with this machine, I barely have space to put it all in!
The Drawbacks of the Teeter Power10 Rower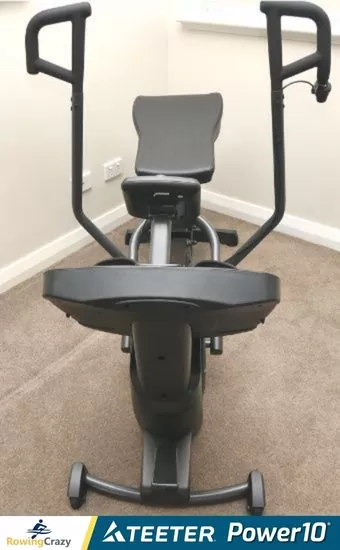 This rower is so close to perfect, I'm surprised to find a few drawbacks, such as:
The device is heavy (180 pounds) so it might be difficult for some to move
The instruction video is a bit confusing, but after watching it twice, it's easy to understand
No speakers
That's it! I honestly couldn't think of any other issue with this rower!
powered by Advanced iFrame. Get the Pro version on CodeCanyon.
The Verdict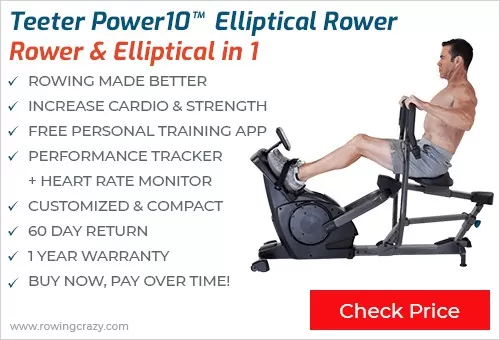 This is, hands down, the most outstanding magnetic resistance rowing machine and elliptical that you can buy. I love the Teeter Power10 because I don't have to find time to do strength training, I can do it all with this one machine. Want a great rowing experience and the best magnetic rowing machine you can buy? Then you want the Teeter Power10.
The Hydrow Magnetic Resistance Rowing Machine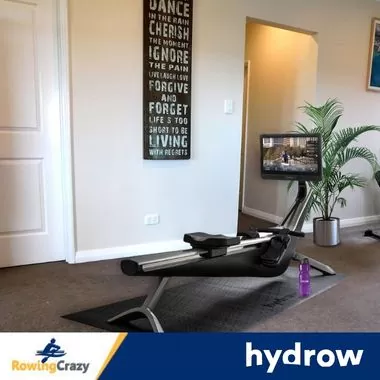 Hydrow SAVE $100 or £100!! => Use Coupon Code: ROWINGCRAZY
You might think that all rowing machines are alike, but that's not really true. One look at the Hydrow and you will be able to see at a glance that this rower is unlike any other.
powered by Advanced iFrame. Get the Pro version on CodeCanyon.
Yes, the Hydrow uses magnetic resistance, but that's right about where the similarities end.
While some people enjoy water rowers because they get a very realistic rowing experience, the fact is that with the Hydrow, you get that same feeling, without the water.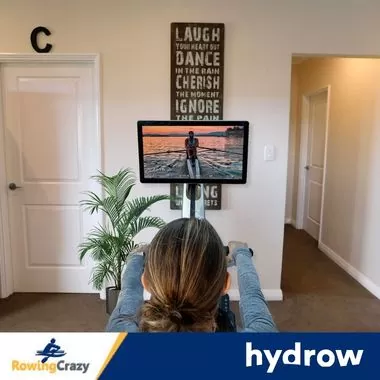 Check out all the good things Hydrow has to offer.
The Features of the Hydrow Indoor Rower
This device is so beautiful, you might want to leave it in your living room! But beauty is only the start of all the great things the Hydrow has to offer, including:
Magnetic rowers like the Hydrow offer virtually noiseless operation
Digital resistance levels mean no clicking knobs or broken off switches
The seating system has 10 rollers for super-smooth rowing operation
Bluetooth functionality means you can use your own music, speakers, or whatever!
Front-facing speakers allow you to hear the music or instructor commands easily
The 22-inch HD touchscreen monitor is nothing short of an awesome feature, not to mention that it's resistant to sweat and dust
Hydrow offers hundreds of live and on-demand workout programs led by professional rowers
There are also relaxing and beginner workouts
The monitor tracks your time, distance, heart rate, and other features
Easy-to-adjust seat and other features so you can row in comfort
30-day risk-free trial
Optional storage kit can help to reduce the storage footprint
The frame and storage kit has a 5-year warranty, all other components 1-year, and labor is included for 1-year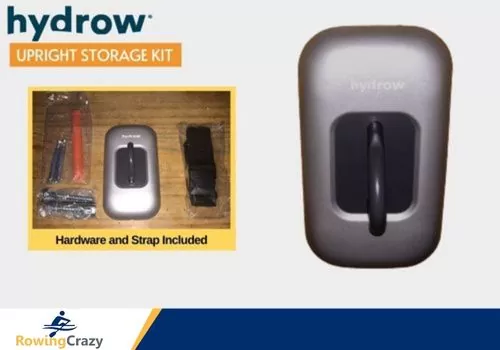 Watch Rowing Youtube Influencer Max Secunda with the Hydrow:
powered by Advanced iFrame. Get the Pro version on CodeCanyon.
I've hardly scratched the surface of all the great things the Hydrow has to offer. There are a few things Hydrow can improve on, however.
The Downsides to the Hydrow Rower
This rower may be out of the price range for some
The workouts have a recurring monthly fee
The volume on the speakers cannot be adjusted
Videos cannot be paused
This rower needs lots of space to use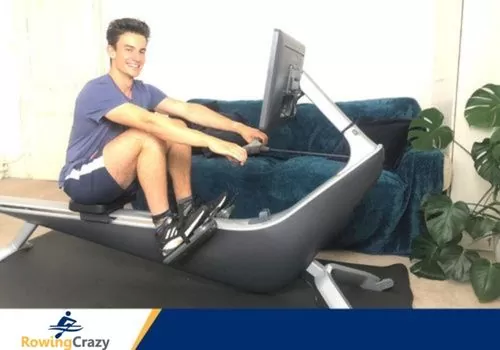 The Verdict
Personally, if you want the best rowing experience and the best rowing machine on the planet, then you want the Hydrow rower. Nothing will match how you feel when you're working out on the Hydrow other than sitting in a real boat on a real body of water.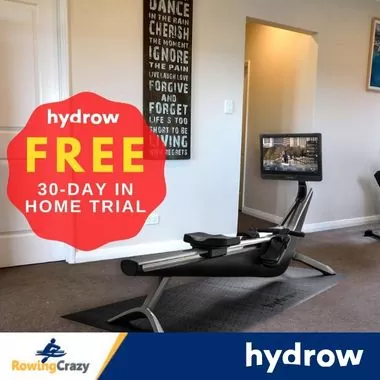 Hydrow SAVE $100 or £100!! => Use Coupon Code: ROWINGCRAZY
Click Here to Read More About this Machine!
At the End of the Day
Which machine you choose will depend on both the amount of space you have and your budget. You will get a full-body workout from all of the above machines and any of these are perfect for home use.
However, at the end of the day, if I was forced to choose one, well… I would choose two.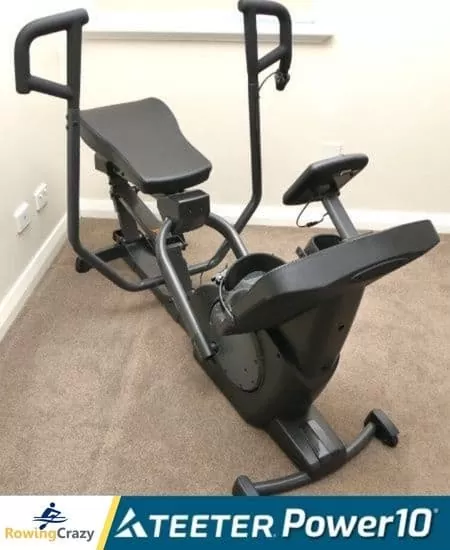 If what you're looking for is the most insane, beast of a machine to help you reach your fitness goals, I would have to pick the Teeter Power10.
If you are more interested in an indoor rower that gives you a true rowing experience, then you should choose the Hydrow.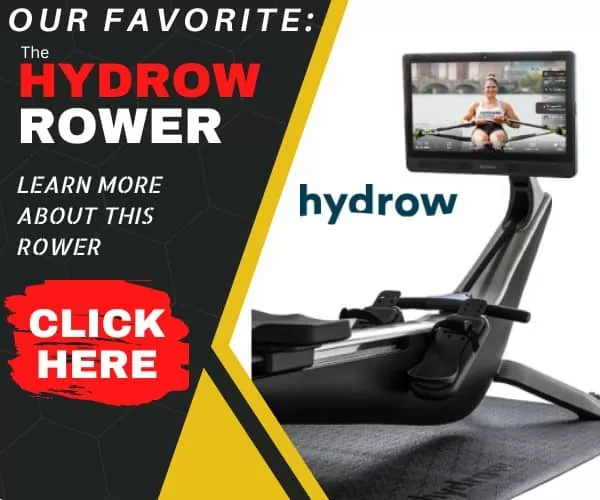 Hydrow SAVE $100 or £100!! => Use Coupon Code: ROWINGCRAZY
No matter which machine you choose, you're going to love the quiet operation that only a magnetic rowing machine can offer.
If You are still wondering what rowing machine should I buy – Click Here!
Frequently Asked Questions
Q: Are magnetic rowers better than water rowers?
A: This will depend on what you're looking for. While magnetic rowers are extremely quiet, water rowers give off a gentle swoosh sound, similar to the water lapping at the boat. You won't get a quiet operation or a water sound from air rowing machines, that's for sure. Magnetic rowers also tend to offer more resistance levels than water rowers.
Q: Are magnetic rowers safe?
A: Magnetic rowers, like water rowers and air rowers, are extremely safe. I've never heard of a person injured by a magnetic machine, either during home use or at the gym. I want to add to that: If you're a beginner rower, make sure that you know the correct form and rowing stroke from the start. It spells all the difference.