If you're looking for an elliptical trainer that can handle users up to 300 pounds, you might have discovered that the selection isn't as wide as you had hoped for.
Buying a machine with the wrong weight capacity can mean you're stuck with pieces of it in a trash bag after it self-destructs a few months after the warranty ends. Or you could also end up paying through the nose for a machine you don't really enjoy using. Either way, it's not going to be a good experience.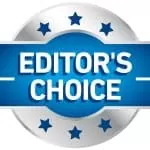 In a Hurry? Here are My Top 5 Picks:
If you don't have time to read the whole article, below are my top picks for ellipticals with a 300lb weight capacity:
You can read my full breakdown and review on each individual machine further down in this article.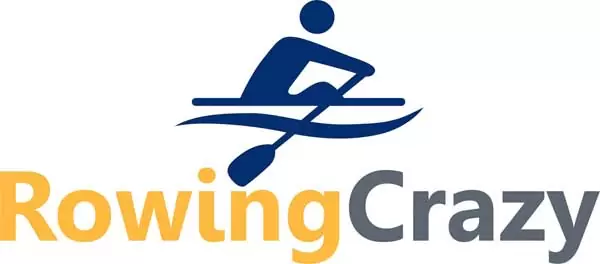 Whether you want to lose weight, or you're a bodybuilder who has bulked up and who is looking for a great cardio workout that is easy on the joints, an elliptical machine is a perfect answer. However, finding an elliptical trainer with 300-pound weight limit is another story.
Don't worry, I've taken all the guesswork out of finding perfect elliptical machines for heavyweights.
In today's article, I'm going to show you the top elliptical trainers that can take all the abuse you can dish out and still remain standing.
Best Elliptical Machine Options with 300 lb Weight Capacity
The following elliptical machines can all handle users up to 300 pounds. While they all differ slightly from each other, like all elliptical machines, they are easy on the joints, offering a low-impact workout that elevates your heart rate.
1. Teeter Power10 Elliptical Rower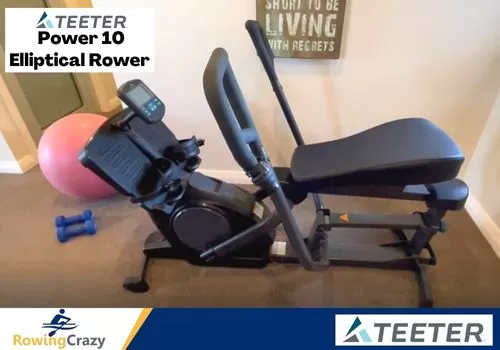 If you love rowing the way I do, you're going to really be interested in the Teeter Power10 combination rower and elliptical machine. This is one of the best heavy-duty elliptical machines I have ever seen, and it's a step above everything else on the market.
This elliptical trainer is a bit different than what you're used to seeing. If you love rowing but wonder if you'll get bored, you'ree in for a big surprise with the Teeter Power10 elliptical machine.
Watch Olympic Rower Rachael Taylor Put the Teeter Power 10 to the Test:
If you want to get more from your workout without changing machines, you need the Teeter Power10.
Let's look at the features this elliptical trainer has to offer.
Features of the Teeter Power10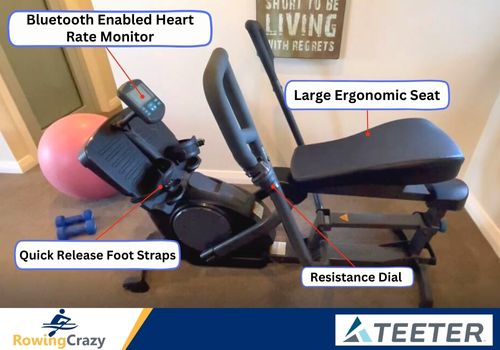 You know that this top-rated piece of workout equipment must have a lot of features to make it such a popular choice. Here are its key features:
Easy to assemble using an online video app called BILT
The steel frame means that this is super durable
7 resistance levels to choose from
Magnetic resistance makes this machine smooth and super quiet
A patented elliptical mechanism lets you change from a pulling motion on the handlebars to a pushing motion with the flip of a lever
Stroke length is adjustable
Transport wheels make storing or moving this rower easy
Free personal training app gives you access to on-demand workouts with top trainers without paying for a monthly subscription
Multi-grip, padded handles allow you to put your hands in almost any position for comfort as well as for working various muscle groups
Comes with a heart rate chest strap
The extra-large seat is fully adjustable and padded for comfort
Foot pads are extra-large with a heel stop and have velcro straps for secure placement
The LCD console is split into 6 sections so you can see all your info at a glance while tracking your time, distance, strokes, strokes per minute, calories, and pulse
Has a built-in tablet holder for your tablet or cell phone
Supports users up to 300 lbs and 7 feet in height
Adjustable stabilizers on the rear wheels make this unit feel very sturdy, with no rocking or wobbling
The frame has a 1-year warranty, all other parts 90-days
Whew! This piece of exercise equipment has a lot going for it!
You know that nothing is perfect, however, so let's look at a few ways that the Teeter Power10 could be improved.
The Cons of the Teeter Power10
This is a nearly perfect elliptical rower, but a few of the drawbacks would be:
The monitor is not back-lit, so you may have trouble seeing it in a darker room
The warranty is decent, but it could be better
No USB port to keep your phone or tablet charged
The Benefits of Using the Teeter Power10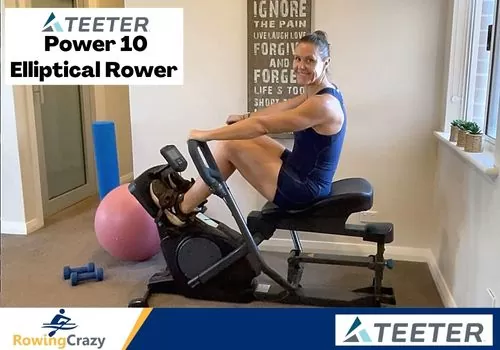 While rowing is one of the best cardio workouts you can do, no one wants to do extra strength training or other types of workouts if they can do it all at one time.
That's what I love about the Teeter Power10. You can work out all of your muscle groups in a single episode, no need to pull out dumbells or do other arm and back exercises. Imagine burning more calories than you thought possible, as well as working every muscle group, all in one workout routine.
The dual motion of the handlebars, allowing you to either push or pull, is easily changed even in the middle of your workout. This allows you to target different muscle groups in the same workout.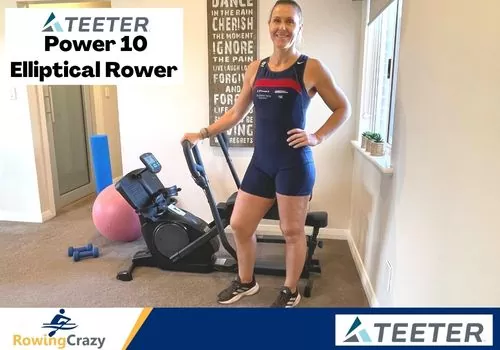 The multi-grip handlebars are also a great way to work various muscles without ever having to stop and change position. Simply move your hands from the top, as an example, of the handlebar to the outside or the inside, or the bottom portion. You never imagined how simply changing the position of your hand could make such a difference in your workout experience!
I like that this piece of my equipment has everything you could ask for other than its own bank account and television. Just kidding about the bank account, but this seriously has everything you could want in a high weight capacity machine; Bluetooth heart rate monitor chest strap, free interval training programs, adjustable everything, and super-quiet operation as well.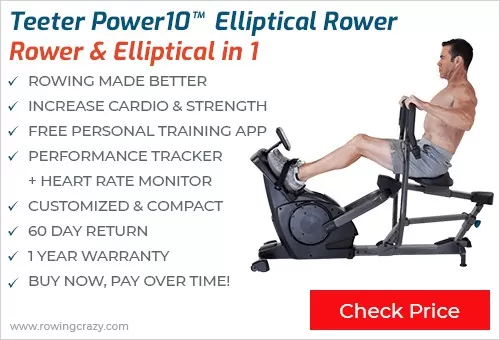 The Teeter Power10 is nothing short of an awesome, delightfully fun home workout machine, scout's honor. Oh wait, I'm not a Boy Scout! Well, you know what I mean.
2. Schwinn 430 Elliptical Trainer
Everyone knows the Schwinn name, but what you may not know is that the company makes more than just bicycles!
The Schwinn 430 is a popular elliptical trainer model due to its smooth workout and LCD screen. The movement mimics walking/running, so it gives your stride a natural feel.
Features of the Schwinn 430
This piece of exercise equipment has many features, including:
Speed-drive system with a weighted flywheel that uses magnetic braking
20 levels of magnetic resistance
Oversized cushioned footplates make this elliptical machine very comfortable
Large, LCD display counts calories, time, and distance
Features 22 workout programs that also track your progress, helping you reach your fitness goals
Provides separate programs for two users
20-inch footpath feels more like a natural stride
Contains both moving and fixed handlebars
Handlebars are padded for comfort
Offer a media shelf for phones or tablet holder
USB port for charging devices
Bluetooth-enabled which is useful for heart rate monitoring or connecting to headphones
Front-facing speakers
Includes a 3-speed fan to help keep you cool
Has a manually adjustable incline with 6 settings and a maximum incline of nine degrees
Water bottle holder
Transportation wheels for easy storage
Frame warranty is 10-years, parts 2-years, electronics 1-year, labor 90 days
300-pound weight limit
Of course, this also carries the Schwinn name, which is well known for quality.
This elliptical trainer does have a few drawbacks, however.
Cons of the Schwinn 430 Elliptical Trainer
A few problems with this elliptical trainer include the following:
Short warranty (90 days labor)
Instructions for assembly are not very clear
Pedals are not adjustable
Has a manual incline, not an automatic incline option
No wireless heart rate monitor (but you can use your own)
Calories burned estimator may not be accurate
Some users say that foot pedals or handlebars broke after several years of use
The Benefits You Get with a Schwinn 430 in Your Home Gym
The Schwinn 430 is a great value for those who want an elliptical trainer that can handle up to 300 pounds of weight capacity but still offers all the features that make using an elliptical more entertaining.
Let's face it, sometimes your arms may get tired, or maybe it's one of those lazy days when you want to get in a workout, but you don't really want to push yourself. You know what I'm talking about, right? Everyone has those days. The second set of handlebars that are stationary is what makes this elliptical machine super useful.
You won't find many elliptical machines at this price, that has this weight capacity, all of these extra features, like the front-facing speakers, and has this range of magnetic resistance.
I like that this model costs less than many others but doesn't sacrifice features such as the fan, a USB port, and speakers for music.
This could be the perfect elliptical machine for you.
Click Here to See All Our Quiet Rowing Machines – Shhh!
3. The Bowflex M3 Max Trainer
Think of the Bowflex M3 as a new and improved elliptical machine.
There are many variations to this device, including models that provide a prepaid annual subscription to their workout programs, but in order to compare apples to apples, I am going to review the M3. This is just like the M5, minus a few "extras."
The Bowflex is superior in some ways to the traditional elliptical or a stair climber and it still has multiple features you are sure to love.
Features of the Bowflex M3 Max Trainer
This better-than-an-elliptical device still has a weight limit of 300 lbs, but it isn't a stripped-down model. Below are some of the features of this machine:
Combines the low-impact workout of an elliptical with the same calorie-burning result you expect from stair climbers
Easy to assemble in about 90 minutes
Has a compact design for smaller living areas or your home gym
The device has a media shelf for your tablet, magazine, or cell phone
Includes a chest strap for the built-in heart rate monitor
The console is well-designed, easy to read, and tracks workout history for 2 users
The display is backlit for easy reading and offers 8 resistance levels
Two workout programs are included
Offers a unique burn rate that shows how many calories burned per minute at the current level of intensity
Has a built-in water bottle holder
The product weighs 143 pounds but has wheels for easy moving
Offers a full 1-year warranty on the entire machine
This compact cardio workout machine offers a great deal, and while it's awesome, it isn't perfect.
The Cons of the Bowflex Max Trainer M3
There are a few improvements that could be made to turn this super calorie burner into something spectacular, including:
This workout machine offers powerful resistance even on the lowest setting, which means it may not work well for beginners
Offers a limited number of workouts
The console is also very basic, but you can watch more programs on your cell phone
The handlebars are not adjustable, which may not work well for those who are short
The Benefits of the Bowflex Max Trainer
If you are already a gym hound or in decent shape but are looking to turn things up a notch, the Bowflex Max Trainer M3 will work well for you.
Compared to a treadmill or other types of ellipticals, this machine is a calorie-eating monster! You can burn twice as many calories with the Bowflex Max Trainer compared to other devices, according to the manufacturer.
The arm workout on the Bowflex is very powerful and beats any other elliptical that I've used. You can put those dumbbells on eBay once you use this product.
Since this machine is super low impact, you won't waste any of your energy trying to absorb the shock of movement, which means you put all your energy into your workout routine. This is going to get you incredible results that you won't get in any other single machine.
While it may not offer a lot of workouts, you will find endless programs online and since this has a built-in shelf for your tablet or cell phone, that means you can use whatever workout program you like (or a movie or your favorite series) for free! I like free, it's one of my favorite words.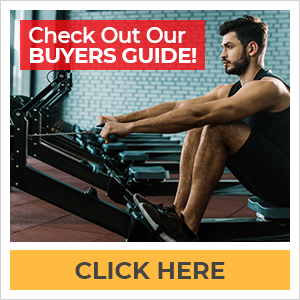 Also, if you live in a small apartment, space can sometimes be a premium. The Bowflex only takes up 25 inches by 46 inches of floor space. That's probably one of the most compact devices I've ever seen.
So, in short, compact footprint, double the calorie burn of a treadmill or stair climber, and a maximum low-impact workout all in one machine. Who could ask for more?
4. Teeter FreeStep Recumbent Heavy Duty Elliptical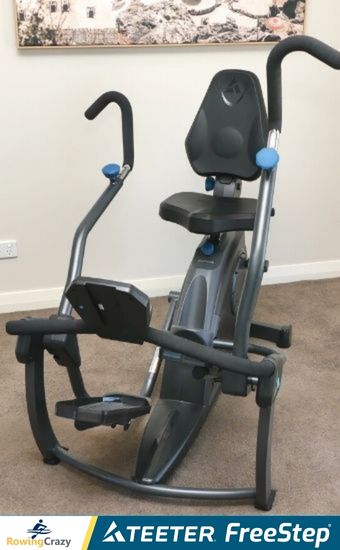 Check Price
Looking for a heavy-duty elliptical that is also a recumbent bike? The Freestep has it all!
For those with bad knees, recumbent bikes are like a gift; however, recumbent bikes can be a bit boring. The FreeStep elliptical trainer has all the workout capacity of an elliptical, but you sit on it like a recumbent bike. That's a great combo in anyone's book!
See how Olympic Rower Rachael Taylor Demonstrates the Teeter FreeStep Elliptical Trainer:
Let's check out all the features this full-body workout machine offers.
The Features of the Teeter FreeStep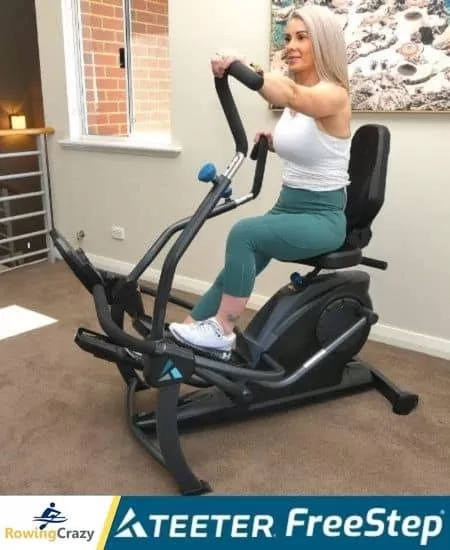 With tons of great features, it's no wonder that this recumbent elliptical is a best seller. Some of its best features are:
Perfect for all fitness levels
Very easy to assemble
The frame is made from commercial-grade steel for long-lasting durability
Handles 300 lbs for users of nearly all sizes
Has wheels to make moving the product easy
Two sets of handlebars allow you to use this as a recumbent bicycle or an elliptical
Handlebars are padded and fully adjustable
Offers a manually controlled magnetic resistance system with 13 levels of resistance
Fully adjustable seat bottom with 3 levels of recline on the backrest for the ultimate in comfort
The digital LCD screen monitors your calorie burn, time, speed, and distance traveled
Has patented Stride Technology for a natural stride that reduces pressure and stress on the knees, hips, and back
Foot pads have a non-skid surface
The floor mat is available for extra security
Has a built-in smartphone or tablet shelf
Water bottle holder
Foot stabilizers keep the machine from rocking or wobbling while in use
Now that we know what this machine has to offer, let's look at some of the pitfalls.
The Cons of the Teeter FreeStep
A few tweaks could make this cross trainer superb instead of just fantastic. The cons of the Teeter FreeStep include:
No heart rate monitor included
Not Bluetooth-enabled
Doesn't fold but it isn't very bulky
The resistance knob has no indicators (nothing marked 1,2,3, etc.) so you need to just go with the feel of the resistance levels
The Benefits of the Teeter FreeStep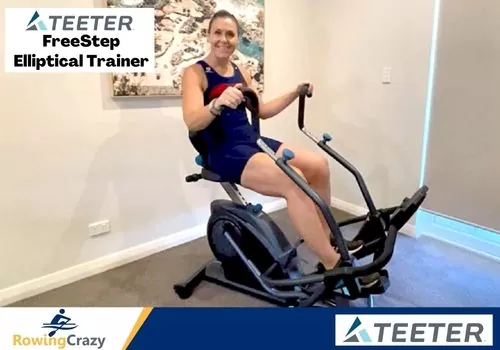 If you have ever been in physical therapy, chances are that you've used a similar machine. I've seen recumbent ellipticals that have all the features the FreeSTep has but costs thousands of dollars. Yikes!
This 2-in-1 recumbent cross trainer is simply awesome in my book. OK, so it doesn't have heart rate monitor built-in, but heart rate monitors are inexpensive, and I bet you have one somewhere that you aren't really using.
I love this elliptical for many reasons, one of which is the two-handlebar design. When you want to use it as a bike, you simply switch to the handles located near the seat. No switching handles or even pulling a lever, you just move your hands!
I also like that this machine gives you a full-body workout while you are sitting down! Exercise doesn't get any easier, friends!
If you have a bad back, knees, hips, or are suffering from arthritis, or if you've been injured in some type of accident, this is absolutely the perfect elliptical machine you've been dreaming of. Don't spend thousands on a similar device because the Teeter FreeStep has it all for a fraction of the price. It comes with a 1-year warranty on the frame, 90 days on all other parts. You can purchase an additional 1-year coverage, which would extend it to 2 years. This is a quality-made cross trainer that rivals all other elliptical trainers.
5. The HCI Fitness Physio Step HXT Recumbent Trainer
Do you want to go all the way? I mean when it comes to your home gym, do you want to get the ultimate piece of heavy-duty elliptical fun and workout machine? I've got just the answer for you or, should I say, HCI Fitness has the answer.
This recumbent elliptical cross-trainer has a long name, but then again, it has a lot going for it, not to mention that it can handle a maximum weight capacity of 330 lbs. That's the closest to 350 lb weight capacity!
The Features of the HCI Physio Step HXT Recumbent Trainer
When I said that this elliptical trainer had everything, I wasn't kidding! The top features of this heavy-duty piece of exercise equipment include:
Incredibly easy assembly
Automatic shut-off after 15 minutes of inactivity
16 levels of magnetic resistance for quiet operation and to keep you on your fitness journey
The large LCD display shows distance, speed, calories burned, time, RPM, and pulse
Features a contact heart rate monitor
There are 17 workout programs, such as body fat, rolling, or mountain trails
The padded handles are completely adjustable
The padded seat has 15 adjustments for ultimate comfort
The foot pedals are large and have a non-slip diamond pattern, complete with adjustable straps
Step-through frame helps users of all fitness levels sit down and get up easily
This weighs 165 pounds and has transportation wheels to help you move it more easily
Lifetime warranty on the frame, 3-years on all parts, 1-year labor
That's an impressive list, right? As perfect as it may seem, I can still see some areas that need improvement.
The Cons of the HCI Physio Step HXT
This elliptical trainer still has a few areas where it could improve, including:
No Bluetooth
No media shelf
No water bottle holder
Overall, this is a terrific machine and one of the best heavy-duty elliptical trainers I've seen.
The Benefits of the HCI Physio Step HXT
This 330-lb weight capacity elliptical is very similar to the ones you find in rehab centers or used by physical therapists, so you know that this will last you for many, many years to come.
I love the step-through design that allows even those with injuries to access the seat easily. The semi-elliptical motion of the foot pedals is super-low impact, too.
This elliptical machine does have a large footprint, however, and since it is quite heavy, you will need space to use it and to store it. This is more suited for those with a room for a home gym or a garage. If you live in a not-so-spacious apartment, you'll do better with something less bulky.
For me, I love the HCI Physio Step HXT. There's nothing to match this commercial-grade elliptical, even at half the price. I know you will love this unit and whether you want it for weight loss or to stay in shape, you will be happy with your overall workout experience.
So What's the Best Heavy Duty Elliptical for You?
The truth is that only you know your space requirements and budget. If you don't have much space, you might not want to purchase the HCI Physio Step due to its larger footprint. If you have a generous budget for your new piece of fitness machine, you might opt for the Teeter Power10 for its versatility as an elliptical rowing machine.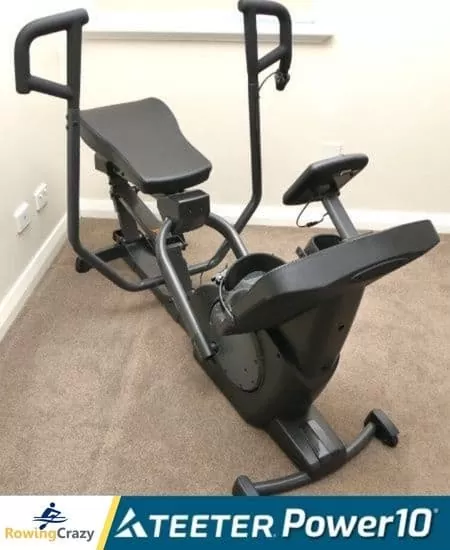 No matter which machine you choose, at the end of the day, you're going to be happy with any of the above exercise machines. All are super heavy-weight capacity ellipticals and rowers that any person will feel safe using, even if they weigh 300 lbs.
Frequently Asked Questions
Q: Do ellipticals have weight limits?
A: Yes, all elliptical trainers have maximum weight capacities. The ones listed above all have at least a 300-pound weight limit.
Q: How much weight can I lose using an elliptical?
A: As much as your body is able to. The harder you work, the more overall body fat you will burn. Keep in mind that muscle weighs more than fat, so it's more about your fitness level than numbers on a scale. If you do things properly, you can lose at least 1 pound a week, but this depends on several factors, including your current weight and health condition, the intensity and frequency of your workouts, and your food intake.
Q: Do ellipticals help lose belly fat?
A: Yes, they do. The harder and longer you work out, the more calories you burn. Your body will use stored fat from whatever area it wants to, but it will choose belly fat eventually.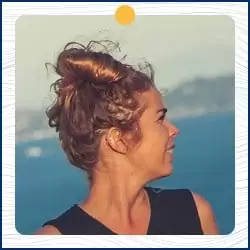 Written by Petra Amara – RowingCrazy.com
CEO & Founder of RowingCrazy, National Rower, Coxswain Womens Eight Team, Rowing Coach & Writer
Petra is a Mother of two and owner of Rowingcrazy.com. Petra lives and breathes rowing, she also has a passion for writing which lead her to start RowingCrazy.com to share her rowing experience and expertise with others.