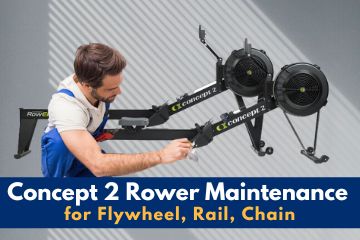 Nothing feels as good as having your own rowing machine right in your own home!
Isn't it great rowing whenever you want for as long as you like and not worrying that someone is waiting for their turn on the machine?
You can also row anywhere you want to. Concept 2 comes apart and is easily moved so you can row in the garden, near your pool, in the living room today, and on your patio tomorrow!
You made a big investment with your rowing machine, so you want to keep it in good condition, and part of that is doing regular maintenance.
Let's dig right into this subject so you can start doing your own maintenance duties on your Concept 2 today!
Maintenance for Concept 2 Model D (or RowErg Standard Legs)
First, let me address the ever-popular Concept 2 Model D (aka the RowErg standard legs). I'll show you the maintenance tips for the Model E (or the RowErg long legs) in the next segment.
Things You Need
First, gather your equipment. You'll need:
A small bottle or glass of plain water
A couple small rags or towels
Concept 2 chain oil. If you don't have any Concept 2 oil, you can buy some 3 in 1 oil at any supermarket or commercial chain like Walmart
A small spray bottle of your favorite cleaner, such as Fantastik, glass cleaner, or Mr. Clean
Put all those in a bucket or basket for easy transportation and you are ready to go.
How to Clean Concept 2 Rower Model D
Cleaning your Concept 2 rower is an on-going affair, not a once-off kind of thing. That's why we call it maintenance. There are two types of cleaning – surface cleaning (which happens frequently) and deep cleaning (which you do periodically).
These are very self-explanatory terms, but we explain and differentiate them further in the sections below.
Surface Cleaning After Every Use
I was about to write "daily basis" but if you don't row every day… you get the picture.
There are a few things that you should do after every use (or if multiple people use your rower, then yes, at the end of the day when the last person has finished).
Put a few drops of water on the towel and rub down the monorail.
Using that same rag or towel, rub it over the entire machine to remove dust, sweat, and dirt. I like to use a microfiber towel.
Don't forget those hard-to-reach spots, including the legs, around the footrests, the inside of the legs, and the outside of the cage.
You can wipe down the monitor but be sure that the rag isn't soaking wet.
Take a different rag and using the cleaning solution, wipe down the seat and handlebar. You'll really want to do this if your machine is used by several people.
This list may look like it will take a lot of time, but to be honest, it's less than 5 minutes, and it's a very worthwhile investment.
Deep Cleaning Every Month
About every month or every other month, depending on how often your machine is in use, you should also take a few minutes and do the following:
Inspecting the screws. Using the star or Torx screwdriver included with your Concept 2 (or you can buy one at any hardware store), double-check that all the screws are tight. It's not uncommon to find loose screws, especially around the footrests and the front supports of the machine and the two screws located underneath the fan cage.
Cleaning the fan blades. Using that same Torx screwdriver or using a battery-operated screwdriver, you can remove the fan cage to clean the fan blades. There are only 5 screws, so it's really easy to take this apart. Pull the center strip out and clean out the dust with a damp rag or use a shop vac.
Oiling the chain. This would be a great time to oil the chain. Concept 2 recommends that you do this every 50 hours, but once a month for most people should be fine. Take one teaspoon of Concept 2 oil or some 3-in-1 oil and apply it to a paper towel. Rub the paper towel lightly over the entire length of the chain. Take another dry paper towel and wipe off any excess. That's it!
WARNING: Never use WD-40 or other lubricants on the machine, including the chain. These tend to attract dust, which is something you don't want.
Maintenance for Concept 2 Model E (or RowErg Long Legs)
Now you might have purchased the Concept 2 Model D because it had fewer maintenance items, but it's not that big of a difference because they are the same machines, only with different leg lengths and wheels.
In other words, maintenance will be generally the same.
Daily Maintenance
Every day or after each use, you simply wipe down the monorail using a towel or microfiber cloth. You can use glass cleaner or other types of cleaners if you wish, but plain water is also fine.
If you have multiple people using the rower, you might feel more comfortable wiping down the handle bar and the monitor as well to avoid spreading germs.
Monthly or Every 50 Hours
Like the Concept 2 Model D, the Model E requires that the chain be oiled using the same method above at least once a month or after every 50 or so hours.
Don't worry, the chain won't break apart if you wait and do it every 60 hours or every other month if you don't use the rower very much.
Every 250 hours or Every Other Month
These items are more of a checklist than maintenance, but if you find something amiss, you'll want to have it repaired right away.
Inspect the chain for stiff links. If oiling the chain does not help, replace the chain.
Inspect the chain handle connection. If the hole has become elongated or if the U-bolt shows signs of excessive wear (if the bolt is worn more than half way down) then replace the entire connection.
Check all screws and tighten if necessary
Vacuum or wipe off dust from inside the fan cage.
Problem solved!
This is easier than you thought, right? You can seriously do all of the required maintenance in just a few minutes each month.
More Tips for Easy Maintenance
One of the great things about Concept 2 is that it is user-friendly. You can replace necessary parts yourself and keep up with the maintenance without anything more complicated than a vacuum and a screwdriver.
Follow these tips to make upkeep on your Concept 2 even easier!
Keep the Performance Monitor updated. While neglecting to do this won't stop your indoor rower from working, it will affect how easy it is to use.
You don't have to use any cleaning product at all if you don't want to. You can dip a microfiber towel in soapy water and wring it out. That should be plenty of power to remove any sweat, dust, or dirt that may have built up on the rower.
If you really need to oil the chain and don't have any 3-in-1-oil, you can use good old-fashioned engine oil (yes, the stuff you put in your car). I wouldn't do this unless you were in a pinch since engine oil doesn't smell that great and it may not last as long as the chain oil that Concept 2 recommends. However, if you really need to, it's good to know that engine oil will work.
Never use other types of oils, cleaners, or harsh abrasives on indoor rowers. Even if the product says it's safe for cars or all surfaces, don't trust your expensive indoor rower to a lifetime of problems.
Always stay on top of your indoor rower's health since you might injure yourself, as well as damage the rower if you fail to keep up with maintenance or change items that have become worn out or damaged.
The Bottom Line
You don't need any fancy tools or expensive cleaning products to keep your Concept 2 in good shape.
Follow the tips and tricks here in this guide and you should never have to stress out about your rowing machine.
Regular maintenance is the cheapest insurance ever to guarantee a long life for your Concept 2. You rower helps you keep fit, so it's only fitting to return the favor and ensure that you maintain it properly.
Stay healthy and happy with your rowing!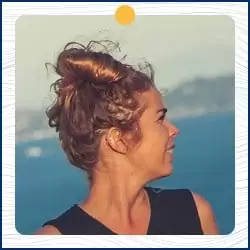 Written by Petra Amara – RowingCrazy.com
CEO & Founder of RowingCrazy, National Rower, Coxswain Womens Eight Team, Rowing Coach & Writer
Petra is a Mother of two and owner of Rowingcrazy.com. Petra lives and breathes rowing, she also has a passion for writing which lead her to start RowingCrazy.com to share her rowing experience and expertise with others.