If you've decided that you want an indoor rowing machine for your home gym, you've made a wise decision.
All rowing machines can give you a full-body workout and increase your heart rate, but some are definitely better than others.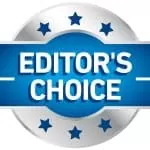 In a Hurry? Here are the Rowers We Are Comparing:
Today, I am going to compare two very popular rowers, the Teeter Power 10 and the Concept 2. If you're in a hurry and need to know which rower is better between the two, click on the links below for our answers:
We've conducted a thorough evaluation of each rowing machine to help you make an informed decision on which one to purchase. Our findings are shared below in greater detail.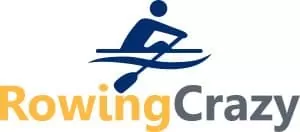 Both these machines are permanent long-term testing machines here at Rowing Crazy. We wanted to ensure that these machines live up to all the promises that each company claims. I hope you enjoy reading what our findings were and please note that we regularly update this post so you know you are getting genuine long-term personal hands-on reviews by rowing experts!

Watch This Video of Our Team Reviewing both the Teeter Power 10 & Concept 2 Rower Side by Side:
What to Look for in a Rowing Machine
Rowing machines may do basically the same function of providing you some of the best whole-body cardio workouts and all the health benefits that they're known for, but they are certainly not all the same.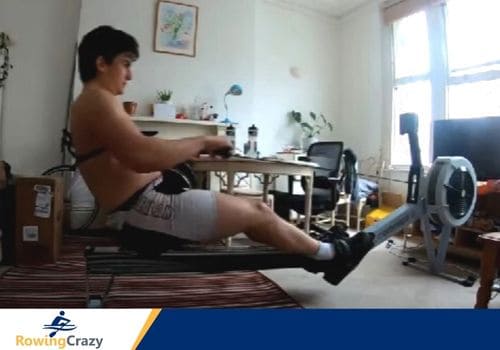 A few things to consider when deciding which design is best would include items such as :
A comfortable and adjustable seat
Magnetic resistance for smooth and quiet operation
A padded, comfortable handle
Space-saving design for compact storage
A functional monitor for tracking your performance and health data
Durability and a generous weight limit
High-tech or user-friendly features such a Bluetooth or heart rate monitors
A reasonable warranty
While some people may not be interested in many of the high-tech features, everyone will want durability, comfortable seat, and warranty.
The Teeter Power10 Elliptical Rower
Fitness Expert Zoe Testing the Performance on the Power 10 Rower: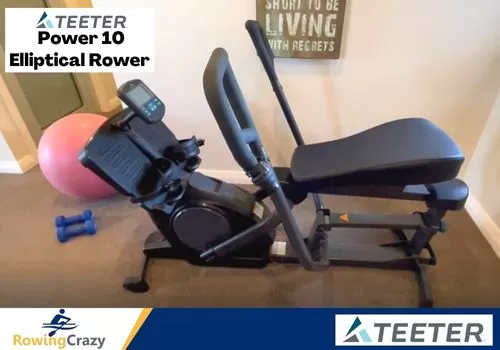 The Teeter Power 10 may look like an ordinary piece of exercise equipment, but it really is two machines in one. It is also unique because of its two-way resistance mechanism.
Watch our full video by Olympic Silver Medalist Rachael Taylor:
This indoor rower offers the benefit of being an elliptical machine. The handles need force to be pushed back into position; they don't merely slide forward or retract as some rowers do. This push-and-pull motion, combined with magnetic resistance, makes this the wildest high-intensity workout equipment you've ever tried!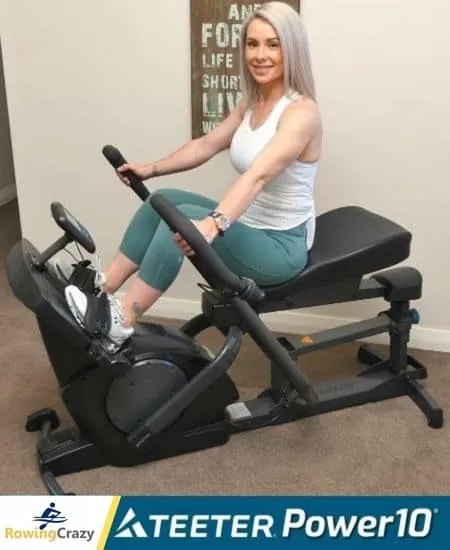 It has so many features that it's difficult to list them all here, but let's take a look at this long and impressive list of pros.
Side Note – After Teeter Black Friday Sale?

If you have fallen upon this page and you are interest some great deals on the Teeter Machines – be sure to go over to our other article on the Teeter Black Friday Sale!.
The Pros of the Power10 Elliptical Rower
Easy to assemble, with an app that shows 3D instructions
100% refund within 90 days
1-year warranty
The flip of a switch turns the rowing motion into an elliptical machine designed for bidirectional resistance
7 levels of smooth resistance
Magnetic drag makes for a whisper-quiet workout
The large digital display monitor shows heart rate, calories burnt, distance, strokes per minute, and amount of time spent rowing
Large. easy-to-adjust foot straps
Multi-grip handles work for different muscle groups
Bluetooth capabilities
Fully-adjustable seat
Stroke length is easy to adjust
Has a weight capacity of up to 300 pounds (136 kg)
Free training app with fitness workout videos
No monthly subscription required
Designed to fold for less storage space
Audio jack for playing music
Personal Trainer Zoe Impressed by the Performance of the Power 10 Rower: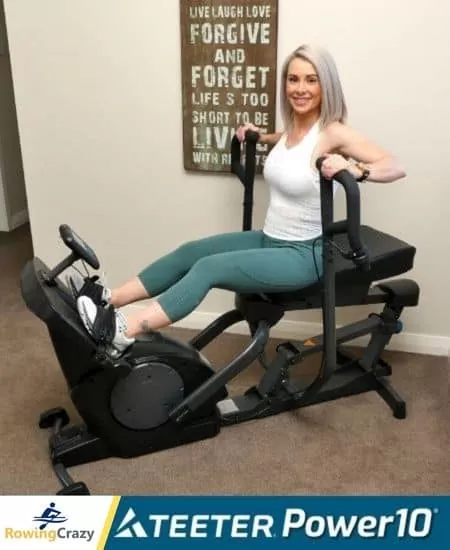 This exercise equipment is made from steel, so you know it will hold up to even the most forceful routine you can dish out. Many people describe this piece of equipment as a "beast" of a machine, and I think that statement is a very accurate description.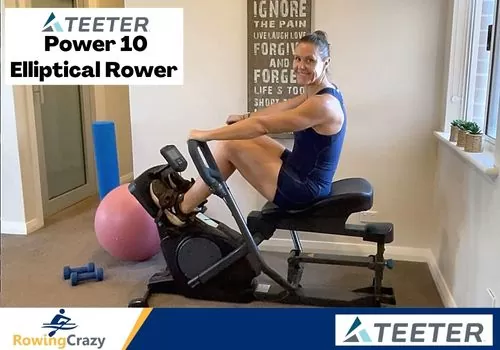 Read What the Rowing Crazy Test Team Is Saying About Teeter:
"Wow, I did not think that machine would burn so many calories so fast!
Noise, what noise?? There really is no sound – Hello Netflix!"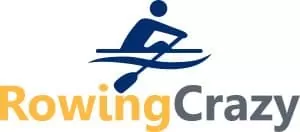 Petra Amara CEO at RowingCrazy.com: "This is one of the quietest machines I have ever used, plus it gets your heart pumping super fast! I also love that there are no membership costs to use their training app"

The Cons
This indoor rower is so close to perfect, even I have a hard time believing it, but you will find a couple of drawbacks, including:
The workouts instruction video is a bit hard to understand at first but watch it twice or even 3 times and it becomes clear
The device is heavy (180 pounds or 82 kg), but this piece of equipment does have wheels to make moving it easier
Due to the weight, some people might find folding and unfolding the machine a bit difficult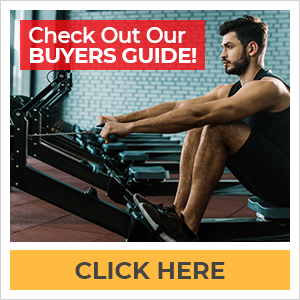 Those are the only cons that I could find or think of. This elliptical rowing machine is one of the nearly perfect magnetic rowers designed to give you an awesome full-body workout. If you would like to read more about this great machine be sure to read my full detailed review on the Teeter Power 10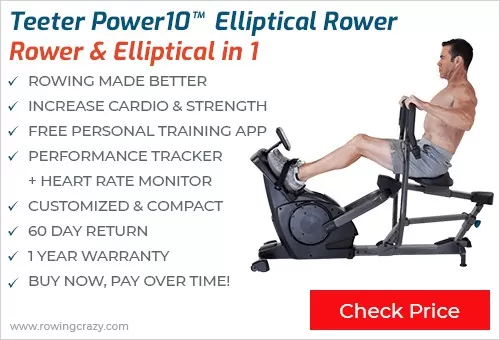 The Concept 2 Model D Rowing Machine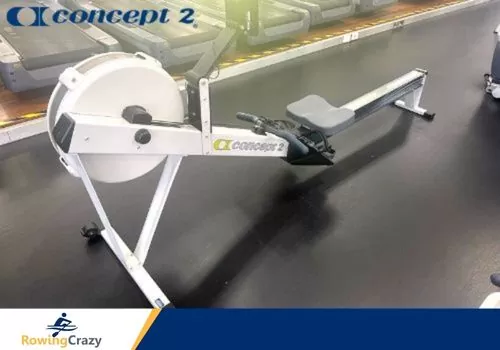 The Concept 2 is a popular rowing device for fitness fans of all ages. Concept 2 has been making rowing machines and other pieces of exercise equipment for years so the name is well-known.
Watch our full video of the Concept2 Rower by Rowing YouTube Influencer Max Secunda:
The Concept2 has a multitude of features and pros that people love. Side Note: Have you heard about Concept 2 Rowers Slides? They can really enhance your training sessions.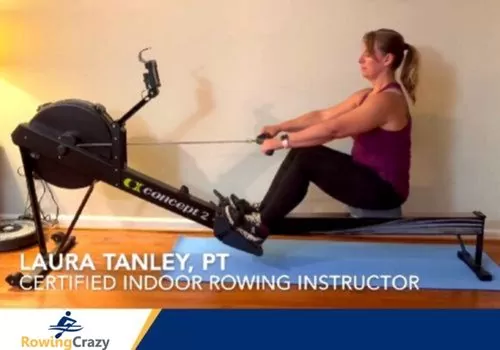 The Pros of the Concept2 Rowing Machine
Has a maximum weight capacity of up to 500 pounds
The device separates in two for easier storage and is designed to occupy less space when not in use
The PM5 records and stores your workout data in a smartphone
Can monitor heart rate and other info but you will need to purchase a chest strap separately
Uses air resistance, which offers unlimited on-the-fly resistance levels
The air resistance offers a stroke that feels natural, like on-the-water drag
Digital display reads time, distance, and intervals
The design uses aluminum front legs and steel back legs
The machine weighs 65 pounds
30-day money-back guarantee
2-year warranty
You can adjust the monitor
Easy-to-adjust foot straps
Equipped with Bluetooth connectivity
Offers online workouts (subscription required)
There is no doubt that Concept 2 is a well-built rower that will last for years.
Read What the Rowing Crazy Test Team Is Saying About Concept:
"This is a workhorse of a machine, built to last without all the bells and whistles. If you are budget conscious and want a long-lasting rowing machine the Concept 2 won't let you down!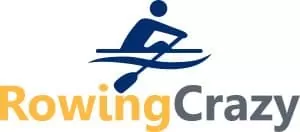 Petra Amara CEO at RowingCrazy: "The Concept 2 is the most well-known rower in our industry. It is a lot noisier than the Power 10 but if you want a simple and reliable rower then this is your machine"

The Cons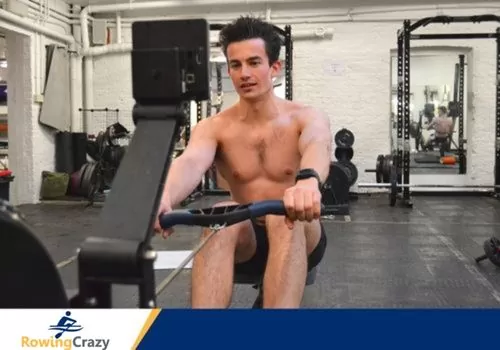 Nothing is perfect in this world, and that includes the Concept 2. Some of its cons are:
Wind resistance can be noisy; magnetic resistance is so much quieter
Bluetooth connectivity experiences frequent problems
The seat is not comfortable for everyone and cannot be adjusted. The company does offer a different seat style, but at an extra cost
The heart rate chest strap is for an additional cost
The fitness app also entails additional cost
The seat can become loose and wobbly after a while (see Concept 2 rower maintenance tips)
You might be looking at these two rowers and think that they're very similar in many ways, and you would be right, but there is one major difference that isn't listed here. Let's talk about that next.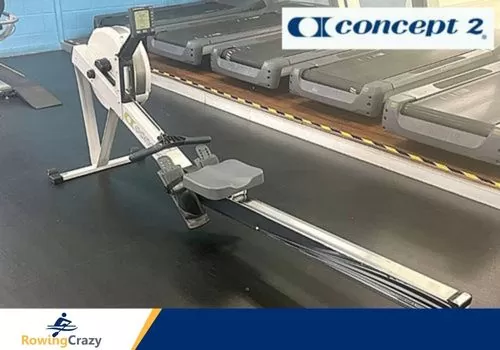 Rowing Machines and Elliptical Trainers
While you can look at things such as design or fitness apps or Bluetooth capabilities, there is one major difference between these two machines.
The Teeter Power 10 offers the advantages that both ellipticals and rowers can offer, while the Concept2 is strictly a rowing machine.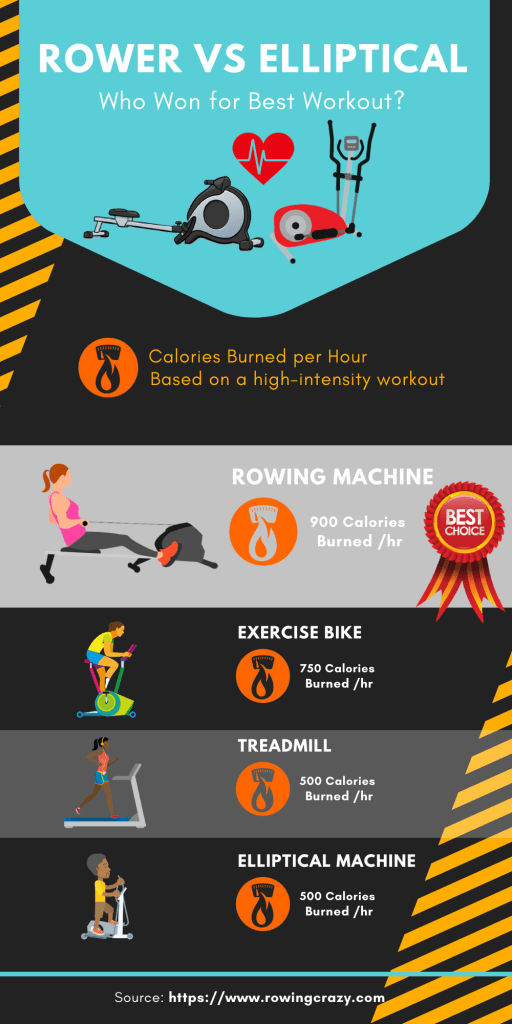 Using rowers alone works 86 percent of the muscles in the body.
With an elliptical machine, you can get high-intensity workouts that not only works all major muscle groups but burns fat, even stubborn belly fat.
Rowing burns about 245 calories in 30 minutes (depending on your weight and intensity).
An elliptical, however, burns an amazing 400 calories in 30 minutes (depending on how heavy you are and how hard you work out).
So if you want to do full-body workouts through high-intensity, low-impact routines that build muscles and pump your heart, you know which one to choose.
The Winner Is Clear
Rowing is an outstanding physical activity that works for people of all fitness levels. However, combining a rower with an elliptical is perhaps the greatest invention ever when speaking about resistance workouts.
While the Concept 2 has a higher weight capacity, the elliptical rower has more than enough and can handle most weights. It's magnetic drag mechanism also makes it one of the smoothest rowers to use.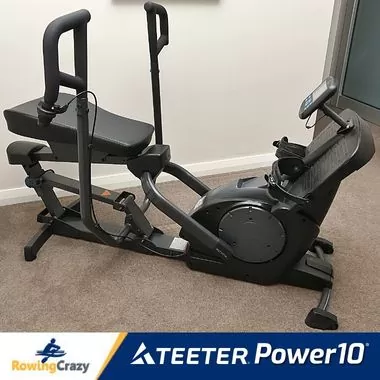 The Teeter Power10 elliptical rower will change the way you do workouts forever. The resistance levels it provides can challenge even athletes, but it's easy on the joints.
What's more, the rowing experience that you get feels like you're on the water. The only thing missing is some spray on your face!
The elliptical portion of this rower is a monster of an exercise routine and adjusting your grip on the handlebars makes your workouts more versatile! You will feel this resistance machine in every single muscle you have!
I also like the fact that you can use it two ways. If you feel like taking a long, leisurely rowing session, you absolutely can do that. Conversely, when you want a high-intensity routine for all your muscles, you can do that as well!
If I haven't made it clear yet, the Teeter Power10 elliptical rower is the best workout machine money can buy. It is a durable, well-made machine that will give your muscles superb workouts and burn calories like nothing else can.
If I could only buy one machine and never use any other, I would choose the Teeter Power 10, so it's the hands-down winner for me!
Couldn't Find What You Were Looking For? Click Here!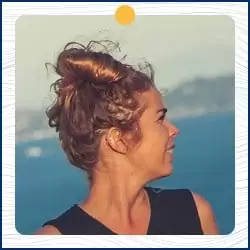 Written by Petra Amara – RowingCrazy.com
CEO & Founder of RowingCrazy, National Rower, Coxswain Womens Eight Team, Rowing Coach & Writer
Petra is a Mother of two and owner of Rowingcrazy.com. Petra lives and breathes rowing, she also has a passion for writing which lead her to start RowingCrazy.com to share her rowing experience and expertise with others.