Hi friends! My name is Petra, and if you've got a passion for rowing like me, then you are probably looking for the best piece of rowing equipment that money can buy.
There are lots of great indoor rowing machines out there, so how do you know whether the one you've chosen is not only the best but also the best choice for you?
| Our Top Picks | Rower | Price |
| --- | --- | --- |
| Teeter Power 10 Elliptical Rower | | |
| Hydrow | | |
Teeter Power 10 Elliptical Rowe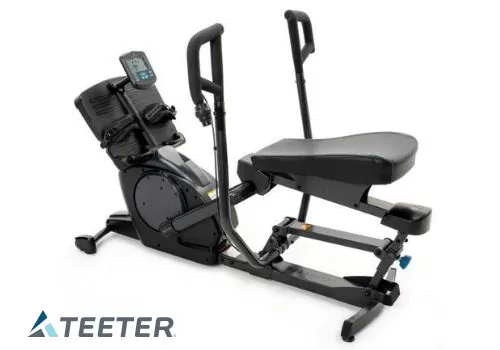 Hydrow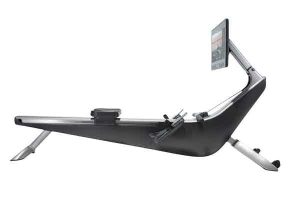 First, you read everything you can find about several machines. Second, listen to what experts say of your chosen machine.
Last, try it out in your own home gym. If a rowing machine company isn't willing to let you try out the machine, look for something else.
Today, I want to tell you about the two most popular machines in the breakroom at Rowing Crazy – The Teeter Power10 elliptical rower and the Hydrow rower.
Get ready to be amazed by these two different but equally awesome exercise machines.
powered by Advanced iFrame. Get the Pro version on CodeCanyon.
If You're in a Hurry
If you've already done some reading, but you just want to know a few specs, this comparison chart should help.
Quick Comparison: Teeter Power10 vs Hydrow Rower
| | | |
| --- | --- | --- |
| | Teeter Power10 | Hydrow Rower |
| Monthly Subscription Price | None | $44 |
| Monitor Size | 5" LCD performance monitor | 22" HD Touchscreen |
| Max User Weight | 300 pounds | 375 pounds |
| Machine Weight | 180 pounds | 145 pounds |
| Bluetooth Enabled | Yes | Yes |
| Built-in Heart Rate Monitor | Yes | No but supports Bluetooth-enabled 3rd party monitors |
| Live or on-demand classes | Free training app | Yes, upon subscription |
| Resistance Type | Magnetic Resistance | Computer-controlled Electromagnetic Resistance |
| Overall Dimensions (inches) | 62.75 L x 37.5 W x 43.25 H | 86 L x 25 W x 47 H |
Hopefully, this chart has answered your first few questions regarding specs and features. For more details, please check our in-depth review below.
The Teeter Power10 Elliptical Rower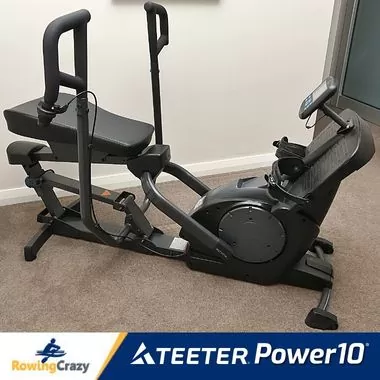 The words "elliptical" might be confusing to you, but once you see this incredible piece of exercise equipment in action, you'll understand perfectly.
The Teeter Power10 is unlike any other type of machine you'll see anywhere. It's more than a rowing machine, and it has a different twist from the usual ellipticals you'll find at the gym.
If you want a full-body workout but don't want the usual yadda yadda that you find most rowing machines offer, the Teeter Power 10 might be what you have in mind.
Most ellipticals are used while standing, but with Teeter, you sit down. The seat does more than just slide back and forth the way rowing machines do. This seat moves with your body, more like riding a horse (That's what it reminds me of!)
Unlike most rowing machines, there is no handle to pull, so to speak, but there are handlebars similar to what you would find on an elliptical. The multi-grip handles make a huge difference in your workout. You can change which upper body muscle groups you want to work on simply by changing your grip on the handlebars.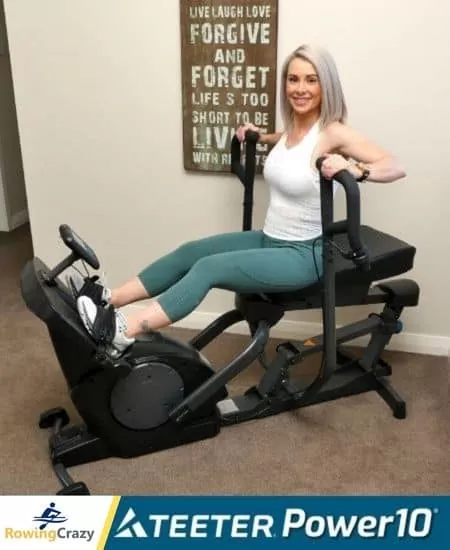 I love that this indoor rowing machine is super quiet and incredibly low-impact. There is no jarring to your knees or hips because the seat rolls with you, rather than jerks back and forth. The handlebars are padded and move so smoothly, you'll wonder if you're really working out. Until you start sweating, that is!
If you're on a tight budget, you'll probably love this – you don't need electricity and you don't need to pay a monthly fee. Seriously, who needs another monthly bill, am I right?
This means that you can roll your Teeter Power 10 anywhere you want for your workouts. Take it poolside, in your garden, or in the garage. You don't need electricity or internet to run this incredible machine.
While it's true that air rowers like Concept 2 also don't need electricity, boredom and noise is a huge consideration.
With a Teeter Power 10, you can say goodbye to boring workouts. Download the completely free Teeter Move app to your cell phone or tablet and get free workouts from trained professionals.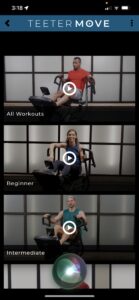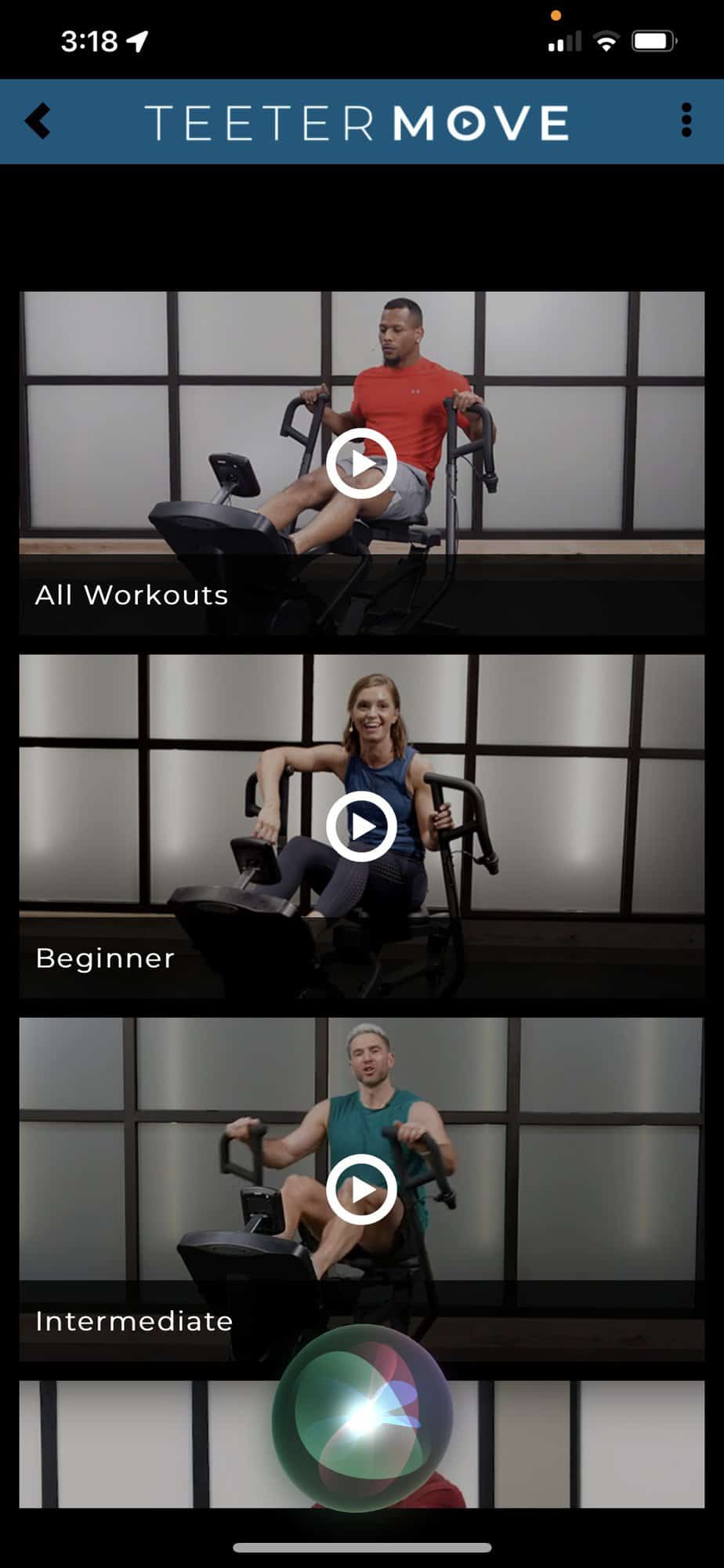 You can also set up this elliptical rowing machine in front of your TV and catch up on your favorite shows while you work out the different muscle groups of your body!
The Teeter Power is also incredibly quiet. You could literally have your baby sleeping in their crib near you, and they won't hear a sound!
There are seven super-smooth resistance levels to always keep you challenged, and the magnetic resistance system is so easy to control. Simply adjust the knob on the handle and you can take things up a notch. No stopping to move a lever, just twist the knob and you're done!
Don't believe me- check out Rachael Taylor using the Teeter Power10 in this short video:
powered by Advanced iFrame. Get the Pro version on CodeCanyon.
Who Should Buy the Teeter Power10 Elliptical Rower?
I think nearly everyone will love Teeter Power10. It's an incredible full-body workout but is so low-impact that those who have bad knees, low back pain, or other injuries will find this elliptical machine easy on their joints.
The Teeter Power10 elliptical machine/rower will probably appeal to anyone who:
Has been injured or is prone to injuries (such as tendonitis or if you suffer from arthritis or bad knees)
Isn't really interested in a high-tech machine
Needs or wants a piece of fitness equipment that has no monthly fees
Wants a free training app
Wants the convenience of Bluetooth capabilities (using your own headphones, for example)
Needs an indoor rowing machine that is quiet
Wants a beast of a workout
Just because you are sitting down doesn't mean that you won't be sweating. Check out Rachael Taylor in the video above. She's an Olympic medal winner, and she's already breathing hard after just a minute!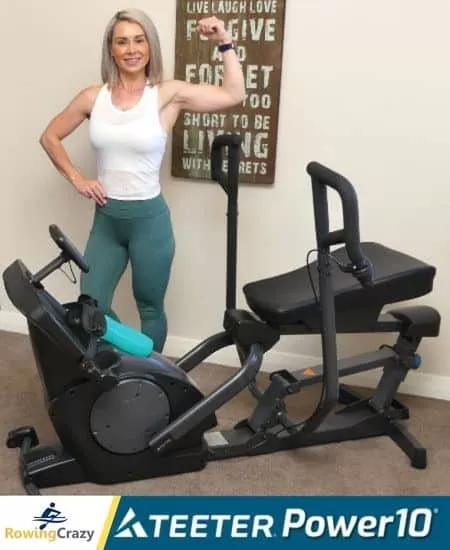 You'll no doubt love the Teeter Power10 elliptical rower, and Teeter believes in their product so much that they offer a free 60-day in-home trial. If you decide that this fitness machine isn't right for you, send it back at no charge!
Really, it doesn't get much better than that, now, does it?
Who May Not Like the Teeter Power10?
I can't imagine anyone not liking this elliptical rower, but I suppose there are a few things you should know before you buy:
There are no live or on-demand workouts. If you want an indoor rower with those types of workouts, check out the Hydrow.
If you are interested in something that feels more like rowing than elliptical, you will probably be happier with the Hydrow.
While Teeter does have wheels and can be moved, it's still quite bulky.
The two-year warranty seems a bit skimpy. I think Teeter should up their game here and offer something more like 5-years.
Check out the Teeter Power10. You won't regret it.
If a more conventional rower is what you've got in mind, then hold on, my next review is right up your alley!
The Hydrow Rower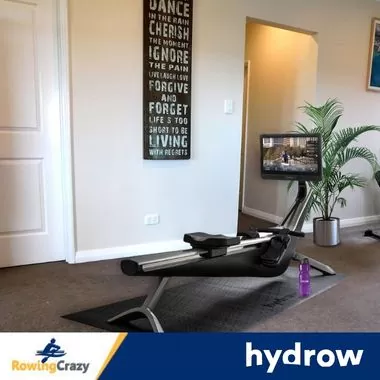 I've owned a Hydrow for a few years now, and I'm just as crazy about it as I was from the first time I used it!
Hydrow is now the gold standard when it comes to rowing machines. I know people used to say that it was the "Peloton" of rowing machines, but since Peloton has come out with its own rower ( read more on Hydrow vs Peloton ), I'm going to change that phrase to "the gold standard" because Hydrow even has Peloton beat.
If you want a piece of exercise equipment that feels more like a traditional rowing machine, you'll want Hydrow.
Rowing expert Max Secunda's Hydrow Rower Review:
powered by Advanced iFrame. Get the Pro version on CodeCanyon.
This rower uses state-of-the-art electromagnetic resistance that no other rowing machine can match.
Traditional rowers can't hold a candle to Hydrow because it is truly a great machine that will burn calories and work your entire body while keeping your mind engaged.
I love how the software on the monitor is so easy to use. My grandkids are all under 10 years of age and have no problem navigating their way around the programming!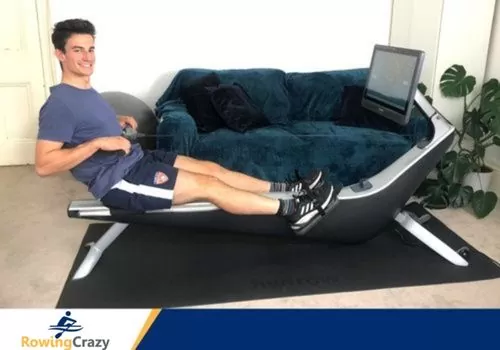 Hydrow is perfect for all fitness levels and even has classes for beginners, so if you have zero rowing experience, that's OK, you can learn as you row with Hydrow!
In addition to those full-body workouts and high-intensity interval training you'll get from top-notch instructors, there are also off-the-rower workouts, including yoga, Pilates, and strength training.
Like the Teeter Power10 elliptical rower, the magnetic resistance on Hydrow is super quiet. All you will hear is your own heavy breathing!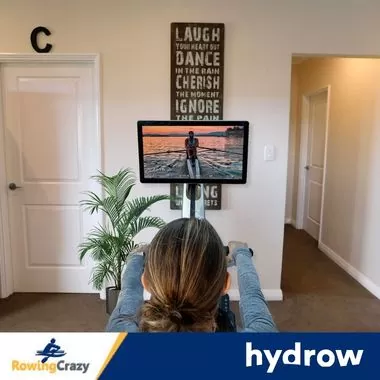 My favorite features of the Hydrow rower include:
The ginormous 22-inch HD touchscreen monitor – it's so impressive that you may forget you're in your home gym, and you may start to think you really ARE on the water!
Bluetooth capabilities – it means you can use your own heart rate monitor, fitness devices, fitness watches, and headphones!
Amazing scenery – I never get tired of all the different workouts on some of the most beautiful waterways in the world!
Computer-controlled resistance – unlike the typical adjustable resistance levels that you will find in traditional rowing machines, Hydrow customizes workouts to your fitness level and will automatically adjust the drag as you improve.
The 5-year warranty is one of the best in the industry.
There is so much more to this rower than meets the eye! Watch the video above and see our own Max Secunda demonstrate how to use a Hydrow rower. He "borrowed" one of ours, and I don't think I'm ever going to get it back!
Who Should Buy the Hydrow?
Like the Teeter Power10 elliptical rower, I'm sure that anyone who uses a Hydrow will love it, but the following people will probably get the most use out of it:
If you or anyone in your household needs a maximum weight capacity of 375 pounds
If you want an indoor rower that will help you reach your fitness goals
For anyone who gets bored easily, the Hydrow programming is the ultimate when it comes to motivating and fun
Those who need a quiet machine will appreciate the nearly silent magnetic resistance of Hydrow
Those who are interested in a real-life rowing experience and hate studio or boutique-type rowing classes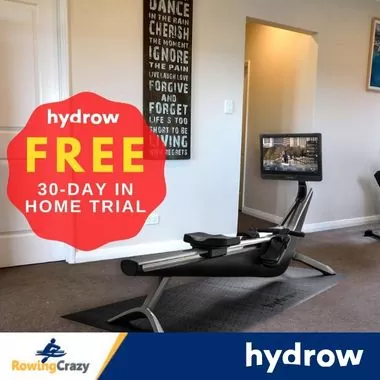 I know that there are lots of indoor rowers out there, but nothing comes close to Hydrow. In fact, Hydrow is so sure that you will love their product once you try it that they offer a free 30-day in-home trial.
If you don't think Hydrow is the right machine for you, simply return it for a full refund. Trust me when I tell you that you don't just want a Hydrow, you NEED a Hydrow rower in your life!
Who May Not Like Hydrow?
This is like asking who doesn't like ice cream? Is there anyone in the world who doesn't like ice cream?! OK, maybe there is.
Consider these things before you buy the Hydrow rower:
The awesome workout programs are NOT FREE. The Hydrow membership subscription is currently $44 a month (read more on how to use Hydrow without subscriptions ). Now you can have everyone in your household share the cost since you can make unlimited profiles, and you can get a small break by paying for a year in advance, but unlike the Power10 elliptical rower, this is not free.
Hydrow can be stored against a wall, but that requires the wall mount kit, which is also not free.
Hydrow is addictive. You may find yourself skipping Netflix or Girl's Night Out, or even calling in sick to work. No, I'm not kidding.
Other rowing machines simply can't compare to the Hydrow, try as they may.
Which Machine Is Better?
Wow. I knew I would have to make a choice, and I really can't.
There are things to love about both machines, which makes it really hard to choose.
Because I get bored rather easily and have a true passion for all things rowing, I would have to choose the Hydrow if I could only have one machine.
That doesn't mean that the Teeter Power10 elliptical rower isn't worth the money. It's much less expensive than Hydrow, which is a big selling point, and there is no monthly fee.
If price is an issue, or you don't want yet another monthly charge, go with the Teeter Power10 elliptical rower. You won't regret buying this for one minute! (And if you change your mind, you can always return it!)
You won't find another elliptical rower anywhere, and I know that this machine is worth every penny.
That being said, I'm hooked on my Hydrow. The smooth rowing action reminds me very much of what it feels like to row on the water. It's quiet, it's beautiful, and the programming sets it apart from the crowd.
No matter which one of these awesome machines you decide to try, I know you are going to wish you had bought one sooner.
Life is short, so stay happy, and have fun rowing, friends.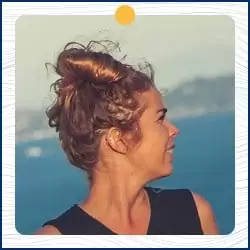 Written by Petra Amara – RowingCrazy.com
CEO & Founder of RowingCrazy, National Rower, Coxswain Womens Eight Team, Rowing Coach & Writer
Petra is a Mother of two and owner of Rowingcrazy.com. Petra lives and breathes rowing, she also has a passion for writing which lead her to start RowingCrazy.com to share her rowing experience and expertise with others.