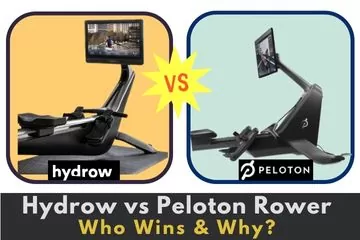 One of the biggest issues in modern life is trying to find time to accomplish everything you need to and having time for the things you want to do.
This is why fitness machines, such as the Hydrow rower (Click Here to Read Our Full Hydrow Rower Review) and the Peloton bike are so popular. Now that Peloton has come out with its own rowing machine, you might wonder which of these rowing workouts offers the better experience.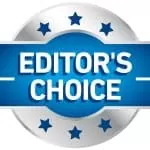 In a Hurry? Here are the Rowers We Are Comparing:
Are you short on time and want to know which rower is the best rower between Hydrow or Peloton Row then click on the links below to get straight to our answers:
*We review fitness products impartially and may earn a commission from affiliate links. For details see our disclosure page.
To help you make an informed decision on which rowing machine to purchase, we have conducted a thorough evaluation of each machine, which we will share in detail in the upcoming sections of this article.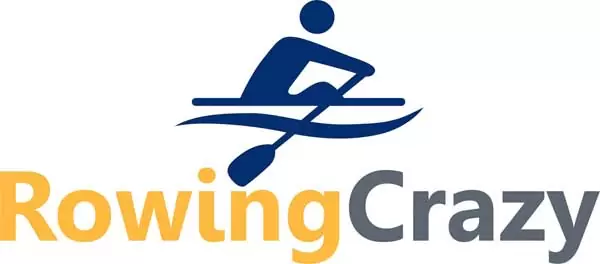 These machines are designed differently, but both will get your heart pumping and give you a full-body workout from the convenience of your home.
Let's take a look at Hydrow vs Peloton Row and see which is the better option.
While gyms are nice, they certainly have a great many problems, such as driving in traffic, trying to find a place to park, and waiting for your turn for a machine. Worse yet, you pay for classes only to get held up at work or by bad weather, turning your drive into a nightmare so you don't get to class on time, if at all. Ugh.
In a Rush – The Winner Is…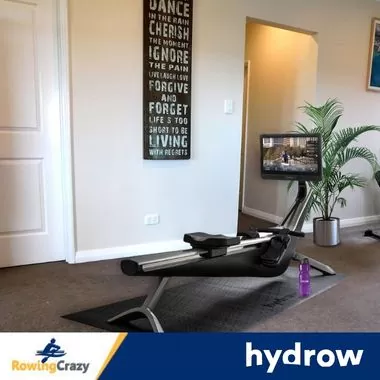 Having a fitness machine at home can give you the same workout experience you get from a gym but within the privacy of your own home. No parking meter and no smelly locker rooms.
Now comes the hard part—which machine gives you the better buff body for your buck? Today, I'm going to give you the facts about both the Peloton Row and the Hydrow rower so you can make a more informed decision about which workout machine would be best for you.
Quick Comparison Chart: Hydrow Vs Peloton
For those in a hurry, check out this quick comparison chart:
Hydrow

Peloton Row

Resistance Type

Computer controlled magnetic resistance

Electromagnetic drag

Overall Dimensions

86" L X 25" W

96" L X 24" W

Storage Options

Can be stored vertically with the optional upright storage kit

Can be stored upright

Screen Size

22-inch HD touchscreen

23.8 HD touchscreen

Swivel Screen

Yes

Yes

User Weight Limit

375 Pounds

300 Pounds

Price
(Subject to Change)

$2,495

$3,195

Monthly Subscription Cost

$44

$44
Briefly, the differences between these two are that the Peloton is much longer, costs more to buy, has a lower maximum weight limit than the Hydrow, and requires a higher monthly subscription cost.
Speaking of the workouts, both these connected fitness machines offer a total body workout, but Peloton uses in-studio type of classes, while Hydrow offers on-the-water workouts.
Is Hydrow Owned by Peloton?
It's a question we keep hearing – Does Peloton own Hydrow?
No, Peloton doesn't own Hydrow. The Hydrow rower somehow earned the nickname "the Peloton of rowing machines". This made some people think that Hydrow and Peloton were connected to each other, but the truth is that they are distinct brands and companies.
Features of Hydrow Rower and Peloton Row
As I mentioned above, both the Hydrow rowing machine and the Peloton Row offer outstanding workouts designed to give you unique and rewarding workout experiences.
Let's look at the features that these exercise machines offer.
Hydrow Rowing Machine Features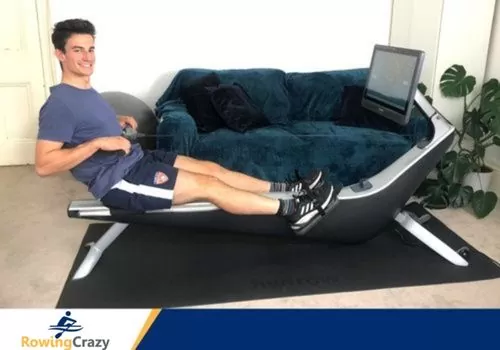 Hydrow SAVE $100 or £100!! => Use Coupon Code: ROWINGCRAZY
The Hydrow rower is one of the top-selling rowing machines on the market and for good reason. This is a high-tech fitness equipment designed for and by professional rowers to provide a multitude of much sought-after features.
Hydrow features include the following:
It uses a patented electromagnetic drag mechanism that is computer-controlled. This gives you the feeling of being out on the water.
Electromagnetic resistance means that the Hydrow rower is whisper-quiet, so you won't annoy your flatmates.
Its sleek design is so unique and beautiful you will want to show it off!
It has a small footprint when stored vertically, but it's so eye-catching you can let it sit in the center of your living room.
This machine comes with a 22-inch HD touchscreen monitor that gives you an unparalleled viewing experience.
The Hydrow rower is Bluetooth-enabled and has front-facing speakers so you can use your own headphones.
Its super-comfortable seat and 10-roller system mean you can glide through your workouts.
It supports thousands of workout routines and live and on-demand classes (learn more on Hydrow workouts here) taught by world-class professional rowers. You'll never be bored!
It is equipped with built-in Wi-Fi.
The Hydrow has wheels and an optional storage kit for space-saving upright storage. (If you are tight on space, be sure to read our best portable rowers article)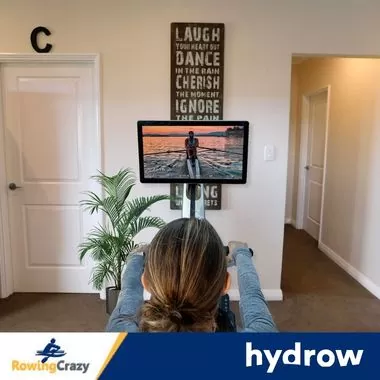 Wow. That's a whole lot of features for one rowing machine!
Also, I want to mention that Hydrow recently came out with what I like to call "Hydrow Light", or as Hydrow calls it, the Hydrow Wave. This indoor rowing machine is about 30 percent smaller overall, but you get the same great Hydrow workouts! Check it out below: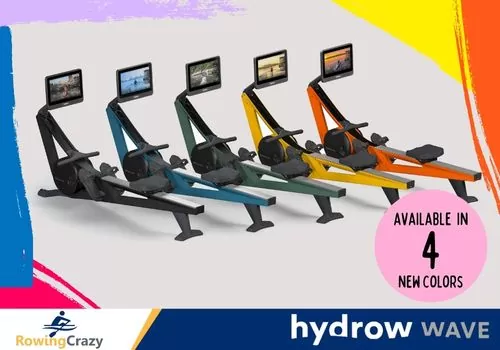 Learn more with our full video of the Hydrow Rower by Rowing YouTube Influencer Max Secunda:
Peloton Row Features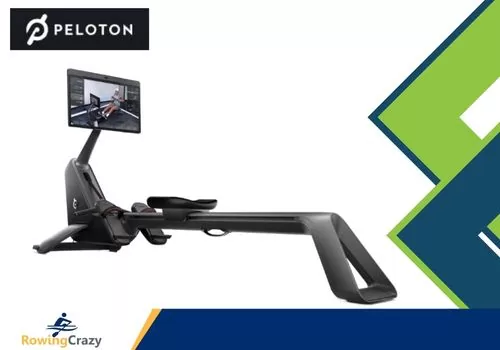 Peloton is the king of exercise bikes, so you know that their rowing machine is going to be equally impressive. Some of the top features of the Peloton Row include:
The rower is quite long, coming in at 96 inches, but this is good news for those who are well over 6 feet tall
It provides a fully adjustable seat, handlebars, and monitor.
The monitor measures 23.8 inches, making it slightly larger than Hydrow's.
Peloton membership offers world-class instructors in a studio environment, similar to their treadmills and exercise bike workouts.
Peloton offers "Form Assist". By using sensors in the seat and handlebar, the rower can tell you if you are not performing the strokes correctly. After each workout, you will see data showing how much of the workout was spent using the correct form. This will be very helpful for beginners.
It is Bluetooth-enabled so you can connect your headphones or heart rate monitor while you work out.
It offers a complete on-demand library of workouts led by top instructors.
Users can compete against one another in live and on-demand classes.
There are speakers on the front and back of the tablet, which means improved sound quality.
Scenic rowing is available for times when you don't want an instructor.
The leaderboard allows you to see how you compare with the Peloton community and/or your friends.
Peloton has one of the biggest fitness communities, so you know you will find support from an online friend, which is important to some people.
The Main Differences: Hydrow Rower vs Peloton Row
Let me get into more details about the main differences between these two excellent pieces of home gym equipment.
The Hydrow rowing machine simulates a true-life rowing experience, offering live and on-demand on-the-water classes with ex-Olympic or national rowing champions. Not many rowing machines can offer that! Peloton streams studio classes. If you have a strong preference for one over the other, then your choice is clear.
The Peloton has a nearly 24-inch digital HD monitor, whereas Hydrow offers a 22-inch HD touchscreen display that is sweat and dust-resistant.
The Hydrow uses electromagnetic resistance, while Peloton uses variable magnetic resistance. That makes these rowing machines super-quiet!
The Hydrow connected rower imitates and feels more like a real-life rowing experience; the Peloton doesn't duplicate that. If you want to feel like you are really rowing, you'll want the Hydrow experience. If you prefer working out in a gym-type setting, you'll prefer the Peloton.
The Hydrow has front-facing speakers, the Peloton has both front and rear-facing speakers.
Hydrow will allow you to use the rower without the monthly subscription fee of $44. You can use the Just Row option so at least you don't have a giant paperweight if for some reason you find you can't pay for the subscription. The same is true with Peloton Row. Without the All-Access subscription of $44 per month, you can still use the machine with its stripped-down content, which are two prerecorded classes and the Just Row feature.
The maximum user weight limit with Peloton Row is only 300 pounds, which is surprising. One would think that a high-end machine would at least match the majority of other brands of connected rowing machines. Hydrow and Hydrow Wave offer a maximum user weight of 375 pounds. This is something to consider if you have a heavyweight in your household.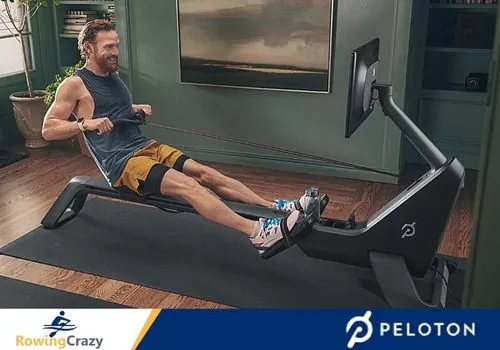 You may have heard that rowing is hard on the back, but this isn't really true. If you experience back pain when doing the exercise (or you know someone who does), it could be due to incorrect form and stroke execution. Watch some online classes to make sure that you're doing the strokes correctly. If you practice on proper form and not speed, you will find that backaches disappear. As for your speed, it will improve with time.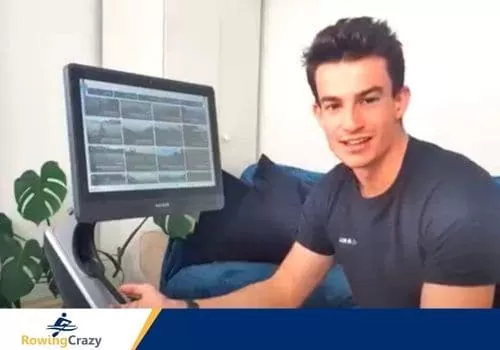 Hydrow and the Hydrow Wave offer classes for beginners to help you learn and improve your overall form while rowing. Peloton does offer Form Assist for beginners, but after a few weeks, you will find that you no longer need this option, which surely adds to the price of the machine.
Their Similarities
Before Peloton came out with their rowing machine, Hydrow was often referred to as the Peloton of rowing, and the reason for that is the "connected fitness" that both Peloton and Hydrow provide via live classes.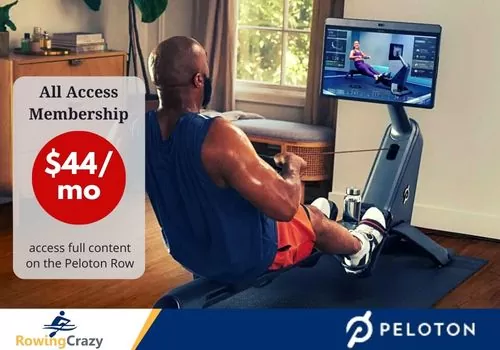 Some of the features shared by these two pieces of home gym equipment include:
Both Peloton and Hydrow offer a low-impact workout, so your joints are protected.
Each machine is a premium piece of equipment that is designed to last.
Both Peloton and Hydrow have on-demand workouts.
Each machine provides a terrific cardio workout and an invigorating workout experience.
A monthly subscription is required by both devices to access their workout library and other content.
Both rowing machines use magnetic resistance which offers a very quiet operation—something you won't get from air rowers.
You'll get terrific full-body workouts that will really up your game! Not just upper body workouts, not just lower body workouts, but a workout for your entire body!
Both Peloton Row and Hydrow offer a worry-free 30-day home trial.
If you're thinking that a rowing machine is a rowing machine, you haven't tried a Hydrow!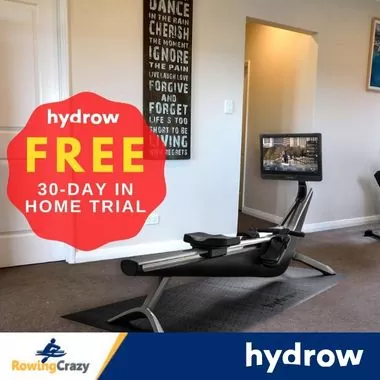 Try the Hydrow or the Hydrow Wave in your home free for 30 days, and if you think I've overhyped this machine, return it for a full refund.
That's confidence there, friends. Try the Hydrow for 30 days, and you'll agree that this rowing machine not only offers an authentic rowing experience but that it's as much fun as a barrel of monkeys. Or puppies. Or whatever you find super-fun!
Click Here to See the Best Low Impact Full Body Exercise Machine!
Is Rowing Better Than Cycling?
Everyone is different, and everyone has different likes and dislikes, but if you're looking for the best form of exercise, rowing wins.
If you are trying to decide between a Peloton exercise bike or a Hydrow rowing machine (or a Peloton rowing machine), there are some things you should know first.
Rowing works all the muscle groups of the body. Workout sessions when you're rowing break the effort down into 20 percent of the upper body muscles being exercised, 20 percent of your core muscles, and 60 percent of your legs, thighs, and glutes ( read more on muscles used in rowing ). This kind of full-body workout is something that an exercise bike can never match.
Spin classes are intense workouts, no doubt, but they only offer a lower-body workout. The same is true with treadmills, they work out only your lower body.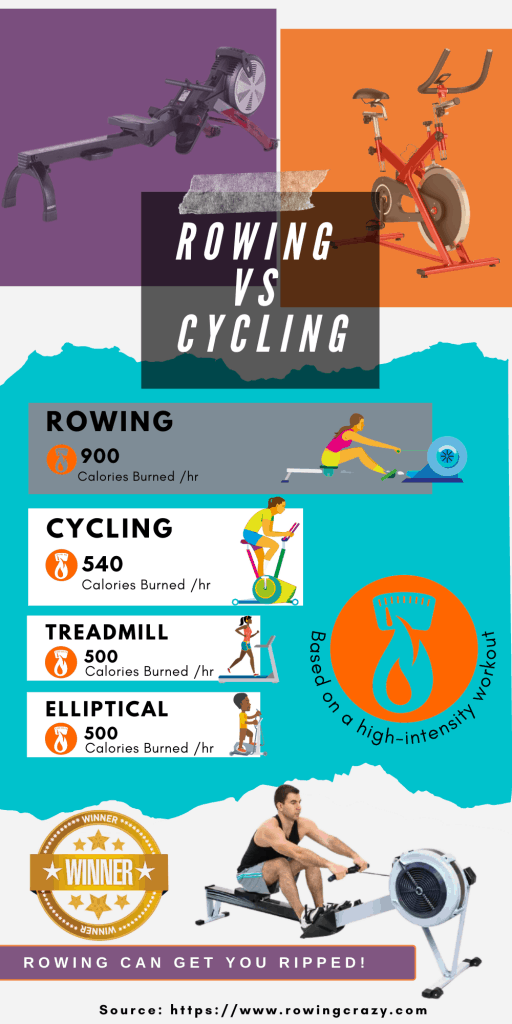 Even Peloton must have realized this, which is why they have jumped on the indoor rower bandwagon with the new Peloton Row.
If you're pressed to find time to exercise in your busy life, you should also consider that nearly all Peloton home workouts are 60-90 minutes long, including the Peloton Row. Compare that to the Hydrow rowing workout time of 30-45 minutes.
A better workout in less time?!
Let's also consider the number of calories burned. We've seen some numbers suggesting that in a 50-minute workout, you'll burn twice the amount of calories rowing than you will be cycling. I don't know about you, but that's enough to make up my mind right there!
Give me a rowing machine any day! I'm up for the challenge of a total body workout experience in my fitness space!
The Clear Winner
No one can deny that spinning classes, of which the Peloton bike is king, have become super-popular in the past decade. I doubt that is going away anytime soon.
However, once you look at the facts, it's plain to see that rowing comes out on top if you want to get that buff bod with less time spent working out.
Rowing will burn as much as two times the calories that cycling does, it works all the muscle groups at one time, and you get a better workout in a shorter amount of time.
So which is the better rowing machine?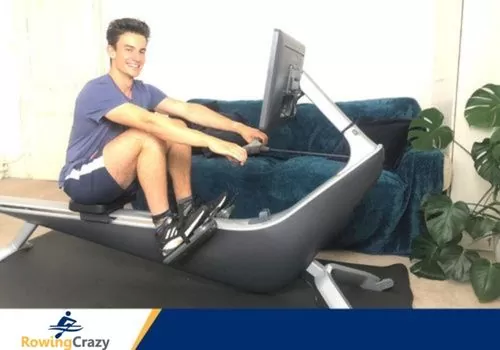 Hydrow SAVE $100 or £100!! => Use Coupon Code: ROWINGCRAZY
It's the Hydrow, no doubt. Hydrow and the Hydrow Wave offer you a unique rowing experience that nothing else can match, and you can get those 6-pack abs for far less money than the Peloton Row.
Rowing is the perfect workout. Whether you need something low impact, are recovering from an injury, or don't have a lot of time to work out, the Hydrow rower is the ultimate cross-training machine.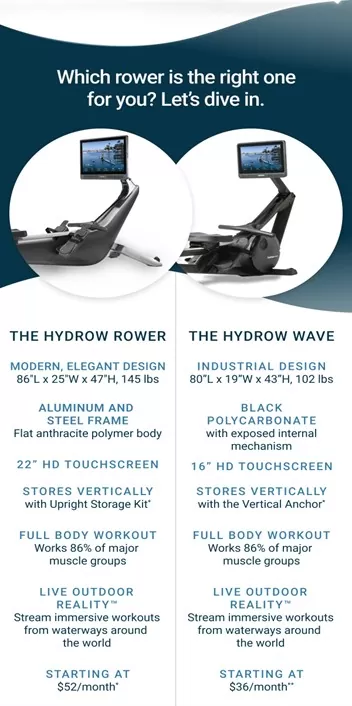 However, if you love spin classes, you'll love the Peloton exercise bike. If you prefer studio classes over on-the-water workouts, you should go with Peloton.
If you want to have a real love affair with your home gym equipment or get that buff bod quickly and do it in a shorter amount of time, you'll want to check out the Hydrow or the Hydrow Wave rowing machine (click here to see finance options).
I've never met anyone who didn't love their indoor rower, and with all of Hydrow's advanced features, you can bet you'll be loving the benefits your indoor rower will bring you.
Stay active and healthy, friends, and happy rowing!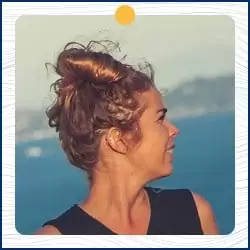 Written by Petra Amara – RowingCrazy.com
CEO & Founder of RowingCrazy, National Rower, Coxswain Womens Eight Team, Rowing Coach & Writer
Petra is a Mother of two and owner of Rowingcrazy.com. Petra lives and breathes rowing, she also has a passion for writing which lead her to start RowingCrazy.com to share her rowing experience and expertise with others.