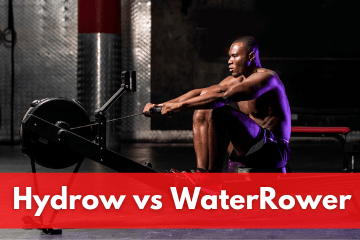 Are you in the market for top-of-the-line and smart rowing machines? I'm telling you straight away that nothing beats Hydrow in giving you the most exhilarating water rowing workouts through instructor led, live outdoor reality technology.
If you've looked around, you would know that there's not a lot of rowing machines capable of providing the same immersive rowing workouts. In other words, you don't have a lot to choose from. While Concept2 has earned its reputation as the gold standard of rowing, Hydrow has taken it a notch higher by becoming the Peloton of rowing.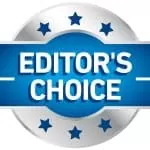 In a Hurry? Here are the Rowers We Are Comparing:
Want to know which rower is the best between Hydrow or WaterRower but don't have time to read the whole article? Click on the links below to get our answers:
*We review fitness products impartially and may earn a commission from affiliate links. For details see our disclosure page.
We've conducted a thorough evaluation of each rowing machine to help you make an informed decision on which one to purchase. Our findings are shared below in greater detail.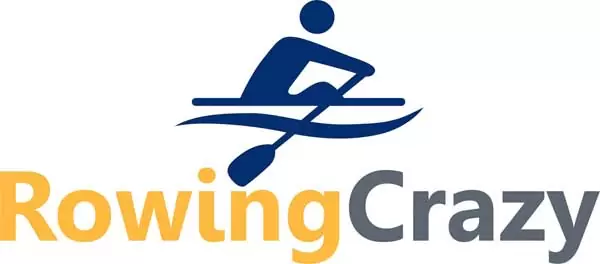 Let's Dive Right In!
From here, you'll see that I'm all for Hydrow for all the aesthetics and unique experience it offers, but that doesn't stop me from showing you a couple of other possible options that will cost you less.
Side Note: You might like to read my Peloton vs Hydrow Article
Your first one is WaterRower Club S4, which provides an authentic water rowing experience. WaterRower also has a strong competitor for Hydrow's on demand workouts and HD touchscreen via the Ergatta indoor rower.
On the other hand, if you're on a budget, a worthy opponent to both higher-priced rowers would be the SF-RW5713 from Sunny Health and Fitness. I promise you'll get more utility for your buck with this one.
So whether you prefer the premium live and on demand offerings of Hydrow, the authentic water rowing experience of WaterRower S4, or the value-for-money package in the Sunny Fitness rowing equipment, you'll get the lowdown here.
Plus, I'll also give you a few things to think about with the Ergatta. In terms of high-tech on demand workouts, it's the closest thing to Hydrow for a couple hundred bucks less. So let's get you thinking fast!
Is Hydrow a Water Rower?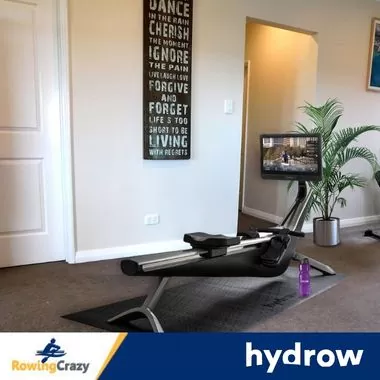 Hydrow SAVE $100 or £100!! => Use Coupon Code: ROWINGCRAZY
Hydrow rowers are electromagnetic resistance rowers with 300 computer-controlled resistance levels to suit users, whether beginner rowers or highly skilled athletes. In short, it is not a water rower, but it provides 1000+ prerecorded videos to inspire you as you immerse in river and studio rowing workouts.
RELATED POST: The Hydrow Upright Storage Kit
All these on top of the live and on demand programs that you get with world-class instructors via a monthly subscription. So what's stopping you? Enjoy a new experience every day on the best rivers around the world without leaving your home gym!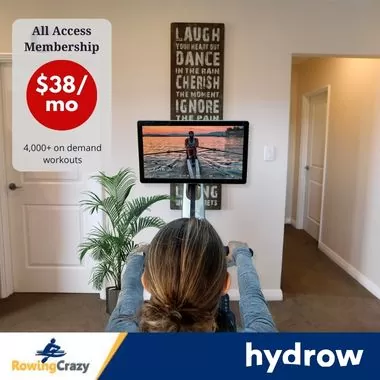 Rowing sometimes gets so boring that it can be an uphill battle to your basement, but Hydrow has changed all that. So if you can afford it, it should be your top choice. Many husband and wife duos use it to their great fun and satisfaction. Come to think of it, if you buy one and use it with someone, you can split the cost and get the same experience at half the price!
Need to Know More? Read Our Full Hydrow Rower Review

If you have more questions about the Hydrow, check out our full Hydrow Rower Review where we go into a lot more detail about this machine and answer all your questions in much more detail with even more videos & pictures!
Watch our full video below of the Hydrow Rower by Rowing Expert & YouTube Influencer Max Secunda:
Hydrow vs WaterRower: What's the Better Rowing Experience?
I do believe that Hydrow gets the vote for an unparalleled and highly-motivating experience. However, if you're looking for actual water rowers with that authentic water feel, I strongly recommend the WaterRower Club S4.
Check Price
This workout equipment is handcrafted and made from solid ash wood. Enclosed in the water tank is a flywheel that simulates actual water rowing, with swishing sounds to boot, to complete your rowing workout experience. Its performance monitor S4 keeps track of your performance information, including heart and stroke rates and workout intensity.
Another option with similar construction to the Club S4 is the Ergatta, which is actually a gaming-inspired platform built on a WaterRower. Going for Ergatta will give you an immersive experience closest to Hydrow. It uses water resistance and has a 17.3-inch HD display touchscreen for viewing workout programs and your performance information.
In the Hydrow vs WaterRower debate, there really is no wrong answer since both can provide you with the health benefits of a good rowing exercise, just like the Concept2 and even the inexpensive rower that I'm going to talk about in the next few sections below.
Water Rowing vs Hydrow's Drag Mechanism
All the fitness equipment options I've mentioned so far share similarities and differences. They're the same in that they all help you attain your fitness goals, yet they differ in many aspects. One area where they differ is in the type of resistance or drag system that they employ to make your workout so much more meaningful and productive.
Another model worth mentioning is one from Sunny Health & Fitness- the SF-RW5713. If you want the best value water rower, then go no further, this is the absolute best if you're on a tight budget. It is sturdily built and uses 16 hydro fan blades inside the water tank to create resistance.
This Sunny Health & Fitness workout machine is made from aluminum and steel. It has non-marking rubber feet and a weight capacity of 300 pounds. Its fitness monitor tracks your total time, strokes per minute, calories burned, and other workout metrics.
The WaterRower Club S4, Ergatta, and SF-RW5713 use a water resistance mechanism, which is similar to the drag in an air rower in the sense that it is self-regulated and infinitely variable. The advantage of water rowers over air resistance rowers is that they operate more smoothly and quietly. They also provide a more authentic drag than what magnetic resistance rowers offer.
Rower V's Stairmaster – Click to See Who Won!
In comparison, the electromagnetic drag used by Hydrow is computer-controlled, so it will not feel as authentic but may actually give you a better workout than the Ergatta or similar water rowers. Its unique instructor led rowing workout programs will have you dripping sweat in no time. Not only that, its countless online workout resources, whether live or recorded, plus the metrics tracking on the HD Touchscreen are undoubtedly more motivating than anything I've seen.
Click Here: Water V's Air – Who Won?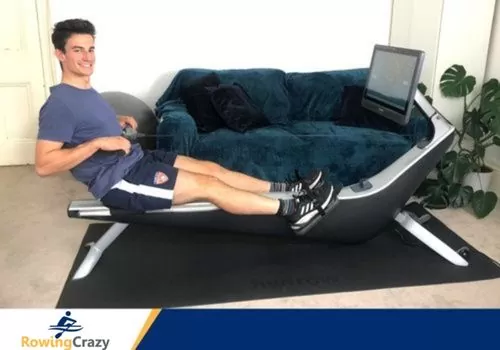 Hydrow SAVE $100 or £100!! => Use Coupon Code: ROWINGCRAZY
The Key to Choosing the Best Rowing Machines
The rowing machines you've seen featured here are all designed to give you the best home workout you can ever get. Whether it's a WaterRower, Ergatta, Concept2, SF-RW5713, or other models, the training and advantages you gain will be similar as long as you put in the work that's needed.
Any home workout equipment that gathers dust in a corner will be useless. In short, choose the equipment that will motivate you to never miss out on your workouts.
And this is the reason why Hydrow is steps ahead.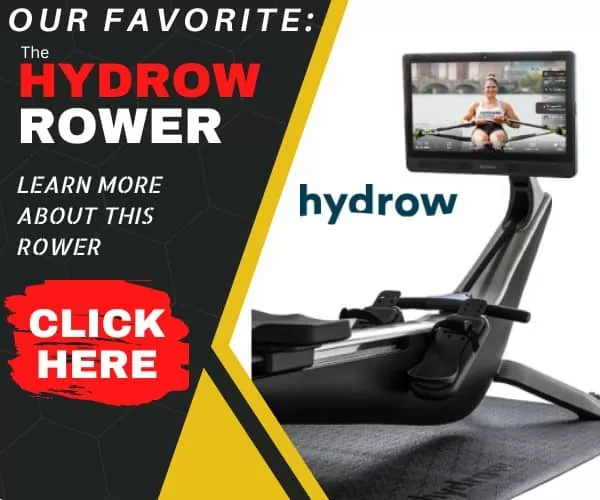 In my opinion, it is Hydrow's ability to provide the motivation that has captured the market. Its live and on-demand workouts, 22 inch HD screen and performance monitor, and high-quality resistance mechanism all combine to keep you coming back for more every single day. No wonder people feel like it is the Peloton of rowing. This rowing machine has no doubt redefined the whole idea of an indoor rowing workout.
The Ergatta water rower is catching up in this special niche that adds motivation to the design of rowing machines. Yet between the two, it's still Hydrow that provides the better rowing experience.
TRENDING POST: Ergatta vs. CityRow Go
Which Is the Best Rowing Machine to Buy?
Rowing machines are the best pieces of fitness equipment to use for the most effective workout, there's no doubt about that. Whether you choose the elite Hydrow or the inexpensive Sunny Fitness indoor rowing machine, the benefits will be similar. As long as you do your part, that is.
That's how each rowing machine differs from the other. The kind of workout experience they offer distinguishes them from other brands and gets you more committed to your regimen.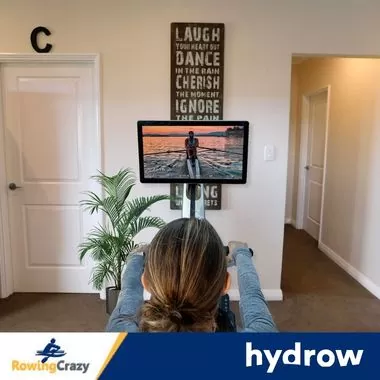 What I'm saying is that the perfect rowing machine for you to buy should be the brand and model that you will be inspired to use on your workouts for a long time.
So how do you decide which rowing machine to buy?
Just like what you did, you've narrowed down your choices to Hydrow vs WaterRower and a few other rowing machines, maybe even including Concept2 in your choices. With fewer options in mind, you should then check each for their specs, including materials used for construction, comfort and ergonomics, maximum weight capacity, monitor for the heart rate and other metrics, drag system, and warranty. Of course, you should also consider the price tag of each rowing machine.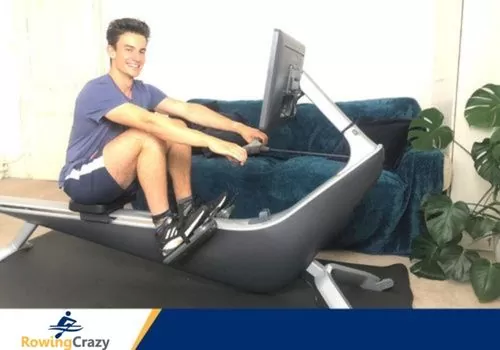 Next, take note of the aspects where they differ and which one works for you better. For instance, the Hydrow features a touchscreen display and a Hydrow app. If these features are not significant to you, then they should not count as Hydrow's edge over the others. If they do, however, then those should be added to the points.
Do this for each rowing machine in your shortlist until you've decided on your winner.
So Who's the Winner?
It's clear who the winner is in this comparison, but let's see how the contest was won and lost.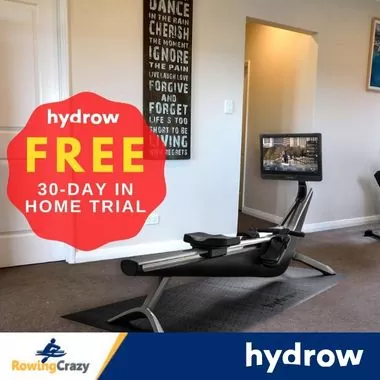 Hydrow SAVE $100 or £100!! => Use Coupon Code: ROWINGCRAZY
Hydrow is in a league of its own; that's quite obvious. Even with the Ergatta in the picture, the Hydrow still wins. It's the rowing machine that you will never be bored using for your workouts every single day. While it's true that Concept2 has an online ranking functionality that keeps athletes on their toes, it cannot be denied that not all users will have the same competitive spirit.
On the other hand, there's the WaterRower, but it's not even close. It does provide the authenticity and serenity of rowing on water, but like the Concept2, it's seriously lacking in excitement and variation that the Hydrow workouts are known for.
Like I've said, the Ergatta rowing machine comes close with its live and on demand program, yet it still falls short of the standards set by Hydrow.
RELATED POST: The Hydrow vs. Concept 2
What if you're on a budget?
Then I highly recommend the Sunny Health & Fitness water rower. It gives you the best value for money – the same workouts at a fraction of the price. While it does not have the entertainment and extra boost that either Ergatta or Hydrow offers, it will also not cause a hole in your pocket.
So from the mid-priced to high-end price spectrum – and here, we've looked at the WaterRower and even gave the Ergatta and Concept2 some thought – we can conclude that Hydrow by far excels the other home rowing machines.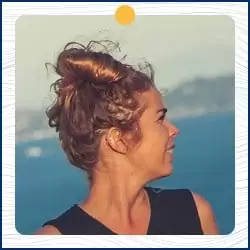 Written by Petra Amara – RowingCrazy.com
CEO & Founder of RowingCrazy, National Rower, Coxswain Womens Eight Team, Rowing Coach & Writer
Petra is a Mother of two and owner of Rowingcrazy.com. Petra lives and breathes rowing, she also has a passion for writing which lead her to start RowingCrazy.com to share her rowing experience and expertise with others.