Hi friends! Today, I want to talk about all things Hydrow.
You might be considering buying a Hydrow but wonder if the workout programs are everything you've read about. Well, let me tell you this – I actually own a Hydrow, and I think it's the best rowing experience in the world!
You might also wonder about the machine itself. Is it really as good as people say?
This article will give you the complete rundown on what Hydrow is about, and why it has rocked the world of rowing machines.
Is Hydrow a Good Full-Body Workout?
Rowing machines, in general, offer a fantastic full-body workout used by Olympic athletes, athletes in other professions, CrossFit classes, and more.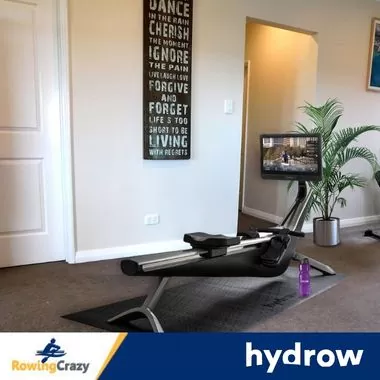 Hydrow SAVE $100!! => Use Coupon Code: ROWINGCRAZY
So what can the Hydrow rower give us that you won't find in other rowers?
Hydrow has taken rowing workouts to a whole new level with the immersive on-the-water rowing experience that you'll get when you join a live rowing session. Yes, it's live, filmed and broadcast right out of the water in real time.
It's a complete package, so aside from the live rowing, you can expect a whole lot more.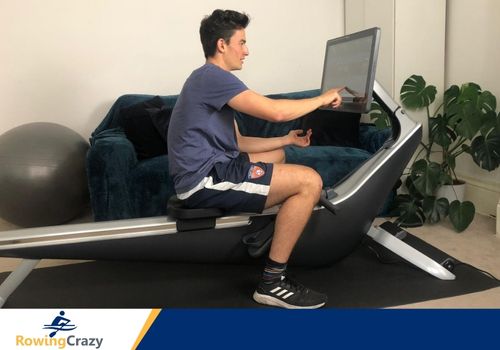 If you want to get sweaty and work your booty off, Hydrow has HIIT programs offering the most comprehensive workout plans you can imagine. The combination of high-intensity and low-impact training will give you the most results in the shortest time possible.
We're talking here about almost-daily live rows with some of the best athletes in the sport and thousands of on-demand row workouts in Hydrow's massive library.
Want to relax and still get in a good workout? Use Hydrow's unguided Journey workouts, where you can row at your own pace and listen to music or listen to the sounds of nature as you row on the most beautiful waterways the world has to offer.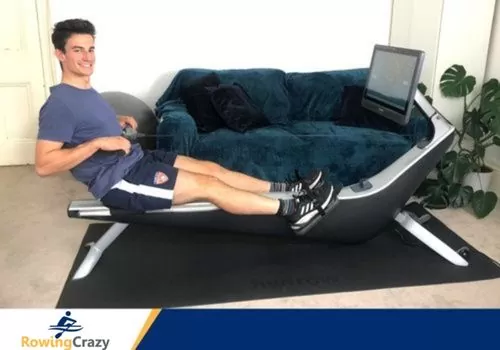 Want to improve your cardiovascular health? Want to build new muscle? Want a low-impact exercise that gives you a cardio workout and strength training in one? Hydrow's rowing classes can do all that and more.
Don't Forget to Protect Your Floor with your Rower – Click Here!
Does Hydrow Have Live and On-Demand Classes?
Not only do they have live and on-demand workouts, but Hydrow athletes are also the best in the business!
Some are former Olympic rowing stars, others are current US rowing champions. No matter what type of workouts you are looking for, Hydrow is sure to have them.
Learn more with our full video of the Hydrow Rower by our Experienced Erg Rower Max Secunda:
I love the camera action! You can see the other rowing members in the boat and the instructor will often tell you about points of interest ("If you look to the left, you can see the top of the Louvre") so you feel like you're really there with them!
All workouts are done on the water, and the Hydrow library of workouts is huge! I'm not sure how many workouts are there, but I would say at least a thousand.
When it comes to Hydrow rowing, you won't see any classroom settings because, well, those are boring, right?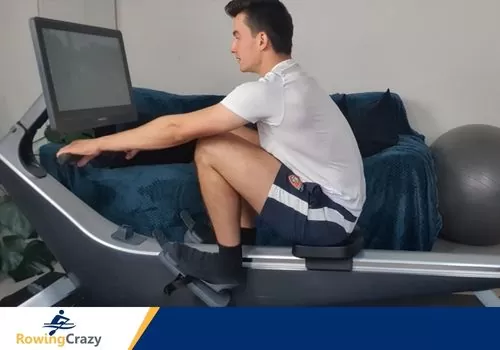 Hydrow SAVE $100!! => Use Coupon Code: ROWINGCRAZY
I want to see the water, the occasional bird swooping behind the boat, the trees and people walking near the river bank, and the sounds are all pretty amazing. I love the sound quality from the speakers, but you can also use your own Bluetooth-enabled headphones if you need a bit of silence.
You can't imagine how beautiful the scenery is until you see it in person, but this video will give you an idea.
Some people have called Hydrow the Peloton of rowing, but I personally think it's better than Peloton because there are no classrooms or studio-type settings. I mean, if I wanted to row in a class, I would just hit the gym, right?
How Long Are Hydrow Workouts?
Hydrow workouts vary across different levels, categories, and training types, ranging from 10 to 45 minutes long. For instance, Training Camp beginner level workouts are consistently 20 minutes per day. Intermediate level starts from 20 minutes, gradually increasing to 30-minute workouts per day, while advanced level workouts are 30-minute sessions that increase in difficulty over time.
Warmups and breathe exercises are typically 10 minutes long, while endurance sessions (called Hydrow's Sweat Workouts) tend to be the longest kind.
Does Hydrow Have Other Workouts?
Yes, they do.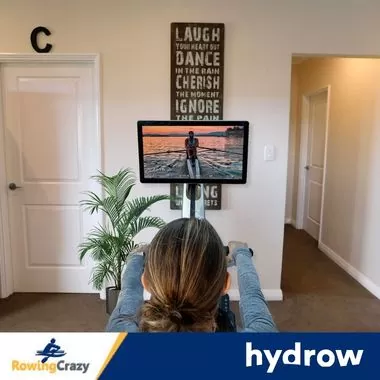 You can do off-the-rower workouts. The 22-inch HD touchscreen monitor tilts 15 degrees up or down, so you can move it for better viewing off of the rower.
Grab a yoga mat (or buy one when you buy your Hydrow) and you can choose from yoga workouts, Pilates, foam rolling, conditioning, and strength training.
Apart from the usual rowing setup, you can also join a racing team and become part of the big Hydrow community.
You will never be bored using the huge selection of workouts this rowing machine has to offer (this machine even made Oprah Favorite Things Gift List).
I also love how Hydrow will track your progress week after week. You will be amazed at how quickly you'll get up to speed and the coaches motivate you to keep going! Be sure to also check out my other article Hydrow vs Aviron as both rowers offer completely different workout options!
Learn How to Monitor Your Hydrow Workouts – Click Here!
What Other Exercises Can You Do with a Rower Besides Rowing Workouts?
Oh yes, you will be amazed at the other types of strength training workouts people do with their rowing machine.
While the rowing machine workouts are great cardio and you will build new muscle, sometimes you just want to do strength training, right?
If you don't own dumbbells or resistance bands, you can use your Hydrow to break a sweat.
If you stand and straddle the rower, you can access the handle to do an upper body strength training session and work those arm and shoulder muscles.
You can also sit on the seat and use only your leg muscles for some serious pushing that will remind you of bench presses.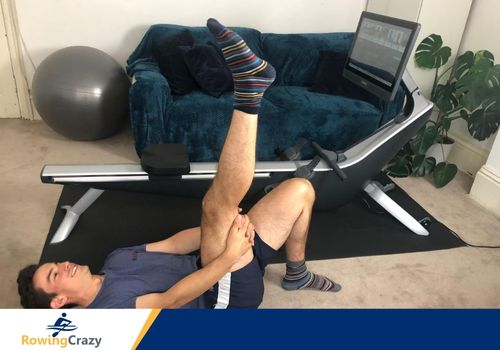 I've also seen people work on their core by kneeling on the seat, placing their hands on the floor, and pushing their bodies back and forth, sliding on the rails.
There really is no limit to what you can do with your rowing machine (read more). Use your imagination and the routine can be anything you can think of!
The Bottom Line – Is Hydrow a Good Workout?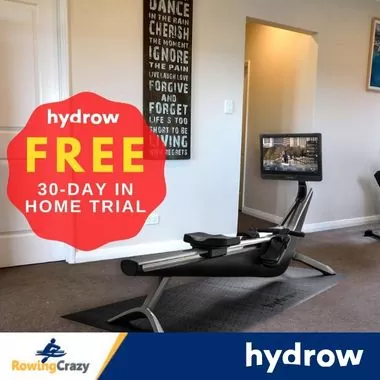 Hydrow SAVE $100!! => Use Coupon Code: ROWINGCRAZY

For anyone looking for a serious cardio workout and who wants to build muscles like athletes or lead a healthier life, you can't beat a rowing machine like Hydrow.
The Hydrow team goes to great lengths to ensure that your workout is everything you want it to be, without repeating the same old workouts.
You can expect to row, of course, but don't think that the Hydrow sweat-inducing workouts are the same boring workouts that you can find anywhere. The Hydrow instructors will give you the best workouts that your money can get you, and I can guarantee that you won't be disappointed.
Hydrow offers a free 30-day in-home trial on their equipment. If you don't think you get all the benefits of exercise in one incredible rowing experience, you can return it for a full refund. Just keep the box to ship it back in.
Try the Hydrow, and I bet you'll agree that this is the best working machine on the planet!
Stay safe and healthy friends! Happy rowing!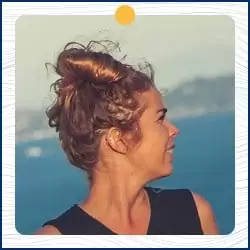 Written by Petra Amara – RowingCrazy.com
CEO & Founder of RowingCrazy, National Rower, Coxswain Womens Eight Team, Rowing Coach & Writer
Petra is a Mother of two and owner of Rowingcrazy.com. Petra lives and breathes rowing, she also has a passion for writing which lead her to start RowingCrazy.com to share her rowing experience and expertise with others.