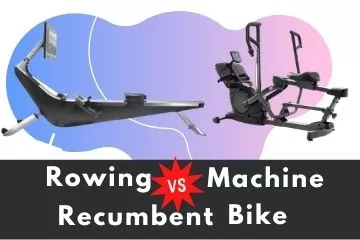 Isn't this a wonderful time to be alive? It wasn't all that long ago that a true full-body workout required you to own a farm and some farm animals to keep you physically active, but today, you can get a muscle-building cardio workout using nothing more than a piece of home exercise equipment.
You have probably seen a recumbent exercise bike and thought, "Wow! That's the exercise machine for me! Sit back and chill, baby!"
Well, that's not exactly the way recumbent bikes work. You can get a good cardio workout on a recumbent bike, and when it comes to painful joints, recumbent bikes are a terrific low-impact workout that really works the leg muscles.
How do recumbent bikes stack up against rowing machines? Oh, there is so much to talk about when comparing these two, and one is a clear winner.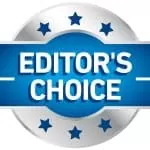 In a Hurry? Here are My Top 3 Picks:
If you're in a rush to discover the perfect recumbent bike or rowing machine for your fitness needs, take a look at my recommended choices:
In this article, I'm going to tell you which of these exercise machines gives a better workout, and which one will blast away that belly fat.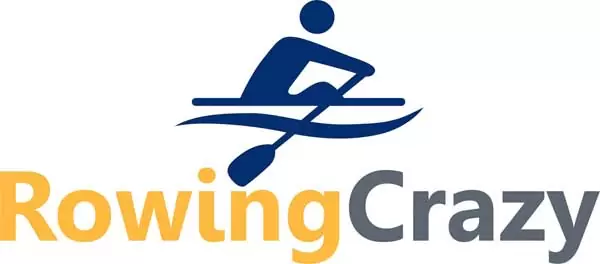 Recumbent Exercise Bikes
Like most exercise machines, recumbent bikes will vary between brands, and even between models of the same brand. Generally speaking, a recumbent exercise bike allows you to pedal the same way you do on a regular stationary bike, but you can sit as if you were sitting at your dining room table.
This sounds really terrific when you consider that many people can't use traditional exercise bikes or stationary bikes without significant pain. Recumbent bikes are a terrific choice for pregnant women and those who are obese, recovering from an injury, or suffering from certain medical conditions, such as arthritis, osteoporosis, or degenerative disc disease.
A recumbent exercise bike is a low-impact machine that allows you to sit and hold the handles near the seat while you work the lower body. The leg muscles are the largest muscle group in the body, so you will burn calories. However, you will also experience significant knee bending, which some people, especially those with knee injuries, may find uncomfortable.
Even semi-recumbent bikes can take on all the attributes of a traditional stationary bike without the back pain associated with regular exercise bikes.
Are Recumbent Bikes Good for Weight Loss?
In order to burn fat, your body must work at a certain intensity for at least 20 minutes. Recumbent exercise bikes are examples of cardio equipment that can help you with your weight loss efforts, but since the intensity they produce isn't as high as that of rowing machines, you won't lose weight as quickly.
Can You Lose Belly Fat on a Recumbent Exercise Bike?
Spot-reducing by exercising a certain area of the body is a myth. Exercises targeting a specific area of the body, such as crunches for the abs, will strengthen those muscles but won't burn off excess fat.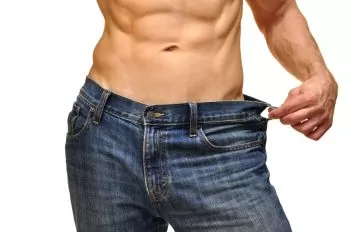 Regular cardio workouts on an exercise bike will help you lose weight. As mentioned earlier, you will need to work more intensely for longer with a recumbent exercise bike to burn fat.
Your body will determine which stored fat it wants to use first, but with time and consistent efforts, it will have no choice but to use fat stored around the belly as a source of energy. Regular use of an exercise bike will help you reach your fitness goals, as well as help the entire body with losing weight, not just belly fat.
Rowing Machines
Indoor rowing machines have been around for centuries. They are the best way to lose weight and get a whole-body workout in less time than what's provided by most fitness machines, including recumbent or regular stationary bikes.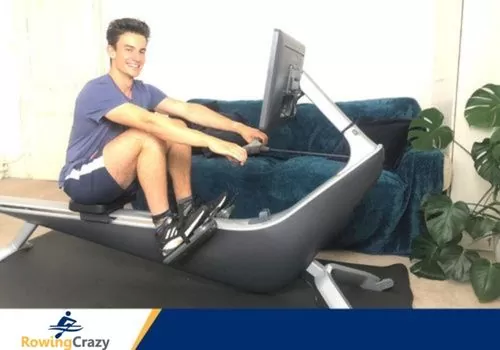 Hydrow SAVE $100 or £100!! => Use Coupon Code: ROWINGCRAZY
Like exercise bikes, rowing machines also provide a terrific workout for the lower body, but not only that. They work 86 percent of the muscles in the body, including abdominal muscles, back muscles, shoulders, and thigh muscles.
You will find that between these two machines, rowing will help you reach your fitness goals much faster than any type of stationary bike.
While rowing has a reputation for causing back pain, it's not the fault of the machine. You can avoid back problems with the proper form and technique.
For the most efficient workout on the planet, nothing beats a rowing machine.
Is a Recumbent Bike Better Than a Rowing Machine?
Remember that a stationary exercise bike works only the lower half of the body. To get a full-body workout, you will still need to do weight lifting or use some other type of fitness machine to work your whole body.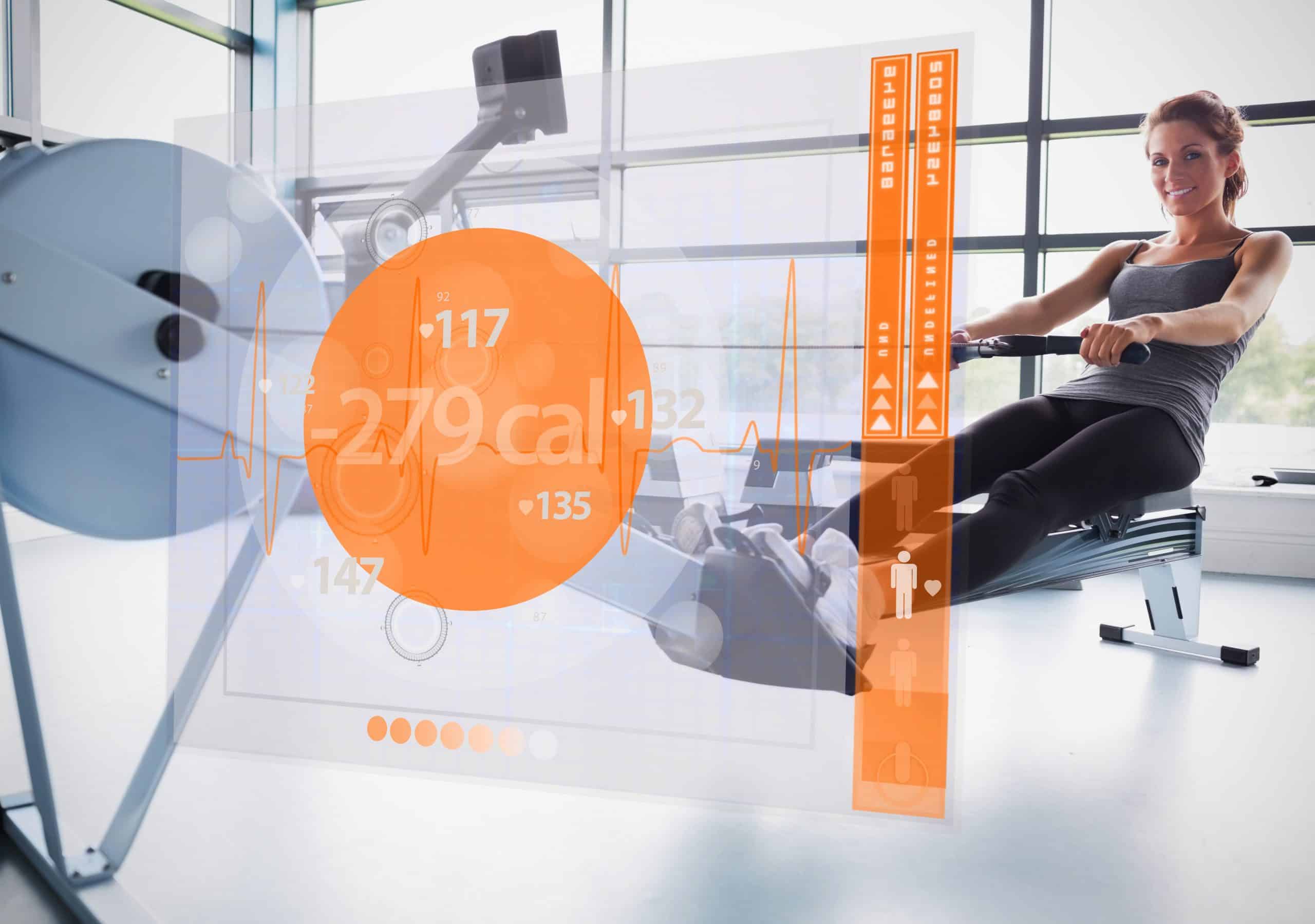 A rowing machine works 86 percent of the muscles in your body. This means that the energy expenditure you're putting out is burning more calories in a 30-minute session than you could ever burn using a stationary bike in an hour!
Burning more calories and working nearly all of the body muscles make the rowing machine the better choice in anyone's book!
Rowing Machine Wins!
Both an exercise bike and a rowing machine will give you a great cardio workout, yes, that's true, but a rowing machine will help you burn more calories.
If your goal is weight loss, a rowing machine is the way to go.
Both of these fitness machines will tone and firm muscles of the lower body such as your thigh muscles, glutes, and calves.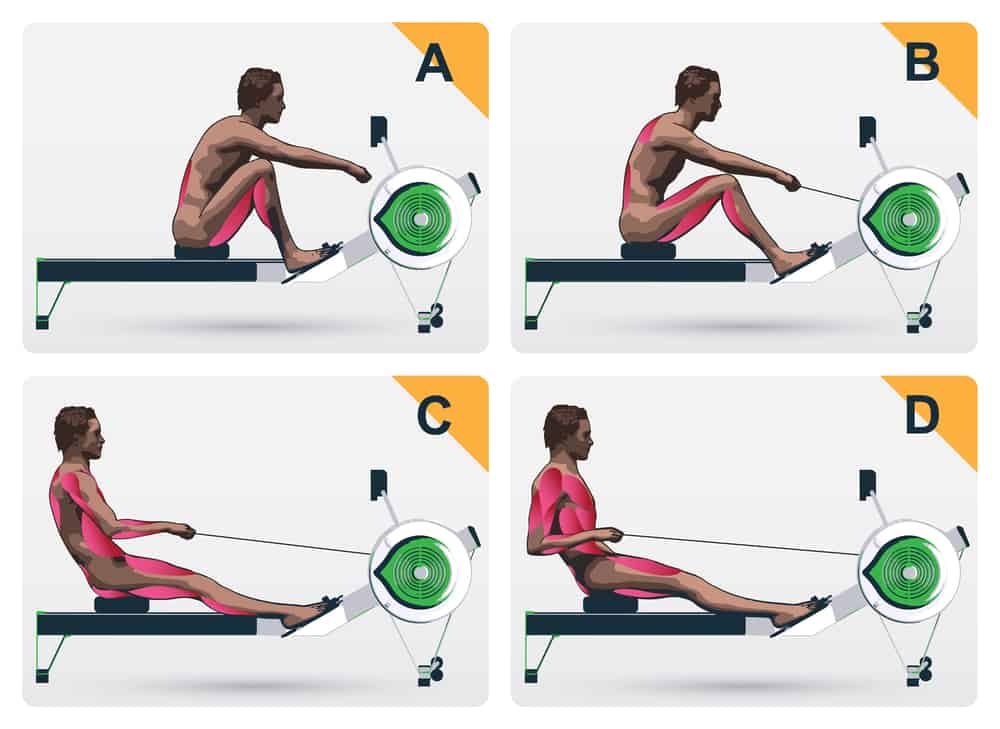 However, rowing does more by toning your upper body, including your arms, shoulders, and core muscles. If we break down your rowing workout into percentages, it will show that:
60 percent of your effort goes to the leg muscles
30 percent works your core and hips from the pendulum movement
10 percent for the upper body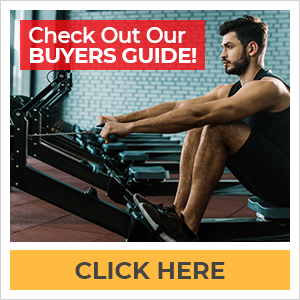 If you want to spend less time exercising and working all the major muscle groups but still get results, then a rowing machine is the answer.
The Hydrow – The Ultimate Rowing Machine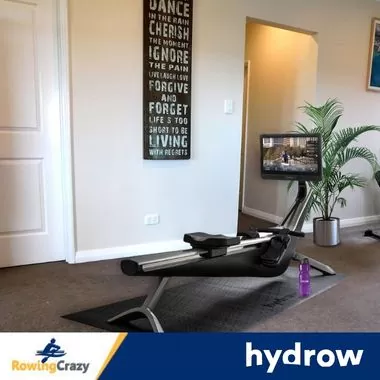 Hydrow SAVE $100 or £100!! => Use Coupon Code: ROWINGCRAZY
If you want the absolute best rowing machine for your workout, nothing else compares to the Hydrow.
This is a uniquely designed indoor rower that looks more like a piece of furniture than fitness equipment. The special computer-controlled magnetic resistance is so smooth and quiet that you might forget you're not rowing on water.
Learn more with our full video of the Hydrow Rowing Machine by Experienced Rower Max Secunda:
I love the workout programs with the Hydrow. The 22-inch HD touchscreen is not only sweat- and dust-resistant but also crystal clear. So much so that I often find myself mesmerized by the scenic and realistic views during workouts. I also love that the live and on-demand rowing classes are done by professional rowers who know rowing like the palm of their hand.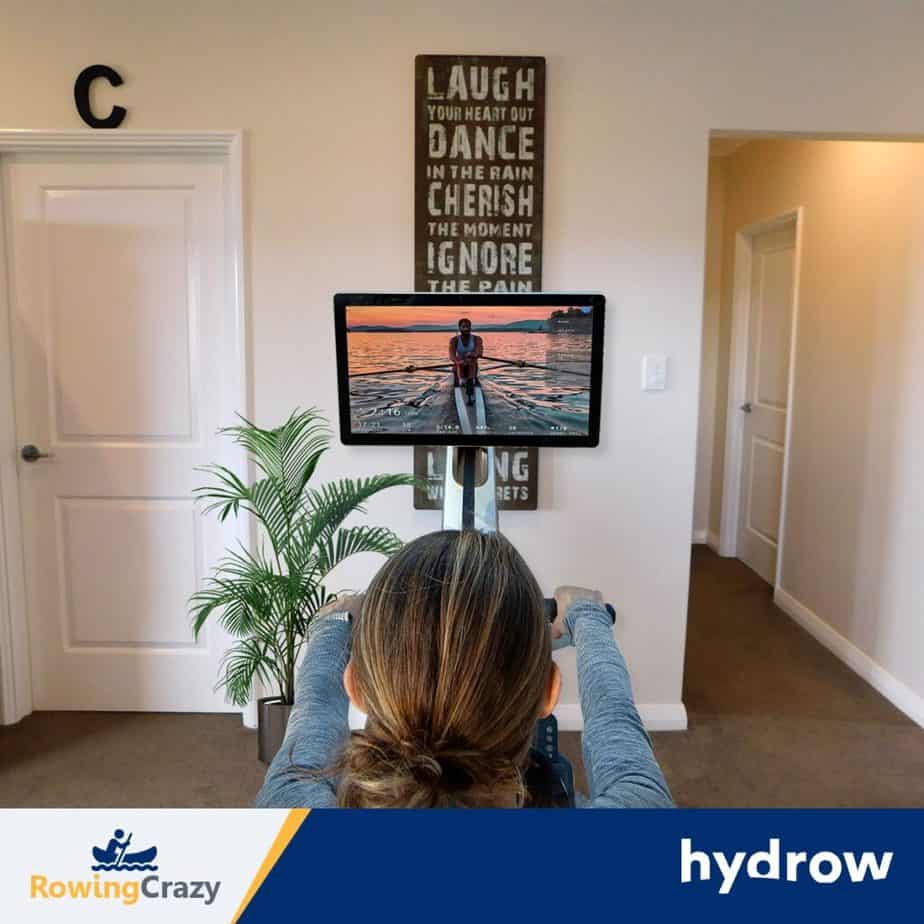 Hydrow Rowing Machine vs Exercise Bike
The Hydrow will put your energy expenditure on maximum overdrive, so much more than any other rowing machine, let alone a stationary bike.
So if you want a rowing machine that will give you a rowing experience closest to the real thing without getting wet, then make it Hydrow.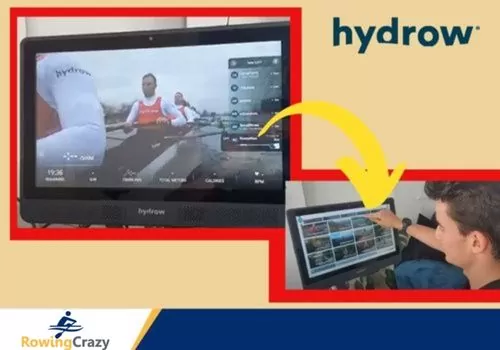 Don't worry, the Hydrow is a low-impact device that equals any spin bike, and it can support a user's body weight up to 375 pounds!
I own a Hydrow rowing machine, and I wouldn't trade it for the world; however, I do like to shake things up a bit.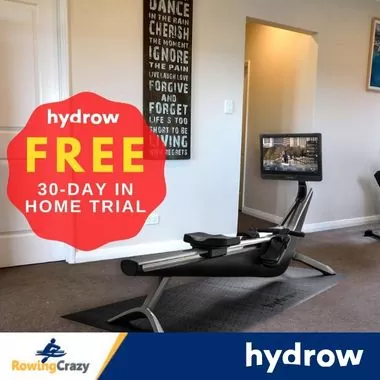 If you have been considering an elliptical trainer, let me tell you about my favorite one for burning calories while doing things a bit differently.
Read Our Full Review – Click Here!
The Teeter Power10 – Rowing Machine with a Twist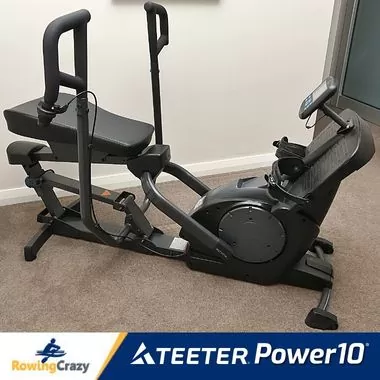 You've probably never seen an elliptical trainer like this one! If you can't decide about rowing machine vs elliptical trainer, there's no point in breaking your heart. With Teeter Power10 elliptical rowing machine, you get both!
I love rowing, but to keep my body from becoming accustomed to the same workout, I use the Teeter Power10. This machine puts all other elliptical trainers to shame with the way it keeps your heart healthy and works your entire body with low-impact exercise.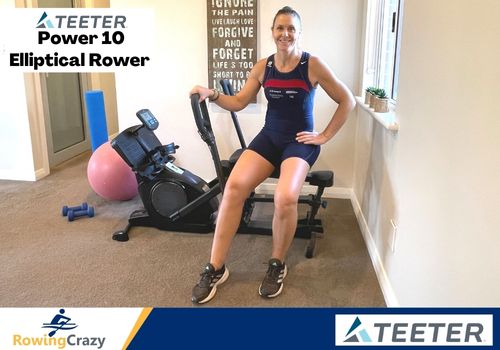 The secret behind the strength training and complete body workout you get from Teeter Power10 is the multi-grip handles.
First, with the flip of a switch, you can change this machine from a rower to an elliptical, which means that you don't just pull back on the handles, but you must push them forwards as well! Talk about stamina training!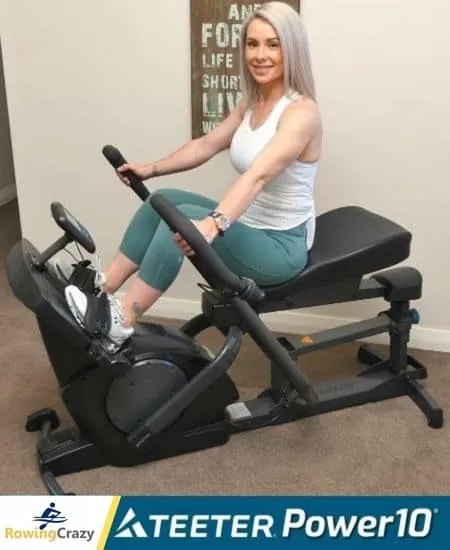 Second, by placing your hands in a different position, you will work a completely different muscle group while engaging your core and lower body at the same time. No amount of spin classes or walking on a treadmill can match that!
In fact, there are no elliptical machines out there that can match what the Teeter Power10 can do for your cardiovascular system and entire body.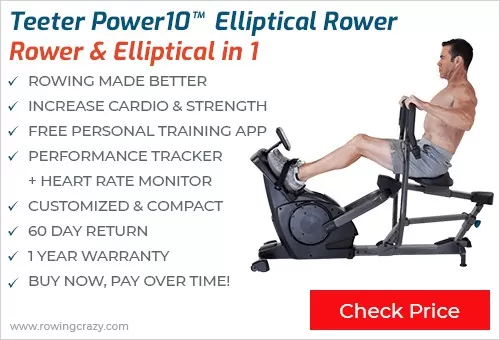 Rowing Machine vs Exercise Bike vs Elliptical Trainer
Sometimes it's a matter of personal preference. If you love your stationary bike or spin bike, more power to you!
If you don't like how a stationary bike puts pressure on your knees or ankles, or you want something different for your home gym, then you should consider trying a rowing machine or the Teeter Power10 rowing elliptical trainer.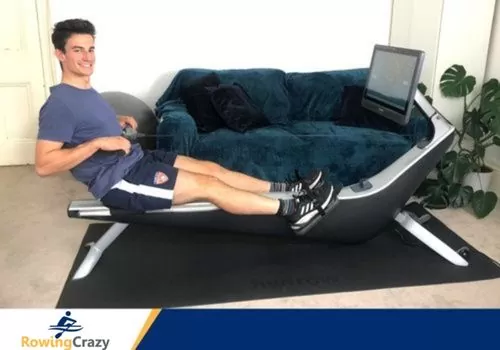 Hydrow SAVE $100 or £100!! => Use Coupon Code: ROWINGCRAZY
I love my Hydrow rowing machine and use it almost every day. However, that doesn't mean I don't love the intense workouts I get with the versatile Teeter Power10.
Regardless of which machine you eventually choose for burning calories and staying fit, the important thing is that you're fully aware of the big difference between these two types of exercise equipment before investing in one.
Frequently Asked Questions
Q: Is a recumbent bike as good as walking?
A: The truth is that all stationary bikes are better than walking or treadmills for two reasons. First, exercising on a stationary bike has low impact on your joints. You can't say that about walking or working out on a treadmill. Second, walking burns only 120 calories per mile on average, while riding a stationary bike for 30 minutes can burn up to 200 calories.
Q: Is a recumbent rower good for sciatica?
A: This would depend on the location of the compressed nerve. The sciatic nerve is the longest nerve in the body, running from the hip down the back of the thigh, all the way down through the calf, the bottom of the foot, and to your toes. When this nerve is compressed, it can cause tremendous pain. You should consult with your doctor or chiropractor to see if rowing is safe for your unique condition. Fortunately, most people find that rowing helps them relieve the pain of sciatica.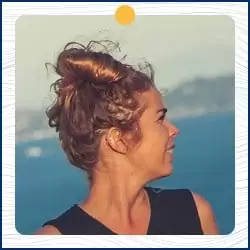 Written by Petra Amara – RowingCrazy.com
CEO & Founder of RowingCrazy, National Rower, Coxswain Womens Eight Team, Rowing Coach & Writer
Petra is a Mother of two and owner of Rowingcrazy.com. Petra lives and breathes rowing, she also has a passion for writing which lead her to start RowingCrazy.com to share her rowing experience and expertise with others.