No one would deny that in a few short years, the Peloton name has become synonymous with high-quality, personalized, and very intense workouts. As of this writing, however, Peloton hasn't come out with a rowing machine yet. And while we're at it, it's worth mentioning that Peloton machines – whether it's the Peloton bike or Peloton treadmill – don't offer an upper body workout.
That's why rowing machines have the upper hand over bikes. Rowing is a full-body workout that will rock your world! To keep you motivated to work out, you will need the perfect rowing machine, one that's as engaging as a Peloton!
While there's no Peloton rowing machine at this time, there is a rowing machine that offers a connected workout similar to Peloton.
If you want to burn fat, get a low-impact workout that won't mess up your knees or your back, or if you're looking for live and on-demand workouts, then there is just one rowing machine that compares to the Peloton bike workout.
Our Top Pick
Rower
Price

BEST ROWING EXPERIENCE

SUPER QUIET
BEST ROWING EXPERIENCE
Price
It's the indoor rower I own, and I'm going to tell you all about it in today's article.
The Hydrow Rowing Machine – How It Compares to the Peloton Bike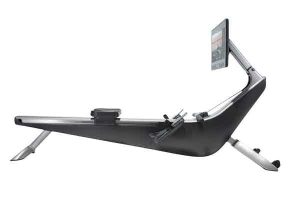 If you've ever waited at the gym for a treadmill or stair-stepper and noticed a few unused rowing machines in the corner, you may have wondered why. Rowing is an absolute beast of a workout, and it could be that a workout as intense as that was not what those gym-goers had in mind.
If you've tried rowing and loved it, or if you've decided to get serious about your workouts, you may have considered buying a Peloton for your home gym. Before you do that, however, it would be to your advantage to take a few minutes and read why you should buy a Hydrow rower instead.
Want to Know More? Click Here to Read Our Full Article!
Full Body Workout vs Lower Body Workout
Did you know that rowing works about 86 percent of the muscles in the body? Compare this to a mere 44 percent that riding a Peloton bike will.
This means that you don't need to spend additional time doing strength training, using dumbbells, or doing any other type of workout if you don't want to.
Immersive & Realistic Connected Fitness Equipment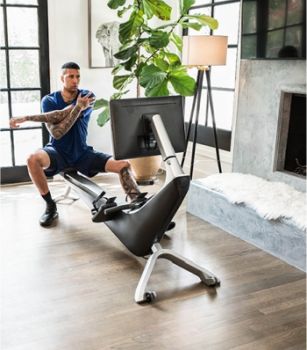 It's true that the Hydrow is a big machine at 86″ x 25″ x 47″ (L x W x H), but it is so sleek and beautiful, it looks like a new-age, modern workstation or private TV viewer. It's so cool-looking, you might decide that you will put it right in your living room or bedroom. Of course, many people choose to put this beautiful rower in their home gym – that choice is entirely yours.
One of the big factors that appeal to most Peloton owners, whether they have the bike or the treadmill, is that it offers a connected workout.
Hydrow is totally on board with that! The Hydrow is a connected rowing machine that not only offers live and on-demand workouts but also makes you feel as though you're actually on the water with your professional rowing instructors guiding you through the motions.
Let me tell you more about this incredible rowing machine that offers a connected workout.
Features of the Hydrow Rowing Machine
Now that you know how rowing machines offer a total body workout, involving all the major muscle groups, let me tell you about the things that make users call this the Peloton of rowing.
The seat is padded and rests on a unique 10-roller system so the movement is incredibly smooth.
The Hydrow uses a patented computer-controlled, electromagnetic resistance system. You can always adjust the resistance manually if you like, but this unique feature allows the computer to modify the resistance levels automatically, depending on your fitness, ability, and the workout program you have chosen.
The monitor is a 22-inch HD touchscreen that is both sweat and dust-resistant. I love that the colors on this are so bright, you feel as if you're there on location in person!
The front-facing speakers are very good quality.
The live classes and workouts are nothing short of stellar. The instructor-led classes are terrific for beginners or those who are more advanced, and there are hundreds of workouts to choose from, with new ones being added each week
Hydrow's fitness programs also include off-the-rower workouts, such as yoga, Pilates, or foam rolling.
Just like Peloton bike, the Hydrow rower displays your metrics, such as duration, speed, stroke-per-minute (SPM), 500m split time, averages, total distance, calories burned, and heart rate.
There are 11 instructors, each one ex-Olympic rowers or professional rowing athletes, so you know you're not just huffing and puffing on this home gym machine.
The Hydrow rower has Bluetooth connectivity, so you can use your own heart rate monitor, headphones, you name it.
You can use the Hydrow upright storage kit and wall mount to store your exercise machine when not in use.
There is a membership cost to the Hydrow rower, which is currently $38 per month, but since you can create an unlimited number of profiles, this means that the entire family can share the benefits of a single subscription.
Unfortunately, you can't say that about the Peloton bike. They are strict on enforcing the "one user per subscription" rule. This means that even if it's just you and your significant other, you need to pay for two subscriptions to work out. That makes a huge price difference over time, which is something you should consider.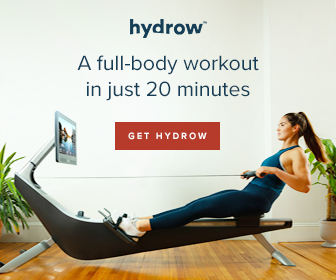 I own a Hydrow, and I must say that even though I have tried at least 40 different types of rowing machines and models in my life, nothing comes close to the Hydrow rowing machine experience. I strongly recommend that you give the Hydrow rower a serious thought. The benefits are enormous, and the free trial can't be beat.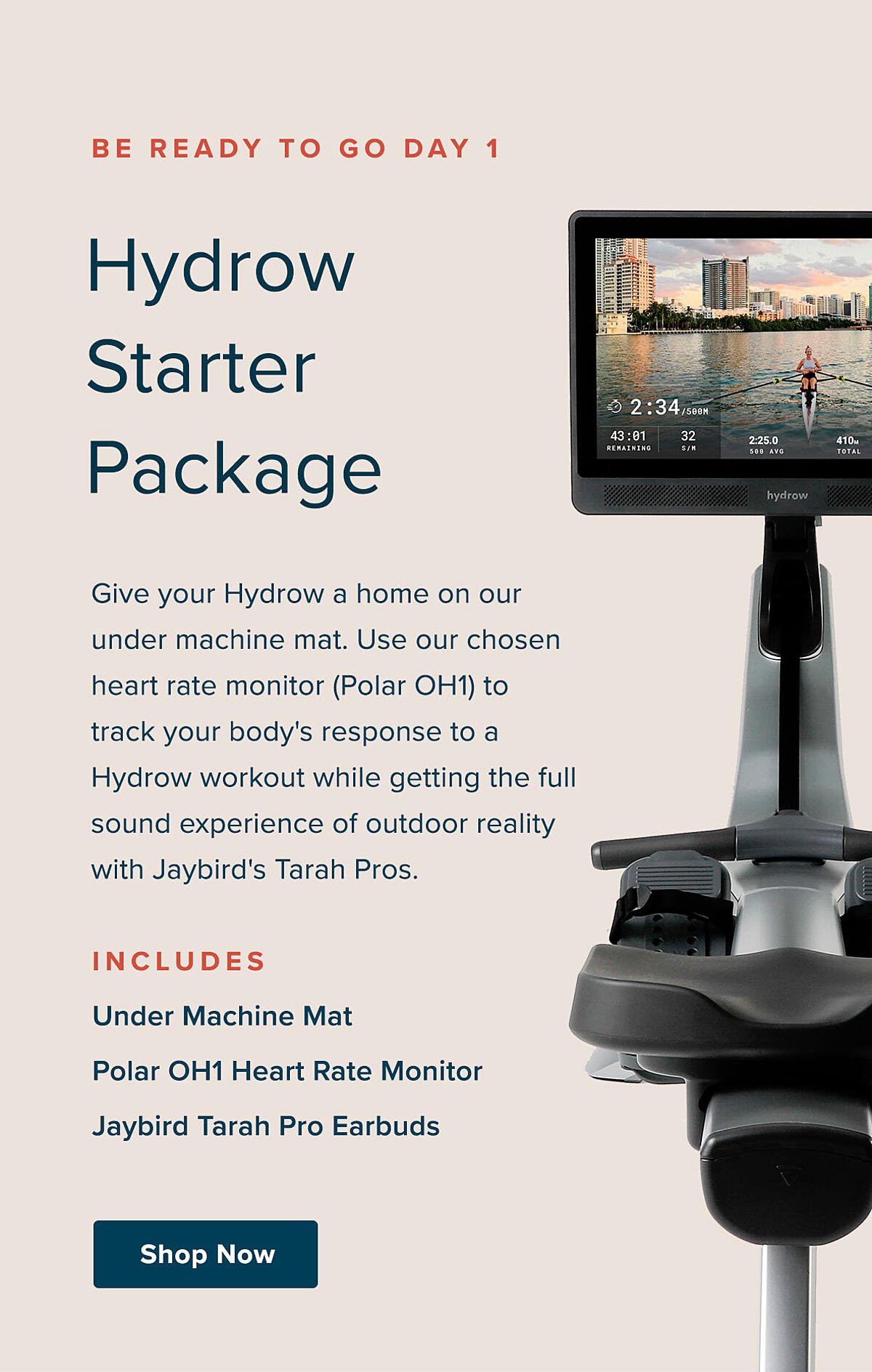 The Drawbacks of the Hydrow
As much as I love this exercise machine, there are a few areas where I think even the Hydrow can improve. Some of the drawbacks are:
This is a premium machine that comes at a premium price, and not everyone has the money to spend on the cost of the machine and the ongoing monthly subscription.
It requires quite a bit of space to use.
The volume on the speakers cannot be adjusted, but you can use your Bluetooth-enabled headphones.
The workout videos can't be paused.
It does not support the Apple watch or other health-related watches/apps, but Hydrow says they're working on this aspect.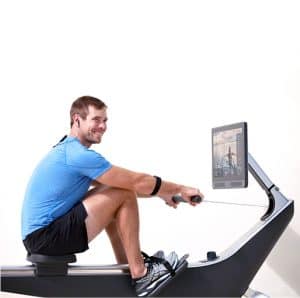 These drawbacks are minor, but you should consider them before you purchase. This is a big investment in your home gym and health, so you should consider all the options. Most people, including myself, find these issues negligible and hardly have any effect on the overall Hydrow rowing experience.
The Bottom Line
If you're still on the fence about the Hydrow rower, or if you find that this rowing machine isn't as much like Peloton as you hoped, the company offers a 30-day money-back guarantee. Use the Hydrow rower for 30 days, and if you aren't convinced that this Peloton-like rowing machine is what you hoped it would be, you can return it.
If you want an outstanding workout from a home fitness machine, the Hydrow machine is your best option when it comes to connected rowing machines. For burning fat, toning muscles, and rowing classes that you will actually like, it's Hydrow all the way.
You have nothing to lose, and I'm betting that once you try the Hydrow, you will be hooked.
Other Hydrow Rower Articles You Might Find Interesting:
Frequently Asked Questions
1. Is Hydrow Rower made by Peloton?
No, it isn't. The Hydrow rower is a product of the Hydrow Company in Boston, Massachusetts and was designed/engineered in part by current CEO and ex-rowing coach Bruce Smith.
2. Will Peloton make a rower?
Possibly. Back in 2019, Peloton acquired Tonic Engineering, which manufactures exercise bikes. Tonic had applied for a patent for a rowing machine just before the Peloton acquisition. Will Peloton make a rower based on that patent? Will the Peloton rower have studio rowing sessions or live classes on the water? No one knows. At this time, there is no announcement regarding a Peloton rower.
3. Is rowing or Peloton better?
I suppose that would depend on your meaning behind the word "better." In my opinion, rowing is far superior. With a rowing machine, you not only burn more calories than on a bike, even a Peloton bike, but you also do it in a shorter time. Rowing is an exercise that uses 86 percent of the muscles in the body, including the upper body, which is something a Peloton can't match. I also prefer the on-demand and live classes that are conducted on the water to the typical classroom style that Peloton offers. The Peloton app also requires a separate subscription for each user, which will affect your total cost. So generally speaking, unless you live for those classroom cycling sessions, I think you get a better workout and more benefits from rowing than using the Peloton bike. If you want a Peloton-like rower, I recommend the Hydrow rower.