No one would deny that in a few short years, the Peloton name has become synonymous with high-quality, personalized and very intense workouts that make the Peloton Bike exciting.
For years, Peloton followers have been wondering whether there's a rowing machine like Peloton. It turns out there is!
In a Hurry? Here is My Top Pick:

The Hydrow Rower offers connected, live and on-demand workouts as exciting and motivating as the Peloton bike experience. Hydrow's fully immersive, on-the-water workouts will get you burning fat in no time, no wonder it's called the Peloton of rowing machines!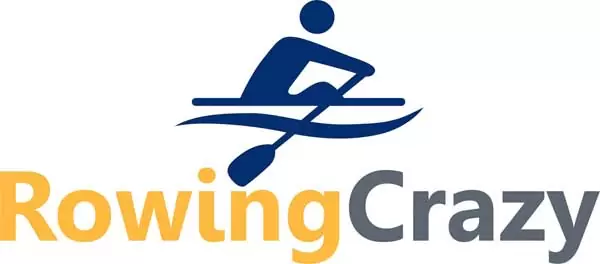 Rowing gives you a low-impact full-body exercise that won't mess up your knees or back! That's why rowing machines have the upper hand over bikes. Rowing is a full-body workout that will rock your world! To keep you motivated to work out, you will need the perfect rowing machine, one that's as engaging as a Peloton!
As early as 2015, we've heard about Peloton coming out with a rowing machine, and in 2022, Peloton finally introduced its newest product, the Peloton Row. Customers started receiving their preordered units in December 2022, and you may order one now from their website.
My name is Petra, and I'm an actual rowing fanatic. I've been fortunate enough to use nearly every major indoor rowing machine sold today, so I was quite interested how Peloton would stack up to the others.
Let's look into what the various machines have to offer compared to Peloton.
Quick Comparison Chart
If you've already done some research and want some basic answers about how these rowing machines differ, this comparison chart might answer your question.
Peloton vs Hydrow vs Hydrow Wave vs Aviron vs Ergatta vs LIT
Peloton
Hydrow
Hydrow Wave
Aviron Impact
Ergatta
LIT Method

Type of Resistance
Magnetic
Magnetic
Magnetic
Magnetic and Air
Water
Water
Overall Dimensions
94"x24"
(L x W)
86"x25"x47"
(L x W x H)
80"x19"x43"
(L x W x H)
97"x21"x43"
(L x W x H)
86"x23"x40"
(L x W x H)
7'x1.75'x1.6' or about
84"x 21"x19"
(L x W x H)
Weight of the Machine
156.5 Pounds
145 Pounds
102 Pounds
93 Pounds
103 Pounds including water
89 Pounds including water
Storage Options
Comes with upright wall anchor kit
Upright storage kit must be purchased separately
Upright storage kit must be purchased separately
Folds to measure
54"x21"x62" (L x W x H)
Can be stored upright without additional accessory
Can be stored upright without additional accessory
Maximum User Weight
300 Pounds
375 Pounds
375 Pounds
397 Pounds
500 Pounds
400 Pounds
Monitor Size
23.8-Inch HD
Touchscreen
22-Inch HD
Touchscreen
16-Inch HD
Touchscreen
22-Inch HD
Touchscreen
17.3-Inch HD
Touchscreen
None;
Use your own gadget
Price
(Subject to change)
$3,195
$2,495
$1,695
$2,199
$2,499
$1,749
Monthly Subscription Cost
$44

$44
$44
$29 Monthly or $25 when billed annually
$29 Monthly or $26 when billed annually
$24.99
Warranty
5 years on frame
1 year on all other parts with 1 year labor
5 years on frame
1 year on all other parts with 1 year labor
5 years on frame
1 year on all other parts with 1 year labor
10 years on frame
1 year on all other parts
5 years on frame
1 year on touchscreen
3 years on all other parts
Lifetime warranty on frame
5 years on all other parts
Note the overall dimensions and consider how much space you can spare for your rower. Moreover, you must also take into account the maximum weight capacity of each rower if you have a heavyweight or an obese member in your household.
Price is an important consideration, but a smart rower is an investment in your health, so be sure you pick the one that is right for you!
Which brings us back to the rowing machine like Peloton that has a lower price tag and a cheaper monthly subscription—the Hydrow! It's the indoor rower I own, and I'm going to tell you all about it in today's article.
Hydrow Rower – the Rowing Machine with Connected Workouts Like Peloton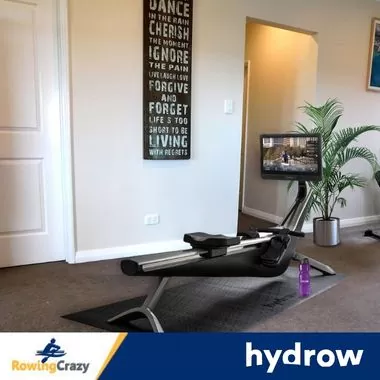 Hydrow SAVE $100 or £100!! => Use Coupon Code: ROWINGCRAZY
If you've ever waited at the gym for a treadmill or stair-stepper and noticed a few unused rowing machines in the corner, you may have wondered why. Rowing is an absolute beast of a workout, and it could be that a workout as intense as that was not what those gym-goers had in mind.
If you've tried rowing and loved it, or if you've decided to get serious about your workouts, you may have considered buying a Peloton rowing machine for your home gym. Before you do that, it would be to your advantage to take a few minutes and read why you should consider buying a Hydrow rower instead.
Want to Know More About Hydrow? Click Here to Read Our Full Article!
Is a Rowing Machine Like Peloton and Hydrow Better Than a Stationary Bike?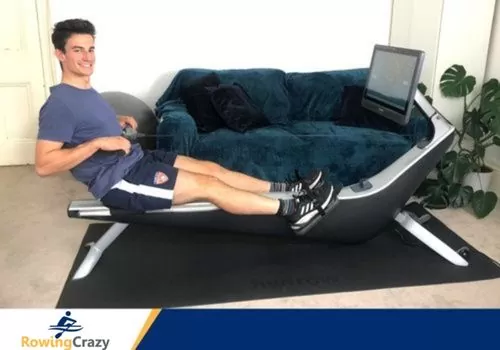 Of course, yes, rowing machines are two-folds better than exercise bikes. Did you know that rowing works about 86 percent of the muscles in the body? Compare this to a mere 44 percent that riding a bike—yes, even a Peloton bike—will work.
This means that you don't need to spend additional time doing strength training, using dumbbells, or doing any other type of workout if you don't want to.
Now that Peloton has come out with a rowing machine, you can choose it to get that full-body workout, but what is the cost, and how does it compare to Hydrow?
Why Choose Hydrow Rower Over Peloton Row?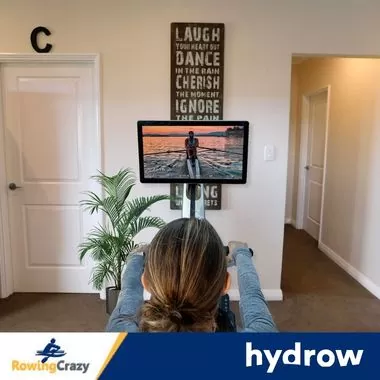 It's true that the Hydrow is a big machine at 86″ x 25″ x 47″ (L x W x H), but the Peloton is even bigger at 94 inches long!
I love that Hydrow looks so sleek and beautiful, it looks more like a new-age, modern workstation or private TV viewer from Star Trek!
It's so cool-looking, you might decide that you will put it right in your living room or bedroom. Of course, many people choose to put this beautiful rower in their home gym – that choice is entirely yours.
One of the big factors that appeal to most Peloton bike or treadmill owners, or those considering the Peloton Row, is that it offers a connected workout.
Hydrow is totally on board with that!
The Hydrow is a connected rowing machine that not only offers live and on-demand workouts but also makes you feel as though you're actually on the water with your professional rowing instructors guiding you through the motions.
Watch our full video of Hydrow by Rowing Athlete and Youtube Influencer Max Secunda:
Peloton Row, like their bike and treadmill, offers only studio rowing sessions. Yes, live rowing classes are in the pipeline according to Peloton, but they have no on-the-water workouts like Hydrow.
Let me tell you more about Hydrow and its incredible connected workouts.
The Hydrow Rower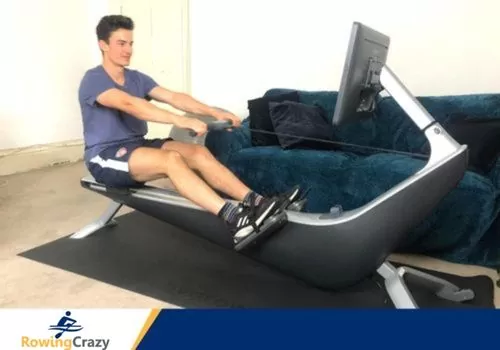 Hydrow SAVE $100 or £100!! => Use Coupon Code: ROWINGCRAZY
I own a Hydrow, and I must say that even though I have tried at least 40 different types of rowing machines and models in my life, nothing comes close to the Hydrow rowing machine experience.
I strongly recommend that you give the Hydrow rower a serious thought. The benefits are enormous, and the free trial can't be beat.
Features of the Hydrow Rower
Here are some of Hydrow's best features.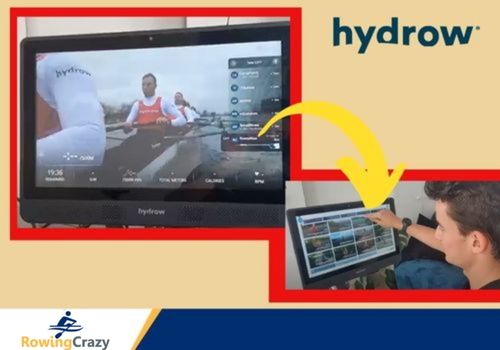 The seat is padded and rests on a unique 10-roller system so the movement is incredibly smooth.
Hydrow uses a patented computer-controlled electromagnetic resistance system. You can always adjust the resistance manually if you like, but this unique feature allows the computer to modify the resistance levels automatically, depending on your fitness, ability, and the workout program you have chosen.
The monitor is a 22-inch HD touchscreen that is sweat- and dust-resistant. I love that the colors on this are so bright, you feel as if you're there on location in person!
The front-facing speakers are very good quality.
The live classes and workouts are nothing short of stellar. The instructor-led classes are terrific for beginners or those who are more advanced, and there are over four thousand workouts to choose from, with lives rows coming out daily. Meanwhile, some Peloton users expressed dissatisfaction over the Peloton Row's limited content.
Hydrow's fitness programs also include off-the-rower workouts, such as yoga, Pilates, and foam rolling.
Just like Peloton Row, the Hydrow rower displays your metrics, such as duration, speed, stroke-per-minute (SPM), 500m split time, averages, total distance, calories burned, and heart rate.
Hydrow's workouts are led by athletes and rowing champions, so you know you're not just huffing and puffing on this home gym machine. Your Hydrow coaches will be there not only to guide your rowing sessions but also to connect you to the live rowing experience on the water.
The Hydrow rower has Bluetooth connectivity, so you can use your own heart rate monitor, headphones, you name it.
You can use the Hydrow upright storage kit and wall mount to store your exercise machine when not in use.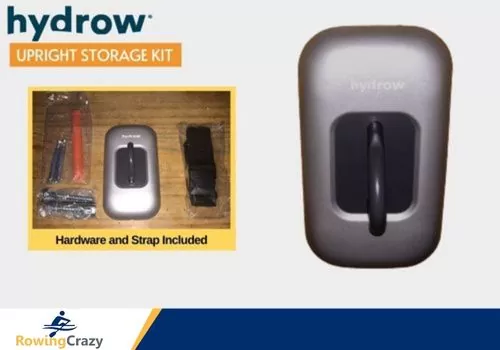 There is a membership cost to the Hydrow rower, which is currently $44 per month, but since you can create an unlimited number of profiles, this means that the entire family can share the benefits of a single subscription. That's less than what you are probably paying for a gym subscription.
In comparison, Peloton offers an all-access membership, which also allows unlimited user profiles within your household, at a higher monthly subscription price of $44.
Yes, if you already own another Peloton product and you purchase the Peloton rower, you can use that same subscription.
The Peloton Row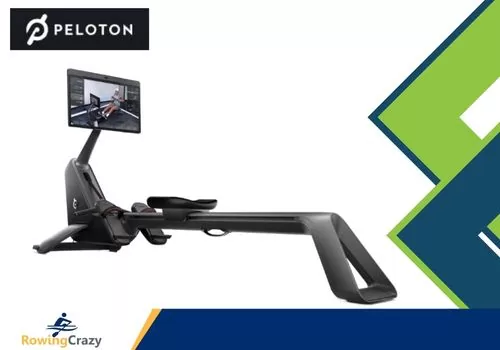 You'll hear me talk a lot about Hydrow because I love it and own one! That being said, you may wonder what the Peloton Row has to offer.
The Peloton Row is a premium machine that comes at a premium price, and while not everyone has the money to spend on it, many people will find it perfect for them.
Features of the Peloton Row
Let's look at what Peloton Row features.
It measures 94″ x 24″, requiring quite a bit of space to use. You'll also need to be sure you have at least 8 feet of ceiling height to store it upright.
Peloton features "Form Assist" to help beginners maintain proper form. With sensors in the handlebar and seat, the screen notifies you if you're not maintaining proper form. Some users wished that the Form Assist would provide real-time feedback instead of the present version which shows the feedback only after each workout.
The 23.8″ touchscreen monitor is the largest in the industry; that's more than an inch larger than Hydrow's.
Peloton offers Personal Pace Targets. When you select this option, the rower will notify you if you are slacking off or need to back off a bit. This ensures that you are working out at the optimum level for your current fitness level.
As you would expect, the Peloton Row will track all your training data, heart rate, SPM, split time, and more. It also has a leader board so you can see how you stack up against others in your class.
One thing to note is that you can actually use the Peloton Row without the monthly membership fee of $44, but all you will see is a black screen with your workout data (which isn't saved).
Comparing Peloton Row to Other Smart Rowing Machines
Besides Hydrow, you may want to check out other options for a connected or smart rowing machine like Peloton Row.
The good news is that you do have several options, and the the perfect rowing machine for you is out there. Let's look at some of your other choices.
Hydrow Wave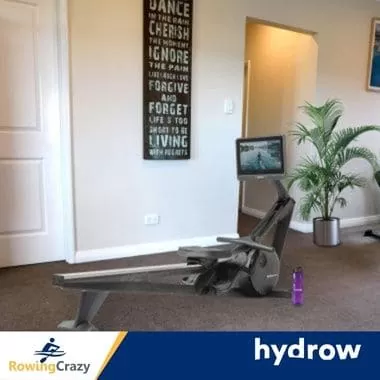 Hydrow SAVE $100 or £100!! => Use Coupon Code: ROWINGCRAZY
The Hydrow Wave is like the original Hydrow's mini-me version! It's nearly identical to it's big brother but with a smaller footprint, lower price tag, and a more compact monitor.
The Hydrow Wave features a 16-inch HD touchscreen, rather than the 22-inch monitor that Hydrow has.
It offers the same great live and on-demand on-the-water workouts, the same off-the-rower workouts, the same nearly silent operation, and everything you would expect from the full-sized Hydrow.
This indoor rower is perfect for smaller spaces and smaller wallets. You get everything you expect from a Hydrow, but in a smaller package.
Aviron Impact Series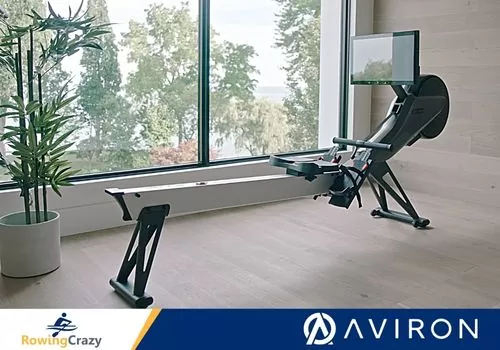 Aviron is another world-class rowing machine that has so much more to offer than you ever thought possible.
Love to play video games? Imagine video race cars where you can race against your friends by rowing? Want guided workouts or virtual rowing journeys by yourself? Just about anything you can imagine, the Aviron Impact Series has it.
Aviron uses a combination of magnetic and air resistance so you will always feel challenged. Each workout is designed to be time-effective, giving you maximum results in a minimum amount of time.
This amazingly versatile workout experience is like nothing else you've ever tried. If you haven't considered an Aviron rower, you should!
Ergatta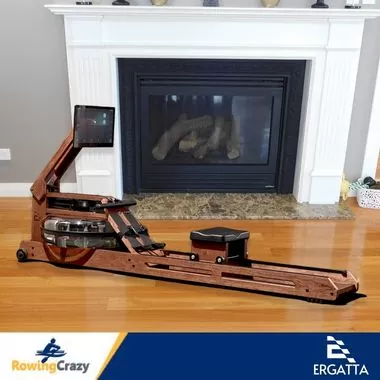 The Ergatta is a unique rowing machine that uses a game-based platform for those who like to do their own thing. If you love metrics but aren't a fan of those upbeat instructors, Ergatta might be exactly what you need.
This indoor rowing machine looks more like a piece of furniture with its cherrywood finish. Ergatta uses water resistance, which offers a realistic feel to your rowing workouts.
Ergatta offers no classes or off-the-rower workouts, but if you want to do your own thing or if races and games motivate you more than instructors do, then you'll love the Ergatta experience.
I also own an Ergatta, and next to Hydrow, it's my all-time favorite. I'm a sucker for the sound of swooshing water!
The LIT Strength Method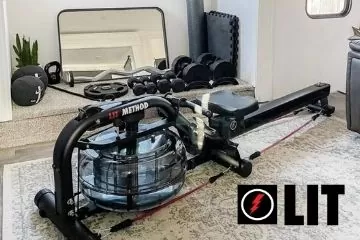 You might be surprised to see that the LIT Rowing Machine has no monitor. Without a monitor, how can it be a connected rowing machine?
It's easy—the LIT Method allows you to download the app to your own smartphone or tablet and use that as your monitor! Alternatively, you can use the app from your smartphone to cast it to a larger device, such as your big 65-inch television!
Like Ergatta, the LIT method uses water resistance. It has a two-level tank so that you'll always feel challenged.
What makes the LIT machine different? LIT has anchor points on the rower where you attach resistance bands. You'll get a true HIIT workout as you start rowing, then jump off to do some resistance training, then get back on the rowing machine.
It's never a dull moment when you own a LIT Strength Machine!
There are other smart rowers, but only the ones above could be considered to be in the same class as Peloton.
The Bottom Line
If you're still on the fence about buying a Hydrow Rower, a Peloton Row, or another rowing machine, you can always give any of them a try.
Yep! If you find that the Hydrow, Peloton, Ergatta, or Aviron isn't everything you had hoped it would be, remember that all of these manufacturers offer a 30-day money-back guarantee.
This means that if you think Aviron would be perfect, you can try it out at home for 30 days and see how it works for you. The same thing goes for the other rowers.
If you should decide your chosen rowing machine isn't what you had in mind, you can return it for a full refund.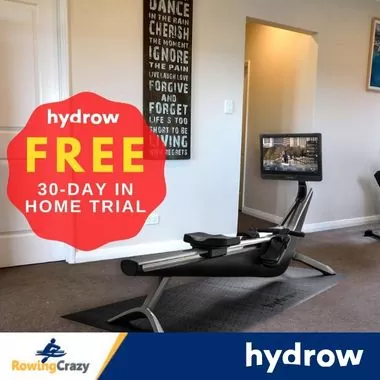 Hydrow SAVE $100 or £100!! => Use Coupon Code: ROWINGCRAZY
While all the rowing machines I've talked about are excellent, if I had to choose only one to use for the rest of my life, I would choose the Hydrow.
The Hydrow (or the Hydrow Wave) rowing machine is your best option when it comes to connected rowing machines. For burning fat, toning muscles, and rowing classes that you will actually like, it's Hydrow all the way.
You have nothing to lose, and I'm betting that once you try the Hydrow, you will be hooked.
Other Hydrow Rower Articles You Might Find Interesting: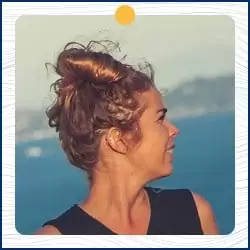 Written by Petra Amara – RowingCrazy.com
CEO & Founder of RowingCrazy, National Rower, Coxswain Womens Eight Team, Rowing Coach & Writer
Petra is a Mother of two and owner of Rowingcrazy.com. Petra lives and breathes rowing, she also has a passion for writing which lead her to start RowingCrazy.com to share her rowing experience and expertise with others.