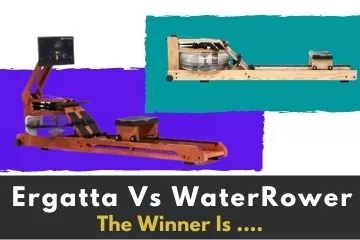 There is nothing like a rowing machine to get you into shape quickly and help you lose weight. Why waste time doing 60-minute or longer workouts at the gym when a home rower will give you a full-body workout in about half that time?!
A huge number of people have recently discovered the joys of a rowing workout experience. Water rowers have become super popular, and that's not surprising since these types of rowers make the rowing experience as real as possible.If you're looking for a connected rowing machine, however, this will narrow down your choices considerably. Most rowers have a screen or monitor, but not many have the advantage of being connected to the internet, giving you a challenging workout that you won't find elsewhere.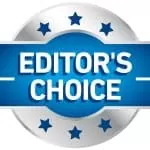 In a Hurry? Here are the Rowers We Are Comparing:
Want to know which rower is the best between Ergatta or WaterRower but don't have time to read the whole article? Click on the links below to get our answers:
*We review fitness products impartially and may earn a commission from affiliate links. For details see our disclosure page.
To help you make an informed decision on which rowing machine to purchase, we have conducted a thorough evaluation of each machine, which we will share in detail in the upcoming sections of this article.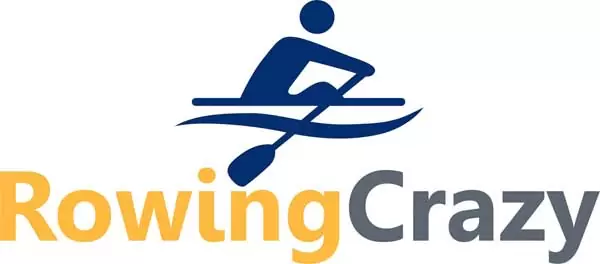 Right Let's Get Into It!
A bit of diligence is needed when you want to find the best water tank rower for you. If you're constrained by a tight budget, you can still find a few bargains, such as the Sunny Health & Fitness Obsidian 500, but if you want a top-end, connected fitness machine, which do you choose?
In today's article, I'm going to spell out all the difference between the Ergatta and the WaterRower brand so you can make a more informed decision.
Let's take a look at water rowing machines and all the benefits and features that are worth noting.
The Ergatta Rowing Machine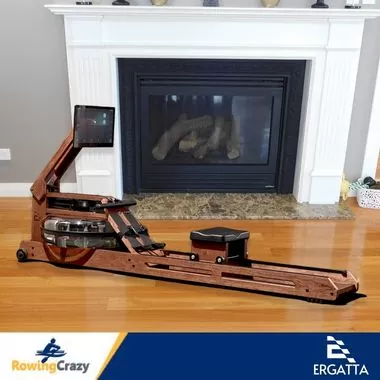 Ergatta brings together two rowing concepts.
First, a high-quality water rowing machine that offers workout options no other rower has.
Second, to add a unique rowing experience via a gaming console that makes rowing feel as exciting as a video game, along with racing features that are super fun.
The Ergatta rowing machine is unique in that it was designed by a professional video game company. Its gaming-inspired console brings heart-pumping fun while using that heart-pumping rhythm to get you into shape as quickly as possible.
This indoor rower uses water resistance for your workout, which means you get a smooth feeling as you row with virtually zero noise.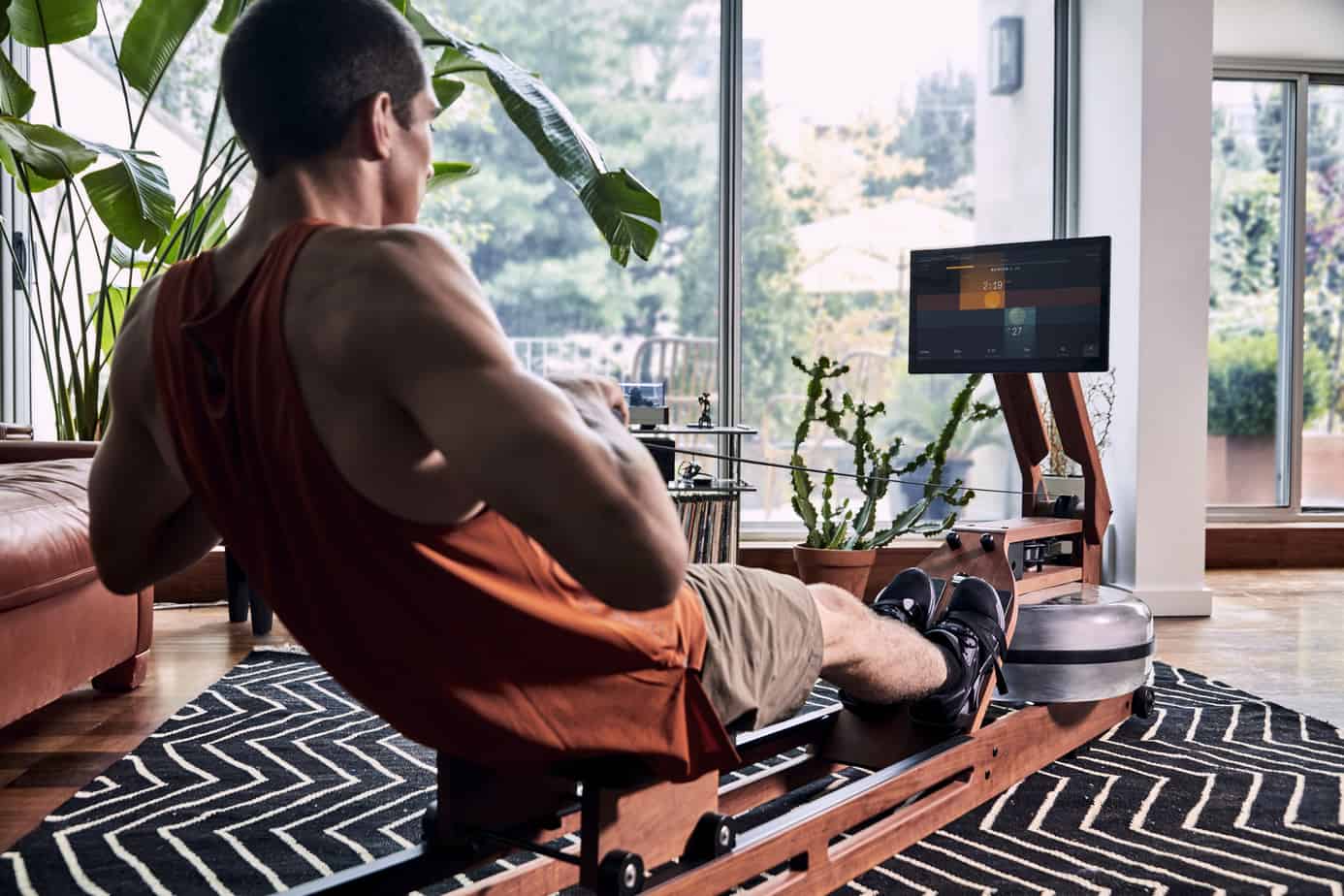 If you want a world-class rowing machine that doesn't have the same old display console or uninspiring instructors doing the same old exercise over and over, then the Ergatta might be just what you're looking for.
Features of the Ergatta
While the Ergatta rowing machine might look similar to other water rowers, it's not even in the same class! First, let's talk about the features Ergatta brings to the table.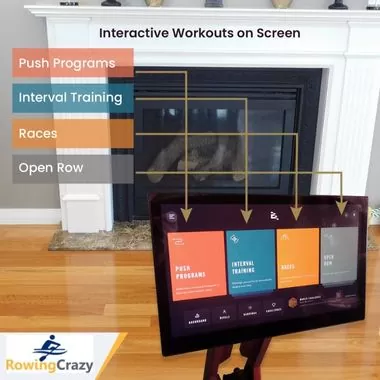 The 17.3-inch display console is large and bright, like an oversized tablet. It keeps you engaged right from the start with its graphics and fun interface.
Ergatta keeps you motivated with its digital gaming approach to rowing. The Meteor and Pulse workouts provide the needed challenge and incentive to inspire you to step up your game and keep hitting your targets. If you are competitive, you can race against others, or even against yourself.
The rowing motion workout is smooth as a water rower should be!
The console supports Bluetooth-enabled headphones, which allow you to listen to music. There are also front-facing, built-in speakers if you prefer to use them instead of Bluetooth headphones.
The Ergatta connected rower is exactly that- connected! You can join in on the monthly challenges, improve your personalized intensity zones, and race against other Ergatta users.
The software was designed to 'gamify' the approach to rowing. Thus it's not surprising if you find yourself pushing to do better, rowing harder, and staying at your intensity zones longer, just so you can hit your targets and earn points. Forget that fish game by Concept2, this is an entirely different level.
The cherry wood frame is so beautiful you might think it's a piece of furniture.
The clear, gray-toned water tank is easy to fill and empty with a siphon pump. The more water, the more resistance your rower will have.
Ergatta's interval workouts are specifically set to your fitness level and after every 10 games (or rowing times) the console will perform an automatic recalibration process to reevaluate your fitness level. This will keep you continually challenged.
Supports a Bluetooth-enabled heart rate monitor
The interval training and Ergatta workouts are designed to keep you from being bored or from working so hard that you lose interest.
The chlorine tablets that will keep the water clear are free for the life of the rower.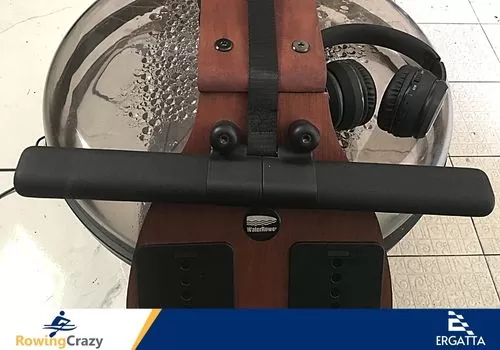 The Ergatta platform puts most of its competitors to shame! There are other features as well that will challenge you to reach new levels of intensity but don't worry, beginners, you won't be asked to do more than you're capable of.
If you don't care for an instructor and want to have more fun while rowing, the Ergatta gaming platform is a workout experience like no other.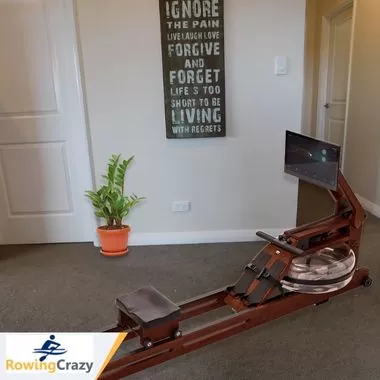 On the other hand, if you like fitness classes or workout programs that have instructors to lead the class, then you might want to consider the Hydrow rowing machine.
Ergatta Dimensions and Specs
While the Ergatta can be easily stored upright so that it takes up no more room than a dining room chair, it does require some floor space when used.
The following is a list of dimensions and specifications for Ergatta rowers.
ERGATTA
Specifications
User Weight Limit
500 Pounds (227 kilograms)
Height Capacity
40-inch inseam (about 6'8″ in height)
Assembled Dimensions
86″ X 23″ X 40″ (LWH)
Upright Dimensions
23″ X 22.5″ X 86″
Ergatta Machine Weight
76.5 lb (without Water)
103 lb (with Water)
It's amazing to me how the fitness industry seems to be adding more and more technology to rowers, without making them much larger. The display console on most connected rowers is nothing short of amazing, and the Ergatta display is easy to read.
Is Ergatta Made by WaterRower?
Yes, part of the Ergatta is.
The actual Ergatta rower itself – the seat, rails, cherry wood frame, and handle – is made by WaterRower, which has been building high-quality water-tank indoor rowers for decades.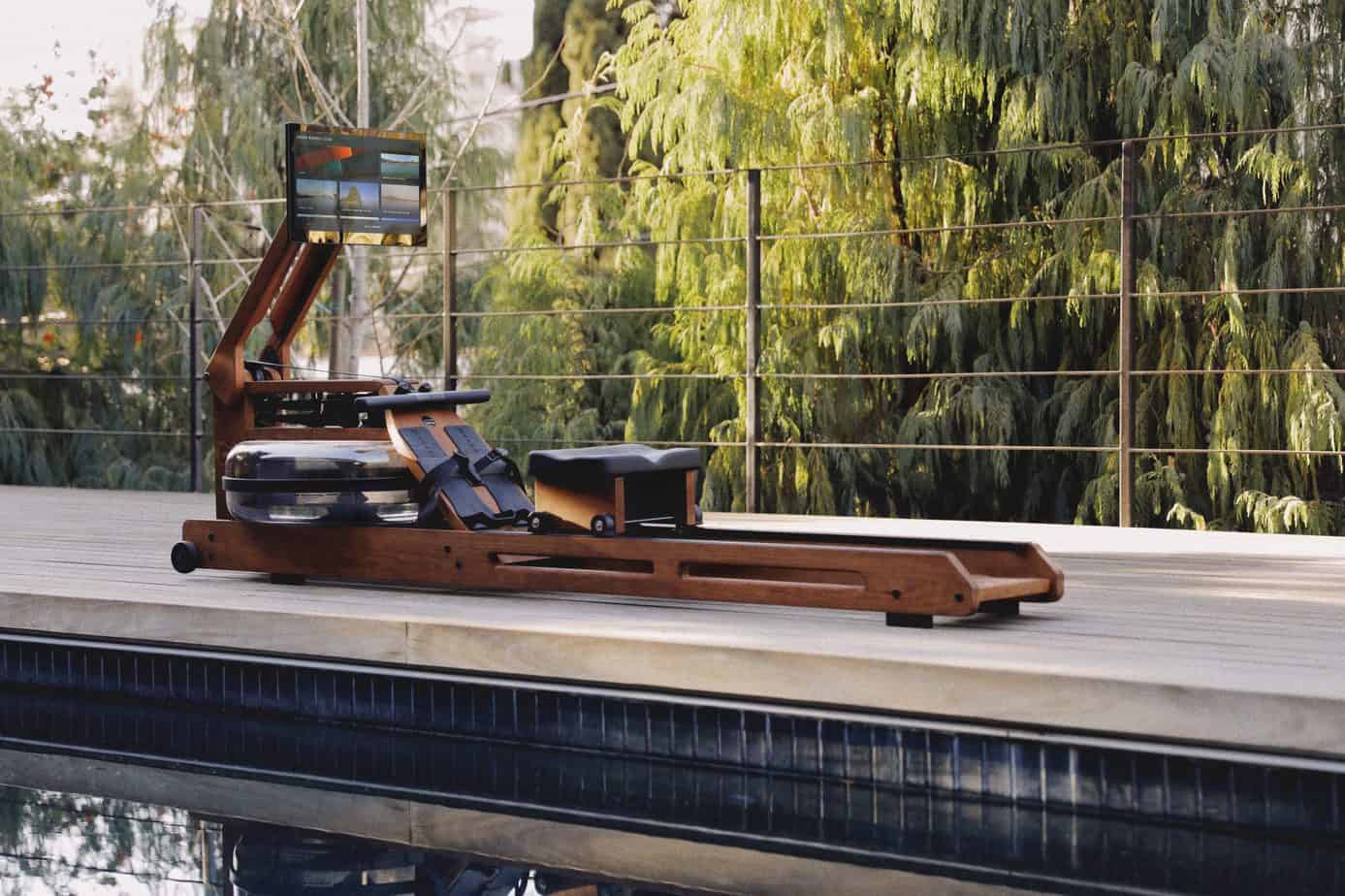 The console and software, however, are made by Ergatta, which began as a video game creator. Ergatta founder and CEO Tom Aulet is a life-long fitness enthusiast who enjoys various sports.
Aulet wanted to create a water rower that was not boring and had no overly enthusiastic instructors. He wanted competition, racing against himself or other racers, and games.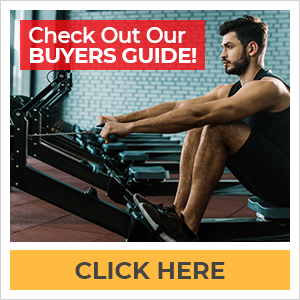 Ergatta was born out of those desires.
So while WaterRower manufactures the Ergatta rower right in the USA, the software and game workouts are what Ergatta offers its users.
Ergatta vs CityRow Go – Who Won?
The WaterRower Club Rowing Machines
WaterRower makes a variety of indoor rowing machines. For this comparison, we will look at the WaterRower Club in ash wood. This isn't a connected rower, but if you already have a WaterRower, you can purchase the Ergatta Upgrade Package and make your WaterRower a connected device.
Features of the WaterRower Club in Ash Wood
The features of the WaterRower Club rower include:
The beautiful ash wood frame is long-lasting and gives you the feeling of being in a boat
The clear water tank is aesthetically pleasing
Compatible with most heart rate monitors
Smooth, unlimited resistance levels and nearly silent operation
The S4 monitor tracks distance, time, calories burned, and more
Several workout programs are included with the monitor
This is designed for high-traffic areas, so it can take scuffs and heavy usage
WaterRower Club offers a 5-year warranty on the structural frame and a three-year warranty on all other components if you register the product within one year of purchase.
WaterRower Club Dimensions and Specs
Like its cousin Ergatta, the WaterRower Club requires some floor space for use but does stand on its end for easier storage.
Here are the dimensions and other specifications of the WaterRower Club indoor rower.
WaterRower Club
Specifications
User Weight Limit
700 pounds (317 kilograms)
Height Capacity
37-inch inseam
Assembled Dimensions
82" X 22" X 20" (LWH)
Upright Dimensions
20" x 22" x 82" (LWH)
WaterRower Club Rowing Machine Weight
76 lb (without Water)
103 lb (with Water)
The screen (if you have the upgrade) does fold down to prevent damage to it, which helps to make this rower easier to store. If you have the room to use this device, expect to be envied by your friends.
Ergatta Vs WaterRower Rowing Machines
These machines are very similar, except for a few things that you should note before you buy. It's always good to do a full comparison before you purchase a high-end rowing machine.
Assuming your WaterRower does NOT have the Ergatta rowing upgrade, the differences would include:
Main Differences Between
WaterRower and Ergatta

Ergatta
WaterRower Club
Membership Required
Yes
No
Rowing Workouts
Yes
Yes
Games and Racing
Yes
No
Personalized Workout Programs
Yes
No
Pricing
$2,199 Plus $199 shipping and
$29 per month for membership
$1,095
Weight Capacity
500 lb
700 lb
Wi-Fi and/or electricity required
Yes
No
If you add on the Ergatta Upgrade, which will include the 17.3-inch display console and software, that will add an additional $549 to the current price tag, which will make the WaterRower a nearly equal price comparison to the Ergatta.
This will also mean that you will need to pay for the monthly subscription fee, which currently costs $29 per month or $290 a year.
By paying yearly, it's like getting two months for free! Compared to some other connected rowers, this is a terrific deal.
Does Ergatta Require a Monthly Subscription to Work?
No, it doesn't, but you would be missing out on a world of fun!
Without the monthly subscription, Ergatta is like other WaterRowers. You can still use the headphones and see your data, but you will miss out on the games, new games, race workouts, personalized interval training, the Push program, and everything else that you bought the Ergatta for!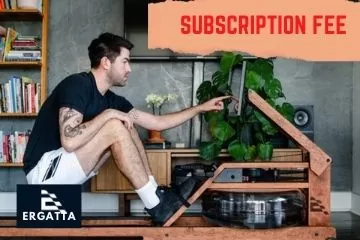 Don't forget that this single subscription price goes with the Ergatta. This means you can set up an unlimited number of profiles. Every family member in your household can get a terrific workout on the Ergatta for one membership price.
The Ergatta membership is worth every penny. Ask anyone in the Ergatta community (there is a Facebook group online), and they will tell you- the Ergatta rower without the membership is… well, just rowing.
Aside from the membership, you will need an electrical outlet and Wi-Fi for the Ergatta race games and the Open row.
Don't miss out on all the workout options the Ergatta has to offer! Set up your subscription and start rowing!
Ergatta or WaterRower – Which Rower Should You Buy?
Regardless of which machine you purchase, you're going to get a super high-quality machine that will improve your performance. The fitness industry is constantly evolving, and you can expect more connected rowers, such as the Hydrow and the Ergatta, to become the norm.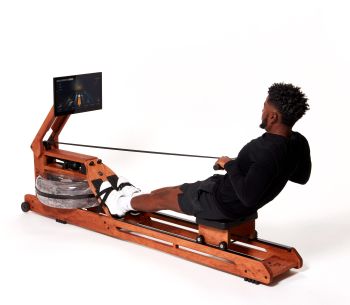 For those who like to have fun, love the competitive nature of racing without the typical instructor-led classes and want something that doesn't look like a piece of home gym equipment, the Ergatta experience is the perfect choice.
If you've been rowing for years and want the classic and traditional home gym rower, or you don't need motivation and games are just not your thing, you will be very happy with the WaterRower.
Final Thoughts
I've found that there is a growing community of home gym enthusiasts who don't like going to a traditional gym but miss the camaraderie shared between people who are into the same challenges. It's not only about internet connectedness but also our natural longing for social connections.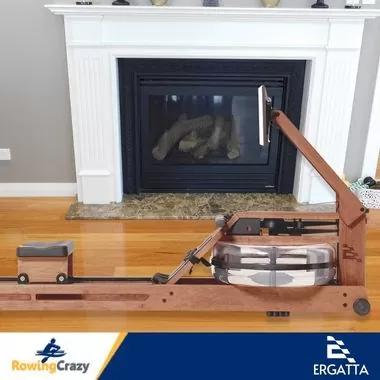 That's why Ergatta found ways to let you have at least some interaction with other users through the Facebook group. What's more, the Ergatta team says they will soon be offering a more interconnected app that allows real-time racing. That's down the pipeline, although no date was given yet.
If you're the kind who loves the idea of a community that you can race and interact with, upbeat instructors to egg you on to better performance, and a modern-looking rower that gives you more workouts on a larger display monitor, then you might want to consider the Hydrow Rowing Machine.
Whether you're a beginner or an old hand, searching for game-based or instructor-led workouts, or interested in losing weight or improving your fitness level, you are sure to find the perfect rower if you follow your heart.
Other Ergatta Articles Worth Reading: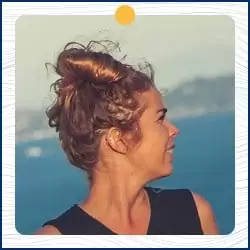 Written by Petra Amara – RowingCrazy.com
CEO & Founder of RowingCrazy, National Rower, Coxswain Womens Eight Team, Rowing Coach & Writer
Petra is a Mother of two and owner of Rowingcrazy.com. Petra lives and breathes rowing, she also has a passion for writing which lead her to start RowingCrazy.com to share her rowing experience and expertise with others.