Rowing machines offer a terrific full-body cardio workout that engages 86 percent of the muscles in the body. This might explain why rowing machines have become super popular.
However, what fun is going fast on your rowing machine when the only one you're racing against is yourself? OK, there is some level of satisfaction in beating your own time, but I must admit that I'm a bit of a fan when it comes to racing others.
If you're only interested in the number of calories you burn on your machine, or if you just want to get buff, then any rowing machine you choose should do the job, but let's talk about fun, shall we?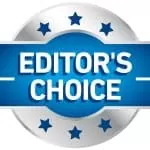 In a Hurry? Here are My Top Picks:
You can read my full breakdown and review on each rower further down in this article.
Rowing Machines with Screens for Racing
Today's new interactive rowers, also called smart rowers, enable you to not only enjoy scenic workouts and have professional rowers as your trainers, but also allow you to race against others anywhere around the world via the internet and WiFi.
Wooden water rowers, air rowers, or magnetic resistance rowers can all engage in racing games on your screen when you own a certain type of home rowing machine.
Want to know which piece of rowing equipment offers these fun types of racing games? Keep reading. In today's article, let's talk about the best rowers that offer not only a full-body workout but also fun and adrenaline rush. I will compare three rowing machines and how they fare in offering the best racing experience.
Hydrow: The Absolute Best Indoor Rowing Machine for Racing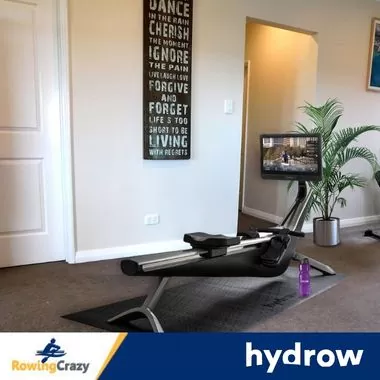 Hydrow SAVE $100 or £100!! => Use Coupon Code: ROWINGCRAZY
You've heard about the Hydrow rower, haven't you?
This is the best rowing machine on planet Earth, friends, and not only that, it has racing!
The built-in WiFi on the Hydrow monitor allows you to connect with the Hydrow Community. You can race against your friend down the street or on the other side of the world! What a great way to make new friends and make your workout routine fun.
There is a real-time leaderboard that appears on the right side of the screen during live rowing sessions. It compares your distance to the distances rowed by other users at each point of the video.
While it isn't an actual race, I've often found that I work harder to try to make it up to a higher level on the leaderboard.
With the Hydrow, you have lots of options for racing against others. Here are a few tips you should note about the racing programs on the Hydrow platform.
Racing is set up weekly, Monday through Sunday
Races for the week will end at 11:59 PM Eastern Time on Sunday
Teams consist of two teammates, but you can be on multiple teams and do multiple races
There are two different races or challenges each week, one that uses minutes, and the other meters.
You can ask to be a teammate or others can invite you to their team. Of course, you don't have to accept if you would rather not team up with someone.
You will find the Hydrow community is friendly and helpful, even to those who are beginners on this type of machine. If you want racing and to connect with others, the Hydrow rowing machine is the way to go. FYI: Check Out the Hydrow Black Friday Sales or read in more detail on the best interactive rowers with screens
How Does Peloton compare to the Hydrow – See Who Won – Click Here!
Hydrow Offers Much More than Racing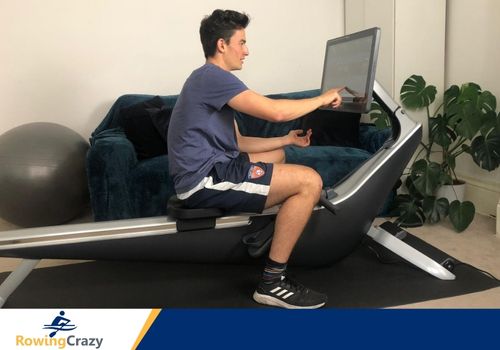 Yes, rowing and racing are fun, and it feels really good to see your name at the top of the leaderboard! If you love racing against other rowers, you will find plenty of others in the Hydrow community who want to race with or against you!
Hydrow is so much more than racing workouts! The Hydrow is the ultimate piece of equipment for home gyms. You will be impressed with everything it has to offer and the motivational tools that this high-quality machine uses to make rowing fun.
Are you concerned that the Hydrow rowing machine is too bulky to store easily? There is easier storage when you use the Hydrow Upright Storage Kit and Wall Mount. The kit costs a bit extra, but once you've used it, you'll wonder how you ever got along without it!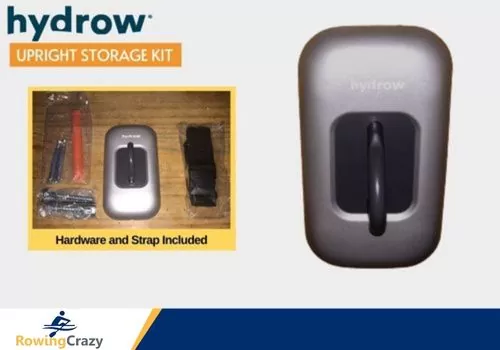 I love the Hydrow rowing machine mostly because of the incredible workouts, but I also love the bigger touchscreen, smooth machine rides, ergonomic handle, adjustable foot straps and foot beds, and the fact that it has a more home-friendly appearance than other rowers.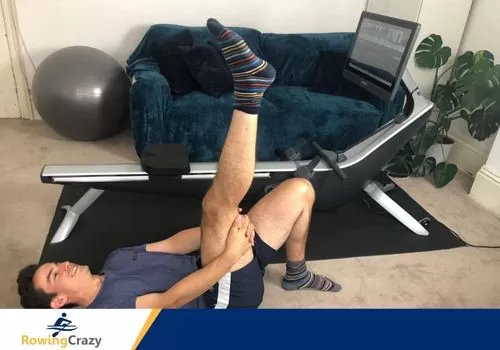 The Hydrow rowing machine is an investment in your future health. I own one and use it daily. I've never found a home rowing machine that was as much fun to use as the Hydrow. The best thing about it is that you don't need to push yourself to do your workouts; Hydrow pulls you toward it! That's how motivating Hydrow is.
Watch Rowing Instructor & Coach Max Secunda with the Hydrow:
Hydrow SAVE $100 or £100!! => Use Coupon Code: ROWINGCRAZY
Do All Indoor Rowing Machines Offer Racing Workouts?
Unfortunately, no, they don't.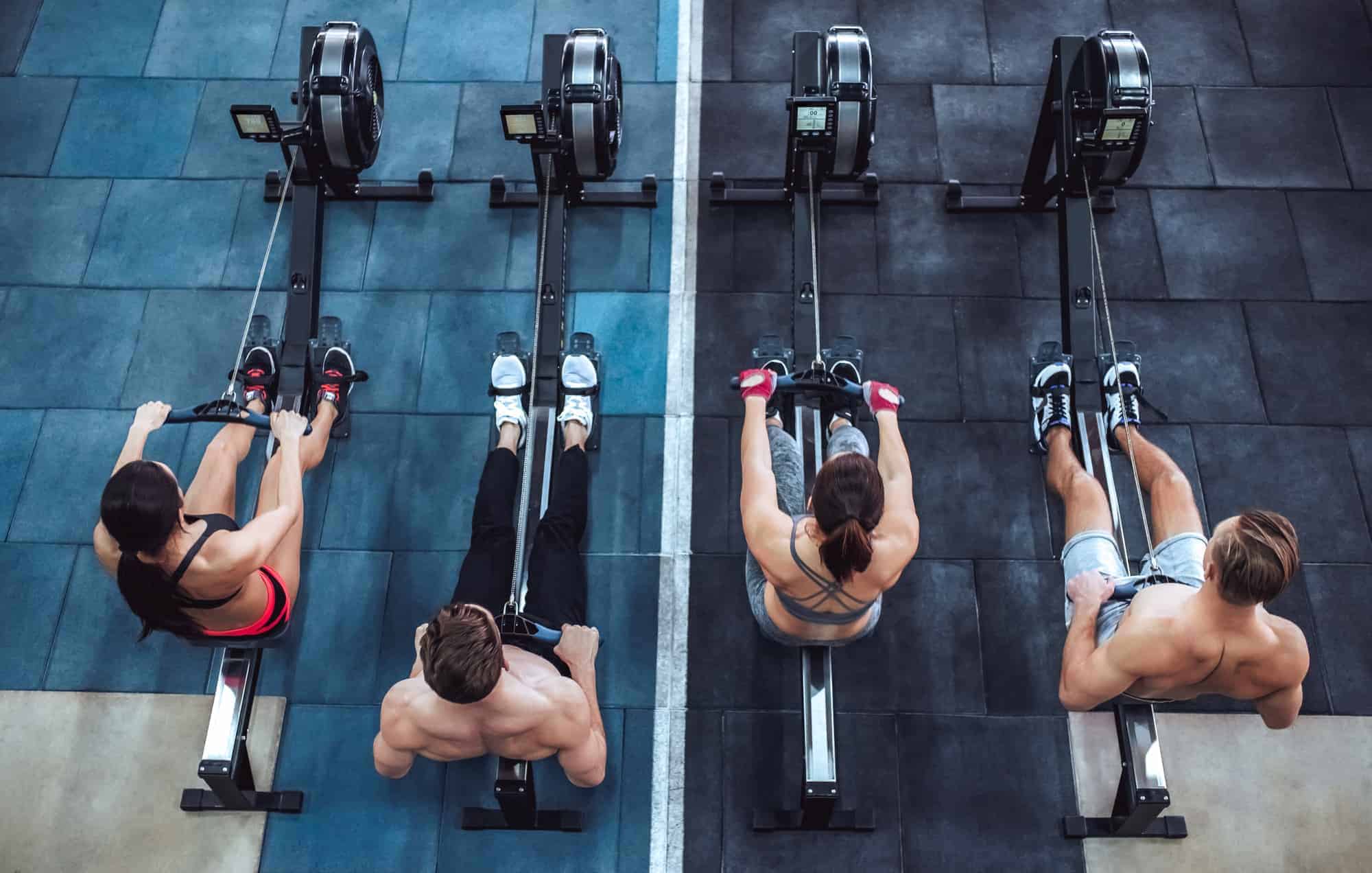 This isn't a bad thing. Different strokes for different folks, right? Some people are not competitive, and they don't enjoy or want racing.
However, I think that many rowers do enjoy a bit of competition. Many people engage in training so they can win against others who are their equals in terms of fitness.
You know how beneficial a rowing machine is. If you're pressed for time, a rowing machine will give you the cardio workout and benefits of exercise in about 20 minutes a day.
Yes, you read that right! You only need about 20-30 minutes a day on an indoor rower to work more muscles than you can with an hour on a treadmill or some other exercise machine.
Of course, proper form matters, especially if you plan to use your equipment for racing, but that's an article for another day.
Can You Add a Monitor to a Rowing Machine?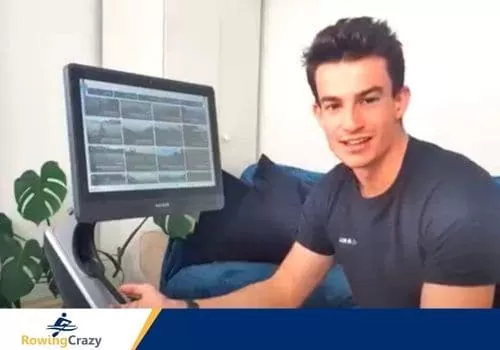 Glad you asked! I was about to tell you about this option.
Adding a monitor to your rowing machine will depend on which model of rower you own. Some do, while others don't. For rowing machines that don't allow you to add one, I'm betting they will soon.
For example, while I love Sunny Health & Fitness budget rowers, they don't allow you to add a monitor to the rower. I suppose that's how Sunny Health & Fitness can sell their water rowers or other home rowing machines at such an affordable price.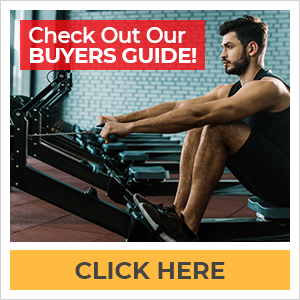 However, there is a newcomer to the market of fitness reality rowers, and they decided to let you choose how you want your home rowing machine, with or without a monitor. I'll talk about the Ergatta in the next section.
Racing and the Ergatta Home Rowing Machine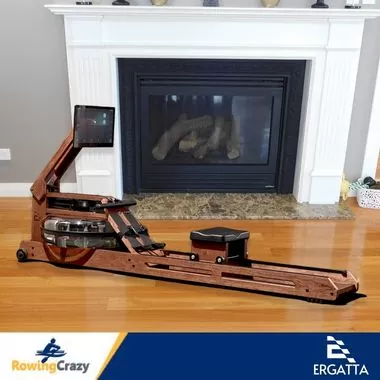 The Ergatta is made by WaterRower, which means that it's a high-quality wood-based home rower that uses water as its main form of resistance.
If you love feeling like you're sitting in a wooden boat and hearing the gentle swoosh-swoosh of water, you'll enjoy the Ergatta. Don't worry, that swoosh sound of water is no louder than your kitchen sink, so will the neighbor's hear it? Nope.
The Ergatta delivers the digital experience to you via its 17.3-inch Android-powered touchscreen monitor in full HD.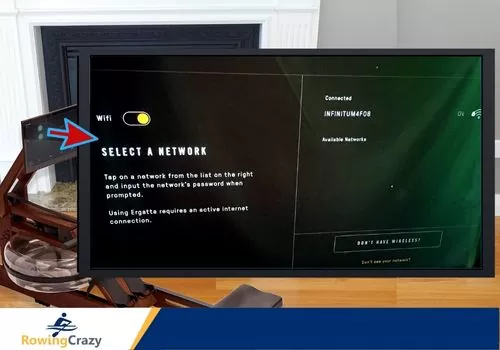 Throughout your workouts, you will see your stats, such as split time (current, average, and best), SPM, heart rate, and calories burned, to name a few. You will also see a unique feature called intensity zones, which are personalized data based on your speed and endurance at various levels of intensity.
The Ergatta allows you to add a monitor to the rower, whether you have one already or if you're considering buying one. You can get all the info regarding this monitor via email.
What makes the Ergatta experience exciting is how it uses your stats as targets to "gamify" and personalize your workouts.
For the Push, Interval, and Race programs, you'll find the usual 2D view of graphs, stats, race leaderboard, and your gliding ball Avatar in the Meteor. If you want to change into something more refreshing and natural, you get that too with the Open Row and its scenic views. You'll enjoy a more relaxing row while still hitting your time or distance goals.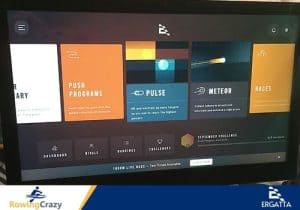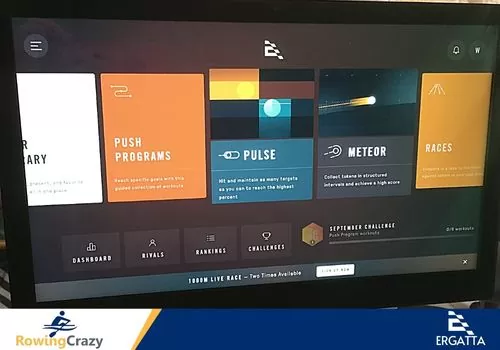 Unlike the Hydrow, you cannot message other rowers to join your racing team. What happens is that Ergatta matches you against eight opponents who belong in the same skill level as you.
The races are not live, although it will feel like you're competing live. Instead, the races are asynchronous, meaning, you're competing with others who have done the same workout prior to you, and may even include your previously recorded race time for the same workout.
The monitor on the Ergatta has a USB port. This means that you could actually plug in your phone or tablet and use the screen for other streaming workout programs of your choice, even the Hydrow!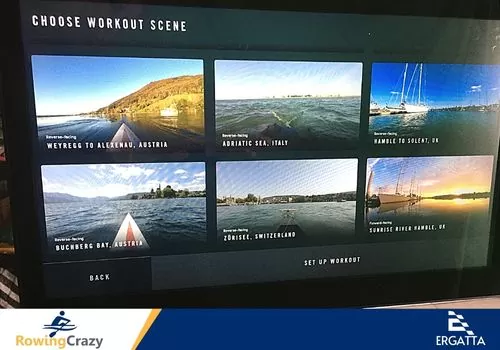 Yep, you got that right. If you own an Ergatta but want the instructor-led, live, and on-demand workouts and other programs that Hydrow offers, you can purchase a subscription that allows you to use the Hydrow app on your phone or tablet.
That's a real two-for-one deal! You can enjoy the Ergatta that you purchased, but row using the racing workout and Hydrow community interaction! How's that for ingenious?!
Next, let's talk about one of the biggest selling rowing machines, the Concept2 Model D.
Can You Use the Hydrow App with a Concept 2?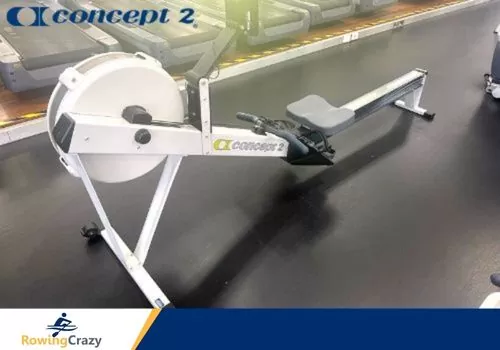 Yes, you can!
Concept 2 is perhaps the most popular rowing machine, and it has been around for years. With air blowing from its fan chamber, it is noisy but allows for unlimited air resistance.
Perhaps the drawback to Concept 2 Erg Rower is that it lacks many of the high-tech devices that newer rowing machines offer, including a larger screen and racing workouts.
The good news here is that you can purchase a mobile Hydrow app and use it on your smartphone or tablet while you use your Concept2 rowing machine.
If your Concept2 doesn't have a tablet holder, you can purchase one for a few dollars and then use the Hydrow app.
Click Here to Learn About Elliptical Rowers!
Racing and the Concept 2 Rowing Machine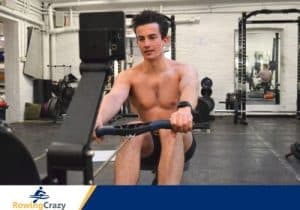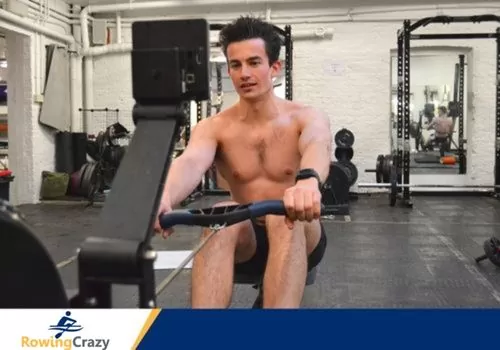 The Concept2 performance monitor tracks basic stats for races but offers no true racing workouts such as the kind that Hydrow offers. The Concept 2 has the following basic functions:
You can do racing workouts in your gym by downloading to your smartphone or tablet different apps like the Hydrow app or Regatta.
The ErgRace on Concept 2 allows for races that go by time, distance, or calories, but it is only compatible with Windows 7 (or later versions) at this time.
There are three different race displays: scrolling boat view, hybrid view, and leaderboard view for the ErgRace program.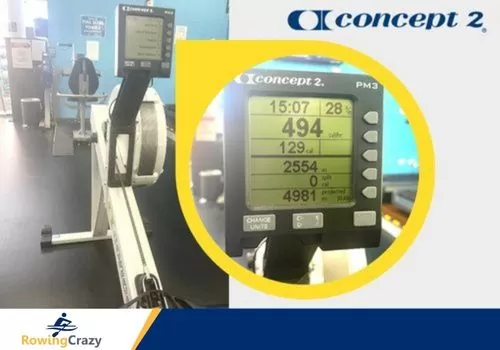 In short, while the workout monitor on Concept 2 does have some very, very basic games, most people end up downloading and using apps on their tablet or smartphone.
Watch our Youtube video on Concept2 below by expert rower Max Secunda:
Check out all our Rowers Under $500!
If you own a Concept 2, you might want to note that for a small monthly subscription fee, you can download the Hydrow app, which has the best racing and other fitness workouts and yoga workouts, and use that for racing.
Concept 2 may be a best-selling rowing equipment, but it lacks many of the features that the Hydrow or Ergatta offers.
Concept 2 or Hydrow – See Who Won!
So What's the Best Rower with a Racing Screen?
If you're considering buying a rowing machine or wondering what rowing machine should i buy, and you want the fitness reality of rowing on water (or as close as you can get), then I suggest you check out the Hydrow.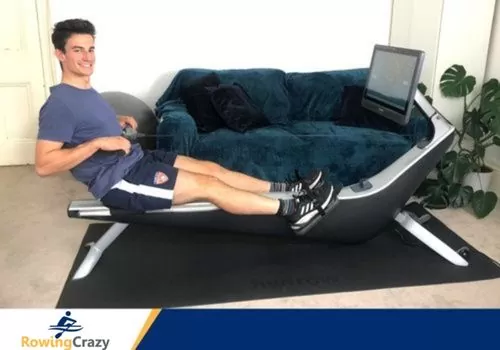 Hydrow SAVE $100 or £100!! => Use Coupon Code: ROWINGCRAZY
In my opinion, the Hydrow is the best piece of fitness equipment you can buy, no matter what other rowing machine you want to compare it to. This rowing machine offers a smooth and quiet operation because of its unique computer-controlled magnetic resistance system.
While I do like the sound that water rowers make (read more on water rowers with screens ), I find that I can get the same thing with the Hydrow rowing programs. Even at a normal volume, I can hear the water in the rowing programs. As the seat glides back and forth, I find that this rowing machine works perfectly for anyone who wants a true rowing experience.
When it comes to racing, nothing can match what the Hydrow offers. An interconnected experience with other Hydrow rowers will feel like competing on the open water with friends (read more on Hydrow rower cost here). You will also burn calories, monitor your heart rate, and perhaps best of all, you won't have to look for a parking space at the gym! All that makes it the excellent option
If you already have a Concept 2 or an Ergatta in your home gym, you can download the Hydrow app and access all the fantastic racing workout programs without buying a new rower.
So what are you waiting for?! Download the Hydrow App today, or check out the great deals that Hydrow is offering right now.
With such a wide range of benefits and fun racing workouts, what do you have to lose?
Other Articles You Might Find Interesting: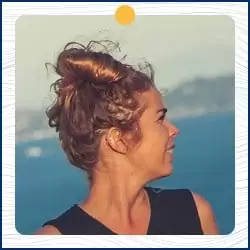 Written by Petra Amara – RowingCrazy.com
CEO & Founder of RowingCrazy, National Rower, Coxswain Womens Eight Team, Rowing Coach & Writer
Petra is a Mother of two and owner of Rowingcrazy.com. Petra lives and breathes rowing, she also has a passion for writing which lead her to start RowingCrazy.com to share her rowing experience and expertise with others.