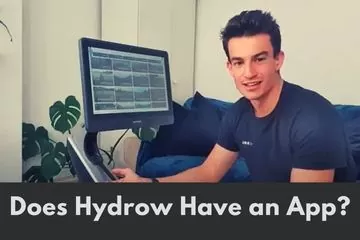 So you probably already know about the Hydrow and how terrific it is and all that, but what if you are away from home? Are you stuck using a lesser quality rowing machine that won't motivate you?
Maybe you have already invested in another rowing machine, but you love the live, streaming workouts and wish you could access them.
There is one little thing about the Hydrow that very few people know. You might know about the subscription and all about Hydrow's features, but an app? FYI: To learn more about the Hydrow's features and performance, where our team personally puts it to the test over a long period of time, please read our Hydrow Rowing Machine Review article!
Is There a Hydrow App?
Of course, there is a Hydrow app. Aside from the incredible workout programs, Hydrow is also a community of like-minded individuals who want to build happier, healthier lives. It is for this reason why Hydrow invented the Hydrow app – to keep you connected to other Hydrow users and allow you to use the workouts even when you're away from your favorite rowing machine.
Does Hydrow Have an Android App?
Yes, Hydrow has an Android app. You can download the Hydrow app on either your Android or IOS device.
For Android phones, you can go to the Google Play store. For IOS (iPhone), you can use the App Store.

Hydrow SAVE $100 or £100!! => Use Coupon Code: ROWINGCRAZY
If you have an iPad, be sure to narrow the choices to iPhone-only so you can download the correct app.
When you download the app, you open yourself up to a world of information at your fingertips, no matter where you are!
Track your progress by tapping on the Progress Tab. This feature taps into your completed rows and workouts, so you can feel good about the progress you have made.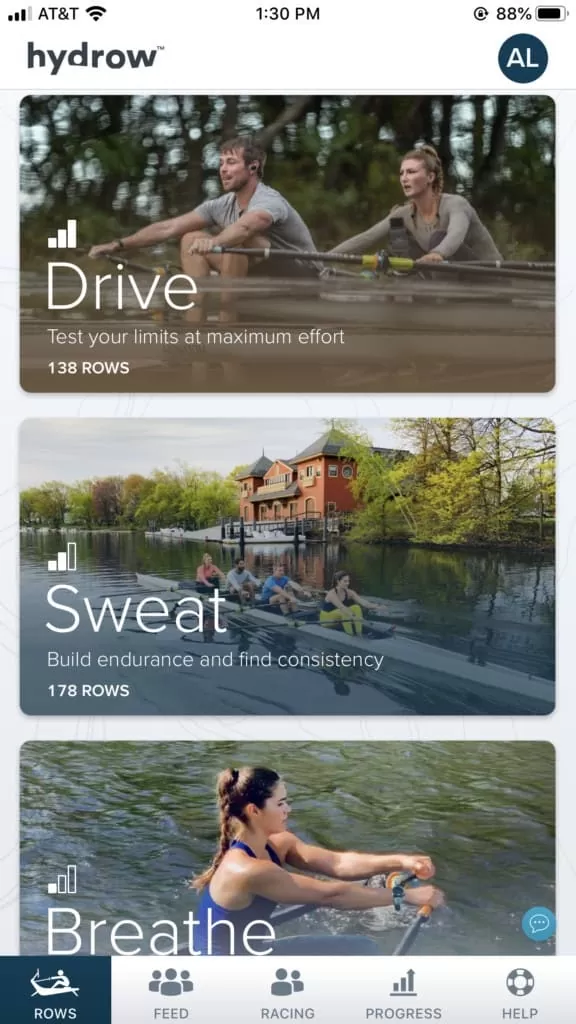 In addition to tracking your stats, you can use the racing tab to see how you and your teammates are measuring up.
You don't need to be sitting on your Hydrow rower (read more) to access all its features! All you need is the Hydrow app!
Can You Use the Hydrow App with WaterRower?
Sort of.
While the app won't connect to the device, you can still follow the workouts and enjoy the other features.
Since the app is not connected with the WaterRower, your row and stats won't be recorded in your Hydrow profile, but at least you can enjoy the workouts and the beautiful scenery!
Can You Use the Hydrow App with the Concept 2 Rower?
Yes, you can still access the Hydrow workouts and enjoy the upbeat instructors through the Hydrow app while using a Concept2 rower. However, the Hydrow app will not connect with the PM5 digital device on Concept 2 in the same manner that it will not connect to WaterRower.
This feature may be available in the future, but as of today, these two devices will not interconnect.
Can You Watch TV on Hydrow?
No, you cannot watch TV on Hydrow. I know that the beautiful 22-inch HD monitor would make a great television, but unfortunately, this device is dedicated to the Hydrow rower.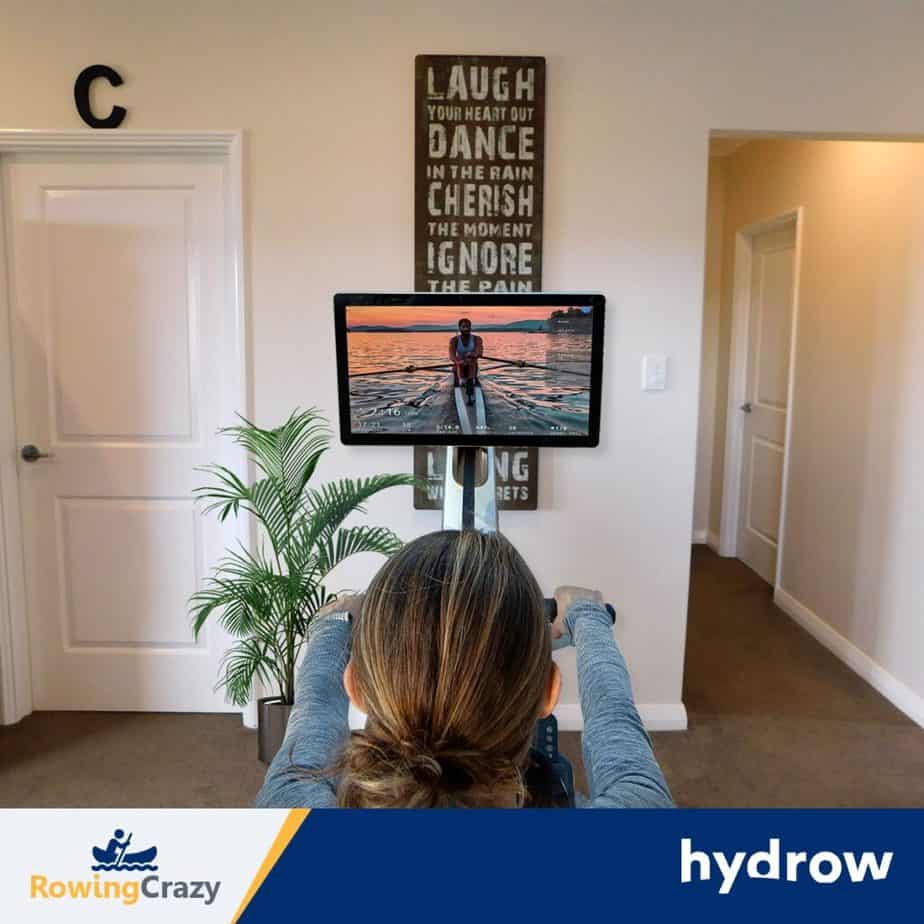 Hydrow SAVE $100 or £100!! => Use Coupon Code: ROWINGCRAZY
Can You Watch Netflix on Hydrow?
No, you can't watch Netflix on Hydrow. As mentioned earlier, Hydrow's touchscreen is exclusively for viewing Hydrow's content. The monitor has no HDMI ports or other audio/video ports for you to connect to another device or stream content like Netflix or television programs.
Click Here to learn more about Hydrow's Heart Rate Monitor!
Can You Use the Just Row Mode on the Hydrow?
Technically, you could, yes, but why would you do that?
The Hydrow has everything you could want and more in a rowing machine. Without the monthly subscription, you will just be rowing and you can do that with any rowing machine, right?
The Hydrow offers a unique rowing experience that allows you to see and feel as if you're really rowing on the water. The computer-controlled electromagnetic resistance system automatically manages the amount of resistance so all you need to do is focus on your workout.
Watch our expert rower Max Secunda using the Hydrow Rower:
One thing to note about the Hydrow is that the subscription price goes with the machine, not the user. This means that you can create an endless number of profiles with that single subscription. Imagine everyone in your household sharing the Hydrow workout experience and having their own stats monitored! In fact, each user can share in paying the expense, making the monthly subscription fee a very cheap alternative to gym membership costs.
You can read more about the Just Row feature on the Hydrow here.
I understand that in uncertain financial times, you may be concerned that in the future you may not have the funds to pay for the app, but keep a positive frame of mind and rest easy knowing that if you let your subscription lapse for a period of time, the Hydrow rower will still be usable and there is no penalty for restarting your subscription in the future.
Click Here to check out Hydrow's Storage Kit!
Can I Make Unlimited Profiles with the Hydrow App?
Unfortunately, no. Once you download the app from the App Store or the Play Store, it only allows one person to sign in to the app. While your Hydrow rower allows unlimited profiles with stats and personalized monitoring, your cell phone will connect to only one user.
Do You Need a Mat for Your Hydrow Rower – Find Out Here!
The Bottom Line
Hydrow SAVE $100 or £100!! => Use Coupon Code: ROWINGCRAZY
If you haven't purchased a Hydrow yet, I want to tell you about my promo code that you can use to get a substantial discount. Check out my exclusive discount code for Hydrow rower here!
I hope you found this article helpful. If you did, please feel free to share it with family and friends.
Oh yes, don't forget to share the promo code link as well! I like to pass on good news and good bargains when I find them, and this discount is a real winner!
Enjoy the Hydrow app and happy rowing!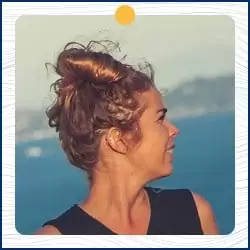 Written by Petra Amara – RowingCrazy.com
CEO & Founder of RowingCrazy, National Rower, Coxswain Womens Eight Team, Rowing Coach & Writer
Petra is a Mother of two and owner of Rowingcrazy.com. Petra lives and breathes rowing, she also has a passion for writing which lead her to start RowingCrazy.com to share her rowing experience and expertise with others.