Hello, apartment dwellers! I'm Petra, and I truly understand your frustrations.
In my younger days, I also lived in an apartment, and finding space for my rowing machine was not an easy task. I made some small sacrifices for space only to find that my neighbors didn't appreciate the noise my air rower made.
Are these the same reasons you're on the fence about buying a rowing machine (see rowing machine on finance options here)? Today, you'll find not only the most space-saving rowing machines but also the quietest, smartest, and easiest to store and move!

In a Hurry? Here are My Top 4 Picks:
If you're pressed for time and simply want to find the best compact rowing machine perfect for apartment, here are my recommended choices:
*We review fitness products impartially and may earn a commission from affiliate links. For details see our disclosure page.
You can read my full breakdown and review on each individual machine further down in this article, where we go into our findings for each machine.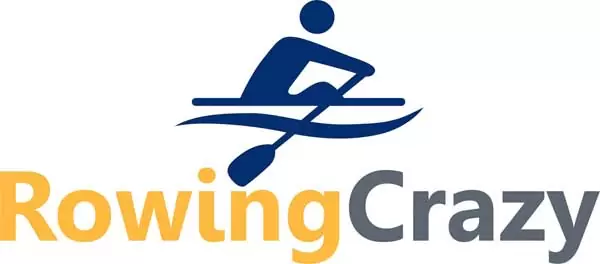 Let's Dive Right In!
I believe that this is why so many young people buy expensive gym memberships. They either don't have the space for a rowing machine or are worried about the noise.
Consider your problem solved! I've created a guide that will help you find the perfect rowing machine for apartments, no matter what you are looking for! Low noise rowing machines, compact rowing machines, budget-friendly rowing machines, you name it!
We've got a lot of ground to cover so take a seat, and let's get started!
Noise: Top Quiet Rowing Machine for Apartments
If you've been using an air rower at your local gym, you might have noticed that it makes a considerable amount of noise. Now imagine that rowing machine in your apartment!
Yeah, that's not a good idea.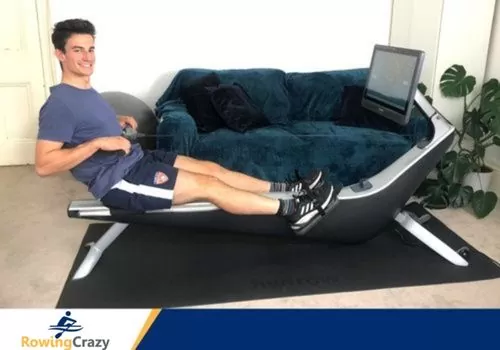 When you want a quiet rowing machine for apartments, then you should consider a magnetic rowing machine.
Try recalling your high-school science classes, and you'll remember that magnets can attract or repel. The same principle is used to create resistance in magnetic rowing machines, and as you can easily imagine, magnets make no sound.
Let's start with what I call the KING of quiet rowing machines—the Hydrow.
1. Hydrow Rower – Top Pick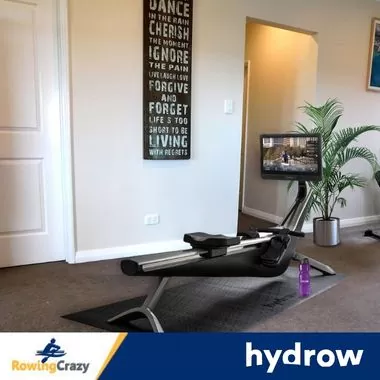 Hydrow SAVE $100 or £100!! => Use Coupon Code: ROWINGCRAZY
When it comes to quiet, you can't beat Hydrow.
Magnetic rowers are among the best rowing machines ( learn more about the pros and cons of rowing machines )chosen by many because they make virtually no sound.
I love my Hydrow and use it daily, so I can attest to how quiet this magnetic rowing machine is.
In addition to being a quiet rower, the 22-inch HD touchscreen monitor gives you a realistic view of what it would be to row on the water.
Hydrow uses a computer-controlled mechanism so you don't have to adjust the resistance level yourself (unless you want to). This gives you the feeling of really rowing on the water!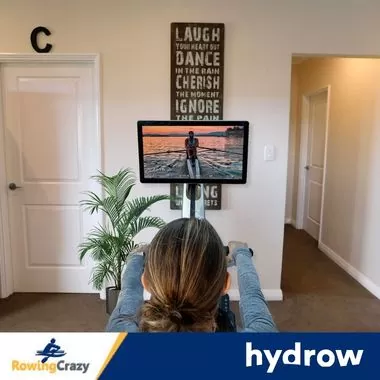 Hydrow is completely Bluetooth compatible, so you can use your Bluetooth-enabled headphones and crank up the music as loud as you like. No one will hear a sound except you.
This indoor rowing machine far exceeds a gym-quality rowing machine and is made to last for decades. The live and on-demand workouts led by professional athletes (many of them former Olympic team members) will keep you motivated no end because they keep coming out with new live rowing videos for you.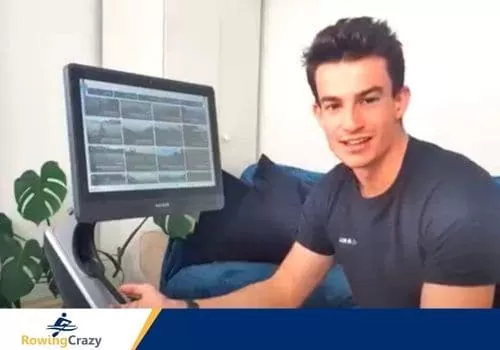 Not only that, there are also off-the-rower workouts like yoga and Pilates so you will never miss your old gym classes.
Hydrow is easy to store as well. You can use the Upright Storage kit and mount your Hydrow vertically and securely.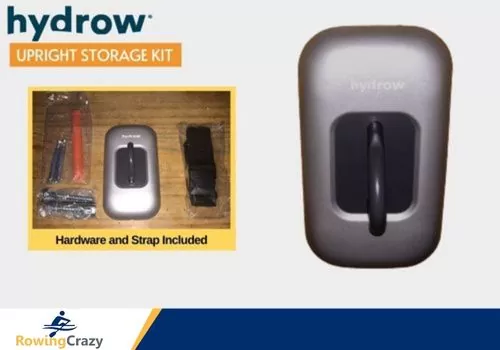 Living in an earthquake-prone area? No worries! Your Hydrow will be secure when you store it with the upright storage kit.
Hydrow is no doubt the king of magnetic rowing machines because of its quietness and highly motivating workouts.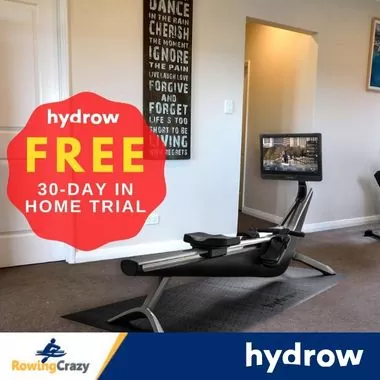 Hydrow SAVE $100 or £100!! => Use Coupon Code: ROWINGCRAZY
If you want the best rowing machine on the planet and with very low noise levels for apartment dwellers, then it's Hydrow you want.
That's not all! You can use my link to get a major discount on the Hydrow rower and feel good about your new, state of the art piece of fitness equipment.
2. Teeter Power10 Elliptical Rower – The Runner Up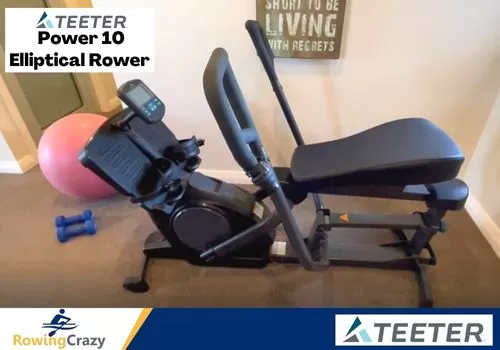 Looking for something a bit different from the usual rowing machine? If you like working out with ellipticals but want some intense workouts, you should consider the Teeter Power10.
Right from the start, you will notice that this indoor rowing machine is different. Just look at those handles!
Learn more with our full video by Olympic Rower Rachael Taylor:
Your typical rowing machine has a single handle for you to pull on. With the Teeter Power10, you get multi-grip handles that allow you to move your hands from one position (for example, the very top of the handlebar) to another position (the sides of the handlebar).
When you change your grip, you will work an entirely new set of muscles. How is that for something different?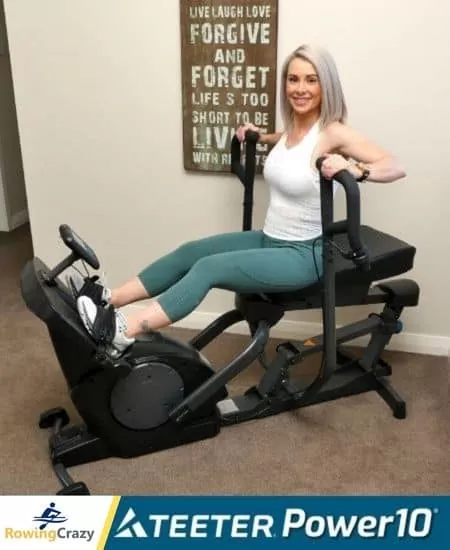 Oh yes, and with most rowing machines, you simply pull on the handle. Not the Power10. You can push and pull for a super-intense workout that puts other workout equipment to shame!
Like Hydrow, the Teeter Power10 is a magnetic rower, so while you might be huffing and puffing as you do your workout, your rowing machine won't make a sound!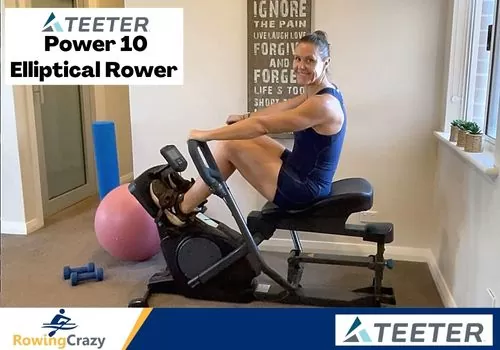 The Power10 has a performance monitor, easily syncing your workout with popular apps, such as Garmin or Apple Watch, because it is Bluetooth-enabled. Plus the free Teeter app has great many great training videos to keep you motivated at all times.
The Teeter Power10 offers an incredible workout, and while it can't be folded, it does have transportation wheels for easy storage and can be stored on one end to save on space.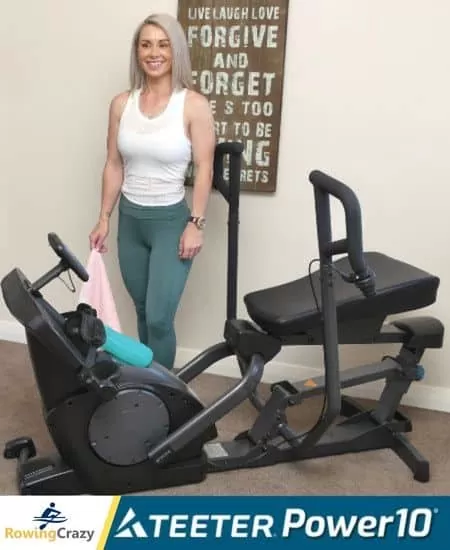 If getting twice the workout with zero noise sounds good to you, and if you think cardio and strength training should go together, then check out my special price for the Teeter Power10.
Compact Rowing Machines for Apartment that Folds or has Upright Storage
I think the one thing that is true for nearly every apartment dweller is a lack of storage space.
Most apartments have no linen closet, garage, basement, an attic, or cabinets in any room except the kitchen. This only confirms that for many dwellings, storage space is a premium.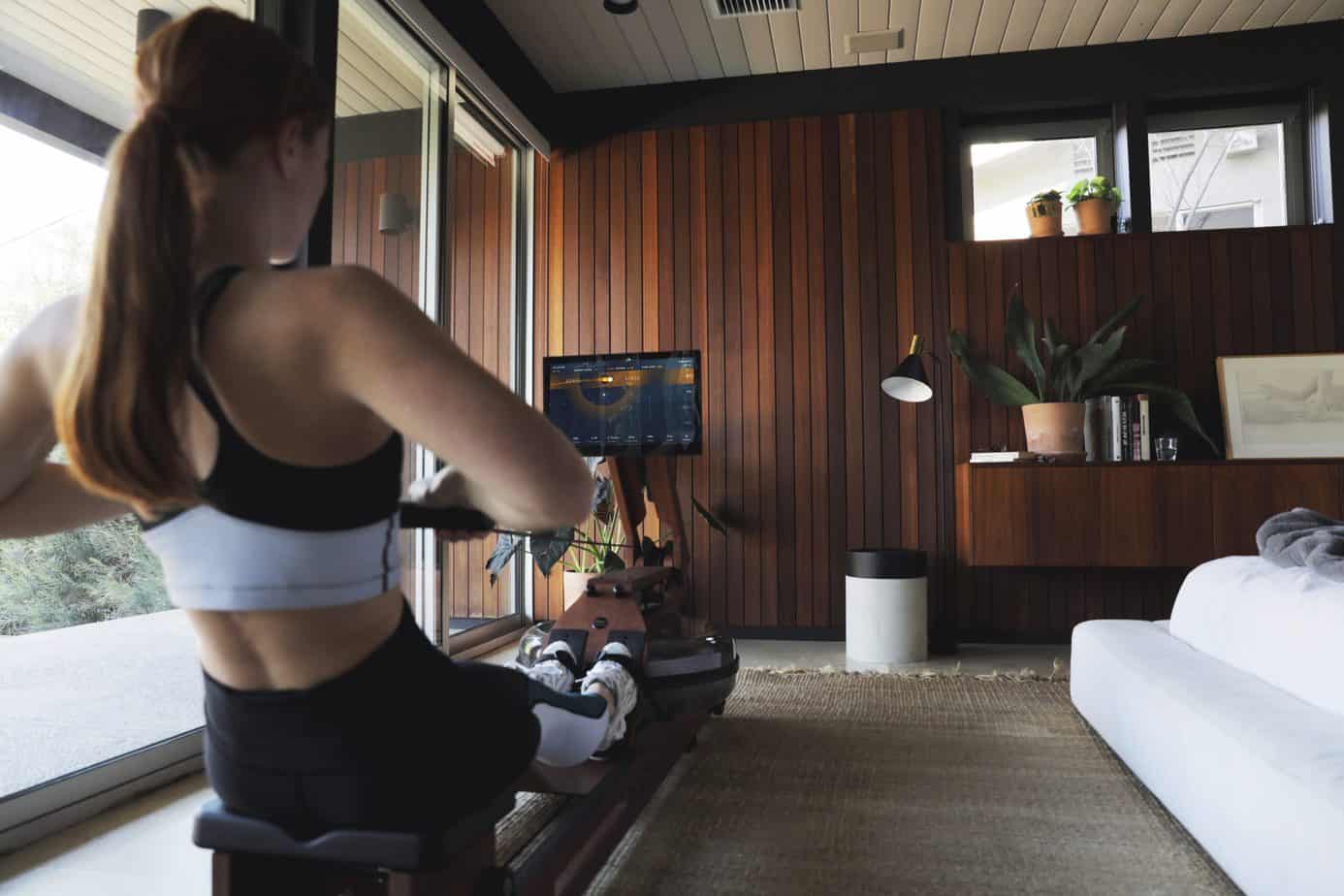 For those who want a rower that is not only low on noise but one that can be stored upright or via folding pieces, I've got you covered.
Check out the following list of space-saving indoor rowing machines for apartments.
1. The Ergatta Water Rower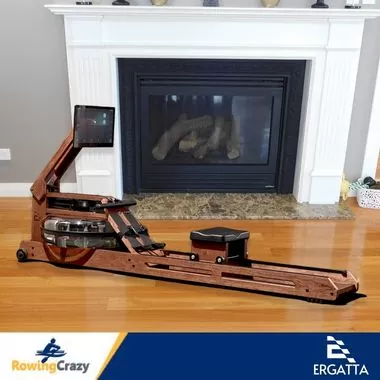 Water rowers work very much like air rowers. With air rowers, the fan is inside a cage, and it uses air for resistance.
Water rowing machines also have a fan blade, but it is inside a plastic tank containing water. As the fan blades push against the water, they create resistance.
I actually love the sound that water rowers make, about as loud as filling a bathtub and as hypnotic as the swishing of moving water.
Ergatta is one of the best rowing machines around and the most popular especially for the water rowing crowd.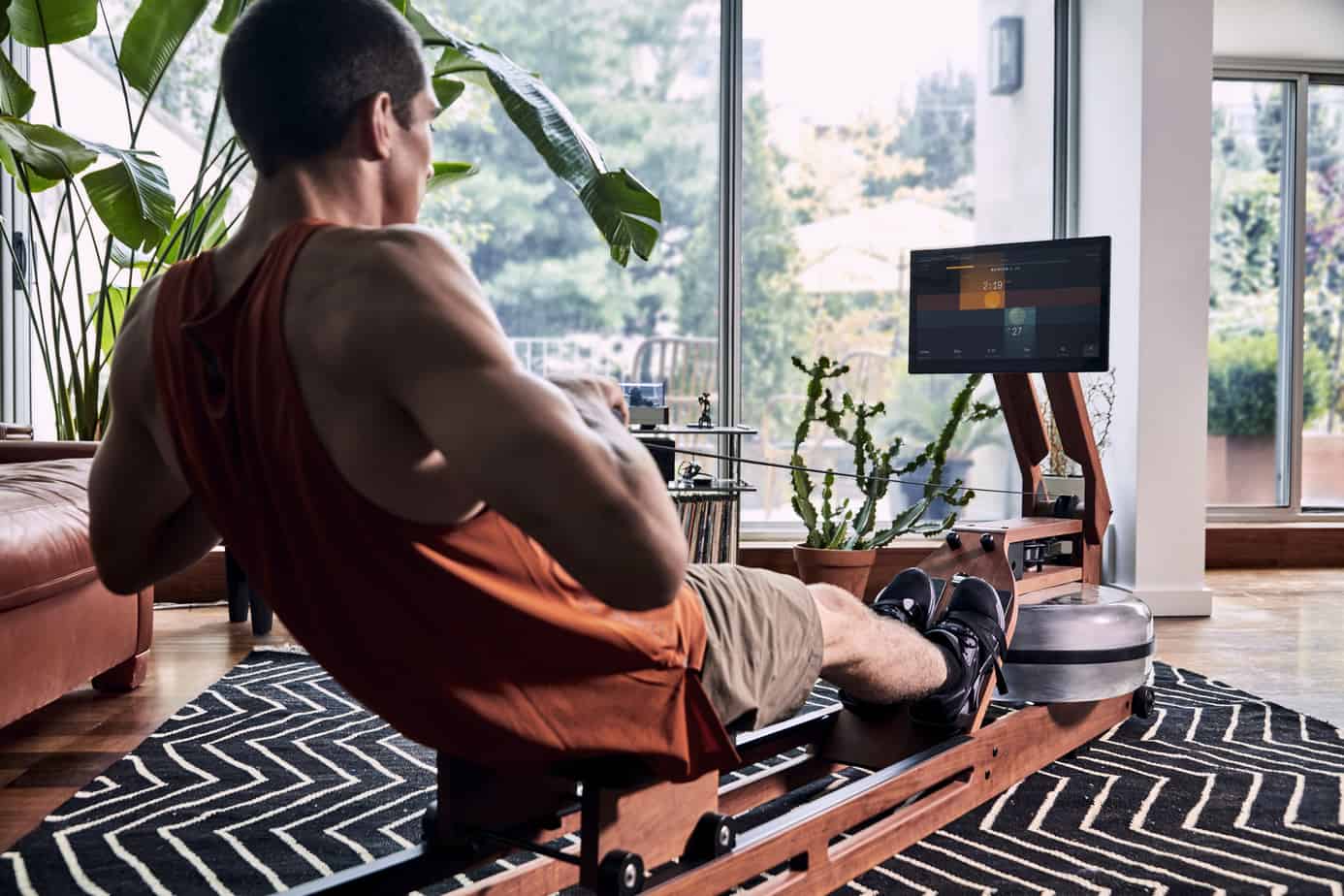 This cherry-wood rowing machine has a 17-inch touchscreen that is both video-game-based and science-based. Each workout is designed to help you not only reach your next fitness level but also to keep you motivated to come back for more.
There are dozens of high-quality water rowers, but only one Ergatta. I love how its programming keeps me working hard, but not so hard that I'm sore or worn out the next day.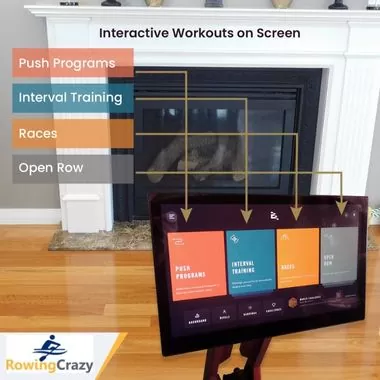 This smart rower is Bluetooth enabled so you can listen to music via your Bluetooth headphones and never bother a soul.
What makes Ergatta different is its programming. There are races, challenges of the month and year (where a charity receives a donation every time you complete a challenge), and you can pick from any number of programs and rowing workouts.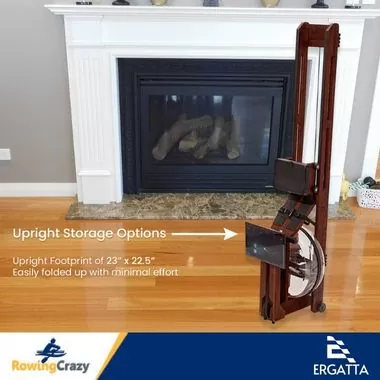 While this water rower doesn't fold, it does store upright on its end. This means that if you remove a photo off the wall, it can sit against the wall and take up no more room than a dining room chair! How is that for a compact rowing machine?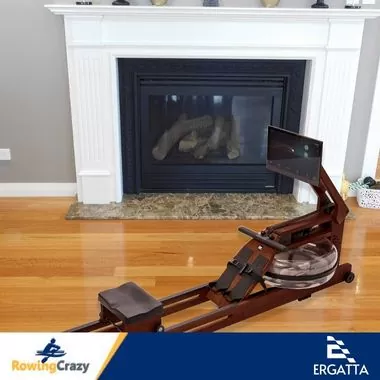 If you want a full-body workout, love the sound of water, enjoy playing video games, and get fired up by competitive racing, then you should check out the best water rowing machine for apartments- the Ergatta.
2. LIT Method Rowing Machine for Apartments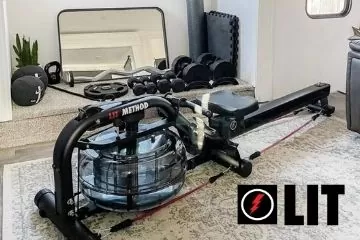 Notice that the LIT Method Machine doesn't call itself a rowing machine. Why? Because it offers much, much more!
The LIT Method is a water rower, so it won't make any real noise. What is different about this rowing machine?
The LIT Method has anchor points where you attach the included resistance bands so you can do both cardio and strength training at the same time.
Most LIT workouts are HIIT and are quite varied. A workout might get you rowing like mad for 20 minutes, then stop rowing to pick up one of the resistance bands, and start doing bicep curls!
The company has designed this machine to give you a low-impact workout that can prevent injuries and still operate as an efficient piece of cardio equipment.
There is no performance monitor, so what you do is download the app to your smartphone or tablet and use that as your monitor. You can also cast it to your television for a super widescreen view!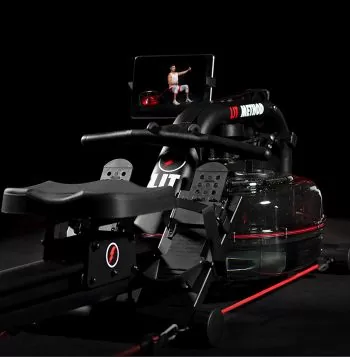 Like the Ergatta, the LIT Method machine can be stored on one end. This rowing machine requires only 2 feet by 2 feet of floor space when stored vertically! You might have chairs that take up more room than this does!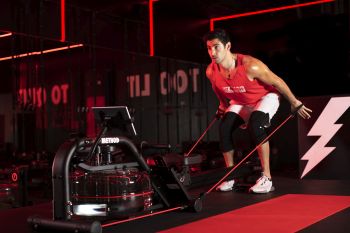 If you like to mix up your workouts and doing Pilates and resistance training along with rowing sounds like a winner to you, then check out the LIT Method!
3. Aviron Dual Resistance Rowing Machine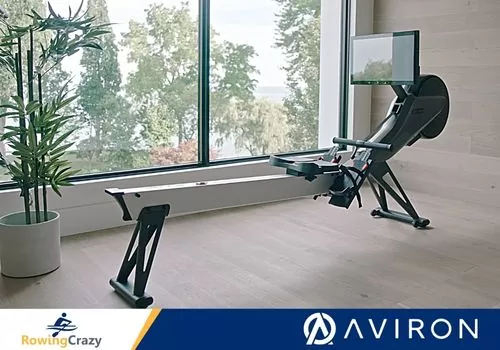 Aviron is a unique rowing machine because it uses both magnetic resistance and air resistance. They make two different types of rowers, and in this article, I'm going to talk about the Impact Series.
Yes, air resistance rowers are quite loud, but because Aviron uses both types of resistance, you may find that the noise level is acceptable for your household.
Like Ergatta, the Aviron is game-based, but it is also designed to give you the shortest workouts that will get you the most results. It offers you 7 ways to keep fit, including gamified rowing workouts, virtual scenic rows, races and competitions, and guided on and off-the-rower exercises.
This piece of exercise equipment will also automatically adjust the resistance level, so you don't have to do anything but row!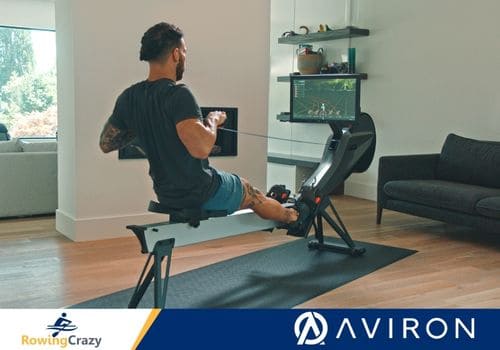 Or you can use the rower as a mini-strength training device. It has foam grip handlebars that allow you to do bicep curls and other weight lifting types of exercises.
Aviron will also fold in half and has transportation wheels, so moving it to another location for storage is a breeze.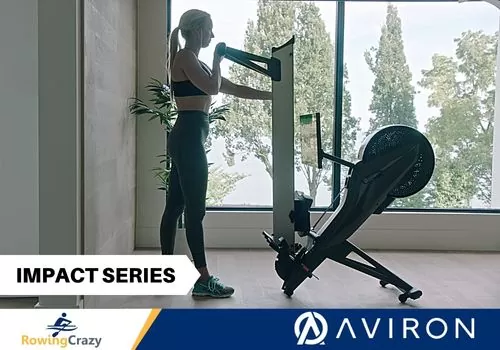 If you enjoy playing video games, don't have a lot of time to work out, and your neighbors won't mind a bit of noise from your machine, then you might want to check out the Impact Series from Aviron.
4. Nordic Track RW900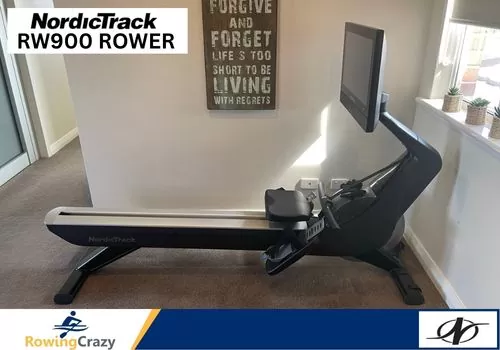 You probably are familiar with the Nordic Track name, but did you know that they also make rowing machines?
Like the Aviron, the Nordic Track RW900 uses both air and magnetic resistance. If your apartment is a bit noisy overall, then you shouldn't have any complaints over this lightweight rowing machine.
See Olympic Rower Rachael Taylor in Action with the NordicTrack RW900 Rower:
The RW900 is NOT completely Bluetooth compatible. It does use Bluetooth for heart rate monitors, but NOT for headphones, although it does have a jack to plug in earbuds or other types of headphones. Be sure the cord is long enough!
Otherwise, you can use the front-facing speakers on the 22-inch monitor.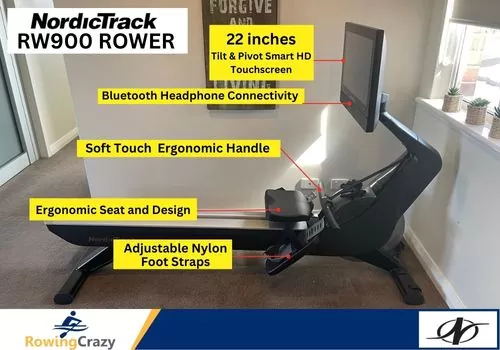 NordicTrack uses iFit (see iFit Rowers), which is an app that allows you to access different types of workouts, from rowing to running, biking to hiking, and so much more in between. If you already use iFit, then you're good to go!
The great thing about iFit is that there are hundreds (maybe thousands) of off-the-rower workouts, so you can do some yoga, Pilates, foam rolling, and more.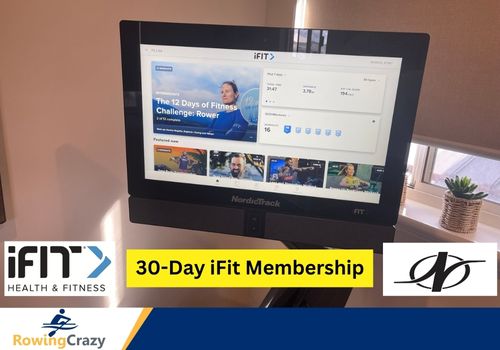 The Nordic Track RW900 also folds in half and can be stored just about anywhere.
You should note that the Nordic Track RW900 has a user weight capacity of only 250 pounds. Other rowers, like Hydrow, support users up to 375 pounds. If you are a big person, take note of this before you buy!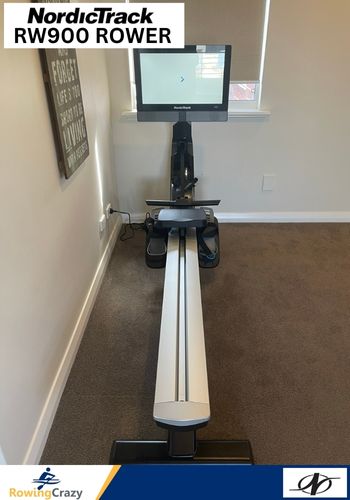 If you are already using the iFit app and like the idea of having access to lots of different types of workouts, if you like rowing and you trust the Nordic Track name, you might want to check out the Nordic Track RW900 dual resistance system rowing machine.
Best Rowing Machine for Small Apartment on a Budget
Most people need to consider their budget before making a large investment in a rowing machine.
If the rowing machines above are out of your reach at this time, you don't have to go without!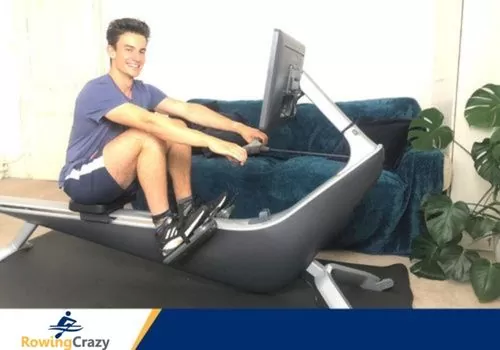 The following is a list of budget-friendly rowing machines that should last for years with proper care.
Sunny Health and Fitness makes excellent, high-quality exercise products that get very good reviews.
Check out my list of the five best budget rowing machines for apartments.
1. Sunny Health & Fitness Magnetic Rowing Machine with LCD Monitor
This is a basic magnetic rower from Sunny Health and Fitness that won't make a sound, making it the perfect rowing machine for apartment or dorm life.
Note that this rower has a maximum weight capacity of 250 pounds, but it has a 48-inch rail that allows even very tall people to use it easily.
The performance monitor displays time, count, calories, and total count, and it scans all modes.
This is a lower-priced option that has many important features, such as a cushioned seat, a padded handle, non-slip foot pedals, and 8 levels of adjustable resistance.
The heavy-duty steel frame means that this should stand up to everyday use so you can use it to lose weight and enjoy a full-body workout, without ruining your budget.
This magnetic-resistance rower makes very little noise if at all and folds up so that it will fit in any home gym. Check out this Sunny Health and Fitness equipment and reach your fitness goals faster!
2. Sunny Health Fitness Compact Folding Magnetic Rower
Wow! The title alone tells you everything you want to know about the SF-RW5801 rowing machine, right?
Sunny Health and Fitness made this machine for apartment dwellers! This one has a slightly higher weight capacity at 285 pounds, but it still has a 43-inch rail, which means even those over 6 feet tall can use this without a problem.
Other rowing machines may have only 6 or 8 levels of resistance, but this compact rowing machine has 16 levels of magnetic resistance that you can control with the touch of a knob.
There are pivoting, textured foot pedals, a textured handlebar for non-slip movement, and an ergonomic seat for comfort.
I like that this rowing machine has a water bottle holder and a tablet or smartphone holder built right in!
The SF-RW5801 folds and has transportation wheels, all for an affordable price!
If you want all the extras but don't have a lot of cash, check out this compact rowing machine from Sunny Health and Fitness.
3. Sunny Health and Fitness Full Motion Rower
For anyone who wants to get back to basics, needs a budget-priced machine that is super space-saving, or wants a rower that is portable, the Full Motion rower from Sunny Health might be exactly what you are looking for.
No fancy frills, just basic rowing action, with two handles for a more realistic feeling. This device is one of several hydraulic piston rowing machines that you may have seen advertised online.
I like that this hydraulic rowing machine has an extended weight capacity that is higher than some other models. It can support users up to 350 pounds!
It has a basic performance monitor and non-slip foot pedals, so nearly anyone can use this machine.
Also, since it uses hydraulics, there is no sound at all!
This rowing machine weighs only 35 pounds, meaning you can literally pick it up and store it just about anywhere.
While hydraulic resistance may not have the adjustable resistance levels that some other types of exercise machines have, it will still get the job done!
If you are on a very tight budget and want a rower that will go anywhere, and if your primary concern is to get a good workout, then the Sunny Health and Fitness Full Motion rower might be a good choice for you.
4. Sunny Health and Fitness Squat and Ride
As you can see from the photo and the description, the Squat and Ride (aka Row and Ride) is more of a glute and core muscle trainer, a general exercise machine, and not much of a compact rowing machine.
I wanted to mention it and exclude it from this list, but it does imitate rowing exercises and will work some of your major muscle groups.
You should note that this exercise machine is rated for users weighing 220 pounds or less. It has an adjustable seat and a performance monitor that shows the basics. The machine itself weighs only 27 pounds. I've had cats that weigh this much!
This is perfect for anyone who wants to improve their glute strength but has very little room.
The Row and Ride uses elastic bands and your body weight for resistance. While it won't give much resistance for someone who is very fit, it is still a great addition to anyone's home gym or for those with very little space.
This exercise machine folds nearly flat, so you can put it in your luggage, the trunk of your car, in the closet, or under the bed.
If you haven't exercised in a while and want a space-saving exercise equipment that is easy for beginners, you'll find the Row and Ride versatile, cheap, and very portable. What else could you ask for?
5. Stamina BodyTrac Glider
When searching for the best rowing machine for small spaces, compact rowing machines often come out on top.
The Stamina BodyTrac Glider rower is perhaps the best rowing machine for those who need something quiet, space-saving, and won't break the bank.
This rower offers a more natural rowing experience than what you mostly get from other types of hydraulic rowers. The reason for this is that the machine uses two handles, which is more of a full-body workout than you might have thought possible.
Made from carbon steel, this can handle user weights up to 250 pounds, even while the rower itself weighs only 38 pounds.
There is a basic performance monitor, and what's more, Stamina BodyTrac provides a free fitness app that requires no subscription!
This rower has a comfortable molded seat, padded handlebar grips, and full-motion arms that fold down so you can easily store this just about anywhere!
The Stamina BodyTrac Glider is an affordable rower that still offers all the benefits of exercise and full-body workouts.
The Bottom Line
If you've got plenty of motivation, but you don't want complaints from the neighbors, you will find that all of the above rowing machines will work for your environment.
I suggest that you purchase the best rowing machine that you can afford to get the most out of your fitness routine.
Keep rocking and rowing to a healthy and happy life!
FAQs
1. Are rowing machines OK for apartments?
Yes, they are! All of the above rowing machines are low on noise and can be moved or folded to save space when not in use.
2. Are rowing machines too loud for an apartment?
Most of them are not. Avoid air rowers since they tend to be the noisiest.
3. Can you fold or store a rowing machine upright?
Nearly all models of rowing machines can be folded or stored in a vertical position to help save space and make them easy to move or transport.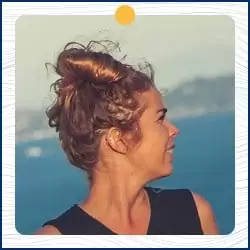 Written by Petra Amara – RowingCrazy.com
CEO & Founder of RowingCrazy, National Rower, Coxswain Womens Eight Team, Rowing Coach & Writer
Petra is a Mother of two and owner of Rowingcrazy.com. Petra lives and breathes rowing, she also has a passion for writing which lead her to start RowingCrazy.com to share her rowing experience and expertise with others.