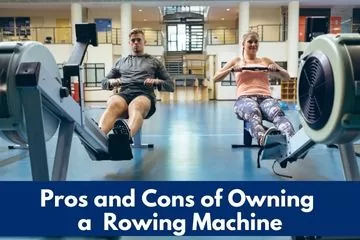 Hi friends! It's your favorite blogger Petra, and in this article, I want to address something most people don't—the pros and cons of a rowing machine.
Yes, you've heard me say many great things about owning your own rowing machine and rowing exercise benefits to everyone who tries it.
However, I would be dishonest if I said that owning a rowing machine is perfect for everyone.
There are also other things to consider.
For example, someone might find that they love their air rower (read more on magnetic vs air rowing machines ), but it's too noisy for their household, or that a water rower sits too low to the ground.
Before you purchase a rowing machine, take a few minutes to read this article so you have a better idea about what may or may not work for you.
We've got a lot to cover, so let's get started.
Rowing Machine Benefits and Disadvantages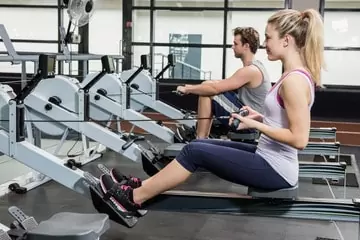 There is no doubt that rowing is the perfect piece of workout equipment. You get a full-body workout and an excellent cardio workout all at the same time using a single piece of equipment. No stationary bike can make that claim!
Not only that, but you can enjoy a low-impact workout that is easy on the joints. This means that even an intense workout on a rowing machine won't cause joint pain or joint damage. Move over strength training!
If you've found ellipticals worsen your knee issues, or you're tired of getting off the treadmill so you can work your upper body, rowing workouts put an end to all that.
Advantages & Benefits of a Rowing Machine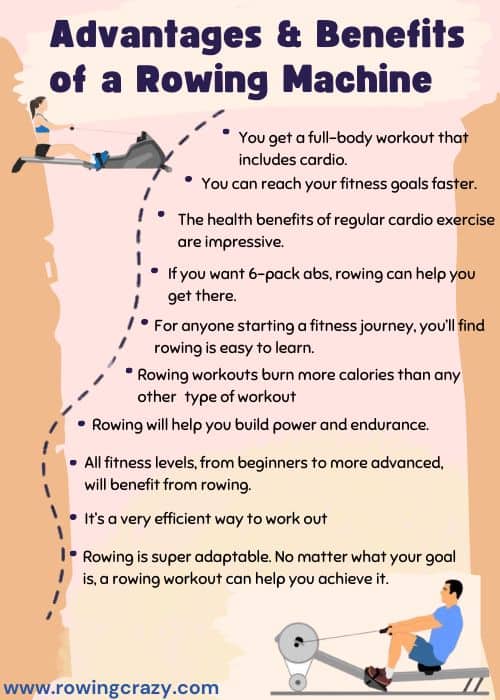 Let's take a quick look at all the good things a rowing machine has to offer:
You get a full-body workout that includes cardio.
You can reach your fitness goals faster.
The health benefits of regular cardio exercise are impressive.
If you want 6-pack abs, rowing can help you get there.
For anyone starting a fitness journey, you'll find rowing is easy to learn.
Rowing workouts burn more calories than any other type of workout except jumping rope, which is good news for those who want to lose weight or maintain a healthy weight.
Rowing will help you build power and endurance.
All fitness levels, from beginners to more advanced, will benefit from rowing.
It's a very efficient way to work out since you exercise 86 percent of the body's muscles, including the heart and lungs, every time you start rowing.
Rowing is super adaptable. No matter what your goal is, a rowing workout can help you achieve it.
I'm sure that I'm forgetting something, but you get the idea. Rowing is simply awesome for the entire body—and mind!
Disadvantages of Rowing
Yes, I have a real passion for rowing, but I understand that it's not for everyone. Or should I say, not everyone loves rowing.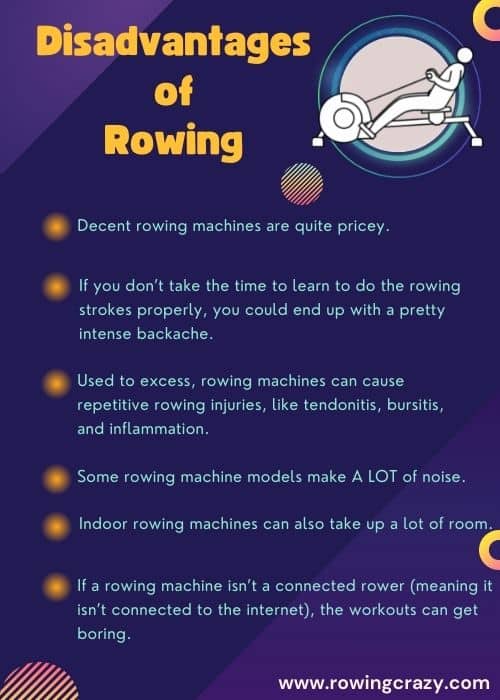 Let's look at some of the problems with a rowing workout:
Decent rowing machines are quite pricey. Of course, you can always use one of he machines at the gym, but those are the most basic (and frankly, boring) machines around. You can find a good rowing machine for less than $300, but the fun machines that will last for decades are more in the $2,000 and up price range. If you're looking for a reasonably priced rowing machine that will offer fun workouts and a certified personal trainer, consider the Hydrow Wave.
If you don't take the time to learn to do the rowing strokes properly, you could end up with a pretty intense backache.
Used to excess, rowing machines can cause repetitive rowing injuries, like tendonitis, bursitis, and inflammation.
Some rowing machine models make A LOT of noise. Take note of your surroundings and be careful if you decide to add an air-resistance rowing machine to your home gym.
Indoor rowing machines can also take up a lot of room. Many models fold in half or collapse somewhat so you can store them against a wall, but consider how much space you have and the size of the machine before you buy one.
If a rowing machine isn't a connected rower (meaning it isn't connected to the internet), the workouts can get boring. Of course, this is true with nearly all pieces of fitness equipment. This is why there are televisions set up at your local gym! if you get bored easily, consider going with a higher-priced, smart rower.
I think I've covered the basics regarding rowing machine workouts and ownership.
Let's take a quick look at each type of rowing machine so you can make a more informed buying decision.
Hydraulic Rowing Machines
If you've done any shopping around for an indoor rowing machine, you know that a hydraulic rowing machine is an inexpensive option that has no frills.
This type of machine uses air- or fluid-filled hydraulic shocks to create resistance.
The Pros of Hydraulic Rowers
Hydraulic rowers are a good choice for those who have zero space to spare. Most models are very compact, very light, and can even fit underneath a bed. You can move them easily, and I've even heard of people who booked them on a flight so they could use them in their hotel room when they traveled.
They are also quite inexpensive. You can find these for less than $200.
Hydraulic rowing machines are super quiet (see our list of best quiet rowing machines ). You can get a good lower body and upper body workout at the same time.
For travel, or if you rent a room, these could be wonderful little exercise additions.
The Cons of Hydraulic Rowing Machines
Before you hit that "Buy Now" button, you should read about some of the problems with these rowing machines.
While most have some type of resistance setting, the resistance levels aren't what you would call difficult. Unless you are a complete beginner or an elderly, or you haven't exercised in decades, you will find that these machines don't offer a substantial workout.
They will wear out much more quickly than other types of rowing machines. The old adage of "you get what you pay for" certainly applies here. Since these are very inexpensive, you could also replace them easily.
They could be messy and/or damage your flooring. If the hydraulics should leak, the oil might stain your carpet or leave an ugly discoloration on other types of flooring. You might want to consider purchasing a machine mat to protect your floor.
For those of you interested in a moderate activity level or need something very small and quiet, a hydraulic rower is a good choice.
Water Rowing Machines
Oh yes! The beautiful look and sound of water rowers are hard to match!
I have an Ergatta water rower, and it is really wonderful!
The Pros of a Water Rower
I find this type of rowing machine to be really calming. You still get all the benefits of rowing, but you can hear the sound of swooshing water in the tank, which most people find meditative and relaxing.
Some of the best features of a water-resistance rowing machine include:
Nearly all water rowers have wood frames (see our list of the best wood water rowers here). You can choose a wood color that suits your interior or just choose your favorite type of wood—oak, cherry wood, ash, etc.
The wooden frame combined with the sound (and look) of water in the tank makes you feel as if you really are sitting in a boat, rowing on the water.
Water rowers have some of the smoothest movements of all rowing machines, which makes it extremely easy on the joints.
While this type of machine does not fold, most models can be stored on one end, upright against a wall. This means that it doesn't take up any more floor space than a dining room chair.
Water rowers are available in every price range. Mr. Captain rowers are available for less than $600, and the top-of-the-line Ergatta water rower costs about $2,400.
If you have the space to work out and you love the sound of rushing water, you'll want owning a water rower.
The Cons of a Water Rower
It's hard to find a negative about this type of rowing machine, but I can think of a few:
This type of rower is very low to the ground. If you have arthritis or knee issues, if you have to make a plan to get up off the floor, you may want to think twice.
If you don't get a smart rower, such as Ergatta, you may find yourself getting bored.
Some models have the footrests very close to one another. If you have a belly, you might find it difficult to get into the proper starting position.
For anyone who loves the sound of water, if you have the space to use the rowing machine, and if you want to truly feel as if you are rowing on the water, a water resistance rowing machine might be one of the best rowing machines you can invest in.
Magnetic Rowing Machines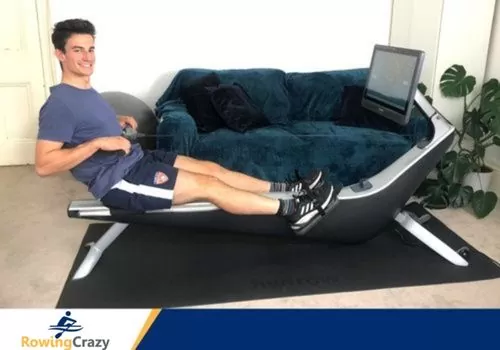 Magnetic rowing machines are perhaps the most popular type of home rowers because they are virtually silent and come in a wide range of sizes and prices.
In addition to my Ergatta water rower, I also own what I think is the best rowing machine on the planet, a Hydrow, which is a computer-controlled electromagnetic rowing machine.
The new Peloton rowing machine will also be a magnetic rowing machine, which tells you something about just how amazing these machines really are.
The Pros of Magnetic Rowing Machines
Why are magnetic rowing machines so popular?
As I mentioned before, they are virtually silent. You may hear yourself huffing and puffing through your workout, but the machine itself makes almost no sound. For anyone with infants, day sleepers, or nosy neighbors, this is a big plus!
They come in a wide range of prices. You can find a rowing machine to fit nearly every budget. The Xterra ERG220, for example, is slightly more than $200. You can get a Hydrow Wave for less than $1,500, or go all out and get the original Hydrow for about $2,500
Many models fold for space-saving storage and other models can be stored vertically against a wall.
This type of rower requires almost zero maintenance.
Check the model you are considering regarding maximum user weight capacity and length. Some models are very long (over 100 inches!) and others have a lower weight capacity (meaning they can't handle users over a certain weight).
There is such a huge variety in size, price, colors, and designs that everyone is sure to find something they like and can afford.
I wouldn't trade my Hydrow for anything! Once you work out with a magnetic rowing machine, you'll understand why they are so popular!
The Cons of Magnetic Rowing Machines
There are a few things to consider about a magnetic rowing machine before you buy, such as:
Some less expensive models may not keep you challenged once you improve your fitness level.
Also, some lower-priced models won't hold up to daily use before they break down. Make sure that you can get parts before you purchase.
While magnetic rowing machines have the added benefit of being very quiet, they don't mimic the feeling of rowing in a boat. Hydrow comes as close to that feeling due to the computer-controlled aspect of the programming, and while most other magnetic rowers will give you an excellent workout, they don't really feel like you are in a boat on the water.
Whether your goal is weight loss, or improvement of your health issues, or if you need a low-impact workout, magnetic resistance rowers are the perfect answer for nearly everyone.
Air Resistance Indoor Rowing Machines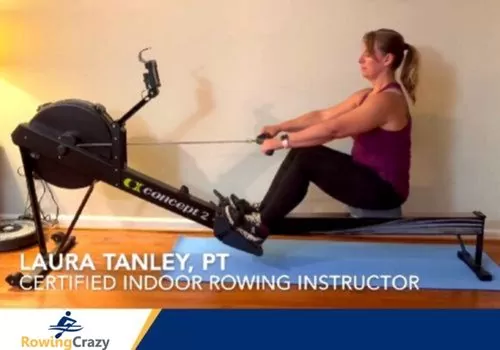 An air rowing machine is one that uses a fan inside a cage to create resistance from the air around
If you've ever used a .rowing machine at the gym, chances are that it was an air rower called Concept 2.
The Pros of Air Rowing Machines
Air Rowers are quite popular because they have unlimited levels of resistance and are inexpensive.
Other benefits of using an air rower include:
They offer resistance that has no limitations. The more air you allow into the fan cage and the harder/faster you row, the more resistance the machine creates, increasing your heart rate and burning more calories
These rowing machines come in all sizes and designs.
Most can be folded or, like Concept 2, they come apart for easy storage.
These types of rowers tend to be less expensive since they are mostly made of plastic parts.
Air rowers are usually quite affordable, with some going for less than $300, and even the brand name Concept 2 selling for about $900.
Many people say that for weight loss goals, nothing gets them there faster than an air rower.
Air rowers are a great choice for anyone who wants an intense workout and likes a machine that doesn't have any fancy gadgets.
Watch our Youtube video with Rower & Concept 2 Record Holder Max Secunda:
The Cons of Air Rowers
Like all the resistance types above, there is always some area that could be improved upon.
Air rowers are NOISY! I mean really NOISY! If you have infants or small children, if you live with others or if you have an apartment, you should think twice before buying an air rower.
These rowers also kick up and store a lot of dust. If you should buy one, consider buying a machine mat along with the machine. This will help to keep dust from getting inside the rower.
These do require regular maintenance, including vacuuming the dust out of the mechanisms.
I'm not aware of any smart rowers that use air resistance. This means that boredom could become a factor.
Many models are very long. Even if they come apart or fold, you'll need lots of space to use it. Always check your available space before you buy.
Concept 2 is one of the most popular rowing machines sold because it is very basic and has no frills. If noise is not an issue for you, you might want to consider one of these machines.
The Bottom Line
There really is no "best" rowing machine resistance type, only your requirements and the amount of cash that you wish to invest.
An indoor rowing machine is an investment in your health, and you can't put a price on that.
I hope you found this article helpful. If you did, feel free to share it with your friends and family.
Stay active and healthy, friends, and happy rowing!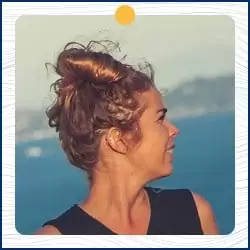 Written by Petra Amara – RowingCrazy.com
CEO & Founder of RowingCrazy, National Rower, Coxswain Womens Eight Team, Rowing Coach & Writer
Petra is a Mother of two and owner of Rowingcrazy.com. Petra lives and breathes rowing, she also has a passion for writing which lead her to start RowingCrazy.com to share her rowing experience and expertise with others.