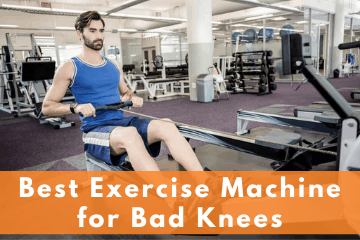 For people who suffer from bad knees, whether it's due to an accident, arthritis, or degenerative joint disease, you can find yourself in a real quandary when it comes time to exercise.
Nearly all types of exercise involve weight-bearing exercises that can be really hard on all the joints in the body, most especially the knees.
Our Top Pick Best Cardio Machines for Bad Knees
| Our Top Picks | Rower | Price |
| --- | --- | --- |
| Teeter Power 10 Elliptical Rower | | |
| Teeter FreeStep | | |
| Hydrow Rower | | |
| Stamina Conversion II | | |
| Avari A150 Conversion II | | |
Today, I want to tell you about the good news regarding exercise and knee pain. There are several options when it comes to low-impact exercise machines. It's true!
Let's take a few minutes to review the best exercise machines on the market that will give you an outstanding cardio workout without wreaking havoc on your knees!
The Best Exercise Equipment for Bad Knees
The one thing about knee pain that no one tells you about is that if you can exercise and strengthen the muscles that support the knee, you can reduce knee pain. The trick is to get in some exercise that doesn't aggravate whatever problem your knee is having, whether that's a knee injury or an arthritic knee.
The following pieces of exercise equipment are all low-impact, but they still give you a great workout. You can strengthen the muscles around the knee joints, offering support to the joint and reducing the pain in the knees.
One look at the Teeter FreeStep and you will understand why it is used in many physical therapy offices as an exercise equipment for bad knees.
Also known as a stationary recumbent bike, the FreeStep offers more than a traditional recumbent bicycle since it exercises not only your lower body but also engages the arms for a more full-body workout.
The Teeter FreeStep Recumbent Cross Trainer has a wide range of features, including:
Frame is made from heavy-duty steel tubing that can support users up to 300 pounds of body weight
Has a smaller footprint than most with dimensions of 54″L x 38″W (137 x 97 cm)
Weighs 100 pounds (50 kg) but has a low center of gravity and wheels, making it stable and easy to move around and store
Seat and backrest have multiple layers of foam padding
Both the seat and backrest are adjustable
Both sets of handlebars have foam padding for comfort
Provides 8 resistance levels through a magnetic control knob
Pedals are made from slip-resistant material and are extra large
Digital console measures steps, strokes per minute, and distance
There is so much to love about this recumbent bike! While it doesn't have any high-tech equipment such as Bluetooth, WiFi, or exercise programs, it does what you want it to do.
If you love cycling and want to save wear and tear on your knees, the Teeter FreeStep is the best knee exercise machine for you.
Recumbent bikes and rowing machines are two of the best exercise equipment for bad knees, and the Stamina Conversion II offers the best of both worlds! Although this machine appears to be designed mainly as a rowing machine, you can also use it as an exercise bike.
The Stamina Conversion II easily makes it as one of the best exercise equipment options for people with bad knees because it can serve several purposes. It can also do leg presses, and you can use the handle by itself to do a full range of strength exercises for the arms and shoulders.
The Stamina Conversion II also has many other features, including:
The frame is made from both steel and aluminum, which means it is sturdy but lightweight
It is easy to convert from a recumbent bike to a rower, which you do by removing a pin that will allow the seat to slide
Provides 8 magnetic resistance levels
The seat is well padded for comfort
Rowing handles are also padded for comfort
The device folds and has wheels for easy storage
The LED built-in monitor is easy to read and tracks time, distance, speed, and even the number of calories burned
Provides excellent cardio exercises and is simple to use
Perhaps the only complaint with this piece of exercise equipment is that the seat and foot pedals are not adjustable. This may be problematic for some people.
Otherwise, if you want to get several exercise machines in a single piece of equipment, you will love the Stamina Conversion II.
Teeter is one of the best-known names in home gym equipment and, once you see this machine, you will understand why.
The Teeter Power10 is simply a beast of a machine! If you want a truly satisfying yet fun workout, this is the best knee exercise machine for you.
Everyone knows that ellipticals and rowing machines are the best devices when it comes to both cardio workouts and preventing joint pain. Teeter has put both an elliptical trainer and a rowing machine in one device, making it the perfect machine to engage 86% of your muscles without aggravating your knee injuries.
Let's look at everything that the Teeter Power10 has to offer:
Offers both pushing resistance and pulling resistance for a true upper body exercise
Works the core muscles and the lower body several different ways
Multi-grip, sweat resistance handlebars
Offers 7 adjustable levels of electromagnetic resistance
Has a digital performance display that measures time, distance, calories burned, and strokes per minute
The seat is adjustable and cushioned for comfort
Has a Bluetooth enabled chest strap that monitors heart rate for third-party apps, such as a Smart Watch
This device folds and has wheels for easy storage
Provides excellent resistance training and a cardio work out
Offers a free training app with no monthly subscription required.
The Teeter Power10 is a rower, an elliptical, and a stationary bike all in one machine. As far as best exercise equipment, I would have to give this one an A-plus.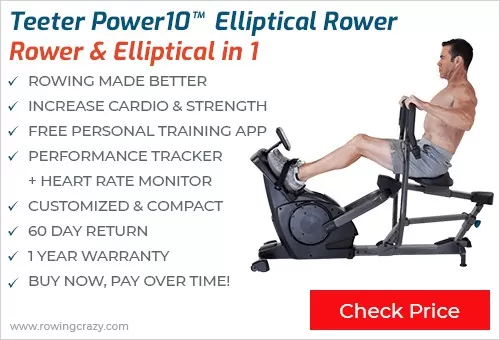 Read More on the Teeter Power 10 Elliptical Rower!
Avari A150 Conversion II is another excellent combination of rower/recumbent bicycle that is super popular.
Avari has thought of everything when they made this exercise equipment for bad knees. If you can't make up your mind whether you should get a rower or a bike, this solves your problem!
This cardio machine has nearly everything one could ask for, including:
8 adjustable levels of magnetic resistance for super-quiet operation
Easy to change from rowing to biking and back again
Includes a digital fitness monitor that is easy to read and measures speed, distance, time, calories burned, pulse rate, and an odometer
Has both a padded seat and backrest
Offers textured pedals and adjustable foot straps
Frame is constructed of steel and aluminum for durability yet lightweight enough to move
Rowing handle has padded grips and uses a thick nylon belt
Can be folded and rolled for easier storage
Can support users up to 250 pounds
Click Here to See All Our Quiet Home Machines – Shhh!
This is a terrific machine for those who don't want to become bored by using just one piece of exercise equipment. The Avari A150 Conversion II is one of the best cardio machines you can buy, and it beats the heck out of an upright bike or even treadmill machines!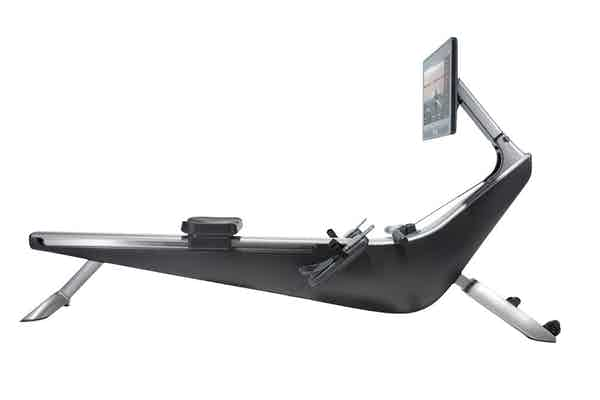 Oh yes! Now we're talking! Rowing is my passion, and if you have knee injuries, a rowing machine is one of the best low-impact cardio machines that will give you a real full-body workout without causing you knee pain.
The Hydrow was designed and made by professional rowers, so you know that they thought of everything! This is a premium machine that was made so that you experience what it would be like if you are rowing on the water- well, as close as you can get to it anyway.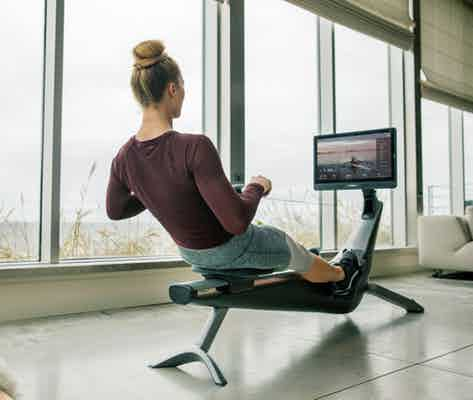 The Hydrow has oodles of features, such as :
Steel and aluminum frame, along with a sleek anthracite polymer body
Looks so stylish, you'll want to show it off
Offers a 22 inch HD touchscreen monitor with front-facing speakers
Built-in Wifi
Wide and very comfortable seat
Weighs 145 pounds (66 kg) which means it won't slide around as you row
Incredibly quiet electromagnetic mechanism that is computer-controlled
Has a weight-bearing capacity of 375 lb, so it's the perfect machine for people on the heavy side
An optional upright storage kit is available for easier storage
Hydrow offers a 30-day risk-free trial
Offers one thousand pre-recorded workouts by rowing professionals
Also offers live and on-demand workouts
Unlimited profiles for every member of the family
Offer a full-body workout, including the legs, arms, shoulders, and major major muscle group
Fully Bluetooth-compatible so you can use your own headphones
Click Here to Read More & Discove Why Eveyone Loves this Machine!!
The Hydrow Rower is a top-notch, premium piece of exercise equipment for bad knees. If you love rowing machines and want the best, then you want the Hydrow Rower.
Frequently Asked Questions
Q: What is the best exercise machine if you have bad knees?
A: Recumbent bikes, elliptical machines, and rowing machines are the best exercise machines for those with knee injury or suffering from pain in the knee joints. With the right knee exercise machine, you can continue with your weight loss or resistance training program even with a bad knee. Strengthening the muscles around the knees will also provide you some pain relief.
Q: Which cardio machine has the least impact on knees?
A: Your first option should be a rowing machine or an elliptical trainer, which are known for being easy on the knees while providing a good cardio workout. These machines have low impact to your joints and muscles, unlike the exercise you get from running, walking, or working out on an upright bike or treadmill.
Q: How can I get in shape with knee pain?
A: The best exercise equipment that will help you get in shape is one that incorporates a cardio exercise but does not cause high impact on the knees. The best choices are rowing machines, ellipticals, and recumbent bikes because they provide good cardio without causing pain for people with bad knees.
Q: What exercises should I not do with bad knees?
A: Exercises to avoid include: running, walking, squats, repetitive jumping, stair climbing and stair climbers, upright exercise bikes, duck walks, and any activity where your knees extend over your foot. You should also avoid high-impact sports, such as football and soccer.