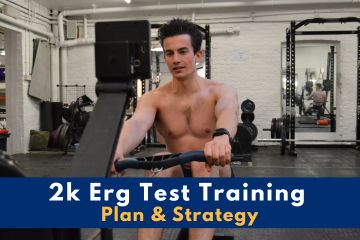 When I started University back in 2017, I'd never even thought about rowing before. The thought of getting up early and sitting in the cold and wet hadn't once crossed my mind!
Somehow after a few weeks, I found myself splashing about in a boat. A few weeks after that, I lay next to a rowing machine or 'ergo' (as I was now calling them), gasping for breath after completing my first 2k erg test!
It was at this moment that I discovered my love for training, and a switch was flicked in my head. I'd just pulled at 7:21 2k, and I wanted – no, I needed – to break 7 minutes!
A few years down the line and I find myself still hooked to rowing, but I am now working to break 6:20 on a 2k.
Over the years, I've spoken to a whole range of athletes and trained through a few different training programs to try and drop my 2k times (see my tips to increase your 2000 meter row time ).
In this article, I'm going to build out the ultimate 2k test training plan. Following this plan will help you unlock huge gains and prepare you to smash your 2k rowing machine goals! Side Note: You might also like to check out my other workout for rowers here.
What Do The Top Athletes Do?
Through my work on YouTube, I've spoken to many people who have both rowed themselves and tried their hand at coaching. Ultimately, I've found out that all the top athletes do pretty much the same thing – a lot of miles!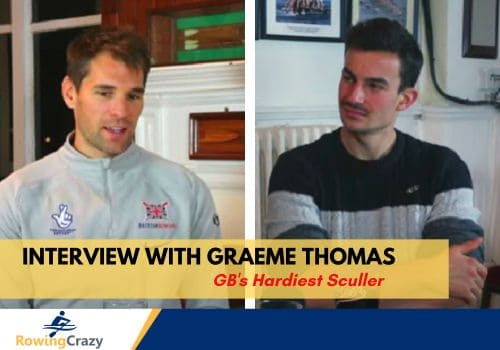 If you're interested in finding out more about how the top athletes train – have a watch of my interviews with Graeme Thomas (GB's man in the single in Tokyo) and Eric Murray (Kiwi Pair, Rowing Legend). You can watch these interviews by clicking on the quick links at the bottom of this article.
Good Technique Is Key to a Sound 2k Erg Test Strategy
Before diving into a full training program, I first want to briefly cover good technique and the importance of good technique on the rowing machine.
If you want to learn what good technique looks like and go over some drills for improving rowing technique, take a look at the Rowing Crazy YouTube Channel. You'll find loads of great videos to help you develop your technique.
Briefly, however, I'd like to borrow the words of Concept 2 Marketing Manager David Hart. He said that "rowing is more about driving with your legs than pulling with your arms."
This means that at the catch, you press the footplate away with your legs, holding your arms straight (they're essentially just hooking the handle), then swinging your body through when your legs have finished their drive. Finally, add the draw through with the arms into the chest.
A Few Other Key Tips to a Good 2k Race Plan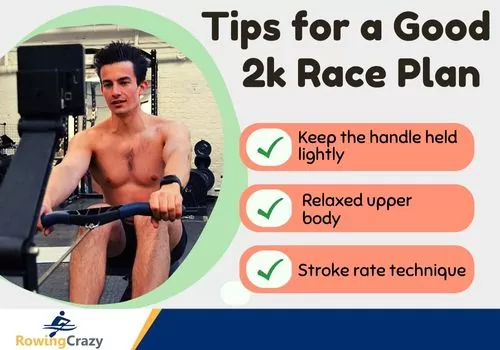 Keep the handle held lightly – if you're death-gripping it, you're wasting energy, and it's typically a sign that you're using your arms too much.
Relaxed upper body – your shoulders and forearms shouldn't be suffering from lactic acid accumulation. Keep the upper body relaxed and loose – it's merely a counterweight for your hip swing!
Stroke rate – often good technique is forgotten about when the stroke rate comes up and when the going gets tough. During the hard preparation ergs, make a mental point of keeping your form strong when the going gets tough.
2k Erg Training Plan
This is a two-week plan that you can cycle through as many times as you like. Before starting it, I'd recommend doing a 2k test to serve as a benchmark set. This will help you understand your pacing for the harder ergs.
I recommend doing three x two-week cycles and then re-testing. Ensure that you have at least one rest day before retesting.
You may also consider taking a rest day or two, then a light but active day, and then test on the following day. It's important that you're at you're best so you can get an accurate reflection of where you're at.
Using a heart rate monitor can be very helpful for the easy (steady miles) workouts. It will help you stay in the correct training zone (2), which is around 50%-75% of your max heart rate.
You can do this even without a heart rate monitor. For the steady stuff, just make sure you can speak short sentences fairly comfortably – it shouldn't feel like hard work.
Towards the end of each week, you might start to feel tired. This is completely normal. For me, the hardest part of rowing is turning up when you're tired and getting the work done!
It's not always going to feel amazing, but it's important to turn up every day and give it your all.
Essentials For Your 2k Erg Row
Finally, make sure you really commit!
If you want to see improvements, aim to do 100% of the sessions. I've written this so that it's only one a day, and with cross training built in to keep it interesting! Workouts will take approximately 1 hour.
Make sure you're eating well, stretching, staying hydrated, and sleeping well. These are all essential to improving!
A healthy diet should be part of your 2k erg test training plan to help you perform better and recover faster.
Choose a diet plan that is nutritionally balanced, with lots of vegetables, fruits, lean protein, and healthy carbs to fuel your workouts. Snack on fruits, fresh smoothies, and health bars instead of junk. Don't skip meals and avoid alcohol.
Make sure you are properly hydrated to hasten muscle recovery, prevent cramps, and naturally cool your body.
What Should I Eat the Day of a 2k Erg Test?
Your body must have a good supply of carbohydrates and water before a workout to maximize your rowing performance. Make sure you have a well-balanced meal with good sources of carb and protein. A sample meal can include cornbread or whole-grain toast, a slice of meat, nuts, fruit and yogurt, and water.
However, everyone is different, so what food works for others will not always work for you. What's important is that you shouldn't starve or overeat on race day. Eat your usual fare per your race preparation food plan 2-4 hours before your scheduled race.
It's not the time to change your meal plan or experiment on a fad diet. There's no point in upsetting your stomach or forcing your body to adjust on a day that's going to be physically and mentally demanding.
Two-Week Training for 2k Erg Test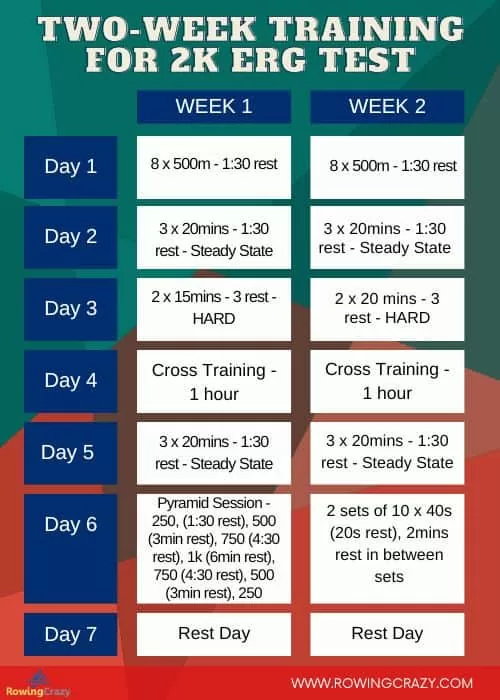 Here's my 2-week training plan to help you prepare for your 2k erg test. As always, make sure you take the time to warm up before each session. A good warm up before hard sessions is especially important – it primes your body for the exercise!
Here goes…
Week 1
Day 1 – 8 x 500m – 1:30 rest
This was an absolute staple workout of my training program whilst at university. It's really good practice of sitting at your mid race pace. Aim to sit on and hold your target 2k split (be realistic with your target).
Through the middle 500's, think about different technical points. For example, holding the body forward as you push your legs and moving your hands in a straight line to the flywheel and back.
Aim for a stroke rate at or above 32 strokes per minute. If you haven't done this before, just keep trying, and it'll get easier as you do more of it. Make sure you warm up before starting this!
Day 2 – 3 x 20mins – 1:30 rest – Steady State
This is going to be a regular session throughout the program. It's sometimes dull, but just get it done. Put some good music on and groove through it. Maybe a podcast or even a film!
Aim to sit at 18-20 strokes per minute, with the focus on keeping your heart rate between 50-75% of your make heart rate. You should be able to talk in short sentences.
Steady state makes up the bulk of distance for professional athletes – I can't emphasise enough how important it is! Just sit on that light rowing base pace, and you'll start to reel in the improvements!
Day 3 – 2 x 15mins – 3 rest – HARD
For this session maintain rate 20 and aim to do the greatest distance you possibly can in each 15 minute piece.
This is a hard session but at a low stroke rate. It's a really good one for teaching yourself to develop a very efficient form of power delivery through the rowing stroke.
My top tips for this is to consider the way you're pacing each 15-minute piece, start slower and get faster as you go (maybe break each 15 into three fives mentally).
This is also a really good erg for building the mental toughness. Being able to sit in the burn will build up not only your physical endurance but your mental endurance too. It's a very powerful session to do when approaching a 2k.
Again, make sure you've done a good warm-up before starting this one!
Day 4 – Cross Training – 1 hour
On day four we get away from the erg! Get out on your bike, or don your running shoes. The aim is to do approximately an hour of exercise at that steady state level of intensity.
Day 5 – 3 x 20mins – 1:30 rest – Steady State
I know you've already done it once this week – but trust me this will make you so much faster! Maybe put the power curve on for this workout, and aim to get it as big and smooth as possible – without working too hard!
Day 6 – Pyramid Session – 250, (1:30 rest), 500 (3min rest), 750 (4:30 rest), 1k (6min rest), 750 (4:30 rest), 500 (3min rest), 250
This is an absolute cardio crusher! The aim is to get your muscles used to working hard and being at that 2k race pace. It might sting a little on the way back down (and probably during that 1k), so make sure you pace the ramp up on the pyramid.
Aim for your target 2k pace throughout this erg, you're going to be a master of sprinting by the end of it! Be brave on the last few – make sure you finish strong!
Day 7 – Rest Day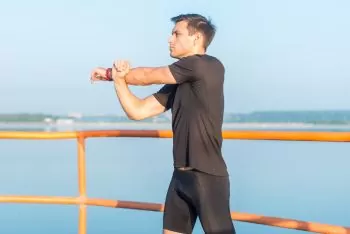 Have a stretch, stay hydrated, maybe go for a little walk – but make sure you rest! Recovery is really important if you want to keep seeing improvements – and also avoiding pain and injuries.
Week 2
Congratulations! You're one week down. You've already made huge steps towards dropping that 2k time. The plan stays very similar throughout all three weeks – a few hard days and a few easy days.
You'll have probably learnt (if you hadn't listened to my warnings!) that easy days need to be easy, save the hard work for the hard days!
Day 1 – 3 x 1k – 4mins rest
First workout of the week! Aim to sit at target 2k pace for all three of the 1k's. If you're feeling good on the last one – push it on!
Again, aim to rate high – on all the sprint ergs, aim to be at or above 32. Think about your form. Your shins shouldn't go past vertical.
Are you beginning to do too much of an arm pull? On the first one, you should be in complete control. Try and use negative splitting to make sure you maintain this control throughout the session.
Day 2 – 3 x 20mins – 1:30 rest – Steady State
This is an easy day. Make sure you feel good and continue keeping that technical focus for the whole duration. Banish any negative thoughts, this is time for you to be on the rowing machine and work on your technique.
Day 3 – 2 x 20 mins – 3 rest – HARD
Same as last week but a touch longer this time. Try to stay on that 20 strokes per minute rate. This is a real good power builder!
Day 4 – Cross Training – 1 hour
Try to use different muscles from the ones you use whilst rowing. This will help avoid overuse and the pain that comes from it.
Day 5 – 3 x 20mins – 1:30 rest – Steady State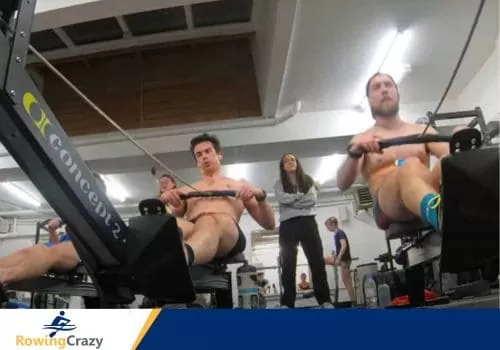 Day 6 – 2 sets of 10 x 40s (20s rest), 2mins rest in between sets
Twenty "40/20s". This is one of my favourite workouts, but it's a tough one though! Aim to go beyond your 2k erg test pace. This is all about reaching deep into yourself and seeing what you've got.
If you blow up, it doesn't matter! You've pushed your limits, and in doing so now know more about how hard you can work! You'll be fitter from it.
These are all full sprint mode, so aim to keep the stroke rate high and keep it tapping along!
Day 7 – Rest Day
Enjoy the break you have earnt it!
Concluding Thoughts
Rowing is a beautiful sport that's incredibly easy to get hooked on, and the rowing machine provides one awesome way to get into the sport!
The 2k row is a very tough race for everyone. Some say it's one of the hardest parts of rowing, but when you give this training program a try, you'll see your 2k row times plummet!
Let me know how you get on with this via our contact page – we love to hear from our readers. Feel free to reach out to me for advice on my Instagram Account (@maxsecunda_ )
You might also like to watch my interviews below with rowing legends:
Interview with Graeme Thomas (GB's Single Sculler)
Interview with Eric Murray (Kiwi's Pair)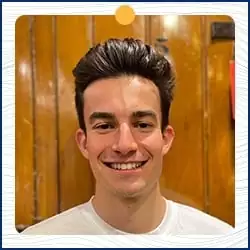 Written by Max Secunda – RowingCrazy.com
Experienced Heavy Weight Rower, Rowing Instructor & Coach, Novice Men's Rowing Captain, British Concept 2 Record Holder & Rowing YouTube Influencer
Max is a rower at Vesta Rowing Club based in London, UK.  He started rowing at the University of Sheffield, where he also was the Captain  of the Novice Men's Rowing Team, Max has a well know YouTube channel where he vlogs about his rowing training and experiences.