With every passing Olympic game, we discover new athletes, and their names become household words.
If you're old enough, you might remember Mark Spitz, the swimming champion of the 1972 Olympic games.
Surely you've heard of Michael Phelps, Gabby Douglas, Tessa Virtue, and Scott Moir, but what about Matthew Pinset? Katherine Grainger? Steve Redgrave?  ( Side Note:  read more on how to be an Olympic Rower )
Those individuals are Olympic and rowing athletes, but chances are that you've never heard their names mentioned on cable news.
If you follow regattas and rowing, then you might be familiar with their names, but are you aware that some of the most famous people in Hollywood appear to love rowing?
Hi there! My name is Petra, and today I would like to honor and take note of the famous and not-so-famous rowers who are true champions when it comes to the erg or competitive rowing.
Let's have a little fun and see which celebrities share our passion for rowing, shall we?
Who Are the Best Rowers in the World?
This might be a bit tough to tackle since there are rowing champions from every part of the world it seems!
I'm going to start this by listing some of the top rowers in the world who have often won both at the Olympic games and in other world championship rowing regattas.
1. Matthew Pinset- This Englishman is the winner of 10 world championship gold medals and four consecutive Olympic gold medals. Now retired, he is a sportscaster for the BBC.
2. Katheleen Heddle- Along with her rowing partner Marnie McBean, this pair of Canadian rowers won 3 gold medals at the summer Olympic games of 1994 and one silver medal. Heddle passed away from cancer in 2021.
3. Drew Ginn- Australian five-time world champion rower, a four-time Olympian, and triple Olympic gold medalist rolled into one! Drew was part of an Australian coxless four rowing team dubbed the Oarsome Foursome.
4. Susan Francia- Is a Hungarian-American two-time Olympic gold medalist rower who also has Master's degrees in Criminology and Sociology.
5. Pete Reed- Another Brit from England who has won multiple gold medals in rowing, including the Men's coxless four at the 2008 and 2012 Olympics, and later winning a gold medal in the Men's eight at the 2016 Olympics in Rio de Janeiro.
6. Viorica Susanu- A Romanian rower who has lots of gold medals to brag about, including the women's eight that won the World Rowing Championships in 1997, 1998, and 1999, and the 2000 Summer Olympics!
7. Kathrin Boron- This German-born powerhouse has 4 Olympic medals to her name, along with 7 World Championship gold medals and 5 silver medals. Wow! How many medals can one person earn in a lifetime?!
8. Eskild Ebbesen- A Danish lightweight rower who can boast 5 Olympic medals and 6 World Championship Gold medals. He was also the flag bearer of the Danish team at the opening ceremony of the 2004 Summer Olympics that was held in Athens, Greece.
9. Pertti Karppinen- Let's not forget those who made history like Karppinen. This Finnish rower won three Olympic gold medals as a single sculler in 1976, 1980, and 1984. At 6 feet 9 inches tall, he was known to hang back until the last two hundred meters to pull off an easy win.
10. Vyacheslav Nikolayevich Ivanov- This Russian-born rower was perhaps the most famous of his era. His rowing history includes Olympic gold medals at the 1956 Melbourne Games, the 1960 Rome Games, and the 1964 Tokyo Games. He also won 4 European Rowing Championships and 11 Soviet single scull titles.
I've tried to include some of the names that will go down in rowing history.
If you want to know more about these amazing athletes, check out their names on the world wide web.
Who Is the Oldest Olympic Rower?
We can talk about the oldest person ever to complete at an Olympic event or the oldest person who was a previous Olympic winner but still competes in other rowing competitions.
Or we can do both!
The oldest person to compete in an Olympic rowing event would be Canadian Lesley Thompson. Thompson participated eight times between 1984 and 2016. She officially became the oldest rower when she competed in the Summer Olympic Games in Rio at the age of 56.
Wow. I can't even imagine. An Olympic-ready athlete at 56 years of age.
While Thompson's team didn't win in Rio, the mere fact that the team qualified and competed surely puts me to shame!
The oldest Olympic winner who is still actively competing appears to be James Cracknell. This Brit is still rowing for Cambridge at the age of 49. Cracknell says that he feels really old since he is 7 years older than the father of one of his teammates!
What Are Male Rowers Called?
For centuries, rowers were always men, and they were referred to as oarsmen.
If women were allowed to row before the 1800's, there is no record of it, however, you will see a photo in an old Harper's Weekly magazine published in 1870 that not only describes a women's rowing event but shows the photo of the team on the cover!
Wellesley College in Massachusetts was the first known school to organize a competitive rowing team for women in the late 19th century.
While women were most likely referred to as oarswomen in those times, today it is more likely that you will hear the term oarsperson.
Women were first allowed to compete in the Olympics starting in 1976 in Montreal, Canada.
While the Olympics took their time allowing women to participate, the Women's European Rowing Championships had been ongoing since 1954!
No matter what you decide to call them, oarsmen, oarswomen, or oarsperson, the sport remains the same!
Celebrities Who Use Rowing Machines
I'm sure you've seen plenty of photos of celebrities jogging down the street, using weights at their private in-home gym, or even competing in marathons, but how many celebrities do you know of who use rowing machines?
While they may not advertise it as much, you are going to be shocked by the number of famous Hollywood folks and other famous people who love, love, love their erg!
1. George Mallory – This world-famous mountain climbing expert who nearly made it to the top of Everest first, was one of many notable rowers from England. He rowed during his years at Cambridge, and while most people know quite a bit about Mallory's mountain climbing expeditions, they don't know about Mallory's rowing history. He was said to be an excellent oarsman who might have continued in competitive rowing had someone reached the peak of Everest before he embarked on his expeditions.
2. Theodore Roosevelt – Not only would this young man go on to become the 26th president of the United States, but during his college years at Harvard, he was on both the boxing and rowing teams. This just shows that rowing can lead you to become president of the United States some day!
3. Stephen Hawking – Yes, THAT Stephen Hawking! The genius physicist and author at one time found it difficult to make friends at Oxford University. He thought that being coxswain would help make him one of the boys. He became well-known for his daredevil antics, which often resulted in damaged boats! Hard to picture this mental giant as being the class clown, but it certainly paid off for Hawking. He was a very popular fellow at the regattas.
4. Kevin Hart – You most likely are aware of Kevin Hart's stand-up comedy routines, his commercials, and his roles in movies such as Ride Along and About Last Night, but did you know that he stays in shape with his Hydrow? It's true! Hart is such a big fan of rowing that Hydrow brought him onboard in 2020 as their creative director! Hart might be a big jokester, but when it comes to erging, he is decidedly serious.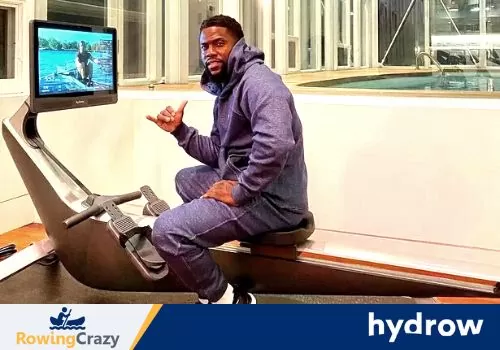 5. Helen Keller – What a remarkable life this woman had! To begin with, Helen was the first deaf-blind person to receive a college degree, then she moved on to rowing! Helen was an inspiration for deaf and blind people all over the world, she didn't let a little thing like being deaf and blind stop her. Helen simply had someone work as her coxswain, steering the boat so she could enjoy this sport to the fullest!
6. Kevin Spacey – While Kevin hasn't made any Instagram posts or videos showing himself rowing at home, it's said that for the series House of Cards, it was Spacey's idea to use a rowing machine so his character could blow off steam. You can imagine that Spacey recommended one because he uses one at home, right? WaterRower was the rower of choice and Spacey has helped this company's sales go right through the roof! Ergatta is made by WaterRower, so be sure to check it out!
7. Bradley Cooper – Another famous (and good-looking) actor who is into rowing. Cooper actually missed most of the training season when he was at Georgetown University. On the spur of the moment, Cooper's team decided to race at Dad Vail, and they nearly won against Massachusetts! Cooper's coach said it was the best regatta he had ever seen because Cooper's team was running on pure adrenalin and not much training!
8. Shawn Mendes – Canadian songbird Mendes is also a big fan of the erg. He posted a short video on Twitter a few years back showing himself resting after working hard on the erg at a gym in New Zealand.
9. Kate Middleton – Yep, Even princess Kate enjoys getting in some serious exercise by rowing with the Sisterhood Cross Channel rowing team on the River Thames. I've even heard that Oxford University princess Beatrix also was on the rowing team.
10. Edward Norton – Sometimes I think I've seen every movie that Norton has ever been in so imagine my surprise to discover that he was into rowing when he attended Yale University! All that physical activity must be what gives this guy his buff bod!
It doesn't matter if their goal was an arts degree or the Olympics, the number of celebrities and famous people who enjoy rowing is growing every day!
Other Celebrities Who Liked to Row
A quick search of famous rowers comes up with dozens of other names, including
Prince William
The Winklevoss Twins
Anderson Cooper
Hugh Laurie
Benjamin Spock
Alan Shepard Jr.
There are a great many more, but you get the idea.
Rowing isn't just for those in college, but for all ages, in all nations, by all kinds of people.
The Bottom Line
It seems as if everyone from movie stars to professional athletes has enjoyed rowing and/or erging at one time or another.
While the list isn't as large as let's say soccer, baseball, or football, it's still a fairly impressive list!
Whether you've just started rowing, or you've got the urge to erg, you are in good company!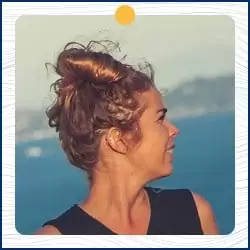 Written by Petra Amara – RowingCrazy.com
CEO & Founder of RowingCrazy, National Rower, Coxswain Womens Eight Team, Rowing Coach & Writer
Petra is a Mother of two and owner of Rowingcrazy.com. Petra lives and breathes rowing, she also has a passion for writing which lead her to start RowingCrazy.com to share her rowing experience and expertise with others.