My Promise to My Readers
We've been using and testing the LIT Axis system and Axis sensors for a couple of months now. If we should find any flaws or something should fail, I promise to report it to my readers!
I want you to have full faith and trust that what I tell you is factual and comes from our real-life testing at the office (and at home since it looks like I'm buying these!)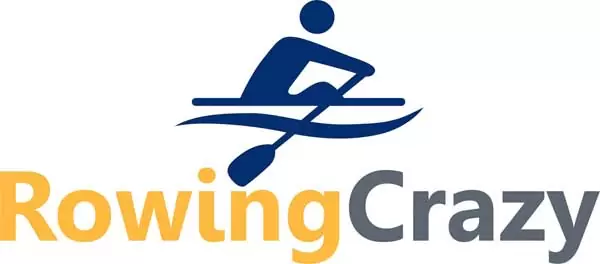 Hi friends. By now, when it comes to smart devices, you may think you've heard it all- smart phones, TVs, rowing machines, refrigerators, microwave ovens, and even door locks and light bulbs.
What if I told you that there is a new smart device on the market that will change your life?
Let me be less dramatic- this new product will change your fitness system life. It won't find you the perfect job or the perfect partner, but this little device, all neatly placed in a bag that is no bigger than your purse, can take the place of your gym and many of your fitness classes, such as Pilates.
My name is Petra, and I'm the founder of Rowing Crazy. In this article, I want to tell you about this amazing new product called the LIT Axis.
Read What the Rowing Crazy Team Is Saying about the LIT Axis System
I let all my employees know about the LIT Axis system and encouraged them to use the tablet in the break room and then email me with their feedback after they had given it a few tries. I couldn't believe the comments!
"I absolutely love this! I want to buy one so I can literally get in my exercise anywhere, anytime!"
" Petra, this is by far my favorite thing. You know I'm a hardcore Pilates fan, and now I'm going to have to break up with my Pilates teacher!"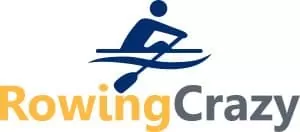 "This skeptic has been completely won over! Gimme Gimme Gimme! "
" This is my Christmas bonus, right? Tell me I get one of these as a Christmas bonus!"
I love the Sweat and Shed classes! Not a classy name, but wow, what a workout!"
My team didn't hold anything back and to be completely honest, I was surprised that I didn't hear one negative comment. Not one. Coming from my team, that's a big compliment, LIT!
What Is LIT?
First, a short intro into the company.
If you've read any of my blogs, you'll know that the LIT Strength Machine is a water rower that has anchor points for resistance bands.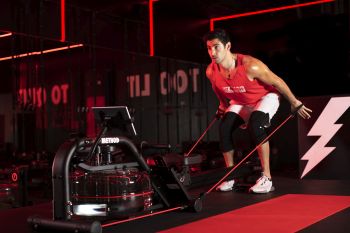 LIT stands for Low-Impact Training. After the founders Justin and Taylor Norris had been injured doing other workouts, they created the LIT Strength Machine so others like them could get all the benefits of HIIT workouts without worrying about injuries.
You can read my review of the LIT Strength Machine and decide for yourself if the rower is worth all the hype.
Now that you know a bit more about the rower, let's talk about LIT's new exciting product – smart resistance bands.
LIT Axis Resistance Bands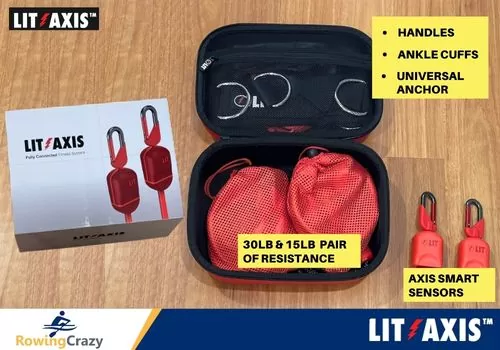 Smart resistance bands are going to be big, and let me tell you how I know: the employees here at Rowing Crazy can't stop using them!
LIT was kind enough to let us have a set of their LIT Axis smart resistance bands to try them out for ourselves.
The demand for these has been incredible. I had to make a sign-up sheet so employees could take turns taking them home each night and giving them a real workout.
Watch this video to see why LIT Axis is called the world's smallest smart gym.
Let me explain how these smart resistance bands work.
There is a pair of Bluetooth sensors that monitors and records your workout data on the LIT Axis app ( read more on what is a LIT workout ). There is also a pair of handles, two sets of resistance bands (15 pounds and 30 pounds), a pair of ankle cuffs, and a universal anchor so you can use doors or what-have-you for support.
There is no on/off switch, which I thought was kinda cool. No forgetting to turn the darn thing off when you've finished. You simply give the resistance band a snap, and your data will start showing in the app.
As you follow along with the workout, you can see how many reps you have completed, the number of calories burned, pounds lifted, heart rate, and time under tension, which measures how much time you are spending actually working out a muscle.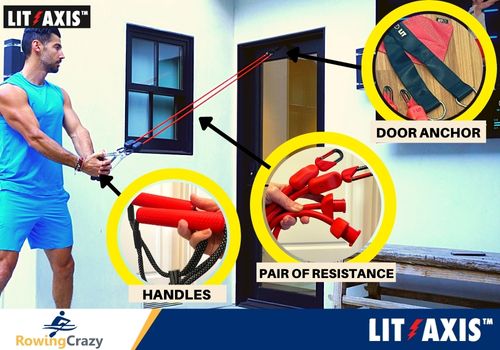 With other resistance bands, you need to remember how many reps you've completed and hope that you're actually using them correctly. It's easy to get distracted and forget if this is your second set or your first set.
You can skip all of that with the LIT Axis system. There are a bunch of workouts (with more being added) that will give you exactly what you are looking for. There are short 10-minute sessions or longer 30-minute resistance training workouts, and if you love Pilates classes, you will love the LIT Axis.
No more cable systems, no more awkward equipment to carry around, all you need is the LIT smart sensors and the resistance bands!
You don't even need to remember to charge the batteries! The smart sensors have batteries that last about 2-years with normal use and can be replaced with nothing more than a screwdriver. How easy is that?
This beats the heck out of storing (and buying) a bunch of free weights and wondering what you will do when you go out of town. The LIT Axis system comes in a neat little carrying case that isn't much bigger than the average purse or lunchbox, and it weighs only 4 pounds!
As far as I'm concerned, LIT has a real game changer with the LIT Axis resistance band training system!
LIT Axis App
Everyone here at Rowing Crazy has, well, gone crazy for the LIT method of strength training.
It's all about the app, right? I mean, everyone seems to have an app. I went to a hotel recently, and the staff asked me if I had downloaded the app for the hotel. Who knew?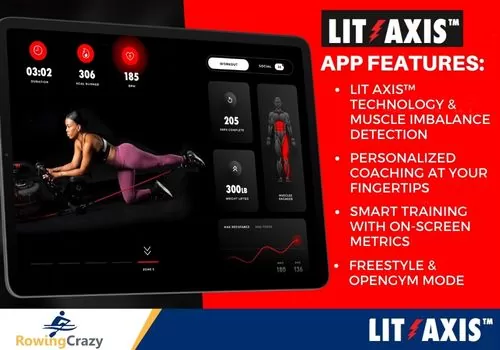 Anyway, when you buy the LIT Axis system, you'll get 3 months of complimentary online access to the LIT training app.
The professional trainers make the LIT app amazing and super easy to use. You can do circuit training, strength training, even cardio! On-demand classes and guided workouts mean you can't get this wrong!
The LIT Axis app is a subscription-based service, but at $10 a month, I bet it's much, much cheaper than what you've been paying for your gym!
If you own a LIT Strength Machine as well, yes, you can use these resistance bands on your rower. You'll want to use the PRO membership, which allows you access to both the LIT Method app and the LIT Axis app.
Even if you've never used resistance bands in your life, you'll find the LIT Axis system very user-friendly and incredibly rewarding.
What about the LIT Axis Resistance Bands' Quality?
I know that nearly everyone has used those cheap little resistance band sets you can buy off of Amazon just to see what they were like, and they ended up breaking after just a few months, right?
That won't be the case here. The Axis smart sensors and resistance bands have a 5-year warranty. That's how sure LIT is that their product is going to last!
The moment you open the bag, you'll know that these are not your everyday resistance bands. They feel thick and sturdy, something you can't say about most other resistance bands.
When it comes to durability and quality, you can't beat the LIT Axis system.
We've only been using this for a few months, but believe me when I tell you that these aren't your average resistance bands.
Can I Buy the Axis System with the LIT Strength Machine?
Glad you asked! Yes, you can!
You can buy the LIT Axis system alone or buy it as part of a package with the LIT Strength machine itself.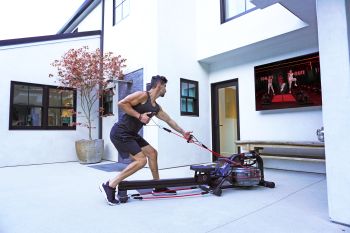 There are two different bundles.
The PLUS Pack includes the LIT Strength Machine and the LIT Axis system, along with a strength bar.
You could also go with the LIT PRO Pack, which also features the LIT Strength Machine, the LIT Axis system, the strength bar, a heart rate monitor, a machine floor mat, and a tablet attachment, which makes watching the workouts easy.
Got Muscle Imbalances? Let LIT Axis Help!
Muscle imbalances mean that one side of your body (for most people, it's the right side) is stronger than the other.
This is because we tend to work our dominant side (again, this is the right side for most people) harder and more often than the other side.
Even everyday tasks like opening doors or unscrewing lids from jars, all add up and make one side of your body stronger and more flexible.
Unfortunately, this muscle imbalance leads to injuries because your right side can do 50-pound bicep curls, but when you try to do that with your left arm, all you get is tendonitis in your left elbow. Ugh.
The LIT Axis method is designed to correct this. The smart sensors and the app work together to note your muscle imbalances and take steps to correct this issue.
You might have other imbalances as well. For example, you might have really strong shoulders and biceps because you do planks every day, but your lower back is weak. Pilates classes using resistance training can help improve your lower back muscles.
The smart sensors are labeled left and right just for this reason. Imagine having equal strength not only on both sides of your body but every muscle group?!
This sounds too good to be true because your average gym equipment simply cannot do this, but the LIT Axis and the LIT Method app can!
Are Resistance Bands Effective?
Absolutely!
If you have plans on looking like Arnold Schwarzenegger, then no, resistance bands are not going to get you there. However, studies have shown (and I can say from personal experience, too) that resistance bands are just as effective as most gym equipment for building muscle and maintaining muscle strength.
The video below shows LIT Method co-founder Taylor Norris introducing the LIT Axis kit and how to use it, including the accessories.
I know what you're thinking. Those oversized rubber bands can't possibly make any difference – ah, but they do!
Don't let the simplicity of resistance bands fool you. These are every bit as effective as free weights and dumbbells, without the bulk.
When talking about LIT bands, it's the smart sensors that take effective resistance band training to a new level. The LIT Method is a workout system unlike anything you've ever used before.
When it comes to adaptability, portability (imagine using these in your hotel room!), and price, you can't get a better fitness experience than the LIT Axis method.
What My Test Team Liked Best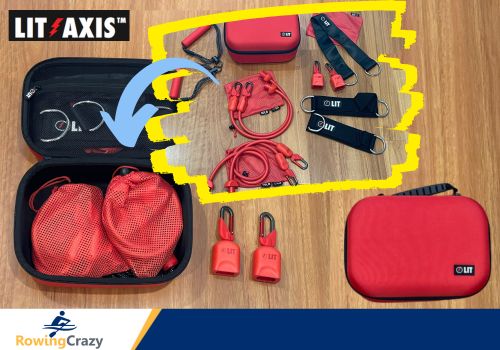 My team left me quite a bit of feedback, and these are the features that everyone seemed to mention over and over again:
The app not only shows you which muscles you are improving, but it also warns you of possible injury if you are doing the moves wrong. The instructors show you how to do the move properly, which is a big plus for newbies.
It's easy to filter classes and find the ones you want quickly. The number of classes is simply astounding!
The breakdown of classes into upper-body, core workouts, lower-body, or full-body workout make finding what you want fast and easy.
The convenience of the LIT Axis cannot be overstated. Everything you need comes in one neat bag that you can keep under the seat of your car or in the trunk. All you add is your body and a tablet!
The app holds you accountable! It not only tracks your workouts, but it reminds you when you've missed one or more workouts and gives you a gentle nudge (Get off the Sofa already!)
You get guided workouts that you can't get from plain old resistance bands. Many of us had no idea we had been using resistance bands incorrectly. The trainers really know what they are doing!
While the LIT Axis system isn't going to make you ready for the next bodybuilder contest, it will make you look better naked and honestly, isn't that what everyone wants?
The Bottom Line on LIT Axis Fitness Device
I love the LIT Axis system so much, I just might buy one for all my employees (don't tell them please).
For anyone who wants a state-of-the-art resistance band system, or who may not be sure about how to do the moves correctly, this is for you.
If you want to be held accountable but also want to find a workout quickly, if you're tired of dragging free weights around your garage, and if you want the convenience of having a gym in a bag, then the LIT Axis system is exactly what you've been looking for.
Try it free for 30 days. If you don't think this is the coolest thing since sliced bread, return it for a full refund.
What have you got to lose other than those bat wings and jelly belly?
Stay active and healthy friends, and say goodbye to free weights forever!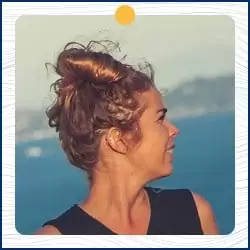 Written by Petra Amara – RowingCrazy.com
CEO & Founder of RowingCrazy, National Rower, Coxswain Womens Eight Team, Rowing Coach & Writer
Petra is a Mother of two and owner of Rowingcrazy.com. Petra lives and breathes rowing, she also has a passion for writing which lead her to start RowingCrazy.com to share her rowing experience and expertise with others.