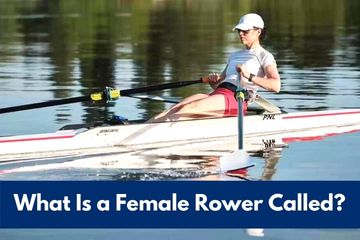 Hi friends! It's Petra, and today I have an interesting question for you—what is a female rower called?
Some sports and professions have different names for men and women, such as fishermen and fisherwomen or waiters and waitresses, but what do you call women who row?
This is an interesting question in today's world. We still tend to separate men and women's sports so you usually hear terms like "Women's Baseball" or "Men's Soccer Teams".
Let's take a look at what we should call women who play the first organized team sport—rowing!
What Do You Call a Female Rower?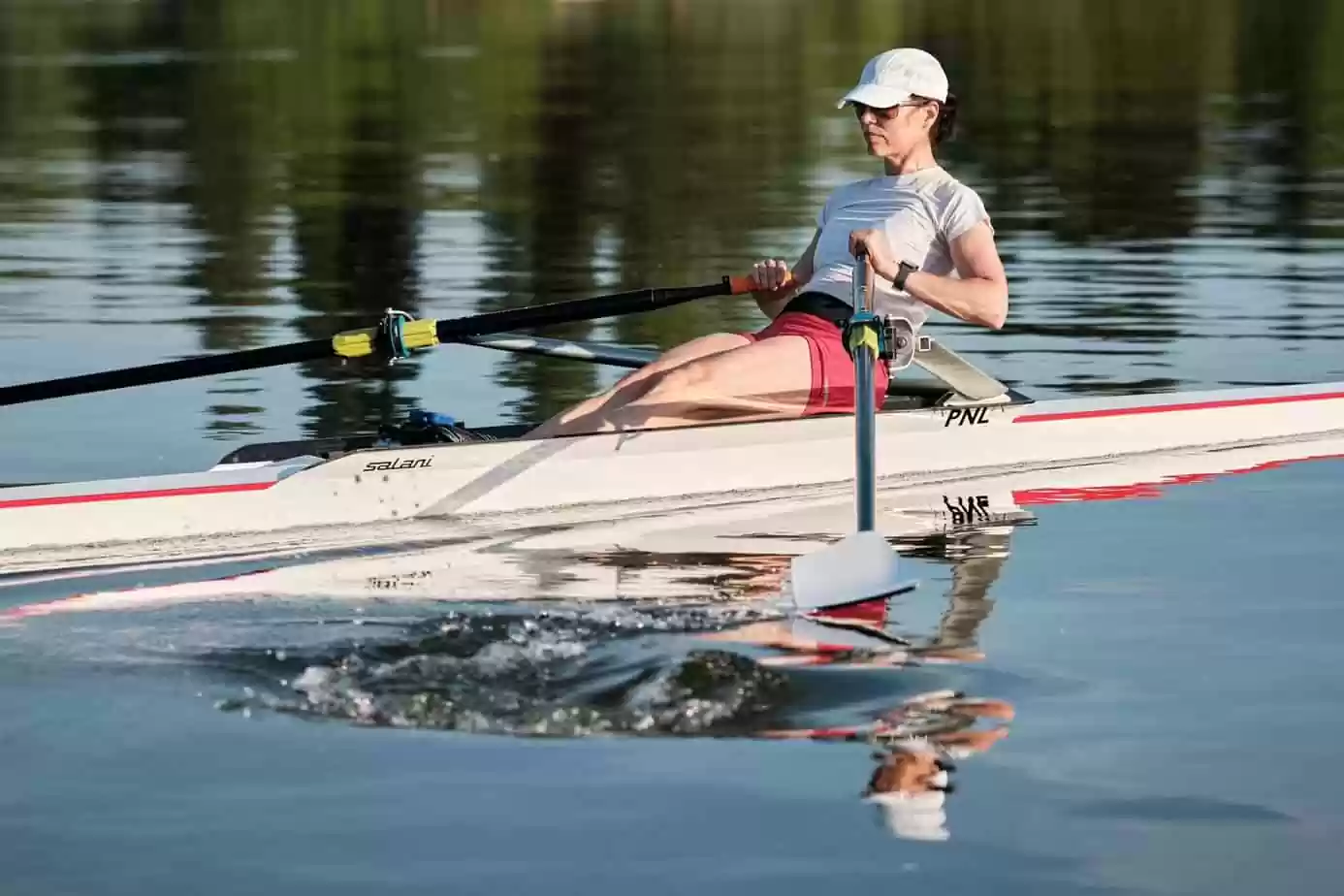 Believe it or not, there is no special name for a female rower unless you are the coxswain, in which case, you're called the cox or coxswain.
Most teams are made up of either male or female crews and are placed in special categories, such as Lightweight women group 1 (which could be aged 18-20, for example), or you might see a category such as Men's 20-22, meaning a men's rowing event where only men between the ages of 20-22 will compete against one another.
Aren't Coxswains Always Females?
No, not always.
In many cases, yes, you will find that even an all-male crew uses a female coxswain, but there is no rule that says men can't be the coxswain.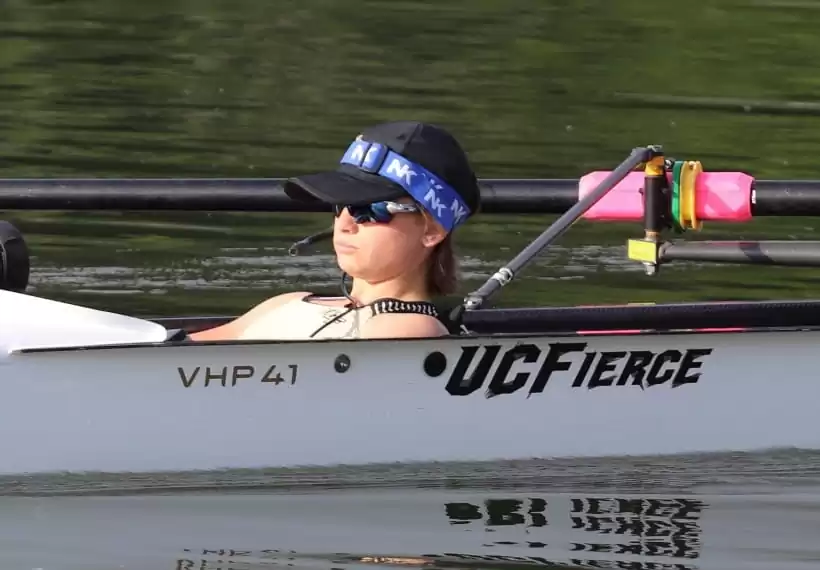 To qualify as a coxswain, a person cannot weigh more than 121.25 pounds (55 kg) in uniform. While some smaller men can qualify for this, it is easier for a woman to fit into this weight range.
There are no rules when it comes to the gender of the coxswain, and you won't hear anyone calling a male coxswain, i.e., "The male coxswain on this team…"
Both males and females are simply referred to as the coxswain.
What Is a Typical Female Rowers Physique?
There are two categories for female rowers—Lightweight and Open weight.
Lightweight women can weigh no more than 130 pounds (or 59 kg). The combined average weight of the crew can be no more than 125 pounds (57 kg).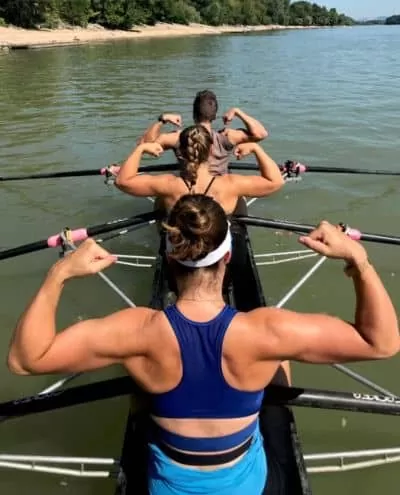 There is no weight limit in the Open category, but you will find that most female rowers are taller than average (at least 5 feet 6 inches tall) with long arms and legs.
Taller means longer limbs, called levers, which can add more power to each stroke. Only the coxswain can be shorter.
Even if they weigh near the 150-pound range, the typical female rower has very low body fat levels (read more on ideal rower body type ).
The average active female has between 18 and 20 percent body fat. Competitive rowing often means that body fat levels drop to as low as 12 percent.
To sum it up, female rowers have very low body fat percentages, are taller than average, have muscular arms and legs, and in the lightweight category, weigh no more than 130 pounds.
What Does Combined Average Weight Limit Mean?
This sounds confusing, but it's not really.
To illustrate, let's say that you are going to be in a four-person sweep rowing crew, lightweight rowing competition.
You and another team member each weigh 119 pounds. The third and fourth rowers weigh in at 125 and 130 respectively.
That's a combined weight of 493 pounds. Divide that by 4 (the number of people in the boat), and you get 123.25 pounds on average.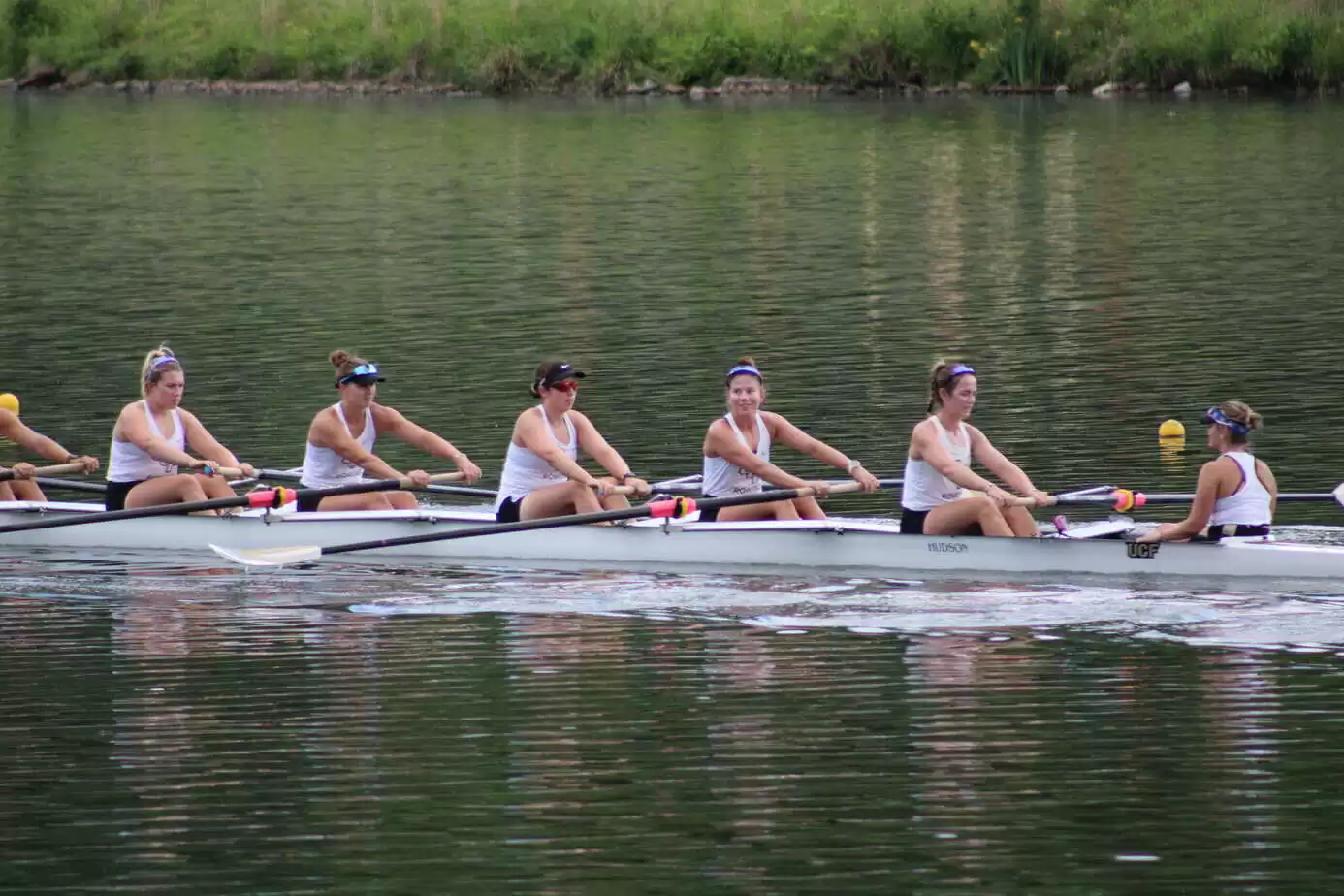 To qualify for the lightweight category, the combined average weight cannot be more than 125 pounds. With the crew weights as described above, this crew will be able to qualify as lightweights.
This is why every pound counts if you want to qualify in the lightweight category! If every female rower met the 130-pound weight limit, the crew cannot qualify because the average weight would be 130 pounds, which is 5 pounds over the average weight allowed.
Does this Weight Rule Apply to Both Sculling and Sweep Rowing?
Yes and no.
For teams with multiple females, yes. If you want to qualify for the lightweight category, you'll need to have an average weight of no more than 125 pounds, whether you're in a rowing race that involves sweep rowing or sculling.
However, if you are a female in a single scull, you can weigh 130 pounds and still qualify for the lightweight category.
Remember that the weight rule includes your uniform, which would explain some of the tight, thin, skimpy rowing uniforms you see with some rowing clubs!
Famous Female Rowers
This would depend on how you want to categorize them, (by country, age, the number of Olympic games or medals, etc.).
Let's start with the easy ones—
There are two women who have won more Olympic gold medals than any other—Elisabeta Lipa and Georgeta Damian.
They have earned 5 Olympic gold medals each during the 2000 through 2012 Olympic games.
Georgeta Damian participated in the Olympics between 2000 and 2012. She won 5 gold medals and 1 bronze and 11 World Championship medals (I'm so impressed!) for her native country of Romania. She also won 3 gold medals at the European World Championships.
Wow. That is going to be a hard act for us to follow, ladies!
Elisabeta Lipa participated in the Olympics between 1984 and 2004. She won an incredible 8 Olympic medals—5 gold, 2 silver, and 1 bronze. She currently holds the record for nearly 20 years for the female rower who has won the most overall Olympic medals.
Katherine Boron of Germany also has 4 gold Olympic medals to her name, 1 bronze and 13 World Rowing Championship medals, including 8 gold and 5 silver. In 2009, Boron was awarded the Thomas Kellar Medal, which is given to exceptional athletes who have had outstanding careers.
There are a great many successful female rowers including Helen Glover, Viorica Susanu, and Doina Ignat. Google their names and be prepared to be wowed!
How Tall Are Female Olympic Rowers?
Oh my, they are very, very tall!
The average female Olympic rower is between 5'11" and 6'1″ tall.
Helen Glover is a bit on the shorter side at 5'10", while Elisabeta Lipa is 6 feet, and Viorica Susanu is 6'1″.
The height of female Olympic rowers doesn't really vary by country, either, although there are a few exceptions.
Jingli Duan, who won bronze medals in the single scull category and won in 2020/2021 Olympic games in Japan in the 8 sweep boat race, is 5 feet 11 inches tall.
And beat this, Japanese female rower Ayami Oishi is a mere 5 feet 5 inches tall!
The Bottom Line
Whether you are interested in competing in head races and local regattas, or if you aspire to be an Olympic champion, the truth is that taller and lighter is better for competitive rowing.
The question of what to call female rowers hasn't really been brought up, and I doubt that the name will change anytime soon, but perhaps it's time.
We've seen mailman or postman changed to postal person or postal employee, the word auto mechanic applies to both males and females. Perhaps it's time that we gave a special name for female rowers, or we could simply stop with the designation of "male rowers" and "female rowers" and just call them all crew, regardless of gender.
After all, no one calls the coxswain anything but coxswain, so why not the rowers themselves?
Regardless of what they are called, female rowers are the ultimate bad a$$es when it comes to the sport of competitive rowing!
Be happy and have a good time rowing, friends!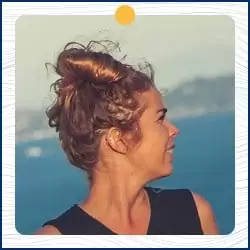 Written by Petra Amara – RowingCrazy.com
CEO & Founder of RowingCrazy, National Rower, Coxswain Womens Eight Team, Rowing Coach & Writer
Petra is a Mother of two and owner of Rowingcrazy.com. Petra lives and breathes rowing, she also has a passion for writing which lead her to start RowingCrazy.com to share her rowing experience and expertise with others.