Today's article is about the common frustrations Masters rowers feel about membership and possible solutions to these issues. I know that everyone in the Masters rowing groups is proud to be there, but there are issues that can and should be addressed.
If you are fairly new or fairly young, you may not even be aware of Masters rowing events or the various categories for masters crews. Let's change all that and learn about Masters rowers in this post.
You may have missed out on many discussions because you weren't aware that there were other groups (such as Facebook) where Masters rowing issues are addressed.
My goal in this article is not just to post the long list of complaints or frustrations but also explain what Masters rowing means, who can join, and ways to solve many of the problems that Masters rowers encounter today. Let's face it, complaining without searching for a solution is just whining, and there is no whining allowed in rowing!
Let me start by explaining what a Masters rower is, who can join, and what the categories are.
What Is a Masters Rower?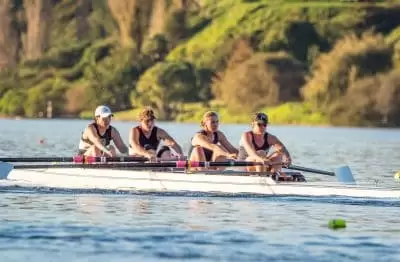 A Masters rower is actually defined by age and not necessarily skill. There are no tests or exams to pass, but the year that you turn 27, you can apply.
Masters rowers compete against others in their same age categories. This prevents those who are in their 60s from racing against those who are 28.
When it comes to crew, the average and minimum age categories do not extend to the coxswain, so you can have a crew of 30-year-olds with a coxswain who is 60.
What Are the Masters Rowing Age Groups?
Regardless of your reason for rowing—whether it's for fitness, recreation, or to compete at regattas—you'll be competing against rowers of different skills and background. Competitors may be former elite rowers, or they could be beginners who started at a later age.
Perhaps the only real restriction to joining the Masters rowing group is if you are currently on that year's National Team. If you're not on the National Team, then you can join the Masters National Championships.
The age groups are as follows:
AA- 21-26 years of age
A-27-35
B- 36-42
C-43-49
D- 50 years of age or older
E-55 years of age or older
F- 60 years of age or older
G- 65 years of age or older
H- 70 years of age or older
I- 75 years of age or older
J- 80 years of age or older
K- 83 years of age or older
L- 86 years of age or older
M-89 years of age or older
There is an annual World Rowing event called the World Rowing Masters Regatta.
Racing takes place over a 1000-meter distance.  This event takes place in different locations every year.  For more information, click here
Think Masters rowing couldn't be exciting? Check out this group of Category G racers:
powered by Advanced iFrame. Get the Pro version on CodeCanyon.
What Is Good about Masters Rowing?
There are lots of good things that Masters rowers bring to the table, including:
They pay their dues for membership, which is a big plus!
Masters rowers don't mind using club boats during non-priority times
They are terrific fundraisers
They are sometimes the parents of junior rowers
They bring their life experience, rowing experience, skills, tools, and social contacts to other club members
Some enjoy coaching
Lifelong friendships are often formed
I think nearly everyone likes to interact with people their own age who enjoy the same sport, which is why Masters rowing is such a popular group.
What Does U19 Mean in Rowing?
This refers to a junior rowing category.
A rower is considered to be a junior or under 19 years of age (U19) until December 31 of the year in which they reach the age of 18.
Someone who is referred to as a U23 is a rower who is under 23 years of age (U23) until December 31 of the year in which they reach the age of 22.
There are also classifications by weight and by skill. You can read more about those categories here.
Common Problems and Frustrations in Masters Rowing
Some people, including coaches, see Masters rowing as a kindness they offer people who are older.
Some coaches actually give Masters rowers the oldest, most decrepit boats and just let them go. No coaching, no support, no recognition.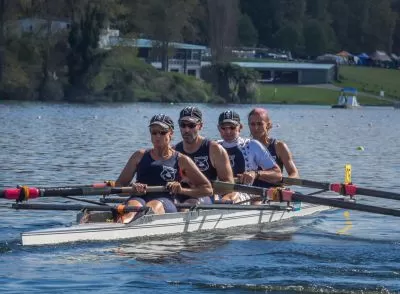 This has caused many Masters rowing groups to go elsewhere.
In some countries, the National Masters Regatta is often scheduled for very late in the year when the weather isn't great. Trying to train in bad weather is never fun, so why do they expect Masters rowing events to happen then?
When people join the Masters Facebook group, I frequently see the same complaints:
A lack of people who can form not only age-related crews but with well-matched rowers.
There are too few Masters regattas
Finding a coxswain can be next to impossible
Masters are often never taught how to rig the boat or how to do simple repairs
Masters rowers are often given old, heavy boats that don't suit the crew
Masters rowers rarely get consistent practice in good racing boats
There is a general lack of support
A consistent training program is very difficult due to scheduling conflicts
It's very difficult to find coaches
That being said, as I mentioned earlier, no whining, right? So let's talk about a few solutions.
Possible Solutions to Common Problems
If you belong to a Masters rowing committee, you might try brainstorming to see if you can come up with other solutions. My list of possible solutions includes:
Not enough people for crews: Use this Facebook Group to help find new participants.
Not enough regattas: Arrange for private matches against local clubs.
Need to borrow boats for regattas: Use this Facebook Group to help find those who are willing to loan shells for your regatta.
Difficulty finding a coxswain: Use your juniors!
No one knows how to do simple repairs or rigging: Pay someone to hold classes so that multiple members will now have that knowledge. Later, have those individuals teach new members.
Not enough coaches or coaching: Pay someone if you must.
No local organization of clubs: Start your own!
Difficulty with time scheduling: Try a software attendance system such as FitClub, iCrew, or MyFleet.
Of course, the above suggestions won't fix all problems, and they won't work for every Masters rowing event or every club, but try using these as a base and do some serious brainstorming to help solve individual club issues.
The More the Merrier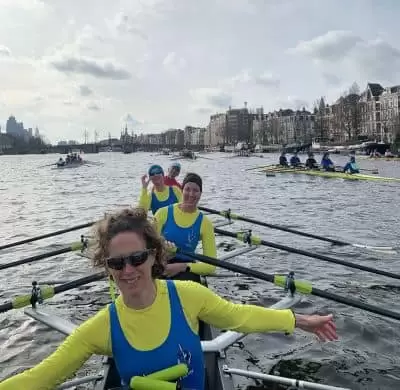 Masters rowing is a fast-growing group, and I would like to post a challenge to every Master rower who is reading this:
Go to your club committee and ask what they can do for you.
What do you need? Coaching? Have you asked for coaching? Have you asked Masters to help with your fundraising efforts? Are you given access to appropriate boats and oars?
You can't get what you don't ask for.
Also, I would love to see Masters rowers invite others to join their committee. You can't have too many Masters, even if they are more interested in the health and fitness benefits that come with rowing rather than joining regattas, the way I see it is the more the merrier.
Ask every person in your group to ask 5 more people to join. It can't hurt to ask, and remember, asking is free.
At the End of the Day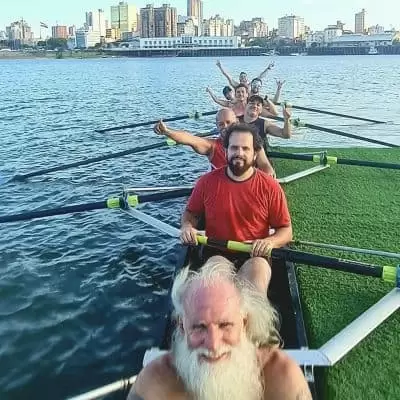 I like to remind our Masters rowers that they may be getting older, but they are also getting better.
No matter what your age, you can enjoy rowing, whether you enjoy competition or plan on forming friendships and being a coxswain.
Masters rowing is what you make it, so why not make it something awesome? I know you can do it!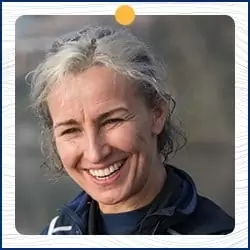 Written by Rebecca Caroe – RowingCrazy.com
Experienced Rower, Rowing Podcaster, Olympic Rowing Commentator & Expert Masters Rowing Coach
Rebecca Caroe is a masters rowing expert and a rowing coach. She is a rowing entrepreneur, has commentated for the BBC at London 2012 Olympic Games and is also a very well known Podcaster in the rowing world.