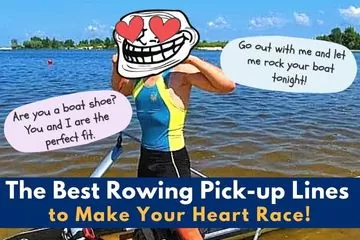 Hi friends!
Today I want to talk about love and rowing. Not really the love of rowing, which is what I usually write about but rather, when rowers try to woo the object of their affection with witty pickup lines.
Using my usual blend of nautical wit and athletic charm (ahem), I've come up with these OARsome one-liners designed to make a splash and leave hearts afloat.
So, whether you're an experienced rower seeking a coxswain for life or simply someone drawn to the allure of rowing, come join me into the world of rower pick-up lines and discover how love can truly row your boat!
The Top 10 Best Rowing Pick Up Lines
The word best is relative, is it not? I think these are the best pick up lines I've heard in years, but then again- I haven't dated in many years!
I bet you love rowing, don't you? I know because I can't get you out of my SCULL.
Do you believe in love at first sight, or should I row by again?
Are you a coxswain? I'd follow your commands anytime!
Could I at least know your name so I'm not doing power tens to "that beauty at the bar"
I bet you were an erg in your former life because you're making my knees weak and I'm sweating!
Are you a stroke seat? You're leading my heart in the right direction.
Go out with me tonight! I promise we won't catch crabs.
Hey baby, go out with me! The coach says I need a better catch, and you're the best catch I've seen in months!
Hey there beautiful, what's your split time?
I heard you row single. I'm single too!
Are you grimacing?! Come on! I would have laughed if my husband had used any of these lines!
10 More OARsome Pick-Up Lines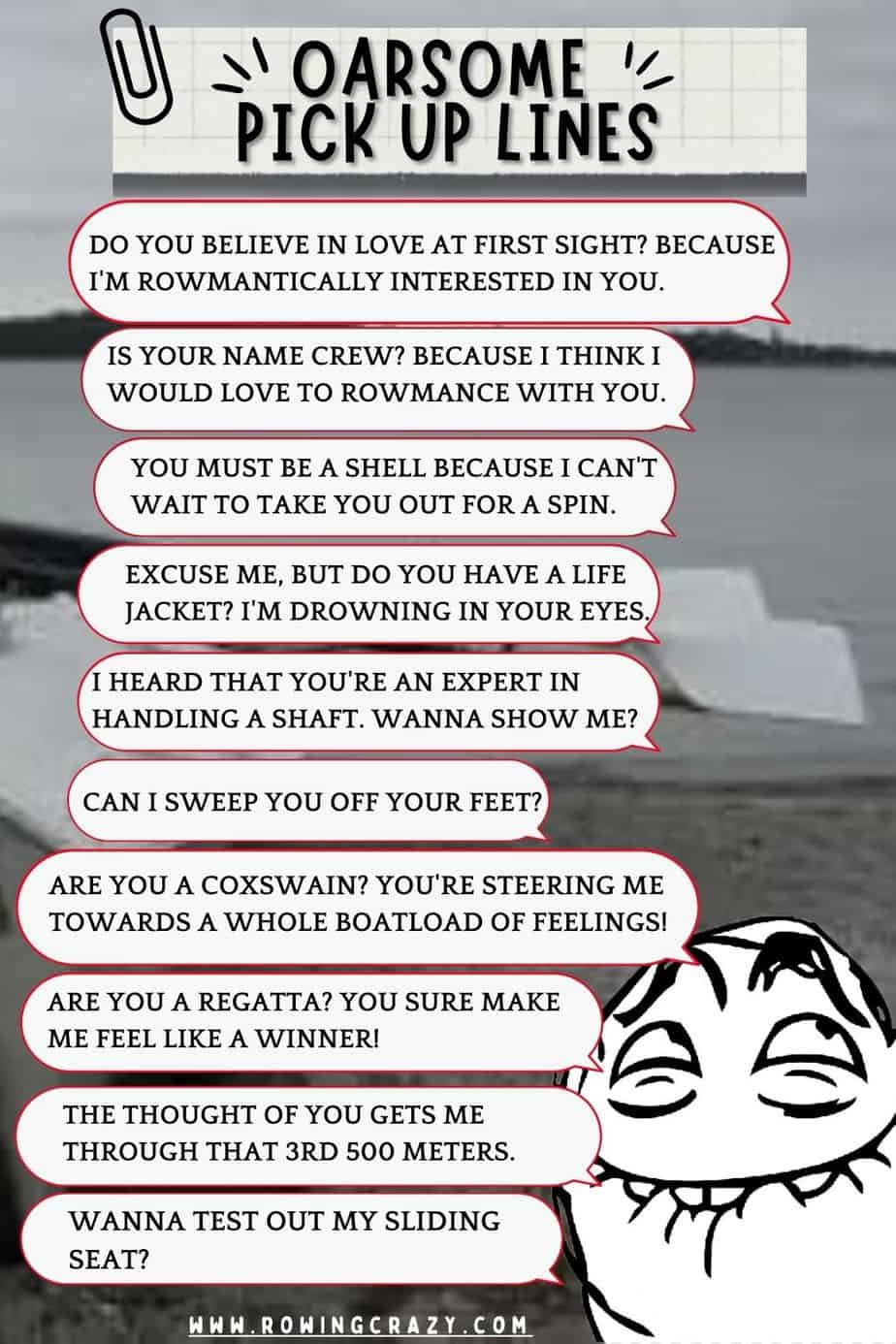 If you didn't like my favorites, let's try these!
Do you believe in love at first sight? Because I'm ROWmantically interested in you.
Is your name Crew? Because I think I would love to ROWmance with you.
You must be a shell because I can't wait to take you out for a spin.
Excuse me, but do you have a life jacket? I'm drowning in your eyes.
I heard that you're an expert in handling a shaft. Wanna show me?
Can I sweep you off your feet?
The thought of you gets me through that 3rd 500 meters.
Are you a coxswain? You're steering me towards a whole boatload of feelings!
Are you a regatta? You sure make me feel like a winner!
Wanna test out my sliding seat?
Come on, friends! Some of these are downright funny! Well, funny if you like all things rowing, I suppose. Gotta row to more Power Tens below!
10 More ROWmantic Pick Up lines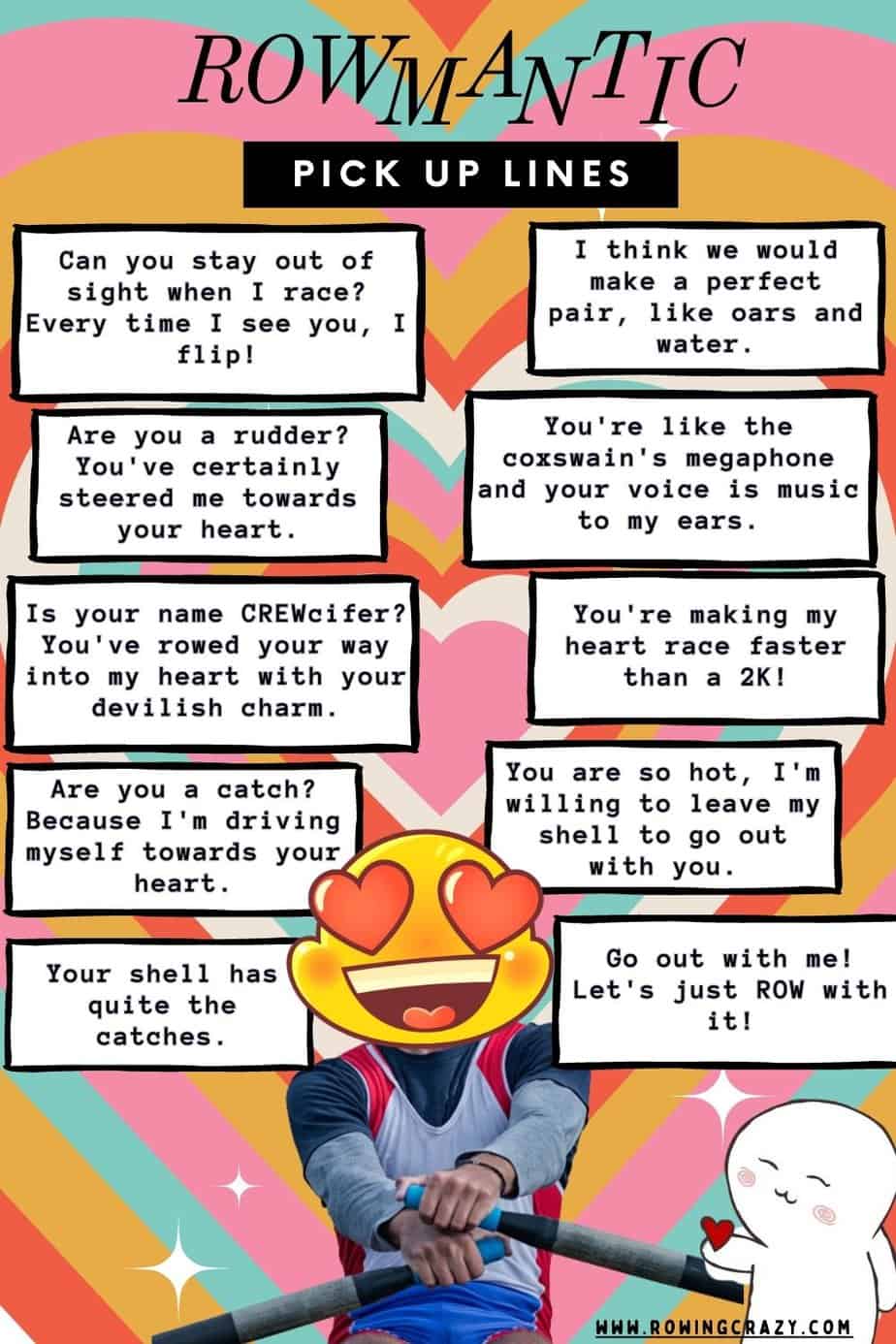 I'll work on being less cheesy and more ROWmantic, ok?
Are you a rudder? You've certainly steered me towards your heart.
Is your name CREWcifer? You've rowed your way into my heart with your devilish charm.
Are you a catch? Because I'm driving myself towards your heart.
I think we would make a perfect pair, like oars and water.
You're making my heart race faster than a 2K!
Your shell has quite the catches.
You're like the coxswain's megaphone and your voice is music to my ears.
Can you stay out of sight when I race? Every time I see you, I flip!
Go out with me! Let's just ROW with it!
You are so hot, I'm willing to leave my shell to go out with you.
Were those any better? You're a tough crowd, let me tell you!
10 More Outstanding Rowing Pick Up lines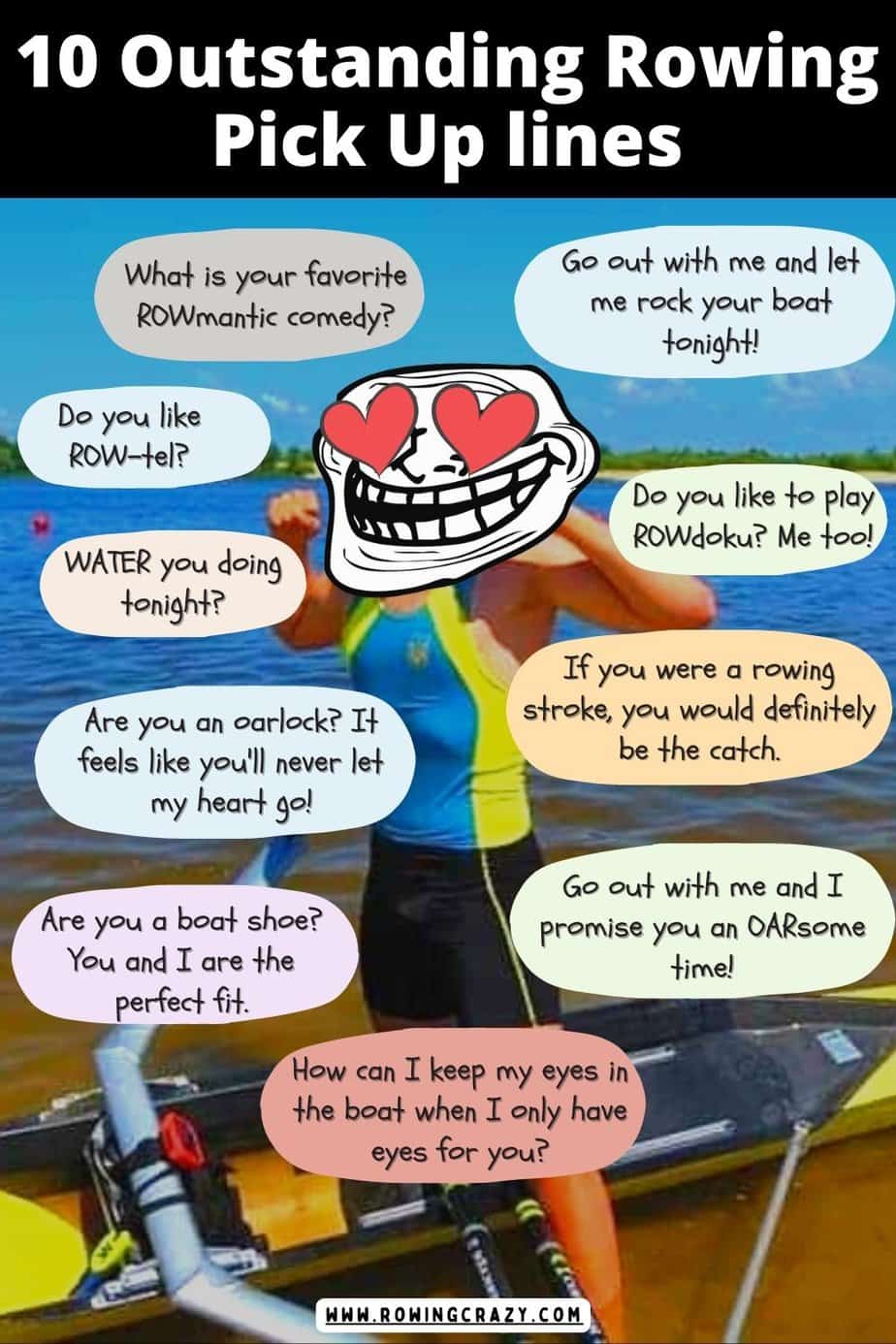 Alright, I'm going to give it my best shot here. Let's see what you think of these.
Go out with me and let me rock your boat tonight!
Go out with me and I promise you an OARsome time!
Are you an oarlock? It feels like you'll never let my heart go!
WATER you doing tonight?
If you were a rowing stroke, you would definitely be the catch.
How can I keep my eyes in the boat when I only have eyes for you?
Do you like ROW-tel?
What is your favorite ROWmantic comedy?
Are you a boat shoe? You and I are the perfect fit.
Do you like to play ROWdoku? Me too!
You're really loving these, aren't you? I can tell. That's because I write ROWmantic lines!
The Final 10 Best Rowing Pick Up Lines of All Time
If you want to impress that special someone you think is OARsome, try one of these non-fail pick up lines.
Are you an erg? Because you're making me moan.
Is your name Buoy? Because you light up my world.
Are you a bow ball? Because you seem like the start of a winning relationship.
Are you stroke seat? I would follow you anywhere
I bet your favorite movie is ROWmeo and Juliet.
I bet your favorite movie is ROWmancing the Stone.
Are you a regatta medal? I sure want to win that one!
Wanna go to dinner? I've got no problem DRIVING you there.
I'm not sure if you're a rower or a mermaid, but you are a real dream.
Are you a coxswain? You can give orders to my heart anytime.
I hope you liked these pick up lines and that they really get things ROWing for you!
Before You Try These Out
I don't want to sound like your mother, but please use these pick up lines with good intentions. No one wants to be thought of as a stalker, right?
By the way, let me tell you about two pick up lines that have had guaranteed success.
I see you row port. I'm starboard. What a perfect pair we would make! Wanna go out? (This was my husband's pick up line)
You look like a river regatta because, wow, you've really got the curves!
So, there you have it, the 52 best rowing pick up lines. Whether you're a rower yourself or just looking for a way to impress someone who is, these lines are sure to get a laugh. You might even find yourself rowing off into the sunset with your new rowing partner.
But remember, these are just pick up lines. They're not a guarantee of success. So if you use one of these lines and it doesn't work, don't take it personally. Just try a different one. And who knows, you might just find the perfect rowing partner for you.
Have an OARsome day, and happy rowing-partner hunting!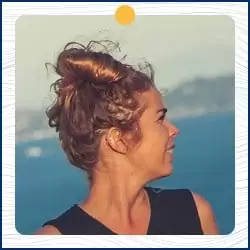 Written by Petra Amara – RowingCrazy.com
CEO & Founder of RowingCrazy, National Rower, Coxswain Womens Eight Team, Rowing Coach & Writer
Petra is a Mother of two and owner of Rowingcrazy.com. Petra lives and breathes rowing, she also has a passion for writing which lead her to start RowingCrazy.com to share her rowing experience and expertise with others.