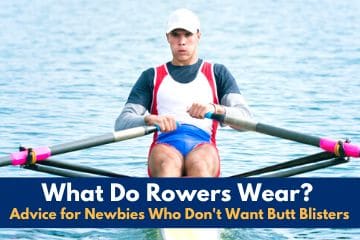 Hi friends! It's your favorite blogger Petra. Today, I want to talk to all newbies out there who are planning on taking up rowing soon.
Your first rowing experience should make you feel proud and give you a great sense of accomplishment. And why not, it's a significant milestone!
It should not end with you getting a butt full of blisters just because you wore the wrong rowing outfit! Besides, you don't want to wear something that screams "Beginner" or "I didn't do my homework!"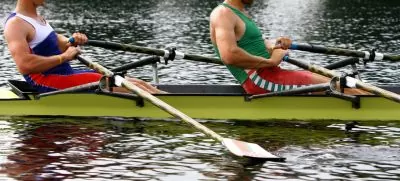 If someone wants to give you a school of hard knocks lesson, they will let you row in whatever you're wearing (maybe an unlined swimming trunk and flip-flops). This guarantees you will be sunburned, blistered, and ready to listen to advice.
Want to avoid all that? Then this article is for you!
What Should a Beginner Wear When Rowing?
While you don't have to buy expensive brand names, you will want to invest in some good quality clothing items that will last.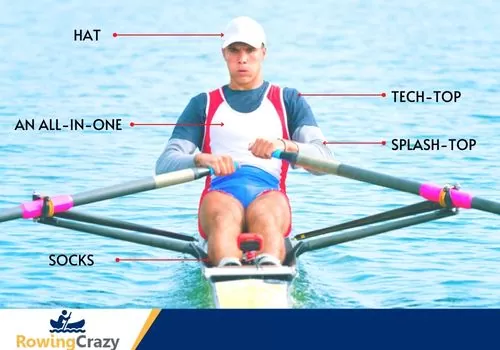 Hat – For chilly or foggy mornings, a basic wool cap will help keep you warm. In the summer, you might want a baseball-type hat or some other type of hat to help keep the sun off of your head and face. Be sure that you can secure the hat tightly. If you don't want to wear a hat, that's fine too.
An All-in-One – Sometimes called a jumpsuit, a one-piece suit made from lycra is often used when racing. It is also a good base for keeping you warm in the winter and cool in the summer. Most rowers will wear an all-in-one, then layer a T-shirt or shorts over it, removing pieces as they need to.
Tracksuit or Sweat Pants – Wearing sweat pants or jogging pants over your all-in-one will help keep your legs warm during cold weather or as you rig the shell.
Leggings – Leggings are another great choice because they won't catch on boat equipment. You can wear short leggings during the summer and longer ones in the cooler months.
Close-Fitting T-shirts – When it comes to rowing, you will do much better to layer several thin pieces of clothing than one big bulky one. Choose a T-shirt that fits close to the body, not loose and baggy.
A Tech-top – These are similar to T-shirts but are very snug and made from breathable fabrics. Tech-tops are often worn with an all-in-one.
A Splash-top – If it's foggy or raining, you'll be really happy that you have a splash-top. This is a waterproof top layer that will keep you dry and warm.
Gloves – For water rowing, unless you're a coxswain, you'll want to skip the traditional gloves as they prevent you from holding the oar correctly. However, you might want to invest in a pair of Pogies. These are designed for rowing so you can feel the oar but protect your hands from the wind. Think of Pogies as socks for your hands!
Socks – Socks are a good idea since you'll be putting your feet into shoes that are attached to the boat. Try to wear socks that you can roll up or down depending on the weather.
Underwear – One of the problems many beginners experience are butt blisters caused by either seams on the underwear or from underwear moving against the sliding seats. You can avoid this by wearing thong-type underwear (no seams) or no underwear at all. Many females claim that going commando with your all-in-one is the best way to avoid butt blisters. You might also want to stop shaving or waxing as your irritated skin will only get more irritated while being rubbed against the seat.
What Is a Rowing Outfit Called?
When racing, most teams wear a "Unisuit" or "Uni". This is often the same thing as all-in-one, but your uni will have your team colors and logo. In other words, it's your team's uniform all-in-one.
There are other names for some pieces of clothing, but they are fairly self-explanatory.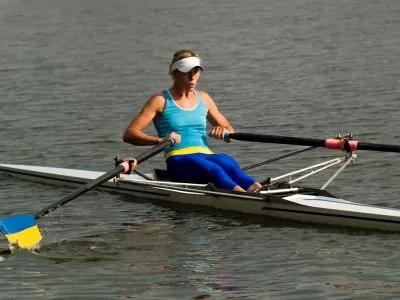 Rowing trousers or rowing trou are actually shorts designed for rowing. There are training shorts, which have tight-fitting, lycra shorts underneath the traditional loose-leg shorts.
Don't forget pogies, which I mentioned above, and training tights, which are full-length leggings that fit very snugly from waist to ankles.
Most times, you'll hear the words all-in-one, uni, and leggings.
Do Rowers Need Shoes?
The answer to this is yes and no.
Some boats already have shoes permanently attached to the boat itself. You slip off your own shoes and put your feet (with socks) into the shoes and tighten the shoes.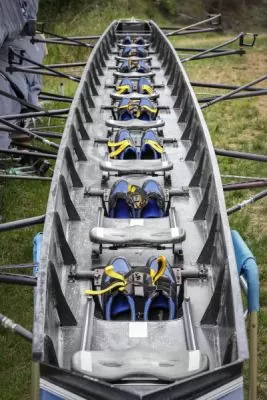 However, some people prefer to wear their own shoes or their boat doesn't have shoes attached (this is often the case with rented or borrowed boats). In that case, you will want to wear your own shoes.
Wear sneakers that are as waterproof as possible while staying breathable. The right shoes will be flexible and lightweight.
Last, but not least, you'll want shoes that fit a bit tighter than your regular shoes. If your rowing shoes are too loose, you'll pay for it with blisters.
Avoid flip-flops, sandals, or running shoes. Although running shoes are great for walking about during a regatta, they don't work well for rowing.
What to Wear for Indoor Rowing?
If an indoor rowing machine is your favorite workout, or if you use the erg to stay in shape, you might be wondering if your all-in-one is OK to wear.
Yep. If you feel comfortable wearing your uni, then go for it.
However, if you don't own a uni, or you don't want to put extra wear-and-tear on your specifically designed clothing by wearing it during practice, then stick with the basics.
A form-fitting shirt (neither tight nor baggy clothes) made from a breathable fabric will work just fine. Baggy shirts can get caught on the handle, and shirts that are very large can also hang down the back and get caught on the rails or the wheels of the seat.
Wear shorts, leggings, or biking shorts. Many people like biking shorts for their rowing machine because they have a little padding. Baggy clothes won't work here, so be sure you are wearing spandex shorts or leggings.
Shoes are more of a personal choice. I've known people who use their rowing machines barefoot! I believe the choice of most people who love rowing indoors are cross-training shoes or comfortable sneakers. You might also want to try out water socks or even some heavier hiking-type boots. When it comes to shoes, wear whatever makes you feel comfortable.
If you row strictly on an indoor rowing machine, you will probably want to wear gloves. There are gloves that work great on all types of fitness equipment. When searching for gloves, try keywords like exercise gloves, rowing gloves, or weight lifting gloves.
Don't forget to keep a water bottle nearby and perhaps a small towel so you can wipe off sweat from your face.  For more information be sure to read my full in-dept article on what to wear to an indoor rowing class.
The Bottom Line on Rowing Clothing
One of the great things about this sport is that you can enjoy rowing as an outdoor or indoor sport.
Wearing the right clothing will help give you a head start so you don't have to suffer from painful butt blisters or maybe even "new rower" jokes.
Comfort is what you want to keep in mind, so if you are still unsure about your choices, ask your coach.
Keep rowing everyone!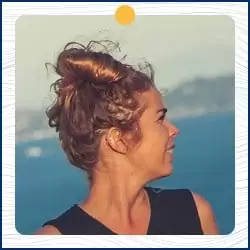 Written by Petra Amara – RowingCrazy.com
CEO & Founder of RowingCrazy, National Rower, Coxswain Womens Eight Team, Rowing Coach & Writer
Petra is a Mother of two and owner of Rowingcrazy.com. Petra lives and breathes rowing, she also has a passion for writing which lead her to start RowingCrazy.com to share her rowing experience and expertise with others.