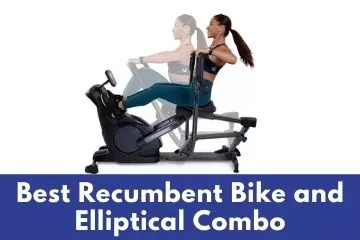 It's pretty easy to see from the name of my website that I'm crazy for rowing. However, there are days when I feel like doing something a bit different and want to shake up my workout routine.
That's when I jump on my elliptical combo machine. I'll tell you which one I own at the end of this article.
Whether you want to lose weight or mix things up using an exercise bike combo, or if you need something that is easy on the joints (Let's face it, after 40, don't we all?), then you will be interested in today's article.
Air bikes offer a good workout, but what the heck are you supposed to do with the upper half of your body? Yes, you can always get on your trusty indoor rower, but wouldn't it be great if you could do both? What if you could enjoy all benefits of a recumbent bike but one that offers an upper-body workout like an elliptical?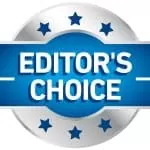 In a Hurry? Here are My Top 3 Picks:
*We review fitness products impartially and may earn a commission from affiliate links. For details see our disclosure page.
You can read my full breakdown and review on each machine further down in this article.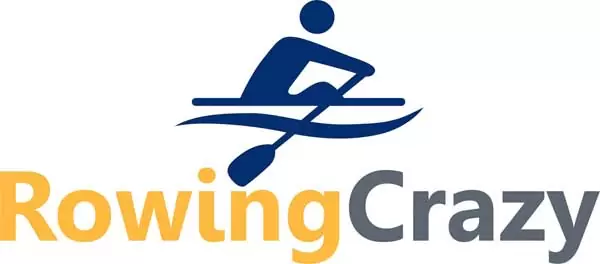 Let's not forget too that, when it comes to losing weight, exercise bikes are terrific. Elliptical trainers are perfect for working the upper body as well as the lower body, so when you combine these two, you know you're talking about a fat burning monster of a machine that won't take a bite out of your joints!
Keep reading, because you're not going to believe the amazing elliptical bike combos available on the market today. This buying guide reviews 5 of the best elliptical bike combo machines so you can choose the perfect one for your own home use.
Check Out All Our Low Impact Elliptical Rowers!
The Best Elliptical Bike Combo
Get off that plain old upright bike and get ready to lose weight with some of the most fantastic exercise machines you've ever tried!
1. Teeter FreeStep Recumbent Cross-Trainer Exercise Bike Combo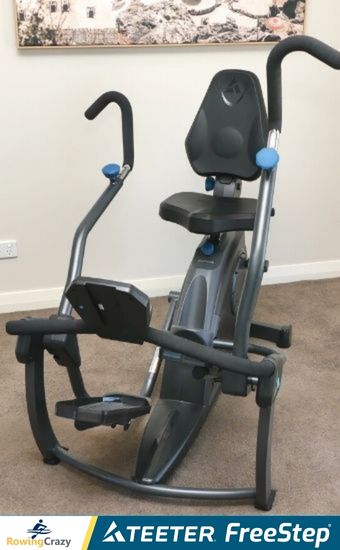 Take a look at this exercise bike combo. You may have seen or even used a similar cross-trainer in a hospital setting or at a physical therapist's office. This elliptical machine is almost identical to those elliptical bike combos but at a much lower price.
Go Behind the Scenes with Olympic Rower Rachael Taylor and the Teeter FreeStep Elliptical Trainer:
This is more than just a low-impact elliptical bike, this is a zero-impact elliptical trainer!
Let's take a quick look at what the Teeter FreeStep can do for you.
Features of the Teeter FreeStep
There are two models, and in this article, I'm going to talk about the Teeter FreeStep LT3. I like this elliptical bike combo because you can hold the handles in different positions and work different muscles. Some of the features and specs include:
This exercise bike combo uses a magnetic resistance system for super-quiet operation
The LCD display tracks your time, distance, speed, and number of calories burned
This dual-action machine lets you work just the upper body, just the legs, or both
A water bottle holder is a nice extra
There is also a smartphone holder
The pedals move up and down, not around, so it's more like walking
The seat is fully adjustable
Has a built-in heart rate monitor
Can withstand a weight capacity of 300 pounds
There is a lot more to this device, but I want to point out that this device has a unique stepping motion that is more like walking minus the impact, so you can get a better workout than you can with a treadmill or even walking in your neighborhood without any worries about back or joint pains.
Who Would Benefit from the Teeter FreeStep?
Anyone with back problems will love the adjustable seat on this elliptical machine. If you want to lose weight but can't use a traditional cardio machine due to back pain or joint pain, this is the perfect elliptical trainer for you.
Also, if the bicycle-type of circular motion is hard on your knees, the linear motion of the FreeStep should work much better for you since it mimics our natural walking step.
2. The ProForm Hybrid Trainer Bike Combo
Check out this amazing elliptical bike combo.
An elliptical and bike hybrid trainer is when you have a single exercise machine that can do the work of two machines, such as the ProForm Hybrid Trainer.
I think this machine offers even more features and capabilities than the name implies. You won't believe everything that the ProForm Hybrid Trainer is offering!
Features of the ProForm Hybrid Trainer
There's a lot here, so let's get started:
Sixteen levels of magnetic resistance mean that this exercise machine won't make a sound and auto-adjusts resistance when used with iFit
The LCD tracks distance, cadence, and estimated calorie burn
There is a smartphone or tablet shelf above the LCD monitor, so you can use the iFit app for your workouts, listen to music, or watch your favorite program
The iFit app is free for the first 30 days. This app offers thousands of workout programs and can auto-adjust the resistance level to suit whichever training programs you are using
With two sets of handles, you can use this as an exercise bike, as an elliptical, or workout only arms or legs if you like
Includes a hand-held pulse sensors are located in the handlebars
Oversized pedals fit everyone
Weight capacity of 350 pounds
This is a terrific bike combo machine that is perfect for your home gym, especially those who are interested in weight loss and/or a low-impact workout.
Have You Seen a Recumbent Bike Rower? Click Here to Learn More!
Who Would Benefit from the ProForm Hybrid Trainer?
Anyone who enjoys alternating their workout routine but needs an elliptical or recumbent bike. Losing weight will be easier using this piece of fitness equipment that offers the training programs on the iFit app, as well as using the calories burned data on the LCD monitor.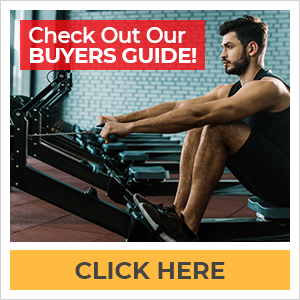 3. The Teeter Power10 Elliptical Rower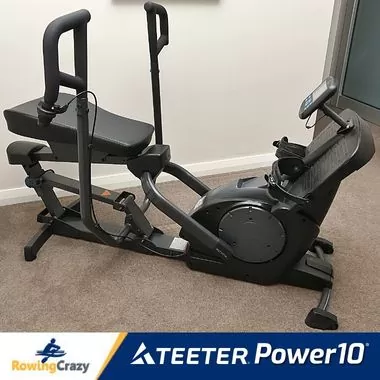 This is my favorite machine, hands down. What can I say, I love rowing and the Teeter Power10 is still rowing, only better!
OK, this isn't a recumbent bike, but if back pain isn't your issue, then you will love this elliptical machine.
Learn more with our full video by Olympic Rower Rachael Taylor:
The Teeter Power10 offers you rowing PLUS! There are multi-grip handlebars so you can work entirely different muscle groups in the upper body simply by changing the position of your hands.
Unlike rowing machines, this elliptical has you both push and pull on the handles, which is a beast of a workout! Imagine rowing, but instead of just letting the handle go back to start, you have to push on it. Now that is a monster of a workout in anyone's book!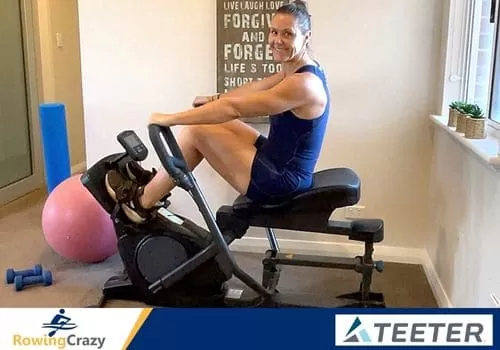 I own a Teeter Power10, and I really love the workouts. This machine does not sacrifice comfort either, and it beats any plain elliptical machine that I've ever seen.
You won't find this elliptical trainer at any gym, so check out what it has it offer.
Features of the Teeter Power10 Elliptical Trainer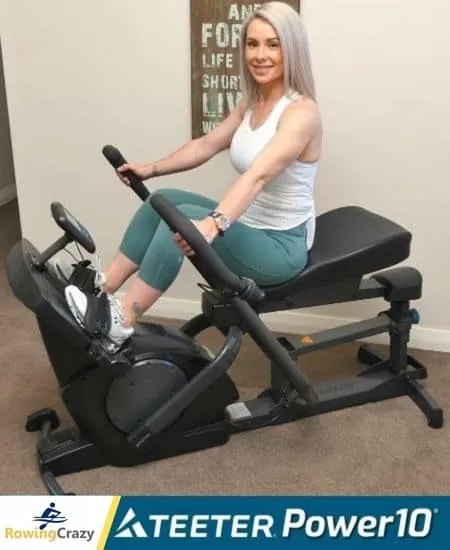 Most elliptical trainers are not known for giving you a powerful full-body workout, but that's not the case here. Even the best elliptical bike combo cannot match the Teeter Power10.
Here are a few of the features:
Uses magnetic resistance for quiet operation so you can hear your music or television
Uses the free Teeter Move App (read that again- FREE!) so you can choose from hundreds of workouts, including HIIT or other types of training
There is a smartphone or tablet shelf so you can watch your workouts or your favorite program
Has an LCD display that tracks your calories burned, distance, time, and the number of strokes per minute
There is a Polar heart rate monitor and chest strap so you can check your specs!
The multi-grip handles are padded with a sweat resistant covering
There is a large, cushioned seat for comfort; seat height is adjustable
The stroke length is also adjustable
Weight capacity is 300 pounds
There is so much more to this piece of home gym equipment, you really must try one to believe it! The good news here is that Teeter offers a 30-day, money-back free trial so if you don't like it, you haven't lost a dime.
In all honesty, however, I can't imagine anyone NOT loving this elliptical trainer!
Who Would Benefit from the Teeter Power10 Elliptical Trainer?
I believe that everyone, other than those with extreme back problems, would benefit from the Teeter Power10. If you love rowing but want more out of a rowing machine, this is the full-body, out-of-this-world workout machine that puts everything you need into one fitness equipment.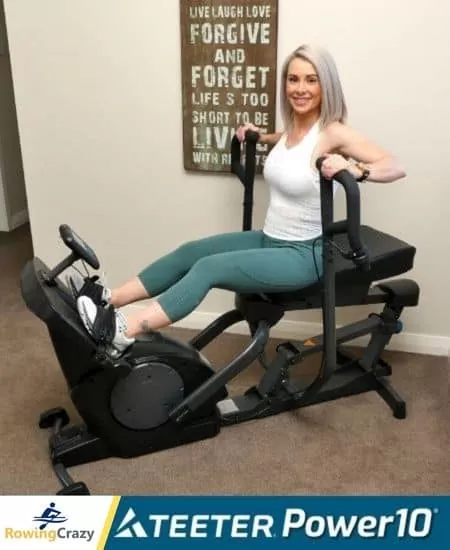 Best Budget Exercise Bike and Elliptical Combo
I get it, I really do. You need a recumbent bike combo but you're on a tight budget.
Dont' worry, I've found the perfect exercise machine that will work wonders for you and your wallet.
4. The Body Power 3-in-1 Trio-Trainer
How's this for the best elliptical bike combo? Not just a two-in-1, but a trio trainer!
This is unique among exercise machines because it not only is an elliptical, but you can use it as a regular upright bike or a recumbent bike.
Did you check out that amazing price? Bet you never imagined you could have three machines for the price of one!
Get three different workouts with the space saving footprint of only one device! This trio-trainer is one of the best bike combos I've seen in this price range in quite a while.
This is't a strip-down model, either. Check out these features.
Features of the Body Power 3-in-1 Trainer
You don't have to give up much of anything to get what you're looking for. Losing weight and having a great time is easy with this trainer. Let's check out the specs:
Uses magnetic resistance for a nearly silent operation
The heavyweight flywheel means you get a smooth transition when you change resistance settings
Has an LCD monitor which tracks calories burned, time, speed, and distance
3 options for the handlebars
The integrated heart rate sensors allow you burn the maximum number of calories and get a true cardio workout
Easy assembly
Supports users' weight up to 275 pounds
I like that Body Power offers additional support to those who want to lose weight. They include a free eating guide with a 28-day meal plan so you can get a jump start on losing weight. Working out in your own gym is super important, but so is eating right. This lifestyle guide complements the Body Power elliptical machine to help you reach your goals.
Who Would Benefit from the Body Power 3-in-1 Trainer?
People who want the benefits of an elliptical bike combo but are looking for a budget option will find this 3-in-1 perfectly fits the bill.
Check Out All Our Top Rowers For Under $1000!
The Bottom Line
When it comes to exercise bikes or elliptical cross-trainers, there are so many choices available today that were non-existent just a few years ago.
The best elliptical is the one that you will use! With all the information provided to you here, no matter which elliptical you chose, you're sure to increase your metabolism, enjoy your workout and training sessions, as well as lose weight.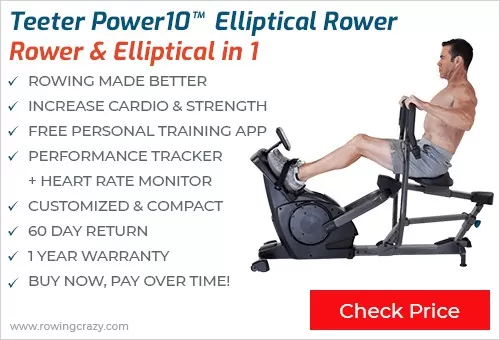 If I had to chose one of the above, the best elliptical would have to be the Teeter Power10; well, perhaps I should say the best ROWING elliptical.
However, if your body needs a recumbent type of seat, any of the other choices on this list will serve you well.
Frequently Asked Questions
Q: Is the seated elliptical a good workout?
A: Seated elliptical trainers do what standing ellipticals do; they simulate walking or running without the stress. Some people find that it takes a bit of coordination to use a seated elliptical, but yes, they do provide an excellent workout.
Q: Are recumbent bikes and elliptical combos good for weight loss?
A: When it comes to losing weight, exercise bikes, including recumbent bikes, and elliptical combo machines are excellent for losing weight and for keeping it from returning.
Q: Is a recumbent bike as good as walking?
A: It's actually better. A recumbent bike burns an average of 140 calories in a 20-minute workout. Walking, even at a brisk pace, only burns about 110 calories in that same span of 20 minutes. For individuals with back pain or balancing issues, a recumbent bike or combo machine is the best way to burn calories, get a cardio workout, and avoid joint or back pain.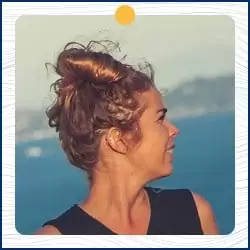 Written by Petra Amara – RowingCrazy.com
CEO & Founder of RowingCrazy, National Rower, Coxswain Womens Eight Team, Rowing Coach & Writer
Petra is a Mother of two and owner of Rowingcrazy.com. Petra lives and breathes rowing, she also has a passion for writing which lead her to start RowingCrazy.com to share her rowing experience and expertise with others.