Rowing machines are a great low impact way for seniors to exercise. Not only do you get a cardio workout, which improves circulation and blood flow through the whole body, you also build strength and muscle in this whole body workout. They really are the perfect exercise equipment for seniors, keep reading and I will explain why.
In a Hurry? Here are My Top Picks:
Don't have time to read the whole article? Here are my top picks for the best senior-friendly rowing machine.
Our analysis of rowing machines is listed below in this article, where we have provided a comprehensive assessment of each machine.
What Is the Best Home Rower for Seniors?
The best workouts for seniors are focused on the whole body. You want an exercise and fitness routine that works out all of your muscles. Most importantly, the best routines also include a cardio element, which helps fight off heart disease and other illnesses like diabetes. A high-quality magnetic rowing machine does all of that.
Seniors also have less energy than younger people, meaning they need to have shorter workouts. A shorter workout needs to incorporate all elements of fitness. Instead of spending 3 or 4 hours in the gym bouncing between different machines to work out each group of muscles, using a rowing machine for 1 or 2 hours instead will work out many different muscle groups at the same time, making this a complete workout you can do in less time. FYI: You might like to read our article on rowing machine workouts for seniors or elderly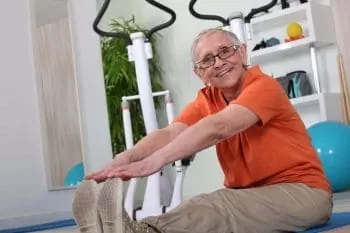 What Are the Two Benefits of Doing Low Impact Exercises?
Low impact exercise, which you get from a row machine, is great because it helps improve your heart rate and overall fitness while also serving as a means for strength training. Cardio machines, for example, are great for seniors as they do not harm the knees and offer great low impact exercises.
Knee and hip pain are common in seniors, and can actually prevent them from exercising. That's why low impact exercises are so important, as they provide an opportunity to exercise without harming joints.
The benefits from rowing machines also do not come with the price that other exercise machines do. For example, a treadmill can cause knee, hip, or other problems like shin splints. The rowing machine takes advantage of magnetic or air resistance to provide gentle resistance while rowing, which works to provide you with a great cardio low impact workout.
However, walking or running consistently on pavement or a treadmill has some cardio benefits, but it can damage your joints. A rowing machines offer the same, or more, health benefits while also protecting your joints from injury because they are low impact.
Low impact exercises accomplish two things – they motivate seniors to work out more by making them feel good, and the exercises can actually improve some minor joint pain. Click Here to see the best low impact exercise equipment!
TREND TOPIC: Top Elliptical Rowers
The Best Rowing Machines for Seniors
The best rower for seniors comes down to a few options. When considering the purchase of an indoor rowing machine, some pieces of exercise equipment stand out from the pack.
Perhaps the most important thing to factor into your decision on buying a row machine is the ease of use of the machine. This refers not only to the ease of working out on the machine, but also the ease of setting it up in your home, adjusting, and storing it when not in use. The handles should be comfortable and have a secure grip.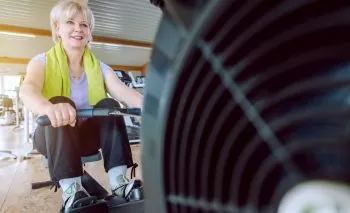 As a senior with less energy than you used to have, you want to spend your energy productively. Spend your efforts on the actual workout, not on getting used to the machine or dealing with an uncomfortable seat.
Comfort is important. Look for a machine that was designed ergonomically, so you are not putting unnecessary strain on your joints in the wrong place. A rowing machine should not strain any of your joints. It should have comfortable handles, so your fingers and wrists are not over-worked, and you should never feel like you are stretching to reach the pedals.
If the fitness of a senior is your top priority, consider purchasing one of the rowing machines below and you will become an expert rower in no time at all.
1. Teeter Power 10 Elliptical Rower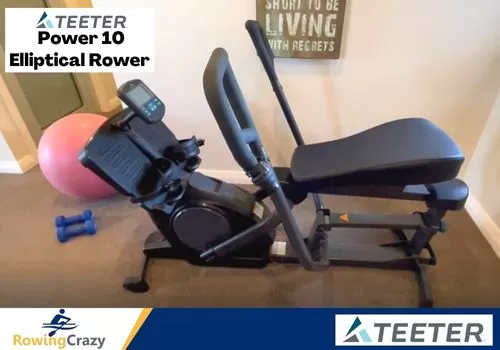 The Rolls Royce of rowers – this machine is nice for a lot of reasons, one of which is that it works in two directions. Working to push and to pull means that seniors are using the magnetic rower to exercise different muscle groups in each direction. This provides great strength training during a total body workout.
Experience the Teeter Power 10 Elliptical Rower with Olympic Rower Rachael Taylor:
Take a look at some of the other features available with this rowing machine:
High intensity, low impact training – this is arguably the best feature of this rowing machine, as seniors can get a great workout, burn a lot of calories, but have little no impact on sore and aching joints
Free training through an app – seniors will be on their way to a sunny health outlook in no time as they can easily work out with guidance from an app on their phone or tablet
Multi-grip handles – some seniors struggle from arthritis in the hand, and these handles are easy to grip
This magnetic rower has 7 different levels of resistance meaning that seniors can set their difficulty level based on their fitness needs
Performance monitor tracks metrics like distance, time, and heart rate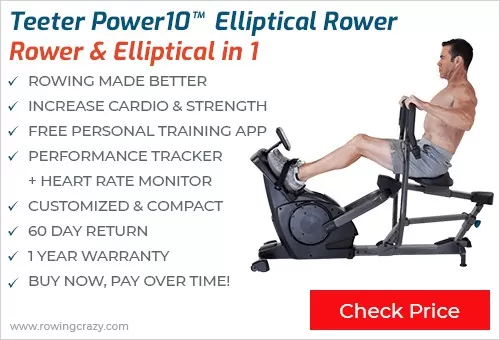 If you are in a hurry to buy a rowing machine, you can do no wrong in buying the Teeter Power 10. A word of caution – this machine is so easy to use that you can easily overdo your exercise when you're just starting. Make sure you take your time and ease into exercise. Use the metrics tracking to monitor your progress and gradually increase your workouts.
2. The Hydrow Rower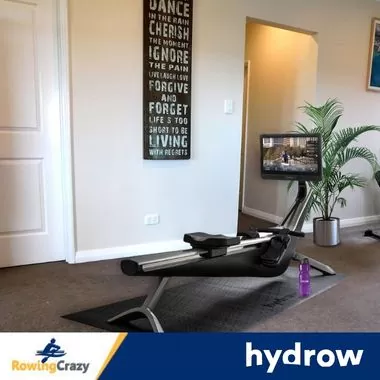 Hydrow SAVE $100 or £100!! => Use Coupon Code: ROWINGCRAZY
Watch Experienced Rowing Instructor Max Secunda using the Hydrow Rower:
Another one of the best rowing machines, you cannot go wrong with the Hydrow Rower. If you are looking to feel like you're rowing on a lake, this is the choice. Close your eyes while you row and picture yourself cutting through the glassy, clear water. The machine acts just like a rowboat on the water.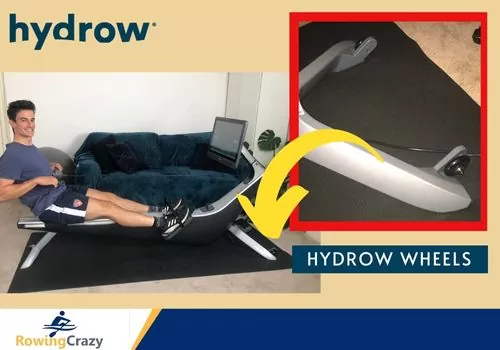 Let's look at some of the best features of this great indoor rowing machine for seniors:
30-day free trial – sometimes even the best rowing machines take some getting used to. Give this one a spin, and if you don't like it, you can return it no questions asked
Big, clear performance monitor of 22 inches for easy tracking of health metrics during your workout
This rower is designed to feel exactly like you are on the water
A quiet machine so you can get your fitness in while watching TV or listening to music
Ergonomically designed for comfort – achy or arthritic joints will not feel any extra strain while you are doing your workout
Lightweight with a wheel system so you can easily move this around the house, and it also folds upright for easy storage options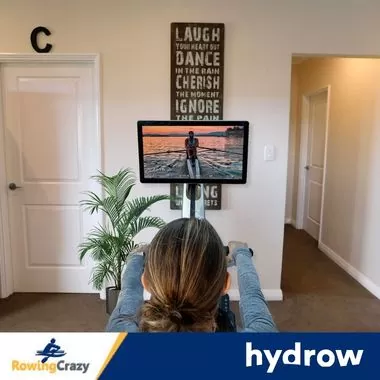 Hydrow SAVE $100 or £100!! => Use Coupon Code: ROWINGCRAZY
This machine really makes you feel like you are out rowing on the water. If that's the feel you want, whether you used to be an outdoor rower, or you even still sometimes row on the water when you can, this is the choice. It mimics rowing on the water better than any other machine on the market. Just be careful, if it has been a long time since you rowed on the open water, do not jump in and exercise too hard, too quick. Ease in, and gradually track your progress as you can add more to your workouts.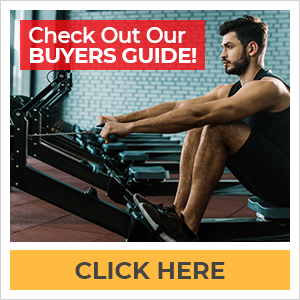 TRENDING TOPIC: Top Quiet Rowers for Home
3. The Best Value for Your Money on a Budget – Sunny Health & Fitness
Seniors can still get a quality piece of exercise equipment like a rowing machine even if you are on a budget. The Sunny Health and Fitness machine has a performance monitor that easily tracks all of your fitness goals.
Here are some of the other unique features of this rowing machine:
Non-slip foot pedals – this rowing machine is designed with safety in mind and is easy for anyone to use
The magnetic rower is adjustable so seniors of any height and size can use this rowing machine – a great feature if you are sharing this machine with a partner who is of a different height
Wheels make this rowing machine easy to move around or to store in a small space when not in use
The grip handles are made from foam, which anyone will find comfortable, even if you have arthritis in your hands
The 8 levels of magnetic and air resistance mean you can control just how difficult you want your exercise of the day to be – this comes in handy if you're just starting your exercise routine, as you can start low and easy
Rowing machines vary in price. Fortunately, if you're on a budget, there is a great option for you. If you just want to buy the most economical option and get the most bang for your buck, this option from Sunny Health is a good choice for your resistance rowing needs.
POPULAR ARTICLE: Top Recumbent Bike Rowing Machine Combos
4. Another Option – Concept 2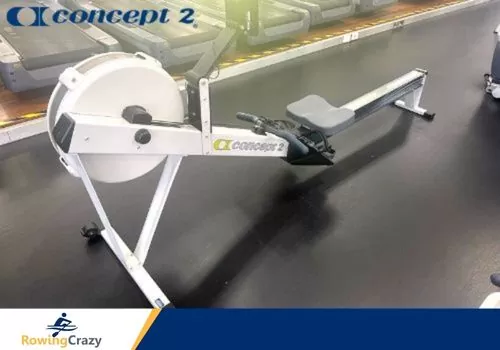 The Concept2 Model D is a top-selling air rower. Providing a good way to exercise, seniors can consider this option as well. One thing to be cautious of, the Concept2 model is used by Olympic rowers, so it is equipped for some of the most challenging exercises in the world. As a senior, you shouldn't get carried away trying to do the same exercises that Olympic rowers do.
Watch our full review video of the Concept2 Rower by Rowing Expert & YouTube Influencer Max Secunda:
Some of the best features of the Concept2 model are:
Advanced level performance monitor – tracking your health metrics has never been easier than with this machine
The Concept2 model is designed for Olympians, however, it does not necessarily have special comfort options that seniors love – it can be rigid to use
Designed to move around easily, this air rower can also be easily stored
The Concept2 model and brand have been around for decades, meaning there is a customer service team of experts available to assist
There is an online indoor rowing community that you can join, creating a social network of other people using rowing machines for exercise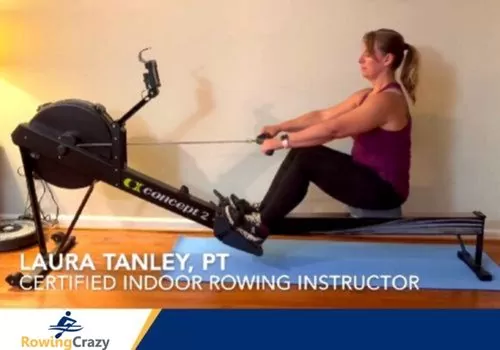 Designed to give you that feel of water rowing, this model offers good magnetic rowing resistance levels and a full-body workout. Like the other machines on this list, make sure you start your workouts in an easy setting and work up to a workout that has a stronger resistance.
Here is another great example – check out Don McCluskey, who turned 100 years old in February and is still rowing! What an inspiration! Don rows 20-30 minutes every day on his Concept 2 Rower.
POPULAR POSTS: The Best Portable Rowing Machines
What Exercises Should Seniors Avoid?
Seniors should avoid exercises that cause them pain, taking away the benefits that they should be getting from a fitness routine best suited for their age and health condition. A rowing machine is one of the best ways to exercise and improve physical fitness for seniors without worrying about damaging joints and over-exerting themselves.
While yoga is generally thought to be a good exercise for seniors, they should be cautious when doing yoga for exercise. Be mindful not to stretch too far or try to keep up with the yoga instructor who is one-quarter of your age. Yoga is healthy as it gets the blood flowing and can stimulate circulation. However, seniors should avoid stretches that are going to push their ligaments and joints too far.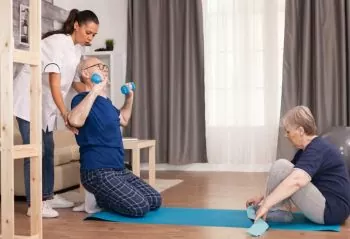 In general, when seniors are thinking about what exercises to avoid, they should think about avoiding any exercise that causes pain. That's not to say a good exercise won't cause pain, but we're not talking about that feel-good muscle burn. Be on the lookout for bad pain, exercises that make your arthritis act up or cause your joints to flare. You want exercises that stimulate blood to flow and help you break a light sweat.
Senior Cautions When Using a Rowing Machine
One last thing on avoiding exercises – be careful with your rowing machine. Rowing machines are great pieces of equipment, and they are so easy to use. There is a reason that many come with several levels of magnetic resistance to choose from. Start at a lower level. Just because the machine feels easy does not mean you can work out hard. Start light and work up to hard resistances. You can very easily pull a muscle or overdo it just because you love the feel of the smooth machine. Ease into any exercise you do.
Make sure with any exercise that you have your doctor's support and are medically cleared for a strenuous workout.
POPULAR ARTICLE: Best Inexpensive Rowing Machines
Are Rowing Machines Good for Seniors?
Absolutely. One of the best fitness routines a senior can do is to use a rowing machine as long as you start low and slow and work up to any difficult resistance levels. The magnetic resistance works as a means for strength training, while also improving heart rate, and the calories burned will help control weight. The benefits of a senior using a rower machine are vast.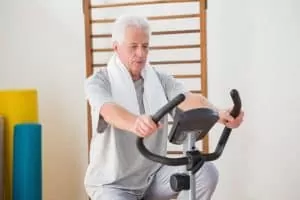 A good rowing machine uses air resistance to help improve fitness. These air rowers mean seniors can get the resistance needed to improve strength and fitness, without worrying they are hurting their joints by lifting heavy weights.
As a side note: There is a lovely guy named Charlie at my local gym, who always exercises on the rower. Charlie told me the other day he is nearly 84! He said he has been rowing now for over 3 years, and he believes rowing regularly has greatly increased his strength and mobility. He is such an inspiration!
There really is no better exercise equipment for seniors besides an air rower. Using air resistance to exercise helps make sure workouts are safe. Stamina and range of motion of joints are both improved by using indoor rowing machines without worrying about back pain or other joint pain.
How Good Is Rowing for You?
If you row enough, you will get great upper body exercise, and you might be able to get rid of other weight training completely with the right machine rower workout. Rowing provides the best overall workout you can get.
Rowing is a good exercise for seniors because the health benefits do not come with negative side effects like putting a strain on joints. You could make the argument that rowing is the absolute best overall exercise for seniors. If seniors can only do one exercise, it absolutely should be rowing because of the total body workout it provides.
If you're looking to combine rowing with another exercise, you can look into elliptical rowing machines. Something like this will give you even more of a workout, but not harm your joints in the way that a treadmill would. Elliptical machines are another way to exercise smoothly without causing unnecessary strain to your joints.
Hydrow SAVE $100 or £100!! => Use Coupon Code: ROWINGCRAZY
Exercises for Seniors besides Rowing
If you have been using your rowing machine for some time, and are ready to elevate your fitness routine, you can add some exercises into your routine. Do this slowly, as you do not want to overwhelm your joints by adding a lot of new activities all at the same time. While you should always warm your body up with a rowing machine workout, here are some ideas for other exercises you can add to your routine:
Yoga – light yoga. Never do deep stretches, but some light stretches to stimulate blood movement can be beneficial. As we age, our joints lose elasticity. Light yoga can be a way to keep limber and physically fit.
Walking – running is probably not a good idea for seniors, as the impact can be too severe on your joints. However, if it is a beautiful day outside and you just want to stretch your legs, a light walk around the block can be beneficial.
Strength training – while you do not need to add strength training to your workout if you regularly are rowing, you can consider lifting some lightweight dumbbells if you are just looking for a little extra muscle tone.
Swimming – next to rowing, this is absolutely the best exercise for seniors. You get a lot of the benefits of rowing, strength training, and a cardiovascular workout, while also protecting your joints from impact. If you are looking to vary your rowing routine, consider adding some swimming once or twice a week to help you stay active and healthy. The water resistance will help your joints.
While rowing should be at the center of any health and fitness routine for seniors, there are other exercises seniors can do in moderation.
Just be careful, do not add too much at one time, and do not work out too hard mistaking yourself for your younger version that could push through the pain. Exercise at this stage of life is about health, not about building muscles and looking better than your peers.
Frequently Asked Questions
1. Is rowing a good exercise for older adults?
Rowing is no doubt a good exercise for older adults and seniors for many reasons. First, it is a low-impact workout, meaning it is easy on the joints and beneficial to people who may have weak joints or medical conditions that cause pain to their knees, hip, lower back, or other joints in the body. Second, it is a full-body cardio workout that pumps the heart and engages the major muscle groups; thus, it will help strengthen as many muscles as possible, which is one way to ease pain and improve quality of life. Third, you can do rowing routines for as short as 15 minutes and start from low resistance levels, which are ideal workout situations for seniors.
2. Is rowing good for bone density?
A research study shows that rowing is one of the forms of exercise that increase bone mineral density (BMD). This finding is consistent with several studies suggesting that weight-bearing and resistance workouts stimulate bone growth. For seniors, however, weight-bearing routines are not recommended. So if you're an older adult with bone issues, low-impact resistance exercises such as rowing are still the most beneficial cardio workouts for you.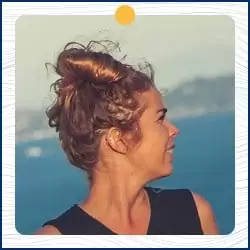 Written by Petra Amara – RowingCrazy.com
CEO & Founder of RowingCrazy, National Rower, Coxswain Womens Eight Team, Rowing Coach & Writer
Petra is a Mother of two and owner of Rowingcrazy.com. Petra lives and breathes rowing, she also has a passion for writing which lead her to start RowingCrazy.com to share her rowing experience and expertise with others.