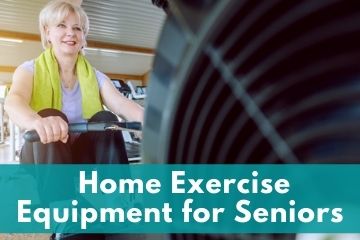 When it comes to the golden years, we want to live them in good health, which means that elderly people should get regular exercise.
What can you do if you have arthritis, or if your back and knees aren't what they used to be?
You go low-impact, friends!
In today's article, I'm going to tell you about some of the best pieces of low-impact exercise equipment that seniors need to stay healthy and enjoy time with family and friends, not surrounded by doctors, unless those doctors are your children or grandchildren!
| Our Top Picks | Rower | Price |
| --- | --- | --- |
| Teeter Power 10 Elliptical Rower | | |
| Teeter FreeStep | | |
| Hydrow Rower | | |
| Avari A150-335 | | |
| Stamina Conversion II | | |
What Are the Benefits of Exercise for Seniors?
There are plenty of mental and emotional benefits to exercise, not to mention the obvious ones, such as weight control, strength building, good circulation, improved quality of life, reduced risk of heart disease and diabetes, and overall wellness.
Just a few of the ways that senior-friendly exercise workouts will benefit you as you age include:
Helps to keep the body flexible and prevents the loss of range of motion
Regular exercise reduces stress and anxiety, as well as depression
Keeps bones strong
Provides for improved sleep
That's not all the reasons why senior citizens should exercise and continue to be active, there are plenty of other health benefits. And did you know that working the muscles that support the joints actually helps to reduce joint pain? You bet, it does!
What Exercises Should Seniors Avoid?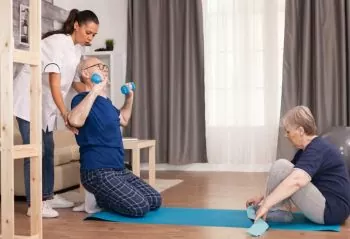 This would depend on your level of fitness. I know a great grandmother in her 70's who ran marathons!
In general, however, especially if you are plagued with low back pain, if you have an injury, or if you have had injuries in the past that have damaged the joints, or maybe you have heart problems, the following list of exercises should most likely be avoided by those over 65:
Squats, especially using weights or dumbbells
Leg press
Bench press
Long-distance running (someone should tell my friend that!)
Abdominal crunches
Rock climbing
You want to get a good cardio workout so you can exercise your heart and keep your arteries clear, but you don't want to use an exercise machine that worsens joint pains.
The Top 5 Best Pieces of Home Exercise Equipment for Seniors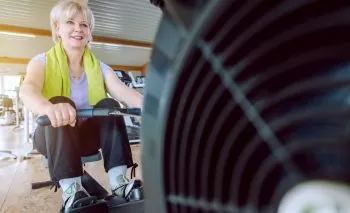 You can get a terrific cardio workout, train and strengthen all the major muscles, and even lose weight by using some of the new exercise equipment made just for seniors!
I'm going to show you what I consider to be the top 5 exercise machines that are low-impact but offer strength training and a heart-pumping cardio workout all in one.
The Avari A150-335 Recumbent Bike/Rower
You might think that a recumbent bike would be best for your osteoarthritis, or that rowing would be an excellent way to get a low-impact full-body workout.
You would be right on both levels, but why go with only one or the other when you can have both in a single piece of exercise equipment?!
What the Avari 150-335 Has to Offer Seniors
If you're wondering what this piece of workout equipment features, you're in for a big surprise.
Traditional rowers have a seat bottom but no back, which is a problem if you suffer from back pain. You can enjoy rowing or biking with the Avari 150-335 since it has a full backrest
It uses magnetic resistance and has 8 levels of adjustable resistance so it's perfect for both beginners and those who are more advanced in their fitness goals
Magnetic resistance is incredibly quiet so you can use it without complaints from the neighbors or waking up your grandkids
The LCD multi-function monitor tracks your speed, distance, time, odometer, pulse monitor, and calories burned so you know how much exercise you are getting
The monitor has an auto-shutoff after 4 minutes so you don't have to worry about the batteries
Weight capacity is 250 pounds
The frame is warrantied for 3-years, all other parts for 90-days
That's a lot of great features packed into a little piece of exercise equipment!
The Bottom Line
If you are looking for a two-in-one piece of exercise equipment that is easy on the back, you will love the Avari Recumbent Bike/Rower.
Teeter Power10 Elliptical Rower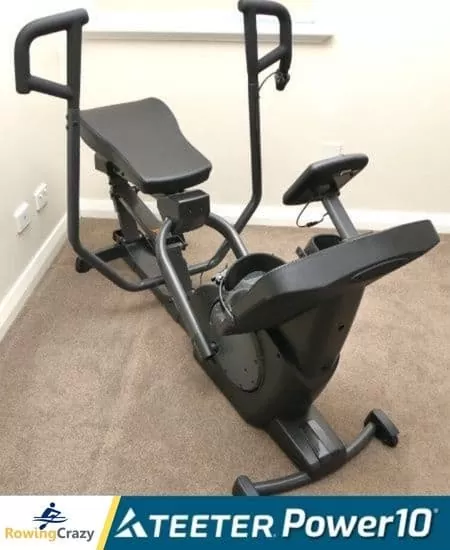 This is another two-in-one piece of exercise equipment, and it's just made for seniors who want real strength training and an unequaled workout routine.
The Teeter Power10 is basically a rowing machine, but what makes it different is that it's also an elliptical machine. The Power10 has handles that you can push and pull, to get a full upper body workout. It's better than that stability ball or the resistance bands you've been using!
Watch our YouTube video below by Olympic Rower Rachael Taylor:
Let's take a closer look at what the Teeter Power10 has to offer.
Why Teeter Power10 Is the Perfect Exercise Equipment for Seniors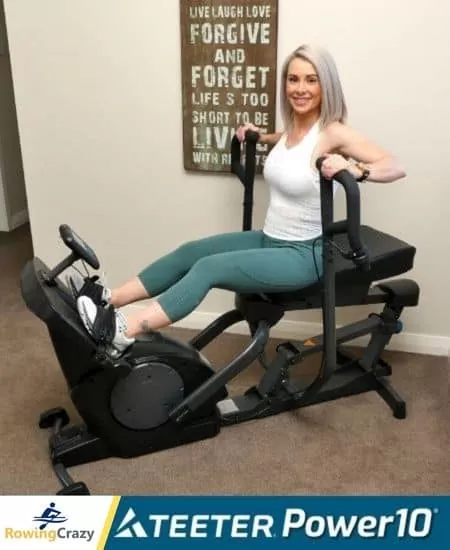 Get comfy, what the Power10 offers is going to rock your socks off!
Two-way resistance engages more muscles than just rowing or any elliptical
Alternating muscle groups means that you burn more calories
The Power10 uses a flywheel with magnetic resistance
There are 7 levels of resistance
The Teeter Move App means free workout programs. Read that again- FREE! No monthly charges
There is a smartphone holder so you can easily see your workout routine
A large LCD screen tracks your time, calories, distance, and strokes per minute
A chest strap is included so you can monitor your heart rate
Completely adjustable settings for adults of all sizes, including stroke length, seat height, and adjustable foot straps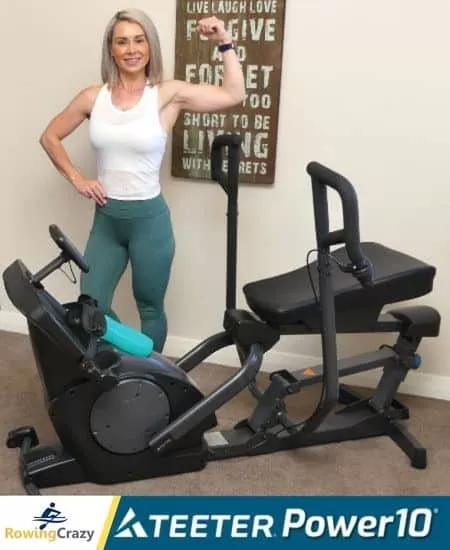 This piece of workout equipment also has transportation wheels for easier storage!
The Bottom Line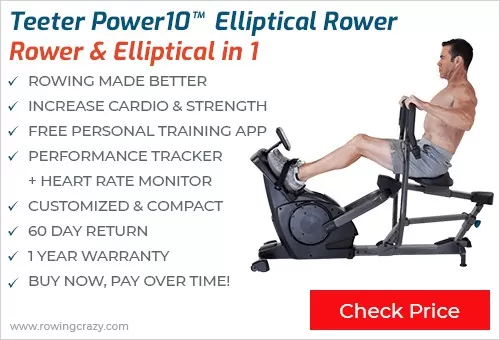 This is the perfect piece of gym equipment for seniors, in my opinion. The adjustable seat makes it easy to get off and on the unit, and seniors of all fitness levels can quickly improve their fitness levels, no dumbbells, stability ball, or resistance bands required! Interested in learn more read our full Teeter Power 10 Elliptical Rower Review here.
The Hydrow Rowing Machine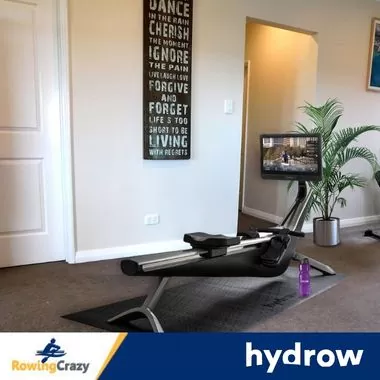 Hydrow SAVE $100 or £100!! => Use Coupon Code: ROWINGCRAZY
If you're a true fan of rowing, then you only want the best machine possible for your home gym, right?
If that's true for you, then the Hydrow is everything you want and more.
Watch our full video of the Hydrow Rower by Rowing Instructor Max Secunda:
Let's see if I can squeeze all the features of the Hydrow into this article!
What the Hydrow Rower Has to Offer Seniors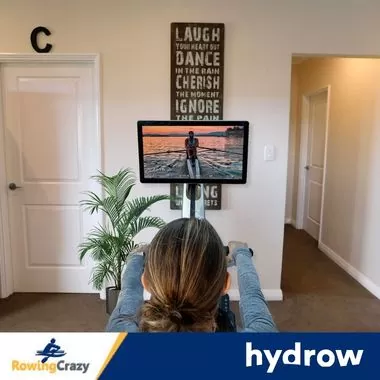 I love this machine! It's beautiful on top of functional. Take a look at all these features:
It is sleek looking but it can support users up to 375 pounds!
The rower has a 22-inch HD touchscreen monitor that is sweat- and dust-resistant
There are high-quality front-facing speakers
The Hydrow uses magnetic resistance that is computer controlled
A 10-roller system and cushioned seat means superior comfort
The Hydrow was built by professional rowers so they know what you want when it comes to an exercise machine
There are hundreds of live and on-demand workouts to help you reach your health goals, as well as relaxing and breathtaking water scenes to help reduce stress while you improve your posture
The frame warranty is 5-years, all other parts 1-year, and labor 1-year
Adaptable upright storage kit for easy storage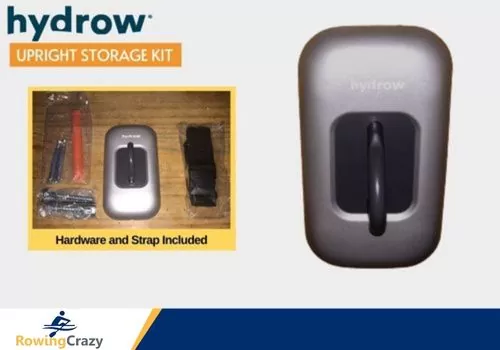 There is a great deal more but my space is limited!
The Bottom Line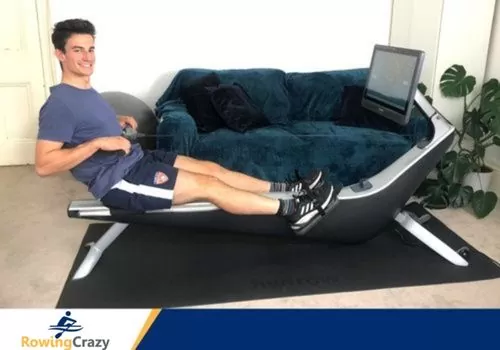 Hydrow SAVE $100 or £100!! => Use Coupon Code: ROWINGCRAZY
If you want the best of everything and you really love rowing, this is the perfect piece of exercise equipment for seniors. I like being able to exercise in the privacy of my home. You can improve blood flow, posture, balance, and mobility issues by getting regular exercise on a terrific machine like the Hydrow. Side note: we have a more in depth article you might like to read as well which lists all the best rowing machine for seniors
The Stamina Conversion II Recumbent Bike/Rower
This Stamina Conversion II recumbent bike/rower is similar to the Avari 150-335 listed above, but it does have some extra features that the Avari doesn't have.
What the Stamina Conversion II Has to Offer Senior People
You can forget about those chair exercises with this easy-to-use trainer. Check out what the Conversion II can do for you:
Can be used for rowing or as a recumbent bicycle
LCD monitor tracks your speed, distance, time, calories burned, and heart rate
The rowing handle is padded for extra comfort
This uses magnetic resistance and there are 8 levels of resistance for all fitness levels
The seat and backrest are padded so your workouts will be easy on the back
Pivoting footplates and adjustable straps work for all shoe sizes
This equipment allows you to stand and use only the handlebar for improving muscle strength and doing upper body exercises only
Supports users up to 250 pounds
The frame has a 3-year warranty and all other parts have a 90-day warranty
This is more of a 3-in-one piece of workout equipment when you think about it!
The Bottom Line
Everything you want in a piece of home exercise equipment is right here in the Conversion II. That's probably why it is a best seller!
TRENDING POST: Recumbent Bike Rowers Combos
The Teeter FreeStep Recumbent Cross Trainer and Elliptical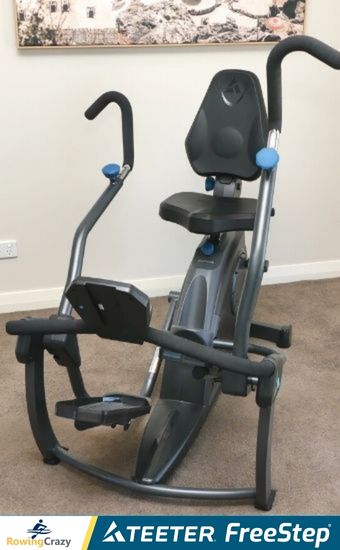 Beyond resistance bands and most other cardio exercise machines or everyday ellipticals, this equipment from Teeter is the ultimate in a recumbent workout machine.
You won't believe how many features this home equipment has to offer.
What the Teeter FreeStep Cross Trainer and Elliptical Can Do for Seniors
Whether you have arthritis, mobility issues, or injuries, you may think that your workout days are over, but that isn't the case with the FreeStep. You may have used an elliptical trainer similar to this at a physical therapist's office, but now you can have one at home!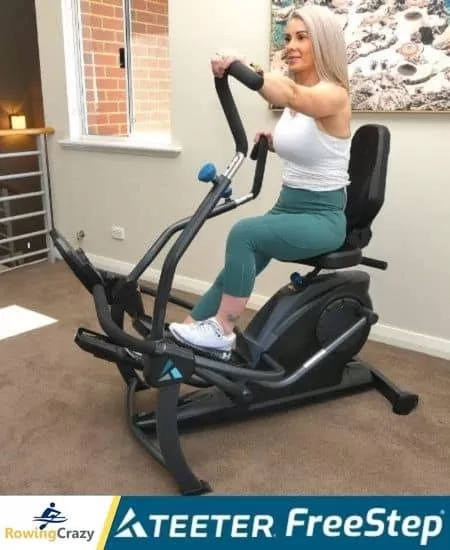 Check out what the FreeStep can do for you.
The FreeStep is a stress-free, zero-impact (not just low impact!) workout machine that will build muscle mass, help you lose weight, and increase strength
Using dual power motion, the FreeStep lets you do exercises that are more like walking, not biking, so there is less stress on the knees
As you work out your muscles, exertion is distributed throughout the body, so you don't get tired as quickly as traditional endurance trainers or elliptical machines might make you feel
The seat height, seat back, and handles are adjustable for a truly comfortable workout experience
Supports users up to 300 pounds
The warranty on parts and labor is 1 year
If you want improved flexibility but are bored doing the usual exercises on a stationary bike or treadmill, you should consider the Teeter FreeStep. It will help you with weight loss too, and the best thing is that you do it in total comfort.
The Bottom Line
Many people believe that they can have comfort or a good workout, but not both. The Teeter FreeStep blows away all the other products by giving you both.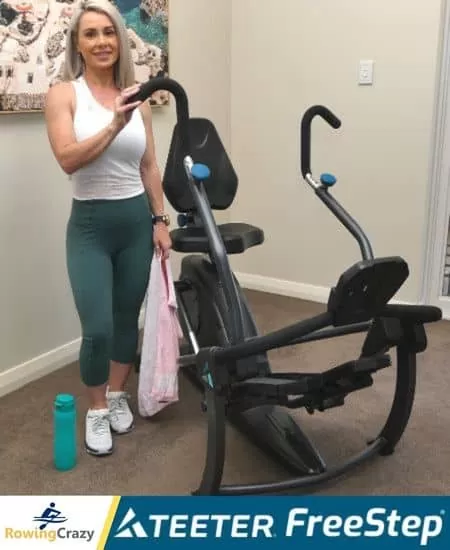 Final Thoughts
Regardless of which machine you choose, you can't go wrong with a low-impact workout. Seniors deserve to enjoy their golden years, so why not try any of the above options and get your life back!
Frequently Asked Questions
Q: Is a treadmill or elliptical better for seniors?
A: An elliptical is far better for most seniors than a treadmill. While treadmills are a weight-bearing machine that improves bone mass, they are very hard on the joints.
Q: Are ellipticals bad for knees?
A: No, they certainly aren't. In fact, I think that these home exercise trainers were designed for seniors with bad knees! Anyone with painful, injured, arthritic or bad knees will benefit from an elliptical.