High-intensity interval training is all the rage right now and for good reason.
Did you know that a HIIT workout burns major calories, creates more muscles, and helps you lose weight faster than other exercises?
This type of exercise is kind of like a Fast and Furious movie. It is very intense, but since you get short breaks in between the high-intensity exercises, you don't feel as if you're overexerting yourself.
Our Top Picks
Rower
Price

BEST ROWING EXPERIENCE

SUPER QUIET

BEST ELLIPTICAL ROWER IN 1

ON A BUDGET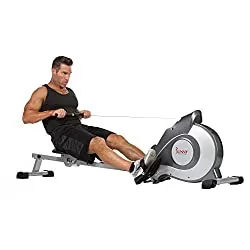 Yes, You Can Do HIIT on a Rowing Machine
When most people think about high-intensity interval training, they imagine running, calisthenics, or even bike riding, but the truth is that the perfect HIIT workout can be done on a rowing machine.
If you want to shred fat, increase your metabolic rate, burn a major amount of calories, and tone your muscles faster than you imagined possible, then this article is for you.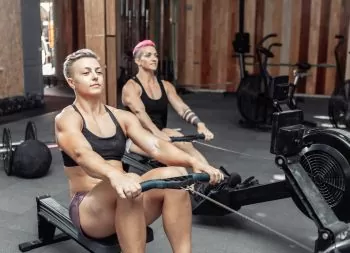 Today, I'm going to show you how using a rowing machine is the ultimate in HIIT workouts. For starters, let me tell you that it burns as much as 900 calories an hour! It's a furnace!
You know you want to find out more about that number, right? Keep reading! Burning fat has never been so much fun.
Does Hydrow Have High-Intensity Interval Training Rowing Workouts?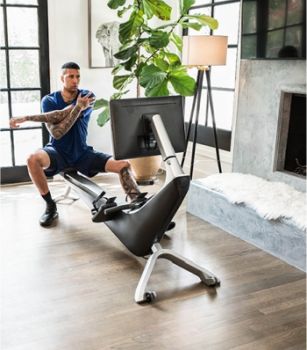 It absolutely does!
In fact, Hydrow says that HIIT workouts on the Hydrow rowing machine have become one of their most popular rowing options.
If you haven't tried the best rowing machine on the planet, be sure to check out the Hydrow. Whether you're doing HIIT workouts, or you just want an outstanding rowing machine, the Hydrow is exactly what an indoor rowing machine should be!
Want to Read More – Click Here!
Is a Rowing Machine Good for HIIT?
You bet it is!
For example, you can row 30 seconds at a moderate pace, then 30 seconds as fast as you possibly can, and then return to a 30-second 'rest' period. You will still be rowing during your 'rest' period, but you won't be rowing as hard. This is what high-intensity interval training, HIIT, is all about.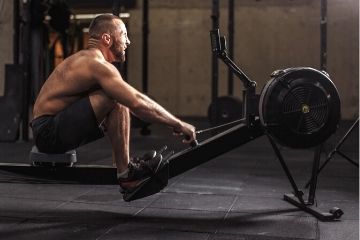 Keep up that pace as long as you can but don't forsake your rowing technique! You want HIIT training but not at the expense of your back.
You can also ramp up the HIIT workout by switching activities. For example, you can row 500 meters as fast as possible (or 250 meters), completely rest for 20 or 30 seconds, get off the rower and do 25 burpees or jumping jacks. Rest for 20 seconds, then do another 500 meters.
While steady-state cardio is what burns fat, doing a HIIT training session makes your body burn even more fat and calories, even hours after you have stopped exercising.
A HIIT workout has become extremely popular for these reasons. Who doesn't want to burn more calories for hours after an exercise by increasing their metabolic rate?
Why Rowing Is the Best HIIT Workout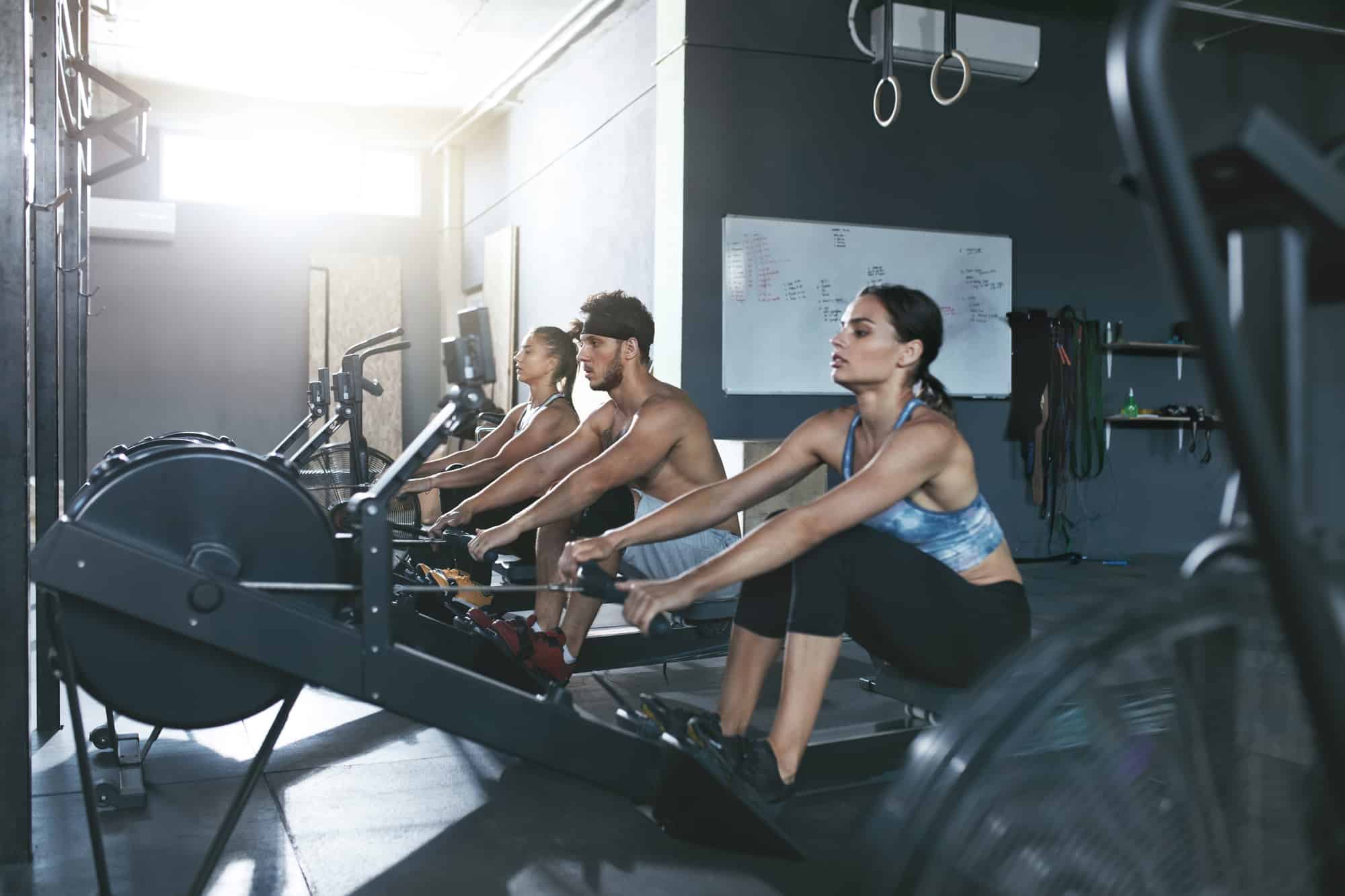 There are three main things about rowing that make it the perfect machine for HIIT workouts:
Full-body workout
Anaerobic
Changeable
Let me tell you about each point.
Most HIIT workouts tend to be shorter than a traditional workout. For example, a regular air bike class is 60 minutes, but a HIIT workout may only be 20 to 30 minutes long. This means that if you're not going to do longer workouts, you will benefit more from a full-body workout than one that works only the lower half, like what you get from treadmills or air bikes. Rowing works all 11 major muscle groups and, depending on your sex, age, and weight, and the intensity of your routines, you can burn up to 900 calories an hour!
Rowing is also changeable, depending on your current fitness level. For example, let's represent the level of effort you exert using a scale of 1-to-10, with 1 for 'almost effortless' and 10 for 'maximum effort.' If you're new to rowing, you might only be able to put out a 3 but then pump up the HIIT workout portion to a level 6. Likewise, if you can row at a level 6, you can pump up your HIIT rowing workout to a level 9. It's not called high-intensity interval training for nothing!
High-intensity means hard work, and if you want, a good rowing workout can get you totally out of breath. That's the anaerobic part! The good news is that this high-intensity workout offers small respites, so you can catch your breath and keep rowing longer.
Combine these three elements and you have the perfect setup to do a HIIT workout that will rock your world!
Want a Stylish Interactive Wooden Water Rower? – Click Here!
Can I Do a HIIT Rowing Workout 3 Days in a Row?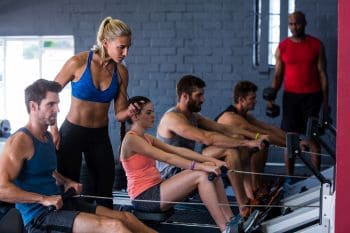 Actually, you can do as many HIIT rowing workouts as you want, but you need one day of rest in-between!
That is one of the best things (in my humble opinion) about doing HIIT training. This type of exercise may have a crazy intensity level, but you don't need to work out as long or as often.
Two or three days each week of doing a HIIT training session is the perfect workout schedule. You should allow 24 hours of rest between each workout.
These short bursts of intense intervals during your workouts will lower your blood pressure, increase your metabolic rate (how many calories you burn every day), and drop your weight like crazy.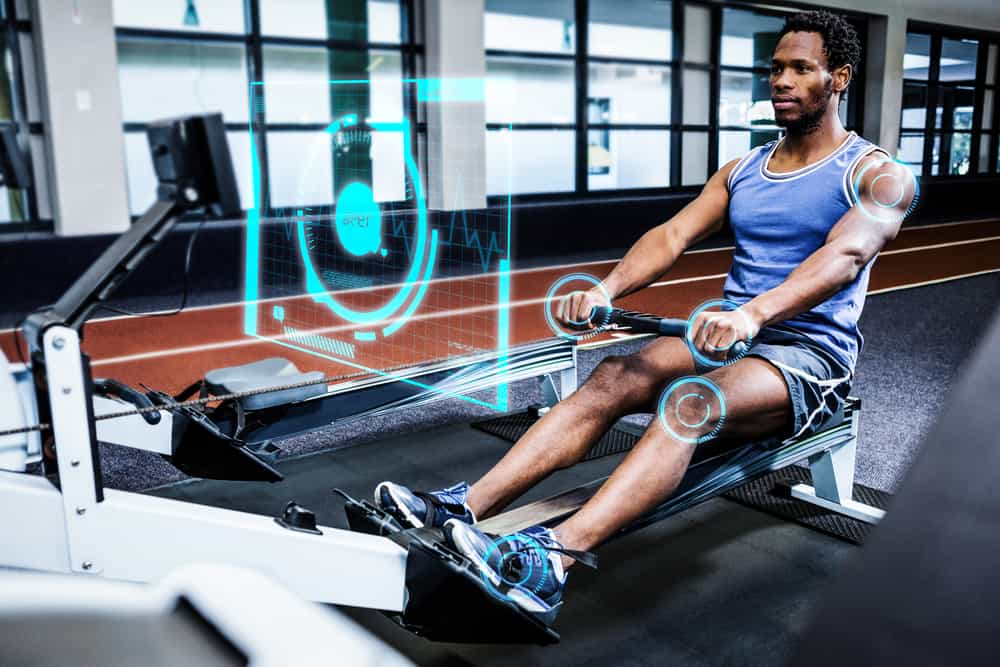 Rowing includes an upper-body workout, so if you don't want to do any other type of exercise during the week, you can do three HIIT sessions, with one day break in between, and you're set for the week!
Click Here to See Low Impact Elliptical Rowers!
The Bottom Line
At the end of the day, the whole idea is to get in exercises that bring up your heart rate so you can burn calories, build muscles, and work your heart so that it stays healthy.
While this blog post is about rowing, you can get in HIIT exercises with a treadmill, walking/running, swimming, using a stair climber, or just about any other type of exercise.
I highly recommend rowing because, not only is it my passion, but it also remains one of the best workouts on earth. Not to mention that it's a lot of fun too!