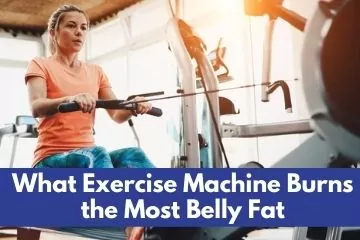 Got a spare tire around your middle? That doesn't look good! If you're reading this, chances are that you're interested in parting ways with those love handles, and I can't say that I blame you. Excess weight tends to hit us right in the belly, especially as we age. Whether you've got a potbelly, a poochie belly, or a beach ball belly, you want to get rid of it as fast as possible, right?
When it comes to losing belly fat, you should choose exercises that can provide you serious cardio exercises and high-intensity interval training to burn calories like a furnace. You can take up running marathons or use cardio machines (think ellipticals, spin bike, and rowing machines) at your local gym or home gym.
I'll take the home gym choice any day, and if you feel the same way, then today's article is for you.
I'm going to let you in on a few secrets I've learned over the years about exercise machines, how they work, what they do, and which ones are best for helping to blast away belly fat.
Ready to learn more? Keep reading and you will discover how you can lose belly fat for good.
What Is the Fastest Way to Lose Belly Fat at the Gym?
This is an easy one to answer. Which is the fastest way to lose belly fat at the gym is to not go.
OK, let me explain that one.
Personally, I've found that, when I go to the gym, I get nothing but frustrated.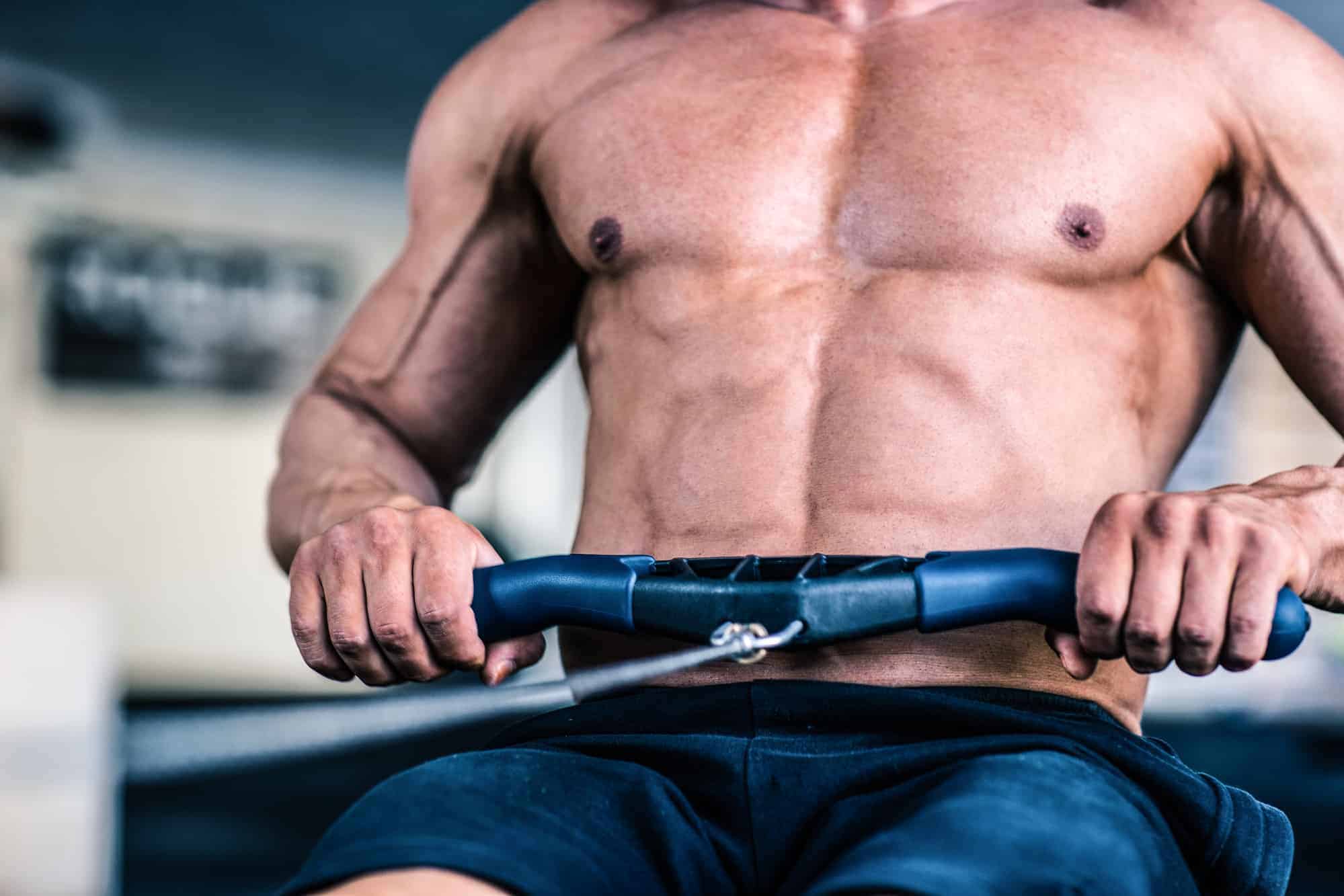 All the machines that I want to use are taken, which means I have to wait my turn. Not to mention that due to overcrowding, most gyms have set limits on their exercise machines.
Now that can be a good thing since you know you only have to wait 30 minutes max for a machine, but what if you had planned to workout for 45 minutes or an hour? You have to stop at the 30-minute mark, which means your body most likely just started to work on that belly fat.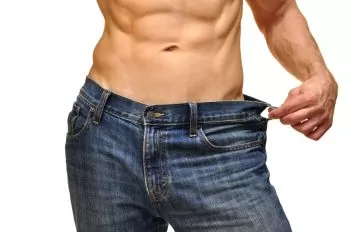 If you love the gym, by all means, keep going. I would highly recommend that you use a rowing machine to lose belly fat.
However, for everyone else who would rather work out at home, keep reading to find out which exercise machines are the best when you want to burn fat and lose weight.
The Best Exercise Machines for Losing Belly Fat
Here is where I'm going to let you in on a few secrets.
First, you can't tell your body where to lose weight. All those spot-reducing exercises will definitely tighten, firm, or build muscle, but it's your body that decides which fat stores it takes energy from.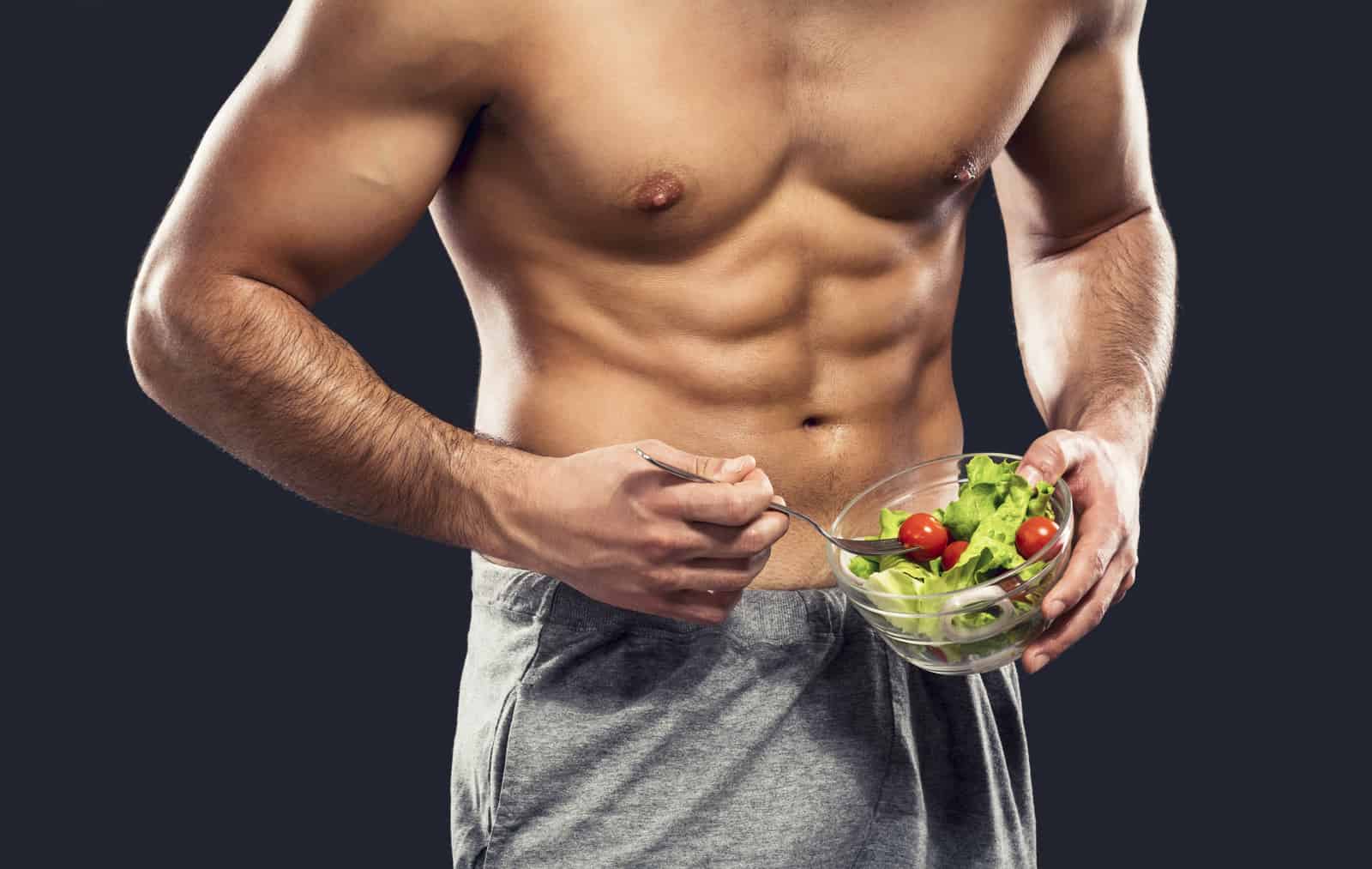 The best way to lose fat, even belly fat, is to do cardio exercises for at least 20 minutes daily, eat a healthy diet, and get plenty of rest.
Steady-state cardio, which is where the heart rate stays at no more than 85 percent of its maximum for at least 20 minutes, is one of the best ways to torch away fat, even stubborn belly fat.
High-intensity interval training (HIIT) is an even better way to lose weight and reduce belly fat. This type of training involves alternating short bursts of all-out high energy activity and brief periods of rest.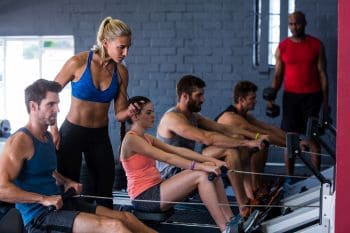 For example, you could jog at 2 MPH for one minute, then run at 4 MPH for one minute, then return to 2 MPH for another minute. You repeat this for 30 minutes, and you will get maximum calorie burn. This is the basic idea behind HIIT training programs.
You can use an exercise bike, a rowing machine, a stair stepper, a treadmill, or whatever exercise machine you like, but the truth is that the best exercise machines help with weight loss by burning more calories per minute than other machines.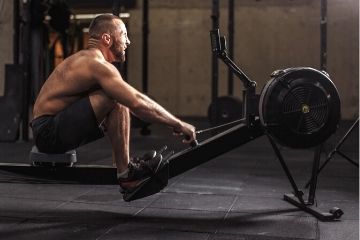 Now, let's take a look a the best exercise machines for the home gym that will help you lose belly fat and take you on a jet flight down the road on your weight loss journey.
The Hydrow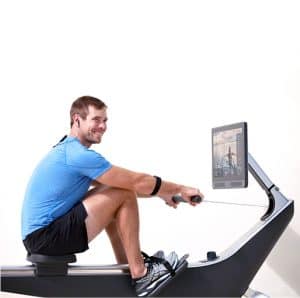 OK, so I'm prejudiced, I love rowing, but there's a good reason why a rowing machine takes top place on this list: it's a furnace when it comes to burning belly fat.
Did you know that (depending on your age, weight, and intensity of workout) you can burn as much as 900 calories an hour using a rowing machine?
It's true! Of course, you may only burn 700 calories an hour if you're young, but 700 calories of fat in such a short time frame is still more calories than you can imagine!
If you want to burn serious calories and kick that belly fat to the curb, I highly recommend a rowing machine, and my favorite machine is the Hydrow.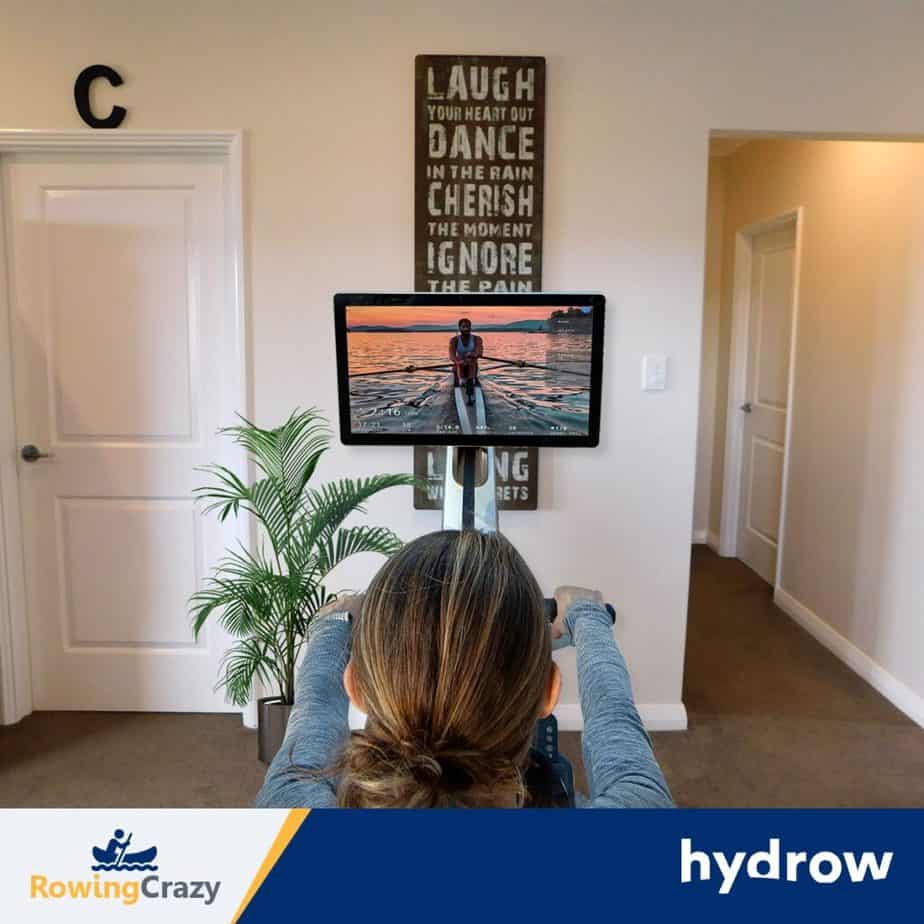 This is a premium rowing machine that is unlike any other. It uses computer-controlled magnetic resistance for the ultimate in a real-life rowing workout.
Let me tell you more about it.
Features of the Hydrow
The aluminum and steel frame is super sturdy. In fact, it is so strong that it can support users up to 375 pounds!
The touchscreen monitor has a 1920 x 1080 full HD screen resolution.
Since it uses magnetic resistance, it means you'll enjoy ultra-quiet operation.
Almost 1,000 live and on-demand workout sessions led by top rowing instructors are available, and that number is growing!
You can even set up a personal trainer to teach you the best ways to row.
There are also off-the-machine workouts, such as yoga or foam rolling.
The seat slides like a hot knife through butter using Hydrow's 10 roller system.
There are 4 four types of rowing video programs, and these are Live Rowing, Rows on Demand, Serene River Rowing, and Whole Body Fitness.
Soft, rubberized feet help to protect your floor.
You can also buy a machine mat for extra floor protection and keeping the machine from moving, but on top of those reasons, I think the mat looks great underneath the rower.
This visually pleasing rowing machine looks like a piece of high-fashion furniture, so you might want to put it right in your living room or bedroom.
If you need more floor space, though, you can store the Hydrow upright using the optional upright storage kit and wall mount.
There are dozens of rowing machines on the market that you can buy, but none of them are like the Hydrow. For cardio and strength benefits, as well as burning abdominal fat and burning calories, nothing even comes close to the Hydrow.
I do understand that this exercise machine might be out of the price range for some. If that's your concern, we can look at another rowing machine that is more budget-friendly but is still great at losing abdominal fat. New to Rowing? You might also like to read my other article on correct rowing machine form
Click Here to See Our Full Article!
Budget-Friendly Option: Sunny Health and Fitness Rower
You may not have heard about Sunny Health and Fitness, but you will soon!
This company has been manufacturing some very good quality home exercise machines that are budget-friendly and work great!
This is a magnetic rowing machine made from alloy steel, and it can support users up to 250 pounds. With an extra-long side rail, it can accommodate tall people, including those with a 44-inch inseam!
Indoor rowers offer an entire body workout, which cannot be said for a stationary bike or treadmill. Neither of those machines offers an upper-body workout, nor do they work the abdominal muscles.
If you really want to lose belly fat, a rowing machine is your best bet and this one from Sunny Health and Fitness has everything you need to burn more calories.
See all our Low Impact Elliptical Rowers – Click Here to Read More!
Features of the Sunny Health & Fitness Rowing Machine
Here are some of its features:
The digital LCD console tracks your time, count, calories burned, and total count, and has a scan mode.
It has 8 levels of magnetic resistance, so you will always feel challenged.
The textured, non-slip foot pedals have adjustable straps to keep your feet securely in place.
The fully-padded seat is wide and comfortable.
The handle grip is padded for extra comfort.
The rower partially folds and has transport wheels so it can be easily moved.
The handlebar is attached using wide, flat webbing material for super quiet and smooth operation.
For the money, the Sunny Health and Fitness Magnetic Rower model SF-RW5515 is one of the best ways to lose belly fat, increase muscle mass, and have fun at the same time!
The Teeter FreeStep Elliptical Machine
If you thought that a recumbent elliptical machine isn't powerful enough when it comes to losing belly fat and burning calories, think again!
If you or a loved one has ever been injured and had to undergo physical therapy, you probably used an elliptical trainer almost identical to the Teeter FreeStep.
What's the difference between the two machines? This one costs thousands less!
For anyone who wants to reduce body weight, burn calories, and lose belly fat, but has arthritis, joint pain, back pain, or other health issues, you can still get everything you want from an exercise machine when you use the Teeter FreeStep.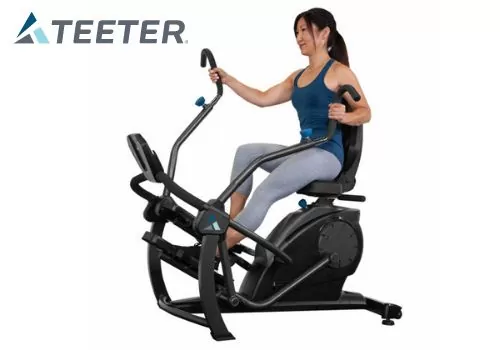 Features of the Teeter FreeStep Ellipticals
Take a look at everything this elliptical machine has to offer:
Its seat is fully adjustable, including the seat bottom and the backrest.
SoftStep pedals have extra cushioning.
This uses dual power motion, which distributes your effort evenly along the entire body, reducing fatigue so you can exercise longer.
Its patented Stride Technology protects your joints, especially the knees.
It uses a stride motion that feels like walking, not circular like bike riding.
It's not just low-impact, this machine is zero-impact, making it perfect for seniors and those with arthritis or suffering from back pain or other health issues.
The handles are padded and adjustable.
The seat is padded for extra comfort.
There is a built-in water bottle holder.
The LCD digital console tracks time, distance, speed, and calories burned.
Media holder allows you to use your smartphone, tablet, or book.
The FreeStep supports users up to 300 pounds.
You can burn calories, lose excess fat, and blast that belly fat, even if you can't use most other elliptical trainers. The Teeter FreeStep is the one machine that everyone can use to reduce fat and get a great workout in one exercise machine.
Budget-Friendly Option: Schwinn 411
Is budget and finding space for an exercise machine a problem? Perhaps you need a more budget-friendly and space-saving option? The Schwinn 411 is a compact elliptical that solves those problems in a minute!
While this isn't a recumbent elliptical, this one has a compact design that is hard to find with most elliptical machines or even stationary exercise bikes.
Elliptical machines are popular choices for fat reduction, even more than a stair climber. This is because, unlike a stair climber or treadmill, an elliptical trainer will work your entire body, which is exactly what you need for fat loss.
You already know about the quality bicycles that Schwinn is famous for, now imagine that same quality in a budget-friendly elliptical trainer, and you've got a good idea of what this exercise machine is all about.
Features of the Schwinn 411 Elliptical Trainer
Here are just a few of its features.
If space is a problem, this compact elliptical trainer has a small footprint of 70.1″ x 28.1″ x 63.1 inches.
It uses the free Explore the World app, so you have access to dozens of workouts from around the world. Check out that word FREE again. It's one of my favorite words!
This has a compact design but still offers a full 18-inch stride like full-sized machines have.
There are 16 levels of resistance to help you lose belly fat quickly.
It is equipped with an LCD console for tracking time, speed, distance, calories burned, and heart rate.
Two sets of handlebars, moving and fixed
Built-in water bottle holder
Built-in media shelf to hold your tablet or smartphone
Remember that to burn belly fat, you need a good cardio workout. The Schwinn 411 blasts that tummy fat and burns more calories than exercise bikes or treadmills.
Want to Read All About Recumbent Bike Rowers – Click Here!
How About the Most Challenging Cardio Machines Ever?
Want something that will really help you to shred body fat? Do you love to workout fast and furious? Do you find most elliptical machines and rowing machines a bit too tame for you?
I want to tell you about a little secret on my weight loss journey – an elliptical trainer that is unlike any other for helping you lose belly fat, burn calories like crazy, and really give you a workout unlike anything else you've ever seen- the Teeter Power10.
The Teeter Power10 Elliptical Rower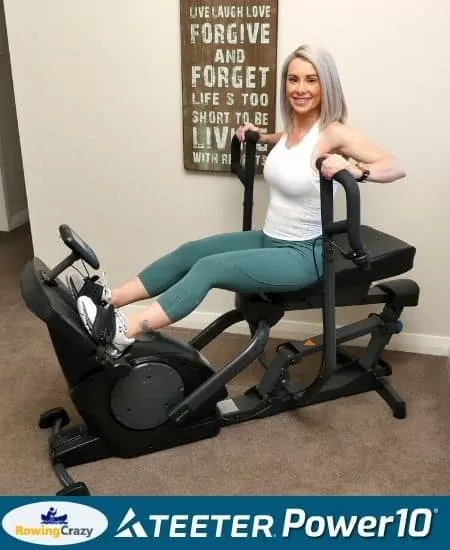 You've seen elliptical machines, exercise machines of all kinds, and rowing machines but have you ever seen an elliptical rower? I bet you haven't!
The Teeter Power10 is rowing reimagined. When it comes to burning fat, there is nothing else like it.
Some exercise machines claim to help you exercise your whole body and work to lose belly fat, but those claims literally fall miles short of what the Teeter Power10 can do for you.
Burning calories is just the start! Unlike a stationary bike, this is the best exercise machine for shredding overall body fat while you build lean muscle mass, all in one workout.
The secret behind this heart-pumping cardio machine is all in the handles and its bidirectional elliptical path. This device works your body harder than a stationary rowing machine because of the multi-grip handles. When you change the position of your hands on the handle, you start working an entirely different muscle group.
You will also win the belly bulge war when you change the handles from rowing to an ellipti8cal. This means you will need to both push and pull on the handles. This will shred fat like nothing else you've ever tried!
Features of the Teeter Power10
Additional features of the Teeter Power10 include:
There are 7 levels of adjustable magnetic resistance.
The free personal training app makes losing fat and increasing strength and endurance easy (there's that free word again!).
The LCD monitor tracks time, calorie burn, distance, and strokes per minute.
The Bluetooth-enabled chest strap is included so you can easily monitor your heart rate.
This elliptical trainer/rower supports users up to 300 pounds.
It even comes with a 3-D video to make assembly and setup a breeze.
If you want more muscle definition and strong leg muscles, or if you want to burn belly fat, drop excess fat from your legs and arms, and ditch visceral fats around your internal organs, then you want the Teeter Power10.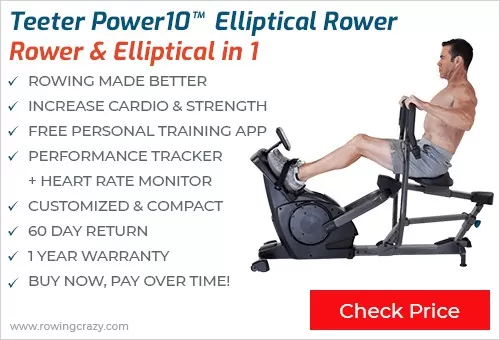 The Bottom Line
It doesn't seem fair that you can gain 10 pounds in a month but take several months of hard work to lose fat. Yet, again, whoever said that life would be fair?
To reduce belly fat, you want the best exercise machine you can afford, and that machine should be a cardio machine. Choosing a rowing machine, an elliptical, or elliptical rowing machine is the path in the right direction.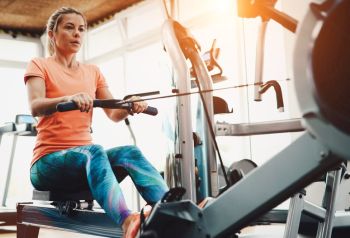 Fat burning will only take place when you burn more calories than you are consuming, so don't forget to eat a healthy diet. You may be able to increase your calorie burn, but you can't outrun or out-exercise your fork. Eat right, commit yourself to workout at least 5 days per week at a minimum of 20-30 minutes per day, and fat loss will happen.
Frequently Asked Questions
1. What exercise machine burns the most fat?
Cardio machines like indoor rowers and ellipticals are the best exercise machines for burning fat and full-body workout. But here's the catch – the real calorie and fat-burners are those machines that you will actually use regularly! What use is an elliptical rower if you don't use it?
2. How do you burn the most belly fat?
Start with your diet. Eat more protein, eat fewer carbs, cut out sugar and junk calories (such as chips), and lose belly fat by using cardio exercise machines that give you a full-body workout and pump your heart to fat-burning zones. You need to do this at least 5 days per week for 20-30 minutes at a time. Exercise machines can help you lose belly fat, but you need to use them and eat healthy at the same time.
3. Why is my stomach fat so stubborn?
There are several reasons behind this: One is genetics. If your family has a history of having stomach fat, then chances are so will you. Females also tend to hold on to belly fat to protect their womb, a fetus, and internal organs. You can lose belly fat, but you need to really work at it. Fat loss occurs after about 15-20 minutes of aerobic exercise. Also, as mentioned in the article, you need to eat right and exercise more – the idea is to create calorie deficit.
4. Nothing I do seems to work! How can I lose belly fat?
Poor eating (and drinking) habits are one of the biggest drivers behind a big belly. To lose belly fat, cut out sugar, junk foods, and processed foods as much as possible. Lessen carbs and eat more protein. For fat loss, you need to burn more calories than you consume (calorie deficit, remember?) by using exercise machines regularly.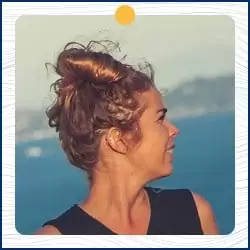 Written by Petra Amara – RowingCrazy.com
CEO & Founder of RowingCrazy, National Rower, Coxswain Womens Eight Team, Rowing Coach & Writer
Petra is a Mother of two and owner of Rowingcrazy.com. Petra lives and breathes rowing, she also has a passion for writing which lead her to start RowingCrazy.com to share her rowing experience and expertise with others.