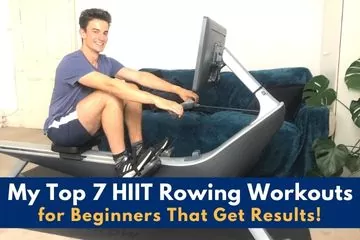 High intensity interval training (HIIT) workouts are a fantastic way to burn calories and are great for fat loss, and the rowing machine is perfect for this type of workouts.
It is low impact, so it's much better for your joints and injury prevention than high-impact cardio workouts like running, while still allowing you to push your limits and burn a whole lot of calories!
Rowing also uses 86% of your muscles through each stroke. It engages all the major muscle groups, from the muscles of the core at the catch and finish, to your legs, back and arms through the drive phase.
Top Tips for HIIT Rowing Machine Workouts
Pacing
HIIT training is all about high intensity – meaning you've got to be pushing yourself! Don't look to pace yourself through these work outs – the idea is to go off at a very hard effort level, get your heart rate up, and get the fat burning.
It's OK if you find yourself struggling a bit in the last few intervals, this is really going to help rack up your calories burned numbers.
Technique
On the rowing machine, the best way to burn calories is by using proper rowing technique.
Make sure that you're using your legs to drive the rowing stroke. Your legs are the biggest muscles in your body, so using these will make your workout a proper cardio exercise and burn more calories than just using your upper body.
In brief, you should be driving the stroke with your legs and lower body, swinging your back and then drawing in your arms.
The common misconceptions around rowing is that it is an upper body sport that uses a lot of arms – this is not the case! The rowing stroke is approximately 60% legs, 30% back, and just 10% arms! So when you're sitting on the machine, especially as a beginner, make sure you take the time to learn the proper technique before you dive straight into high intensity training.
Warm Up
This is a high intensity workout, so if you were to just dive straight on in cold muscles, you'd likely get injured, regardless of your fitness level. Therefore, it's really important to have a proper warm-up routine before any HIIT rowing workout.
Spend 5-10 minutes on the rowing machine at a low intensity – working on your technique and gradually building pressure as you go. The last few minutes of your warm up should have you getting a good sweat on. You'll perform better if your muscles are warm before your rowing machine workout.
Rest Period
During the rest periods, make sure you take a quick drink of water, but don't stop moving. I'd recommend pausing for a brief moment to catch your breath, take a drink, and then continue paddling at a very low intensity (even just going over the rowing movement without properly pushing). This will help to drain the lactic acid out of your legs and ultimately means you'll be able to push harder in the next interval (great for your calories burned score and weight loss).
HIIT Rowing Machine Workouts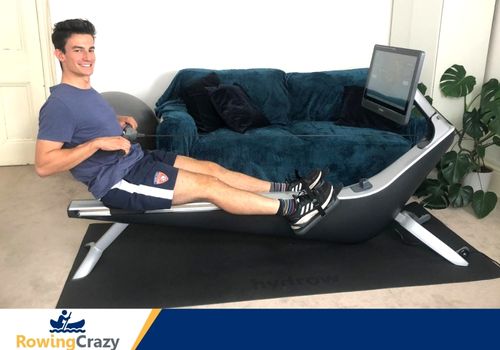 20-Minute HIIT Rowing Workout Routine
SET #

20-Minute HIIT Rowing Workout
SET 1

10 rounds of 40 seconds on (as hard as you can row) – 20 seconds rest
5 minutes rest

SET 2

10 rounds of 40 seconds on (as hard as you can row) – 20 seconds rest
Review
This is a common workout routine for me in regatta season, and the trick to getting a really good workout is to make sure that you keep a high stroke rate (30+) and are using your whole body to drive the stroke. It's a great workout to build up your fitness level, and if you really push yourself, it's going to get your heart rate right up and burn calories big time!
Top Tip: Make sure you keep your hand and arms loose at the finish so you can maintain a quick hands away speed – this will help you push the rate higher!
4K Endurance Workout
SET #

4K Endurance Workout
SET 1

10 x 200m – 30 seconds rest
5 minutes rest

SET 2

10 x 200m – 30 seconds rest
Review
This is a great workout for building up your endurance whilst indoor rowing. Repeat this HIIT rowing workout a few times over a period of weeks, and you'll turn into a super strong rower! To step this workout on from the beginners level – make it 10x250m.
Warning: This one really gets the heart rate up!
15-Minute HIIT Rowing Machine Workout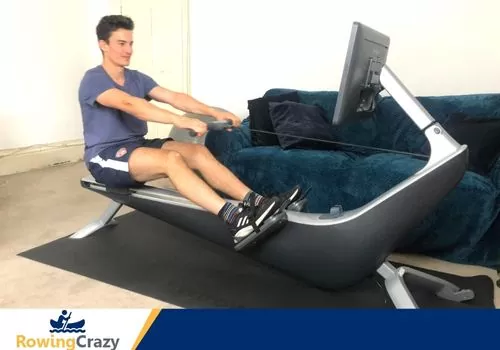 Power Strokes
This is a bit of a different workout which requires us to consider the split on each set and focuses on maintaining good form throughout the session. It's slightly shorter than the above workouts, but this doesn't mean that it's easy!
For the Power Strokes workout, set the screen up for 15 minutes. At the start of each minute, you have 25 seconds to get on the erg screen the lowest split you can possibly can and hold it for the remainder of the 25 seconds.
You can do this however you like – perhaps 10 full power strokes at rate 20, or 20 really high rate strokes to try and spin it up, and the next 35 seconds you rest. The aim is to decrease your split every minute. When you can't push it any lower, aim to hit and hold your best split, or as close to it as possible!
10-Minute HIIT Rowing Machine Workout
The Ramp
SET #

Ramp Workout

SET 1

1 minute at rate 18 – aim to go as far as you can in 1 minute
Rest 1 minute

SET 2

1 min at rate 20
Rest 1 min

SET3

1 min at rate 22
Rest 1 min

SET 4

1 min at rate 24
Rest 1 min

SET 5

1 min at rate 26
Rest 1 min

SET 6

1 min at rate 28
Rest 1 min

SET 7

1 min at rate 30
Rest 1 min

SET 8

1 min at rate 32
Rest 1 min

SET 9

1 min at rate 34
Rest 1 min

SET 10
Review
This is a really tough bit of high intensity interval training. For beginners, it might be hard to hit some of the super high rates towards the end on the rowing machine, but just aim to hold the rate as high as you possibly can for those sets. Your fitness level will build and develop after doing this for a few sessions.
Overall, this is one of my absolute favourite workouts for pushing up the intensity and heart rate. It's also such a good way to practise maintaining excellent form even at the very top end of rate.
Pyramid
| | |
| --- | --- |
| SET # | Pyramid Workout |
| SET 1 | 250m, 1min 30 seconds rest |
| SET 2 | 500m, 1min 30 seconds rest |
| SET 3 | 750m, 1min 30 seconds rest |
| SET 4 | 500m, 1min 30 seconds rest |
| SET 5 | |
Review
This is one of my favourite workouts to improve my 2K time. It's a challenging workout, as some of the intervals are slightly longer than traditional HIIT rowing machine workout intervals ( check out more erg workouts for beginners with expert rower Laura Tanley). Still, I've included it in my list because it's too good to miss off!
For more advanced rowers looking for an even harder challenge, put a 1K piece in between the 750m and the 500m – now there's a killer indoor rowing workout!
In terms of stroke rate, try to keep this as high as you can maintain. For a more advanced rower this is likely to be somewhere between 32-36. For beginners, aim for rate 30 and above. As long as you're maintaining good technique from one stroke to the next stroke – taking the rate as high as you can – your fitness levels will really benefit from it!
The rest periods are fairly short, this is so that your heart rate stays up and maintains the high intensity feel of the workout.
Concluding Thoughts
Rowing machine workouts are tough at the best of times (but still a brilliant cardio exercise), but these HIIT rowing machine workout routes will really push your training to the max. They're all full body workouts and also a form of resistance training, so they also have strength training aspects to them.
Make sure that you approach them all with the same high effort levels to really get the fat burning benefits from them. If you're short of motivation, perhaps ask a friend to try them out with you. Rowing can be really good fun when you do it in a group!
The benefits of every HIIT rowing machine workout is that you'll be increasing your fitness level and helping yourself reach your fitness goal in doing so. After doing them, you'll have that fantastic post-exercise buzz and higher energy levels for the rest of the day. You'll also improve your endurance levels and speed on the rowing machine – helping you smash those PBs!
Just one important reminder: As always, please make sure that you are using proper form during the sessions. Take the time to read our other articles about rowing machine technique to ensure you're not putting yourself at risk of injury, but instead, maximising your opportunity to burn fat and increase your fitness.
Finally, these workouts do create a lot of fatigue – they're high intensity interval training after all! So make sure you give yourself adequate time for recovery in between sessions – your fitness will thank you for that!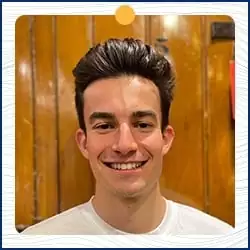 Written by Max Secunda – RowingCrazy.com
Experienced Heavy Weight Rower, Rowing Instructor & Coach, Novice Men's Rowing Captain, British Concept 2 Record Holder & Rowing YouTube Influencer
Max is a rower at Vesta Rowing Club based in London, UK.  He started rowing at the University of Sheffield, where he also was the Captain  of the Novice Men's Rowing Team, Max has a well know YouTube channel where he vlogs about his rowing training and experiences.