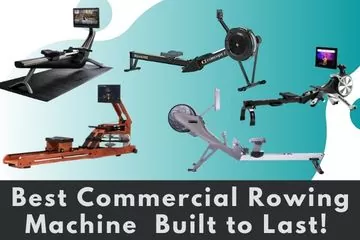 If you are anything like me, you prefer quality over quantity. I would much rather pay more for a heavy-duty product that will last for years than a cheaper item of inferior quality.
Messing with equipment, whether it's your computer or your indoor rower, is a pain in the behind! I hate it when things break down and you're stuck for weeks waiting for a repair person or parts to arrive! Ugh!
Are you tired of buying pieces of fitness equipment for your home gym only to have it break or stop working properly within a short period of time?
Do you need a heavy-duty rowing machine that can handle heavy user weights?
Do you want a machine that can take a lickin' and keep on workin'? Friends, this article is for you, so keep reading.
In a Hurry? Here are My Top 5 Picks:
If you're pressed for time and just want to find the best rowing machines for commercial use, here are my top choices.
*We review fitness products impartially and may earn a commission from affiliate links. For details see our disclosure page.
Our analysis of each rowing machine is listed below in this article, where we have provided our comprehensive assessment.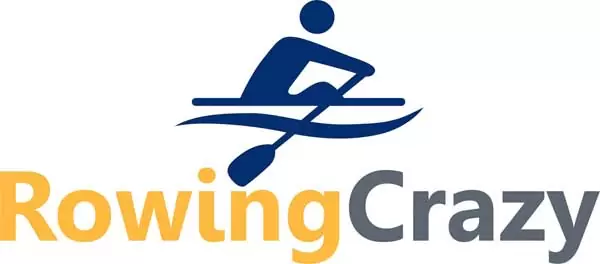 I remember my mother telling me once that paying for a high-quality pair of shoes once was better than owning two or three pairs that won't last a year. She was SO right! I've applied this to many areas of my life and found that in the majority of cases, this is true.
Of course, quality products don't always have to be the most expensive ones. I've found many brands that make quality items but aren't overpriced. Sometimes, you're just paying for a name, right?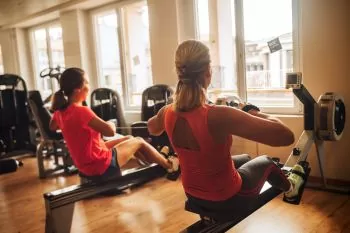 So, with that in mind, I hope you agree with me that a high-quality item is always worth the price.
I'm going to fill you in on the best commercial rowing machines that were designed for use in gyms but that you can have in your own home gym.
Commercial Grade Interactive Dual Resistance Rowing Machines
1. Aviron Tough Series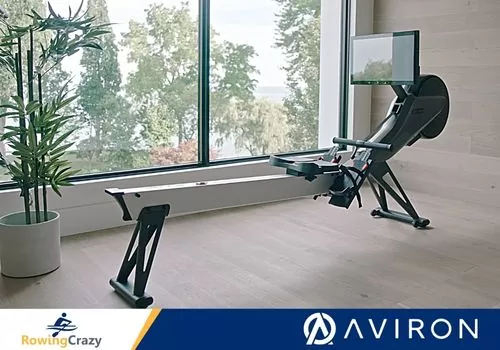 The Aviron Tough Series is a top-of-the-line commercial rower. You may have seen or used one of these amazing pieces of fitness equipment at a hotel, business establishment, or even at your local gym.
Aviron is the rowing machine you will find in Gold's Gym, the YMCA, and Nike HQ.
If you want a rowing machine that is tough as nails, this might be the perfect choice for you. It has a wide range of workout options, an HD touchscreen that you can easily become immersed in, and a 10-year warranty on its frame.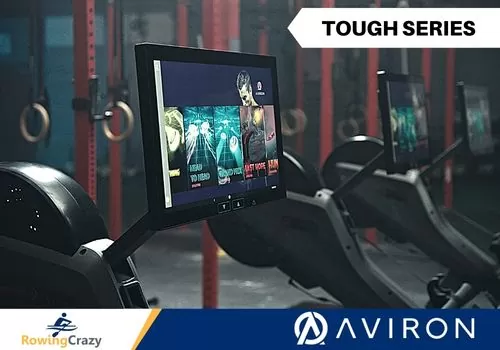 Some features of the Aviron Tough Series commercial rower includes:
Sturdy steel frame
Dual levels of resistance (both air and magnetic)
16 levels of resistance mean you should always feel challenged
Full Bluetooth connectivity means you can connect your Bluetooth-enabled headphones or heart rate monitor
The 22-inch, HD touchscreen monitor offers a large, incredible picture of your workout routines. This monitor really makes you feel as though you're part of the action!
There are 7 different workout options – you can race against others like you or go head-to-head against Olympic athletes! There are also virtual scenic rowing and gamified workouts, the choice is yours.
I love that the workouts are short but serious! If you want to get the most out of their exercise routine, you'll love the rowing workouts from Aviron.
The monthly fee for personal membership is a reasonable $29 a month or $299 a year. First, if you pay in advance, that's like getting two months free. Second, you can create as many profiles as you wish for that one low monthly subscription price.
Aviron's computer will automatically control the resistance level depending on the program you are using. Or, if you wish, you can change the resistance with the touch of your finger on the touchscreen.
The Aviron Tough Series can support max user weight up to 507 pounds! You KNOW this rower has to be tough to be able to withstand that amount of weight!
While many air rowers tend to be noisy, the Aviron is whisper-quiet, with a maximum noise level of 60 decibels, which is no more than a typical room conversation.
The assembled weight is 125 pounds
Overall dimensions are 98 inches x 21 inches x 44 inches (L x W x H)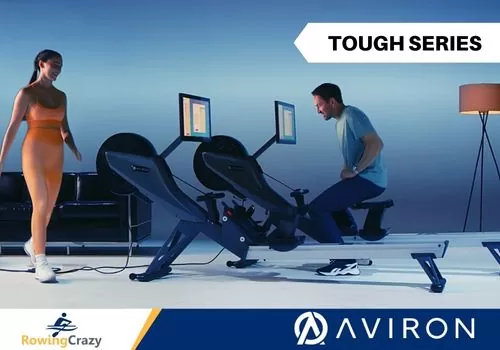 Check this out- Aviron offers a free 30-day in-home trial. You don't need to worry about return shipping fees or restocking fees – all you need to do is keep the box(es)! You will be hard-pressed to find other manufacturers that have such a generous trial offer!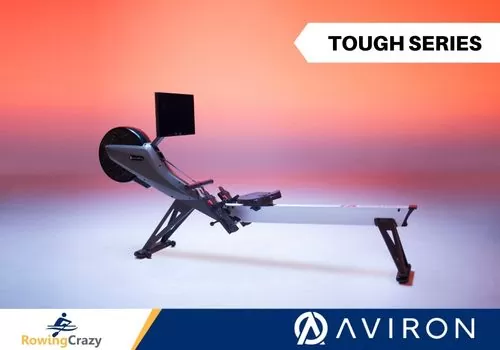 The Aviron Tough Series is one of the best commercial rowing machines (read more on the rowing machine Aviron) you can buy at any price. Why not give yourself the gift of a home trial? You have nothing to lose but those love handles!
2. NordicTrack RW900 Rowing Machine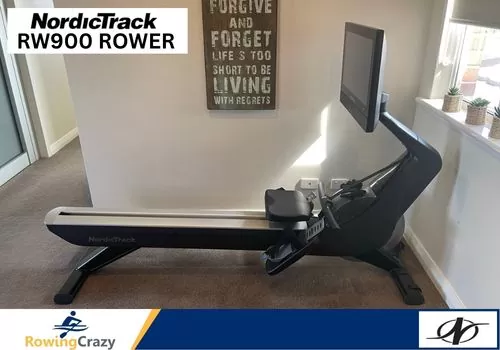 I'm betting that you're well acquainted with the NordicTrack name, but did you know they make commercial rowing machines as well?
Join Olympic Rower Rachael Taylor in Trying the NordicTrack RW900 Rower:
The RW900 is the top model of NordicTrack's line of rowing machines ( read more on Hydrow vs NordicTrack RW900 ). Like the Aviron, this commercial-grade rower offers dual sources of resistance, using both air and magnetic resistance.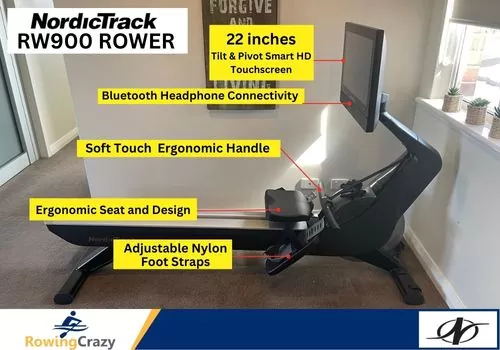 Other features of the NordicTrack RW900 include:
This piece of cardio equipment has 26 levels of resistance
The computer-controlled system sets the resistance level for you automatically, depending on the workout program you choose.
You can also set the resistance manually, but the control is on the flywheel, so you may need to stop your workout to make the adjustment.
The 22-inch, touchscreen monitor is easy to see
Paired with the iFit app, you'll get an incredible interactive workout experience. The app comes free with the NordicTrack for the first year, after which you'll need to pay the membership cost.
If you haven't tried iFit, then you missed something amazing! It offers thousands of different workout programs for rowing, biking, yoga, you name it! For a single subscription price, you can access ALL the programs. So if you're away from your rower, no problem, you can use the weight lifting or walking programs.
You may opt to purchase iFit for a single user or the family subscription option, which allows for 5 user profiles.
The NordicTrack RW90 supports a maximum user weight of 250 pounds.
Has built-in Bluetooth headphone connectivity
Unlike many commercial rowers, the NordicTrack folds for easy storage.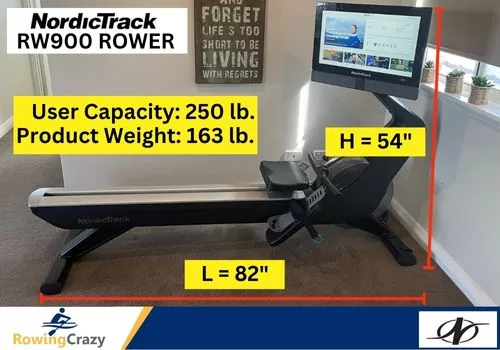 The user weight is nowhere near the capacity of the Aviron, but if you or your family weigh less than 250 lbs, and you love NordicTrack machines and the iFit app, this might be the perfect fit for your home gym.
Commercial Magnetic Resistance Rower
3. Hydrow Rowing Machine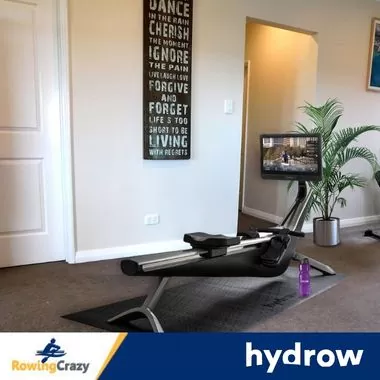 Hydrow SAVE $100!!=> Use Coupon Code: ROWINGCRAZY
If you have read any of my blog posts before, then you know that I own and love my Hydrow.
Learn More – Watch our Youtube video below by Rowing Instructor & Coach Max Secunda:
Don't let the sleek styling fool you, this incredible rowing machine is tougher than it looks. I use my Hydrow nearly every day, and it still feels and looks like new years after I bought it.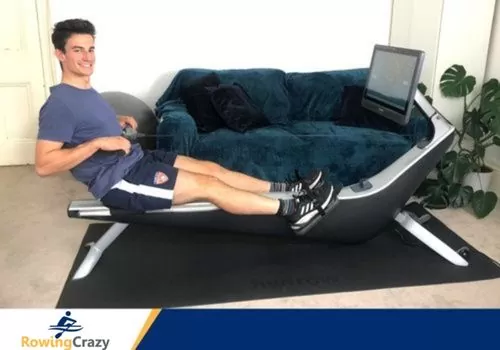 For those who aren't familiar with the Hydrow, check out some of the top features this rowing machine has to offer:
Uses magnetic resistance for quiet operation
Works with patented drag technology, which means that you'll get the most incredible and realistic rowing experience you can imagine
Computer-controlled programming for an actual rowing experience you won't soon forget
More than 1,000 live and on-demand workouts led by top rowing and Olympic instructors
Hundreds of off-the-rower workouts, such as Pilates and yoga
Sweat- and dust-resistant 22-inch HD touchscreen monitor for easier cleaning
Commercial-grade materials, including the aluminum beam for a smooth feel you will really notice
Monthly subscription fee goes with the machine, not the user, so you can create an unlimited number of profiles for the one low price of $44 per month
Ergonomically-designed seat so you get the same benefits and burn more calories than other rowers without hurting your back or your behind
Support users up to 375 pounds, so you know how strong and sturdy the frame is
Does not fold but stores vertically if you purchase the Hydrow storage kit
The overall dimensions of this incredible rowing machine are 86″ x 25″ x 47″ (L x W x H)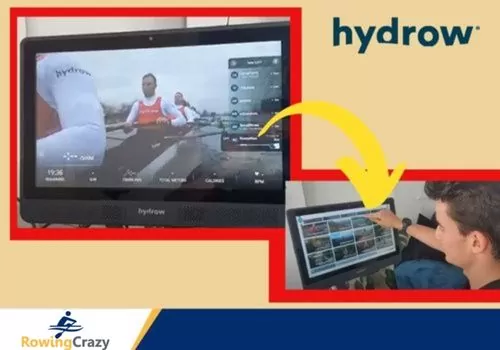 The Hydrow is one of the best commercial rowing machines that you can buy, and I highly recommend it.
By the way, Hydrow offers a free 30-day in-home trial. Just keep the boxes and, if for any reason you don't think Hydrow is the best commercial rowing machine you've ever used, you can return it for a full refund. No restocking or reshipping fees!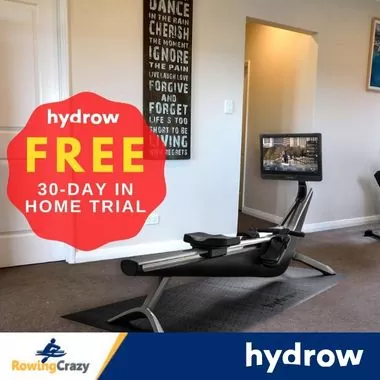 If Hydrow sounds good to you, why not give it a try? I've never heard of anyone returning a Hydrow! You're going to love the way Hydrow feels and looks!
Commercial Grade Air Rowing Machine
4. Concept 2 Model D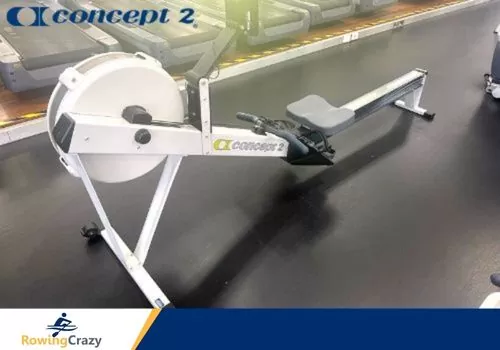 This is the rowing machine that perhaps started it all. While indoor rowers of one kind or another have been around since Greek times, it's Concept 2 that became a household name back in the 1980s.
This commercial rowing machine is found in nearly every gym in the USA and many homes as well. Its simplistic design makes it a popular choice for those who really only want the basics.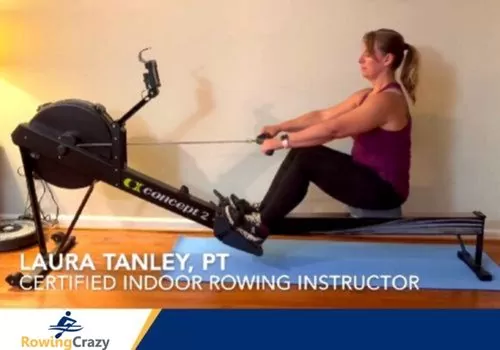 Features of the Concept 2 Model D rowing machine include:
Uses air resistance, so it's lightweight and inexpensive but tends to be noisier than most
Built-in damper controls the air drawn into the flywheel
Made from a mix of aluminum and steel construction
Maximum user weight capacity is 500 pounds!
The backlit LCD performance monitor is fairly basic but keeps track of 5 important performance metrics
The monitor also has a few built-in programs and games
Comes with Bluetooth connectivity so you can enjoy music or podcasts from your Bluetooth-enabled headphones
Overall dimensions are 95 inches x 24 inches x 20 inches (LWH)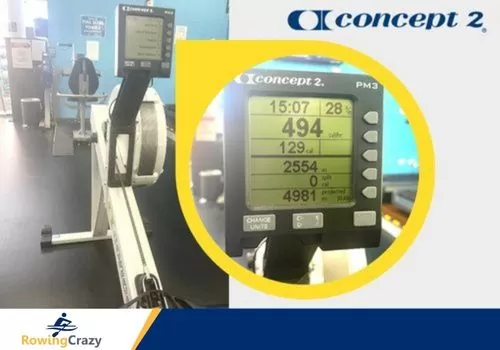 This commercial rowing machine is always a best seller since it is easy to use, has no complicated electronics, and is less expensive than some other models.
If you like the low-tech life and you just want to get on a rower and go, you should check out the Concept 2 Model D.
Watch our full review video of the Concept2 Rower by Rowing Expert & YouTube Influencer Max Secunda:
Commercial Water Rowing Machine
5. Ergatta Rowing Machine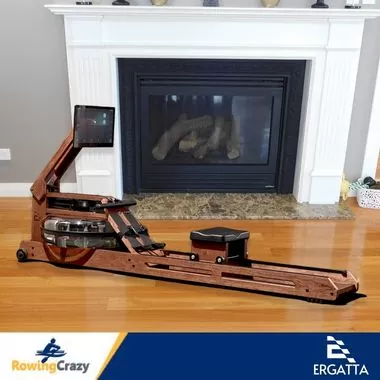 If you haven't seen the Ergatta, you are missing out! When it comes to commercial rowing machines, the Ergatta is so beautiful, you may want to place it right in your living room or dining room!
This water rower is different from many others since it has a motivating interactive screen that makes you pay attention to the monitor and not your huffing and puffing!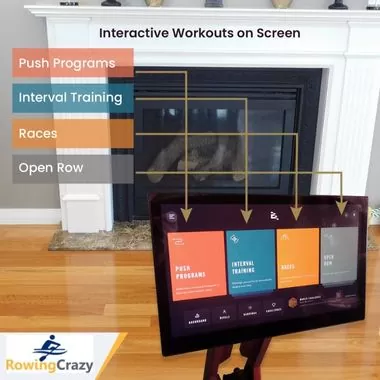 Features of the Ergatta commercial rowing machine include:
Custom-designed cherry wood frame is strikingly beautiful
The 17.3 inch HD interactive touchscreen monitor allows you to do game-based workouts or race against others
Interactive workout programs that are fun, exciting, and quite addictive
Makes a gentle swooshing sound; combined with the wood construction, it instantly reminds you of taking a real boat and rowing on the water
Gamified workout programs instead of instructor-led routines or classroom setting make rowing so much fun
Workouts tailored to your current fitness level so that you don't become exhausted but continue to be challenged. The machine recalibrates and sets new goals for you after a few workouts.
Very easy to use even for beginners; a great way to begin your fitness journey
The maximum user weight capacity is 500 lbs! Nothing says "sturdy construction" like a high weight capacity
Can be stored on its end so that it takes up no more room than a dining room chair
Overall dimensions are 86 inches x 23 inches x 40 inches (LWH)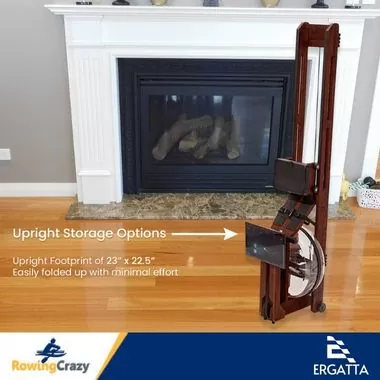 Ergatta is one of the best commercial rowing machines on the market today. If you would rather do game-based workouts or race against others than listen to instructors, you'll love the Ergatta in your home gym.
What to Look for in Commercial Rowing Machines
Commercial rowing machines are made to be rough and tough, but there are a few things to consider before you bring one into you home gym.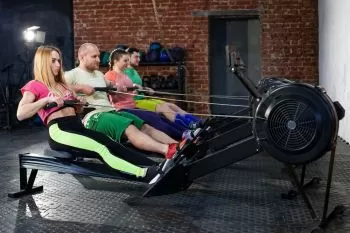 Size– Always consider not only the actual size of the machine but the room the machine will occupy when you use it plus a little elbow room. Check the actual size and the stored size and be sure that you have available space to use and store your rowing machine.
Resistance – If you live with other people or you live in an apartment or duplex, you might want to be know that some commercial rowing machines make more noise than others. If noise is an issue, you're better off with a water rower or a magnetic resistance rower.
Console or Monitor – Many commercial-grade rowing machines use high-tech HD touchscreens to display their workout programs. If you aren't a fan of high-tech or if you worry that those large monitor may break easily in your household, you may want to consider a more low-tech option such as the Concept 2.
All these commercial rowing machines will offer smooth operation and a complete body workout. Choosing the best one boils down to your preferences, space availability, and pocketbook.
Before You Go …..
The above commercial rowing machines offer the most sturdy and heavy-duty machines that you will find anywhere at any price.
Some are high-end machines, but remember, you get what you pay for, and when it comes to rowing machines, that is absolutely true.
I hope that you found this article helpful in making a more informed purchasing decision. If so, please feel free to pass it on to others who you think will benefit from this information.
Stay healthy and happy rowing everyone!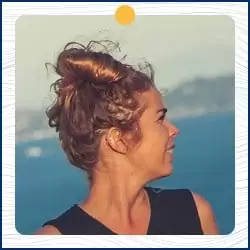 Written by Petra Amara – RowingCrazy.com
CEO & Founder of RowingCrazy, National Rower, Coxswain Womens Eight Team, Rowing Coach & Writer
Petra is a Mother of two and owner of Rowingcrazy.com. Petra lives and breathes rowing, she also has a passion for writing which lead her to start RowingCrazy.com to share her rowing experience and expertise with others.