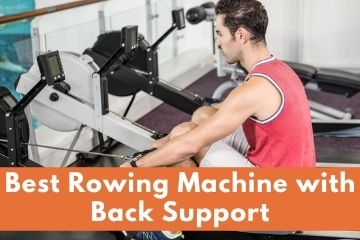 Home rowing machines have never been as popular as they are right now. Why? You do away with gym membership in most cases and you can get strength training and a cardio workout in one piece of fitness equipment.
It doesn't take a rocket scientist to figure out the popularity of indoor rowing machines, but what if you have back problems or back pain? It's true that rowing can help to strengthen the core muscles and back, but sometimes, that isn't enough.
| Our Top Picks | Rower | Price |
| --- | --- | --- |
| Teeter FreeStep Recumbent | | |
| Teeter FitSpine | | |
| Stamina Conversion II | | |
| Avari Conversion II | | |
Teeter FreeStep Recumbent
Teeter FitSpine
Stamina Conversion II
Avari Conversion II
Anyone who has arthritis or disc degeneration, which comes with the ever-present back injury of herniated discs, knows that these conditions make rowing more painful.
You'd be happy to know that I've got the answer you've been looking for—an indoor rowing machine equipped with back support! Take the pressure off of your back as you do your routines, and you're back in the game!
Let me show you the top indoor rowing machines that offer terrific cardio benefits, while taking the pressure off your back.
Top Rowing Machines with Back Support
You won't believe the new indoor rowing machines that companies are making today. They have so many features and fun goodies that you can't help but look forward to your next workout.
Two of the top rowers offering back support are:
The Stamina Conversion II Recumbent Bike/Indoor Rowing Machine
Do you want to add something different to your workout? How about a double-duty machine that offers rowing but easily switches to a recumbent bicycle? The Stamina Conversion II does both and has tons of features.
Features of the Stamina Conversion II
Easy to assemble with most people taking less than an hour to put it together
Its heavy-duty steel frame shouts "durability," while the aluminum beam means lightweight and no rusting
8 levels of quiet magnetic resistance make this perfect for all fitness levels
The pivoting footplates are super comfortable and have Velcro straps to hold your feet in place
The rowing handle is padded for extra comfort
The seat and backrest are made from molded, padded foam
There are padded side handles to use when biking
Built-in heart rate monitor on the side handles
There is a 3-year warranty on the frame and 90 days for all other parts
Multi-function LCD monitor reads time, calories burned, distance, and heart rate
You can also use just the footrests as a leg workout or the rowing handle as an upper body strength training workout
Folds in half and has transport wheels for easy storage
This is an amazing piece of home gym equipment that combines indoor rowing with a recumbent bike. Whether your goal is to lose weight or get in some high-quality exercise while protecting your back, the Stamina Conversion II indoor rowing machine can help you attain both and more.
The Avari Conversion II Indoor Rowing Machine/Recumbent Bike
This Avari indoor rowing machine and recumbent bike combo is similar to the Stamina Conversion II, but the two products differ in several aspects. The Avari is slightly cheaper because it doesn't allow you to do leg-only workouts or upper-body strength training, the way that the Stamina Conversion II does.
Other than that, the Avari indoor rowing machine has many of the same features that you will find in the Stamina, such as:
8 levels of magnetic resistance
The multi-function monitor has a few more readings, including tracking speed, distance, time, odometer, heart rate, and calories burned
The built-in heart rate monitor is located on the side handles and can only be read when biking, not rowing
The Avari has a steel frame and an aluminum track
The seat and backrest are made from molded, padded foam rubber
It can handle users up to 250 pounds
The device folds for easy storage and has transport wheels
The warranty is 3-years for the frame and 90-days for all other parts
The Avari Conversion II is almost identical to the Stamina Conversion II, except for its usability as a machine for strength training. If you're more interested in rowing or biking than strength training, this is the perfect indoor machine for you.
Learn more with our full video by Rowing YouTube Influencer Max Secunda:
Other Machines for Back Problems
While the following machines are not rowers, I wanted to mention them here because they have been so helpful to many people with back problems.
You've probably used them if you've had physical therapy since these are designed for people with back problems.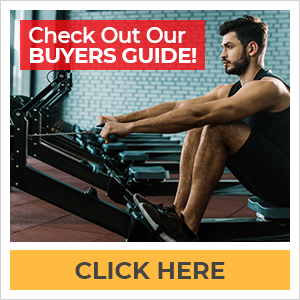 The Teeter FreeStep Recumbent Cross Trainer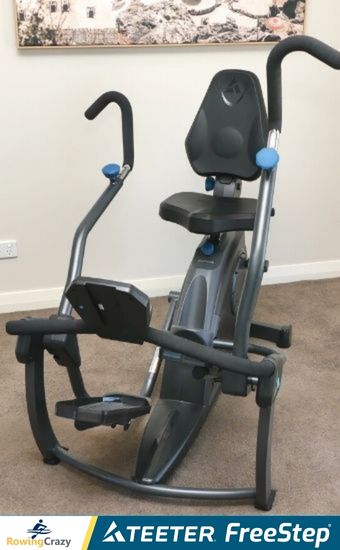 The Teeter FreeStep Recumbent Cross Trainer LT-3 is hands down one of the most effective low-impact cardio workouts you can get without visiting your physical therapist.
This device has more features than you thought possible in a piece of home gym equipment, including the following:
Its dual power motion allows force to be evenly distributed to all the muscles of the body
The patented step motion is more like natural walking, not biking, so you don't get tired as quickly, and this is super easy on the knees
The seat is padded and the backrest has 3 recline positions for incredible comfort
Variable magnetic resistance keeps you motivated
Both the seat and handlebars are adjustable for height
The digital console tracks time and other readings
Offers a tablet or smartphone shelf so you can watch movies, listen to music, or read while you work out
Soft-step patented pedals prevent injury or pain in the feet and ankles
Weight capacity is 300 pounds
Comes with a full 1-year warranty
See More High Weight Capacity Machines!
As you can see, you get all the features you want from the Teeter FreeStep at a fraction of the price that commercial-grade physical therapy devices cost. While this isn't a rower, this recumbent cross trainer has so much going for it, including a back support, that I just had to mention.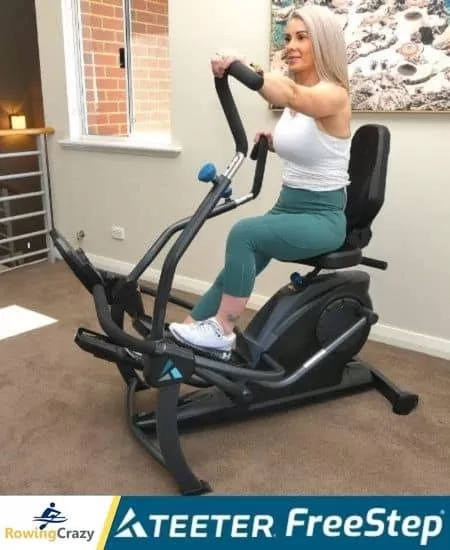 The Teeter FitSpine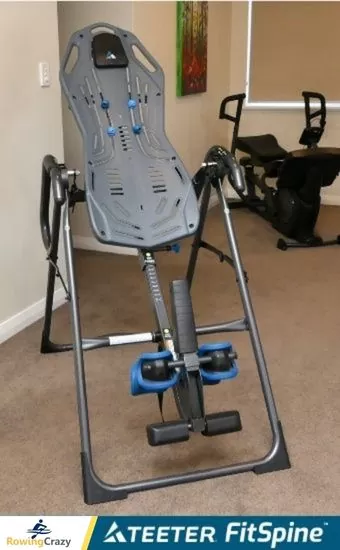 The Teeter FitSpine is exactly what the name implies. By supporting you upside down on a table, you pull and stretch out the spine, providing back, neck, and lower back pain relief.
Let me tell you more about the features that make this machine so worth your time and money.
The Features of the Teeter FitSpine
This is an FDA-approved device, so you know its safe
The frame is made from 11-gauge steel for added strength
It supports users up to 300 pounds
The bed contains a support system that moves and flexes with your body as you stretch
You can use this by yourself, no help is needed
The ankle support has super-padded cuffs for comfort
Adjustable lumbar support stops lower back pain
There are acupressure nodes on the bed to help work out knots and muscle tension
The FlexTech 8-Pt Floating Suspension Bed is a unique design that flexes with you, it is not rigid
Folds flat for easy storage
To use it, you need to stand and lock your ankles in the comfortable straps, then lie back and put your arms over your head. The FitSpine will slowly turn you upside down. Perhaps what I really found to be most impressive about this was that Teeter went and got UL approval. That is not required, but they did it anyway.
UL certification means that the FitSpine was tested at 4 times its specified weight, which would be 1,200 pounds, for at least 30,000 inversion cycles. If that doesn't speak about how rugged and durable this table is, I don't know what would.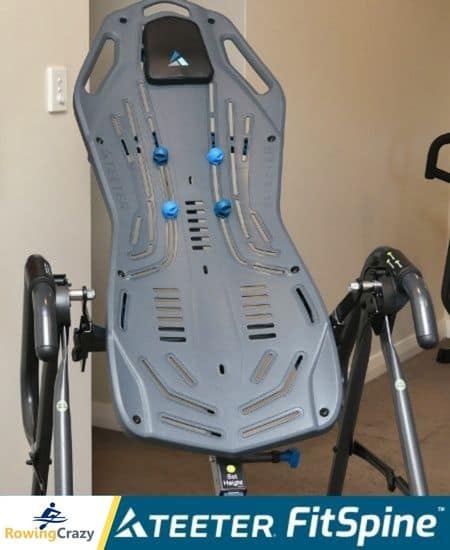 I personally use this table every single week. On days when my back or neck hurts, I look forward to using the Teeter FitSpine because I know it will give me nearly-instant pain relief.
I highly recommend the Teeter FitSpine for anyone who suffers from neck or back pain. Of course, I'm not a doctor, and you should always consult with your doctor, physical therapist, or chiropractor before starting any exercise program or using an inversion table.
See All Our Top Elliptical Rowers!
Final Thoughts
I want to confess to everyone that I've had my share of back problems. Rowing has helped immensely in keeping me in shape, but other health issues have caused me tremendous back pain at one time or another. Back pain is like taxes, you may forget them for a while, but they always return.
For people experiencing back pain, rowing remains one of the best solutions for strengthening their back muscles. Both the Avira and Stamina conversion models provide back support while rowing, so either of the two will be perfect if you're suffering from back injuries and pain. Both are within the same price range too, but if you want a more diverse indoor rowing equipment, you should get the Stamina Conversion II.
Now, let's talk about your painful back. There's only so much that your indoor rower can do. If you have been to a chiropractor to help with your back problems, you may have used the Teeter FitSpine while there. This device helps tremendously in stretching your spine to create a tiny bit of space in between the vertebra.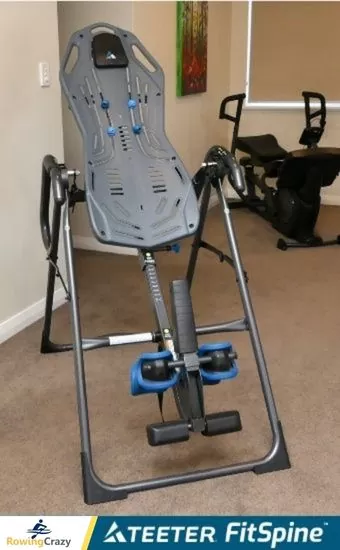 While the space is tiny, it makes such a huge amount of difference! Bulging discs can return to their normal position, and the nerves have enough space so they can "breathe" again and relieve your pain. Pinched nerves are extremely painful, and I've found an inversion table to be of great benefit.
If you can buy rowing machines and recumbent cross trainers similar to the kind in physical therapy offices, I wondered why you couldn't buy a home inversion table.
Now, you can!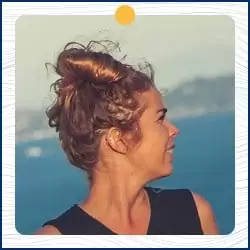 Written by Petra Amara – RowingCrazy.com
CEO & Founder of RowingCrazy, National Rower, Coxswain Womens Eight Team, Rowing Coach & Writer
Petra is a Mother of two and owner of Rowingcrazy.com. Petra lives and breathes rowing, she also has a passion for writing which lead her to start RowingCrazy.com to share her rowing experience and expertise with others.